This post may contain affiliate links.
Travel, international or domestic, be it for a week, a month, or multiple months is very much easier if you just pack a carry-on bag. Luggage slows you down physically and mentally. Learn to ditch the extra luggage and travel with just a carry-on bag. It's the way to go! In this post, we tell you how to travel with carry-on only.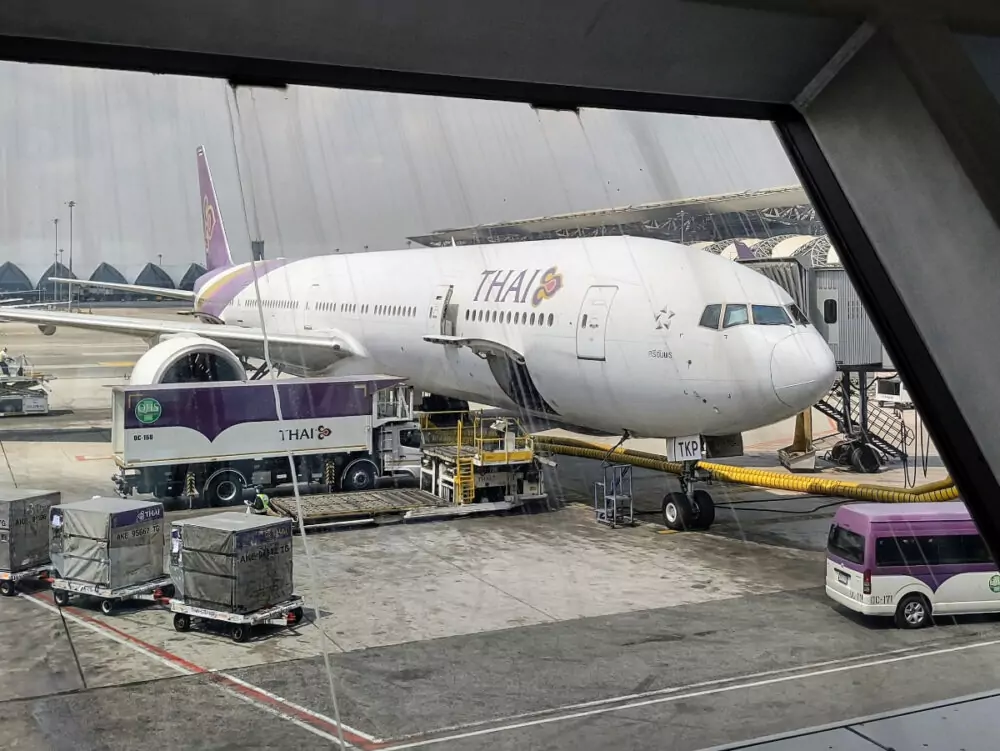 If you've been following us right from the start, you'll know that I always said I'd never travel with carry on only. I even wrote a post about why we'd never travel light. We just had too much stuff as long-term travellers and the children were too small for their own, decent-sized, packs. Well, that was then, this is now, and lately, we've turned to flying carry-on only and become quite proficient as our circumstances have changed. Let me give you some expert tips to have you flying with just hand luggage, like a pro!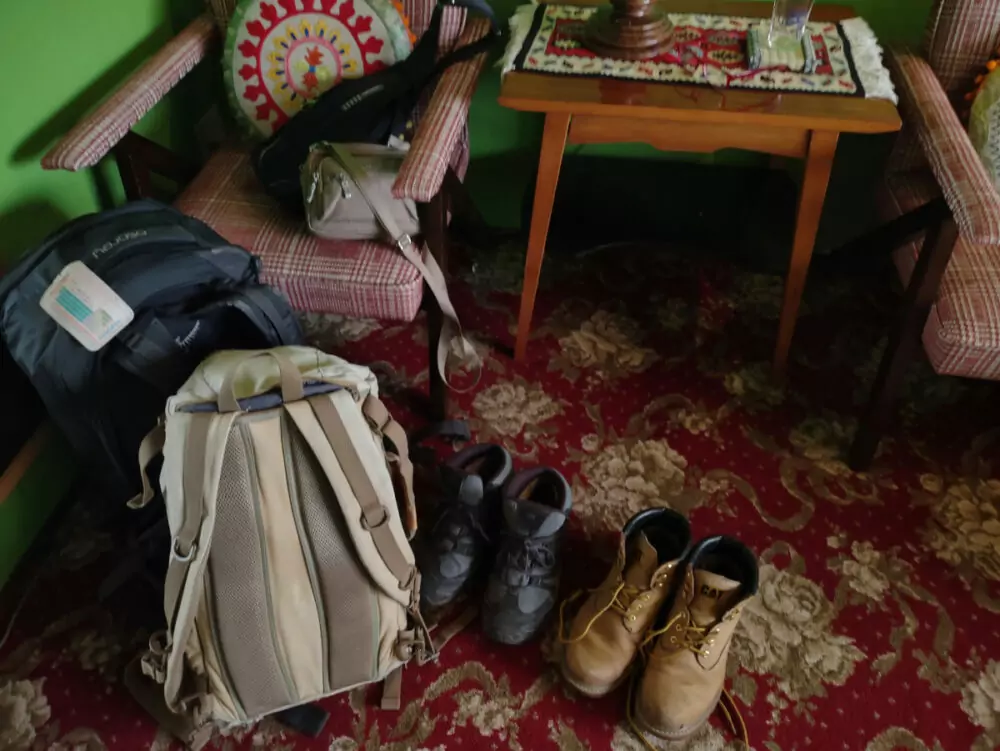 These days we're more like you, we're taking shorter trips and we have our home base in beautiful Romania to stash the toys and school books along with the all-weather travel gear.
We no longer need to carry everything, everywhere and that's a relief as carry-on only is actually not a headache. Taking a very small amount of hand luggage for a weekend, 1 week, 2 weeks, or a month is actually easy.
As I'm seeing more and more incidents of lost and destroyed baggage, carry on travel is our new favourite way to go. We've had our bags go missing three times in the last seven years. Each time they appeared a day to three days later. This is good reason to always carry a toothbrush and change of underwear, plus any other essentials, in your airline carry on bag.
Our full post, thoughts, experiences, and tips on carry on only travel are below. Plus that awesome hack!
Carry On Only Travel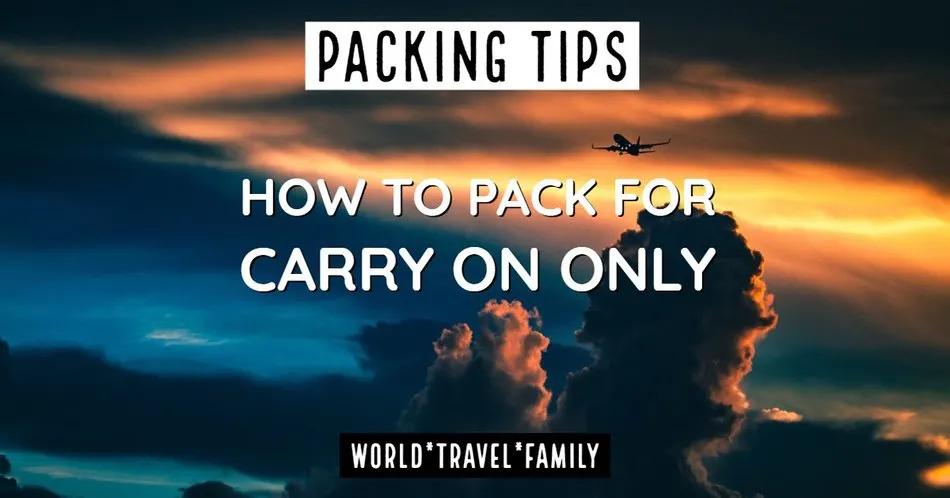 Below are reasons why carry on only travel is easier than travel with checked hold luggage.
The fewer bags you have, the less likely you are to lose one or have one stolen.
Dodge budget airline fees for checked baggage.
No waiting to check bags in.
No waiting at airport carousels for bags to appear.
No chance of the airline losing your bag.
Easier onward travel by bus, taxi or train.
Packing and unpacking are less of a drama.
Fewer clothes make for a simpler life. Minimalism reduces stress.
Lighter bags are easier on your body.
You have everything at hand on the plane – super useful on freezing budget flights where no blanket is provided
There certainly are disadvantages too. Toiletries can become a headache on some airlines but these days carrying liquids is becoming easier and there are more and more solid, plastic-free, products on the market. Take a look at bars of all sorts on Amazon or find them in your local shops.
It's nice sometimes to have a big pack or suitcase that you can dump in the airport or at your accommodation, leaving you with less to carry every day. I actually enjoy carrying a full-sized backpack and the convenience of having everything we need. So for big trips, we still take the big packs but theft or loss is a worry.
Being based in Europe (and likewise in Asia), we fly budget airlines frequently and carry on luggage saves us a lot of money on these short-hop flights making this sort of travel convenient, but still for long-term travel we'd prefer to take our hold baggage.
We need our laptops, camera gear, toys, multi-weather and sports gear along with the school books.
Limited clothing makes laundry an almost daily necessity which can be a real bind and tie you down.
That said, the kids have never checked a bag. We grown-ups carried their school books, toiletries, and electronics so that all they carried was a small bag of clothes until they were old enough for adult-sized carry-on luggage.
Bags For Carry On Only Flights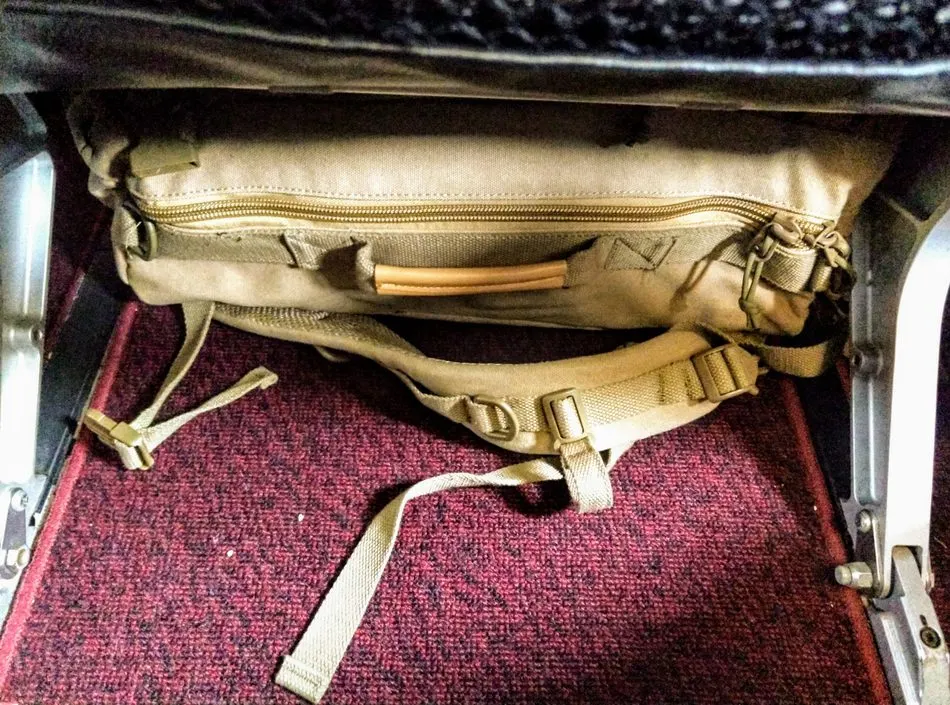 Yes, a lot of people use wheeled cabin baggage. If you're not a frequent flyer you may not know that hard-sided, wheeled suitcases attract far more attention from airline staff at the boarding gate and even at the steps of the plane.
We've seen wheeled cases removed from their owners a lot. Really, a lot.
Check-in crew and airline staff seem much more inclined to let soft bags and backpacks onto their planes. You score bonus points for using a bag so soft and squishy that it will fit beneath the seat in front of you.
Those overhead bins do get full and you do not own the space above your seat.
We always use small backpacks and daypacks as our carry on luggage. Check our post on the choice of backpack, travel pack, or suitcase. A travel pack is different, it opens more like a suitcase for better opening, but you can also carry it on your back.
Beware being overweight at the gate. Some airlines (We've seen Wizz Air and Jetstar do this) will weigh your carry-on at the gate and hand out extra baggage charges on the spot. Be ready for this by reading our tips and hacks below.
Each airline seems to have different size and weight regulations for carry on travel bags and baggage, always check with your airline.
Air Asia and Air Malaysia, for example, are particularly small.
Some airlines allow a main piece of carry on baggage plus a personal item such as a handbag or purse. Others strictly enforce the one-bag rule. Be sure you know in advance.
Bags designed to fit under typical airline seats now exist. Mine works in that it can squash under a seat, while containing all of my clothes, laptop and toiletries, but the colour (above) isn't perfect, it's going to get dirty.
An under-seat bag you can clean would be better. Take a look at a dedicated under-seat carry on bag here.
Our usual carry on bag, is, however, an Osprey Farpoint which gives us
superb quality
a good, comfortable harness with hip strap
harness zips away when needed
multiple internal pockets and compartments
brightly coloured inside, so much easier to find things
good compression straps for load stability and to make it look smaller at airports.
compartments can be padlocked
laptop pocket
lifetime guarantee
perfect EU carry on size (check your airline – could change)
The Farpoint is officially slightly too big for some airlines, but we've never had an issue with it. It's a roomy bag and would also do well as checked baggage. Take a look at this bag here. This is the man's version, which we own, there is also a women's version, the Fairview. My teens and tweens also use this bag.
If you're looking for a bag packed with design features and absolutely dedicated to the modern traveller, look at these bags from Nomatic. They're not cheap, but bags like this are made with the tech-savvy frequent traveller in mind. We love the incredible variety of compartments and organisational features. Particularly the travel laundry bin that is included in the 40L travel pack.
Items You Can't Take in Carry On Luggage
You must check your airline's regulations as rules change almost daily. Generally, it's not possible to carry sharp objects when you fly carry on only, so items that were essential to us when we were on the road full-time, have to stay at home when we travel with just hand luggage.
These prohibited items include:
Pen knives, with cork screw, for emergencies.
Nail scissors, for nails, hair, every scissor-requiring situation.
Tweezers – but on the last seven flights I had tweezers in my bag and nobody noticed.
My tripod – because it has spikes on the end of the legs, most do.
Marmite (unless you know how to pack it)
Regular sized bottles of shampoo, sunblock, etc. are banned. All liquids need to be under 100ml in volume and be stashed in a clear plastic zip-lock bag for certain airlines. Yes, toothpaste counts as a liquid, so does Marmite, as my husband discovered last week. We used to find the idea of buying on arrival or dumping before departure terribly wasteful and unnecessarily expensive, but now, with a home base, we can decant into mini travel-sized bottles or easily stock up on perfect carry on sized toiletries. Solid shampoo, conditioner, and wash bars are fantastic. Look here.
Carry On Only Tips and Hacks
Carry on only travel brings with it issues of weight allowance. We aim to stay under 7 Kg with just one piece of luggage, our carry-on backpacks, because this is the minimum allowance we face.
Staying under 7Kg actually isn't all that hard even with the amount of electric equipment we carry as professional travel bloggers. Here's a hack for you!
You are pretty unlikely to have your backpack weighed, airlines seem to target hard luggage and wheely bags far more than soft luggage, but, should the worst happen, be ready.
Items on your body are not part of your weight allowance so have a coat, hoody or cargo pants with plenty of pockets. This is similar to the deep-pocketed, lightweight rain jacket I now always pack (I actually wear my son's child's version).
Either turn up at the airport with pockets stuffed with your heaviest items or have your jacket (zip-up pockets are best) pre-loaded with battery packs, chargers, and any heavy item in your pack. I even have a pocket that will take the drone.
Then if the lady tells you your bags are overweight just pop your jacket on, too easy!
If you don't need a rain jacket, instead grab a travel vest. These are designed for the job and basically, everything you'd normally have in your carry-on, will go in the pockets. Take a look here.
Carry On Tips Checklist
Knowing the regulation weight and size of carry on bag should go without saying.
Wear all your heaviest gear to fly and if your baggage is over-weight, wear more!
Act like your carry on bag is as light as a feather, casually sling it over one shoulder.
Airline staff are often far more forgiving of backpacks than hard wheely bags
If your carry on bag will fit under the seat in front (soft bags are best) they'll love you more
Don't fold, roll!
Toothbrushes and dry toiletries can be wrapped in a washcloth or zip lock bag, ditch the bulky wash bags if you have to.
Keep your small liquids together in a ziplock in an outer pocket, ready for customs. Outer mesh pockets on the Osprey bag are great for this.
To breeze through those X-ray machines, don't wear a belt, don't wear jewellery, don't wear an underwired bra, leave your shoes loosely laced to slip off and on, and don't take your laptop. On a recent trip, I took seven flights and never had to take a single item out of my bag because I wasn't carrying a laptop. The whole thing, including the drone, just went straight through the machines.
Packing List and Tips for Carry On Only
Carry On Only Travel Toiletries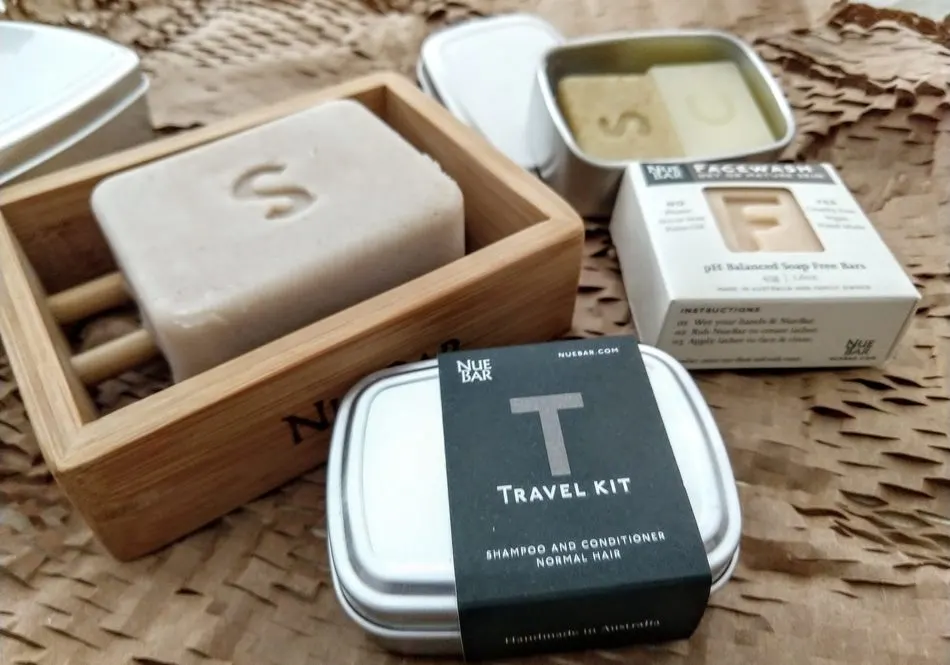 We're having great success with solid alternatives to traditional liquid toiletries for carry-on only. We now always carry solid shampoo bars and solid deodorants. We swear by LUSH but other solid toiletries products are available including tooth powders.
We pack the following, I have a plastic ziplock bag for liquids and carry it in an outer packet of my day pack. It can go straight into the scanners from there.
Solid shampoo. We can also use this as soap or to hand-wash clothes. You should have a small tin for your shampoo and be sure to keep it dry.
Solid conditioner. Only one of us ever uses conditioner, he has a tiny solid shampoo and conditioner travel set. It's in the photo above.
Solid facial wash. See the photo above, we love this bar. This one is available in Australia only. Our link takes you to an international alternative.
Solid deodorant. Ours works and is less health-impacting and more eco-friedly than chemical sprays. I bought it for Lush for my 11-year-old, now we all use it.
Toothbrush. We often buy toothpaste on arrival or I just squeeze some toothpaste into a tiny pot. You'd be surprised how long it lasts. Tooth powder will be my next purchase.
Antibacterial hand gel, depending on destination.
Disposable razor, I've had no issues so far with carrying these in my carry on.
Travel-sized hairbrush
Occasionally, for cold city travel, I pack my travel hairdryer. Since having my hair cut short I don't take it often (this also means no conditioner needed). If you're looking for the best travel hair dryer, check out this guide.
Sanitary Protection
Mosquito Repellent a small bottle, under 100ml.
I've not found a satisfactory way of carrying sunblock. If you go in the sun a lot you will need more than 100ml. We tend to stay out of the sun so we have an emergency small bottle we've carried for years.
UV resistant lip balm for water or snow in particular.
Medical Kit for Carry On Travel
For short trips, you won't need to carry a cure for everything. We find, after 3 years of practice, that it's best to carry a small stock of the things you may need.
People rarely get sick or injure themselves near the shop you want.
This list is obviously highly individual but my essentials would be paracetamol, iodine, and a couple of band-aids.
We always carry
Plasters ( Band Aids)
Paracetamol. Chewable paracetamol for the kids
Travel sickness tablets and/or wrist bands, child-friendly
Small bandage and dressings
Iodine in a tiny bottle
A few indigestion tablets
Various supplements and vitamins
For longer-term or more adventurous travel, I'm never without my travel-sized ear thermometer. With kids, it's better to be safe than sorry and I need to know exactly how bad that fever is.
Sometimes I take it when we travel carry on only, sometimes I don't. I do a mommy risk assessment.
Carry On Only Travel Clothes
The old rule is one to wear, one to wash, one for spare. Three of everything does indeed work well and my advice to you would be three of everything. if you can pack it in.
One full change of clothes each is all that we've found we really need, at a pinch.
Usually, we carry 2 pairs of trousers, we wear one, pack one. Depending on climate we'll also pack leggings or running tights to use as pyjamas or an extra layer.
Sportswear is great for travel, easy to wash and dry, and light to pack, most of my travel items these days come from shops such as Lorna Jane, Sweaty Betty, and Lulu Lemon.
We may carry more tops to allow us to layer in colder weather. The list below is per person.
Throw in a few extra T-shirts for the kids if there is room. We like to leave with less-full bags so that we have room to buy clothes and souvenirs at our destination.
2-3 pairs of trousers each. I prefer jeans but most normal people buy "travel" trousers that are small and light to pack, crease-resistant and easy to wash and dry. Trousers that zip off to make shorts are another popular option.
Leggings or running tights, (maybe thermal in cold conditions). For kids and for adults.
Swimwear and UV resistant rashies as needed
Travel towel (my favourite thing!) We've tried a few to find the best on the market, click through on our link to see our winner.
2 vest t-shirts or tops, sleepwear, and a base layer.
A long-sleeved shirt to throw over the top
2 long-sleeved T-shirts or a thermal shirt if you can't handle cold.
2 bras
2 socks (more for cold climates or trekking)
5 knickers ( people swear by travel knickers for easy washing and drying, I prefer regular M&S underwear in a lightweight fabric)
flip flops or thongs for showers, as sandals, to wear on skanky floors. Make a shoe bag to pack these, I used old T shirts.
hiking or trekking shoes or whatever comfortable shoe you prefer. Wear your heavy boots/shoes on travel days.
hat (does for sun and cold)
large cotton scarf (so many uses!)
fleece
waterproof raincoat if needed
Sun Glasses This is the customisable brand we use for travel and adventure sports. You can order them online and we highly recommend them.
reading glasses
I think that's it. Did I miss anything?
Carry On Only Travel Electronics
Our major inhibitor with travelling light lies in electronics. We carry camera gear, video gear, laptops, kindles, drones and so on.
The kids' small electronic items are no trouble. When we're carrying 4 laptops, carry on only just isn't happening.
This is what we carry for our family of 4, 2 kids. On long term travel we carry 4 laptops and all the camera gear, for shorter trips we cut it right back. The 3DS, music players, etc are for the kids.
Camera and charger (1) I've just upgraded to a small DSLR after 12 months of struggling with a broken mirrorless.
Laptop and charger (1)
Plug Adaptors (2)
Kindles (1 each) and charger lead (1)
Phones and chargers (2)
Headset or earplugs to use with the phone
Rechargable Power Packs (2) HIGHLY recommended for power-less emergencies, particularly with kids. We've tested a few and our favourite is a solar-charged version, see our findings by clicking through on the link. If you're relying on apps you certainly need one and they're small enough to fit in a pocket to avoid the weight restrictions.
3DS ( belong to elder child, camera, video, limited games, music)
gimbal for video recording
mini microphone for video recording ( super cheap and game changers)
Essential Travel Document Check List
Paper free is better and these days it's rare to have to print your travel documents. Many airlines allow online check-in or check-in via a machine at the airport. This method is super easy and cuts queues and paper wastage.
You must get the airline's app on your phone and be sure your phone is charged and has a local sim or free airport wi-fi. It's a simple way to be a more eco-friendly traveller, cut the paper.
All of our phones are unlocked and dual sim. Because we travel we know we'll change sims often.
Passports
Printed Flight Booking or Airline App with Electronic Flight Booking
Printed Online Check-in Papers or App
Printed Hotel Reservation or App
Printed Car Hire Papers or App
Insurance Papers or App
Small stash of home country cash – we get local cash on arrival. Check which currency your visa needs to be paid in.
Driving license
If There's Still Room in Your Carry On Luggage
A Lonely Planet Guide Book
A card game to keep everyone amused at airports, we like UNO or Monopoly Deal. "Travel" versions of big board games aren't great.
Use a travel organiser for documents, chargers, wallet, and small items. A travel wallet is another type of organiser (see link above) to take passports, cards, cash, tickets, etc. These things keep you organised in a well-stuffed carry on bag.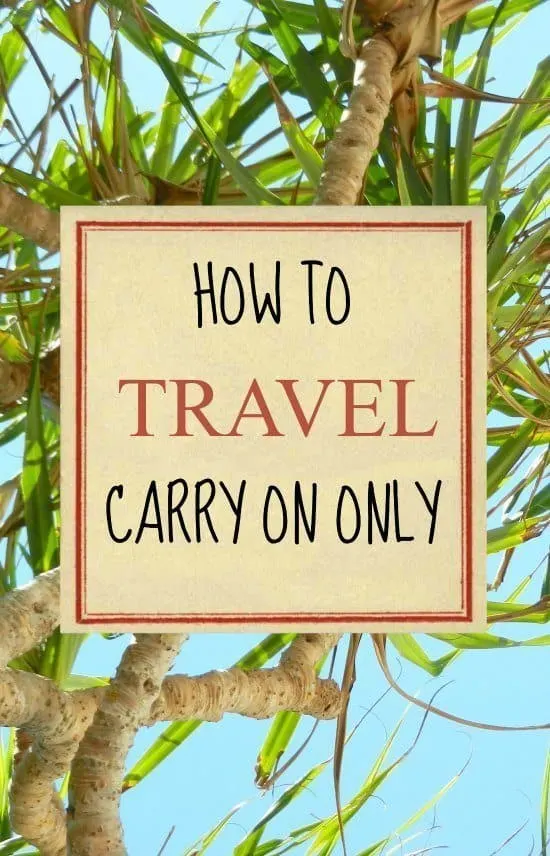 We made this for you, for Pinterest, thanks for helping us!
Items We Need For Long-Term Travel That We Don't Need for Carry-On Travel
Shorter trips are normally focused on one climate, one destination, so multi-climate gear isn't needed, and neither is multi-activity gear. Our normal travel essentials are for longer trips. On a short trip you can pack precisely and pack lighter.
So for Nepal we don't need swimwear, for London we don't need sleeping bags, for Sri Lanka we don't need hiking boots, and so on.
Shorter trips are much easier to pack for. These days we know before we leave if we'll need to take our mosquito nets, sheet sleeping bag liners and down jackets, the necessity for big bags is diminished.
School books, notebooks, pens and pencils, on short trips we don't carry them. It's easier to juggle old-school education with education-as-travel now we have a home base.
If you want to learn more about worldschooling and travel on the road, including what resources we normally use, click through.
Likewise, Lego, Harry Potter Wands, Bakugan and 25 cuddly animals don't need to travel with us full-time anymore. My kids do not take toys, other than two essential bears, on short trips (by that I mean up to a couple of months).
So that's it, just about everything we're learned about how to travel with just a carry on, as a family, with children, or solo, we do it all these days. Did we miss anything? Is there anything we should add? Let us know in the comments. Maybe you'd like to look at our pre-vacation checklist just in case there's something you forgot to organise.
If you'd like to hire a car during your stay, use this car rental comparison tool to find the best deal!

We also suggest you take a look at this company to get a quote for all kinds of the more tricky adventure or extended travel insurance.

Try Stayz / VRBO for an alternative way to find rentals on homes/apartments/condos in any country!