This post may contain affiliate links.
What are the travel essentials and what items should be left at home? Travel Essentials are the things we all need to pack every time, for every type of destination or travel style.
They are also the essential items required in particular instances and for particular activities and destinations.
We discuss the general travel essentials and specialised travel essentials in this post. These essentials are based on our experience of 7 years of full-time travel plus interminable shorter vacations.
Travel Essentials – Categories
We've broken the essentials for travel down into categories, below.
Electronic travel essentials
Travel essentials – luggage choices
Travel essentials for carry-on
Essential travel toiletries and first-aid
Clothing and gear essential for travel
Document and travel organisers to keep you organised
Paperwork, documents. passports, money
Travel Essentials for 2023 are a bit different. These days you must, of course, have a supply of masks, wipes, hand sanitiser, and your health and vaccine records, just in case. Before travel check and double-check entry requirements for your destination and any countries you may be passing through. Also, look closely at your airline travel requirements.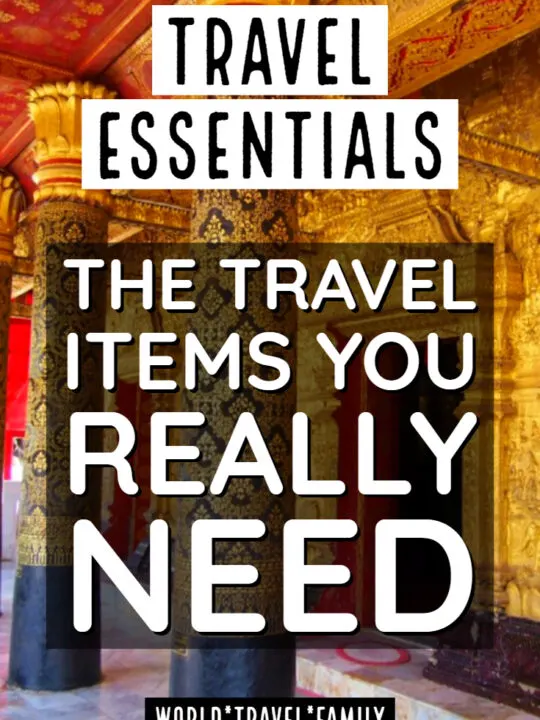 Travel Essentials – Honest
People ask what we've used, what we haven't, what we've ditched and what we've bought over multiple years of travel.
So here are my new, updated, tried and tested honest travel essentials for vacation and world travel, plus packing ideas for warm, cold, and multi-climates.
We find it's best to upgrade and alter our wardrobes and gear for diverse destinations.
So for instance cruises, trekking in Nepal, the UK, The Caribbean, National Parks, Europe and New York in winter have somewhat different travel essentials to pack.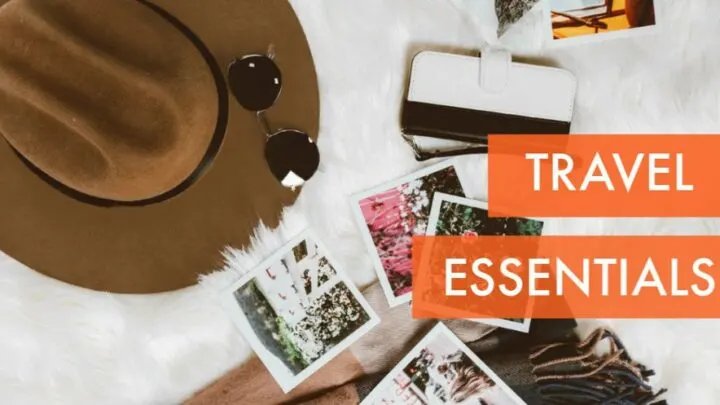 Minimum Travel Essentials
If we're going to get ultra-real, the only absolute travel essentials are the following.
passport or other documents
access to money
travel insurance (or enough money to not care!)
If you have cash or a credit card you can buy what you need as you go. But who does that, right?
Most of us prefer to pack enough that we don't have to be rushing to the shops taking up our valuable vacation or travel time.
Full List of Travel Essentials
Now for the full list of travel essentials and more detail.
I'm going to do electronic essentials first, I carry a lot because it's my job. You may need less, but check out the little microphone for the phone, it's really worth buying.
This gadget costs almost nothing and takes any video to the next level.
Travel Essentials – Electronics
The electronic essentials for travel, of course, depend on you. Some people like to travel disconnected, but that's not us.
With just about everything requiring an app these days, from Uber to boarding passes, I take my hat off to anyone who manages to travel without at least a phone, its charger, a plug adapter for international travel, and a SIM solution, be it local or international roaming.
The electronic travel essentials we carry are in the table below.
Remember, we are a family of four, working and educating as we go. My work involves taking photos and shooting videos.
I always have my laptop and phone, chargers, power converters and battery packs.
If I'm taking video add the gimbal and microphone.
A drone is the gravy on the chips!
Yes. it's a lot of stuff. It's the bulk of what we carry. But good gear like this makes a whole world of difference.
It all has to go in your carry on really, so this will limit what else you can squeeze in there.
Travel Essentials for Packing
These items can't strictly be called essential, but a lot of people, including me, prefer some organisation in their bags.
If you're packing hold luggage then sure, go for it with the organisers. If you're only taking a carry-on, these will add to your weight.
At times, my ultra-minimalist wash kit is just a shampoo bar, toothbrush, and solid tooth powder all wrapped up in a wash cloth. At times like these you can even leave the wash-bag at home. But most of us don't do that.
These are the travel organisers we prefer for packing, documents, passports and toiletries
Essential Travel Toiletries and Cosmetics
If you want to pack a bare minimum wash kit or toiletry bag, the most bare-bones travel essential wash kit I've ever packed contained no more than a solid shampoo bar, facial quality solid soap, a razor, toothbrush and toothpaste.
You can wrap this in a wash cloth and pack it easily in your carry-on bag. Most of us will want to carry more than this, of course.
A Laptop for Travel (Non Essential)
A laptop is not an essential travel item for most people, but I always carry mine, even when I'm taking just the bare minimum of carry-on baggage.
Skip this section if you're certain you won't want to pack yours.
A laptop is big and heavy but we use it all the time, every day, for fun, work, entertainment, education and travel planning.
There is no way I'd ever travel without one unless we were on a short trip or organised tour involving no extra planning or booking.
We didn't buy a special laptop for travel initially, I took along my old Acer Aspire, she did very well for 4 years before giving up on me.
She's now been replaced by smaller, lighter (15 inch) Lenovo and having a smaller laptop does make a HUGE difference when you're packing for travel days.
My laptop is my number one travel essential, you can replace most things easily, not your laptop.
I work online, maybe you don't, but even without my need to work I don't think I'd want to travel with just my phone.
Chef (our tech guru) has now created a full post on best travel laptops for travel blogging.
We had two tablets for a while for the kids, they broke and I was glad to see the back of them.
We prefer laptops. Now the kids are older teens they take their phones over laptops.
Kindle
I don't often get a chance to use my Kindle, one or other of the children always has it. I loaded it with kids' books before we left, picture story books for little Boo (6), reading books for D (8) and it has seen a lot of use, particularly on buses and trains.
We have the Kindle Paperwhite it's easier on the children's eyes than other reading devices.
I also love being able to enlarge the text for my elderly eyes. The battery life is amazing, it's small, light and easy to carry.
There are book exchange shops in most towns but the range of children's books is always small. We wouldn't travel without at least one Kindle, ideally more.
We would also recommend a Kindle Case and Screen Protectors just for extra child and daypack resistance. But honstly, we drop ours all the time, they're amazingly tough.
Phone
My phone is now my only camera other than the Mavic Air drone and the Go Pro for water / sports use and it does me just fine for photography and video.
I carried a DSLR for a couple of years, a compact camera for another couple. The phone is easier all round.
I'm sure you know what phone you prefer but if you're travelling for long, make sure it's unlocked for local sim cards. I'm a big fan of twin lens phones for wide angle and various other photography features.
I like my Lenovo because it's water-resistant and has gorilla glass. That's why I avoided the more expensive models, I wanted a phone for travel that was tough.
If you're serious about video or photography you'll certainly also want the three devices below, at least. They change everything. We've also added a drone ( see which one we chose for travel here) and Go Pro to our tech gear recently.
Your phone will most likely also be your music player, maybe a device to watch movies and even a communication device. Make sure you have a headset of some sort. We find Bluetooth, in-ear earbuds comfortable or a wireless, waterproof earbud setup like this one is great for sports.
Microphone, Gimbal, Drone and Selfie Stick
This is a Saramonic Mini Smartmic Directional Microphone for SmartPhones ,Vlogging Microphone for iphone and YouTube video ( Wind Muff included)
If you want to buy just one thing to improve your video quality, buy a mini microphone to plug into your phone. It costs a few bucks, is ultra-portable and makes the world of difference.
You'll also want a simple hand-held gimbal to stabilise your video footage. The 2 brands you'll probably come across are DJI, the DJI Osmo below and Zhyun , which is the one we own.
DJI osmo mobile 2 Handheld Smartphone Gimbal
We went with Zhyun because the DJI was out of stock, no other reason. The Zhyun is slightly cheaper. They also make monster stabilisers for DSLRs.
Next step up for video making, a gimbal or stabiliser. These things are amazing and steady your phone for video. Everything becomes magically smooth, those unusable walking-down-the-street videos are suddenly professional quality.
Expect to pay around $100- $150, which isn't much. They're not as problematic to carry as a DSLR, I've found, they slip into my carry on bag along with my laptop quite easily.
Selfie sticks , love them or hate them, if you want your whole family in the photo, get one. I find they also make me look a whole lot better in photos. Something about looking up and gravity.
They're cheap, around $10-$20. You'll want bluetooth. The one above is a bestseller and Amazon's pick We actually have a $5 one from a market in Kuala Lumpur but it won't last long.
Drones, now, I'm not going to say they're essential, but we just bought one of these and it's so cool.
Super awesome for video and still photography, just check where you can and can't fly it. Laws are pretty good in Queensland but some countries don't like them.
The new DJI Air combines the best features of the Pro with the smaller size and weight of the Sprite. It's what we have. Look out for drone photos of tropical north Queensland on our Instagram soon.
Power Banks or Battery Packs
This Anker Power Core packs a punch and is one of the lightest and most compact available. We rarely even leave the house without these. Click through on the link above
These are vital for kids and very useful for long journeys, power cuts and planes. We carry regular power banks plus a solar charged model which is useful for trekking or countries where the power goes off regularly. We have a full post on power banks here.
International Power Adapters
We have several and they're absolutely travel essentials. Do not leave home without the right power sockets for your destination.
Yes, you can buy them on arrival, but this will waste your precious time. They can also not be the best quality, as we found recently in Bali.
Be particularly careful with Australian 3 prong plugs, some power adaptors will only take a two-pronged Australian plug.
Double plugs or power boards with extension leads are handy if you're working and carrying a lot of electrical gear.
Also look for travel power adapters with multiple USB ports. This is a great example.
Solid Shampoo and Other Solid Toiletries for Travel
Solid shampoo is my one big travelling essential here. No plastic, you buy a metal tin, and just buy your solid shampoo as is.
No problems with carrying shampoo in carry on. No leaks, and it does the job just great.
My favourite is Karma by Lush because it smells amazing.
Very few LUSH products are available from Amazon unfortunately, I just hope you have a LUSH branch near you.
They also stock solid conditioner, deodorant, tooth tabs and solid moisturiser. Hint: You often see a store at big airports.
I took the solid moisturiser to Everest Base Camp, it was perfect in a cold climate.
We're fanatical about ditching the plastics, we have a full post on plastic free travel, here.
Wash Kit and Wash Bag
This is the best wash bag I've ever owned. It's just a genius design, for travel or home. Click through to see it on Amazon.
All you need, really, is soap (for you and your clothes), shampoo, toothpaste and toothbrushes. Everything else is gravy.
Of course, just like you, I pack a few luxury extras depending on the destination.
The wash bag above is the ultimate, I got mine 12 months ago and it's just so much easier to pack, to organise and hang. It's just genius.
I'm very fond of my antiseptic soap for cleaning children covered in mud or scrubbing hands. Lately I've been carrying Detol soap , bought in Kathmandu. We had a lot of tummy problems in Nepal.
A small water-tight food container makes a great soap dish for solid soap.
Shaving gear is bulky but easy to buy anywhere and I occasionally treat myself to a fancy facial scrub, it's extra enjoyable when it's a treat.
In humid countries I don't use moisturiser or body lotions, but in cold, dry countries I buy them, plus Elizabeth Arden lip balm is a luxury when long flights dry out lips.
Other Travel Essentials You Need
Obviously what you need depends on your style of travel and where you're going. Not all of these things may be essential for travel in your particular case and I've tried to explain when and how you will need them.
Sarong and sheet sleeping bags
Some guest houses in Asia have extremely grotty bottom sheets and pillow cases, they don't supply a top sheet and the blanket isn't washed.
We have used the sarong and sheet sleeping bags as clean covers quite often.
Couch Surfers swear by them.
My sheet sleeping bag is cotton and I've had it for over twelve years.
You can buy silk ones in Asia, cheaply (be sure they're silk not synthetic), or make your own from an old sheet to be more eco-friendly.
Sheet sleeping bags or sleeping bag liners are absolutely essential for Himalayan or hot climate trekking. Sleeping bags aren't always.
Even living in London in our own apartment, we still used our sheet sleeping bags and bought 2 more.
Packing Cubes
I bought a set of three eBags Packing Cubes, small, medium and large. The small one takes all of our electrical leads and chargers, I love that it's tough enough to cope with all the pointy metal bits.
The small sizes would also be great for underwear or the kids' toys. My pack has built-in pockets for underwear, if it didn't, I'd buy more small packing cubes.
The medium sized packing cube takes all of my tops and shirts and the large one holds a load of spare winter clothes and gear.
The big one is too big for my 60L pack, really, it's in The Chef's big backpack (90L). When you're trying to pack a backpack you don't want everything in packing cubes, you need a few loose clothes to shove into corners and pack around hard items.
See the packing cubes we own here, but these days there are loads of other colours and designs.
Shoe Bags
I made a few shoe bags out of T-shirts the kids had outgrown. No need to buy shoe bags at all, but they are super helpful to have. You don't want your dirty shoes loose in your suitcase or backpack.
Say no to plastic bags, even to use as shoe or laundry bags.
Laundry Bags
If you're going to drop off your laundry at a laundry place in Asia, your smelly stuff will need to be in a bag. Again I'm going to tell you to make a fabric bag, which can be washed along with your laundry, or use a fabric bag you already own. You don't need to buy a special bag, nor do you need to use plastic bags.
Travel towels
I love travel towels so much we have four.
Travel towels are so much easier to wash and dry than a normal towel.
You can get a really big one that wraps right around which is a lot nicer to use than a clingy sarong after a shower and they're much more durable.
Not every guesthouse will provide towels, many hostels don't. We even use them at home now.
We have a full post on travel towels here, we bought a selection and tested them ourselves, but the one above was our top pick. You can see that one here.
Hats and a scarf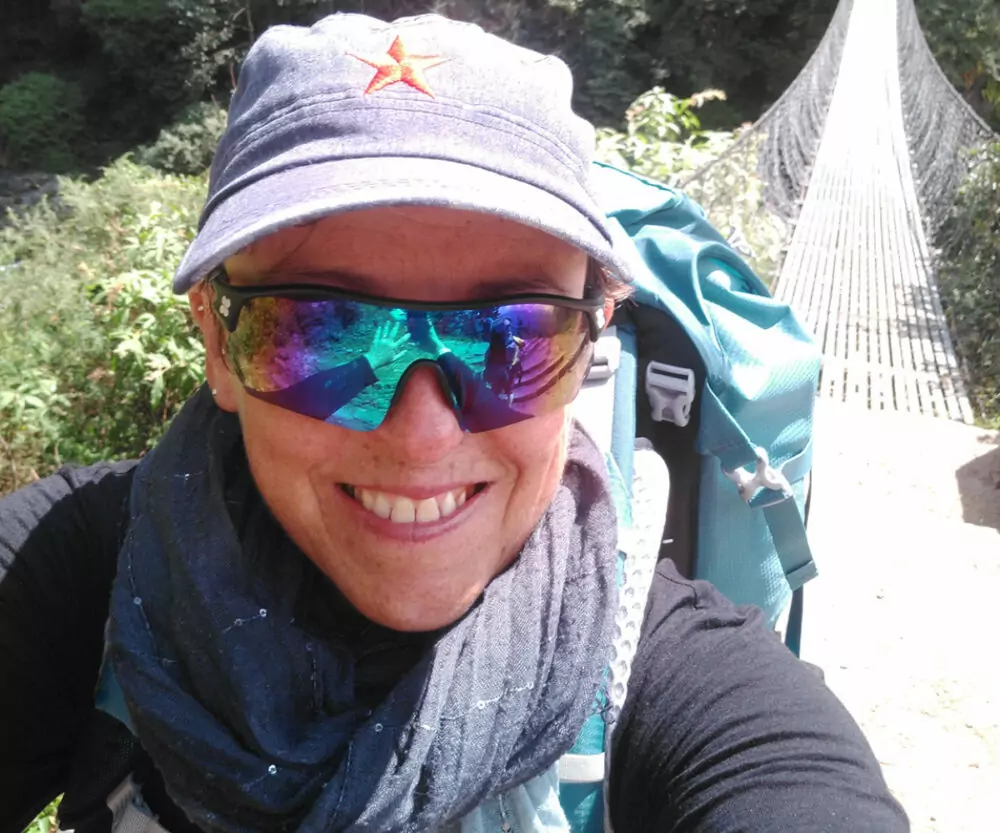 Hats are absolutely one of our travel essentials and we wear them just about every day, in hot or cold weather.
We have multiple hats but dual-purpose is best. Your hat should ideally provide shade and be able to keep you warm in winter.
I wear one just about every day to keep the sun off and cover my inelegant hair.
Mostly I wear caps because I prefer them, but a wide-brimmed hat is more sensible for sun. The same hat should also help insulate your head when the temperature dips.
I have a couple of scarves for keeping the sun off my neck and shoulders, sometimes even my face in desert scenarios with high sun risk.
They keep me warm in London and dress up outfits for cruise ships. They see a lot of use.
My cotton "Simon Reeve" Arab scarf also doubles as a handy towel and child wiper in emergencies.
It can be slung across bus windows to create shade or used as a clean surface to rest on. I also think it makes me look cool.
Are Special Travel Clothes Essential?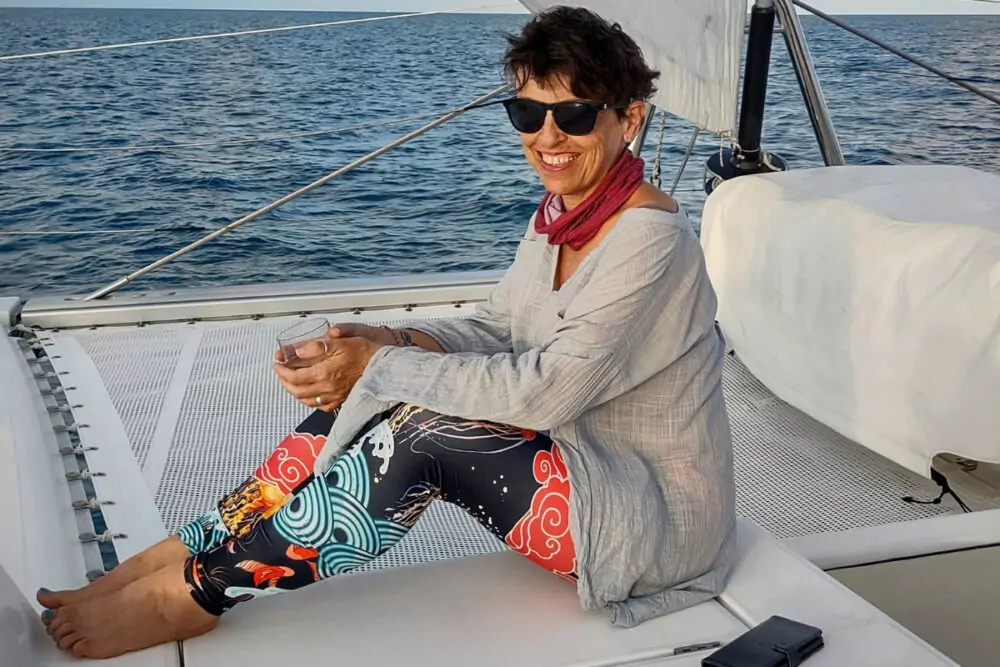 In our opinion. these special travel clothes are totally unnecessary and certainly not essential.
We own some hi-tech clothing for trekking, but we got halfway up Everest in jeans and leggings plus warm/waterproof jackets. See our trekking gear post here.
We all wear jeans almost constantly, in every climate. We live in the tropics, we happily wear jeans year-round. Of course if you enjoy wearing shorts and they're appropriate to the culture of your destination, pack shorts.
In most of the Middle East and Asia shorts are not acceptable, you need long pants.
The only other trousers we pack are leggings or running tights, we exercise, they're useful.
Travel clothes are marketed as lighter, easier to wash and dry, multi-purpose, and so on.
We really think they're unnecessary and shout "tourist" too loudly. Your regular clothes should be just fine.
Sunglasses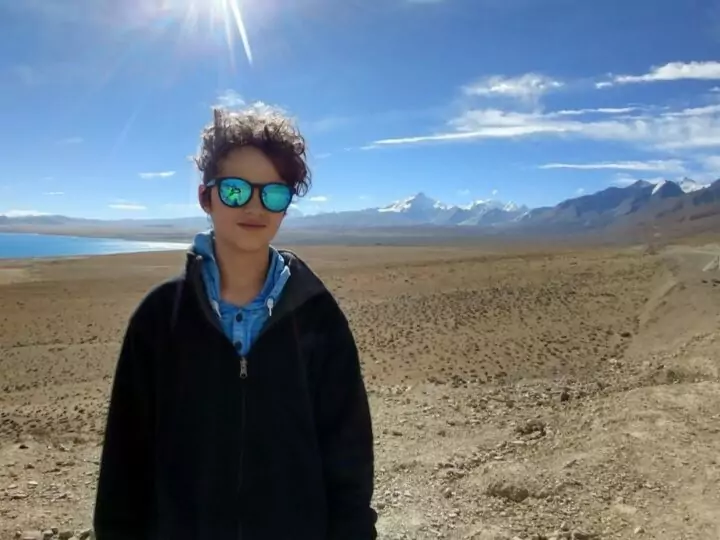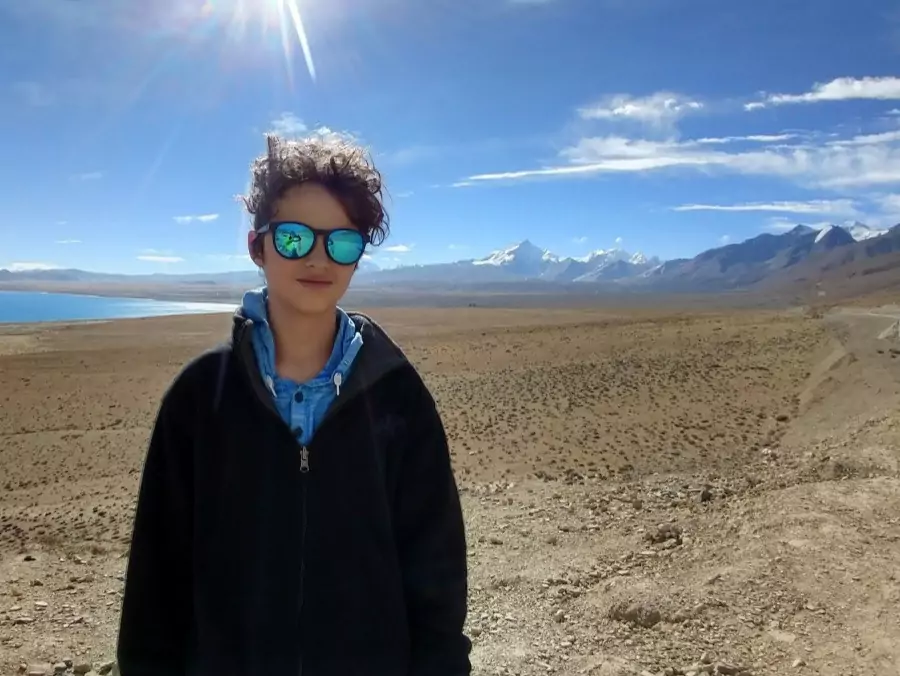 Absolutely essential for sun, snow, and water, but for me, I wear them every day, everywhere. This is the brand we use and have taken to Everest Base Camp. Chef also uses them for Ironman events. Boo is modelling them above in Tibet but they mave many designs and colours. We all have at least one pair.
Eye Masks
If you use an eye mask at home and find them useful or that they help you sleep, take your eye mask. If you never use one at home, don't buy them to go travelling. To us, they are totally unnecessary and just an extra item to carry or, more likely, lose.
Ear Plugs
Very occasionally ear plugs make it onto our "Travel Essentials" list. When taking light aircraft in Nepal, for instance, or sometimes around busy roads in Vietnam or Thailand where constant horn-blowing could keep you awake.
If you find that you need earplugs, you're very likely to find somebody selling them nearby. If not, maybe use cotton wool.
Essential Travel Medical Kit
We've used the first aid kit so much you wouldn't believe and I was very glad I brought so much with me. Yes, you can buy most medical supplies locally, but when you need stuff, you usually need it right now.
I've posted about what's in our medical kit here, I'd highly recommend a small ear thermometer if you travel with younger kids, I wouldn't be without ours, you can see it in the post.
We don't generally need a " travel" medical kit containing syringes and needles. I did buy one once and never needed it. But do take paracetamol for adults and kids, antiseptic creams or iodine, vitamins and minerals, plasters / band aids and whatever you need specific to you.
I also think rehydration tablets are a waste of money, likewise anti diarrhoea drugs. But it's your call!
Plastic Coat Hangers
Don't laugh, I'm serious! I always pack at least one plastic coat hanger for travel, even in carry-on.
If you're hand washing clothes, plastic coat hangers are easy to hang from a single point to dry your clothes overnight in your room.
I have 2 and I use them all the time. Even on our cruise ships they were handy.
We had one of those stretchy "travel" clothes lines and threw it away, a bit of prussic cord and the coat hangers are more useful.
Bug Sprays and Mosquito Nets
As well as repellents, I carry the sort of spray for exterminating mosquitoes in rooms, I don't mess about with dengue, malaria, Japanese encephalitis and all the other mosquito-born diseases.
I buy it locally as needed and wouldn't travel without it in certain parts of the world.
Years ago, on treks in Thailand, we used mosquito nets every night, since then we've used them on only 2 occasions. Both times were in Sri Lanka when rooms had open vents.
Obviously, we also use personal mosquito repellent, I prefer natural mosquito repellent for the kids. In high risk areas we use DEET.
Travel Essentials Items for Kids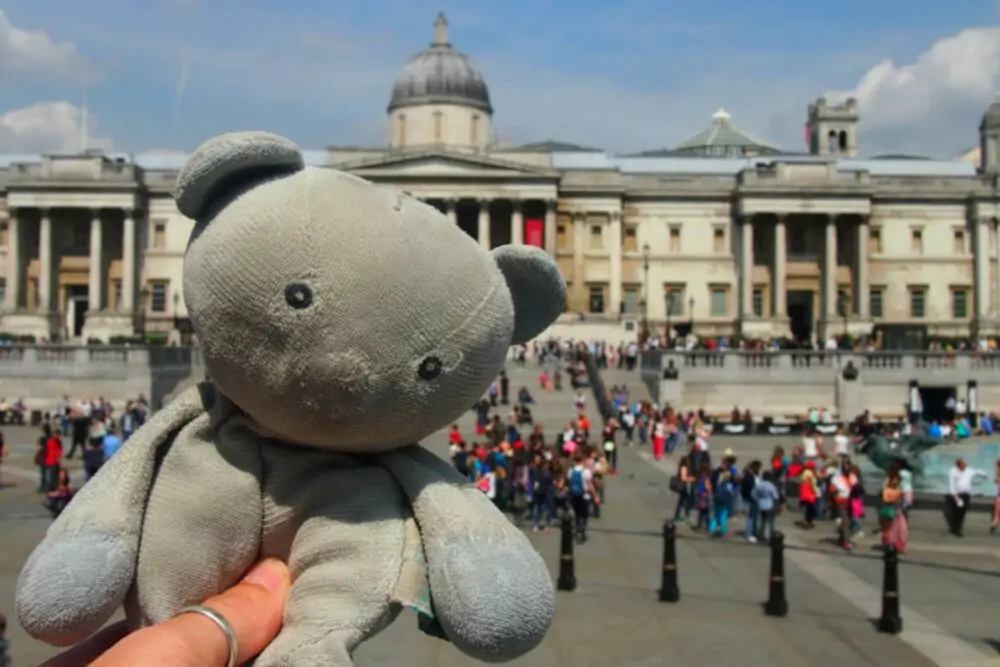 The only real essentials here are the so-important-they'd-die-without-them bears. They've been with us a long time and I hope will be with us many more years.
We carry small toys, sketch pads, notebooks and English and maths books, it's great to have something, anything, to pull out to keep them busy.
If you click through to why we don't travel light, you'll see the toy and lego stash, I don't mind carrying a few extras for them.
We strongly recommend long sleeved rash vests to keep the sun off at the beach or in the water and if you're in tropical areas, maybe a full stinger suit. You will be required to wear these in our part of the world in summer. Obviously they will need a sun hat too.
Essential Travel Sharp Items-Pen Knife, Tweezers and Scissors
My pen knife has a cork screw, scissors, bottle opener, can opener, and a knife for cutting fruit. Plus some other stuff that I never use. But those four gadgets, I use often.
You need nail scissors, obviously, I also carry a bigger pair for cutting hair. Obviously, these cannot go with you if you travel carry on only.
However, recently I was able to take my nail scissors in my carry-on, scissor blades under 6cm long were allowed. I dnon't know if this regulation has changed, but I was surprised.
Non-Essential Travel Items I Should Have Left at Home
Make up. But I'm glad of it in London.
Hairspray. Why? What good is hairspray without a hairdryer? I threw it away (see hats)
Washing line and pegs. I've used the plastic coat hangers instead.
Bringing pencils in a plastic lunch box was a mistake, a soft pencil-case is easier to pack.
Travel-sized shampoo bottles are of no use on a long trip.
That's it, we're not bad at this packing thing after all the practice we've had.
Travel Essential Clothes You Really Need
Everybody has different needs, so read this or not, it's just a few suggestions. You can see how we updated our tropical gear for a trans Atlantic cruise and winter in New York by clicking through here.
3 pairs of trousers (pants) is enough. 4 pairs is a bonus. Take 1 pair that can be worn as pyjamas occasionally in hostels or cold weather. At least one of those pairs of pants, for me, will be running tights. You will probably want to buy some stuff as you travel, so maybe take less and buy more. I've worn my jeans constantly in every climate. A pair of jeans normally lasts me a year and I like to carry 2 pairs at least. Stretch, thick yoga pants were my best friends for trekking in Nepal but running tights or leggings also work. I added wool leg-warmers bought locally.
I initially brought far too many shirts and tops with me. But, 6 months in, some started to wear out. I was glad I had more as back up. The most useful tops I have are black vest tops that go with everything. I chuck a shirt over the top for cultural politeness or to go out in the sun. I also wear them to bed, so I've got a few. The white tops I brought are a nuisance to get laundered. Either bring a lot of whites, to make up a full wash, or none.
I have one pair of swimming shorts, I've worn them occasionally, I haven't missed not having other shorts.
Realistically, I've only needed one pair of socks in hot countries, I only wear them on travelling days with my hiking shoes, the rest of the time I'm in flip flops. In cooler climates I buy more socks. 3 pairs is enough. I've been carrying a pair of summer weight hiking socks the whole time, I used these for trekking Everest region, along with very normal thin socks. My trekking socks are over 15 years old and still going strong, they're Bridgedales. Now I run regularly, I have to carry more socks.
I have worn flip-flops every day and for every occasion in the heat of Asia. Rubber flip-flops are better than any leather sandal because your feet often get wet. I wear hiking shoes or boots on travel days because they are bulky to pack. In cooler European cities, and while hiking Everest, the trekking shoes did me just fine. We haven't been anywhere that has required covered shoes for entrance (The Grand Palace, Bangkok allegedly requires covered shoes but we had no problems in Birkenstocks), and flip-flops mostly suit me fine for hot weather walking. I replace them very cheaply wherever we are in the world. The hiking shoes normally last around a year of constant use. I was forced to buy heels for one cruise line, I bought cheap and left them on the ship. On our Norwegian cruises, we didn't need to dress up. For water activities, you will need shoes that won't come off, for instance, any kind of rafting or kayaking. We use a shoe like this for these occasions, they're designed for water use. If you run, you'll need to pack running shoes, which is a touch inconvenient.
I haven't regretted not packing skirts or dresses. If I wanted anything like that there is lovely stuff to buy everywhere. I picked a dress up in Sri Lanka, I've worn it once, for cocktails with the captain on our 2nd cruise. I bought a LBT for our third cruise, along with heels, I never wore the dress and wore the heels twice.
I keep losing underwear, so I'm glad I brought so much. It's great to have backup. I lost a bra and replaced it cheaply in Tesco Malaysia (you can also find Tesco in Thailand). Department stores were expensive, Tesco had a great range in most sizes. When I'm in London I pick up more M&S underwear if I'm running low. I like nice underwear, nothing "practical" or "travel". I find the M&S knickers and bras last well over 5 years so long as you don't put it through hot washes or driers. Mostly I hand wash. We also found Marks and Spencer stores in Kuala Lumpur and Bangkok.
A long-sleeved sweatshirt-type top is all I've needed for warmth in South East Asia. A fleece would be just as good. You may need something for air-conditioned buses, even in tropical countries. For Nepal I bought a thick fleece in Kathmandu.
Hats and scarves are my absolute best friends for sunshine or cold. A big cotton scarf can keep you warmer or cooler depending on how you use it. It's an extra layer, sun protection, an emergency towel or sarong, plus a blanket.
I spent 12 months thinking about what to pack for this, now epic, round the world (RTW) trip. I wrote a few posts about travel gear and what I was probably going to pack as a way of getting it straight in my head and curing my terrible packing anxiety.
When crunch time came I took a lot less stuff than I had planned.
We were packing for world travel, but the same items are essential no matter what kind of travel you're planning. You then just have to add some extras for particular destinations or activities.
We hope our experiences learning what's essential, what's not, are helpful to you.
We were travelling without my husband for the first 6 weeks of our trip so I had to fit all the travel essentials, medical gear, all the books and pencils, extra electrical kit into my 65L travel backpack. There wasn't much room left for clothes and accessories.
My backpack, the one I love today, is in the link just a few lines above. These days we travel in much more comfort but our essential travel gadgets and gear still travel with us.
That's it for now, packing for the children will have to go in another post, this one is too long already. Thanks for asking, to the people who emailed me directly or commented on the blog, I hope I've answered your questions. If you need to know anything else about travel essentials, just ask.
If you'd like to hire a car during your stay, use this car rental comparison tool to find the best deal!

We also suggest you take a look at this company to get a quote for all kinds of the more tricky adventure or extended travel insurance.

Try Stayz / VRBO for an alternative way to find rentals on homes/apartments/condos in any country!