This post may contain affiliate links.
If you are keen world travellers or you know a travelling family, you'll like our ideas for Christmas travel gifts for kids and families. In this post we include travel-related gifts, often educational, as well as small gifts to pack in a suitcase or backpack for children and families on the road. We have practical, fun and useful gifts for kids who travel or love to travel. We've included gifts for kids of all ages, as well as family gifts for your favourite family.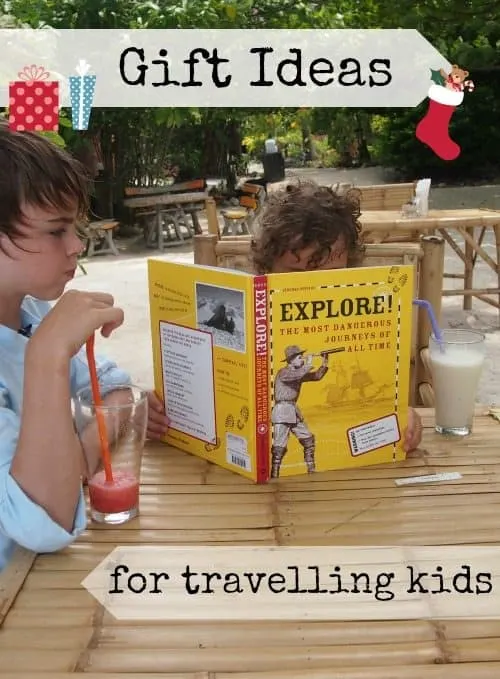 Buying travel gifts for kids on the move is tricky, will they take their gift with them, or leave it at home through lack of space? And what gifts will please a whole family? We know what gifts have worked for our kids and which we've gladly received as a family, from expensive main presents to stocking fillers, from toddlers to tweens and teens.
We've been given some gifts that have made it and plenty that have had to be culled as we've been on the road for over 4 years . You could buy practical travel gifts that will earn their place in a child's luggage, or travel toys, games, books and novelties that will stay at home and enhance the child's wanderlust or education.
Here are our best travel gifts for kids like ours and travellers like us.
Travel Gifts and Travel Related Gifts for Kids or Families
Books! Travel Books for Travel Lovers or Educational Gift Lovers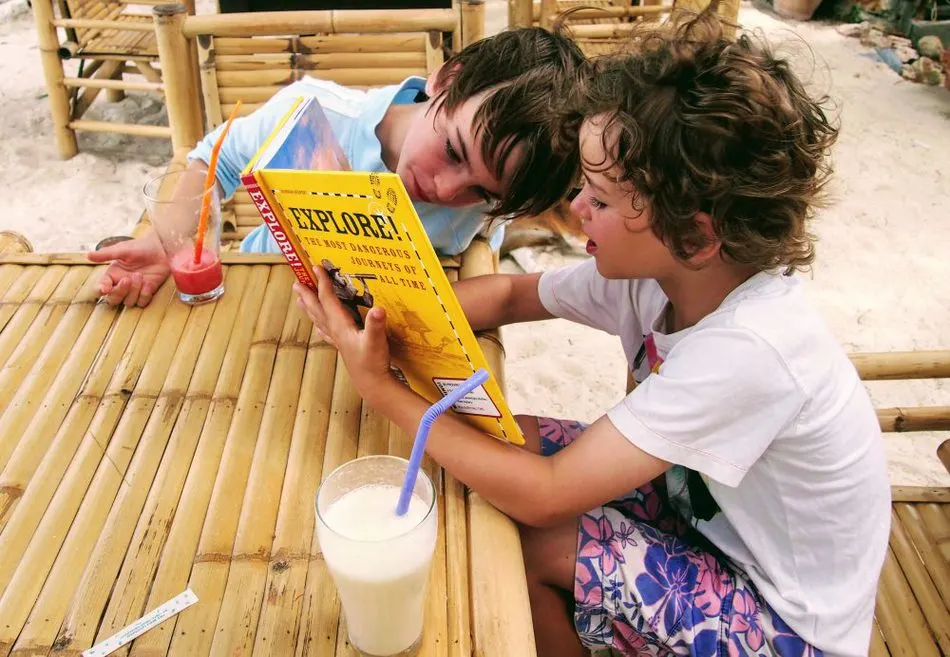 OK, I admit it, we're those weird homeschoolers and worldschoolers that you read about. We love books and anything educational and a huge chunk of the kids' education comes from amazing books such as these. Books are great travel gifts.
Explore! The Most Dangerous Journeys of All Time
We Loved This Book. The only book that made it into our pack when we left was this one "Explore!: The Most Dangerous Journeys of All Time" because it was a truly exceptional book.
It covered a lot of educational bases and was great fun to read. Even if the book doesn't travel it was great preparation for, and introduction to, our amazing and exciting world. If you stop by Haad Salad villas you will find ours there, it was too heavy after Chef's surgery, or you could just buy your own. If you're shopping online in Australia click here for the Explore! book. For the UK, USA and most of the world, just click here.
There are now two more books in this series, Eureka! The Most Amazing Scientific Discoveries of All Time and Genius! The Most Astonishing Inventions of All Time . If you click through on the link above you should be able to buy the set.
National Geographic Kids Infopedia
A highly recommended stocking filler, this National Geographic Kids Infopedia magazine-style book rocked my kids' world for weeks. They both read it cover to cover and not only was it fun, but it was also educational. The book had useful facts and snippets on just about every topic, photosynthesis, time zones, animal classification, volcanoes, you name it, it's in there. It was cheap at under 7 pounds and small enough to pop in your day pack. See it here.
Lonely Planet ( not-For-Parents) Kids Travel Books
The Lonely Planet Not For Parents Travel Book (Lonely Planet Not for Parents). See it here. It's a hardback, a nice present around the $30 mark.
Lonely Planet Kids Series, City Guides and Trails
This one, on London, is in our library at our home base in Romania, it covers some not-so-usual topics and ones kids will enjoy, along with the usual history. We like this book a lot. The Lonely Planet Kids series includes a whole range of destinations, buy them all and build up a travel library. See this one here. These are less costly than the hardback above, nice little stocking fillers or gifts for a child who is due to visit a particular destination. See the London guide here.
Best Travel Games and Card Games as Travel Gifts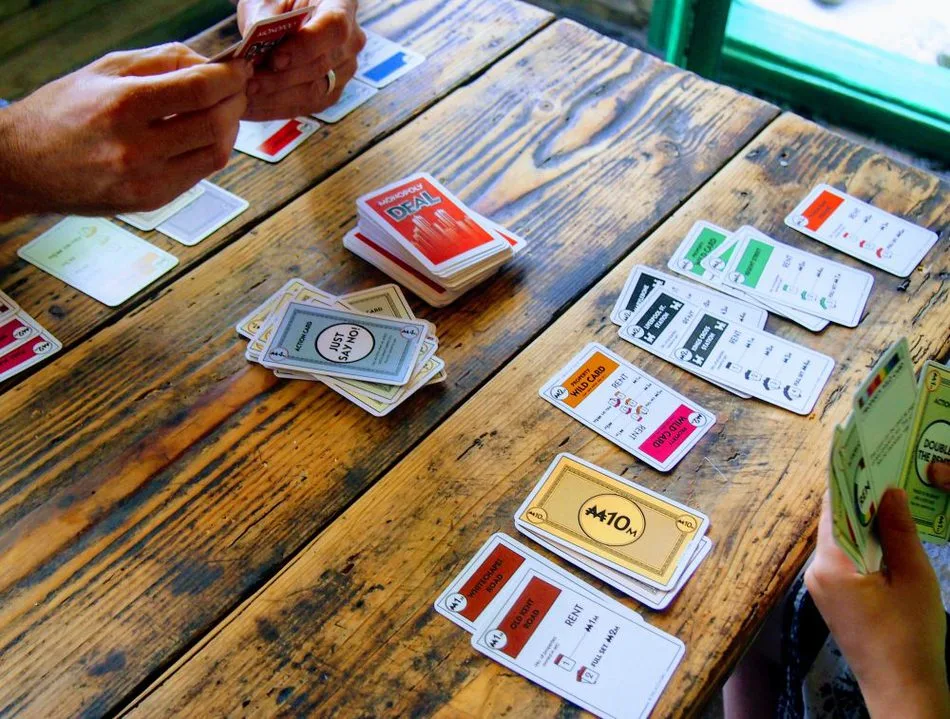 Of all the travel gifts my children received before we started travelling, the small card games are the most used and loved. They are educational gifts, young kids pick up numbers and reading through playing card games like these.
We were given travel Monopoly, travel Scrabble and travel chess, they were too small and fiddly and had too many tiny pieces to blow away or fall. I'd recommend avoiding those, go with the best travel card games instead, perfect low cost, simple, family gift ideas or stocking fillers.
UNO, Skip Bo, Top Trumps and Monopoly Deal
UNO! In our family Uno is the ultimate travel Card Game. It's always in my day pack for quiet moments in airports and bus stops. It's great for all ages and it's how little Boo originally learned his numbers. We've worn out our first pack, a lovely friend just bought us a new one. Big thumbs up for UNO!
Skip Bo. Had enough of UNO? Try Skip Bo , we haven't got this one yet but everyone tells me how great it is
Top Trumps. Another compact card game, but one with a surprisingly educational twist. Playing Top Trumps Doctor Who really helped both my boys when they were learning to read and understand decimals, now I look for packs that help with history or general knowledge. This is the one we're playing at the moment, London, they love it! Have a look here for more Top Trumps games, pick a subject to suit their interests.
Monopoly Deal Card Game ( buy in UK, USA, Europe by clicking here) is our latest favourite. We play this one almost every day. It's like regular Monopoly, without the huge box or the time commitment. It's purely a card game, no other pieces involved, ideal for travel. You can buy Monopoly deal in Australia here. A Monopoly Deal travel case is also available. You'll find it if you look on Amazon.
A Scratch Off Travel Map, Leave it at Home or Take This Travel Gift on the Road
These work for adults and kids and come in various sizes and colours. Some show the whole world, others are more detailed and focus on one country or region. The smaller travel version can go on the road with you in its own tube. The Luckies of London Scratch Map Travel Edition claims to be the original but many other versions now exist. A Large Size, Deluxe, Personalized Scratch-off World Map Poster is great to keep at home. I love these and we have 2 about to be delivered, one black one white, one each for the kids. Photo coming soon! See the original travel sized map here, click around to see the big ones.
Electronic Gifts for Kids and Families Who Travel
It's no use buying your travelling family a nice new vacuum cleaner or a gaming console, (travel hairdryers, travel kettles etc could be a possibility – we don't carry either) but what electronics will they need and want on the road, from preschoolers to teens and their parents. These are some of the devices we love and have loved over the years. The standout, of course, our Kindles. They're not too expensive and ours have lasted years.
A Portable Charger or Power Pack
These are absolute essentials for family travel where the list of devices is long. I would suggest you buy at least two per family, for any style of travel. These make good gifts for power-hungry teens and are super practical. You can get cute ones in various colours, but a good quality, small, compact, power-heavy one is our best pick. The Best Drone for Travellers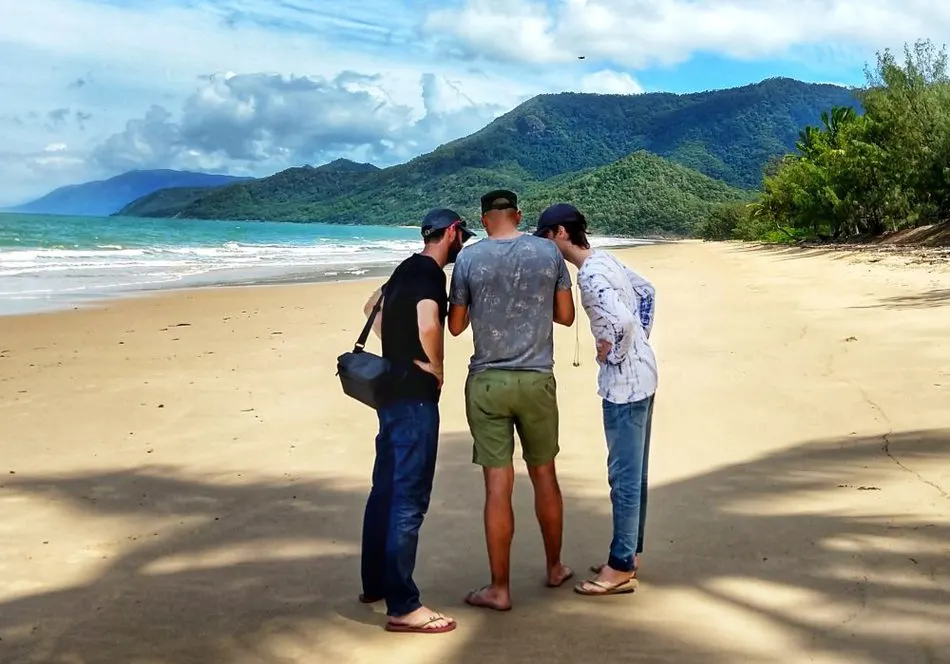 We love our drone but it's heavy to carry and some countries won't allow you to use it, maybe not even take it into the country. That said, we've not even had anyone want to look at ours yet and if we think we may be overweight at check-in I simply put it in a coat pocket. Our teen has really enjoyed flying our drone and he edits the videos afterward. Getting out with the drone is a really good family activity and everyone wants to get involved. More a gift for a family, or a teen who is keen. They're easy to fly and pretty hard to crash. Full post on drones for travel here, including information on the one we eventually chose, and why.
Kindle Paperwhite. An Absolute Essential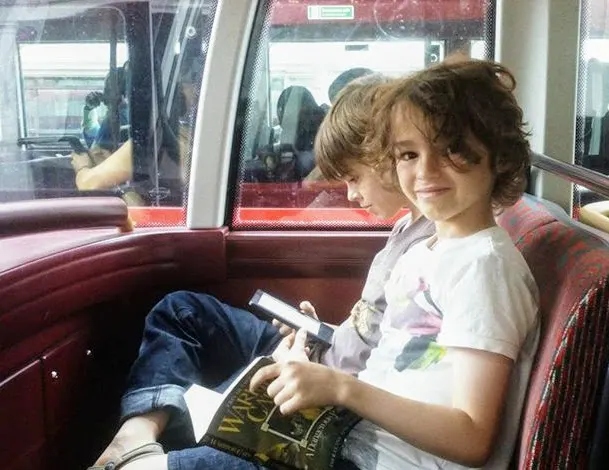 If you know a child who loves books a Kindle is essential travel gear. I preloaded ours with kids' books before we left, picture story books for little Boo (6), reading books for D (8) including the whole Harry Potter series ( books or book vouchers for Kindle make a great gift, too), it has seen a lot of use, particularly on buses and trains.

We have a Kindle Paperwhite, 6 inch( click through to see latest special offers, this version is often on sale) because it's easier on the children's eyes than other reading devices, I love being able to enlarge the text for my elderly eyes too.

The battery life is amazing, it's small, light and easy to carry. I want a reading device that's purely for reading, if it plays games too, there would be a whole lot less reading going on.

There are book exchange shops in most backpacker towns but the range of children's books is always tiny and it's not a cheap option. We wouldn't travel without at least one Kindle, at the moment we have three. Be sure to buy them a Kindle case or cover too, to keep their Kindles drop-proof. They are remarkably robust, but it helps. See Kindles here, they're not massively expensive and now they can come waterproof too.

Just incidentally Warrior Cats were Boo's all-time childhood favourite book, he must have read dozens in this series, over and over again. See them here.
Tablet, Laptop or Phone?
It's a tough call. I prefer my kids to have laptops because they're not as portable. I want them to read, so the Kindles were the only electronic devices in our day-packs and the laptops stayed at home base ( hotel). It helps reduce the gaming and increase the book loving.

The problem is, as they get older the handheld devices become more and more useful to them. A phone is all the camera you need these days and kids can make their own YouTube videos with ease.

Also, of course, they want to play Pokemon Go around the world, this game really enhances their travel experience and interest, so don't dismiss it as any sort of waste of time.

These days we have laptops as well as phones for our teens. It depends on the child and what they need. As they get older their laptop requirements change too and we've found that the kids need better laptops than we do.

It's all about a dedicated graphics card, this will have it's own separate memory to handle the large amount of RAM that games require without this they won't have a decent gaming experience and will be totally unable to play some games. The computer CPU also needs at least 8 GB of RAM, minimum.

Of course, they need a laptop for all things "school" too. My aspiring YouTuber also needs a laptop of decent quality to handle all of our video editing. His blogger mum has a very old, battered Acer that still handles my relatively simple needs quite well. We've not fans of tablets, we've bought them and we were glad when they broke, which happened very quickly.
A Phone, For Photography, Video, Skype and Pokemon Go
You could really pick anything here, we tend to go for cheaper phones for the boys but just think about what they'll use it for.

The average phone has a 2-year lifespan, if your 13-year-old is interested in photography or video making, maybe spend more to get better features in that department so that the phone will still be suitable for your 15-year-old.

After days of research, this is the phone I chose for myself, the new Moto. It was the only phone I could find that was waterproof, had gorilla glass and had a top-notch camera. It absolutely has to be tough and waterproof to travel with us. The 2 cameras to the front give depth ( similar to low aperture shooting) and a wide angle effect. I've ditched my DSLR and the phone is handling all of our video and photography now.
Action Cameras and Go Pro
Now we're onto the toys of dreams, Go Pro action cameras and drones, these will be our next investment as technology marches onward and our children grow into teens. The model below is the latest, greatest Go Pro Hero 6. I'd be tempted to buy the best as we are a family that makes YouTube videos with a child that loves to edit them.
A Surprise Entry, The Nintendo 3 DS as a Useful, Fun, Gift
I'm very anti-hand-held-gadget but I bought one of these for D ( then 10 ) after months of begging. It was travel-sized and it surprised me, it did things I never imagined, beside play games.

He took 3D photos and made his own movies and stop/start animations, listened to music and used some nifty built-in image and audio manipulation tools.

Because games have to be bought individually it's never been such a time sucker as tablets or online games, so overall, I was pretty pleased with this. We got D a black one but the pink is cool!
Head Torches and Flashlights for Kids
Kids love playing with head torches and flashlights, sometimes they use them for reading in bed, other times playing outside in the dark, they're very handy for power cuts too. You could get them a sensible one, or you could get them a super cool LEGO Darth Vader Head Lamp I want one.

A more powerful head torch is a great piece of kit for older children who spend a lot of time in the great outdoors. The older the kids get, the more they like having top-notch gear of their own. We've always used Petzel head torches.
Noise-Cancelling Headphones
We don't use these and don't want them, but if you have a child or adult who is sensitive to noise on long flights or bus journeys, maybe in busy, bustling streets (although I think this could be dangerous), noise-cancelling headphones are all the rage. They'd also be really bulky to carry. We prefer a simple pair of earplugs, as are required on small plane flights.
Buy Them The Gift of An Experience Anywhere in the World
Tickets to the zoo, a cultural attraction, theme park or entertainment venue. You can buy an experience gift for just about anywhere in the world using resources like this one. Click through and get some ideas on what's available for kids and families.

We recently enjoyed the gift of a visit to an attraction followed by lunch, as a family, it was a lovely way to spend the day. The site above has many more experiences all over the world.
Travel Gifts for Kids to Take Travelling
A Travel Journal
A travel journal can be a whole-family project, or something for each child to complete themselves. Either buy a lovely travel-resistant journal, or a dedicated travelogue. This Lonely Planet Kids Travel Journal is always popular.

To buy the travel journal in Australia click here.

I'll warn you here that a lot of kids, mine included, hate the idea of journaling, my boys would be very unhappy if I forced them into it. Know your audience!
Cute Passport Holders
Protect their passport, help them identify it in a pile and help them be the cool kid with an envy-worthy passport holder. It should also keep that precious passport holder clean and protected from messes.
A Travel Pillow
We've not had much luck with travel pillows. The bulky U-shaped ones you can buy at most airports have never been easy to travel with, they're too bulky, and a lot don't work. For road trips we've always given our kids a normal pillow and a blanket, that works great, for experiences such as touring the National Parks, crossing Europe by road and so on.

Taking a regular pillow on a plane is way too bulky. The only type of travel pillow I've travelled with successfully was like this one. I enjoyed using it and found it useful. It was small enough to pack when not in use and lightweight. I used it for camping and on buses around the world. There are plenty of patterns and designs here, one each for every family member.

While we're talking sleep and comfort, I've never found eye masks useful. Some people do. Know who you're buying for is best.
Special Luggage for Special Kids Can Make a Great Gift
Trunkies for Toddlers and Young Children. The beauty of these trunki bags isn't just in their wheels and the way little ones can pull them along behind them. They also make a perfect seat for tired legs in check in queues. They come in many colours and characters, see above. I wouldn"t say these were suitable for long term travel, they're more a novelty item.
A Perfect Backpack for Tweens to Teens. This is the bag my 11-year-old now has. It's a bag for life with an incredible lifetime guarantee and will fit him right into adulthood. It has a laptop sleeve and plenty of room for his toys and clothes in an abundance of organiser pockets. It's from Osprey, they are a great brand, seriously good quality and this bag is perfect carry on size for European airlines. You can also use it for your main hold luggage. We've used it on Air Malaysia and Air Asia multiple times with no difficulty desite their smaller carry-on size. We can't recommend this bag highly enough for kids or adults. I'd love to receive one as a gift, but be sure you know the person well and what they want or need.
Pen Knives, Head Torches and Binoculars
These sorts of gear gifts are very "explorer" and could be well received while being practical. We have a full post on head torches for travel and why and how you may need one.

Binoculars we bought for the boys, they were rarely used but we did get a good pair that will last a lifetime. Small travel sizes are available but they tend to be quite heavy.

What boy ( and often girl, I love mine) doesn't want a pen-knife? If you're going to get one why not get an iconic Swiss Army knife? We have 3 Swiss Army knives with us, my husband says both of his are essential and of course, mine is, it has the cork-screw! You can find a very ladylike Swiss Army knife with a corkscrew here. Shame it's not pink.
Practical Travel Items, Packing Cubes and Organisers as Gifts
Packing Cubes
Packing cubes are a traveller's best friend and help us stay organised, we have multiple sets and the Ebags range are our best. They are certainly a great gift for adult travellers and kids who like to organise would dig them too. Maybe fill one with little toys, sweets and travel toiletries to make a cool going away gift.

We organise clothes, toys and electronic leads in our cubes and I love that they are tough enough to cope with the pointy metal bits. My boys have little pouches for their toys, Boo, in particular, loves his, he's an organiser. A small packing cube with something nice inside could be just the thing.
Travel Organisers, for Leads, Passports, Toiletries and Personal Items
I absolutely LOVE travel organisers, from the above model for leads, passports, personal items, USB sticks, you name it, to the new generation of flat travel wash bags.

Brands like BUBM and Ebags are creating stylish, light, genuinely useful products for today's traveller.. Mine go everywhere with me, on planes, trains, buses and in my handbag every time I leave the house. An easy purchase, and one that is sure to be well-received, is this set of three organisers in various sizes and colours. Most travellers know the E Bags brand to be reliable and of good quality. I've had mine for over a decade, used them well, and they're still in perfect condition. A family can enjoy travel more when packing is simplified.

We have a full post on travel organisers here, including storage for toiletries, electronics, i pads, documents and passports, or you can click the image above to go to Amazon.
Give an Experience Gift Rather Than a Thing #2
If you don't know exactly what a child or family have or haven't got already, you could be throwing your money away on stuff that will never make it into their suitcase or backpack.

A gift we received recently, which we loved, was a half-day experience from Tinggly. Tinggly can provide your friends and loved ones with a ready-made excursion, activity or meal, anywhere in the world. We had a morning at London's Shard ( famous in my boys' eyes from Doctor Who) followed by lunch. It was a fantastic treat and we'd love to receive more of these gifts, it was great to have a break from organising everything ourselves.

Check out Tinggly's gift experiences on their website or click through to read more about our Shard day out.

Was that any help? I hope so. This is the sixth or seventh Christmas that I've had this headache. What to buy kids and adults who never stay put and simply love travel. Christmas on the road can be challenging and this list is evolving over time. Shall I tell you what I'm buying the kids? Better not. If you want to know what I'd like for Christmas, see here.
If you'd like to hire a car during your stay, use this car rental comparison tool to find the best deal!

We also suggest you take a look at this company to get a quote for all kinds of the more tricky adventure or extended travel insurance.

Try Stayz / VRBO for an alternative way to find rentals on homes/apartments/condos in any country!