Travel organisers are lifesavers. I don't carry much gear for a professional full-time traveler, but I saw the Bubm organisers on Amazon and had to have one I've carried it every day since. When looking for the best travel organisers I picked the Bubm below from a competitive market. I was sick of passport, documents, leads, cables, plugs, adaptors, phones, power packs, memory sticks and electronics debris hanging around in my bag along with tiny crumbs of chocolate, crisp fragments and sticky sweet wrappers (let's mention too, the wet wipes, mosquito repellent, sand and hand gel) constantly threatening destruction. I compared various styles of travel organisers and chose the one below because the color, design and price ( £15.99 under $20) were good . I've now been using it for over a year and would give it a very good review. I had it in my hands within a few hours of ordering thanks to traveler's joy, Amazon Prime (Try Amazon Prime 30-Day Free Trial US only). These organisers make travelling life easier, quicker and slicker, check out this, and other organisers we've researched, below. Most are available in the USA, UK, Australia and Europe. Also take a look at the Ebags travel toiletry organiser (below), I own it, it's genius.
We cover different styles of travel organiser below, for passport, packing, money, documents, electronics and miscellaneous items.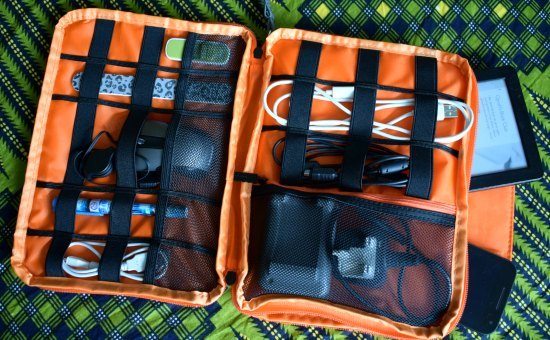 NO TIME TO READ THE WHOLE POST? The organiser above is the one I carry every single day, I use it, I love it, so this, for me, is the best travel organiser and I have no hesitation in recommending it.  Check prices, styles and colours here.  (Approximate cost under $20 Euros, Pounds or Dollars) 
I travel with my family so I carry more than most and up to this point in our travels we've stored all of our leads and chargers ( cable spaghetti!) in a communal family travel organiser, a smallest size e-bags packing cube, as below. Clicking on the images will take you through to find more details on Amazon.
Best Travel Organizers, The Competition
Here is a selection of travel organizers I found on Amazon, there really is little to chose between them and the choice comes down to personal preference. You could, indeed, buy one simply for your passport and travel documents, but my choice is to organize my electronics.
Styles of Travel Organiser:
Packing cubes
Packing pouches
Organisers for hand luggage/ day packs
Purse organisers
Travel Wallets
Family travel organisers
Passport organisers
Document organisers
Electronics organisers
Multipurpose organisers
Wash Bag, Toiletry and Make Up Organisers
Stage 1 of Organisation, Packing Cubes!
The Classic, Ebags Packing Cubes
Check prices and colours here on these eBags packing cubes. A classic choice.
We have used eBags Packing Cubes for years to help organize our cases or backpacks. They're tough, long lasting and for me, indispensable. A 3 piece set like this one above is around £20 or $30. If you click through from the image or the links you'll see that they come in various combinations of shapes and sizes and every colour of the rainbow. We own these and recommend them.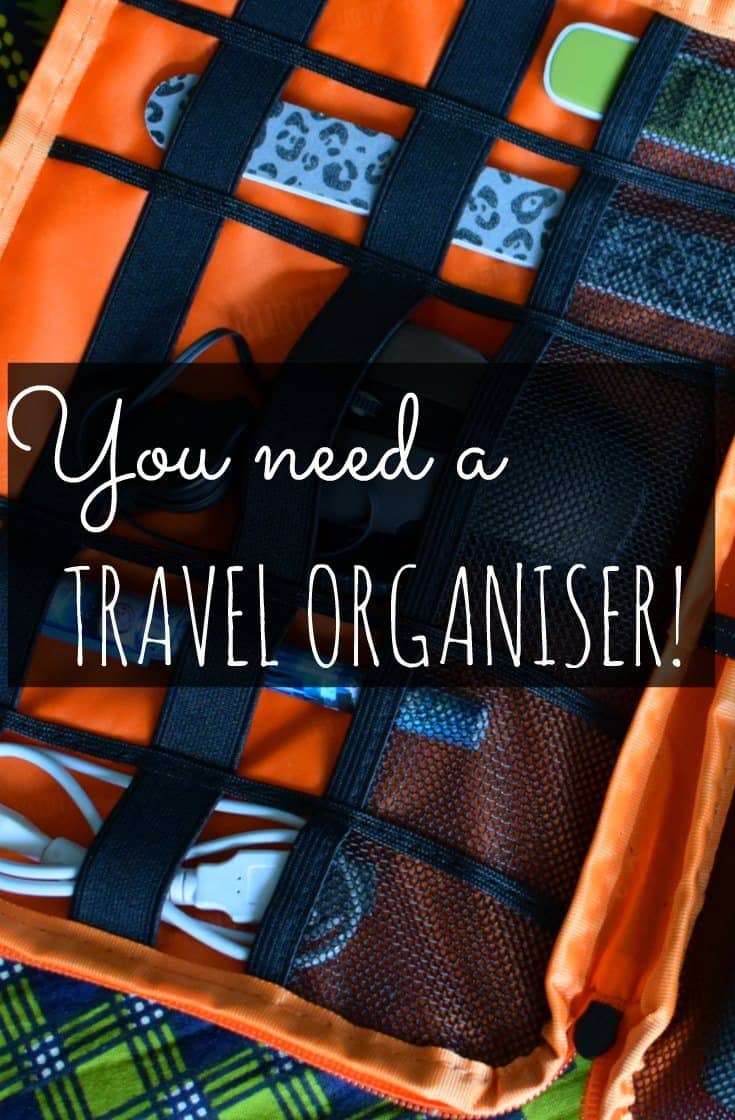 More Travel Organiser Bags, Cubes and Pouches
You can buy all manner of travel organiser bags, for laundry, toiletries, you name it. As I said, we own the e bags packing cubes, above, but all of these are worth looking at, these two below are the top best sellers on Amazon. I really liked the third set because it has those sealed laundry bags, so I bought this too. There's nothing worse than having to put smelly stuff in with your clean clothes. If you click through there are much nicer colours, we have blue.
Amazon Basics Packing Cubes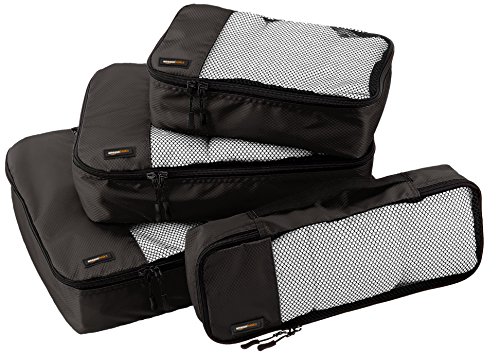 Amazon basics packing cubes are a slightly cheaper alternative to eBags, Check colours, shapes and prices here.
Packing Cubes With Laundry (or toy!) Pouches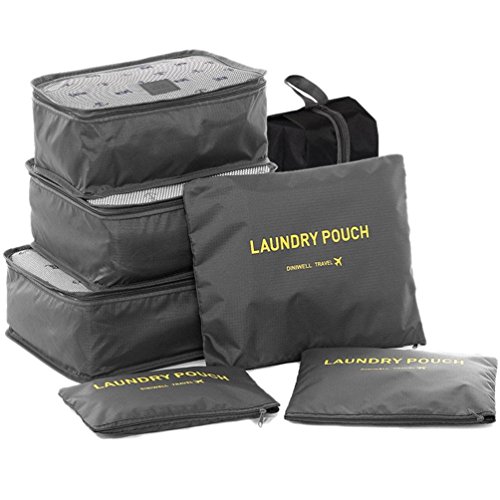 Another set that we own and use. I bought these because the zippered pouches, in multiple sizes, are a really useful thing to have. So far they've been put to use for toothbrushes, toys and to sort clothes. That shoe bag is great to have too, after years of using carrier bags. You'd be surprised that our carrier bag stash does often run out, they just don't hand them out everywhere, which is a good thing. The quality isn't nearly as good as the ebags, but they do the job.
HiDay 7 Set Travel Cube System – 3 Packing Cubes – 3 Pouches – 1 Premium Shoes Bag – Waterproof Fabric£12.99
I'll Mention in Passing That You NEED Power Packs!
We now have a full post on the best rechargeable power packs, we recommend solar powered.
My Organiser for Cables, Personal Electronics and Hand Luggage Essentials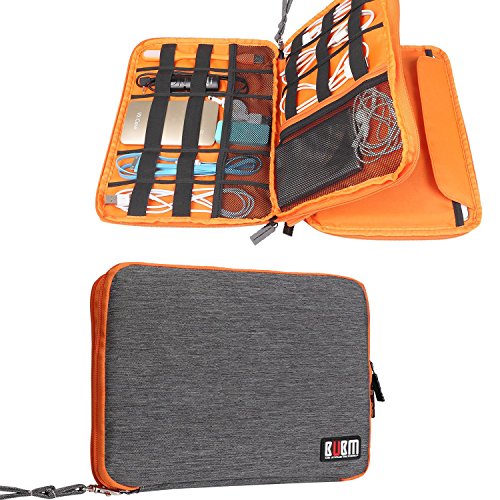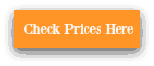 As a mummy, I think these could equally be called family organisers. I'm forever carrying precious things ( 3 Kindles) around for the kids, one of these is just perfect to stash the stuff and keep it all breakage, sand and chocolate proof. I'm also going to be keeping tissues in there so they don't get crummy in my bag, I know you're hearing me moms!
I love that you can take this organiser from a day pack or lap top bag and just stick the whole thing in a handbag ( purse).
You can also pull the organiser out on long flights and hang all your gadgetry and essentials on the seat-back hook so that I have a nail file for when you inevitably break a nail and my pen for the customs declaration along with Kindle, phone and power packs. It has a handy detachable carrying strap/loop hanger.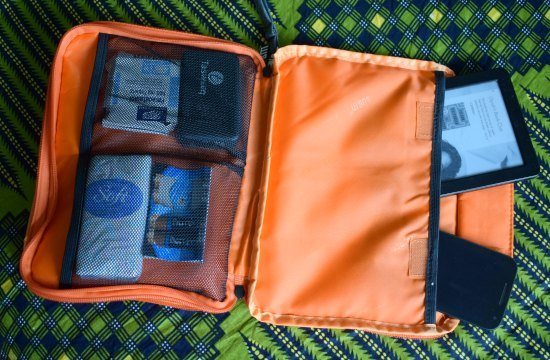 Travel Wallet Organisers for Passports
The iSuperb passport and wallet travel organiser below is waterproof polyester and zips closed. It will hold 2 passports along with boarding cards, tickets, credit cards, ID cards, cash etc. You can even keep your phone safe in the outside pocket. It comes in a range of great coulours, including pink, and has that useful hand strap.
I Superb, Best-Selling Organiser (2 passports)
Price under £10 around $15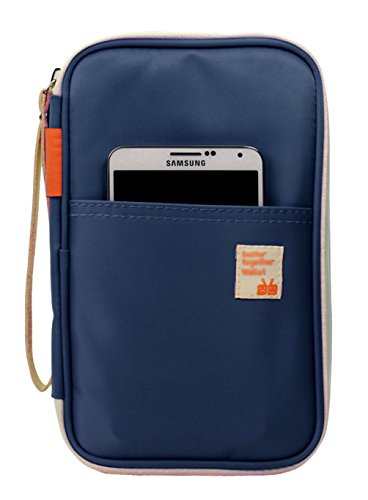 iSuperb® Passport Wallets Organizer Waterproof Polyester Travel Wallet Purse Bag with Hand Strap Zip Closure Document Organizer 22*13.5*3.5cm Dark Blue
RFID Blocking Neat Organiser (family passports)
The travel organizer wallet/clutch (below) adds RFID blocking material to the mix to prevent unwanted scanning. It has the same handy strap for carrying or hanging and price wise, comes in at under $10, £6.59 (This would make a great Christmas gift! )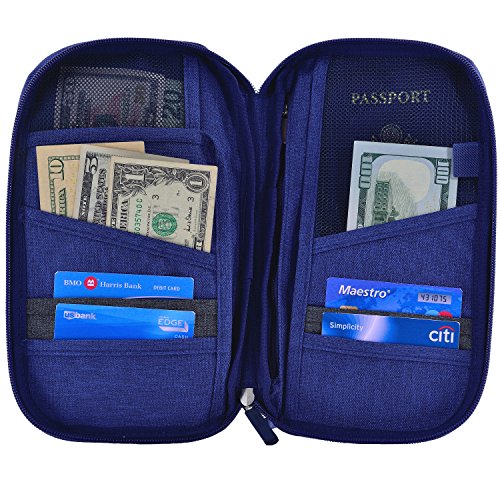 Hopsooken Travel Wallet & Passport Holder Organizer Multi-purpose Rfid Blocking ID Card Pouch Clutch Bag (Darkblue)
Family Passports Organiser
Several of these exist, but models differ between the US and UK. The link will take you to a similar family sized passport holder available in your country.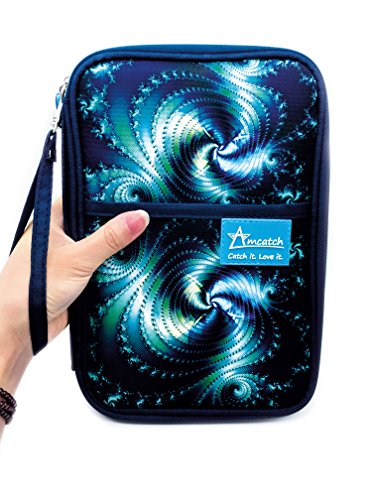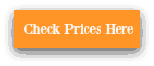 Leather Wallet Style Travel Organiser (for 1)
If you're looking for a simple leather wallet style travel organiser, the item below will suit your purpose at just £5.99, $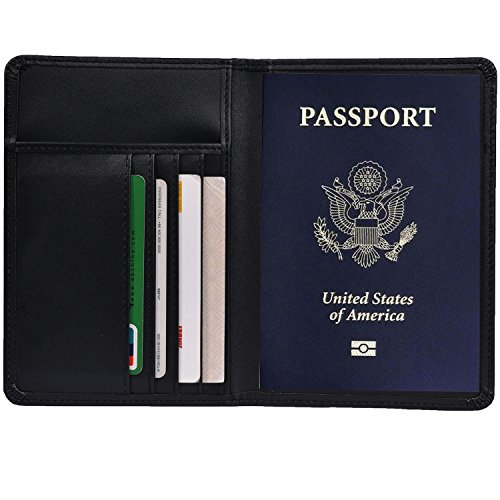 Hopsooken RFID Blocking Leather Passport Holder & Travel Wallet Id Card Case Cover (Black)
The Ultimate Wash Bag or Toiletry Organiser
When this arrived it was even better than I imagined. I've used old style travel wash bags, this one is lighter, slicker and smarter. Flat is totally the way to go and when you hang this one it gives super easy access and division of wet and dry. I use mine for make up, tooth brushes, solid shampoo, hair grips, everything a lady of travel could need. It's an absolute must-have.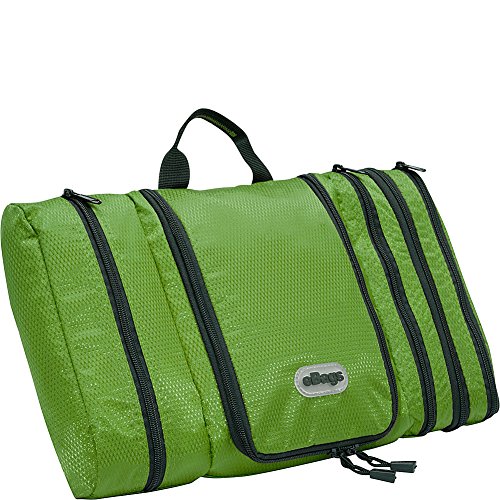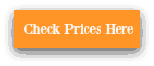 Our Travel Organisers Continue to Travel With Us
We are ultra-minimalist and own few items total so the things we carry as we travel have to work well or they quickly find themselves in charity shops. Our organizers makes the grade.
If you like the look of them, buy one ( Bubm here)
Enjoy the rest of your week, I have 3 days of diving left before we leave our newly beloved cats at this house sit and move back to our usual London base, Twickenham/Richmond. We've actually, for only the second time in 3 years, found a place though AirBnb for a month (if you sign up to host or stay via our link you get a special discount), a real bargain and exactly where we wanted to be. So we'll be squeezing more fun and education out of London before Chef's Iron Man competition next month.
For our full post on travel gear, the things we carry and have carried for 3 years, look here.