This post may contain affiliate links.
Travel organisers are lifesavers. I don't carry much gear for a professional full-time traveler, but I saw these travel organisers on Amazon and had to have one. I've carried mine every day since in my purse, daypack, or carry-on bag. There are different types of travel organisers, for electronics, documents, passports and clothing. We cover multiple types or organiser for travel in this post.
When looking for the best travel organisers I picked the Bubm below from a competitive market. (Just buy it here if you're in the US, if it's in stock, it does sell out, in Australia buy a similar one here, for the UK look here). I was tired of passport, documents, leads, cables, plugs, adaptors, phones, power packs, memory sticks, and electronics debris hanging around in my bag along with tiny crumbs of chocolate, crisp fragments, and sticky sweet wrappers (let's mention too, the wet wipes, mosquito repellent, sand and hand gel) constantly threatening destruction.
If you're looking for a family document/passport organiser, this is the one we recommend and love for a family of 4. Australians, the same one is here if that link won't work for you. We recommend you buy both types of organizer as they serve different purposes.
Travel organisers come in various types and styles, some are just for passports, cash, and credit cards, some are for packing or toiletries, some, like the Bubm that I carry fit into your carry-on luggage or day pack rather like a large purse.
All of them keep travel essentials and valuable items neat, clean and organised.
Best Travel Organiser
The best travel organiser, of course, depends on what you want to organise. The general travel organiser in our table below is a very good place to start, particularly for solo travellers.
If you're a family with multiple passports to keep safe and ready, look at the family document organiser.
Then we get onto travel organisers for packing and luggage, there are many, but we can tell you what we use, find most useful and clever.
Travel Organisers
Travel organisers come in many shapes and sizes, most are purse or carry-on sized. We've selected our favourite types and brands of travel organiser in the table below. If you have time, we give you more detail and information on the travel organisers we use and why we think it's worth buying and using these organisers for travel documents, electronics, passports, toiletries and more.
| Item | View | Tips |
| --- | --- | --- |
| General Travel Organiser | | I've found my travel organiser indispensable over the years. In my carry-on bag, daypack, or purse, it keeps important items clean, tangle-free, protected, and easy to find. For ultra-light packing you won't want one, but for regular travel I take mine every time. This is the brand and style I own,if you click through you'll find dozens of variations. |
| Flat Wash Bag | | The best wash bag, bar none, I've ever owned. Works for men or women or the whole family. Keeps small make up items safe too. |
| Family Document Organiser | | This is the type of passport / travel document organiser my husband carries at airports. It has a pen, that's such a blessing when it comes to filling in immigration forms on the plane. It takes 4-6 passports, documents, cash, and keeps our stress levels down. RFID blocking sleeves and capabilities are available. |
| Packing Cubes | | Life changing! But only if you're packing hold baggage, they waste your space and weight allowance for carry-on. We've owned and used this brand for almost a decade. We've found them super-durable. Multiple sizes are a must with the smaller ones being most useful. |
NO TIME TO READ THE WHOLE POST? The orange Bubm travel organiser I carried every single day on the road, is back in stock. Take a look here. I love it, so this, for me, is the best travel organiser and I have no hesitation in recommending it. We've had a good look at what other organizers are available today and the dusky pink organiser in our table above seems almost identical and the colour is more attractive, I think. If the Bubm goes out of stock again, we think this is a good alternative.
The following refers to my Bubm organiser. I compared various styles of travel organisers and chose the one below for me because the color, design and price (under $20) were good.
I've now been using it for over 5 years and would give it a very good review. I had it in my hands within a few hours of ordering thanks to traveler's joy, Amazon Prime (Try Amazon Prime 30-Day Free Trial US only).
These organisers make travelling life easier, quicker and slicker, check out this, and other organisers we've researched, below. Most are available in the USA, UK, Australia and Europe.
Also, take a look at the Ebags travel toiletry organiser (below), I own it, it's genius.
We cover different styles of travel organiser below, for passport, packing, money, documents, electronics and miscellaneous items.
I travel with my family so I carry more than most and up to this point in our travels we've stored all of our leads and chargers (cable spaghetti!) in a communal family travel organiser, a smallest size e-bags packing cube, as below.
It works, but now with 4 phones in the family, I like to have my leads and adaptors close at hand.
Styles & Types of Travel Organisers
Here is a selection of travel organizers I found on Amazon, there really is little to chose between them and the choice comes down to personal preference.
You could, indeed, buy one simply for your passport and travel documents, but my choice is to organize my electronics.
Styles of Travel Organiser:
Packing cubes
Packing pouches
Organisers for hand luggage/ day packs
Purse organisers
Travel Wallets
Family travel organisers
Passport organisers
Document organisers
Electronics organisers
Necklace or jewellery organisers
Multipurpose organisers
Wash Bag, Toiletry and Make Up Organisers
Travel Organiser for Cables, Personal Electronics and Hand Luggage Essentials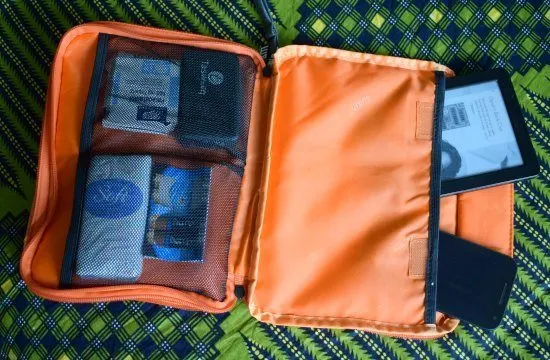 As a mummy, I think these could equally be called family organisers. Organizers to our American friends.
I'm forever carrying precious things (3 Kindles) around for the kids, one of these is just perfect to stash the stuff and keep it all breakage, sand, and chocolate proof.
I'm also going to be keeping tissues in there so they don't get crummy in my bag, I know you're hearing me, moms!
I love that you can take this organiser from a day pack or laptop bag and just stick the whole thing in a handbag (purse).
I also love that it's big enough to take documents, envelopes or important sheets of paper without too many folds.
You can also pull the organiser out on long flights and hang all your gadgetry and essentials on the seat-back hook so that I have a nail file for when you inevitably break a nail and my pen for the customs declaration along with Kindle, phone and power packs. It has a handy detachable carrying strap/loop hanger.
Packing Cubes – Organise Your Packing
The Classic, Packing Cubes
EBags packing cubes were a classic choice and were possibly one of the first styles of travel organisers to come out. They're the first travel organisers we ever bought and we still use them 7 years later. They were not the cheapest but they're not expensive either.
We've bought cheap ones and the zips broke, the e-bags packing cubes are still almost as new
We have used Packing Cubes for years to help organize our cases or backpacks. They're tough, long-lasting and for me, indispensable.
A 3 piece set is around £20 or $30. If you click through you'll see that they come in various combinations of shapes and sizes and every colour of the rainbow. EBags are no longer available so we link to a very similar product below.
Buy a set of packing cubes here.
More Travel Organiser Bags, Cubes and Pouches
You can buy all manner of travel organiser bags, for laundry, toiletries, you name it. As I said, we own the e bags packing cubes, above, but all of these are worth looking at, these two below are the top bestsellers on Amazon.
I really liked the third set because it has those sealed laundry bags, so I bought this too. There's nothing worse than having to put smelly stuff in with your clean clothes. If you click through there are great colours, we have blue.
Amazon Basics Packing Cubes. Amazon basics packing cubes are a slightly cheaper alternative to eBags. I haven't tried them so I can't tell you if they're any good or not. Check colours, shapes and prices here.
Packing Cubes With Laundry Bag. This is another popular brand with intermediate price for a similar set. These look smart and modern and this set includes a laundry bag ( which has to be better than grubby plastic bags). I can't comment on quality. Take a look here.
We now have a full post on the best rechargeable power packs, we recommend solar powered for trekking and outdoors.
Travel Wallet Organisers for Passports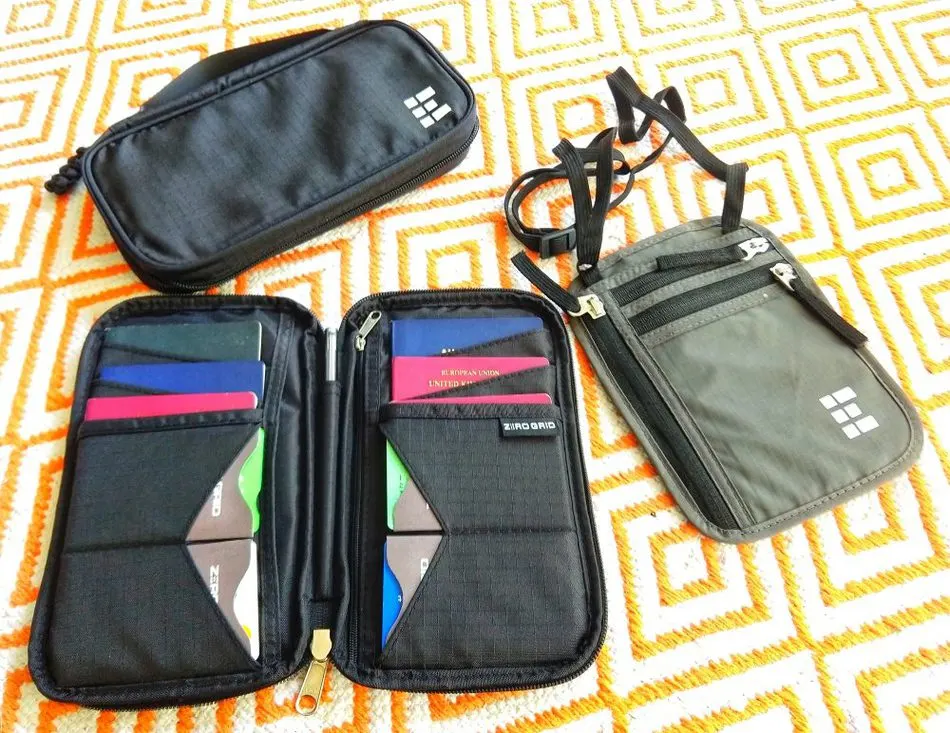 The family document organiser is in our photo above is the one we use ourselves and recommend. It's unavailable now but this is a very similar family document and passport organiser.
I've also found a similar and very smart leather family passport wallet and organiser with a lovely retro look. This one would make a great gift for a family that loves to travel. See it here.
I've been using a family passport organiser and carrying it daily during our 2 month trip in 2023, I wouldn't be without it, I don't think any other organiser could do a better job of keeping our passports protected, and it has a pen, which is invaluable.
Which travel wallet organiser for passports, documents, cash and cards is best for you? Well, it depends how many people are in your family.
This passport organiser takes our 4 passports comfortably and zips closed. It has FRID blocking sleeves and plenty of slots for cards, cash or small paper items. It's a lot smaller than the Bubm above and you couldn't really use it for phones, chargers and kindles.
We even use it for 7 passports, one of them being extra thick, it copes with 7 passports easily, so if you have a larger family, or multiple passports, this travel organiser still works. Buy one like it here.
This is a neat organiser, ideal for keeping all your documents and passports handy at airports and on planes. The best thing about this one is, it has a pen for those tedious in-flight arrivals cards.
You have all your passports, boarding passes, and a pen, all ready to sign your life away in mid-air. It's genius. In our family dad, like many men, handles all this.
I carry the Bumb organiser above. As a woman and a mom, I need more stuff. The link is below.
Family Passport Organiser for multiple passports (with pen) is here.
Leather Wallet Style Travel Organiser (for up to 6 passports). See it here.
Best-Selling Leather Organiser (for 2 passports) Perfect for couples with no kids, yet here.
Pouch Style Travel Organiser
If you're looking for a pouch-style travel organiser, these exist, but I don't think they're as practical as the wallet or folder type organisers. You can see a good example by Travalon, a brand we know and trust, right here.
The Ultimate Wash Bag or Toiletry Organiser
When this particular travel organiser for toiletries arrived it was even better than I'd imagined. I've used old-style travel wash bags for years, this one is lighter, slicker, and smarter. This one, the eBags Pack it Flat travel toiletries organiser (no longer available) was one of the first, if not the first of the flat travel wash bags. They took off so well that there are multiple versions on the market today.
Flat is totally the way to go and when you hang this one it gives super easy access and division of wet and dry. I use mine for makeup, toothbrushes, solid shampoo, hair grips, a hairbrush, everything a lady of travel could need. It's an absolute must-have
Take a look at a flat wash bag organiser here, or here for a no-frills version better for men. Your wash bag is normally the last thing you pack, as such, the flat, soft design allows it to fit into a slim space extremely easily. It's then always on hand in the top of your bag.
Our Travel Organisers Continue to Travel With Us
We are ultra-minimalist and own few items total so the things we carry as we travel have to work well or they quickly find themselves in charity shops. Our organizers makes the grade.
If you like the look of them, buy one, the links are above.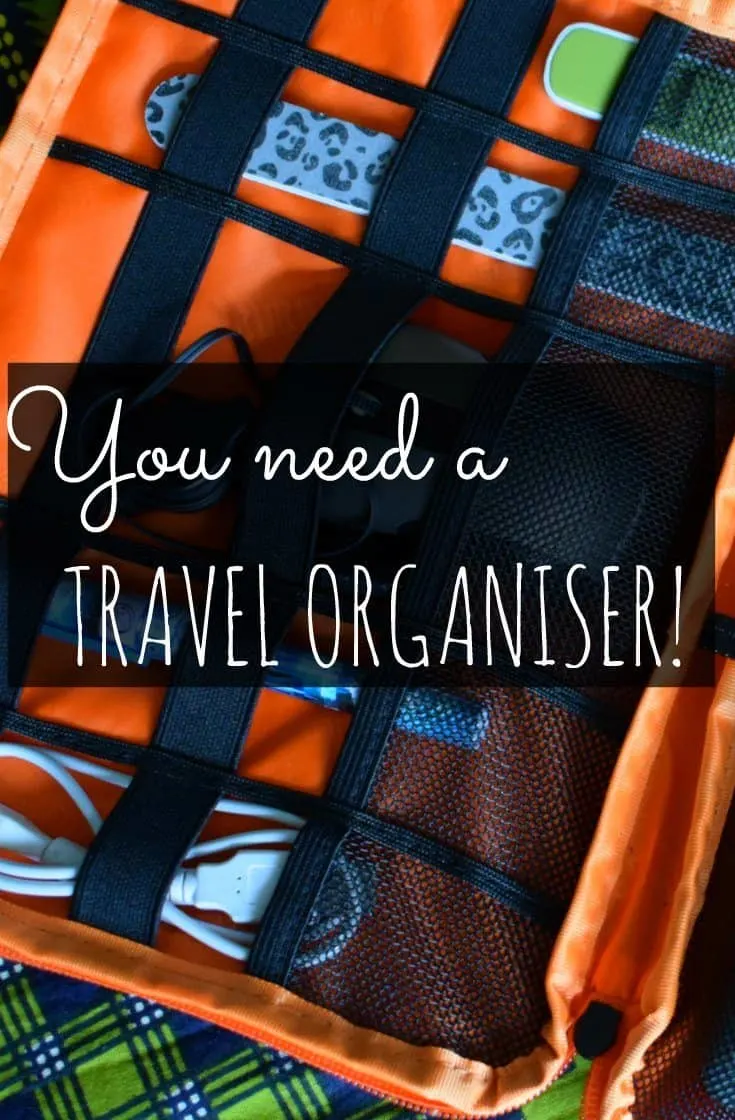 Enjoy the rest of your week, I have 3 days of diving lessons left before we leave our newly beloved cats at this house sit and move back to our usual London base, Twickenham/Richmond. We've actually, for only the second time in 3 years, found a place though AirBnb for a month, a real bargain and exactly where we wanted to be. So we'll be squeezing more fun and education out of London before Chef's Iron Man competition next month. For our full post on travel gear, the things we carry and have carried for 3 years, look here.
If you'd like to hire a car during your stay, use this car rental comparison tool to find the best deal!

We also suggest you take a look at this company to get a quote for all kinds of the more tricky adventure or extended travel insurance.

Try Stayz / VRBO for an alternative way to find rentals on homes/apartments/condos in any country!