Before you buy a carry on bag or backpack, read this. Yesterday I was ready to buy the immensely popular Farpoint 40 L Backpack for my son. It's a great bag, good quality and has everything you could ask for but, just as I reached for my credit card, the shop assistant mentioned that although the Farpoint (or Fairview for women) is the maximum carry on size for European carriers, it's just that little bit too big for Air Asia's size regulations. Did we buy it? Yes. Have we had any issues with it on any Air Asia or Air Malaysia flights? No. Read more below.
Those dimensions seemed to be a deal-breaker.
This post is about the best carry on bags for travel, if, at any point during your travels, you plan to use AirAsia or one of the many other budget airlines that have, and enforce, smaller than usual cabin baggage dimensions.
Maybe we'd get away with this bag being slightly too big, maybe we wouldn't, but there was absolutely no point in buying a $100+ bag that may end up having to go under the plane, while relieving me of the hefty extra luggage charge.
To me, it makes far more sense to buy a bigger, more useful, bag, if it's destined for the hold anyway, or buy one that Air Asia can't question.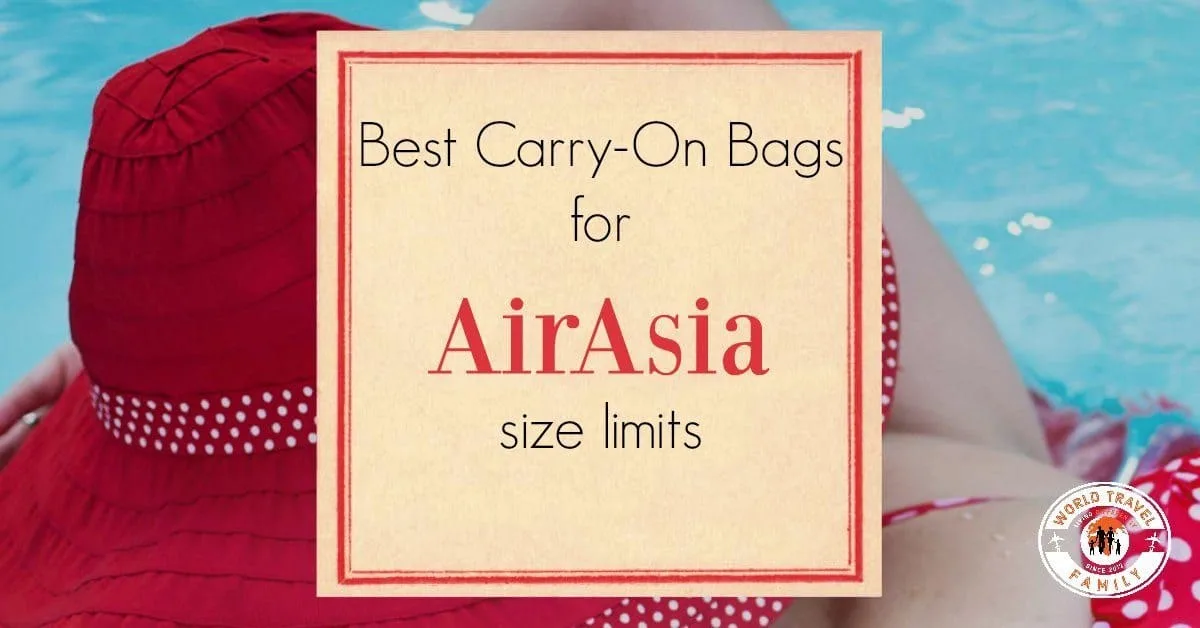 This bag was for my son and he doesn't carry a whole bunch of gear, but he does have a laptop, a Nerf Gun and a bunch of Pokemon cards, so we need a laptop pocket at very least, multiple internal pockets ideally.
I set out to find the perfect Air Asia sized carry on bag and relegated the Farpoint to "possibly".
We generally don't travel carry-on only very often but if you'd like to read more on this style of travel and what to pack, click through.
Alternatively, you can visit our travel gear page to see what's essential and what's not, tested through many years of travel.
We do our very best to keep all information up to date, but things change, check and double-check all weights, dimensions, prices and regulations for yourself.
Air Asia's Bag Size Regulations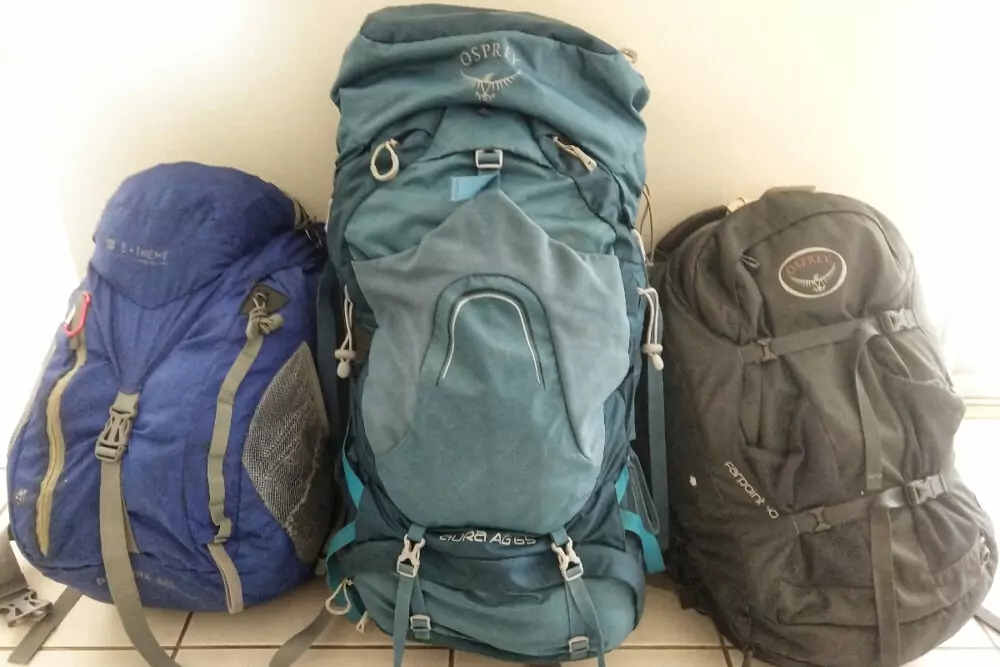 "Each guest is allowed one piece of cabin baggage AND 1 laptop bag OR 1 handbag on-board. The main cabin baggage shall not exceed 56cm x 36cm x 23cm and does not weigh more than 7kg. This baggage should also be able to fit under the seat in front of you or the overhead compartment" Source Air Asia, More Information Here
Please double-check the above as their size regulations may change from time of writing.
Does Air Asia Allow 2 Pieces of Carry On Luggage?
Air Asia was one of the few airlines that still allows 2 items of luggage, your carry on bag plus a personal item. Most of the airlines that we regularly use in Europe only allow one piece of carry on luggage.
We have flown with Air Asia in 2023, we had 2 carry on items each, and none were weighed or measured on this flight.
We would suggest that your second piece of carry-on baggage for AirAsia should be a small, cross-body anti-theft bag that will keep your documents and cards safe and on-hand as you pass through airports and during your flight. Thefts from overhead lockers do happen, so keep your valuables on your person during the flight, this bag would be particularly good for this purpose, (in Australia use this link) or see our full post on anti-theft bags for travel.
"Each guest is allowed one piece of cabin baggage AND 1 laptop bag OR 1 handbag on-board. The main cabin baggage shall not exceed 56cm x 36cm x 23cm and does not weigh more than 7kg. This baggage should also be able to fit under the seat in front of you or the overhead compartment" Source Air Asia, More Information Here
That's no help to us, we need to have the same bag, on every flight, everywhere in the world, so we just have to find one at 56cm x 36cm x 23cm, or, one that when compressed and not stuffed full, meets those dimensions.
Compression straps are going to matter in squeezing a carry on bag down to AirAsia's required dimension.
If you plan on carrying a separate hand bag, purse, or other "personal" bag, check out our selection of anti-theft bags, they have some fantastic features for regular travellers including RFID blocking for passport and cards, anti slash bodies and anti-cut straps.
We now also have a full post on day packs. Making your day pack your carry on makes sense.
It's worth noting that Air Malaysia has the same 56 x 36 x 23 cm, 7Kg, cabin baggage allowance as AirAsia.
Does Air Asia Weigh Carry on Luggage?
Sometimes they do and sometimes they don't weigh your carry on bags. It's not worth risking being over the 7Kg cabin baggage allowance. One handy trick is to put heavy items like phones, chargers and power banks in your pockets. On our most recent flight on Air Asia in 2023 (Bali to Bangkok) we flew with carry on only, used the online self checkin, went straight to departures and none of our bags were weighed.
Bags With Wheels and Handles on AirAsia.
On this occasion we were looking for a good-sized backpack, but bags with wheels are also a possibility for Air Asia Carry on.
We don't like wheelie bags one bit, and people with hard-walled wheeled luggage seem to be singled out for having their bags removed far more often that passengers with soft baggage.
Under Seat Bags for Airline Cabin Use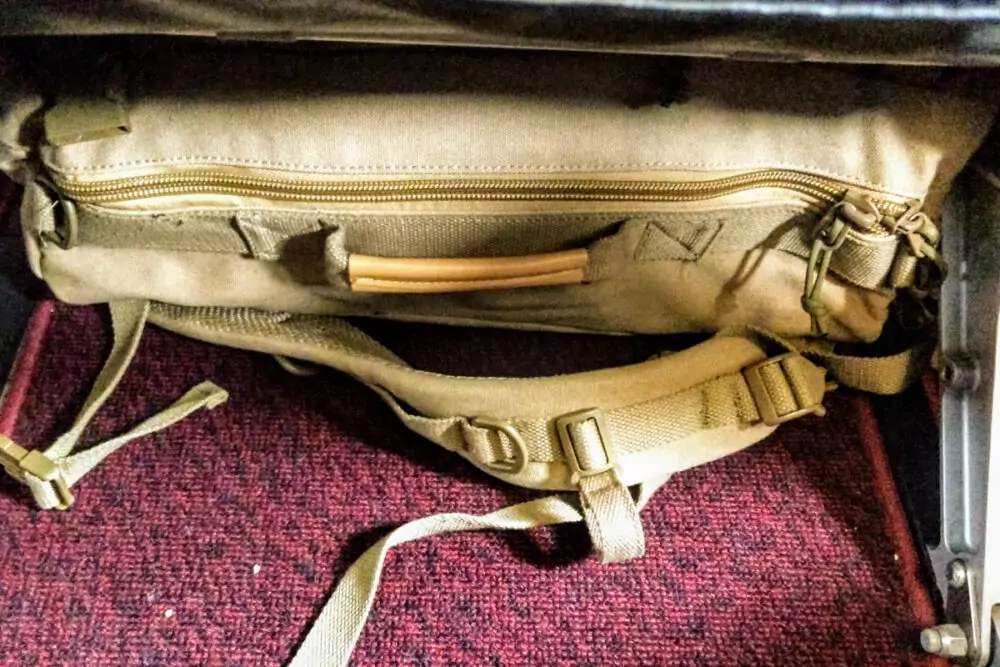 You can buy a retro soft canvas travel bag with laptop pocket (very similar to minee) for carry on use here (US/UK/Europe.) Buy one online here for Australia.
Underseat baggage is the latest development here, with some budget airlines even starting to charge for use of luggage bins.
There are advantages in keeping your baggage under the seat, everything is on hand, when you need your pen, passport or charger it's right there.
I've actually kept my bag under seat a few times lately and noticed that the room available varies and can be awkwardly shaped. You need a soft bag that will be a bit squashy for this.
It's not terribly hygienic or clean under the seats, but then, is the overhead locker any cleaner?
This is an example of a piece of cabin baggage designed to fit under an airline seat, it has a handle and wheels too.
A Quick Look at the Farpoint or Fairport 40 L Osprey Ba for AirAsia Flights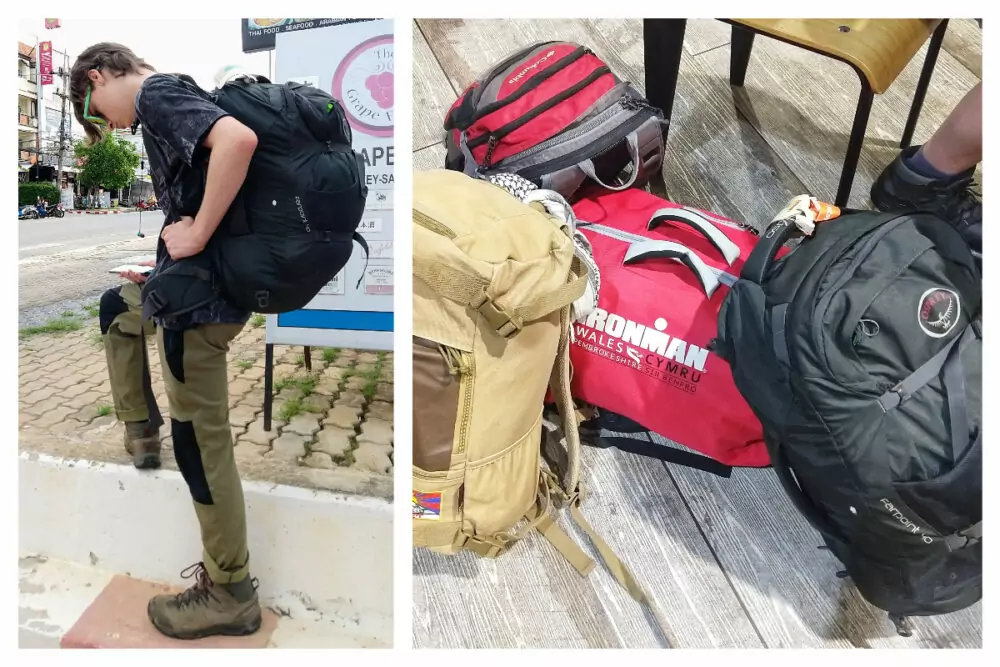 Is the Osprey Farpoint the Right Size for Air Asia? We tested it.
We bought the Osprey Farpoint 40 for our Air Asia flight.
It's such a good bag that we decided it was worth a shot and it has served us well ever since.
We bought it well over a year ago and have never had anyone so much as look at it on every Air Asia or Air Malaysia flight we've taken so far.
We have travelled between London, Thailand, Singapore, Vietnam, Malaysia and Indonesia, it's been tested thoroughly. It has never been weighed.
So we think it's a good choice and we love the bag. Take a look at the bag here to see if it's good for you. A cheaper option is the Osprey Daylight, but at only 13L this is not big enough to be your only luggage if you choose carry-on only.
This travel bag was a lot cheaper on Amazon than in our local shops and the sales assistant gave us a whole heap of wrong travel information so we won't be using that store ever again. Buy it here.
Max size: 54 cm x 34 cm x 37 cm
Weight: 1.44 Kg
good harness with waist strap
great quality and lifetime guarantee
two sizes
This bag is a beautiful thing and comes with a lifetime guarantee and choice of colours. The harness is comfortable, it comes in 2 sizes (s-m and m-l) and it has that all-important laptop pocket. Of course, they may change the design, double check all of this, but we still use our Osprey bag on AirAsia flights with no difficulties.
For carry on only travel in Europe it's perfect, but we're heading to Asia, aren't you?
It's a great bag, but 2cm too big officially, but it's always been fine. We have been using this bag as cabin baggage with no problem whatsoever on Air Asia and Air Malaysia so far. It's a fraction too big but nobody has checked its size or weight.
Take a look at the women's version, the Fairview, here.
Bags Suitable For AirAsia Cabin Allowance
Osprey Porter 46 L (Not Available in the UK at time of writing)
Take a look at the smaller Osprey bags here, these are very good quality bags and should last you a lifetime.
Max size: 57 cm x 36 cm x 24 cm
Weight: 1.09 Kg
stowable harness with hip strap
excellent compression
Cabin Max 44L
Cabin Max makes bags designed to be cabin luggage, rather than fully functional, comfortable backpacks, but they are designed to suit your luggage allowance. See the full range here, these are possibly the cheapest of these bags. Check out this bag for the US here. Buy the hugely popular Cabin Max 44 carry on bag in Australia here, it works for Quantas.
Check the dimensions of this bag for your region carefully, it seems this bag has fractionally different dimensions in the UK, US, and Australia.
Dimensions: 56cm x 36cm x 23cm
Weight: 700g
low price
Mountain Warehouse 45L Phoenix Extreme (US only currently)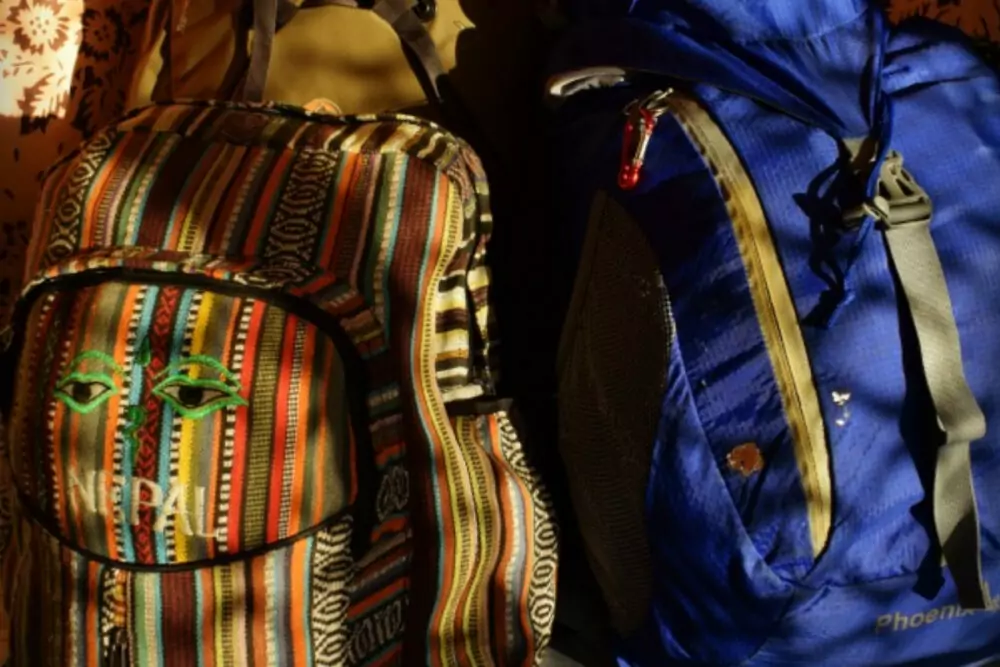 We own this bag and have had it for several years, although now there is a newer model. Mountain Warehouse are a cheaper outdoors, travel, and camping brand, but still, the quality is good enough. The Phoenix that we own seems to have been discontinued. They have a very similar 40L backpack here.
Our Mountain Warehouse Phoenix (blue bag above) is not as well built as a Lowe Alpine or an Osprey Bag, but it has a good harness and is light enough for trekking. We've used ours for over a decade and taken it to Everest Base Camp, but it's not going to last a lifetime as the Ospreys and Lowe Alpine bags should.
It's a conventional top loader, soft sided backpack rather than a front opening travel pack like those above.
We have always taken this bag on Air Asia and many other budget airlines and never had a problem, probably because its soft shell makes it able to be squashed into most any space.
Maximum Dimensions: unknown
Weight: unknown
a traditional lightweight backpack suitable for trekking with a large 45L capacity. See a similar model here.
Cabin Max Equator Backpacking Cabin Luggage
Maximum dimensions: 56cm x 36cm x 23cm backpack, (also described as 54cm) Air Asia perfect! See it here.
Weight: 1.3 Kg
fold away hip strap and harness
laptop slot
rain cover
low price
external compression straps
So after weighing up the options, we're going to try the Cabin Max Equator, it's the only bag that's been designed specifically for Asian regulations.
It's not my bag of choice, but we've ordered it and we'll check it out. That's the beauty of Amazon, we can return it if it's not up to scratch.
Update: We returned it, the Osprey won in the end and we're very happy with it.
How to Weigh Bags for AirAsia – the 7Kg Weight Limit
We will be needing one of these, an affordable device to weigh your bags. Our best tip for beating the weighing scales, Jetstar are bad for this, they weigh at the gate, after you've checked in your main bag.
It seems to be a deliberate ploy to charge you extra.
If they weighed when you checked in, of course, you could put more stuff in your checked baggage.
Our tip is this, and we do it often. Always have a coat with lots of zip pockets.
For us, it's our waterproof jackets. A jacket like this is great as it has zip pockets and is super lightweight.
We own one, but it's a kids' version, it fits me, mum. We justified buying the more expensive, better quality, Berghaus jacket for a growing teen by making sure mum could wear it later. It's been trekking in Nepal and Borneo, hot, and cold.
Stuff the pockets with phones, chargers, power packs, GoPro, even your drone. Anything heavy.
Of course, you should be wearing your heaviest clothes already. Wear the coat or tie it around your waist before you get to the gate or check-in counter.
Just in case they decide to weigh.
As I said, Air Asia has never weighed our carry-ons, but that doesn't mean it can't happen to you.
For you, for Pinterest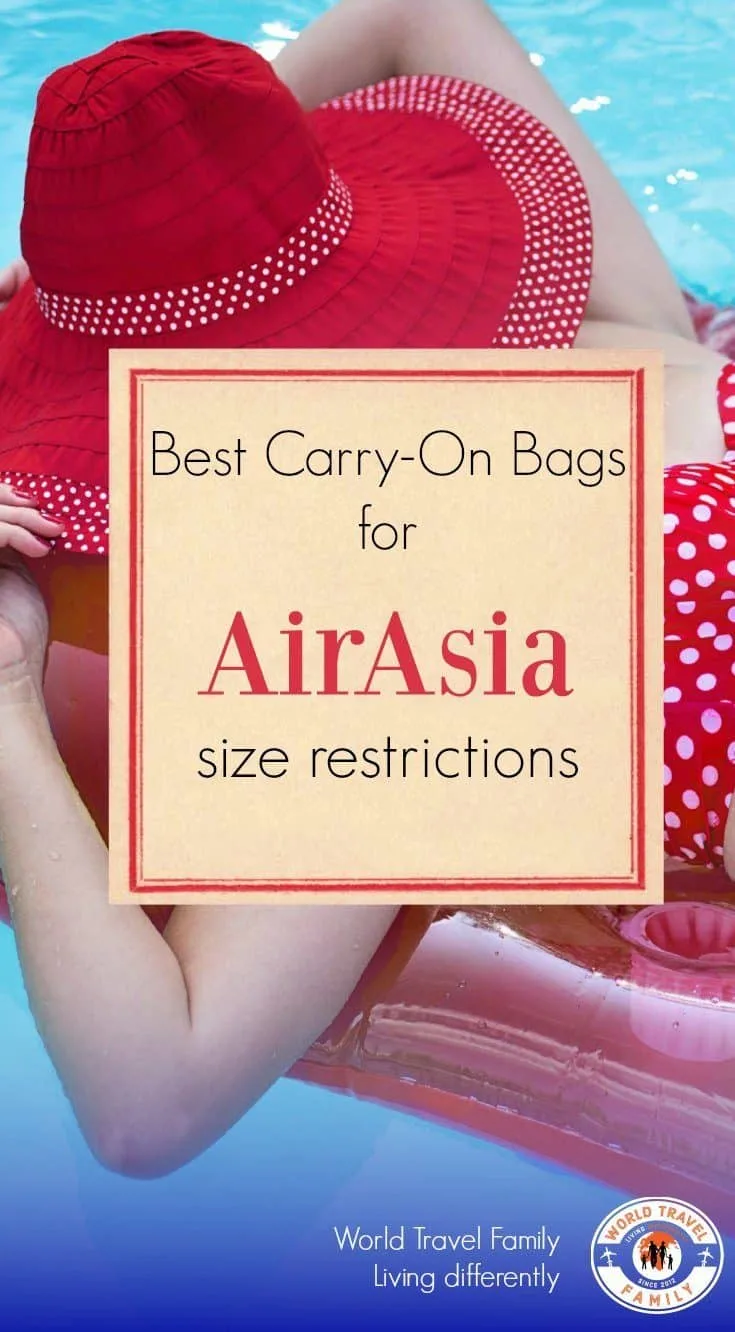 Keeping the airlines happy is a real headache these days. We've noticed that travellers with backpacks generally get better treatment than wheely bag owners. It's rare to see a backpack taken to the hold before boarding but we see it often with wheeled suitcases. I guess because our soft bags can be squashed they cause less of a problem in overhead lockers.
We adults always fly with checked luggage on very long trips (several months), we couldn't and wouldn't fly carry on only as our electronics alone would take up our weight and volume allowance, but for the kids, it's what we do and it saves us a few dollars on most flights. In my heart I wanted to buy the Lowe Alpine, it's a brand I use and trust, but the Osprey is beautiful bag. The fact that it was potentially too big for Air Asia made me nervous. Because it's a hugely popular bag worried that airline staff look out for them and know they can charge an extra baggage fee should they choose to. In the end, all was fine, we bought the Osprey Farpoint 40 and have used it with no issues for the last several years.
If you'd like to hire a car during your stay, use this car rental comparison tool to find the best deal!

We also suggest you take a look at this company to get a quote for all kinds of travel insurance.

Try Stayz / VRBO for an alternative way to find rentals on homes/apartments/condos in any country!