This post may contain affiliate links.
We posted already about our experiences of travelling around Southeast Asia with kids (for 5 years!) now let's have a look at where you should go in Southeast Asia. What are the standout, must-see places, attractions, and destinations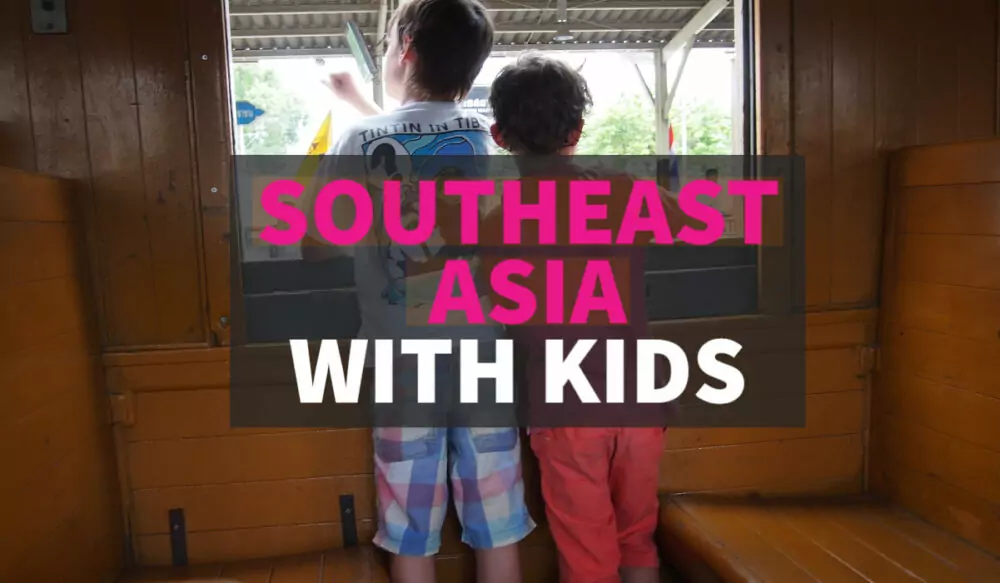 You're probably in the process of planning your Southeast Asia trip, or thinking about taking your children to Southeast Asia, so I suggest you get a notebook and start listing the places you and your kids, absolutely HAVE to see or visit.
Later we can talk about the practicalities of joining your destinations together into an itinerary and organising your travel plans.
Could you do me a favour? Tell me in the comments how long you are planning on being in South East Asia for? How much time do you have?
If I know what the typical amount of time is for families planning to visit Southeast Asia, I can help you better.
Southeast Asia With Kids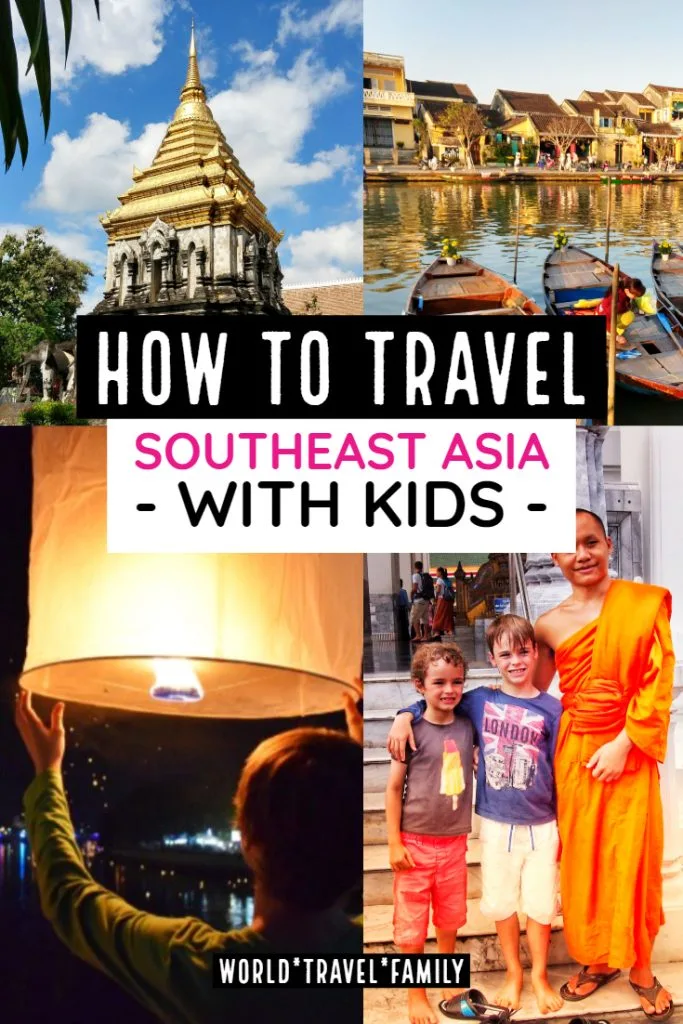 Southeast Asia with kids isn't so hard, do not be put off. I know new travellers may see Southeast Asia as a whole other world but it's really not.
There is much to see and do in Southeast Asia that is child and family-friendly. The people are mostly warm and friendly, the food is amazing and hotels can be superb and affordable.
There is a well-worn traveller trail in Southeast Asia and it's been there for decades. You won't be breaking any new ground and thousands have gone safely before you, with kids too.
Southeast Asia is full of travellers, backpackers, and holiday-makers. Arguably too many of them. So let's have a look at some of the places you really should try and see during your precious time in the magical east.
Update: If you want to read our experiences of travelling in Asia during the outbreak of coronavirus in early 2020, that post is now live.
Which Countries Are In Southeast Asia
Southeast Asia comprises Thailand, Laos, Vietnam, Malaysia, Singapore, Cambodia, Philippines, Indonesia, Myanmar, East Timor, and Brunei. 11 Countries or Sovereign States.
Southeast Asia is mostly in the Northern Hemisphere but straddles the equator and stretches into the south.
India, Sri Lanka, Maldives, Nepal, Bangladesh etc. are not part of Southeast Asia. You can easily combine them with a Southeast Asia trip and you can find information on these countries elsewhere on this site, but this post only deals with Southeast Asia.
We haven't been to all of the countries in South East Asia yet but on this website we always go back and add to posts like this, so once we've been to East Timor, our first hand experiences will be on this page.
For now I asked a few friends to help me with this project.
Pdf Printable List of Places and Attractions to Visit in South East Asia
I think this would be really useful for people planning a trip or tour of South East Asia, so we're going to make one.
Time didn't allow this week, but it's coming soon and you'll get it via the (almost) weekly newsletter.
Southeast Asia as Adults and With Kids, What's Different?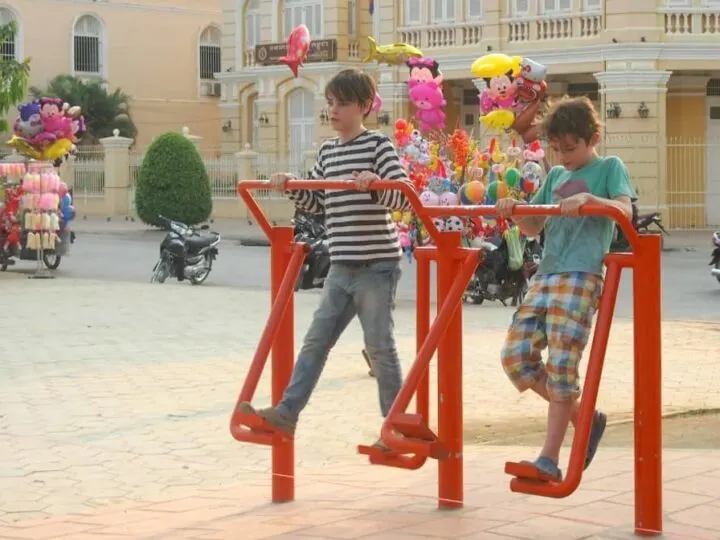 A lot of this depends on the age of your kids, obviously. Personally, I wouldn't do long-term travel or backpacking in Southeast Asia with babies or toddlers, but plenty of people do.
I took my boys to Bali and Thailand from about 3-4 years old, but only for short 2-3 week holidays. We only started the long-term travel in Southeast Asia (budget backpacking to luxury, we do it all) when they were 6 and 8.
They are now 14 and 12 and love the region to bits. My elder son described it as a being "A bit like Bertie Botts Every Flavour Beans, you never know what to expect."
It will be hot, there will be mosquitos, you won't be able to drink the water. There is unlikely to be much of a language barrier because tourists and English are common.
Standards of transportation and accommodation depend entirely on how much you want to pay and the people will generally be friendly and welcoming. Road and traffic safety may concern you.
Will your kids get sick? Well, we found that ours didn't get sick more-so than anywhere else. But that needs to be a separate post.
What will you eat? Pretty much whatever you like, depending on budget. You can get pizza and fries just about anywhere these days if you have picky eaters.
Will you have to use squat toilets? Possibly not, they're getting rarer and rarer. Will you transition from toilet paper to the ubiquitous bum squirter? I do hope so, it's so much nicer, but you should manage OK if you keep a roll in your daypack.
Again, any questions, put them in the comments.
Some of these countries we've visited over 20 times, some we've lived in for up to 6 months. One or two we've never been to, I'll explain why and call in a few friends to give their first-hand perspective.
I'll try and include our thoughts on danger and safety in these Southeast Asian countries. What I want to do here is give an overview of the highlights you and your kids shouldn't miss to help you with your planning and start building your excitement up to frenzy level.
Child Friendly Attractions and Facilities Through South East Asia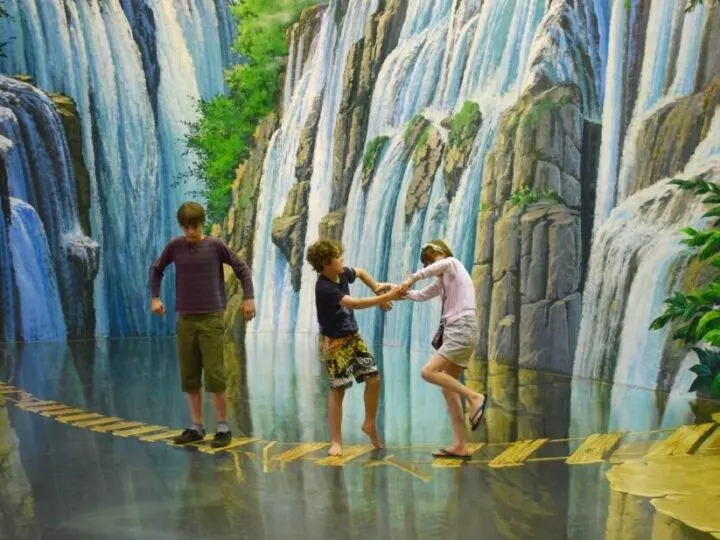 You will find plenty of Asian beaches, playgrounds, indoor play facilities, theme parks, child-themed tourist attractions and so on throughout Southeast Asia. These aren't our primary concern here, we're talking more about the unique features of each country. The things you can only experience in this part of the world.
I'll mention special places that kids love, but I'm not going to list every aquarium, Kidzania and zoo, it's just not practical. That needs another post!
Accommodation in South East Asia With Kids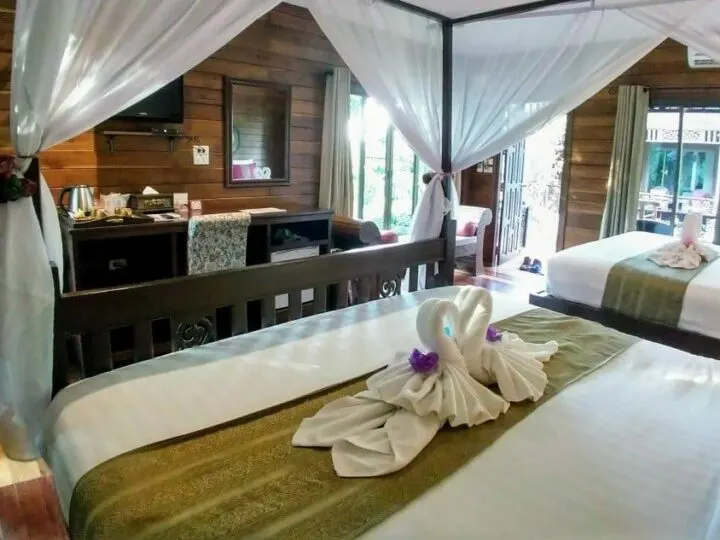 Again, this is a topic for another post. Whether you choose hotels, villas, apartments, hostels, hotels, or guest houses is up to you. All can be good depending on your preferred travel style and how much money you choose to spend on this trip.
We already have a post highlighting some of our favourite places across the region. Most of these we've used multiple times. The hotel above is Thai Thai Resort in Sukhothai, Thailand and we highly recommend it.
If you're new to big travel adventures maybe sign up for Airbnb and Couch Surfing right now, these could come in useful as you start organising your trip in detail.
Singapore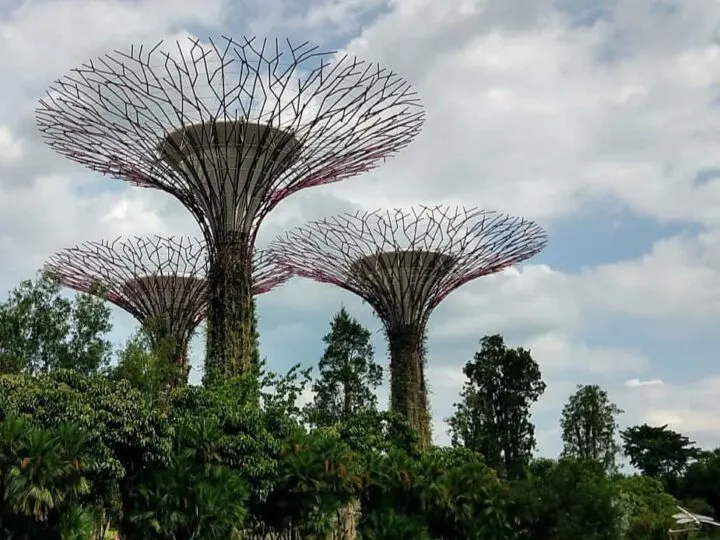 Singapore is a city experience, rather like Kuala Lumpur, but with a higher price tag. It's a stunning city and there is something special and unique about this country but it doesn't have the same vibe as countries like Thailand or Vietnam.
Whether that is a good thing or a bad thing is down to your personal taste.
We have only visited Singapore once, last year, because honestly, we never had a burning urge to go there.
If you do include Singapore on your SE Asia trip, take plenty of cash and keep your visit short.
Your money will go further if you spend more time in the cheaper parts of Southeast Asia.
You can see Little India and check out the brightly painted Chinese shophouses and temples or you can marvel at the high rises and super trees of Gardens by the Bay. It's undoubtedly impressive.
We loved taking our kids to Universal Studios, Singapore Night Zoo and SEA Aquarium along with exploring Gardens by The Bay beneath Marina Bay Sands (the "boat" on a building) and walking along the river from the bay to Clarke Quay.
Little India and Chinatown are nice but our favourite spot was Haw Park Villa because it was something different, something we hadn't experienced before in South East Asia.
Sentosa is a pleasure park tourist island just off Singapore and reachable by causeway road or cable car. This is where you'll find much of the tourist hotel and attraction scene.
Prices are sky high here and we stayed here for a few days over Christmas to visit all of the attractions.
You'll find more affordable hostels. hotels and apartments in Singapore proper, we found a hostel with a good location for $80. Our full post on Singapore is here.
Malaysia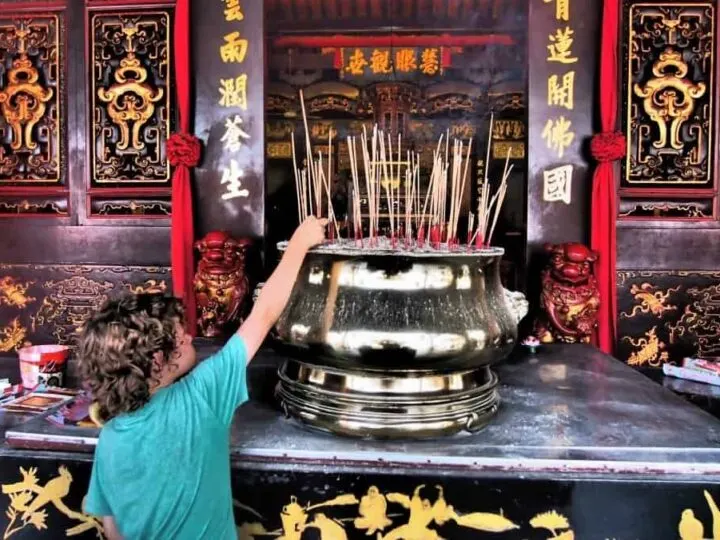 Malaysia's big cities are in some ways similar to Singapore, particularly the gleaming high rises and malls of Kuala Lumpur but this much bigger country has more diversity to offer.
Kuala Lumpur is a bit of a favourite of ours and you're extremely likely to spend time here because of AirAsia. It's nice to take a break in a city with aircon, Marks & Spencer and Gucci now and then and the Petronas Towers are very special, you should take a look.
Kuala Lumpur has a whole bunch of things to do with kids or for families. Around the Petronas Towers and KLCC there is an area of parks and water play along with a very good aquarium.
Batu Caves is a bus ride from Kuala Lumpur. Check out the malls and visit China Town, the Historic District and Little India. Full post on KL with kids here.
Penang , Langkawi , Ipoh Malaysia, and Malacca are also popular tourist draws in Peninsular Malaysia. Over the water you'll find Malay Borneo or East Malaysia.
Sarawak in Malay Borneo blew us away, we loved being there and exploring the area. This part of Malaysia offers rainforest, wildlife, lovely Kuching and the village longhouses which we stayed in.
Mount Kinabalu is to be found at the other end of Malay Borneo, in Sabah, Eastern Malaysia. Unfortunately we had a horrible time in Sabah and wouldn't recommend this part of Southeast Asia. It was very disappointing after Sarawak. The link above to Sabah will tell you why.
Thailand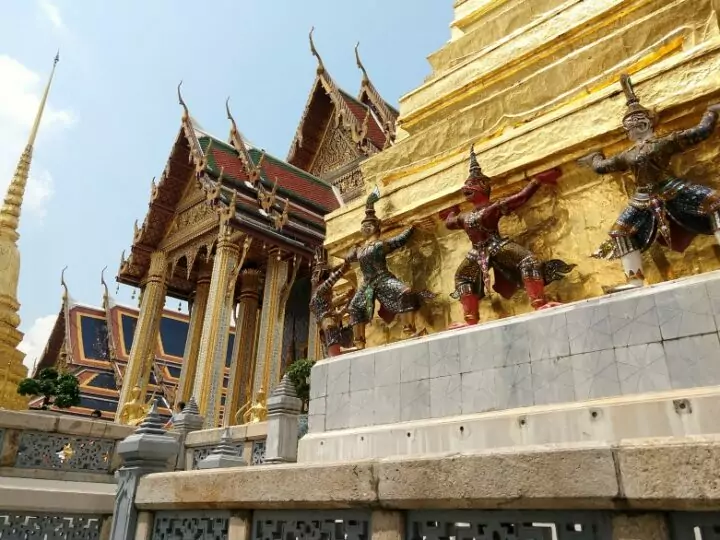 Now we're onto our favourite places. I won't be happy until I've seen every inch of Thailand but for now, just a few recommendations.
Starting with Bangkok, possibly my favourite city in the world.
Don't miss Thailand's ancient cities of Ayutthaya and Sukhothai, Chiang Mai, the northern tourist hub, is popular for a reason, it has stunning ancient temples, history, and a wealth of things to do nearby.
Kanchanaburi is popular for its WW2 history, the famous bridge on the River Kwai is here. It's also a peaceful riverside town with low prices. Perfect for long-term budget travellers to relax for a while.
Floating Markets are popular, we recommend Amphawa over Damnoen Sudawek.
What about Thailand's famous hill tribes? This was my first ever taste of Thailand, a week trekking in the hills and staying in Hill Tribe villages, unforgettable and awe-inspiring. You really should try to find out something about these people.
We have a full post on Hill Tribes of Thailand here.
Did you know that Thailand has almost 300 species of mammals and getting on for 1000 types of bird? But where to see them?
We've seen a fair few in northern Thailand, out towards Pai and Lod Caves or trekking in the jungle, but I think a very good place to go would be Khao Yai National Park, it's only 4 hours from Bangkok and this will be the next part of Thailand that we visit!
Vietnam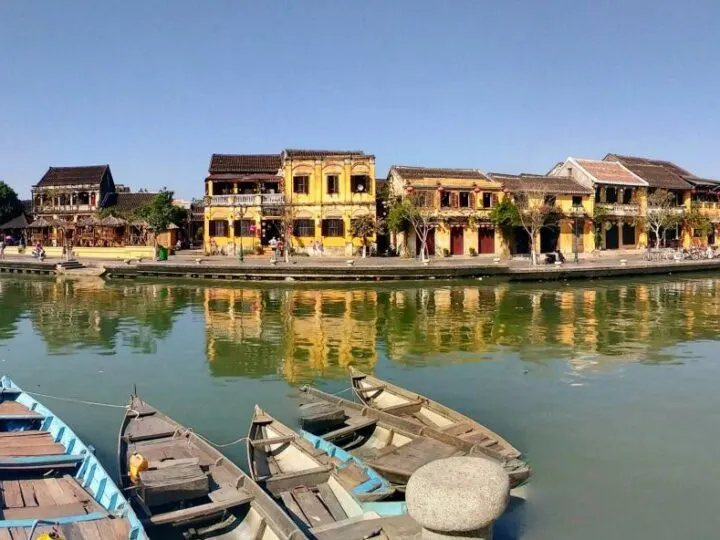 Vietnam is long and thin and the standard tourist visa length of 1 month is the perfect amount of time to travel north to south or vice versa, hitting all of the highlights.
Vietnam has always been my husband's favourite country, for the genuine warmth of the people and the amazing food. It's now the kids' favourite destination in South East Asia too and visiting Vietnam with kids, living there for months, was a joy.
We spent 6 months living in Vietnam (our second visit) in 2017-2018, so we have quite a lot of Vietnam content, mostly revolving around beautiful Hoi An in central Vietnam.
Hoi An's UNESCO listed Old Town is a must-see but its relaxed charm also makes it one of those global hot spots for nomads and travellers putting down temporary roots.
Other highlights of Vietnam include those below. There are many more of course.
Myanmar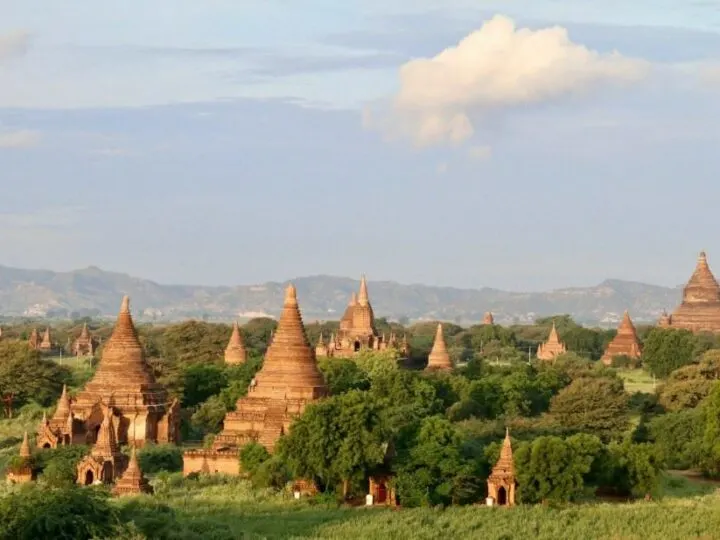 When we first set off to travel the world in 2012, Myanmar was top of my list of countries to visit. In 2018 we still haven't been!
I long to see this country for myself but it just never fitted with our travel plans and then the genocide last year stopped us visiting. I asked Nicky of Go Live Young about her experiences of Myanmar with 3 kids.
"Myanmar, previously Burma, is the largest but least known country in SE Asia. Having previously experienced tyrannical military leadership the country is changing fast as it opens up but the old Burma is still very much in evidence today.
This remains a land of a thousand gilded pagodas and ramshackle towns and villages populated by monks in red robes and locals dressed in sarong-like longyi, and where big named brands are still notably absent.
Most visitors begin their travels to Myanmar with Yangon where the Shwedagon Pagoda should not be missed. This gigantic gold stupa is 99 metres high and made from 22,000 gold bars!
Inle Lake is another highlight. Take a boat ride to see the Inle Lake fishermen who row with their feet, floating gardens, and stilted villages.
Bagan is the most famous tourist destination in Myanmar and for good reason, with its thousand of temples blanketing the landscape. Tour the temples by horse and cart, electric moped or bicycle.
Mandalay and its four previously royal capital cities is the perfect final destination in Myanmar.
Myanmar is a fascinating country with so much history and culture. This is a country to be visited now."
Cambodia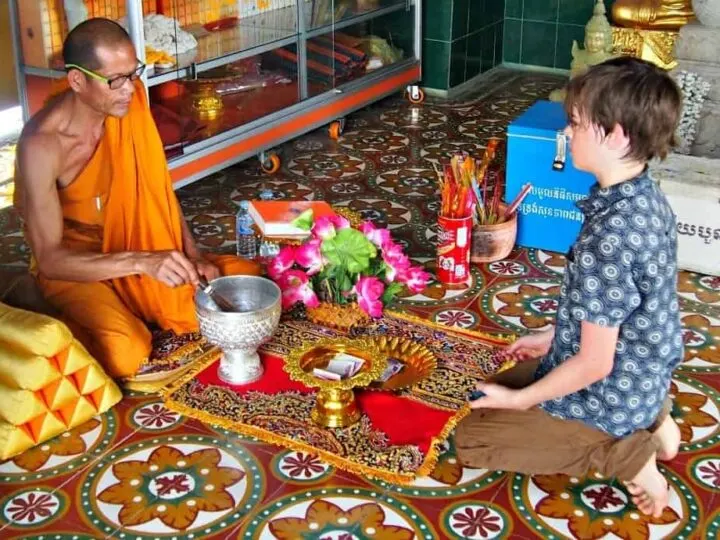 Canbodia has Angkor Wat, of course, and every visitor to South East Asia should get there. A lot of tourists only spend 2-3 days here and this is the only place they visit in Cambodia.
During our first round the world trip we only spent a week in Cambodia. We crossed by boat and road from Vietnam, spent a couple of days in Phnom Penh then drove to Siem Reap for Angkor Wat before exiting by truck into Thailand.
It was a very bumpy ride! That road is better now but it's still not an easy journey.
Cambodia is a very different country today and the tourist trail is much wider.
In Cambodia, consider visiting
Phnom Penh ( Palace, Silver Temple, Prison Museum etc)
The Killing Fields near Phnom Pen
Siem Reap for the Angkor complex.
Tonlé Sap Lake
Kep
Rabbit Island
Otres Beach and various beach islands off the Cambodian coast.
We think Cambodia is one of the harder countries to travel in Southeast Asia. You see poverty here and human suffering. The years of violence set this country back, its noticeable.
That said, it's also a wonderful country to explore and Siem Reap today is incredibly modern in parts.
Think hard before taking small children to the Killing Fields and prison. We didn't take our children, we adults had already been and thought it would be too much for them.
Laos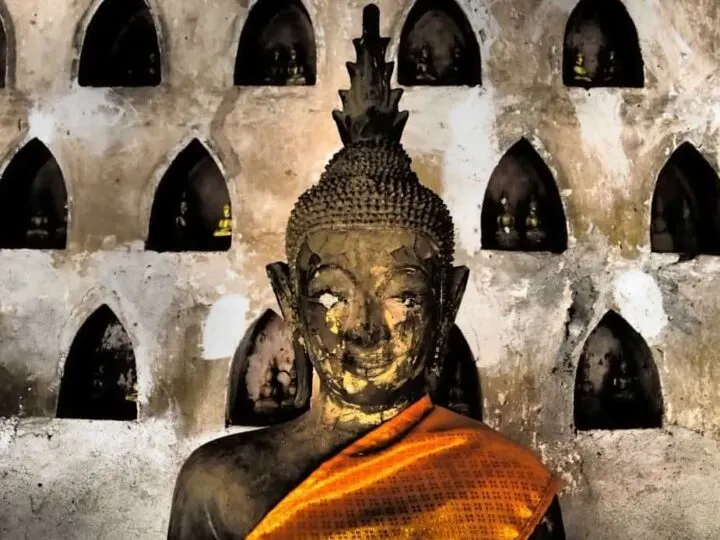 Laos's 2 big tourist towns in Laos are Luang Prabang and Vang Vieng, but don't skip Vientiane, and if you have time, there is much more to see in Laos.
In Luang Prabang visit Wat Xieng Thong, one of Laos most famous Buddhist monastries and climb Mount Phu Si which is reached via a 329 step staircase. Outside Luang Prabang you will find waterfalls, caves and elephant attractions. Don't miss the early morning monks' alms walk, but show proper respect.
In Vientiane see Wat Si Saket, rumoured to be the oldest Wat in Vientiane, see the " Monster of Concrete" or Victory Monument and visit the COPE visitor centre.
The Plain of Jars is a huge area of plains with multiple mysterious huge jars scattered throughout.
Vang Vieng was the place for drunken tubing but the Laos government clamped down on this after a series of deaths. You can still go tubing, kayaking or caving but it's more family friendly these days.
Philippines
I asked Floss of Growing a Pair about her time in Philippines. Again we haven't been. We're not really beach lovers and the food doesn't entice us there so we've never made it a priority to get there.
Floss, clearly, loves it and I think we should try and visit Philippines as part of our next round of travel in Southeast Asia.
The Philippines is an archipelago of over 7,000 different islands with a rich and mixed culture that is very different to anything you'll find on the Southeast Asian mainland. Stunning beaches and lagoons, breathtaking landscapes, world-class wreck diving, and friendly people make island hopping here just awesome.
Don't hang around in Manila, unless you love busy and slightly scary cities with traffic congestion and shopping malls (this is the only place I've ever been asked to put my gun in a box at the front of a restaurant – it's poor form to take your gun into a restaurant, obviously).
Get on a ferry or a plane to one of the beautiful islands. Coron in Palawan is my favourite and one of the most beautiful places in the world.
Hire a bike and cycle to saltwater hot springs, get in a kayak and paddle to your own personal private island (ok, so it's not actually yours but you can pretend), snorkel on WWII wrecks, or experience the weird halocline in Barracuda Lake (where saltwater meets fresh water – trust me it's weird).
If you're a qualified diver, Coron is one of the best scuba diving destinations for wreck diving too.
Bohol Island is another must-see with it's unique Chocolate Hills, dome shaped mounds up to 50m high, scattered across the landscape. Kids will love the Tarsier Monkey Sanctuary. Massive eyes! Possibly even bigger than their heads.
For trekking and mountain scenery, head to the sleeping volcano, Mount Pinatubu, to hike to it's incredible crater lake, Puerto Galera for jungle walks or the Batad rice terraces for visiting villages and well, rice terraces.
The more hard core trekkers can head to Mount Pulag for proper up-in-the-clouds adventures.
So with it's mix of beaches, mountains and unique culture, I'd definitely recommend trying out the Philippines on your next travel adventure. I might go back.
East Timor
East Timor is one half of an island at the southern tip of the Malay archipelago, the other half belongs to Indonesia. I only know of one travel blogger who has been to East Timor. He doesn't have kids.
You'll find his insights on travel in East Timor here. It's not somewhere I've ever thought of taking the kids, but it's fascinating to read about this troubled place. If we can, we'll find a way to go.
Brunei
We tried to get to Brunei and failed. We planned to cross from Sarawak to Sabah by bus and ferry via Brunei. You can do it, it's not hard.
We bought the bus tickets and booked a hotel for a couple of nights in Brunei. Unfortunately, our mission ended at the border. It was our fault.
Visas are very complicated for Brunei and one of us was using his Australian passport, the rest of us, British. It's totally normal for us to leave one country on one passport, enter on another, we do it all the time.
Unfortunately, Brunei didn't let us, and the hefty visa fee for Australian passport holders had to be paid in Singapore dollars or Brunei currency. We had neither, and there was no cash machine.
We turned around and went back to the airport and got on a plane straight back to Kuala Lumpur.
Our interest isn't strong enough to make us try again. We made it to Sabah but really didn't enjoy this destination at all, so I doubt we'll bother going back for Brunei.
A tiny country on the north coast of the island of Borneo. Brunei is bordered by Sabah and by Malay Sarawak.
Indonesia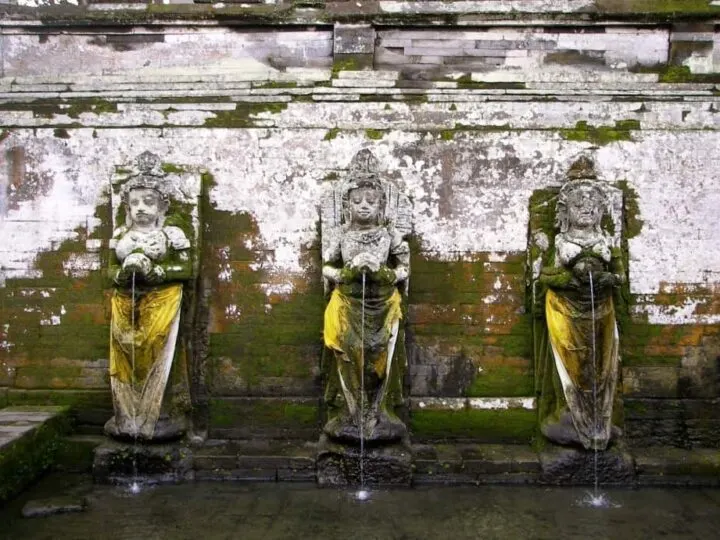 Indonesia has a lot to offer but Bali will be the most well-known destination, particularly for family travellers.
Bali is well worth visiting and picturesque Ubud is a firm traveller favourite with many nomads and expats making this mountain town their base for months or years.
If you can only make it to Bali, that's fine, but also look into visiting the Gili Islands (Gili Trawangan, Gili Meno and Gili Air ) , Komodo Island or, as we did, try a private island resort, we stayed on Telunas Island, a short ferry hop from Singapore.
We have found the beach destinations in the south of Bali near the airport to be far too touristy and developed. We also tried the east coast and weren't fans.
I hear the northern beaches of Bali are better, but we love Ubud, so we usually go there. You can easily tour the highlights of the whole island from Ubud, even take that manta ray trip to Nusa Penida, we did.
Other destinations in Indonesia include:
Borobodur Magelang
Mount Bromo
Munduk
Tanjung Puting
Yogyakarta
We have a post on things to do around Ubud with kids here.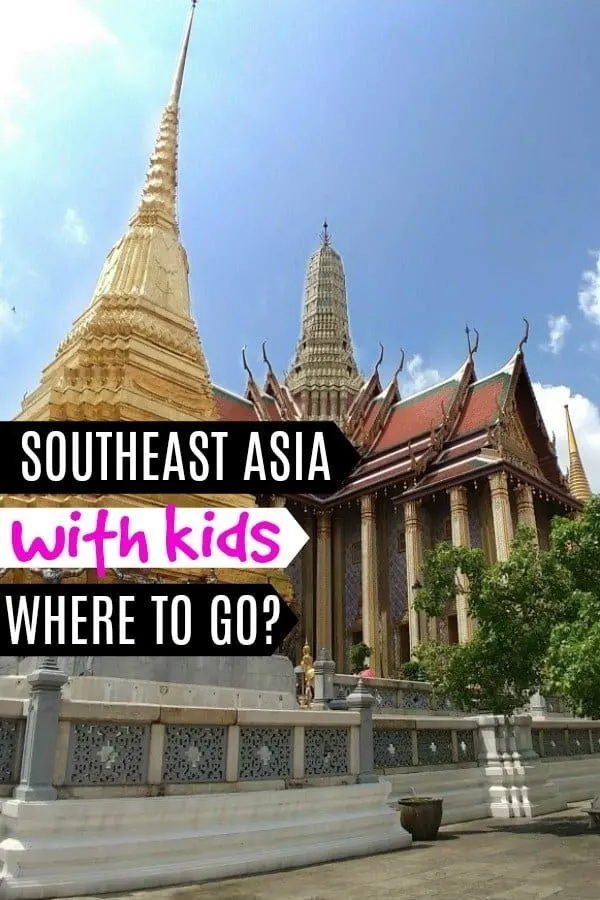 Need More Information on South East Asia With Kids?
So there we have it. An overview of some of the incredible, amazing places you can share with your kids in South East Asia. We are making you a downloadable, printable pdf, so that if you are planning a family trip to South East Asia, you can circle and star your must-visit South East Asian Destinations. Knowing where you'd like to go and where you HAVE to go, is the first part of planning your trip.
If you'd like to hire a car during your stay, use this car rental comparison tool to find the best deal!

We also suggest you take a look at this company to get a quote for all kinds of the more tricky adventure or extended travel insurance.

Try Stayz / VRBO for an alternative way to find rentals on homes/apartments/condos in any country!