This post may contain affiliate links.
Thailand for families, best places and parts of Thailand for families to visit. Thailand highlights for families to enjoy on a visit. trip, or vacation. Information on visiting Thailand as a family, for families.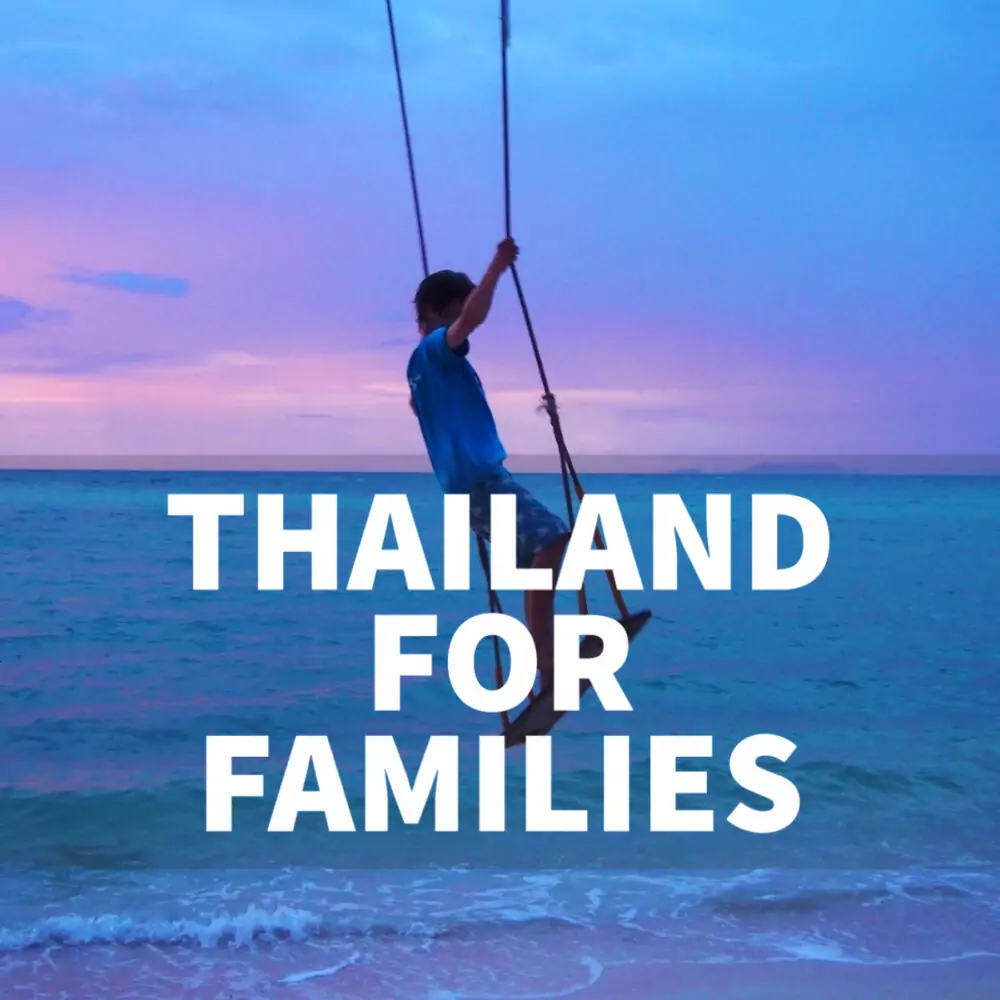 Thailand is a fantastic and relatively easy destination for families, for you and your kids. We'd certainly rate it the easiest destination in Southeast Asia, particularly for families.
Thailand combines low prices, some ultra-friendly, child-loving people, stunning clean beaches with varied watersports, wonderful wildlife and a host of cultural experiences.
Along with all of this, the food is amazing!
After years of exploring Thailand, these are our, and our kids', recommendations for highlights of Thailand for families, or the best places and parts of Thailand to visit for families.
Try to slot them into your Thailand itinerary.
Best Places in Thailand with Family
The best places to visit in Thailand with your family depends on your family's interests, likes and dislikes, what kind of trip to Thailand you will be taking, the age of your family members and the duration of your trip. This posts covers many of the best places in Thailand, but your individual choice of "best place to visit" may not be the same as my family's.
My family would choose Bangkok and Chiang Mai as the best places to visit, but you may be looking for an easy, short beach holiday. The best place to visit will be different for everyone.
What style of travel will you be undertaking in Thailand, with your family? Most styles of travel work well for families in Thailand from shorter vacations or holidays to longer-term travel and budget backpacking.
Multi-location travel within Thailand is our preferred form of travel in Thailand because there is so much to see and do, all over the country.
It's very easy to spend some time at the beach or on an island with your family, and then travel to the more interesting cultural attractions and historic parts of Thailand.
Internal transport in Thailand is very easy, we'll explain transport options suitable for families towards the end of this post.
Hotels and Accommodation in Thailand For Families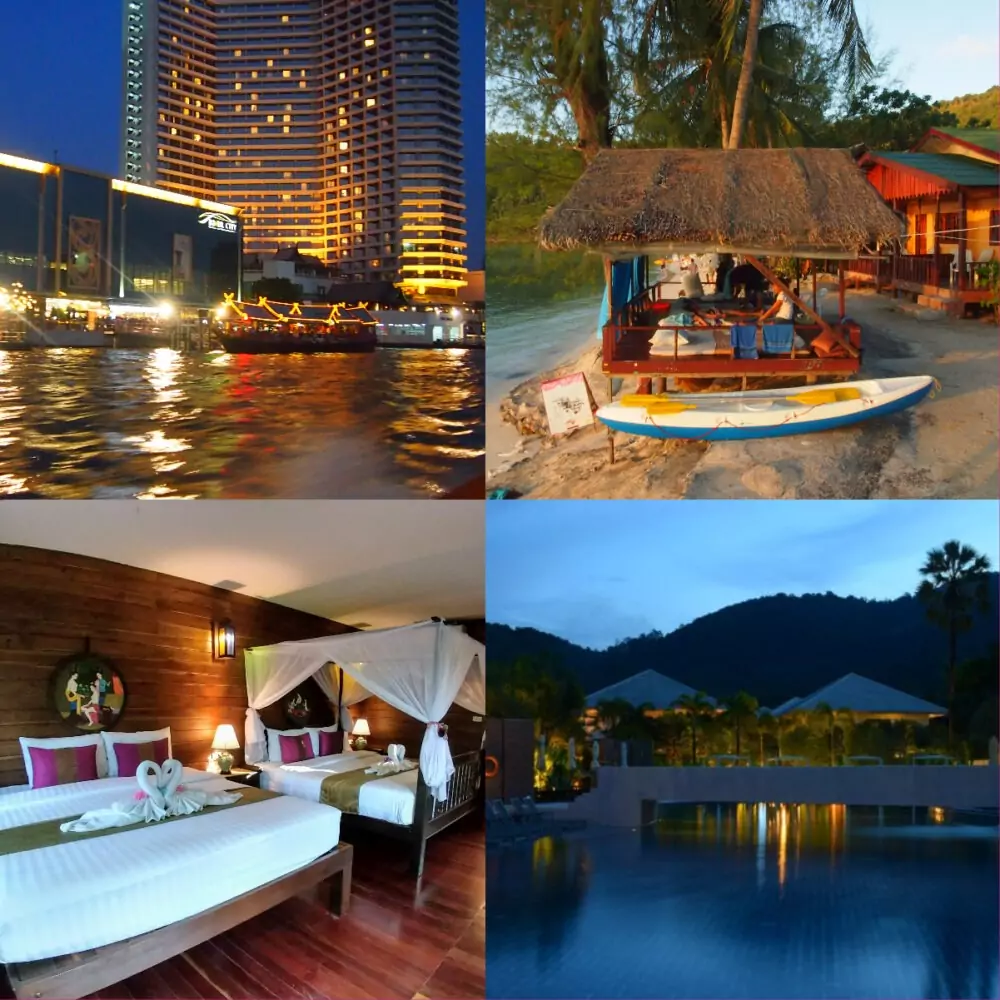 Thailand has a full range of family accommodation options. Luxury hotels, all-inclusive beach resorts, small guest houses, mid-range hotels and hostels.
All of these accommodation options work for families in Thailand.
Finding family accommodation in Thailand isn't generally hard and prices are comparatively low, but a peak times, holidays and festivals, Thailand can get pretty full.
We prefer to use Agoda to find accommodation in Asian destinations as they are local specialists. Booking dot com is another good booking option for Thailand.
Airbnb is also possible in Thailand and is often used for apartments, longer stays or homestays. The cleaning fees of Airbnb put us off using them, you can generally find any style of accommodation on Agoda or Booking.com above.
Most styles of accommodation will have family rooms or family suites and apartments. It's really easy to search the two booking platforms above for these.
If you plan to use hostels, many hostels have private family rooms, sometimes with a private en suite, others will have a communal or shared shower block.
Hostels aren't necessarily the cheapest accommodation option for families in Thailand, small guest houses can be better value.
You should be able to find child stays free deals on accommodation with younger children, this is quite common up to 12 years old, and sometimes to 16 years old.
Beaches and Islands To Visit in Thailand with Family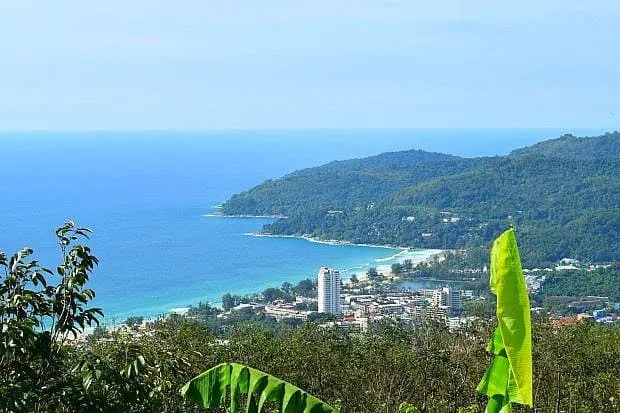 Thailand's beaches start just south of Bangkok with Ko Samet and extend south to the border with Malaysia.
There are beautiful beaches and islands on the Andaman Sea and on the Gulf of Thailand.
In general, beaches are very clean with sparkling water, some are lively, some quiet. You need to find a beach to suit your family's personality.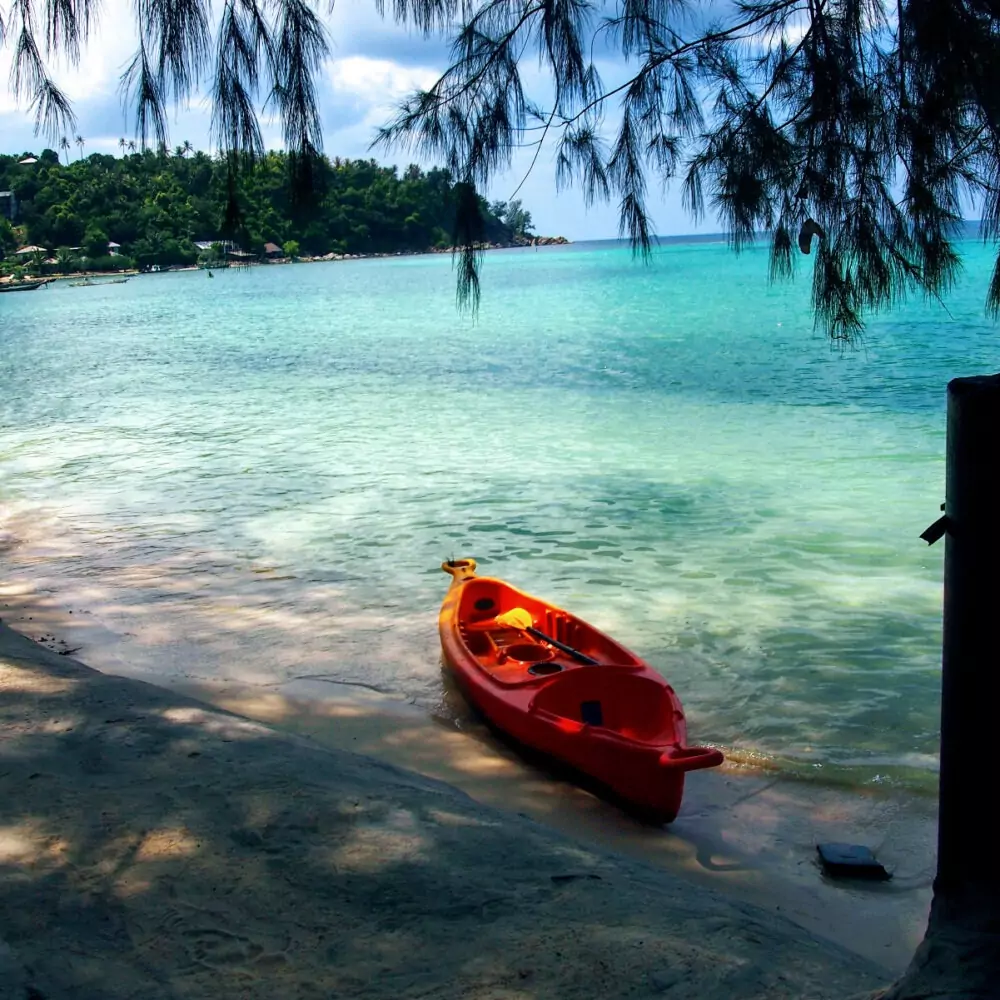 We have visited many, but not all, of Thailand's diverse beach spots. In all honesty, beaches aren't our thing nor our area of expertise, but we have tested out Phuket, Krabi, Ko Phangan, Ko Samui and Ko Samet.
In general, the smaller the beach destination the better, in our opinion.
Bangkok Thailand With Family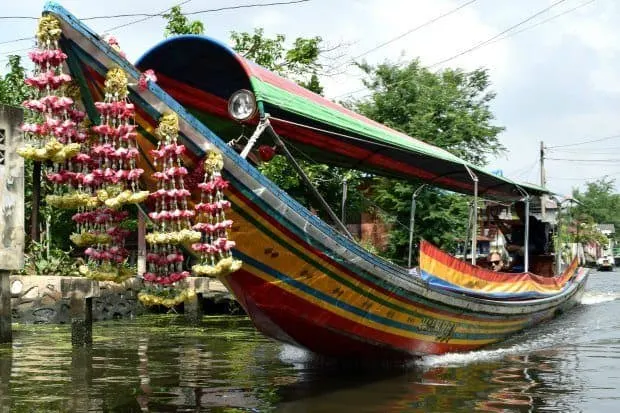 Bangkok is the thumping heart of Thailand and it's a city to visit time and time again.
Here you will find stunning temples and wats, the magnificent Grand Palace, the iconic Khao San Rd and the magnificent Chao Praya River and connecting klongs. If you visit our post on the best places to visit in Bangkok, we include a custom interactive map of Bangkok for you to use on or offline to find these places.
Try to see Bangkok's "Green Lung" in a loop of the river, tour by bicycle. Also, check out Bangkok's huge green parks with playgrounds and abundant wildlife. You may find yourself tripping over giant monitor lizards.
Bangkok has luxury riverside resorts, mid-range hotels and budget guesthouses suitable for families. (recommended family hotels in Bangkok here).
In Thailand's capital, you will also find cultural shows and banquet dinners, authentic cheap street food and fine dining.
If you'd like to shop there are modern malls for every taste along with street-fulls of souvenirs, clothes and jewellery.
Be sure to find a hotel or other accommodation in the right part of town for you, we can help you make that choice.
While in Bangkok you can take day trips to floating markets and nearby towns with cultural or historic interests. ( Itinerary suggestions here, more things to do in Bangkok here)
Thailand's train market, Maeklong, is south of Bangkok and you could visit as a daytip by vehicle. See our post and video of the train passing through the market in our post about Maeklong.
Combine Maeklong with Tha Kha and/or Amphawa floating markets. Both of these, we think, are better and more authentic than Damnoen Suduak floating market.
Maybe you could spend some time learning to cook Thai food or enjoying an organised food tour (see resources section, at the bottom of this page)
Chiang Mai Thailand With Family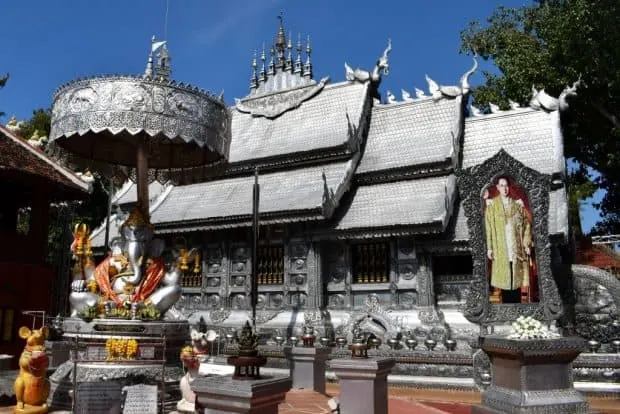 I'm yet to meet anyone who didn't love Chiang Mai.
The charming walled Old Town is separated from the city by a peaceful and picturesque moat.
There is a market for every day of the week and Chiang Mai's Walking Streets are world-famous.
Food in Chiang Mai has its own character, with plenty of regional specialities.
The city is well known for Thai cooking classes, some will take families and children. Around Chiang Mai you will find numerous tourist attractions and excursions.
Chiang Mai has a much lower cost of accommodation and living than Bangkok and can be somewhat cooler.
You will also find modern shopping malls and good co-working spaces here, this is where many digital nomads settle. We have a post on living in Chiang Mai.
Northern Thailand with Family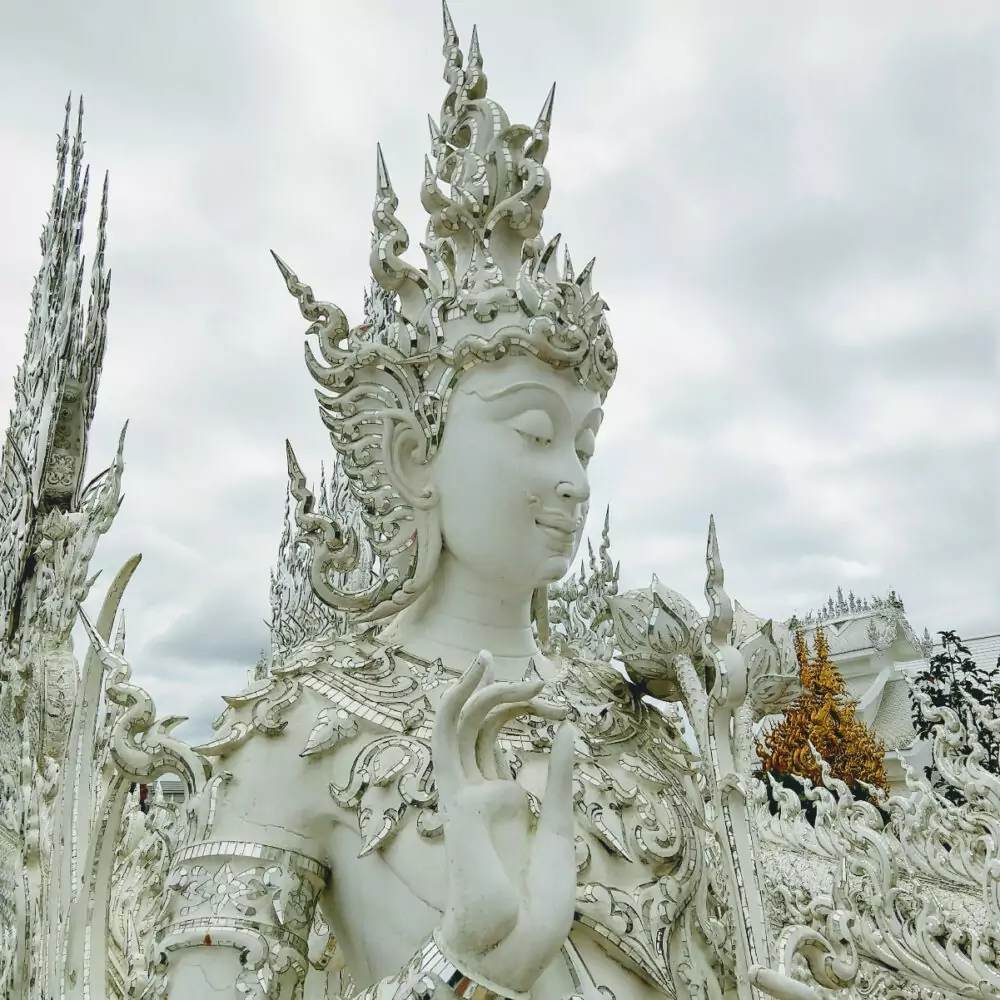 There are quite a few really nice places to visit in the north of Thailand, north of Chiang Mai. Chiang Rai is one, but also consider Pai, Mae Salong and Mae Hong Son. Up here you are in Thailand's "Golden Triangle."
Lod Caves are another popular destination in this region.
It's worth getting a little off the beaten track by taking a Northern Thailand road trip as we did. Read more about these destinations in that post.
Another less-visited destination is Lake Phayao, we really enjoyed this lake and the town, it's in the post above.
Chiang Rai with Family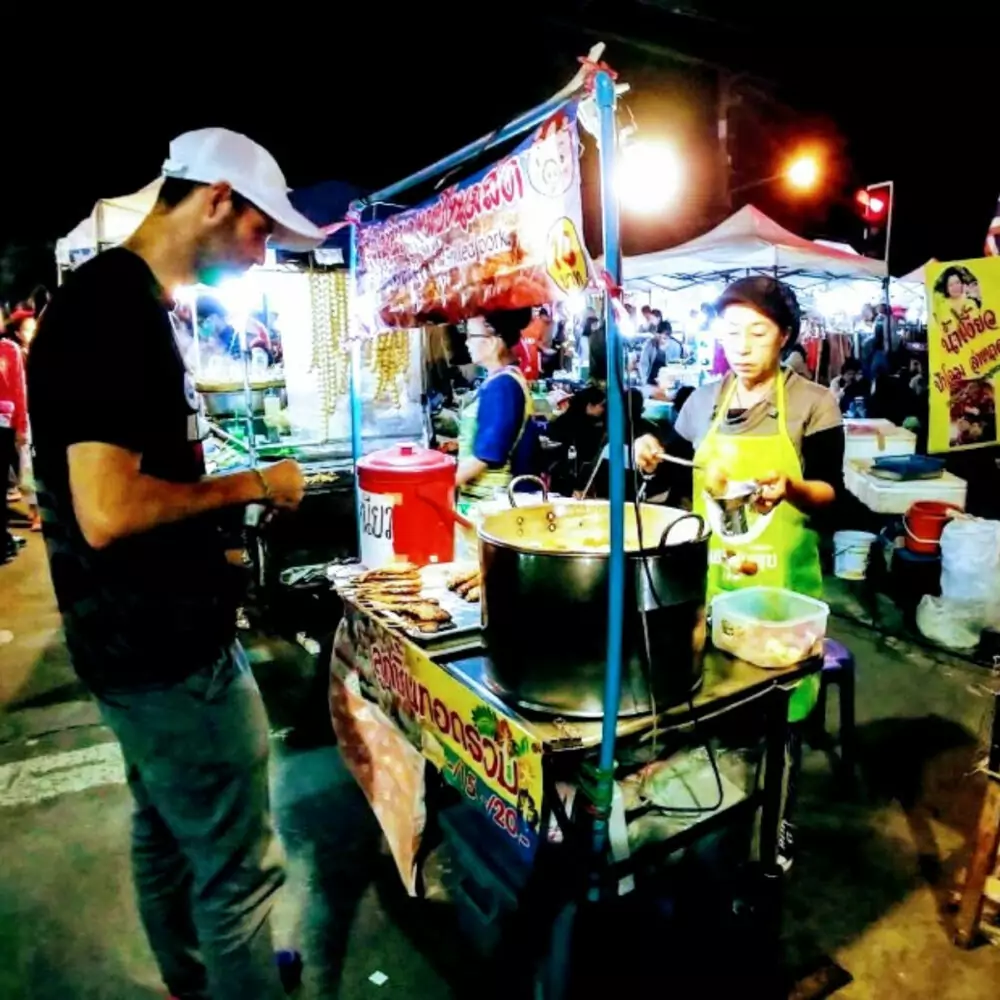 Chiang Rai is a few hours north of Chiang Mai and has much to offer families. We have a full post on things to do in Chiang Rai here, including the famous White Temple and Blue Temple.
We usually hire a car in the north of Thailand to explore at our leisure, we highly recommend this! Full post on the treasures of Northern Thailand here.
Other Historic Cities and Ancient Sites in Thailand for Families
Thailand has no shortage of Unesco sites. The ancient cities of Ayutthaya and Sukhothai are well worth visiting, with Ayutthaya being possible as a day trip from Bangkok. Full post on Ayutthaya here.
Sukhothai is harder to get to, there's a long bus journey and you'll need at least 1 night there.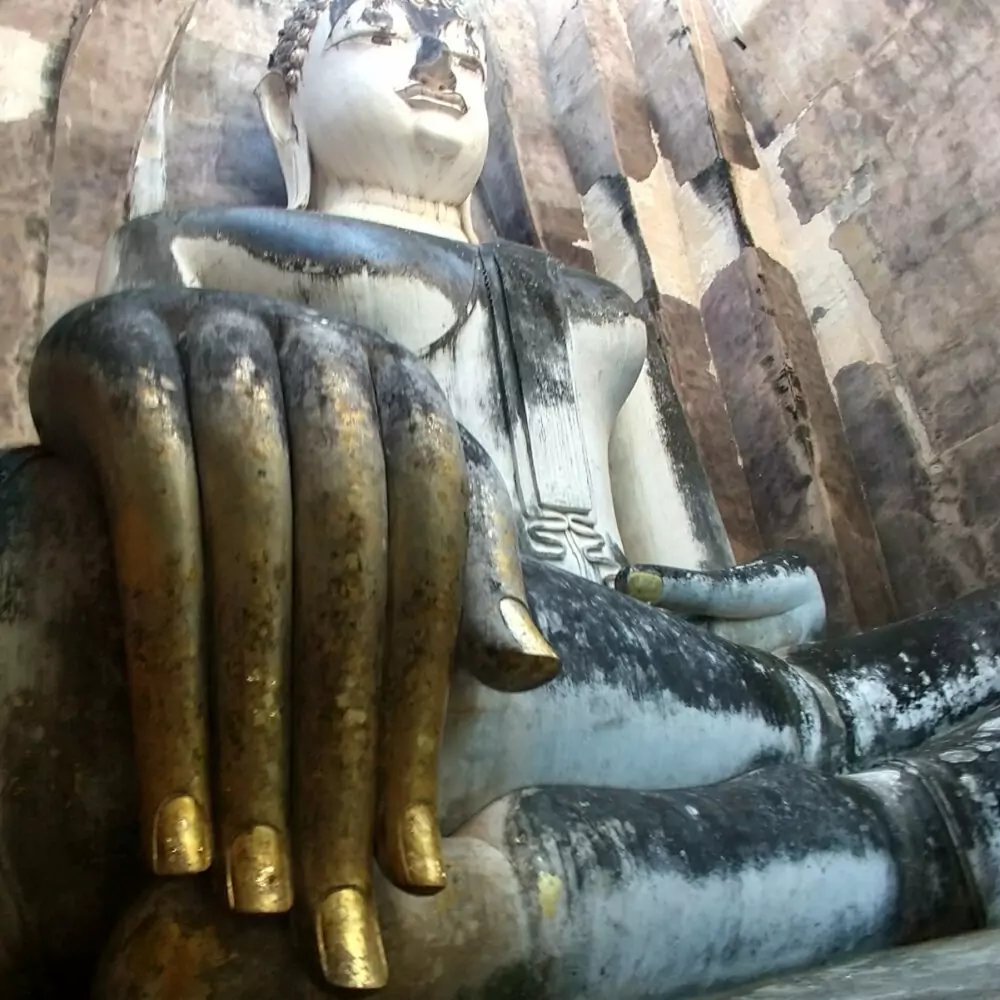 The Sukhothai ruins can famously be toured by bicycle and they are stunning, the town itself is lovely, sleepy and a little off the main tourist track. Full post on Sukhothai here.
Kanchanaburi is not far from Bangkok and is a sleepy riverside town, home to the Bridge on the River Kwai, WW2 history and an ethical elephant park.
A few days on the river here is a relaxing and beautiful experience, prices are some of the lowest in Thailand.
There is a new elephant attraction here, billed as ethical, which could compete with those of Chiang Mai for visitors not heading north. Full post on Kanchanaburi here.
Theme Parks and Other Family Attractions in Thailand
The following is not a comprehensive list of theme parks, zoos, water or adventure parks etc. But it gives you an idea of how much choice there is in Thailand.
Siam Park City, Bangkok. Amusement park.
Cartoon Network Amazone near Jomtien Beach Water & Amusement Park.
Sea Life Aquarium Bangkok. The Largest Aquarium in South East Asia
Madam Tussauds Bangkok (we really enjoyed this!)
Chiang Mai Zoo
Ramayama Water Park, Pattaya
Black Mountain Water Park, Hua Hin
Flight of the Gibbon and other zipline parks near Chiang Mai.
There are many more family attractions like this in Thailand.
Wildlife in Thailand For Family to See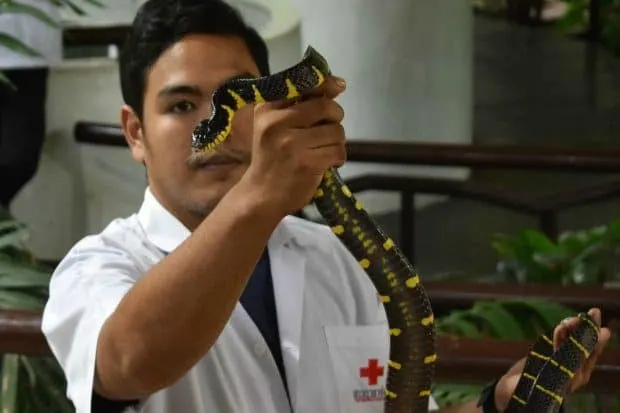 If you don't see monkeys or elephants in Thailand I'd be very surprised.
Beware animal exploitation attractions and choose ethical operations. Some of the attractions around Chiang Mai have a good reputation when it comes to elephant interaction.
I'd personally avoid anything to do with tigers in Thailand and elephant attractions in Phuket.
You probably won't see a wild snake, but if you'd like to find more about Thailand's native reptiles, try the venom farm and education centre at one of the main hospitals in Bangkok. ( pictured above)
Also watch out for birds, huge butterflies and fascinating bugs.
Hill Tribe Visits in Thailand with Family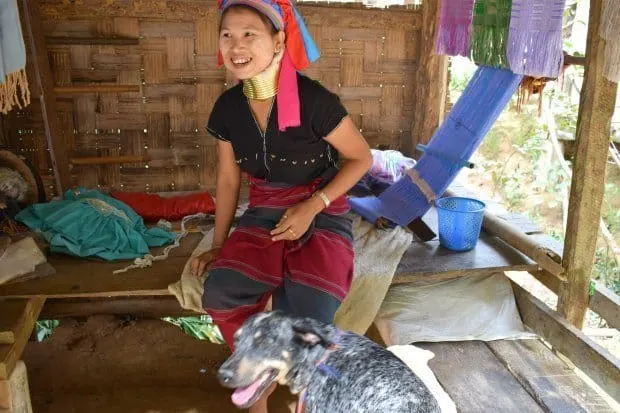 You can visit a hill tribe museum and education centre for free in Chiang Mai, or you can set out by car to find them for yourselves as we did with the long neck Karen village above.
If you'd like to organise an authentic, cultural and educational experience take a look at Thailand Hilltribe Holidays for homestays and tours in Northern Thailand. They are a responsible operation and can arrange homestays in hill tribe villages, particularly for family groups.
Food and Cooking, What to Eat in Thailand for Families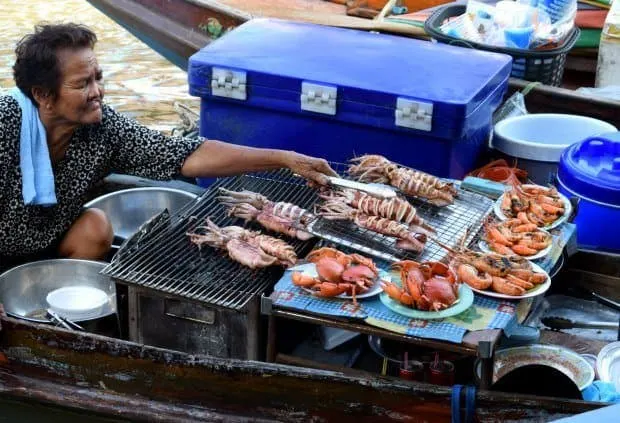 Thailand is a country that you absolutely need to eat your way around.
Thai food is superb, arguably the most exciting cuisine in the world. Not all Thai food is heavy on the chillies and your family won't go hungry if they're not keen on heat.
Try every kind of food outlet, the floating markets pictured above, night markets and walking streets, restaurants fine and basic and if you have time take a food tour or enrol in a cooking school for half a day or longer.
Some cooking schools are more than happy to take kids, our boys love these days of making and eating superb food. Their dad is a chef after all!
Getting Around Thailand for Families
Thailand is well served with airports and flights and many people will simply fly from Bangkok, to the beaches, or to northern Thailand.
If time is short, you can fly, but there are better ways to see Thailand.
The sleeper trains in Thailand can be an experience in themselves. Others travel by backpacker minibus or large (very good) tourist buses.
You can also arrange private drivers and tours or, for the islands, you're likely to use ferries.
Bangkok has a huge fleet of taxis, be certain to use one with a meter. Likewise, tuk tuks, Thailand's 3 wheelers, negotiate a price or make sure the driver is using their meter, before you accept their services.
We hope you enjoyed our post on highlights of Thailand and that you'll be visiting or planning your trip, very soon. If you like, we can help you with your plans (see resources below)
for Pinterest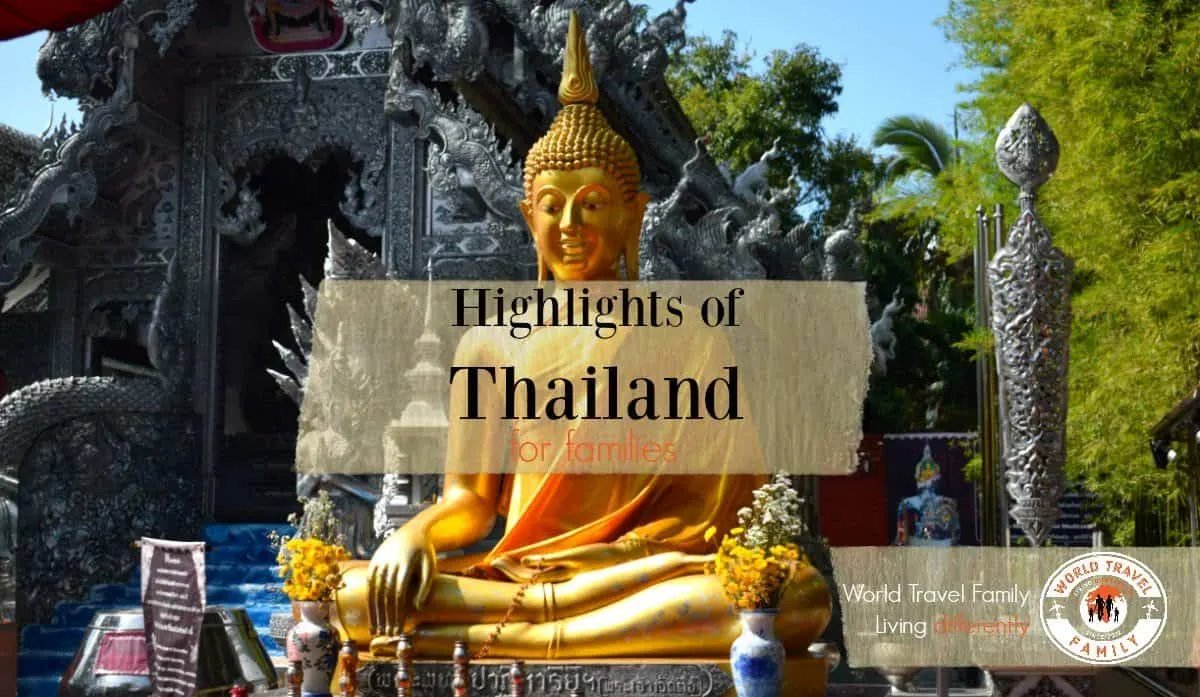 Further Resources for Families Planning a Trip to Thailand:
For more on travel in Thailand, you need our Thailand Travel Advice page.
We love Thailand, our visit next week will be our 24th (hard to believe) and we are always adding more content to our Thailand archives. Sukhothai is now published, along with 2 and 3 week Thailand itineraries. We also hope to get to Kanchanaburi to check out the new ethical elephant attraction there and will be making a return trip to Ayutthaya. Come back for more soon!
If you'd like to hire a car during your stay, use this car rental comparison tool to find the best deal!

We also suggest you take a look at this company to get a quote for all kinds of the more tricky adventure or extended travel insurance.

Try Stayz / VRBO for an alternative way to find rentals on homes/apartments/condos in any country!