This post may contain affiliate links.
Northern Thailand is one of the best places to visit in Thailand. Best, most beautiful places to visit in Northern Thailand and a Northern Thailand Itinerary. Things to do and places to see in the north of Thailand.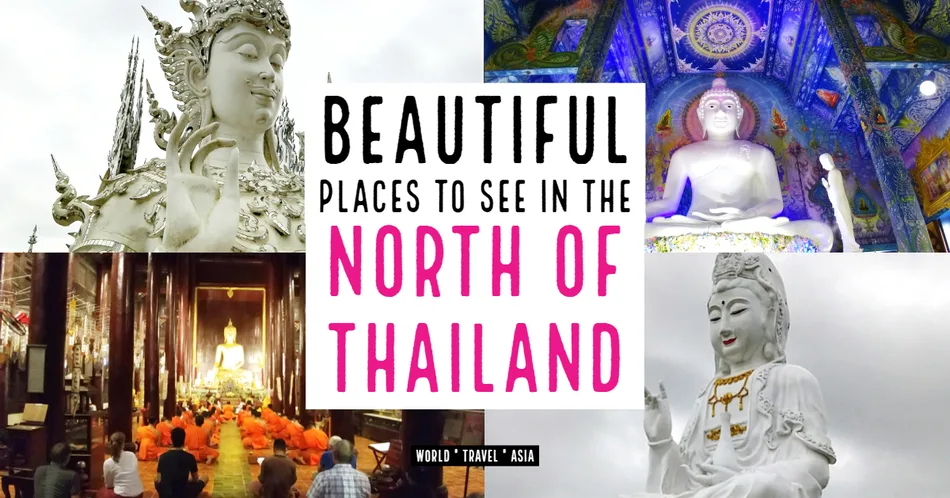 Don't stop at Chiang Mai! We think Northern Thailand is one of the best parts of Thailand and over the years we've been exploring the north of the country by car and on foot, whenever we get a chance.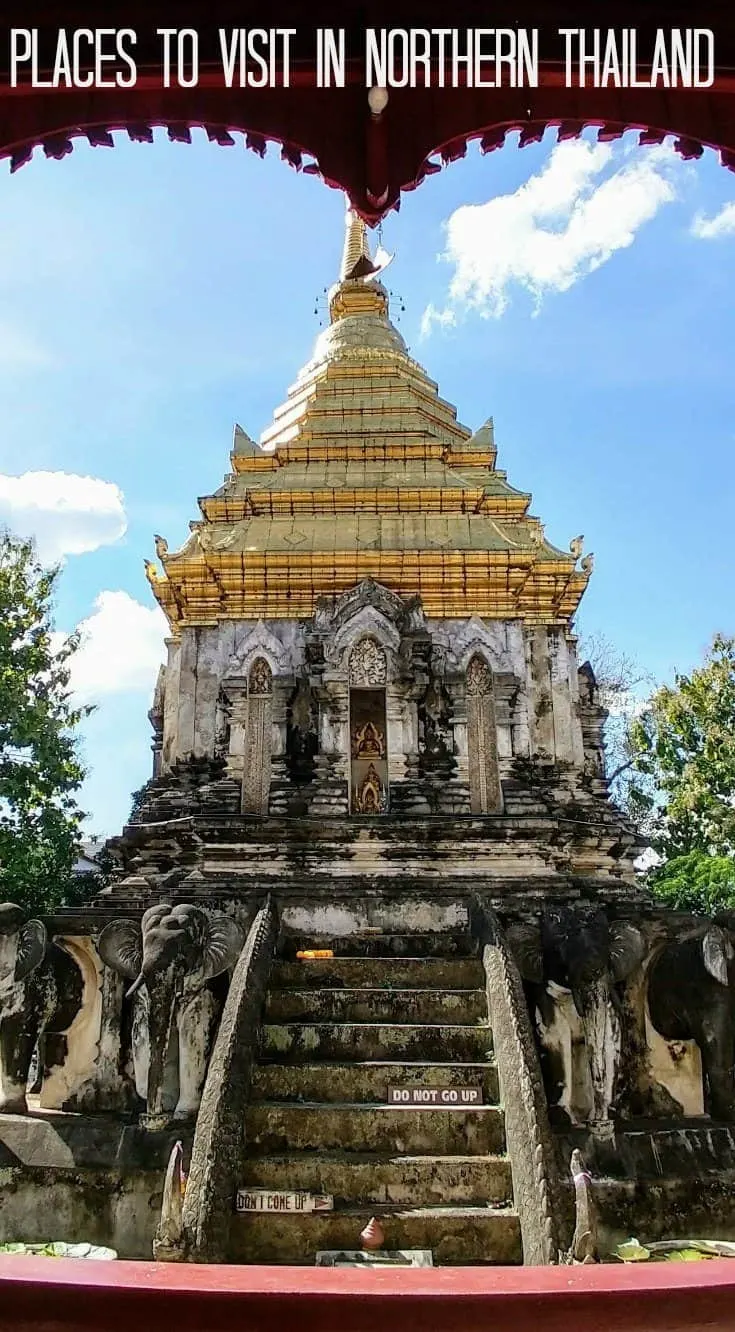 Below are some suggestions for the best and most beautiful places to visit in Northern Thailand.
You can get north of Chiang Mai by bus or even fly, but self-driving is a great option in the north of Thailand and an affordable one.
Rental vehicles and self-drive works out cheaper than taking the bus for us, as a party of four.
It's also possible to arrange tours into northern Thailand, one day tours and longer, we'll cover those too.
For now, some recommended destinations for you to explore and northern Thailand itinerary suggestions including the Mae Hon Son Loop and the north east.
We also give you some recommendations on accommodation, some budget, some more luxury.
If your Thailand trip allows, certainly fit some of these northern Thailand destinations into your itinerary.
Northern Thailand Itinerary
Your northern Thailand itinerary should include as many as you can of the best places to visit in northern Thailand. Choose your favourites and connect them in a logical way to form your North Thailand itinerary.
Itinerary tips, ideas, and more information on these places in northern Thailand below.
Chiang Mai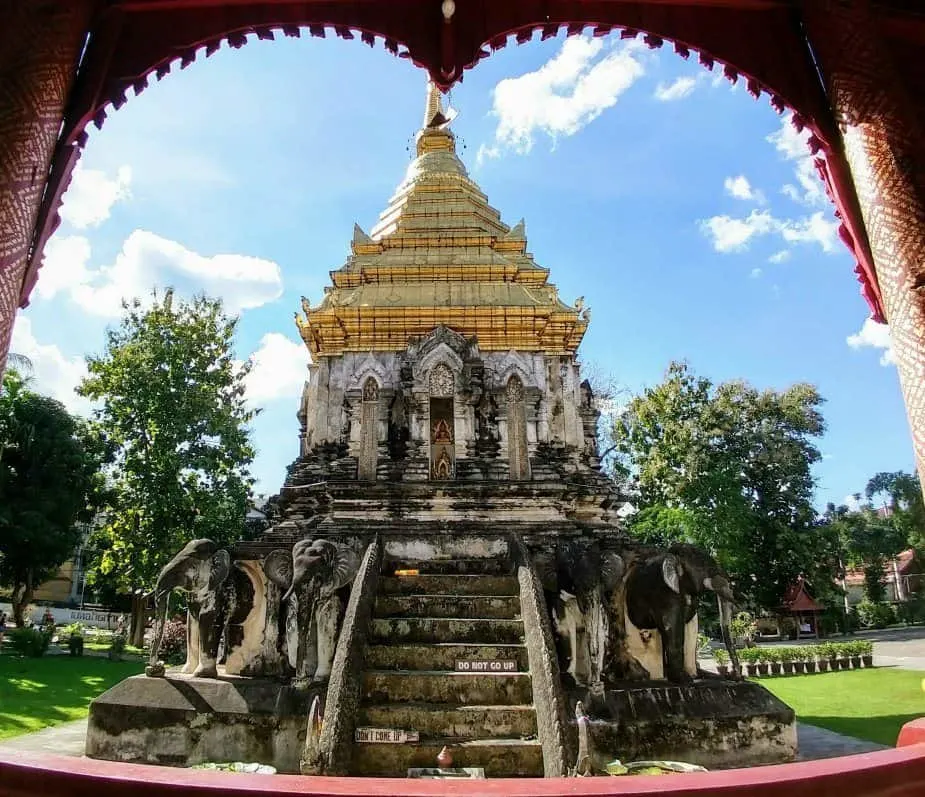 Chiang Mai Old Town is a fortified, perfectly square enclosure surrounded by a well maintained and attractive moat.
The Old Town houses dozens of ancient temples and wats along with busy markets, cool shops and plenty of hotels, guest houses and hostels.
Night markets and walking streets are abundant and popular inside the old city of Chiang Mai and in the newer parts of the city.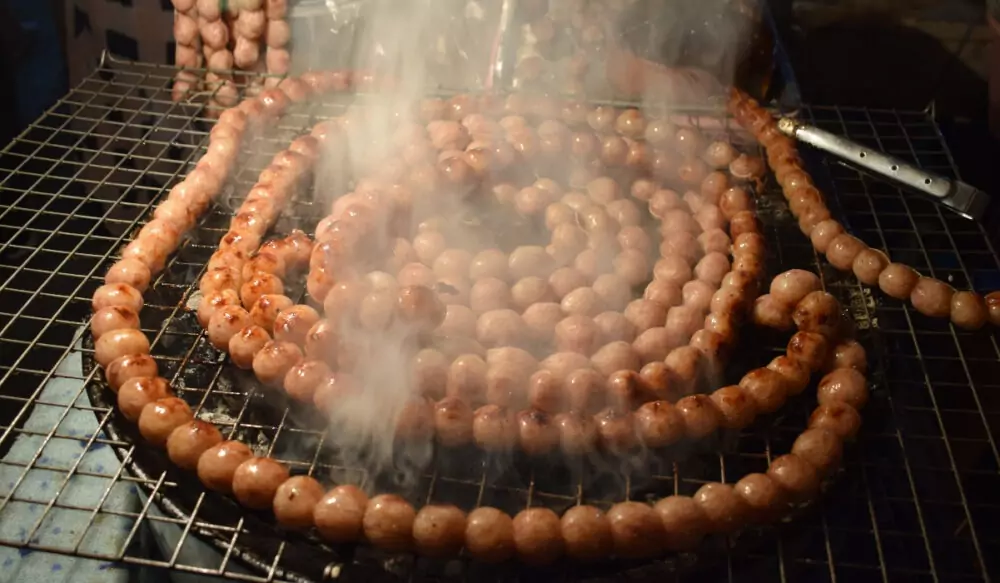 Outside Chiang Mai you'll find beautiful Doi Suthep (with Wat Phrathat ) as well as multiple large tourist attractions based on elephants, trekking, zip-lining, animals, art or even elephant manure paper-making.
We have a post on Art in Paradise 3D art museum here and another on Living in Chiang Mai and facilities available ( ice skating, English cinema, co-working spaces etc) here.
We have tried a few more of these tourist attractions but we're yet to write them up, our favourite activity up here is just wandering the old town, moat and markets.
Chiang Mai is where we always pick up a hire car to journey further north. We have a post on car hire and driving in Thailand here. For information on getting to Chiang Mai from Bangkok you need this post.
You can fly to Chiang Mai from Bangkok, or take the bus, but the overnight sleeper train is a great thing to do if you have time.
You will arrive at Chiang Mai train station, on the outskirts of town, from here you'll have to negotiate a fare into town. This can be troublesome.
Where to Stay in Chiang Mai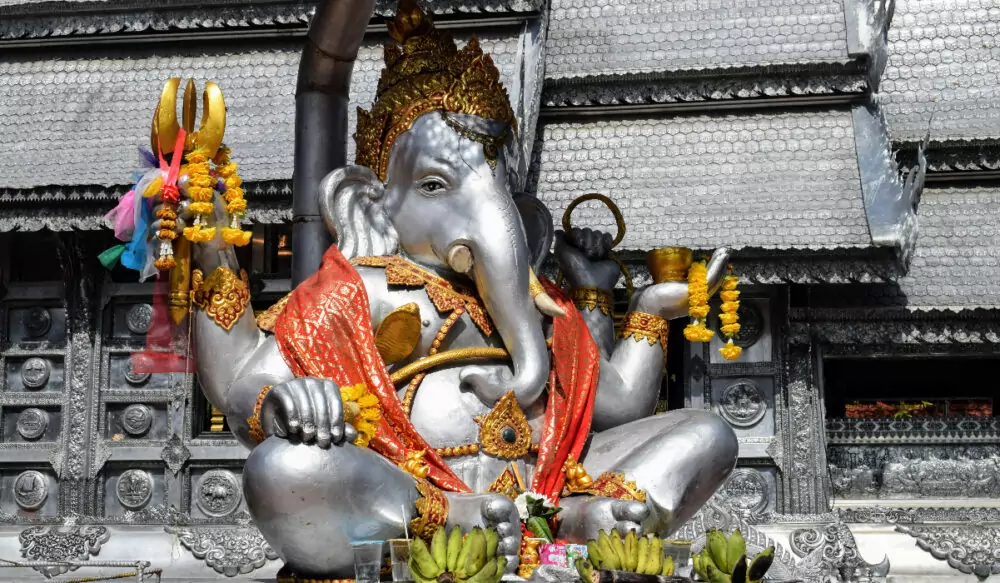 It's best to stay in or very close to the Old Town, we've stayed further out of town towards the Ping River and it's much harder to access everything you need.
The Night Bazaar area (outside the Old Town, to the southeast) isn't so nice, you're better off in the Old Town in our opinion.
The Night Bazaar usually runs every night but the walking streets (markets) in the Old Town are more on weekends. Check the current scheduling of markets for yourself.
We can recommend the following hotels, guest houses and hostels based on personal experience. For ultra-budget stays try the hostels just north of the old town on a quiet street the other side of the moat.
We have used the following. Details and pricing may have changed, please double check.
Chiang Mai Festivals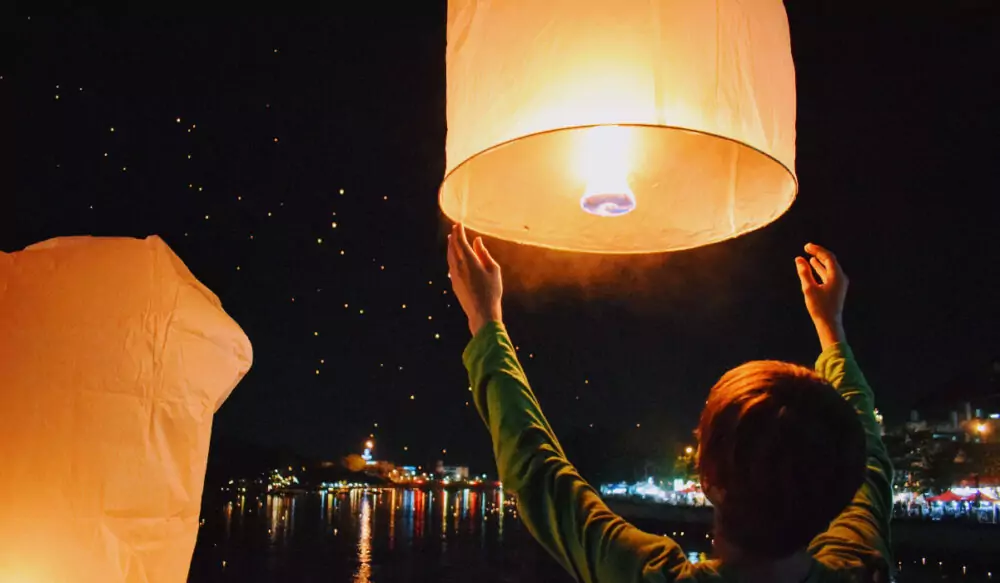 There are many festivals in Thailand but the lantern festivals make Chiang Mai a tourism hotspot in northern hemisphere autumn.
Thousands of flaming paper lanterns take to the skies above chiang mai and thousands more float on the Ping river, and in the moat.
You will also see spectacular displays in some of the temples and monasteries, as well as in the city's central Three Kings Square.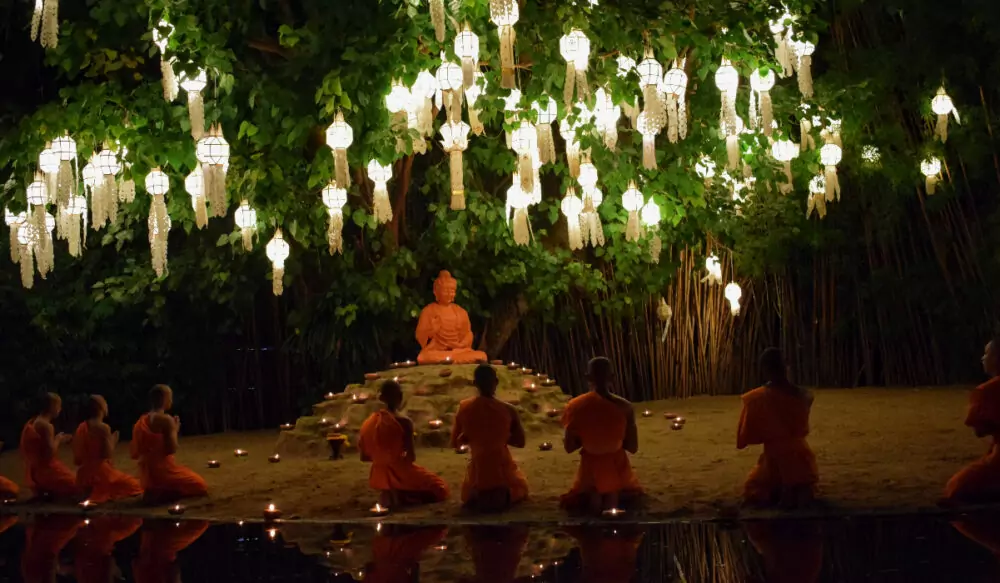 These two festivals, Loi Krathong and Yi Peng are the stuff of Instagram dreams, but we found the crowds and potential dangers of traffic and falling fireballs a little hair raising.
Songkran, the water festival, is also popular in Chiang Mai, and all over Thailand, this happens in spring.
Chiang Mai also has "burning season" when local fields are burnt as part of the agricultural process. This can destroy air quality, so please look into this if you are planning your best time to see Chiang Mai and the north.
Chiang Mai can be a really good place to spend Christmas in Thailand, with lots of decorations, western style, adding to the mix.
Pai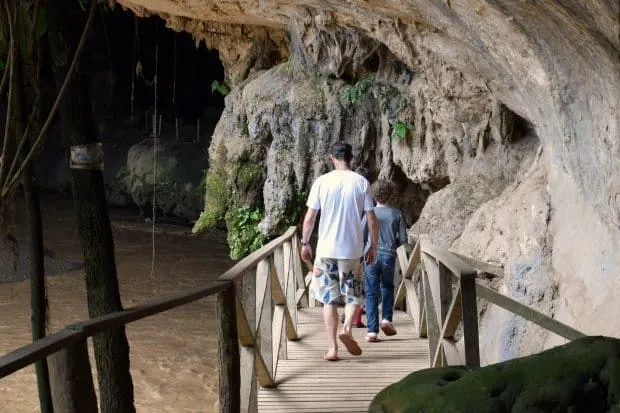 Pai used to be a sleepy country town, beloved of hippy backpackers and in many ways it still is. It's just grown.
Expect beautiful green fields, a winding river and lots of tourists. The night market is great and there's plenty to do in the surrounding area, from rafting to elephants to hill tribe visits.
Where to Stay in Pai
We've stayed outside Pai when we've hired a car which is better for parking but not so good if you want to wander into town to eat in the evenings. We won't recommend the resort we stayed at, instead we'll recommend you stay somewhere closer to town.
Mae Hong Son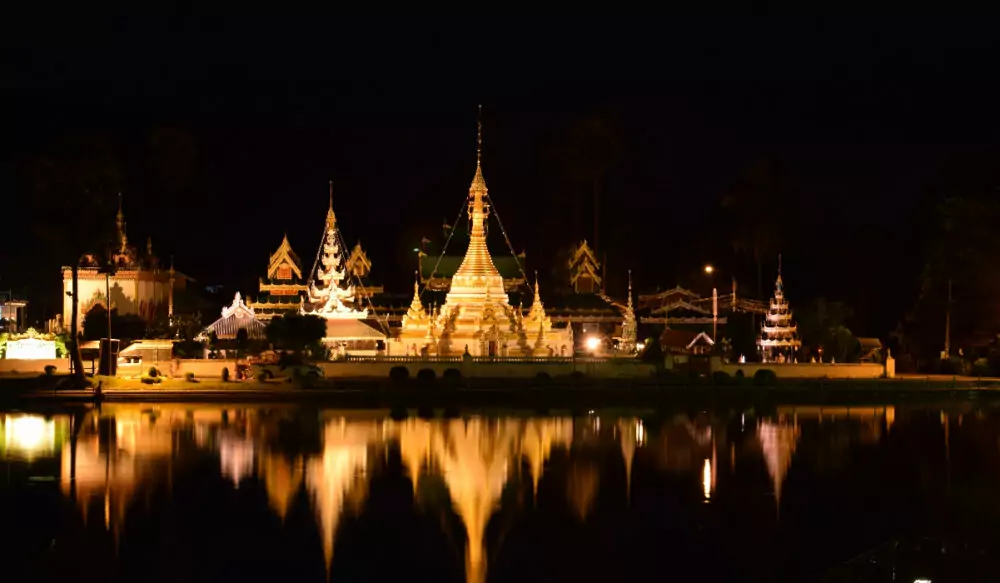 Mae Hong Son province borders Chiang Mai Province in the northwest of Thailand. It is bordered by mountains (Myanmar, to the west) and is known as the city of three mists.
A mountainous and historically poorer province of Thailand, this region is now one of the most beautiful and interesting parts of Thailand.
It is also very pleasant to explore, with far fewer tourist on the ground than elsewhere in Thailand.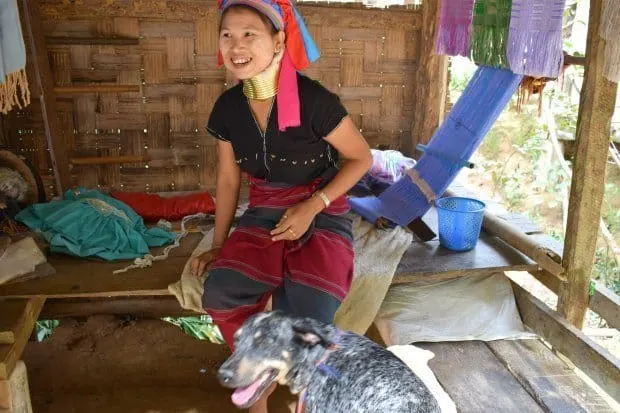 Where to Stay in Mai Hong Son
Stay close to the lake, if you're driving, find somewhere with parking. You'll want to walk around the lake, temple and night market in the evening.
Alternatively, there are some nice resort-style hotels just outside town.
The Mae Hong Son Loop
This somewhat famous road loop takes travellers on a 600 Km mountain exploration from Chiang Mai, to Chiang Dao, Pai, Soppong, Mae Aw, Mai Hong Son, Mae Chaim, Doi Inthanon and back to Chiang Mai.
There are multiple options on where to stay on this route, it's up to you.
The giant swing which you will pass on this journey is in our short video. The kids loved it!
Doi Inthanon National Park
Doi Inthanon is Thailand's highest peak and is in Chiang Mai Province to the southwest of the city.
Chiang Rai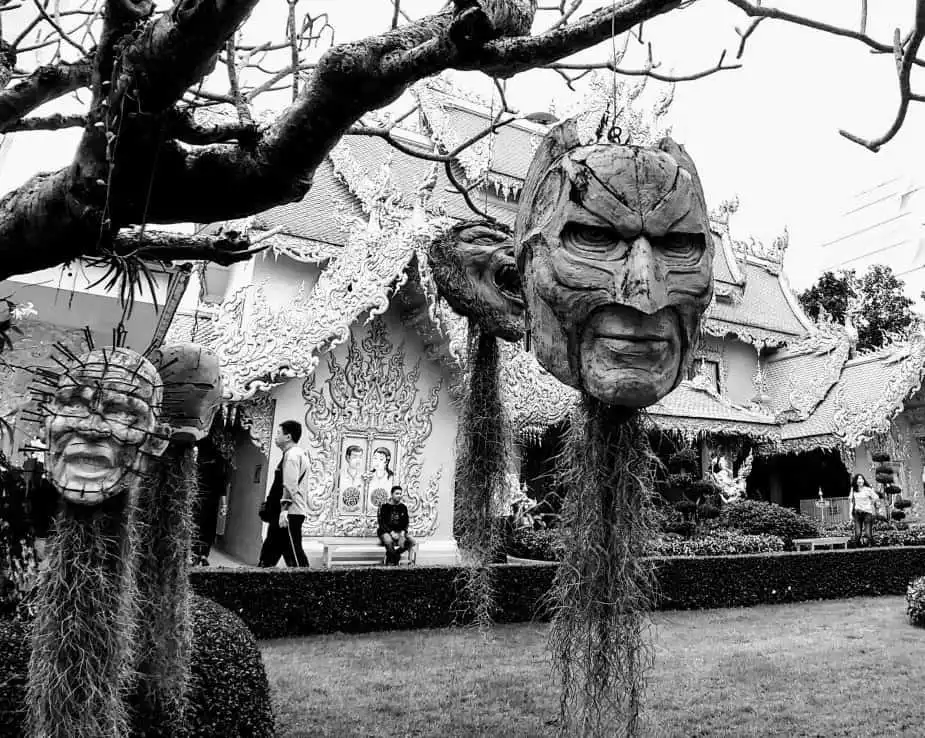 There is so much to see and do in and around Chiang Rai that a few days wouldn't be too much time to spend here. We already published a post on things to do in Chiang Rai ( click through here).
Chiang Rai is where you'll need to be to see the rightly-famous white and blue temples.
Where to Stay in Chiang Rai
Because we were road tripping and had our own car, we stayed just outside Chiang Rai City at Pan Kled Villa Eco Hill Resort.
This place was comfortable and affordable, housing was in adorable wooden villas in a stunning forest garden. Highly recommended!
They served a great breakfast and had a reasonably priced outdoor restaurant for the evenings. Check out Pan Kled Villas here.
Mae Salong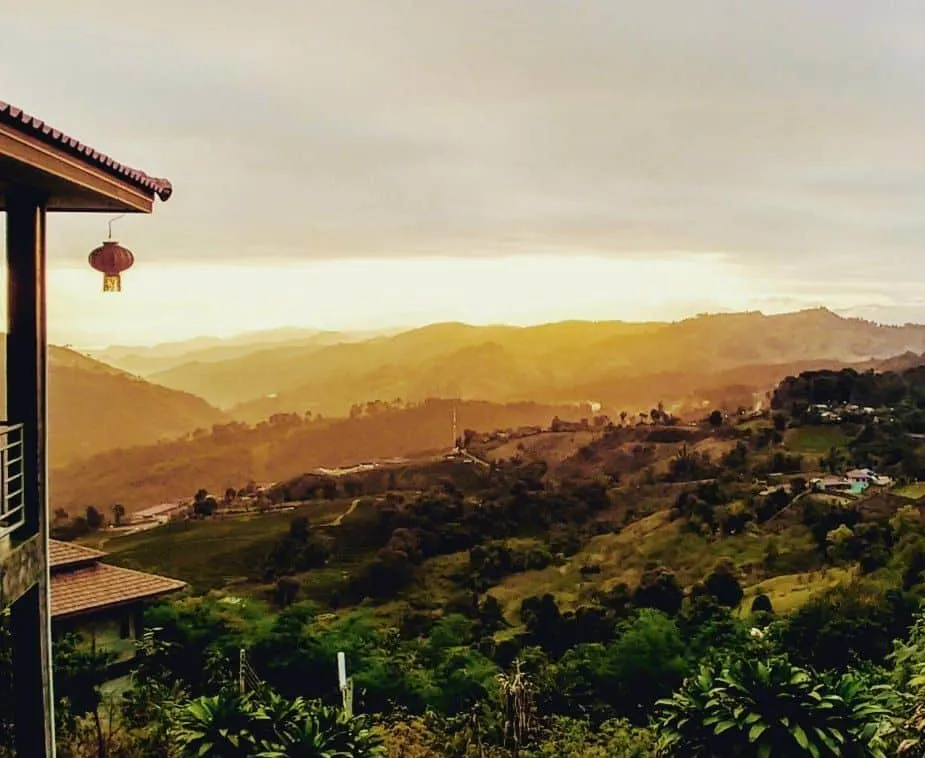 Where to Stay in Mae Salong
You can either stay in Mae Salong town itself to be within easy walking distance of the market and restaurants or, as we did, you can stay slightly outside town, a 5-10 minute drive, to wake up to dawn views like the one above.
This photo is actually taken from our hotel, it was low cost, comfortable and provided a good breakfast and dress-up opportunities. Much more to come on Mae Salong soon but for now check out Phumektawan Resort Hotel here.
Kwan Phayao (Lake Phayao)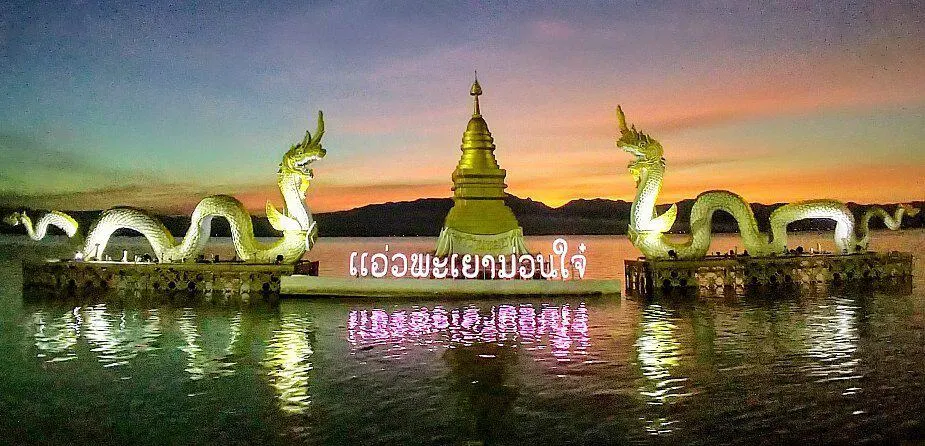 No, we'd never heard of Phayao either but we were having so much fun visiting new places that we thought we'd visit one more.
Phayao was very different, large empty roads, plenty of restaurants, no tourists. We ran and walked on beautiful bike paths around the lake, enjoyed sunsets and sunrises and wondered why nobody comes here.
It was a slice of real Thailand and would make an excellent digital nomad base.
You can get to Phayao by bus from Chiang Mai, by car it took us around 4 hours or it makes a good stop if you're driving up from the south.
Where to Stay in Phayao
We chose The Cozy Nest because of its excellent reviews and weren't disappointed.
Their family room was absolutely huge and breakfast was included. They also had rooms for 2 and deluxe rooms, it's just footsteps from the water's edge, take a look at The Cozy Nest here.
Sukhothai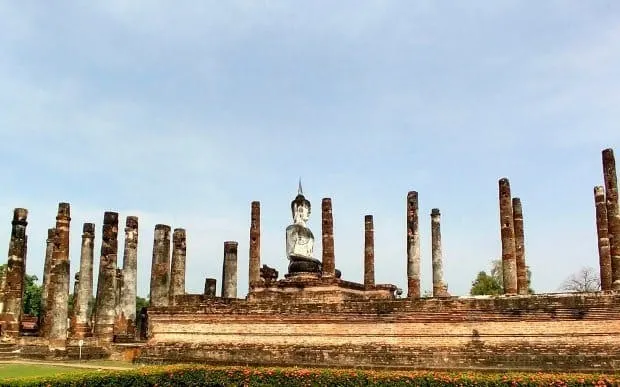 Much further south than all the places mentioned above but technically in the northern part of Thailand, Sukhothai could make a good stop on the way up or down from Chiang Mai.
You can even book a day trip to Sukhothai from Chiang Mai, and this would certainly be the easiest way to see this incredible ancient city. It's actually one of my very favourite places in Thailand, but getting there by bus and train is tricky. I'd really recommend booking the day trip (the price is for 3 people for this particular tour, but there are other options on this site) if you don't need to spend a few days in Sukhothai.
Sukhothai Historic Park is one of the best and largest historic sites in the whole of Thailand. If you're serious about your exploration, absolutely not to be missed.
Sukhothai to Chiang Mai is about 5 hours by bus. Bangkok to Sukhothai is about 7-9 hours by bus (there is a stop at Ayutthaya on this bus route).
There is no train on this route that stops close to Sukhothai. The two buses combined were cheaper than taking the sleeper train direct from Bangkok to Chiang Mai.
Bangkok to Chiang Mai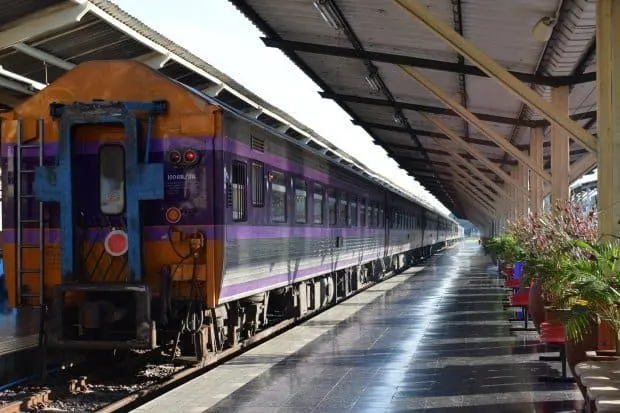 A classic journey of around 12 hours, the Bangkok to Chiang Mai sleeper train is a comfortable way to get to the north of Thailand and we've taken this route many times with kids and without. The buses on this route can be good too.
We have a full post on getting from Bangkok to Chiang Mai here. Of course you could also fly if time is very short.
When to Visit Northern Thailand? Weather, Rain, Air Pollution and Temperatures.
The dry seasons in Northern Thailand are November to February (cool) and March to June (hot). Rain is less likely during these periods.
Be aware of the terrible air pollution in Chiang Mai in spring, February to May. You will probably need a light sweater high in the mountains in the evenings.
Finding the Best Prices on Hotels, Guest Houses, Resorts and Hostels in Thailand
It is still possible to turn up and knock on doors to find a room but the internet really does make this somewhat pointless these days.
On a tour of the north of Thailand, we tend to book just a day or two in advance and generally use Agoda because we collect their credit vouchers to use against future stays. They are Asia specialists and every experience we've had with their customer support has been superb. Visit Agoda here.

Northern Thailand Itinerary, 1 Week, 2 Week, a Month?
If time is short you'll have to choose between travelling northeast ( Chiang Rai, Mae Salong) and north-west ( Mae Hong Son). 3-5 days should be plenty of time to get around these areas and you could potentially include Pai and Chiang Dao. Pai is not really on the way to Chiang Rai but you could take a detour.
If you have 2 weeks or longer you could see most of the places mentioned above and more.
Your northern Thailand itinerary will depend on onward travel plans. Do you need to return a rental vehicle to Chiang Mai? Will you be crossing into Laos from northern Thailand? Can you fly back to Bangkok from Chiang Rai or another northern airport, so avoiding having to return to Chiang Mai?
If you possibly can, find time to add Sukhothai Historic Park to your trip, visit on the way north to Chiang Mai or on your return to Bangkok.
Of course, if you visit Sukhothai you should also visit Ayutthaya, the other UNESCO-listed Ancient Capitol of Thailand. We can't call Ayutthaya Northern Thailand, it's quite close to Bangkok towards the south. We have a post on Ayutthaya here.
Both Ayutthaya and Sukhothai are stunning, however, I'd choose Sukhothai if I could only see one.
1 Day Tours to Northern Thailand
It's possible to book day tours into northern Thailand in advance. Try these options, they come with a company's best price guarantee. Find the tour cheaper and they say they'll refund the difference, please check terms for yourself.
A 1 day tour to Chiang Rai from Chiang Mai. This tour picks you up from your Chiang Mai hotel, takes you to the White Temple and Wat Phra That Chedi Luang in Chiang Saen Ancient City and includes a boat trip on the Mekong River. Check details and pricing here.
A small group tour Including Chiang Rai's White and Blue Temples plus the chilling Black House.(this one is slightly cheaper) This tour again, picks up from Chiang Mai and includes Golden Triangle highlights, White Temple, Blue Temple and Black House. Check details and availability on this tour here.
We hope you find our selection of places to visit in northern Thailand useful. I know this post would have been a big help to us in planning our tours and destinations in the north. A set northern Thailand itinerary is of little real value as of course, everyone is different with different needs and comfort levels, but we've done our best to give you an idea of what's possible in a week, 2 weeks or a month. Enjoy the north, it's where we spend most of our time in Thailand these days and we will be back for more. Detailed posts are still in production on all of these destinations. Sign up to follow and get them as soon as they're published. For our general Thailand travel guide, click here. or you can visit our Thailand Travel archives.
If you'd like to hire a car during your stay, use this car rental comparison tool to find the best deal!

We also suggest you take a look at this company to get a quote for all kinds of the more tricky adventure or extended travel insurance.

Try Stayz / VRBO for an alternative way to find rentals on homes/apartments/condos in any country!