This post may contain affiliate links.
Thailand is a beautiful country with much to offer holiday makers, travellers and tourist. Thailand has stunning beaches, ancient temples, delicious food, and a fascinating rich culture. You can take a trip to Thailand to relax on a beach from the comfort of a beautiful resort or tour the sites of Thailand.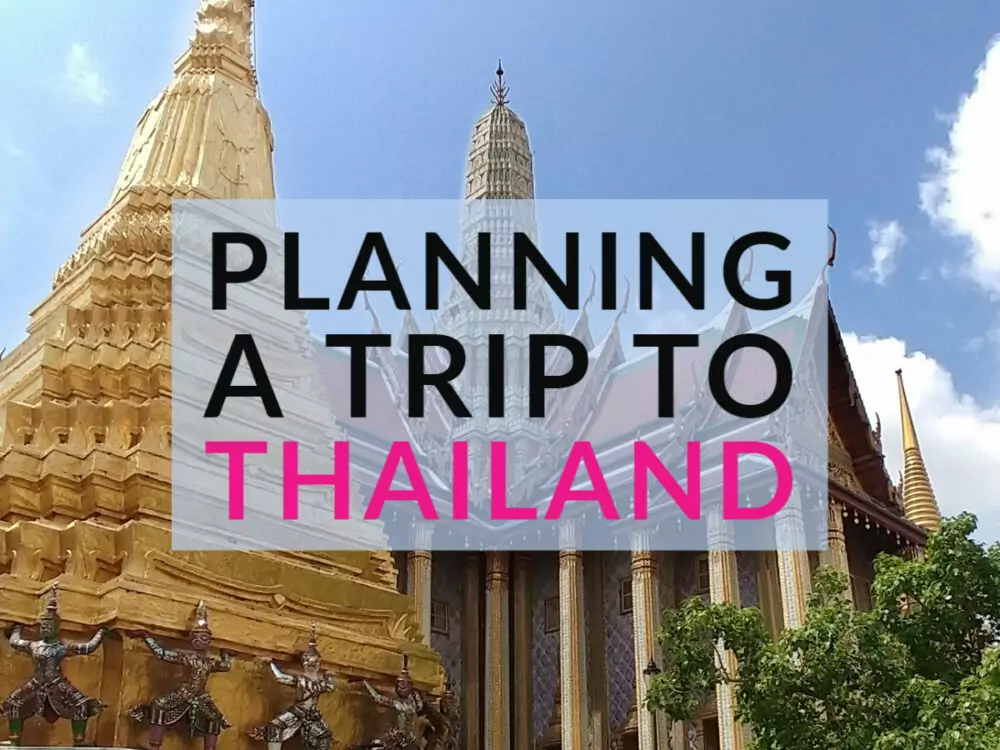 Planning Your Trip to Thailand
Independent travellers can take a self-guided tour of Thailand using buses, trains, tuk tuks and internal flights. Less confident travellers can book a tour of Thailand with a group travel company. There are endless possibilities for your trip to Thailand.
You should not need a guide for any part of your trip to Thailand, but if you'd like to take guided tours there are many options to book them. This is something we can help you with.
Thailand Trip Planning Service
Here on the world travel family website we know Thailand well. If you'd like help planning your trip to Thailand (Or a Southeast Asia tour), get in touch at contact@worldtravelfamily.com and tell us your dreams for your trip.
We can send you a form, you can tick off which places in Thailand you'd like to visit or those you need more information about.
This document has a basic outline of the Thailand trip planning process, it's free. You can use it to help yourself plan, or you can use it to help our team plan your trip. Just email us at the address above and we can give you full access and further detailed information.
We can organise your itinerary, hotels, tours, classes, and transport for you.
Thailand trip planning for our readers is something we love to do, be it for a short vacation or for a longer travel itinerary. Our flat fee is for trips of 1-2 weeks, longer trips and tours we charge more.
Alternatively, use the posts on our website to plan your own trip to Thailand. You do not need a travel agent to plan a trip to Thailand, let us show you how to take control of your own travel planning.
We would suggest you read our posts about Bangkok and Northern Thailand to get you started in putting your trip itinerary together.
Tips To Help You Plan Your Trip to Thailand
Here are some brief tips to help you plan your trip to Thailand.
Best time to visit Thailand: Thailand has a mostly tropical climate and is in the northern hemisphere, close to the equator. It's generally hot and humid year-round. However, the best time to visit most of Thailand is from October to February, which is the cooler season when temperatures are more comfortable and rainfall is lower.
Visa requirements: Depending on your nationality, you may need a visa to enter Thailand. You can check the visa requirements on the website of the Thai embassy or consulate in your country.
Flights: Thailand has several international airports, including Bangkok (BKK), Phuket (HKT), and Chiang Mai (CNX). You can search for flights on websites like Expedia, Kayak, or Skyscanner. You may need proof of onward travel (ie. a flight exiting Thailand already booked) to be allowed to board you flight to Thailand.
Accommodation: Thailand has a wide range of accommodation options to suit all budgets, from hostels and guesthouses to luxury 5 star resorts. You can search for accommodation on websites like Booking.com, Agoda, or Airbnb. You can pay under $20 per night for accommodation in Thailand, for a family, expect to pay from $50 per night in less expensive parts of Thailand.
Transportation: Thailand has a good network of buses, trains, and domestic flights that can take you to most parts of the country. This makes getting around Thailand very easy. You can also hire a car in Thailand, or a scooter if you want to explore on your own. Be certain to have the correct insurance and license for any vehicle.
Places to visit: Thailand has many beautiful places to visit, depending on your interests. Some of the most popular destinations include Bangkok, Chiang Mai, Pai, Phuket, Krabi, Koh Samui, and Pattaya. You can also visit cultural attractions like the ancient cities of Ayutthaya and Sukhothai or the temples of Chiang Rai.
Food: Thailand is famous for delicious Thai food, from spicy creamy curries and stir-fries to fresh seafood and tropical fruits. You can try street food or visit local restaurants to sample the local cuisine.
Culture and etiquette: Thailand has a rich culture, and it's important to respect local customs and etiquette. For example, it's polite to remove your shoes when entering a temple or someone's home, and it's considered impolite to touch someone's head. Visitors should dress respectfully in towns, cities and places or religious significance. Swimwear is fine at the beach, of course.
Safety: Thailand is generally a safe country to visit, but it's important to take precautions to avoid scams and stay safe. For example, be wary of tuk-tuk drivers who offer tours or deals that seem too good to be true, and keep an eye on your belongings in crowded areas. You will have to haggle over prices in some markets and with taxi and tuk tuk drivers if they are not using their meters.
I hope these tips help you plan a wonderful trip to Thailand!
If you'd like to hire a car during your stay, use this car rental comparison tool to find the best deal!

We also suggest you take a look at this company to get a quote for all kinds of the more tricky adventure or extended travel insurance.

Try Stayz / VRBO for an alternative way to find rentals on homes/apartments/condos in any country!