This post may contain affiliate links.
What is Thai food? Thai food is the national food of Thailand, a country in Southeast Asia, and is one of the best cuisines in the world, if not the very best. Thai food is full of flavour, featuring aromatics like lemongrass, gingers, lime leaves and hot chillies alongside coconut milk, peanuts and basil. Thai food can be vegetarian or feature meats and seafood, tofu is common as are both rice and noodles. Thai food balances sweet, spicy, salt, and sour to perfection in curries, stir fries, soups and salads.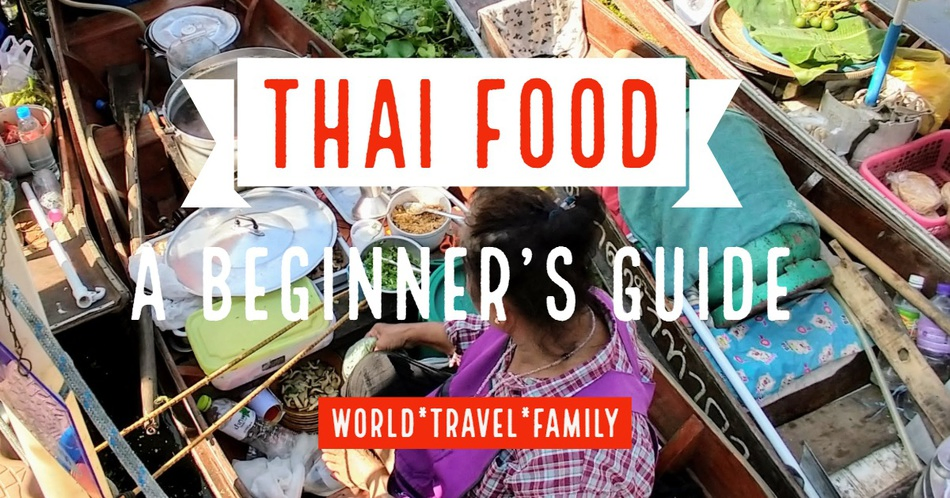 Most of us know what Thai food is these days. Many of us have eaten Thai cuisine in a restaurant at least once, so maybe a guide to Thai food for beginners is a little redundant.
All the same, Chef and I thought we'd put together a beginner's guide to Thai food to help you if you are new to Travel in Thailand.
Maybe you're taking kids to Thailand (great plan!) and wondering what they can eat, or maybe you want to try cooking Thai food at home and aren't sure where to start.
Maybe you're just visiting a Thai restaurant for the first time and need to know what and how to order.
This guide to Thai food, dishes, flavours, and ingredients is for you.
There is a lot of bad Thai food around the world and some of the food served in Thailand is bad too, if it's churned out for tourists with no pride in the end product.
But done right, Thai food is incredible, many people consider it the most delicious food in the world. It's light, healthy, delicately fragrant and full of vegetables. It's not necessarily fiery hot. What people (wrongly) call "spicy."
Chef and I want to give you Thai food for beginners, for any Thai food novices out there stressing over what to eat in Thailand, Southeast Asia or in a Thai restaurant near you.
What is Thai Food?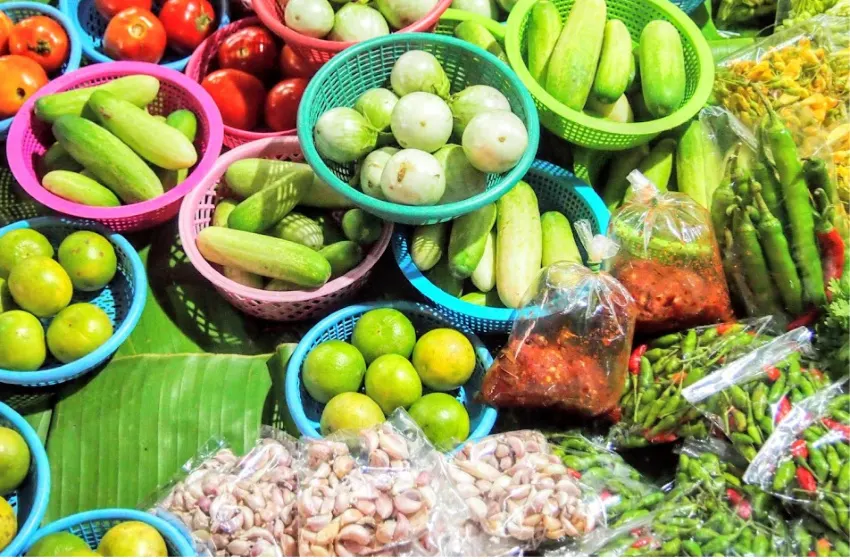 We've slaved long and hard over this post, we ate at many restaurants in Thailand and tried everything on the menu.
We also took many Thai cooking classes and we cook Thai food at home often, it's easy if you can buy or grow Thai ingredients, which in cold climates can be hard.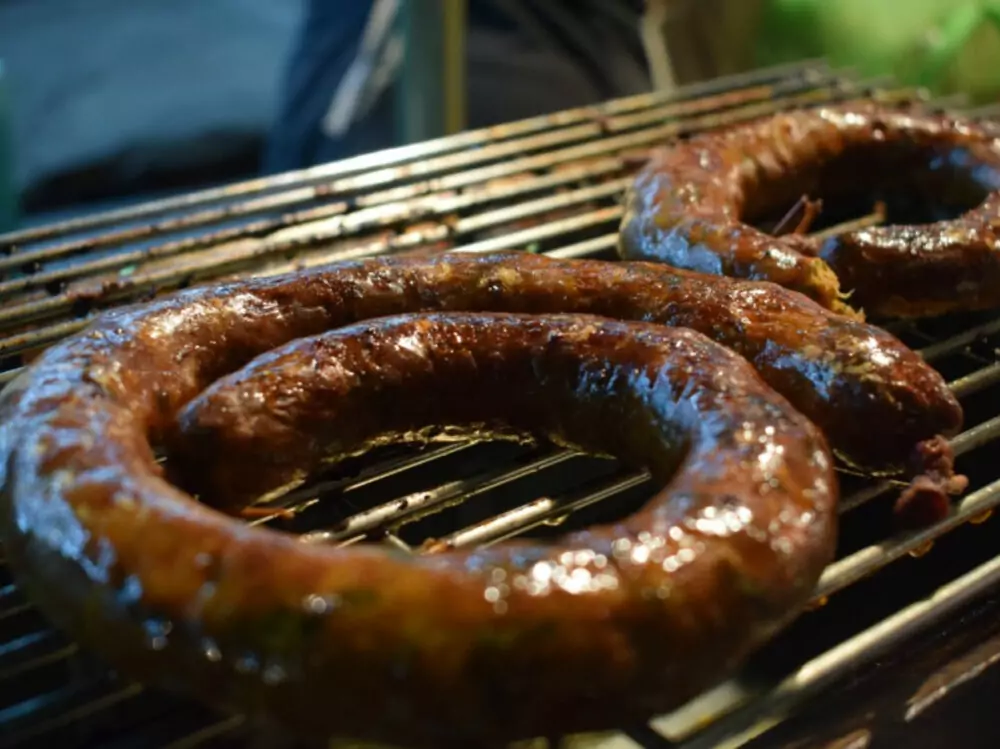 We'll start with the basic Thai dishes. There is huge variation in how cooks prepare dishes, no two ever make an identical meal. Eat around, find the restaurant you like and watch out for MSG, I've learned the hard way that it's nasty.
You will find the basic dishes below all over Thailand but there are also regional specialities to look out for.
In Thailand food does vary from north to south for instance Khao Soi, synonymous with Chiang Mai and the north.
The northeast of Thailand, on the Laos border, is Isan, Thailand's largest region, and you'll often see Isan food in Thailand.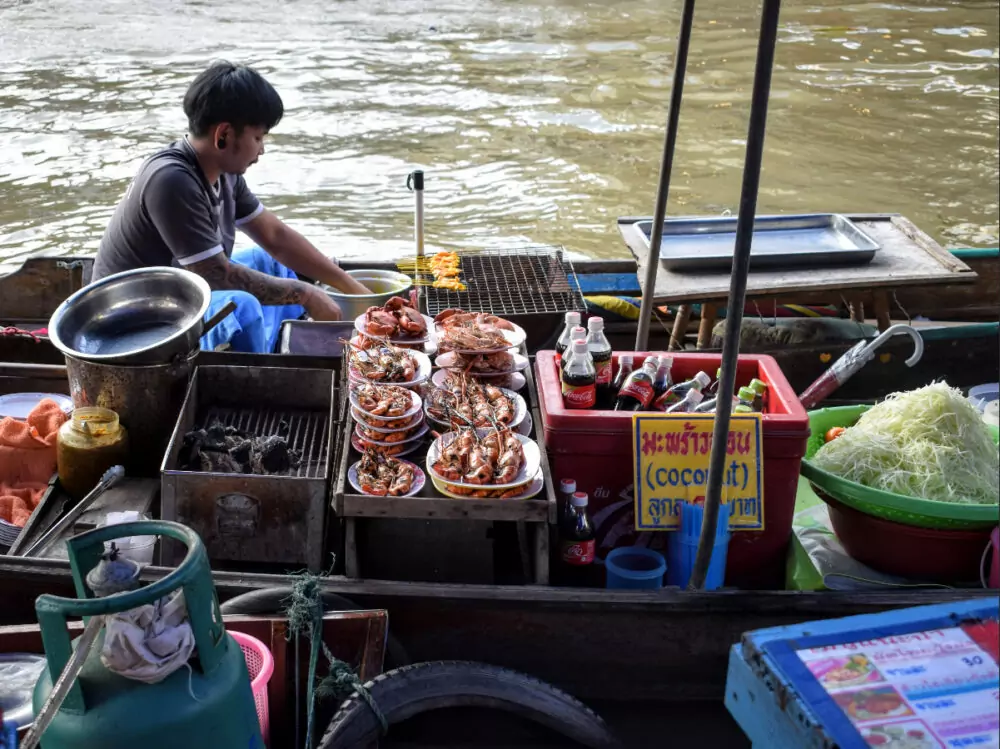 The Thai people eat many tropical fruits and vegetables, usually finely chopped or shredded.
Common proteins consumed in Thailand include peanuts, tofu, chicken, fish, seafood, and pork.
You will, occasionally, see more exotic animals on menus, including frog, insects, bugs and spiders. You can buy packets of salted crispy crickets in supermarkets and street food stalls.
The "scorpion-on-a-stick" is there for the tourists and the vendors make a lot of money out of 10 Baht for a photo.
The main carbohydrate eaten in Thailand is rice, particularly Thai jasmine rice, but sticky rice is fairly common too on Thai menus.
Thai food has a special balance of acid, salt, and sweet. Key flavours include coconut, palm sugar, fish sauce, and lime. Heat comes from hot peppers, in the dish, or added as a condiment. It's common to add sugar to savoury food as a condiment too.
Hit the red button to your left or at the bottom of the page to see our pins and bookmark your favorites to Pinterest.
Thai Food (Video)
We made this video for you to start to explain. Food in Thailand is cheap, delicious, and available just about everywhere you can imagine. Much of the footage we filmed in markets and floating markets, along with cookery courses we've attended over the years.
You'll see the bugs and scorpions, along with what Thai people really eat. Our website is special, we research, film, and photograph in person.
Many people writing guides to Thai food have never set foot in Thailand and that makes me incredibly sad. Such is blogging these days.
Thai Food: Is Thai Food "Hot" or "Spicy"?
Some Thai food is very hot or "spicy" but other dishes are nor. Soups can be creamy and fresh, some stir fries are not spicy at all, and often you can order Thai food spicy or mild.
Don't fear the chillies! You do find chillies in a lot of Thai cuisine but they're not always very hot. The bigger ones are just another vegetable, so mild my children will eat them without complaint. They're full of vitamin C so eat up. It's the little chillies that you've got to watch.
Often you add your own chilli to taste. The best places to eat have plenty of condiments to adapt your dish whichever way you like. You'll see small devilish chillies in fish sauce (Prik Nam Pla) or vinegar and ground dried chillies, and pastes. You can easily make your own Thai condiments at home, they're easy to mix.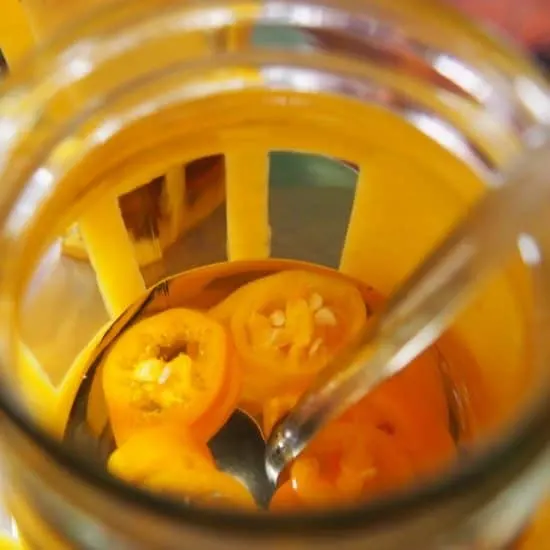 Thai Food – How and What to Order?
Restaurants that serve tourists quite often assume the farangs or foreigners aren't up to the heat, you have to ask for your food spicy or with chilli (prik in Thai). If you don't ask, they will assume you can't cope and will serve you "Thai food for beginners." This is why we originally names this post that way. Other have copied us since.
In very touristy restaurants the waiter may ask if you want your food served mild, medium, or spicy. If in doubt, start with mild. But tourist mild often means no chillies at all. A heavy Thai meal might consist of the four elements below:
Wet – curries and soups
Dry-fried dishes without a thick soup or sauce.
Spicy – could be a soup or dish with plenty of heat.
Yum – light and fresh, like a salad. Balancing lime, sugar, and salt while cleansing your palette.
If you order like this for one person it will be way too much food unless you have a gargantuan appetite.
One Thai curry, soup, stir-fry or salad is usually plenty in a restaurant. You can order rice with soups and curries or sometimes they will be "over rice" or stir-fried with rice, mixed with rice already.
Sticky rice is unusual, but it is a special treat, more common in Laos. You'll also see sticky rice in desserts such as mango and sticky rice. Sticky rice is a different species of rice, the glutinous texture is not just down to cooking.
Thai Fish Sauce, Shrimp Paste, Dried Fish and Squid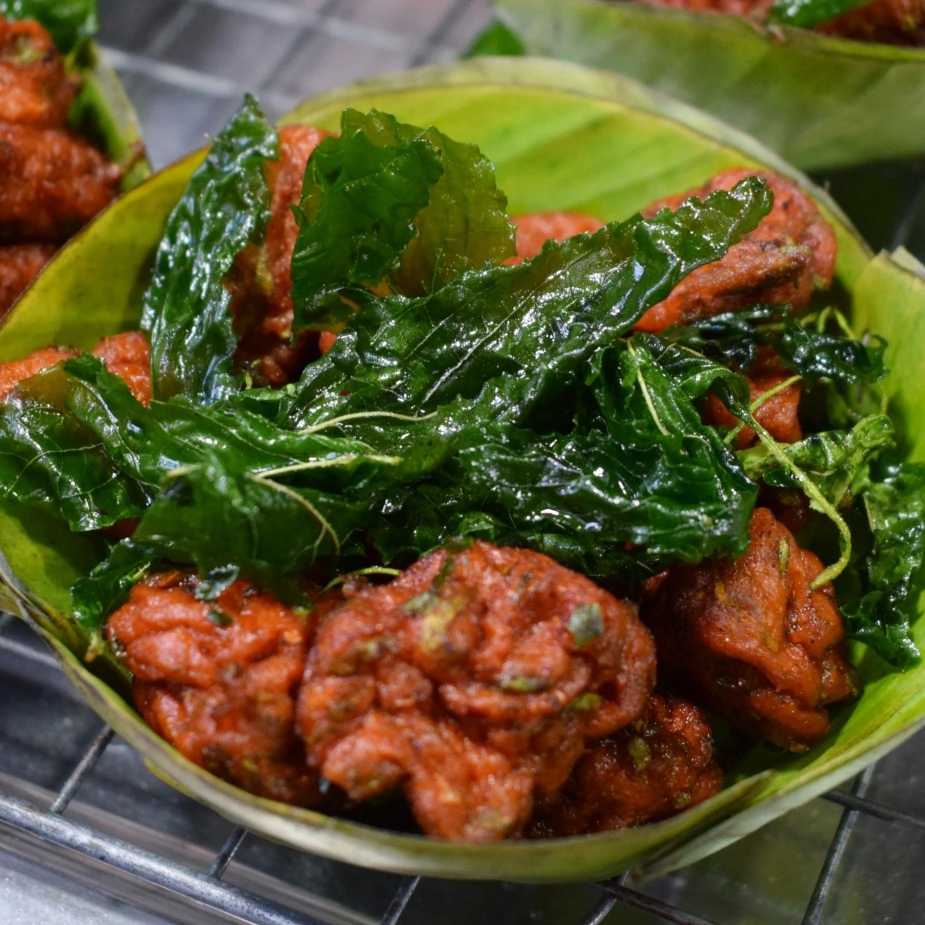 All of the above fish ingredients can be tricky for the Thai food beginner. I love fish sauce just as much as soy sauce, it's basically salt, but made from fermented fish.
Thai food with fish sauce is an acquired taste. The other fishy ingredients can sometimes taste of death and decomposition, but they're not heavily used in most Thai dishes. I've rarely found dried shrimp an issue for me in pad Thai and papaya salads.
Pad Thai for tourists generally doesn't contain these. If you go to a market you'll see just how many different types of fish pastes exist in Thailand, and smell them!
Eating Thai Food
I was told many years ago while trekking through the villages of northern Thailand, that Thai people didn't put forks or knives in their mouths because it was dangerous.
In Thai food every item comes pre-cut, making it easy to eat with an Asian-style soup spoon or chopsticks. Chopsticks are usually presented wrapped in paper, quite clean, unlike in Vietnam, where you need to wipe your chopsticks with the paper provided.
In some Thai food outlets, particularly shopping malls, you'll find that you can sterilise your eating utensils in vats of boiling water. Of course, if you can't use chopsticks, somebody will usually be able to find you a western spoon or fork. Items like spoons and chopstick sets are popular souvenirs to take home after your culinary tour of Thailand.
Thai Soups
Thai soup is part of the main meal, not normally a starter. They're filling enough in themselves, but sometimes people order rice on the side. With rice or without, either is OK, nobody will think you're weird.
Your soup will contain sticks and leaves and you're generally not supposed to eat them, although very young kaffir lime leaves are edible. Just take out the pieces of lemongrass, galangal (galangal is far more woody than ginger), lime leaves, tamarind pods etc. Or you can just leave them in the bowl.
The two main Thai soups you'll find are Tom Ka (or Tom Kha) and Tom Yam (or Tom Yum). I can't recall ever eating clear noodle soups in Thailand, unlike in neighbouring Vietnam or Laos where they have been common.
Khao Soi is another Thai noodle soup, but the broth is rich, thick creamy coconut curry, not a clear noodle soup at all. This is a regional dish, found in the north, but sometimes you can find it elsewhere.
Thai Tom Yum Soup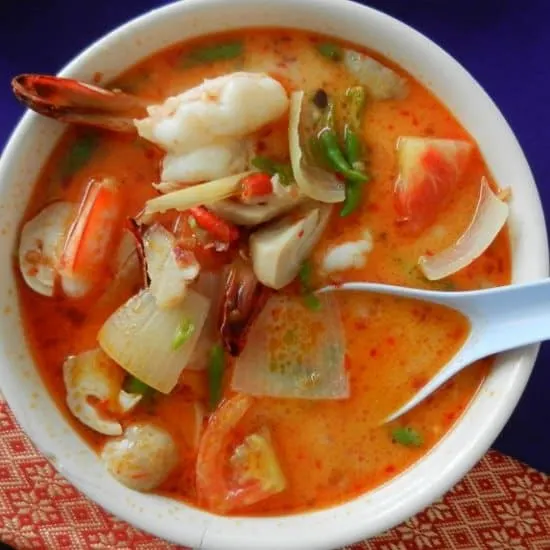 This bowl on Tom Yum Goong (prawn) is the best I've ever eaten. Bought from a tiny backstreet restaurant in Hua Hin, I have never had another Tom Yum that could measure up. I dream of this soup!
Tom yum is hot with chillies and sour with lime. It doesn't normally contain coconut, the stock is almost clear sometimes.
Tom Ka or Kha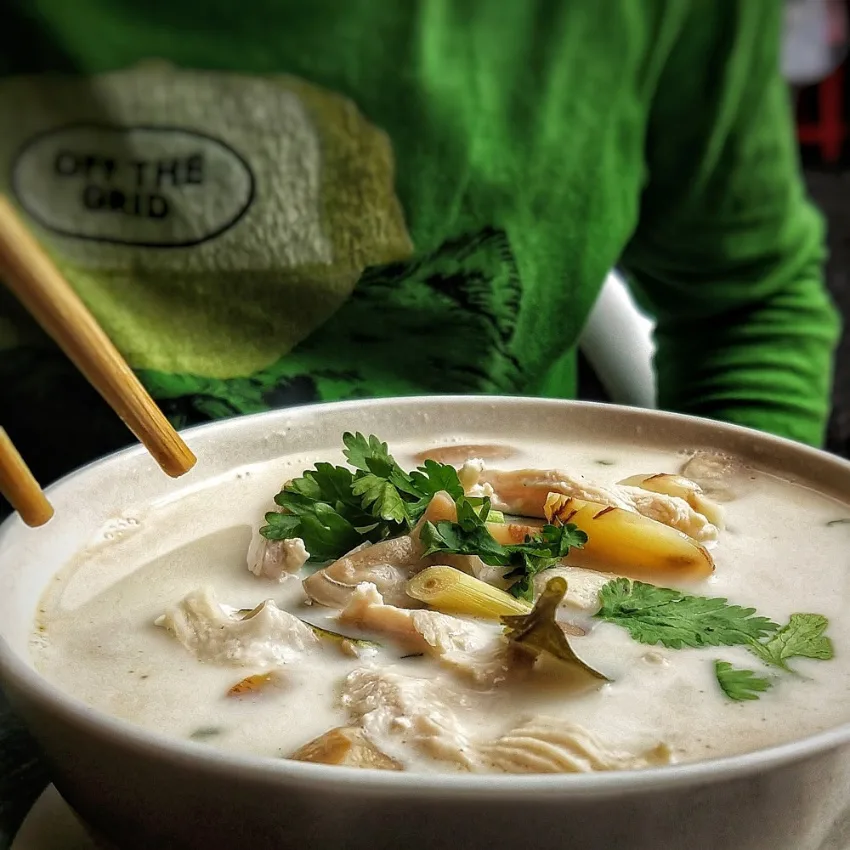 Tom Ka is a highly fragrant thin coconut soup. It can be totally spice and chili free, my children love it that way. Sometimes it has chillies. The key ingredients are the galangal and lemongrass. Kaffir lime leaves and fresh Thai basil add more fragrance. Tom Ka often features delicious Asian mushrooms. Our current favourite restaurant uses celery leaf, they're a great addition. Tom kha gai or khai is chicken tom ka, but you also should be able to find tofu, vegetable or prawn versions.
Fried Noodles and Thai Noodle Dishes
There are many different types of noodles in Thailand, from fine rice vermicelli to fat wide noodles in pad siew. You'll also see sheets and clumps of noodle material if you find very authentic floating markets like Tha Kha floating market. Every noodle has its own ideal dish or use.
Pad Siew (or Pad See Ew)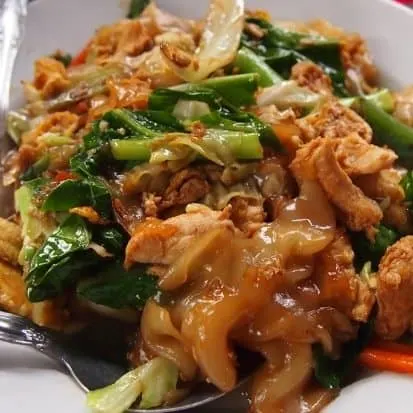 I must have seen this Thai dish spelled a dozen different ways. Spelling for everything varies immensely in Thailand.
Pad Siew is one is Chef's favourites. Fat, slippery rice noodles fried with soy sauce (the siew) and vegetables, with or without meat.
Good pad siew contains greens, kale, Chinese broccoli, or similar. This is my husband's absolute favourite Thai dish in Thailand. If it's done well. The trick is a blisteringly hot pan.
Pad Thai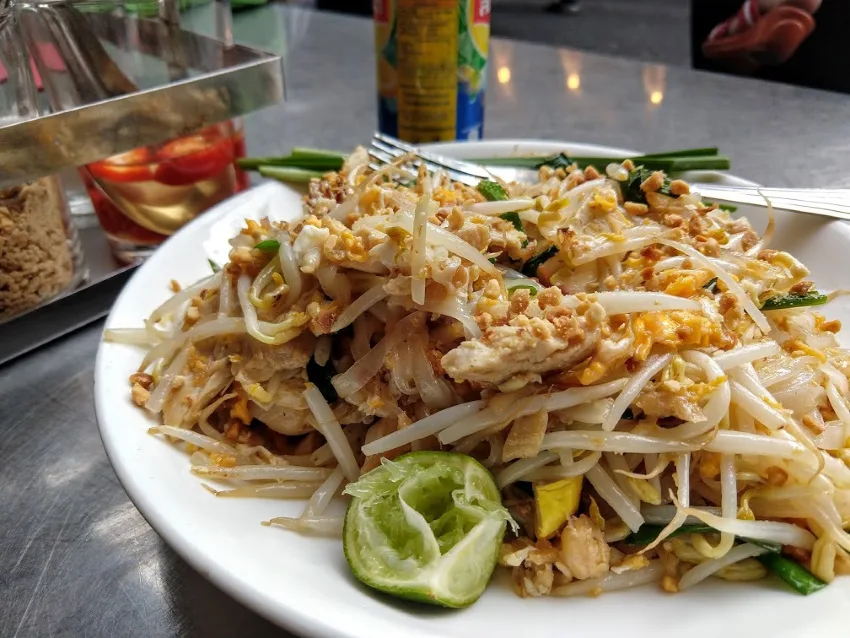 Probably the Thai food most often consumed by tourists in Thailand and certainly a Thai food for beginners. Pad Thai can be delicious or dodgy.
The Pad Thai above, bought at a street-side restaurant in Bangkok was incredibly good. I've also had some that I just couldn't eat, greasy with pig fat and some sort of toxic orange sauce.
A real Pad Thai has thin rice noodles stir-fried with eggs and small pieces of firm tofu. Its flavour comes from tamarind, fish sauce, tiny dried shrimps, garlic or shallots, chillies, and sugar. It should be served with lime and peanuts.
Sometimes there are vegetables in Pad Thai. I think the best Pad Thai has plenty of bean sprouts. You can usually order it with meat, tofu or prawns. Done right, pad thai is a noodle dish you'll want to eat every day.
Know Your Thai Curries.
What are Thai curries? Thai curries are usually coconut milk-based and don't contain an abundance of spices in the same way that Indian curries do.
Coconut milk isn't the clear liquid inside a drinking coconut, that's coconut water. Coconut milk is made from the flesh of the coconut and can be thick or thin.
The eponymous colours of the Thai curry come from the curry paste, all contain chillies and aromatics. The curries all come with a choice of protein, which can be tofu, or straight vegetable. The main curries you will find are:
Thai Green Curry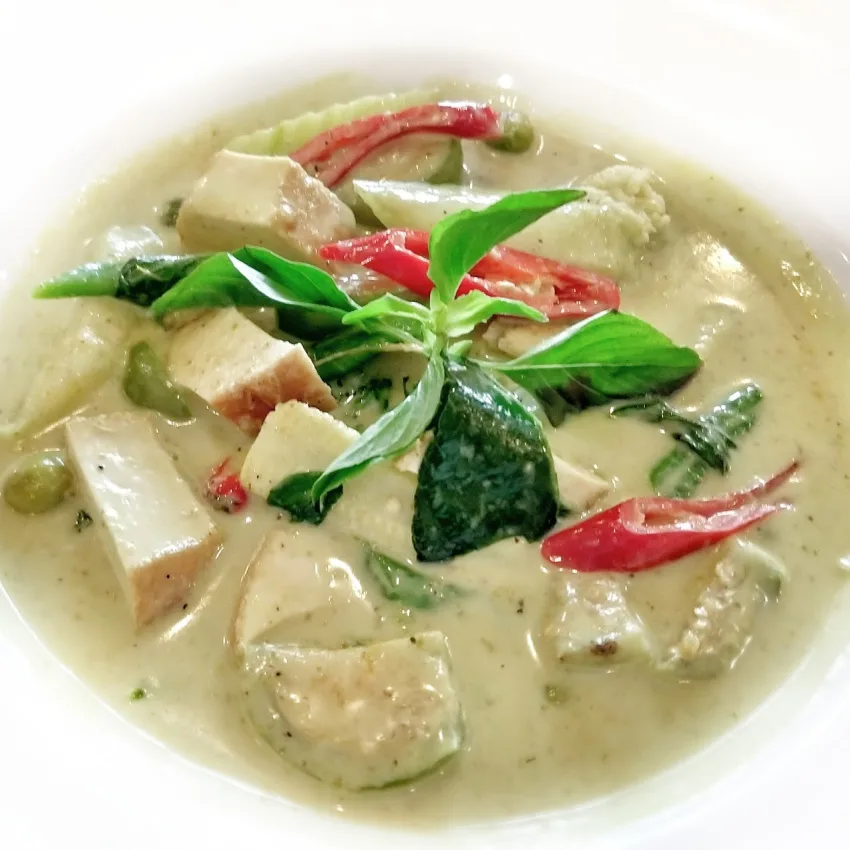 Thai green curry paste is green because of the green chilli content. Green curry is normally sweeter than red curry, but I've not noticed much difference in practice.
Fresh coriander, basil and kaffir lime leaf can enhance the paste's greenness. Thai green curry almost always features various mini green aubergines (eggplant), sometimes quartered, sometimes whole. I love them!
Red Curry
Thai red curry paste is made from fresh and dried red chillies.
Yellow Curry
Yellow curry is richer and creamier than red or green curries because of the coconut cream content. The yellow comes from fresh turmeric in the paste, making it slightly Indian-like.
Massaman Curry
Massaman refers to Muslims. This curry is filling with potatoes, lots of sugar and peanuts and is about the heaviest dish you'll find, I think. Chef loves this one.
Panang or Penang Curry.
Penang curry is a Thai food similar to red curry but sweeter. Coconut cream makes it heavier and richer.
Various Thai Fried Dishes.
These usually come in chicken, vegetable, prawn or tofu varieties. They're all good and this is the stuff that my children love to eat. The sauces contain a little garlic, soy, and sugar. Sometimes we order them with rice if we're really hungry. They're not greasy, or shouldn't be.
Chicken with basil and chilli.
Don't ask for this without heat, the chilli makes the dish. Delicious and a Thai classic. Thai basil is similar to European but the leaf is smaller and has a slight aniseed flavour.
Ground beef or pork can be served the same way with Thai basil and chilli. Order this with rice, it's too hot to eat alone. Sometimes people order a fried egg served on the top of these dishes.
Chicken (or other) with cashew nuts.
I love vegetables with cashews, or tofu with cashews, I'm not much of a meat eater and non animal protein is hard to find sometimes. Pork with cashew is also quite common.
Chicken with vegetables.
It's good, vegetables vary and are seasonal. They're very fond of baby corn and cooked cucumber in Thailand.
Chicken with ginger
This is a family favourite with us and contains loads of shredded fresh ginger, as a vegetable, not a flavouring. You'll also have a lot of onion and sometimes other vegetables
Other Thai Dishes.
Thai Omelette Rice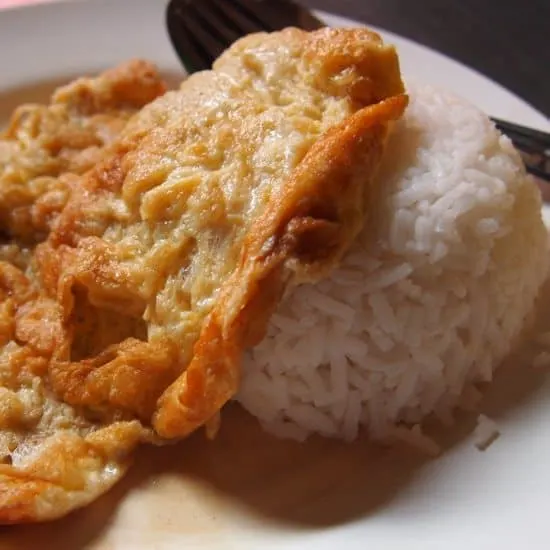 Thai style omelettes are one of my favourite Thai foods! Omelettes stuffed with ground meat, veg or tofu are delicious but the basic version above is cheap and tasty.
Omelette rice is the budget traveller's friend. It's often the cheapest thing on the menu. It may not sound very exciting but it's good when you hit it with the condiments (Prik Nam Pla especially)
Thai filled omelettes, stuffed with pork, sometimes oysters, and herbs are amazing!
Spring Rolls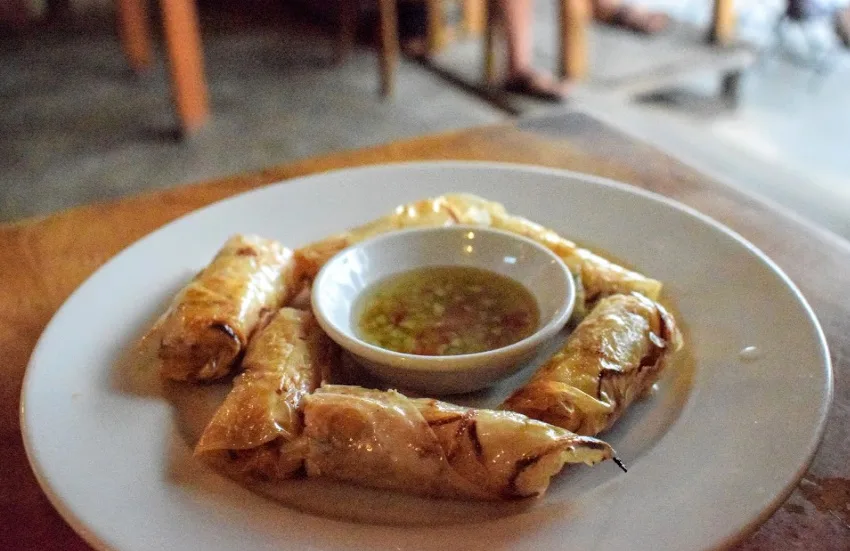 Thai spring rolls generally contain fine clear noodles. These are glass noodles or cellophane noodles. The fried roll will also contain finely shredded vegetables such as carrot, bean sprouts and cabbage. Vegetable spring rolls are common but shrimp, chicken, pork or tofu versions exist. They taste best with prik nam pla but sometimes come with syrupy commercial sweet chilli sauce.
Fried Rice
A budget fall-back and an easy dish for kids, Thai fried rice is easy to find. Vegetable fried rice is common but meat or seafood versions exist. Sometimes fried rice contains egg, sometimes not.
Thai fried rice is just a mix-up of cooked white rice, veg, and proteins. I would never order this if there was something better available. We quite often order fried rice for breakfast for the kids.
Morning Glory
Morning glory is a favourite vegetable in Thailand. It is very good stir-fried with garlic. Morning glory is a climbing plant from the sweet potato family and the leaves are delicious and nutritious.
You'll often see morning glory with garlic on a menu, in which case we would order it to share or be eaten alongside a soup or curry. I really love this dish and we ate it often in the hill tribe villages north of Chiang Mai, the leaves picked fresh from the jungle.
Larp or Larb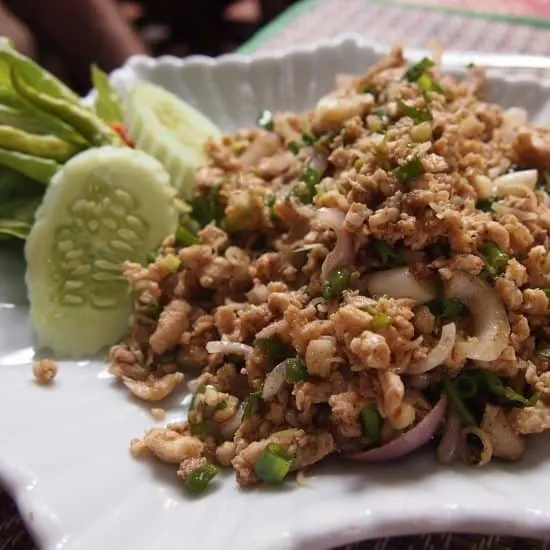 Larb is a Thai meat salad. Finely chopped meat (or tofu or mushrooms for a vegetarian version), usually cooked, mixed with herbs. This dish sometimes contains raw meat. I had raw minced pork this way years ago, which wasn't clever.
Larb is really zingy with mint, lime juice, and fish sauce. If your larp is crunchy or grainy, it contains chopped toasted rice. You normally have sticky rice and raw vegetables and chilies served on the side. They do great laarp in Laos if you can find a good restaurant.
Thai Salads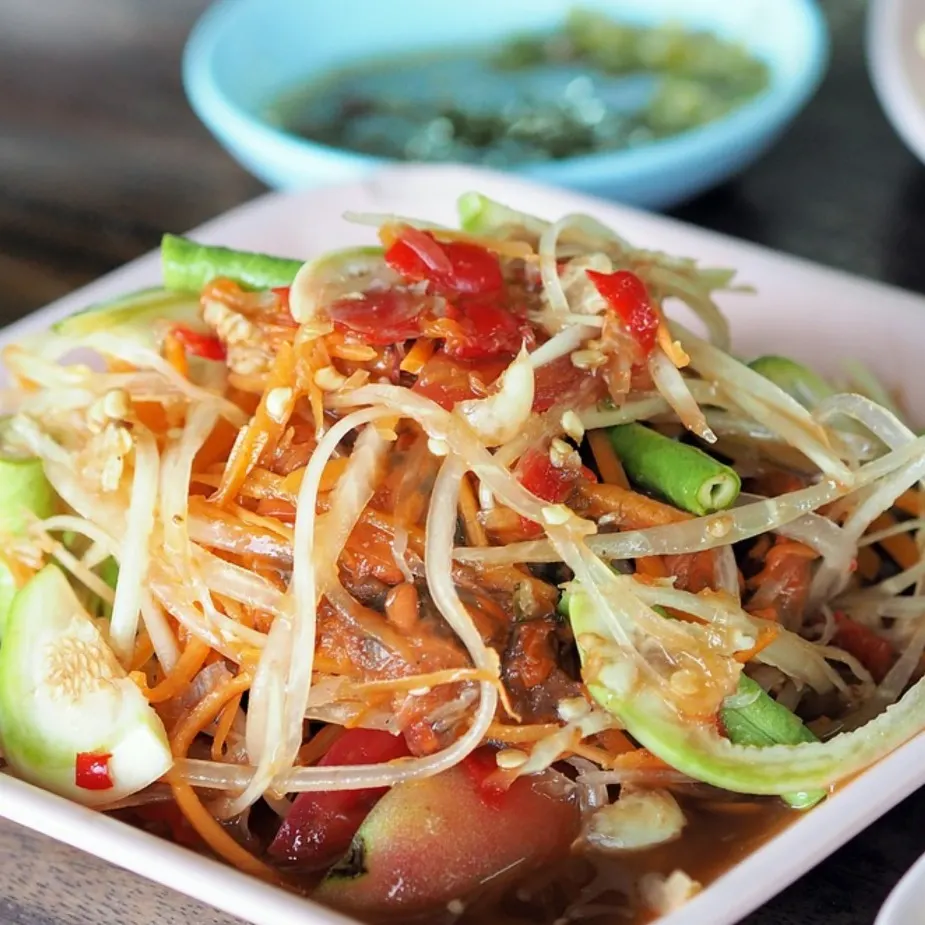 Thai salads are delicious and unusual, with flavours not normally found in a salad. I haven't had one in years because I love the Thai soups and curries so much! We made a few on our cookery course and they were an absolute revelation.
Shredded green papaya is a major ingredient in a Thai salad, along with fish sauce, lime, and sometimes fearsome little dried shrimps. People will often call these dishes green papaya salads. Look for som tam on menus.
Thai Food for Vegans and Vegetarians
On the face of it, it may seem that Thailand is a paradise for vegans and vegetarians with every meat dish having a tofu-based alternative, but think again.
Thai food, although often tofu-based, wasn't created with vegans in mind and dried shrimp, fish sauce and oyster sauce are fairly ubiquitous. You will need to ask specifically for your dish to not contain these animal products.
There are plenty of vegan and vegetarian cafés and restaurants in Thailand now. However, they tend to be for tourists so prices are higher. There are exceptions, of course, there are some vegan and vegetarian food outlets aimed at local Thai people. More and more are opening as locals embrace veganism.
There are a few near the Hindu temple in Silom Bangkok, and one near the north wall in Chiang Mai that we know well, but you'll need to hunt for them. Look out for yellow signs for vegetarian food restaurants. The Thai expressions for "no fish sauce please" and more, can be found here.
You can Pin this, just hover!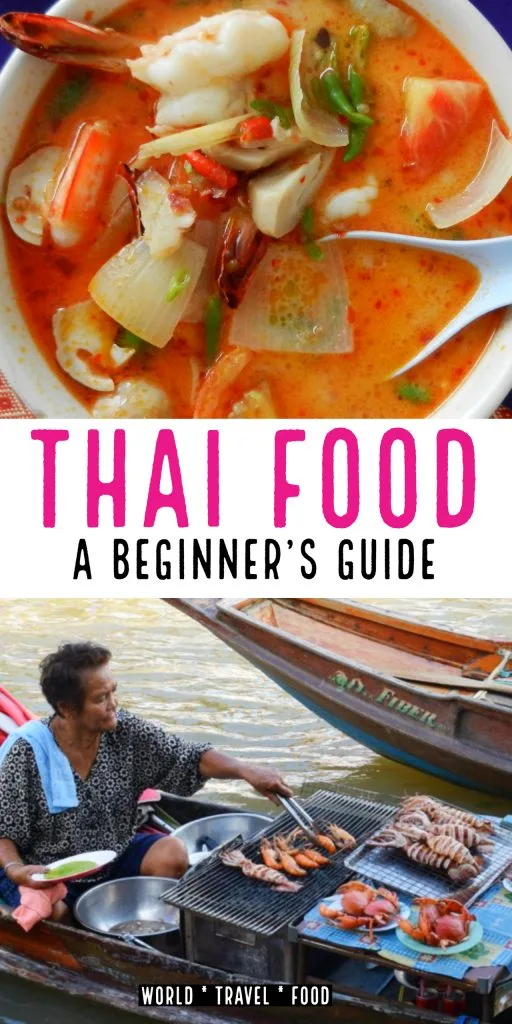 What Country is Thai Food From?
Thai food is from the country of Thailand, which is situated in Southeast Asia. Thai food is famous for its fantastic flavours utilising lemongrass, lime leaf, Asian herbs and vegetables, coconut milk, sugar, and fish sauce. Thai food can be vegetarian or contain meat, poultry, or fish and seafood.
Is Thai Food Healthy?
It's impossible to say if Thai food is healthy or not because this depends on which Thai food you eat, how often, and what your definition of healthy is. Thai food does tend to contain a lot of vegetables, seafood, and moderate amounts of meat. However, Thai food also contains sugar, not many people would consider sugar healthy. If you order deep-fried spring rolls, fried rice, and desserts, then no, Thai food would not be healthy. However, stick to the curries and stir-fried dishes, go easy on the plain steamed rice and noodles, and yes, it can be very healthy. You really can't generalise.
Personally, I lose weight in Thailand every time, which in my case is probably healthy, I do slip into the overweight category from time to time and a few weeks in Thailand puts me back into "normal" weight, which pleases my doctor. As in any country, you have to watch what you eat.
Conclusion
Back in 1999, when I went to Thailand for the first time, I had never tried Thai cuisine other than dishes I had cooked myself. I'd religiously watched Keith Floyd and his Far Flung Floyd TV series bought his book and tried a few recipes. I thought I was doing something wrong. I knew my Indian curries so the thin, soupy Thai curries just didn't seem right to me. They were delicious, but maybe they needed thickening?
I got used to them on that trip to Thailand and I tried just about every new dish I found. A couple of years later Chef (my husband) and I took a 3 day Thai cookery course in Chiang Mai. I've got a certificate to prove I can smash my own curry pastes, not that I ever do.
We'd never eaten so well as on that course, if you get the chance, take one. You'll find cookery courses all over Thailand, starting at just half a day. We've since taken several more cookery classes, along with our kids.
You can find whatever food you like in Thailand, pizzas, fries, sandwiches it's all here. If you're coming to Thailand and don't fancy Thai food, you're not going to starve. But do yourself a favour, and give it a go. Thai food is heaven. What is Thai food? Delicious! Head back to our main Thailand Travel page of the blog.
If you'd like to hire a car during your stay, use this car rental comparison tool to find the best deal!

We also suggest you take a look at this company to get a quote for all kinds of the more tricky adventure or extended travel insurance.

Try Stayz / VRBO for an alternative way to find rentals on homes/apartments/condos in any country!