This post may contain affiliate links.
We spent almost 6 months living in Hoi An Vietnam, so we needed to shop at her markets regularly. We started with the Hoi An Central Market near the river in the UNESCO listed Old Town. As we found our feet we started to use Tiger Market and other local food markets. The Hoi An Night Market is just for tourists. More on where to shop in Hoi An, how, and for what in our guide to the markets of Hoi An. If you're new to Hoi An we recommend you book a markets tour as part of a cooking class, your guide will be able to explain the items on sale in Hoi An's markets. Reserve your place here, it's a really fun day.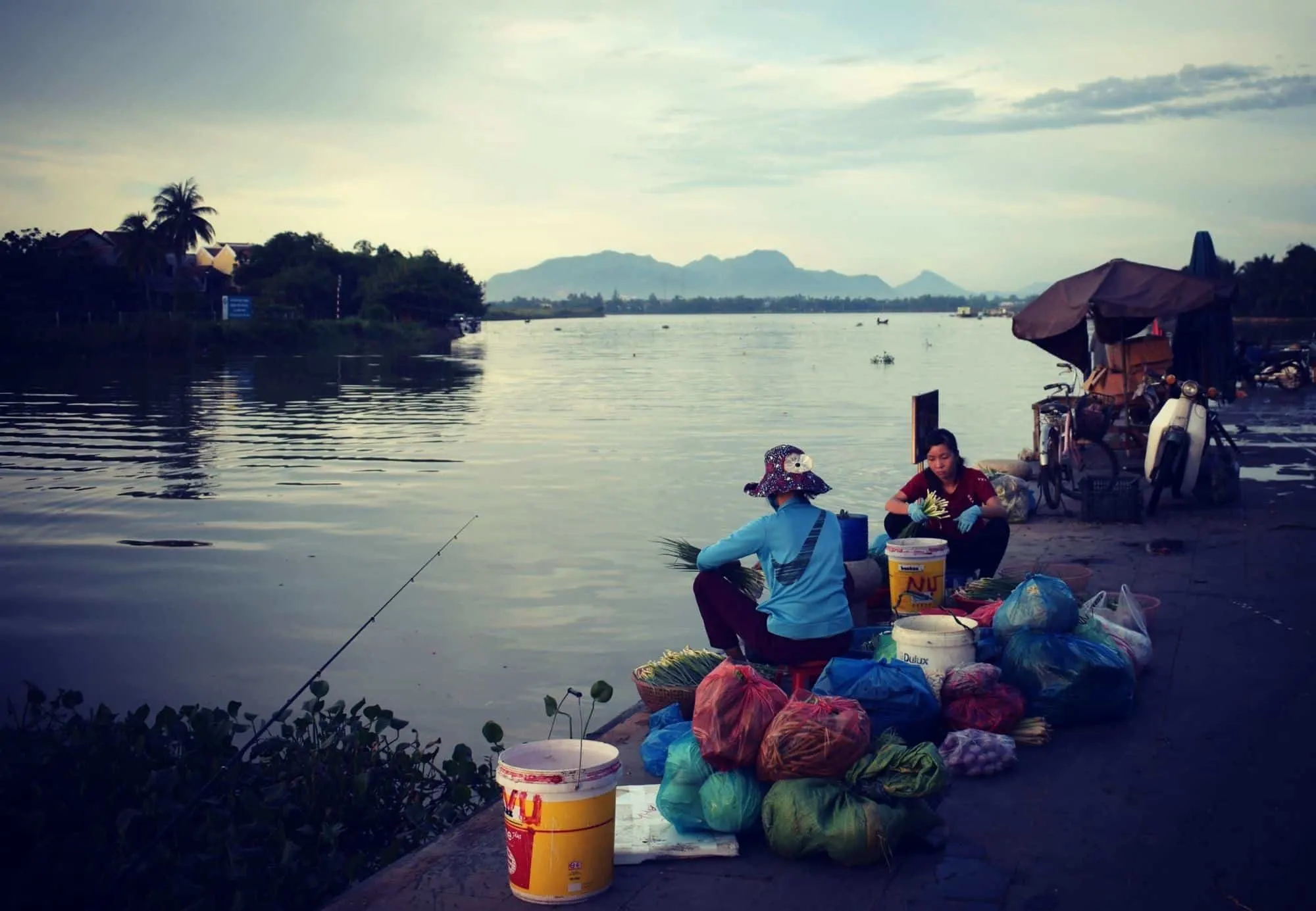 Best Hoi An Markets
There are many markets in Hoi An. Most visitors will see the Night Market along the river and the Central Market in the Old Town.
The fish market and meat market are nearby.
For longer-term visitors, there are more "local" food markets which are better for shopping for food and provisions at good prices.
For many items, you will need to shop in Danang. Our post is a guide to shopping in Hoi An.
We're settling into our rental house in Hoi An and loving it, but what's the point of having a kitchen if you have nothing to cook? Time to brave Hoi An Markets.
Where Are The Markets in Hoi An on The Map
Hoi An Central Market (Cho Hoi An), the Night Market, Tiger Market (Cho Tan An) and Cho Ba Le are marked on the map below. Of these it is only Cho Hoi An that is in the Old Town, the others are within cycling distance. The map is interactive if you'd like to open it fully.
Morning Markets and Night Markets
The food and produce markets we mention below are all normally open early in the morning.
The night market starts around sunset with stalls setting up from roughly 4 pm.
The morning markets mostly don't close as the day wears on but certainly, some stalls do and fresh supplies sell out.
There are multiple morning markets but the Central Market, below, is the one most tourists will see unless they book a food tour with market visit in a more "local" market.
You can book a Hoi An food tour with guided market visit here.
Hoi An Central Market, Cho Hoi An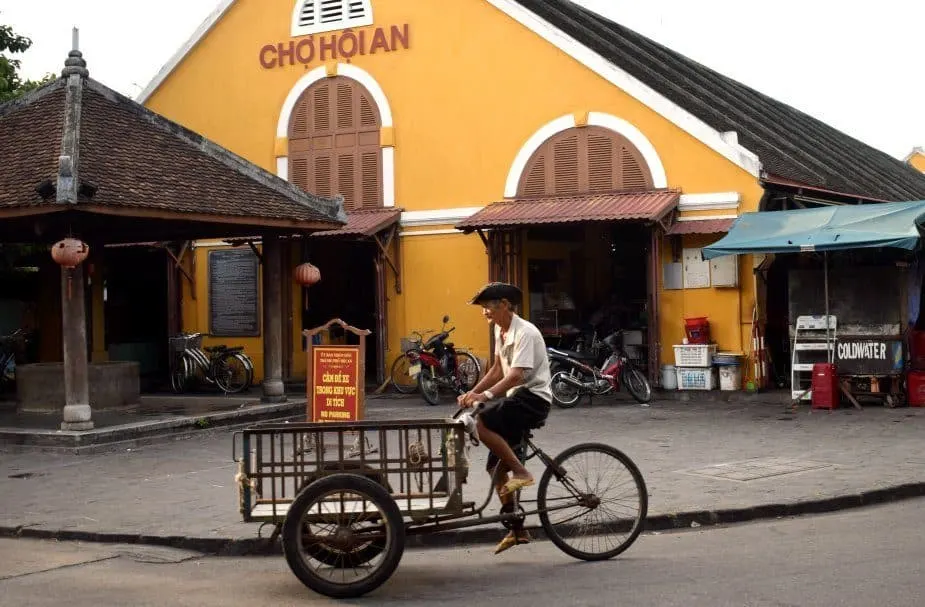 Hoi An's Central Market was the first one we tried, there are others not far away by bike, but Central Market is in the Old Town on the water's edge and a fascinating place to visit even if you're not shopping for food.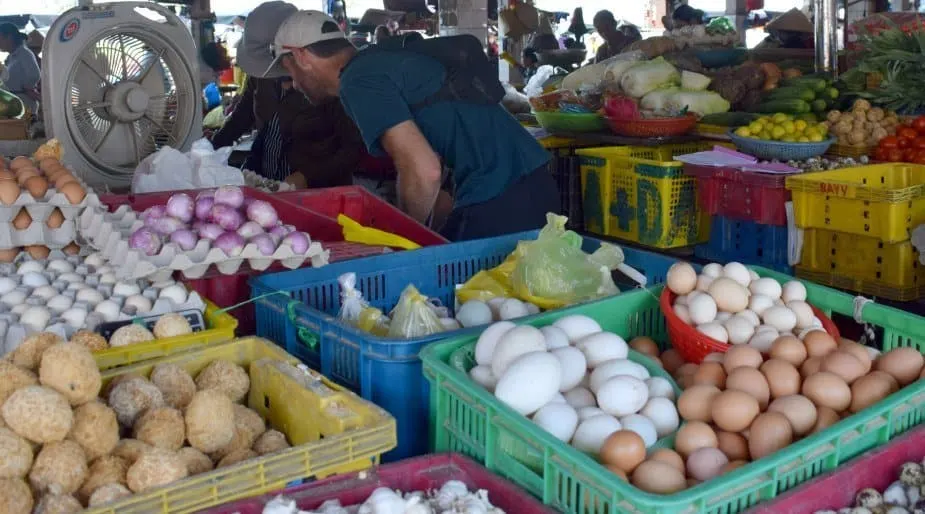 Our local mini-marts sell almost nothing other than soy sauce and beer.
That's great, but we need some fruit, vegetables, cooking oil, rice and so on.
Time to polish up our bargaining skills and head out shopping.
If you'd like to see this same market in times of flood, you need this post. The Central Market can be completely flooded during the almost annual floods in Hoi An, these normally happen around October through to December.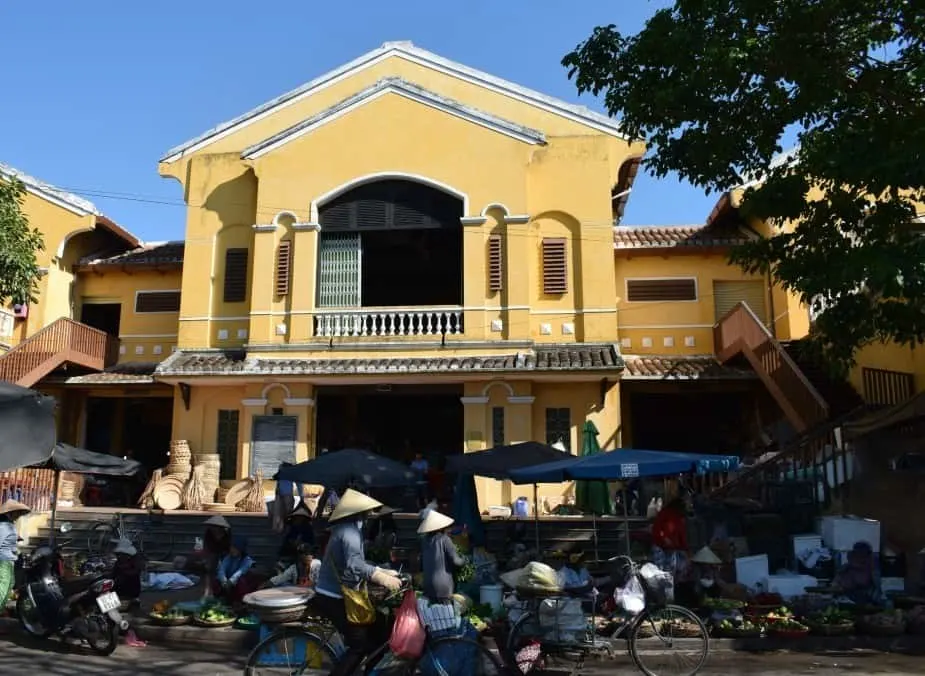 Shopping in Hoi An Central Market
First, Breakfast at the Street Food Stalls Within the Central Market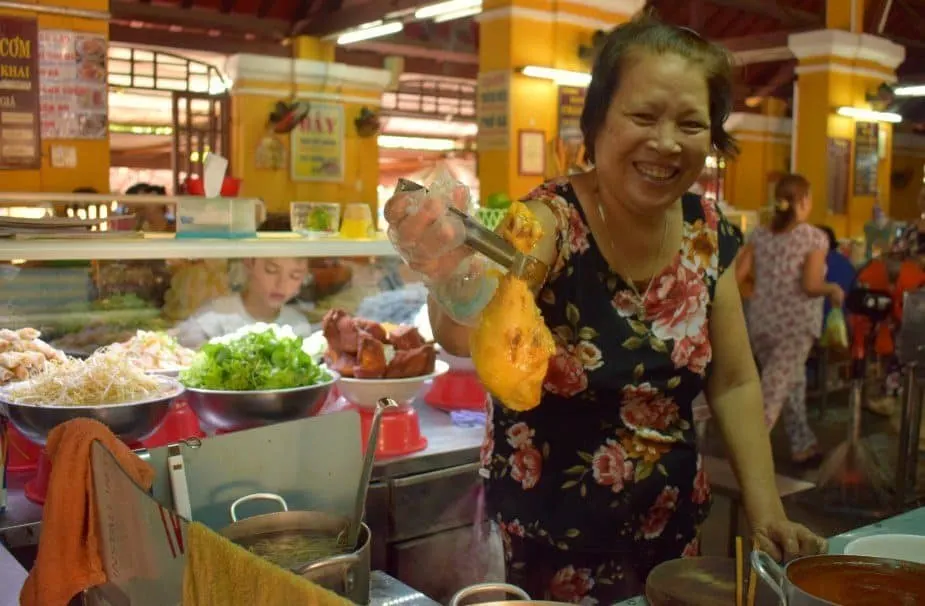 The Central Market food court, if you can call it that, is a decent spot for breakfast.
A multitude of small stalls, each serving almost the same thing at better prices than the local restaurants.
The food is good in the market but I've had better at stand-alone street stalls elsewhere in town.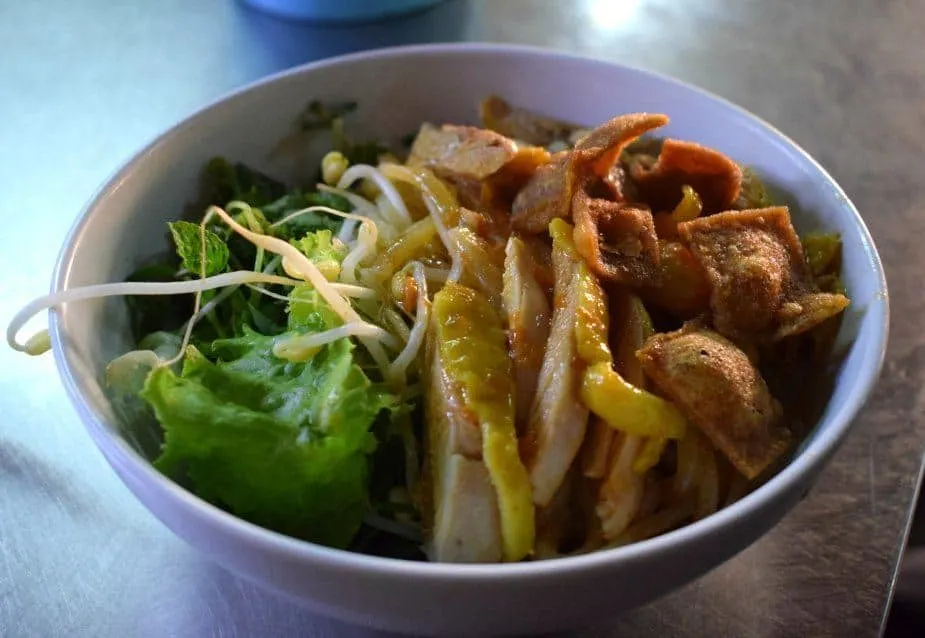 This market food court is a sort of half-way house between for locals and for tourists.
You won't find banana pancakes and omelettes here, you'll find good Vietnamese food and it's delicious at any time of day, the perfect way to get warmed up for some food shopping.
Vietnamese Street Food and Hoi An Specialities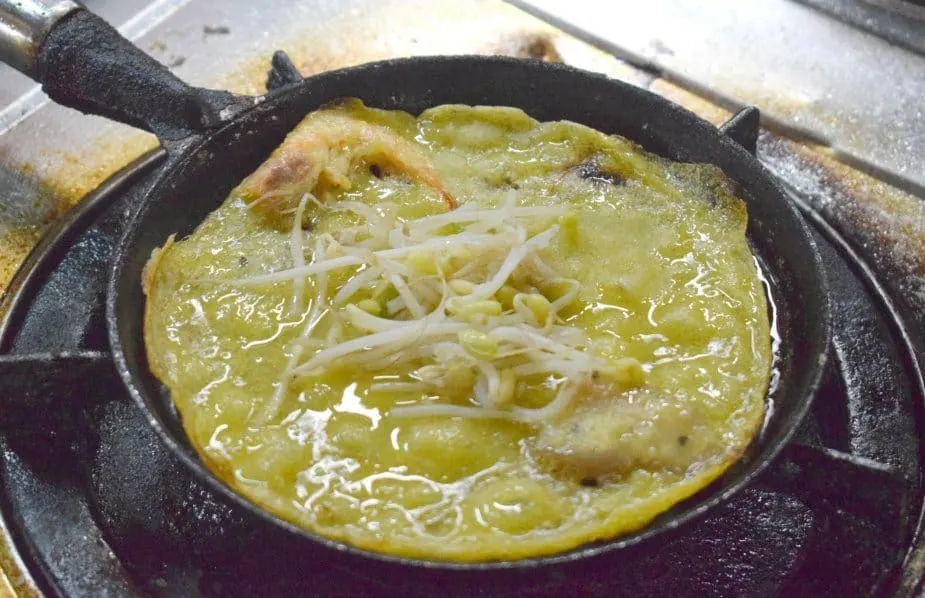 A full post on Hoi An's food specialities and Vietnamese street food in general is here, but dishes to enjoy include:
White rose, delicate rice dumplings with a single piece of prawn, steamed.
Cau Lau, noodles with greens and pork, no soup (Cau Lao has fascinating origins and can only be made with water from the Ba Le Well in Hoi An)
Bun Bo, soup noodles with beef.
Spring rolls, fried and fresh, vegetarian and vegan friendly.
Vietnamese pancakes, banh xeo, with pork and shrimp, add herbs and greens, wrap in rice paper and dip.
Mi Quang, noodles with such things as quail eggs, shrimps and pork cooked in a delicious stock or soup. (read about Mi Quang here)
There are too many dishes to list!
Banh Mi is a more western friendly option, filled baguettes. Even a simple cheese spread sandwich is taken to a new level in Vietnam.
Try Madam Quang's Ban Mi shop, east of the Hoi An market, it was made famous by TV chef Anthony Bourdain, be prepared to queue. In our experience it's no better than all of the other Banh Mi shops in Hoi An.
Hoi An Fish Market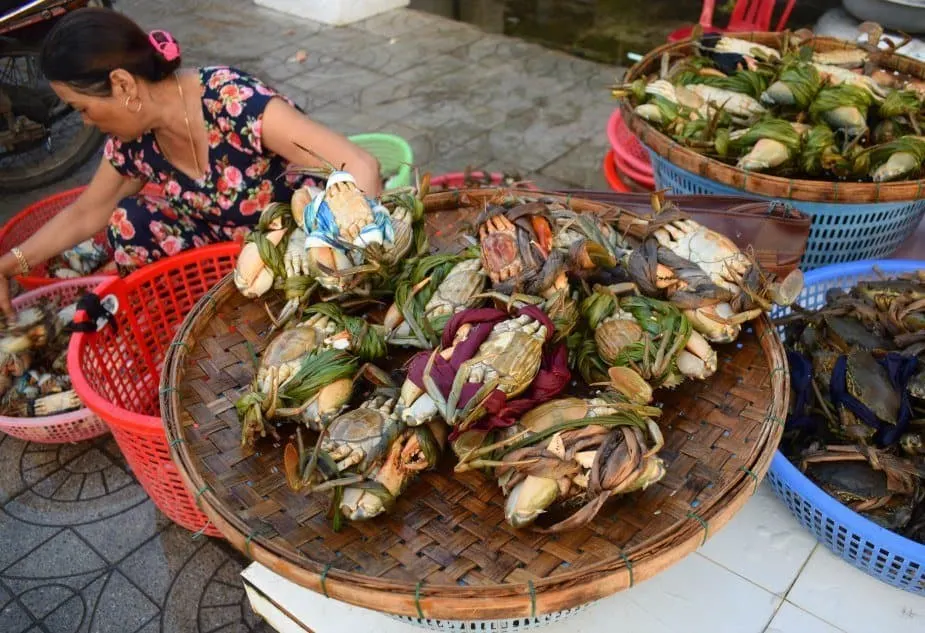 If you can get down to the river early enough you might get the chance to see the fish deliveries.
The market officially opens at 6.30 am and I've managed to get here at 5.30 am, but I haven't seen a fishing boat delivery yet. I'll keep trying.
Much of the fish on sale, from superb prawns to tuna and small sharks, is ultra-fresh and often still alive.
Women work, cleaning, chopping and preparing the fish and crustaceans for sale.
The Meat Market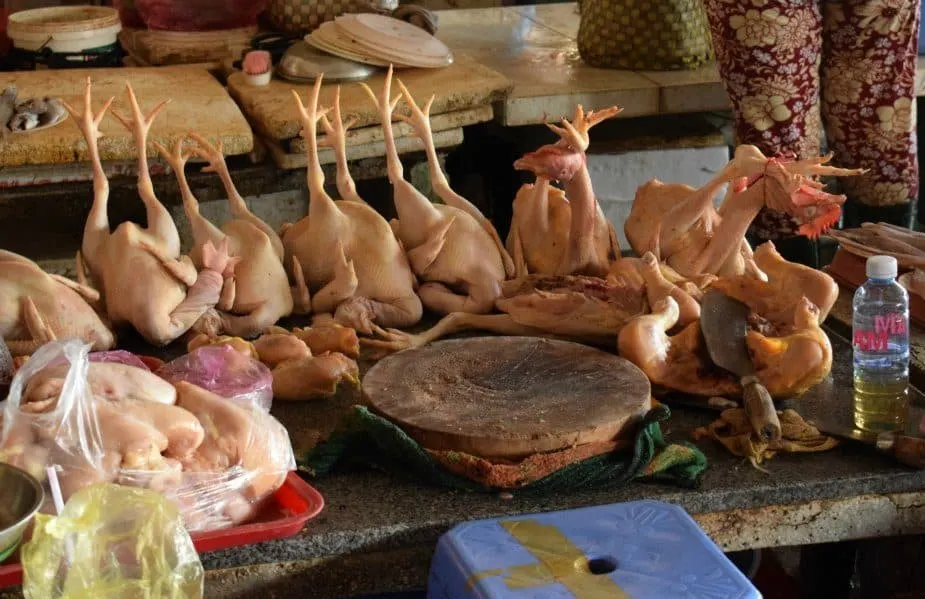 It gets a little grisly in the meat section, but it's much cleaner and smells better than most Asian or Central American meat markets we've visited.
I doubt we'll be buying meat in Hoi An, it's easier and cheaper for my carnivores to just eat out 3 times a day, but this is where we'd have to come if they want me to cook poultry, pork or beef.
Most of the other markets in Hoi An will also have a meat section.
Fruit and Vegetable Market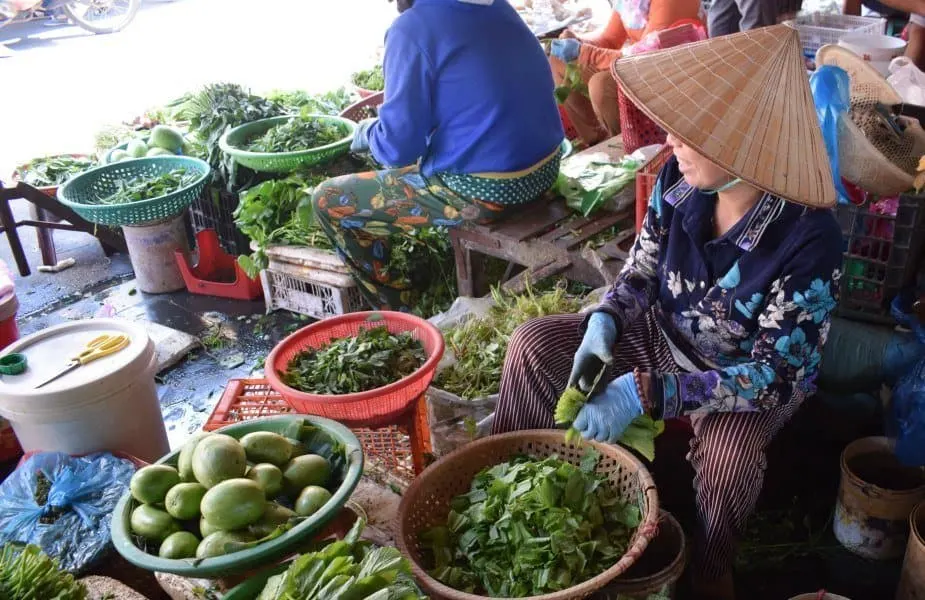 If you're packing a nutribullet this is where you need to head to get the makings of an amazing smoothie! We filled our bike baskets with rambutans, passion fruit, mangoes, bananas and avocado for just a few dollars.
I strongly suspect that we paid at least double the local price but we're all under the weather with a respiratory virus and we just couldn't face haggling over a dollar or two this morning.
Next time we'll know better.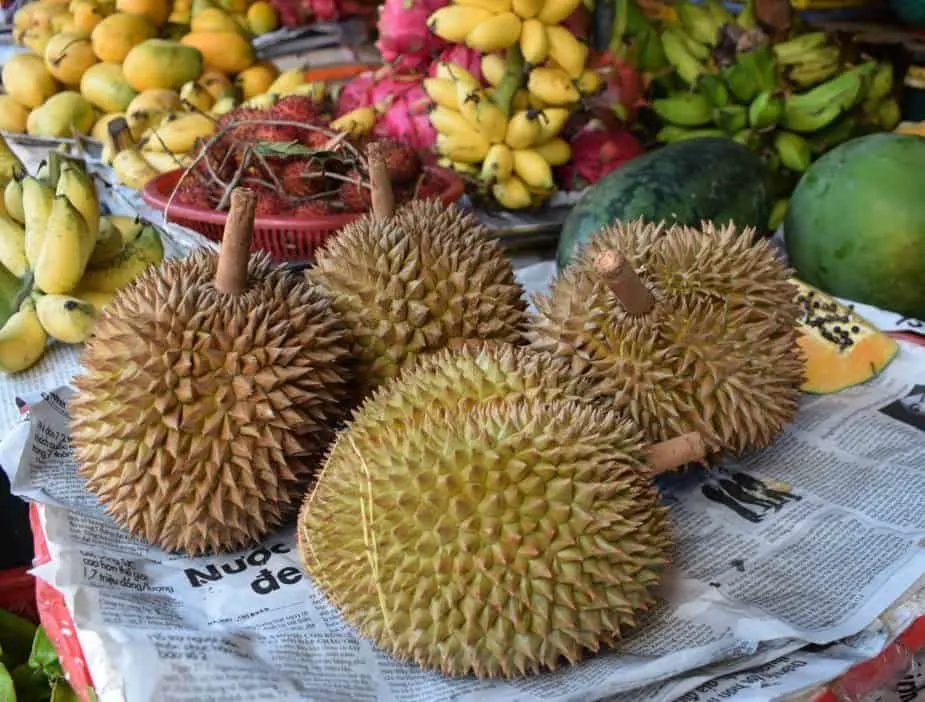 Once we'd been buying fruit and veg from a particular lady at Tiger Market for a while, the price did seem to come down somewhat without all the haggling.
Spices, Oil, Flowers, Incense and More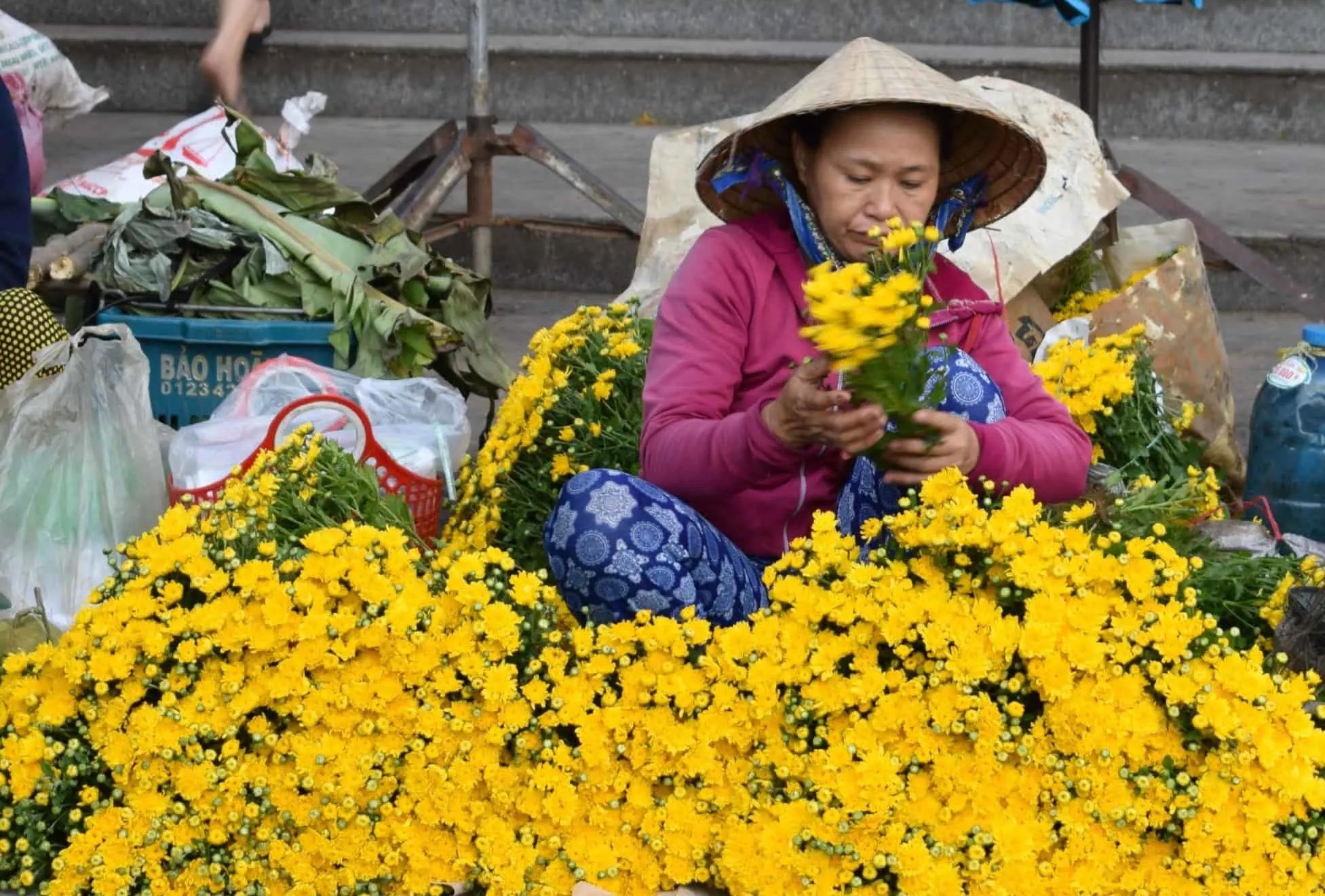 The market is a treasure-house and you could probably buy everything you need to self-cater in Hoi An.
We've bought a few basics, but it's hard to know when to haggle (probably, all the time) when you're buying basics like cooking oil.
We're a bit worn down and tired at the moment, but we'll figure out how to shop soon and for now, there's food available on the street every few paces, it's cheap and it's good, we'll eat out.
We have coffee, smoothies and eggs and that's plenty.
Buying Coffee in Hoi An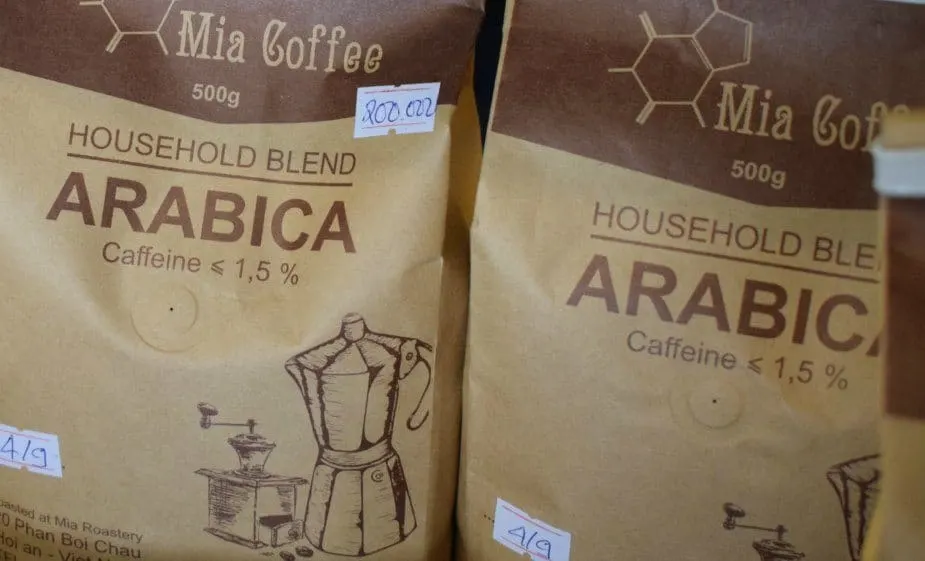 We cheated on the coffee, we headed to a western-style coffee shop we use often (Mia Coffee, they also do great carrot cake) to buy a bag of their arabica beans which they ground for us on the spot.
We marked Mia Coffee on the map for you here. Zoon out and the markets in Hoi An are marked too.
That and a little cup-sized coffee filter called a phin (buy a stainless steel phin here on Amazon to make Vietnamese-style coffee at hime) is keeping us well caffeinated when we don't want to go out in the heat.
You can buy a 1 cup filter in the market for a dollar or two, we stupidly left our travel coffee makers at home. The coffee they sell at the Central Market tends towards being chocolaty or caramel flavoured, the local beans are slightly sweet. We don't like it and a lot of it is processed using civets (squirrel coffee is just a brand ).
It's probably not nice to furry creatures and my inner vegan tends to avoid that sort of thing.
Hoi An Central Market Opening Times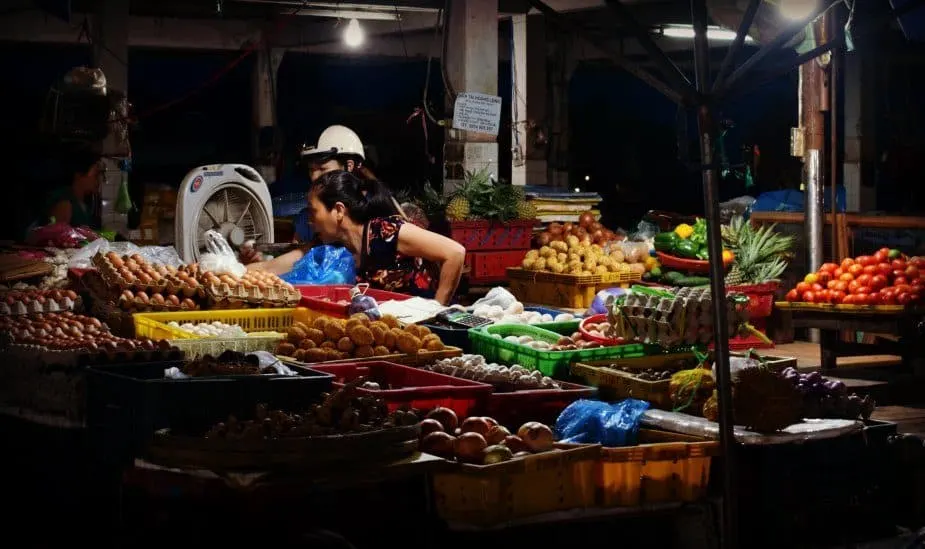 The official opening times for Hoi An Market are 8am to 7pm but we know that much of the market is open well beyond these times.
Maybe those times refer to the actual market buildings, I'll check.
Hoi An Night Market
The Hoi An Night Market is on the far side of the river, we call this the party side and you'll soon see why.
Music bars and clubs pump music, seemingly competing to drown each other out. This disturbance is confined to a small area near the night market, the rest of the old town remains relatively peaceful.
Mostly the night market sells imported Chinese junk and souvenirs but there are plenty of food stalls too. It's open from around sunset every day.
On our most recent visit to Hoi An (2019) the Night Market had spread to the near side of the river, next to the Central Market.
Stalls on wheels appear from around 4 pm meaning this street has lost much of its charm along with its lovely sunset views of the river. Hoi An is developing fast. We'll be back in 2022 to share more.
Tiger Market, Cho Tan An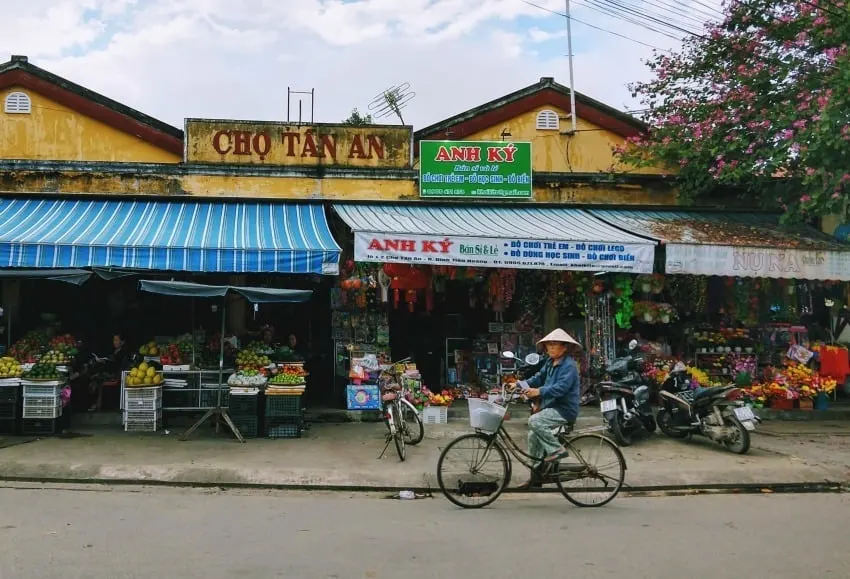 Tiger market is "our" market and we do most of our shopping here, it's easy to buy fruit, vegetables, fresh rice noodles, tofu, meat and some homewares.
It's a small market and the prices aren't much different to the Central Market but after a while, the ladies charge you less or throw in more free gifts.
Right opposite Tiger Market there is a small supermarket that stocks a good selection of western foods, including vegan supplies.
Ba Le Market, Cho Ba Le
This local morning market serves the large expat and traveller community over in an Cam Chau and Cua Dai Rd.
This market is bigger than Tiger but otherwise same same. It's near Dingo Deli. Dingo has aircon but we weren't keen on their food.
Where to Buy Bread, Banh Mi in Hoi An
You can buy a plain banh mi from any of the banh mi stalls if you ask.
To get them fresh from a bakery you can go to Ba Le Markat (Cho Ba Le ). There is a bakery on the main street right opposite the fruit and veg market. It only sells bread in the mornings until it runs out.
Supermarkets and Mini Marts in Hoi An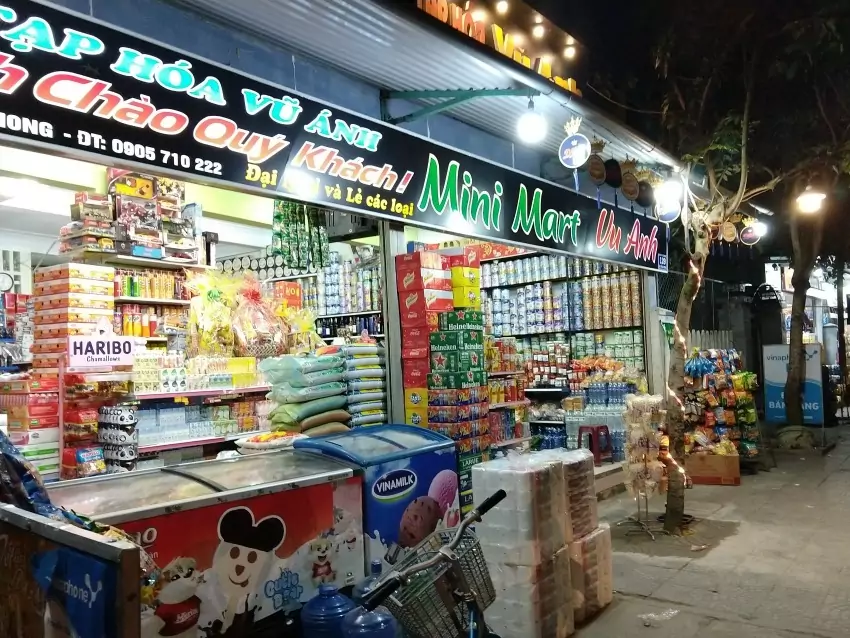 The nearest supermarket is in Danang in one of the big malls there. In Hoi An you will find mini-marts like ours, above.
In all honesty, they sell very little, only dried, processed goods and drinks. You need to get your noodles, fresh from the markets.
Hoi An Mall
If you're looking for a modern mall in Hoi An your best bet is to go to Da Nang, where there are several.
While we were in Hoi An there was no mall of any kind, but there were plenty of electrical shops, clothes shops, sports shops, and an abundance of small outlets.
Even with these, we did find it necessary to shop in Da Nang from time to time. Here you'll find malls with ice rinks, cinemas (some movies are in English) and food courts, although western food chains are few on the ground.
There is a very large Starbucks in Da Nang, or was, when we were there last.
To get to Danang take the bus, a taxi, or a private car. See our post on travel between Da Nang and Hoi An. The yellow bus between Hoi An and Danang is no longer running, we have checked.
Are the Markets Open Over Tet (New Year)
No, almost everything shuts in Hoi An over Tet, but it's only a few days. Some food outlets will still be open but expect higher prices.
Most shops and mini markets close for Tet in Vietnam.
We found that the ex-pat mini market opposite Jim's Snack Bar was open most during the Tet period.
Your Pinterest Image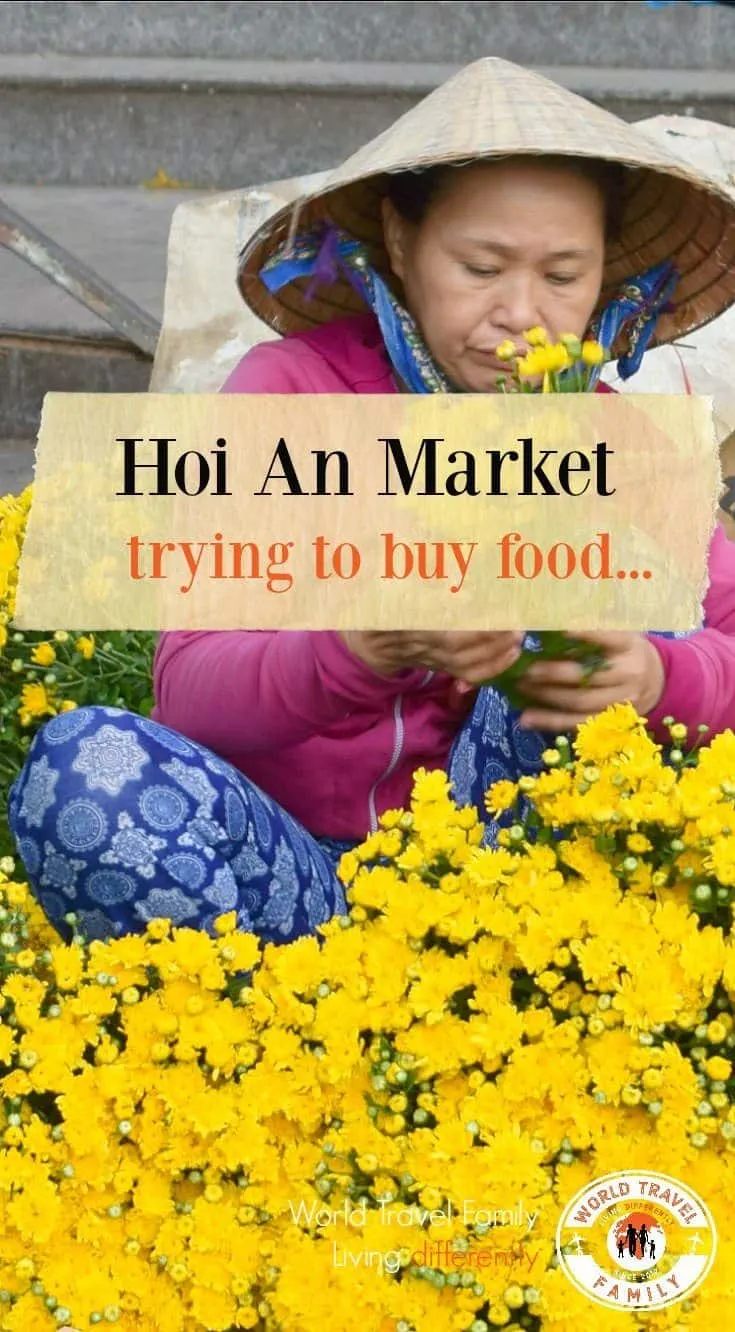 Where Are We Staying in Hoi An ?
After a few nights in a hotel after arrival from Saigon, we quickly and easily found the most beautiful house to rent.
Our house is in a quiet residential street but modern and comfortable.
We have 3 bedrooms, 2 bathrooms, a small kitchen, wi-fi, air-con, purified drinking water and a washing machine. We couldn't be happier with it.
Book a Hoi An Cookery Course, Food and Markets Tour Here
You can easily pre-arrange a huge selection of food tours and cookery classes in and around Hoi An and most will include a market tour. Choose from full-day, morning, evening or half-day tours and classes. Check some of the options here. Arranging them locally can be time-consuming and there are touts to avoid.
So shopping in Hoi An is a little tricky, even for us as long-term Asia lovers and expert hagglers. We're good, we're getting there. Hoi An Central Market, or any of the other markets are absolutely places you should visit if you're in town. Try to get there early or late at night. The days are long and hot and the market is best in dawn light or lit up in the evenings. Want more on travel in Vietnam? Our full Vietnam Travel Blog and Guide is here for you, or you can visit things to do in Hoi An with kids.
If you'd like to hire a car during your stay, use this car rental comparison tool to find the best deal!

We also suggest you take a look at this company to get a quote for all kinds of the more tricky adventure or extended travel insurance.

Try Stayz / VRBO for an alternative way to find rentals on homes/apartments/condos in any country!