This post may contain affiliate links.
The kumquats and flowers of Tet were just one of the highlights and interesting happenings during our 6 months living in Hoi An. Tet in Vietnam is a huge festival, Lunar New Year, and it was a privilege to be in Vietnam at this special time.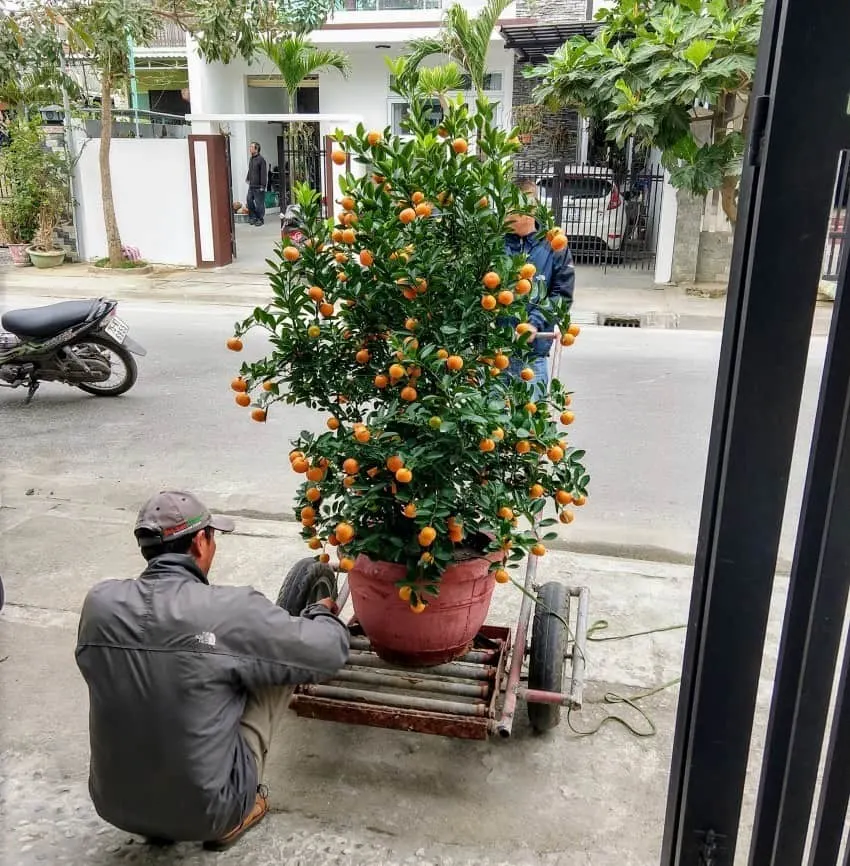 Kumquats play a starring role in the Tet festivities and Hoi An started getting in the mood for New Year around the time of The Kumquat Festival.
What is kumquat in Vietnamese? Kumquat is "quat" or "tac" in Vietnamese
We popped along to check it out, the festival was a short walk from our gorgeous rented house and was a feast of kumquat goodness and yes, it was worth going.
As always the local people welcomed us and seemed pretty pleased that we were getting involved with their traditions. Kumquats play a crucial role in the Tet celebrations and have particular significance here.
There were various events over the festival weekend including kumquat tree judging, kumquat bonsai displays, kumquat produce to taste and more. We have some photos from the kumquat festival along with various kumquat related activities in Hoi An as Tet approaches.
Check out our kumquat tree ( we call it the Tet-mas tree,) which our wonderful landlords sent round for us to bring us luck and happiness in the year of the dog.
We live on the edge of kumquat growing HQ in Than An, Hoi An and we pass tree after tree on our daily walks and runs.
Gardens look like Farmville as each perfect mini tree is brought to full kumquat fruit production in unison in time for Tet.
The kumquat festival was a double celebration in 2018, kumquat festival day and the football finals. Vietnam was playing Uzbekistan in China and the excitement was off-the-scale extreme. By 10am we'd already had two shots of ultra strong kumquat wine, wishing the farmers brandishing the plastic bottles of murky home-brew good health.
From there the day got crazier and crazier as the streets filled with patriotic football fans celebrating with horns, fireworks and banners both before and after the match. People took their TVs onto the streets, crowds gathered and the atmosphere was electric in sleepy Hoi An.
But more on those Kumquats.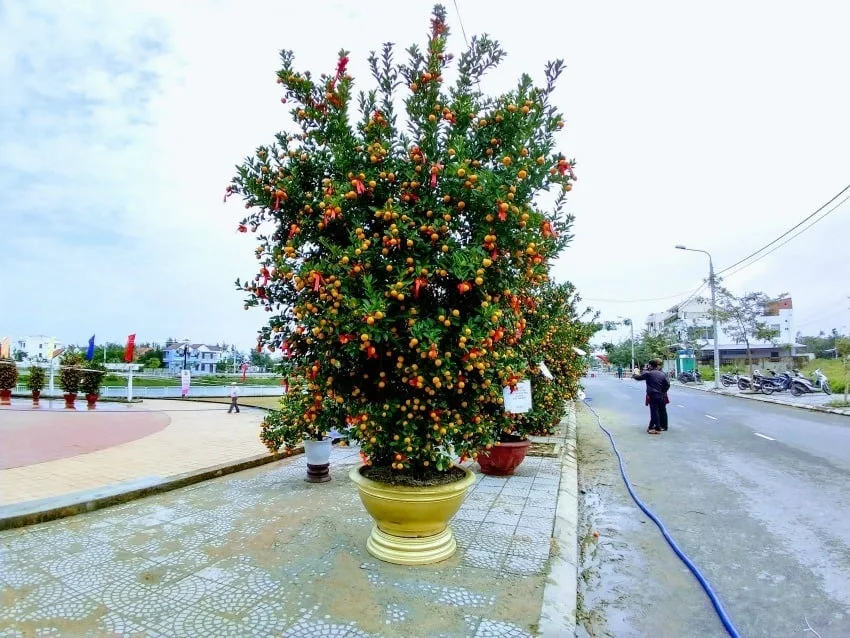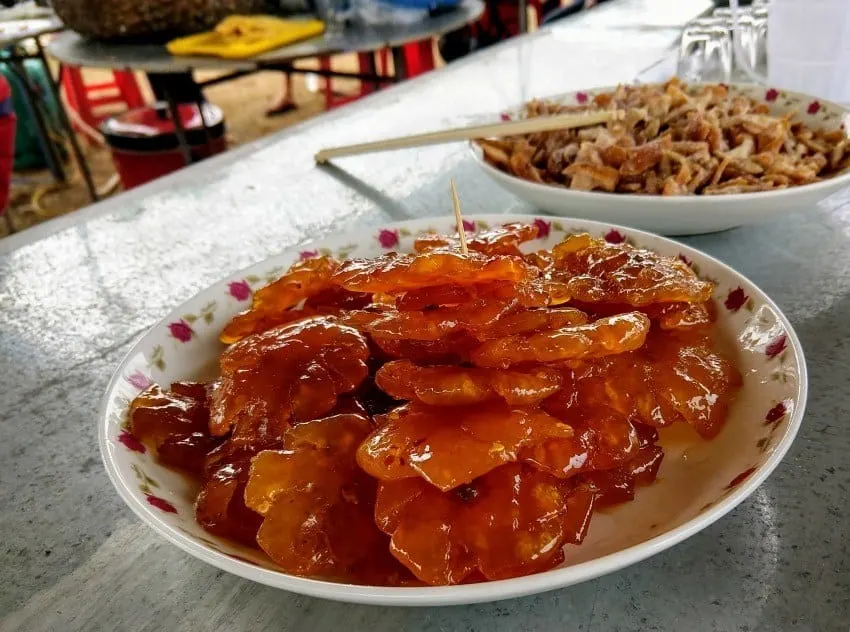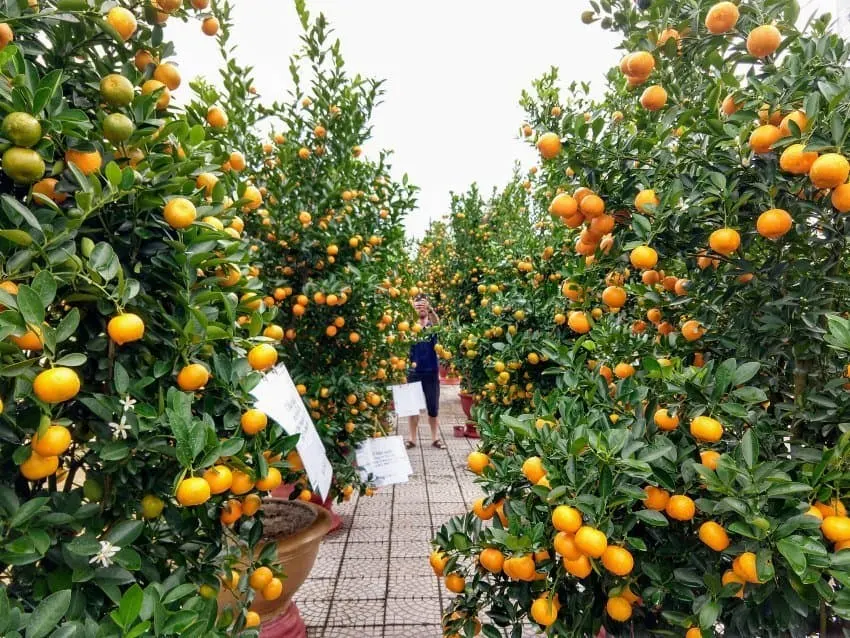 Schedule of Events at the Hoi An Kumquat Festival
Find the 2018 schedule here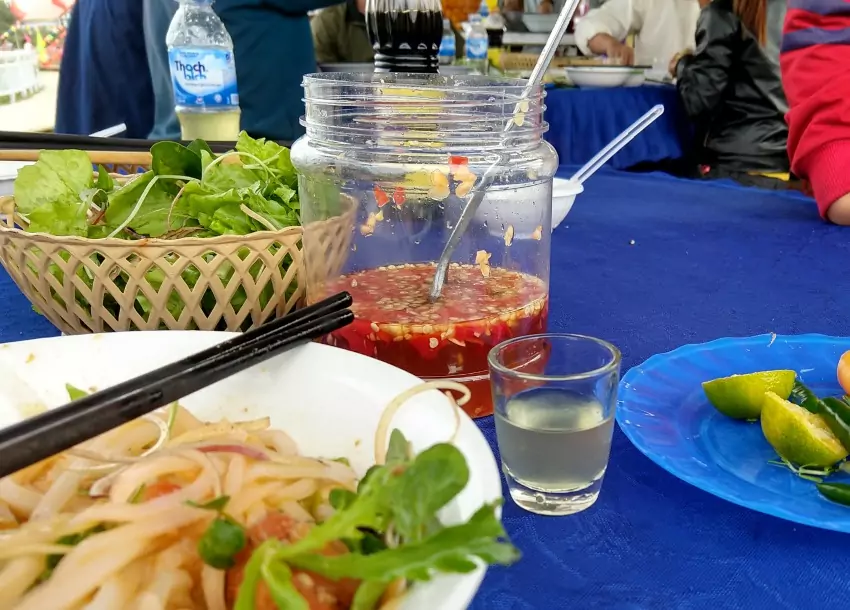 Where is the Kumquat Festival Held?
The festival is in Cam Ha, to the rear of Than Am. It's roughly half way between the Old Town side of Hoi An and Ang Bang Beach.
You will see the festival at the roadside near the lake in the Trang Keo residential zone. Happily, it was just a five minute walk from our rented house in Hoi An.
Kumquat Trees and Tet in Hoi An
You won't get far without seeing a kumquat tree around Hoi An during the Tet period.
Almost every home has its own potted tree outside the front door. Some homes and businesses have many.
Groups of kumquat trees huddle on pavements silently waiting to be sold. Kumquats wiz by on the back of scooters, precariously balanced, or travel more sedately in motorbike-drawn hand carts.
Double decker livestock lorries are stuffed with trees, fruit bursting through the slats on all sides. Our kumquat tree has arrived and we're very pleased with it.
Our landlady tells us that the luckiest trees have flowers and fruit. Ours does and it smells like a dream.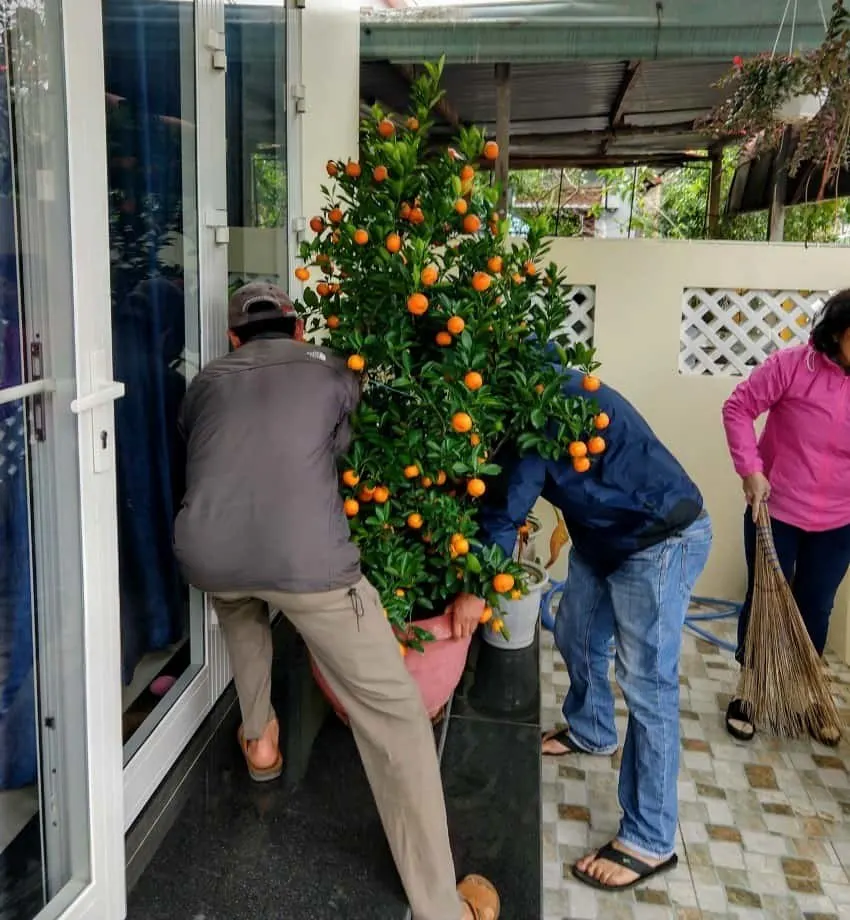 This morning I've been Googling, and discovered that there are actually many kumquat festivals around the world.
We consider ourselves very lucky to be involved in this Kumquat festival in Vietnam. It's kumquat-tastic.
More to come on kumquats and Tet (Vietnamese lunar new year) it's coming soon and our diminutive orange friends are big players in the celebrations.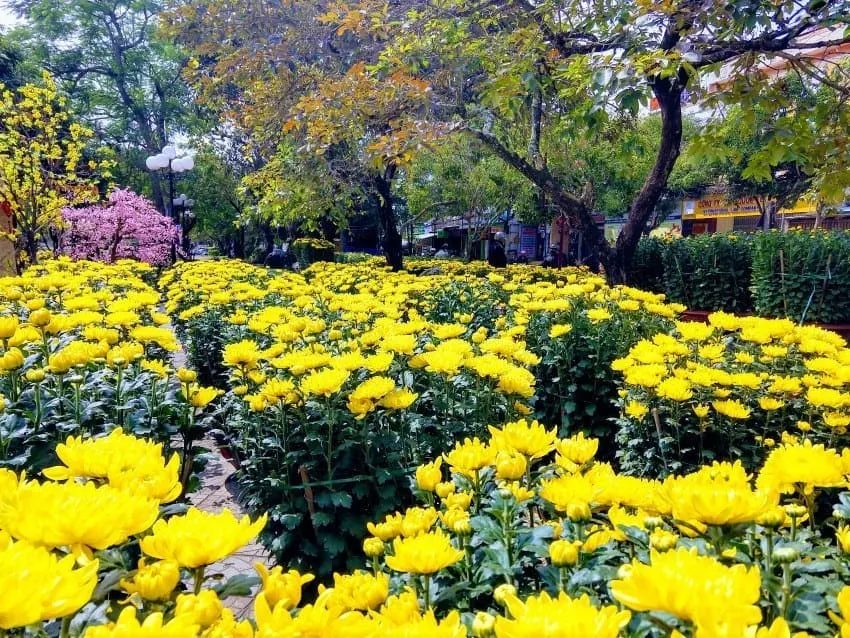 Tet makes Hoi An even more beautiful than usual. Around town there are wall to wall flowers, fruits, and everyone is going crazy with their shopping. Shops and restaurants will close down for several days over the Tet period so we're stocking up on noodles at the market. More to come on Tet and Living in Hoi An soon! Back to our Vietnam travel guide or Vietnam with Kids, here.
If you'd like to hire a car during your stay, use this car rental comparison tool to find the best deal!

We also suggest you take a look at this company to get a quote for all kinds of the more tricky adventure or extended travel insurance.

Try Stayz / VRBO for an alternative way to find rentals on homes/apartments/condos in any country!