Hoi An is famous as a food lovers' destination with many local specialities to eat. The Vietnamese food here is superb but there are also some great Western, Asian and Western / Asian fusion restaurants to try. What to eat in Hoi An, after trying (almost) every dish and every restaurant over 5 months.
Every day we've eaten out at restaurants, street stalls, hotels, and cafes at least once, often 3 times.
We've trawled the internet searching for the best food and restaurants in Hoi An and the best eating experiences.
We've tried every local Hoi An dish we could find and been taken out by locals to their favourite restaurants.
It's been a voyage of culinary discovery and Chef, I (the only vegetarian / vegan here ) and the kids have loved the journey.
Central Vietnam and Hoi An in particular are famous for quality, fresh seafood, prices are low, so a seafood feast can easily fit any budget.
So here's our extensive guide to what to eat in Hoi An and where to find the best food based on our personal experiences.
You won't find any fake reviews here as you will elsewhere. Enjoy eating in Hoi An and watch out for the fish mint!
We returned to Hoi An in late 2019 to check everything was up to date with all our Hoi An content. Some Hoi An restaurants had closed, new restaurants had opened. If we found changes you will see updates in this post.
However, things change all the time, places close overnight, we can only do our best to stay current, please also check for yourselves. We will be back in Hoi An as soon as borders open to check the latest news on dining and restaurants.
What to Eat in Hoi An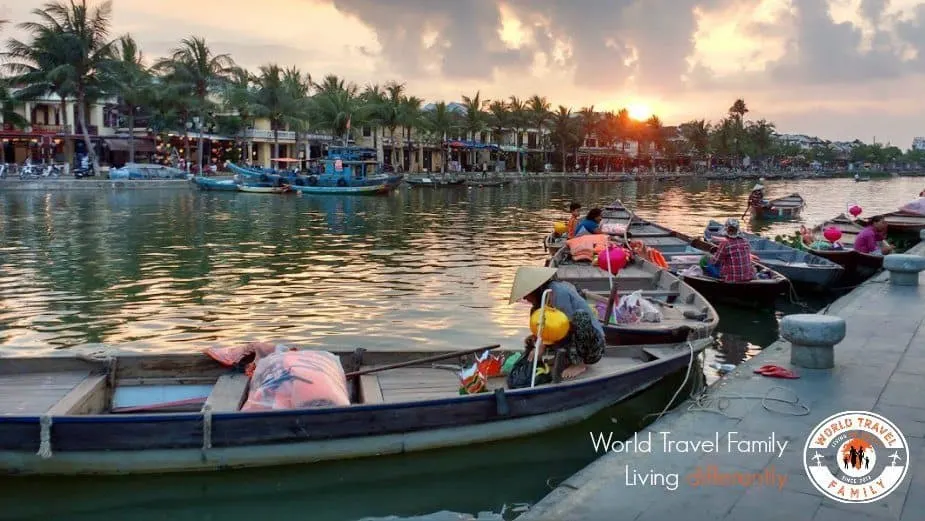 We made the video below to feature some amazing local dishes you can find in Hoi An. It also demonstrates how to eat some of them and could save you some embarrassment.
Local Vietnamese Food Specialities in Hoi An
Certain Vietnamese dishes are unique to Hoi An, others are available throughout Vietnam but Hoi An puts her own twist on them.
Below are a few dishes you must try during your time in Hoi An.
Cau Lau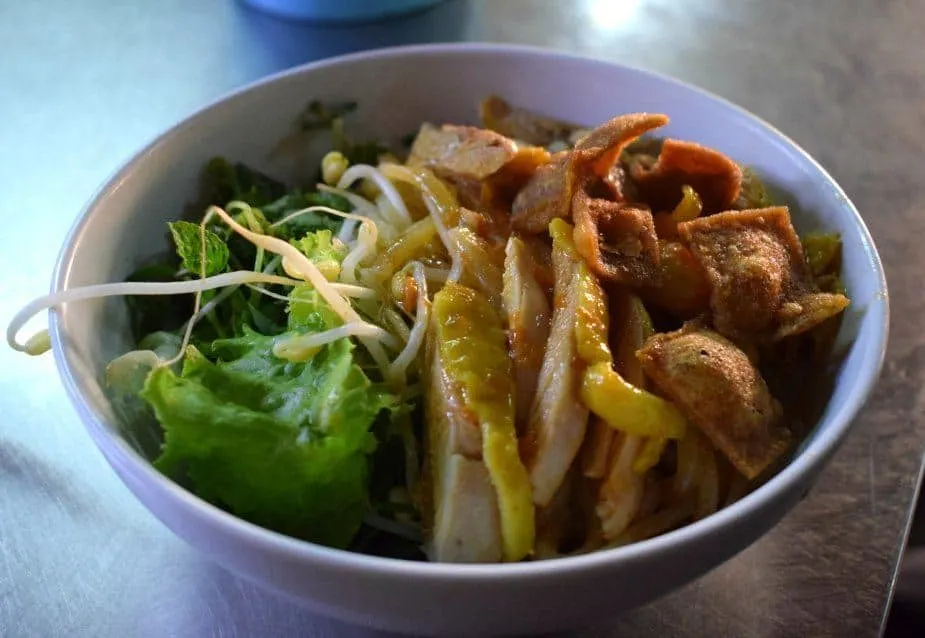 Bahn Xeo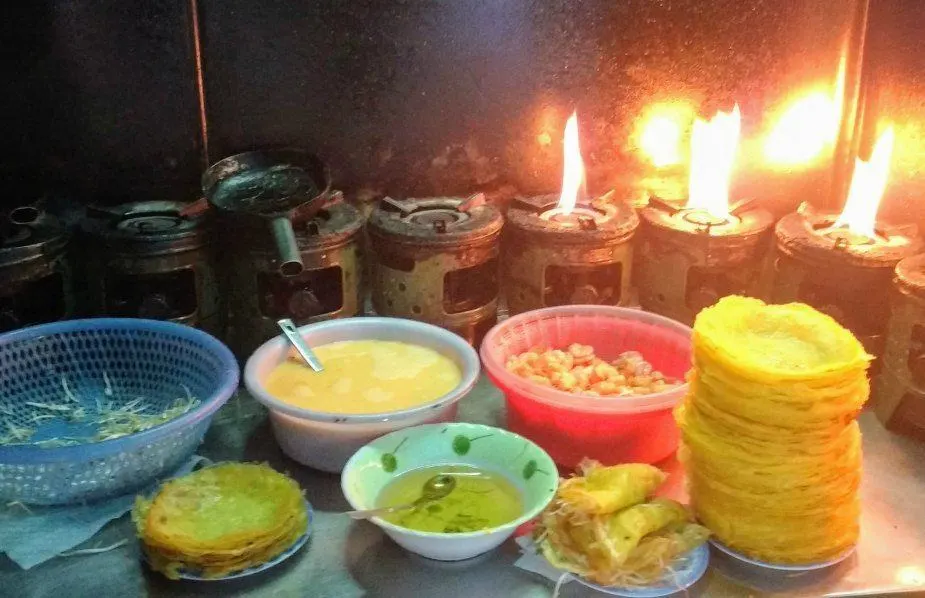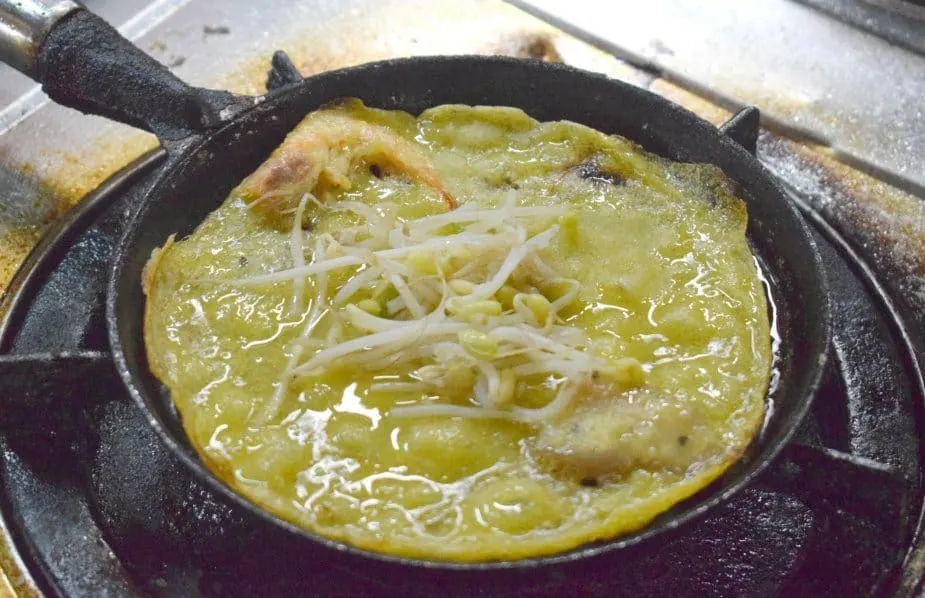 The story doesn't end with the Bahn Xeo crispy pancake. Delicious as they are, there is more to add.
You take your crispy, eggy little piece of deliciousness and place it on a sheet of crisp rice paper.
You then top it with mint and lettuce before rolling the whole thing up spring roll style and dunking it in a dipping sauce. It's so, so good!
The pancakes always contain bean sprouts and usually sliced pork and a couple of prawns.
We also found vegetarian versions of this classic dish, containing mushrooms.
Mi Quang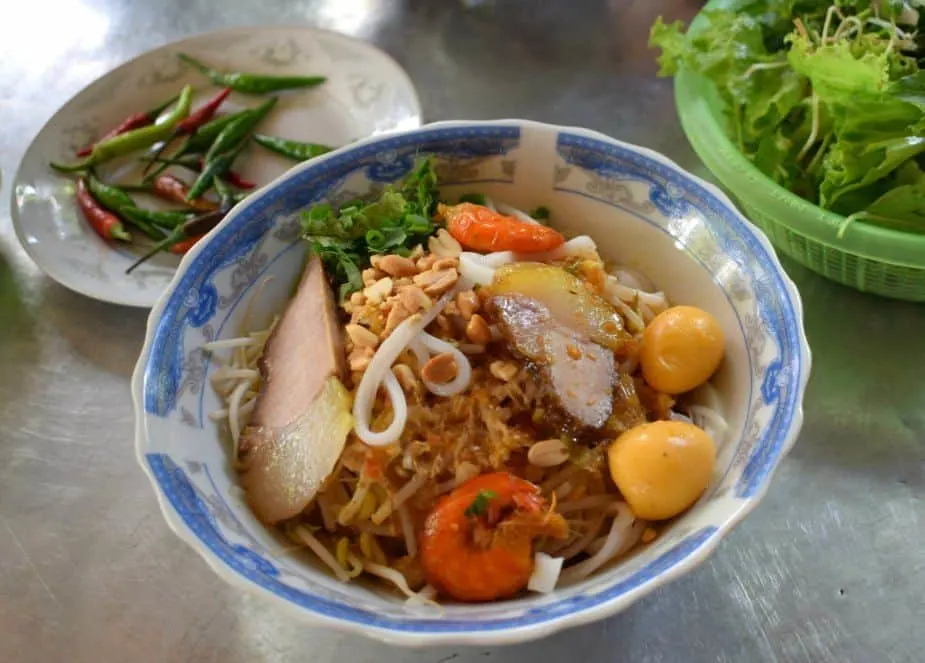 My absolute favourite Hoi An dish. I'll cycle miles to visit my favourite mi quang lady and sit on her tiny plastic stools, but whichever street stall you choose, this dish is good.
Rice noodles, a highly flavoured soup with tiny hard-boiled quail eggs, a few slices of pork, a couple of prawns and another ladle of soup for luck.
Mix with greens, herbs, leaves and shredded banana flower, it's the stuff of dreams.
Buy it at a street stall or small pavement shop, I still haven't had a really good one in a restaurant, nor in the central market.
Mi Quang takes its name from the local area, Quang Nam province.
Meat on a Stick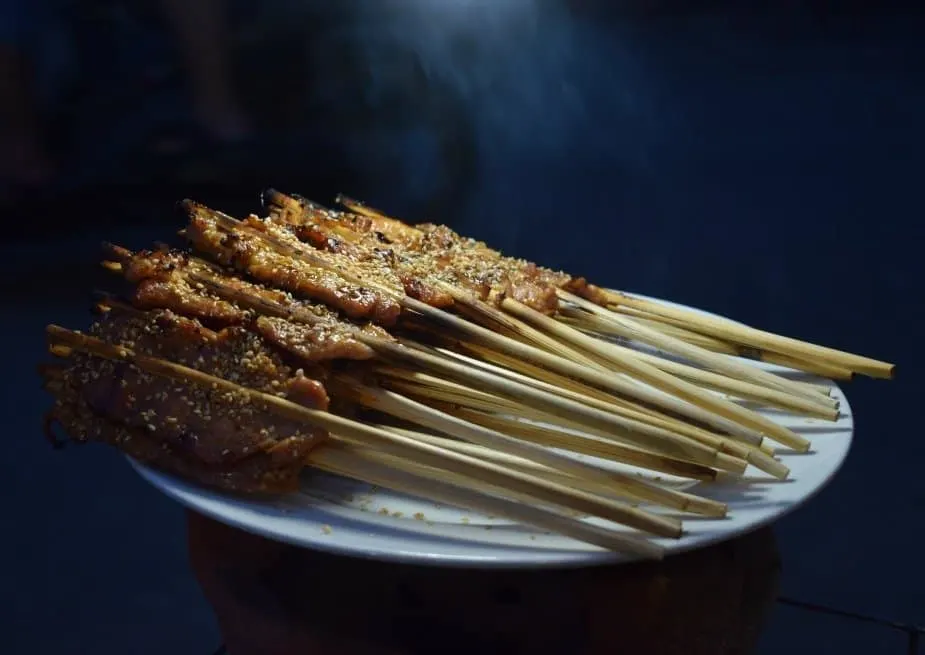 Locals start barbecuing meat on a stick around sundown in Hoi An.
The above photo was taken at a street stall in the night market.
The beef above was tender, delicious and studded with sesame seeds.
You'll also see marinated pork cooked in the same way, this is normally served with vegetables, rice paper to make a wrap, and a peanut dipping sauce as in the photo from Ba Le Well restaurant below.
Banh Mi
Banh Mi simply means bread and in Vietnam you'll find a filled Banh Mi stall on every street corner.
There is a small, unassuming Banh Mi shop in Hoi An that will be forever famous thanks to Anthony Bourdain.
We've been, the Banh Mi are good, but the best? I don't know.
We very rarely eat Banh Mi so we can't compare, but Banh Mi Phuong always has a queue.
My children don't like Vietnamese Banh Mi, they have too much of a jumble of different ingredients going on and the tuna is fresh unidentified fish rather than tinned tuna as they know it, so we only ate at Banh Mi Phuong once.
Com Ga
Hoi An locals are crazy about com ga, chicken rice. I must admit, I'm not a huge fan.
But I'm going to try a few more places and see if I can find a winner, along with a decent photograph. The chicken comes skin-on which to me is an absolute no, but the pickles and yellow rice and rather good.
White Rose, Banh Bao Vac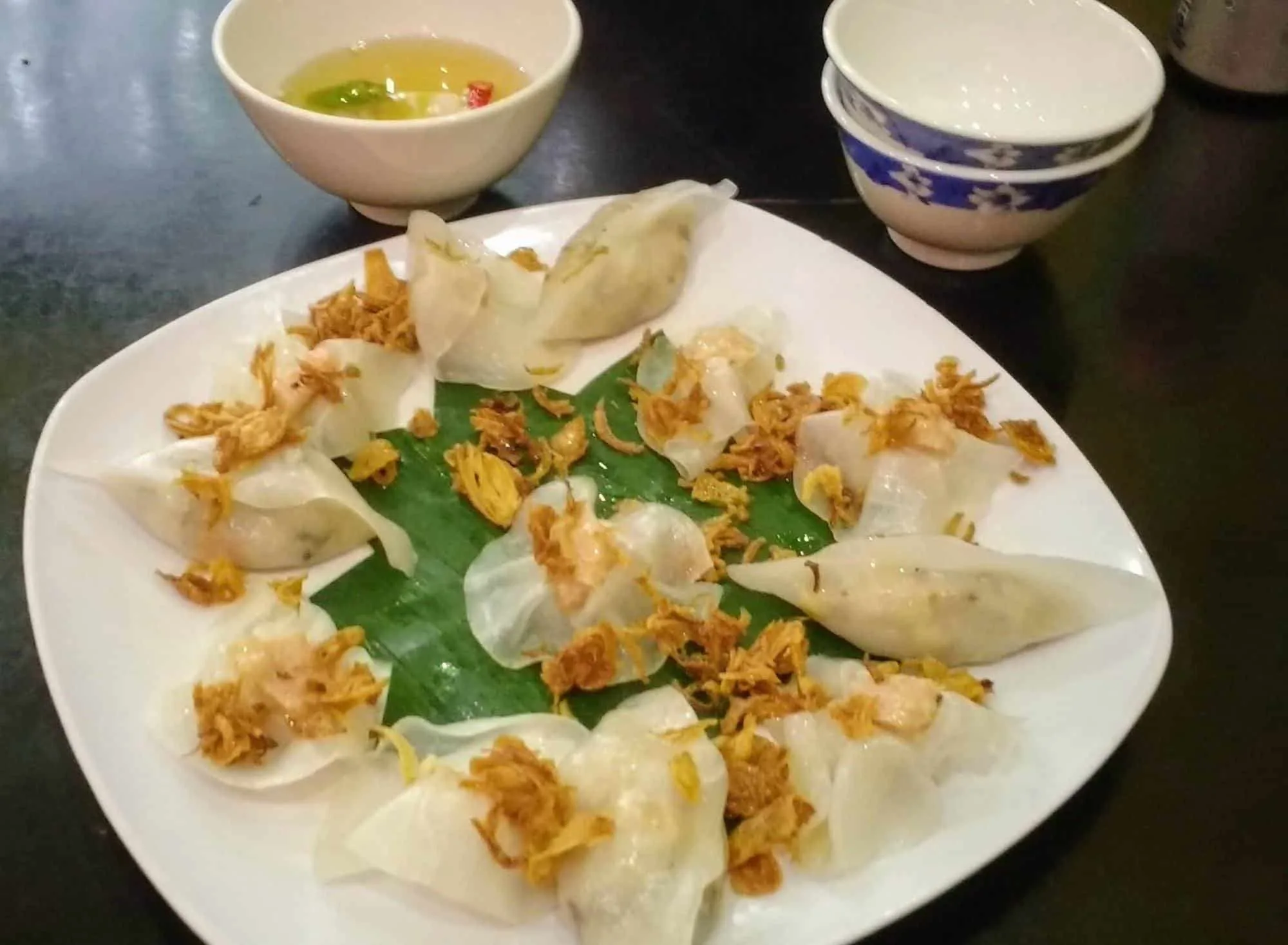 It is said that every white rose dumpling in Hoi An is made at the White Rose restaurant (533 Hai Ba Trung) by the only family that holds the secret recipe.
Again, the dumplings must be made with water from the Ba Le Well.
We've eaten white rose all over Hoi An but the above plate was from the actual White Rose restaurant.
The small prawn filled dumplings are what we've been served elsewhere, the larger dumplings above contain bean sprouts and something we couldn't identify.
I must admit, I prefer a simple plate of prawn white rose at a lower price elsewhere.
The fried onion topping and dipping sauce really make this dish, it's heavenly.
We normally pay just 25,000 Dong for a smaller plate of prawn white rose, the plate above was 70,000 Dong.
"Hoi An Pizza" Fried Wontons with Seafood
These fried wonton were seriously good, incredibly light and crispy with a little soggyness on the top.
The version above, from the White Rose restaurant also held a secret pocket holding a pork or prawn filling which we couldn't identify.
The basic Vietnamese tomato sauce is the same as you'll find in many Vietnamese dishes. It's very simple and usually contains pineapple.
"In The Pot" Dishes
Look for chicken, pork, beef or tofu "in the pot". A slow-cooked sealed ceramic pot cooked on the fire.
Tofu
Not just for the vegetarians and vegans, tofu in Hoi An and Vietnam is superb.
It usually comes here either with lemongrass and chili or tomato and pineapple.
Cafe 43 serves stuffed tofu and tofu in banana leaf along with a good vegetarian cau lao.
Grilled Scallops and Other Seafood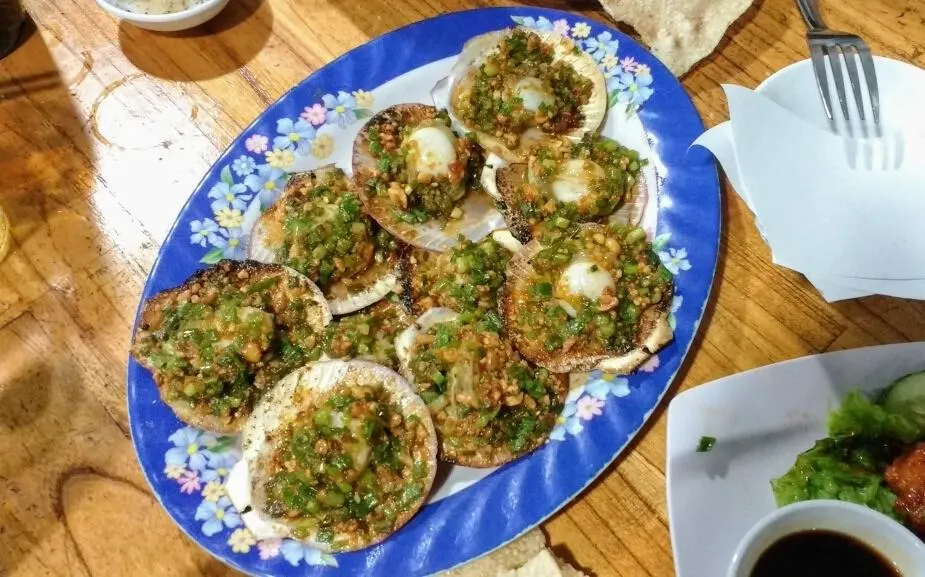 Is it Safe to Eat on The Street in Hoi An?
We've had no tummy trouble at all in almost 3 months in Hoi An. We've eaten everything, salad, herbs, ice cream, prawns and generally anything we could find.
It's rare to not even have mild tummy trouble in Asia.
Maybe we're immune to everything these days after almost 5 years of eating our way around the globe, but Hoi An gave us an impressively low sickness index.
The kids were absolutely fine too, which after them being sick almost every day in Nepal, was a huge relief.
Eat cau lao, mi quang, pho, bun bo, op la, anything you can find at street stalls is generally good.
Korean Food in Hoi An
Korean food is now available in Hoi An at Youn's Kitchen.
This new restaurant is located in the Old Town at 73 Nguyễn Thị Minh Khai, Phường Minh An, Hội An.
It's near the bridge and offers takeaway and delivery.
Costs of Eating in Hoi An
We can give you a rough guide to food costs in Hoi An but prices are a little flexible so don't take our word as gospel.
We've seen good Vietnamese street food from 15,000 dong, that's less than a dollar for a pho, cau lau or mi quang. (roughly 20,000 dong = $1 )
As a tourist expect to pay around 20- 30,000 for your delicious bowl of goodness.
Prices tend to depend on how much the owner likes you.
If you eat at Hoi An's Central Market each stall has clearly marked fixed prices, expect to pay between 20 and 50,000 dong.
If you can find a good restaurant, locally owned, that serves fairly authentic local food, expect to pay 30-50,000 Dong.
If you go for a more lavish meal like a seafood hot-pot for two you'll be paying around 100-200,000 Dong.
The huge meal shown below at the Ba Le Well restaurant was 120,000 Dong per adult, 100,000 Dong for the kids.
If you use western restaurants or any restaurant aimed at tourists, you will be charged more.
Of course the sky is the limit, you could pay a fortune in the hotels but generally we found food prices very low here, probably lower than Thailand, certainly lower than Laos.
You can most certainly get a very good meal for roughly $2.
More Useful Hoi An Food Information and FAQs
Can you Book Hoi An Food Tours and Cookery Classes in Advance? Yes you can. We are big fans of this site for booking all sorts of tours and transfers. Organising tours like this allows you to pay online with your card, have the backup of a big company with guarantees, be sure your dates are available and avoid any local scams, rip-offs, and haggling.
The Various Styles of Hoi An Food Tours and Cooking Classes Include: 1. A 6 hour eco experience including market tour, basket boat ride and cooking class. We can recommend this one, we loved it and took the kids along.( click through to inspect here 2. A night tour with food tasting around Hoi An ( inspect here) 3. A combined walking historic and culture tour with walking tour. (inspect here). 4. A late afternoon/ early evening food and vegetable garden tour by bike. We also did one like this and it was great. ( see our full post here when completed)
Can you Make Dinner Reservations at Hoi An's Best Restaurants in Advance? I took a look at Open Table ( a global restaurant reservation company) and they don't seem to have any Hoi An restaurants currently listed. They do have restaurants in Da Nang, just a short drive up the coast from Hoi An. I'd suggest you take a look at Trip Advisor and if you'd like to make reservations for a particular restaurant do it from there.
Are There Pick Pockets in Hoi An? Yes, unfortunately, we've seen them at work in the evenings down on the waterfront. We also hard a card skimmed in one of the big hotels. Take a look at our anti-theft travel devices and tips for avoiding theft.
What Hotels Can We Recommend in Hoi An? We really liked this one. A great location, beautiful rooms and spa, wonderful staff. If you click through our price comparison tool can find you the best deal on any hotel, hostel, homestay or guest house.
Food in Hoi An for Kids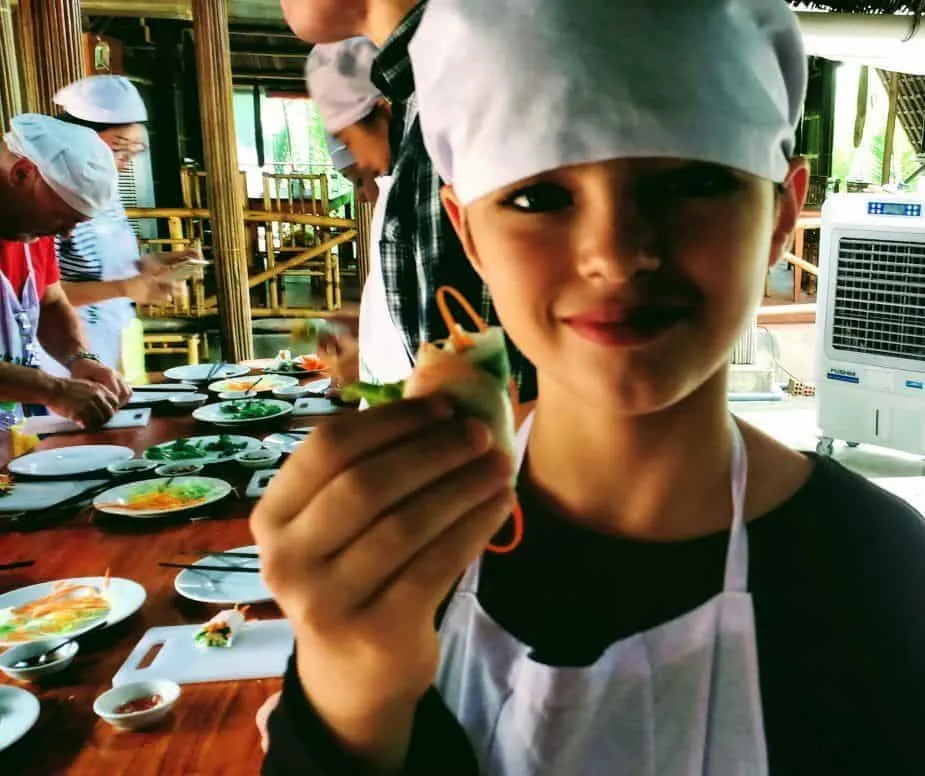 Vietnamese food generally isn't spicy nor does it contain much or any chili.
If you like your food hot a good restaurant should have fresh chilies, chili flakes or a chili sauce or jam on the table.
If the restaurant only provides the orange chili ketchup, maybe find another restaurant.
Our kids loved the food in Vietnam and found it far less of a challenge than Thai food, they enjoyed spring rolls, steamed, fresh or fried.
My elder son was totally hooked on Cau Lau and the younger one was a Bahn Xeo connoisseur.
Unlike Thailand or many other parts of South East Asia, it's very easy to get western-style foods here, nobody will be missing their cheese, pizza, bread or French fries.
However, there are no western junk food outlets that I know of in Hoi An.
Fresh fruit shakes and smoothies are available anywhere and Thai and Vietnamese banana pancakes can be bought on the street.
Try the Hoi An ice cream carts, you'll find them around the Night Market. Watch as they make ice cream curls before your eyes.
Most corner shops sell such western delights as boxed cereal, Tim Tams and Chocolate Digestives.
The Best Street Food in Hoi An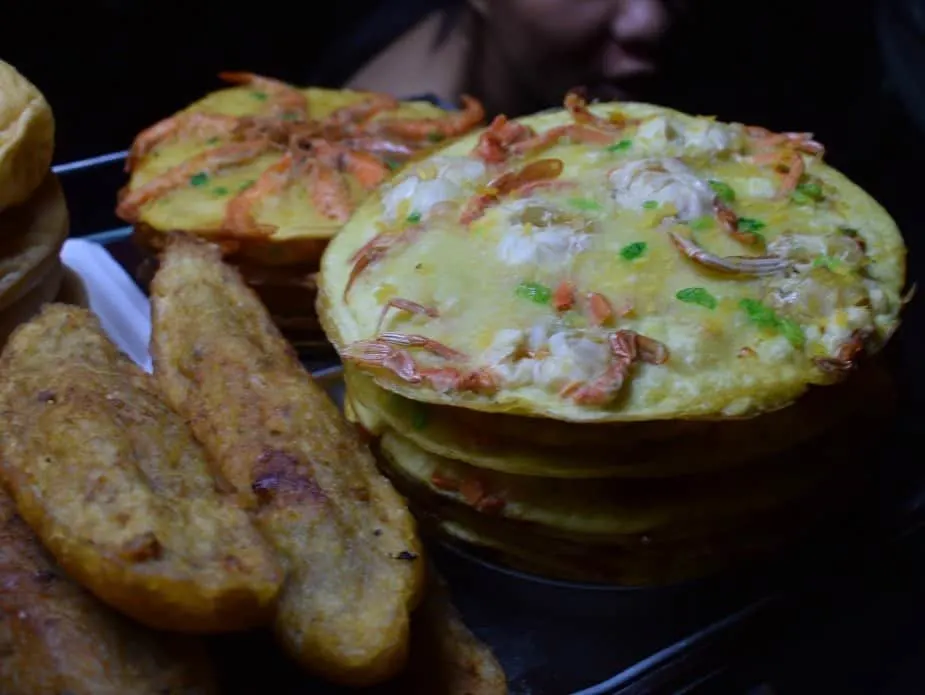 There are more variations on street food in Hoi An than I could possibly name.
But still, we've had a good go at trying them all. More to come on this section.
Visit Your Local Pho Joint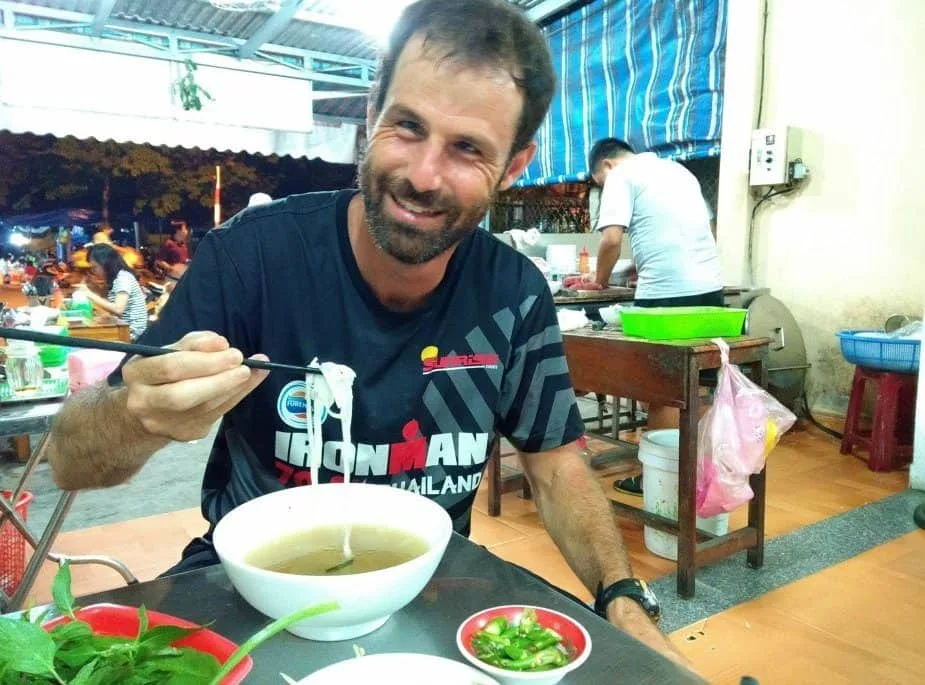 Pho Bo (beef pho) is simplicity itself. The stock contains a very small amount of star anise, cinnamon, onion and sugar along with an abundance of beef bones.
At serving time your pho chef will fill your bowl with cold rice noodles before dunking a few slivers of ultra finely sliced raw beef into the stock.
The beef and a ladle of hot stock are enough to heat your noodles.
Good pho comes with accompanying herbs, a few peanuts and bean sprouts.
Eat it for breakfast or dinner. It's become the ultimate comfort food for us in just a few weeks.
Seafood Restaurants, the Market and Street Food
A Seafood Feast, Where the Locals Eat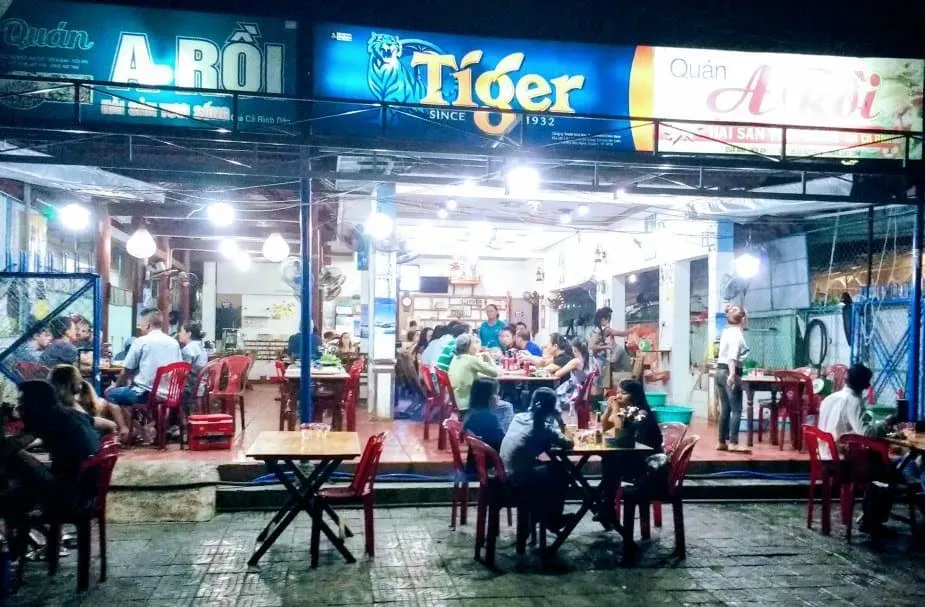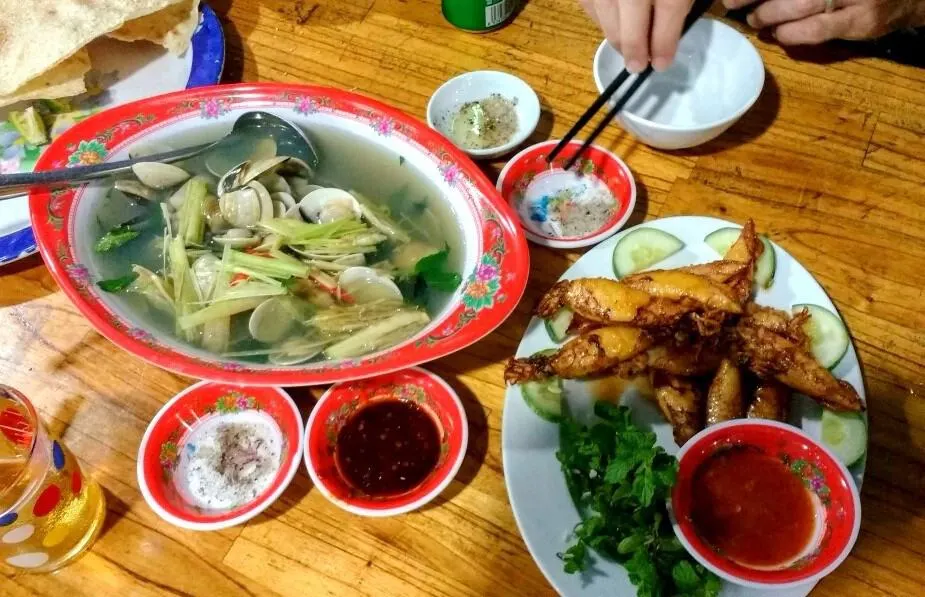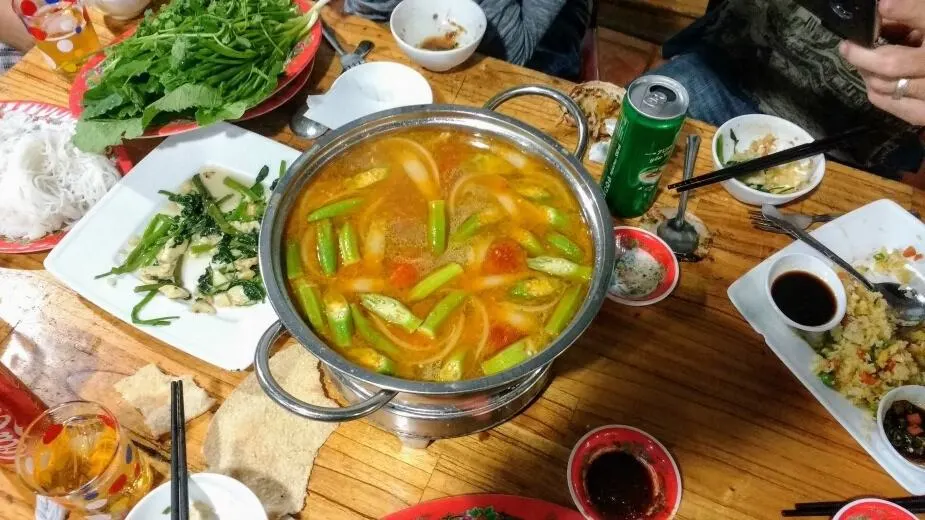 Hoi An Central Market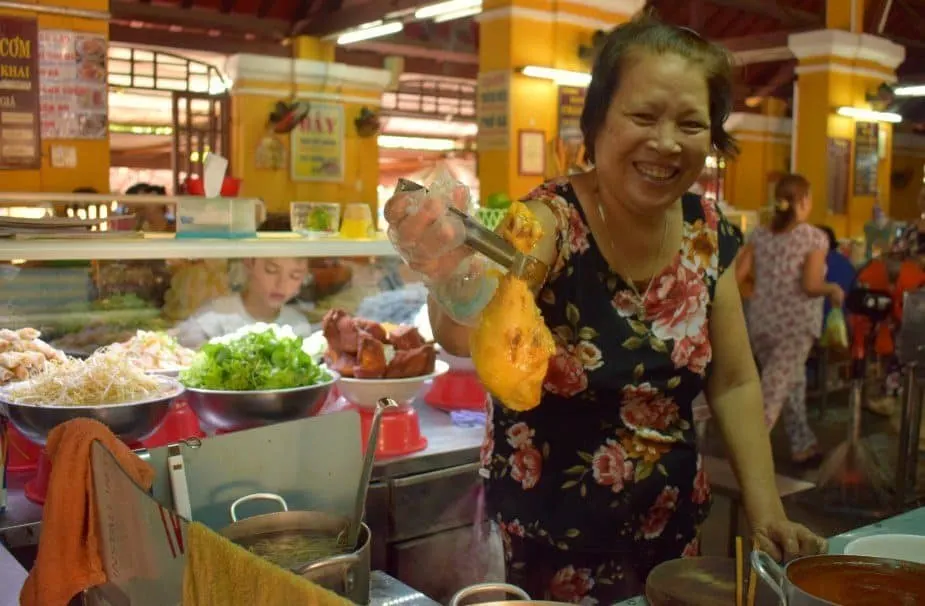 The Central market has a sort of food court where vendors will do their best to attract you to their stalls.
Each stall serves a very similar selection with a fixed price menu in English.
It's good, reliable and we eat there often, but I've still not had a street-quality Mi Quang there.
We have a full post on shopping and eating at Hoi An Central Market here.
Ba Le Well Restaurant, A Fixed Menu Treat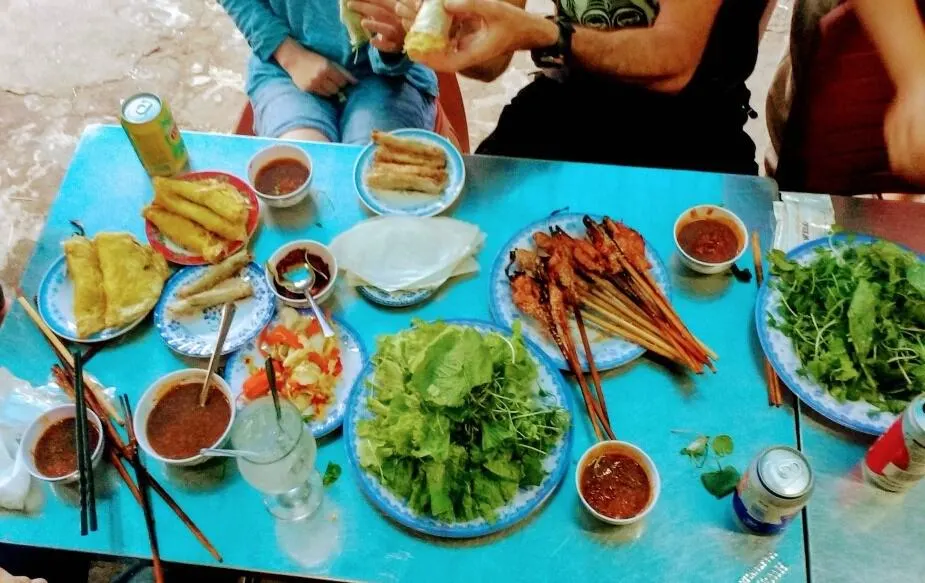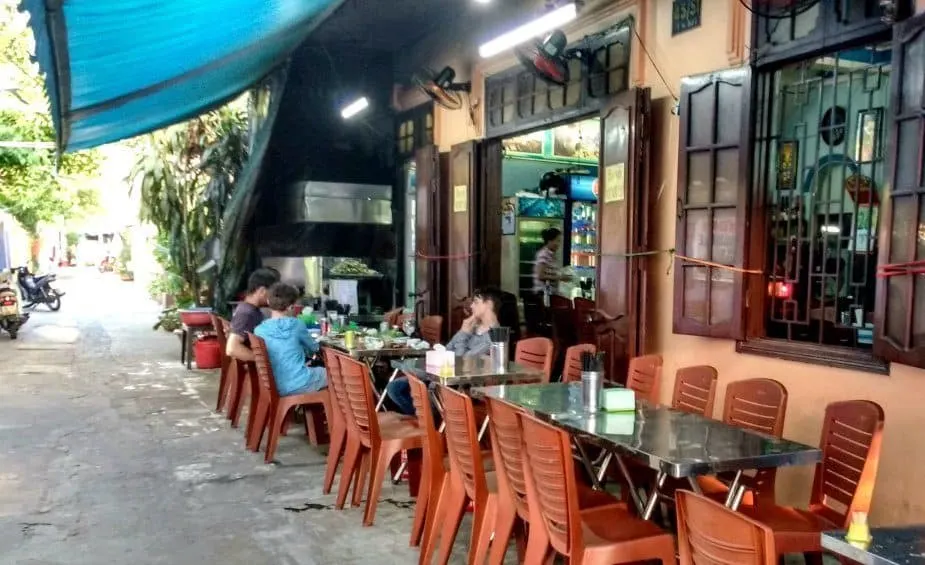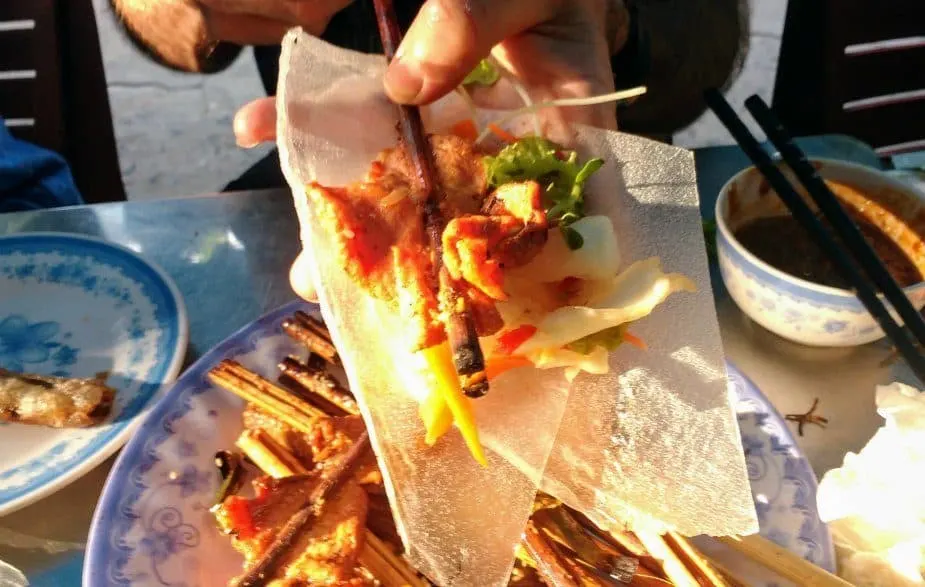 Best Place for Western Style Coffee and Cakes in Hoi An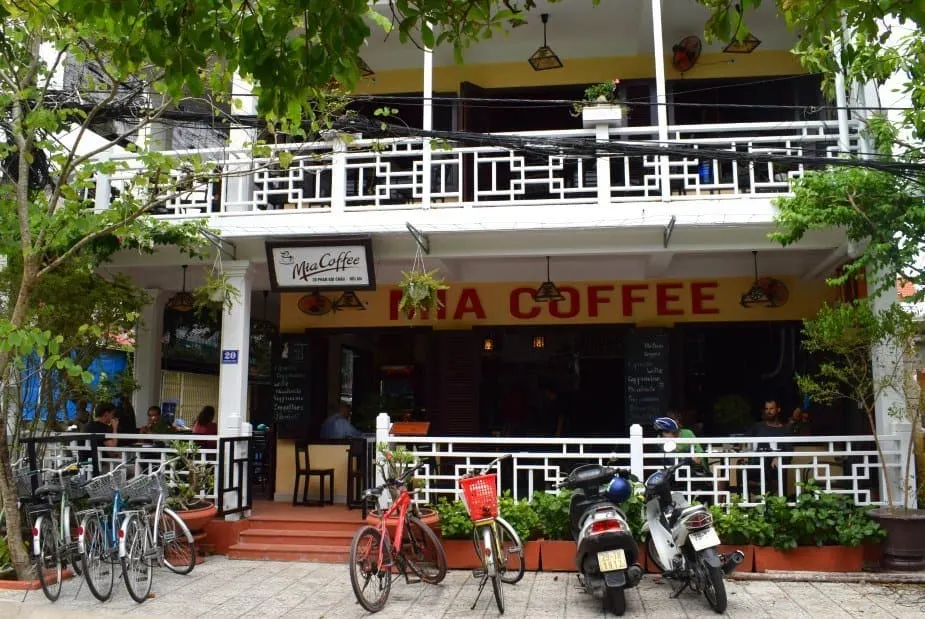 Our vote goes to Mia Coffee for the best coffee in Hoi An.
We became regulars and bought their freshly ground Arabica beans to use at home.
We've tried Hoi An Roastery, Coco Box and Dingo Deli but Mia gets our vote.
They have perfect carrot cake, cheesecake and fresh fruit smoothies too.
The smartest restaurants stick with a few items and execute them well each day.
There is another very nice coffee and cake shop behind Ang Bang Beach, it's called Mi Son.
Other Restaurants We Can Recommend
Greek Food at Mix Restaurant Hoi An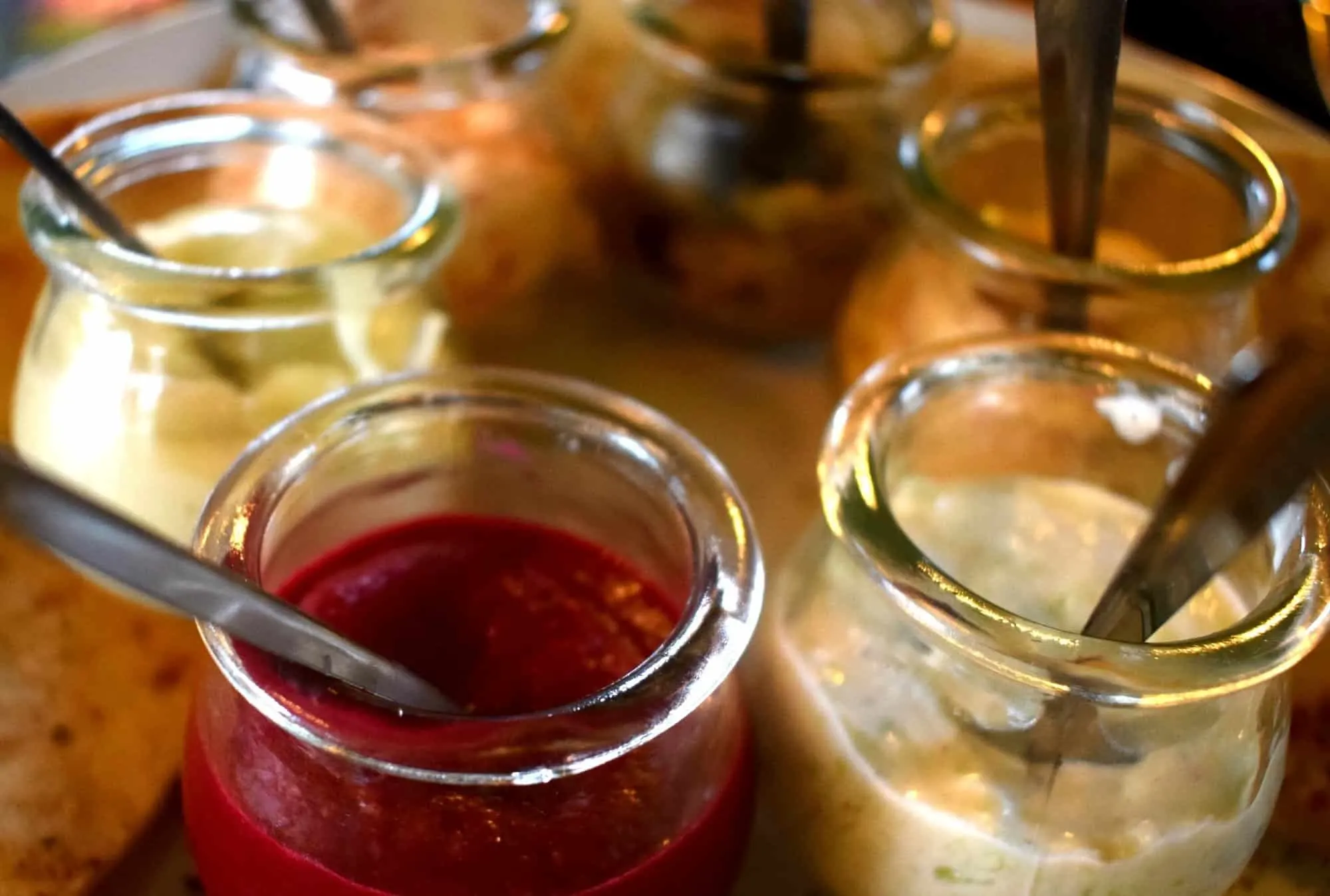 If you're craving Western food, go Greek in Hoi An!
We loved our meals at Mix restaurant particularly the huge selection of Greek salads or dips with fresh pita.
Prices are good, main courses started at 70,000 dong and the owner is friendly and welcoming.
An attractive riverside setting and a well decorated atmospheric interior help everything along too.
They serve huge sharing plates of fish or meat which we haven't yet tried, I think 1 would do for all 4 of us.
Thai Food in Hoi An at Thai Kitchen
There are a few Thai restaurants in Hoi An, the one we've tried, Thai Kitchen, is run by a Thai / Spanish couple and the Massaman curry was out of this world.
We love Vietnamese food, but sometimes you just need that flavour punch of Thai food.
We will try the other Thai restaurants before we leave.
Expat Bar and Creative Fusion Dishes at The Happy Buffalo
UPDATE: Friends visited The Happy Buffalo in August and reported that it's changed hands and is not the place it was. Which is a shame if it's true. I'm trying to find out more.
We've only recently discovered this crazy expat bar and restaurant, the owners offer a warm Canadian welcome, flowing drinks and some truly unique dishes.
Order a different dish each and share, this food is interesting and amazing. Try banh xeo pizza, cau lau noodle mac and cheese bites, banana flower salad cups, duck spring rolls, fish tacos and more.
Everything we've eaten there is superb and prices are good, around 50-100,000 Dong per plate. They do great cocktails too. They don't use MSG.
Indian Food in Hoi An at Ganesh
Good Indian food at decent prices in Hoi An can be found at Ganesh restaurant. Lunch for 4 came in at $20.
Warning, I reacted badly to MSG after visiting this restaurant the 2nd time.
Burgers and Hot Dogs at Jim's Burgers
Chef sneaks down to Jim's Snack Bar when he needs a solid meat feast. All that Ironman training leaves him hungry and Vietnamese food is just too healthy sometimes.
Substantial, hearty, delicious burgers but not cheap. Prices start around the 110,000 Dong point.
Luckily for me, Jim's also does really good vegan burgers.
UPDATE: Jim no longer lists his burgers as vegan, they're now just called veggie burgers (correct November 2019). They're still absolutely delicious but the vegan guarantee has gone.
Presentation and service weren't as good last time we visited Jim's but the Big Jim Burger and Veggie Burger we enjoyed were still winners.
MSG in Hoi An and Restaurants That Don't Use MSG in Hoi An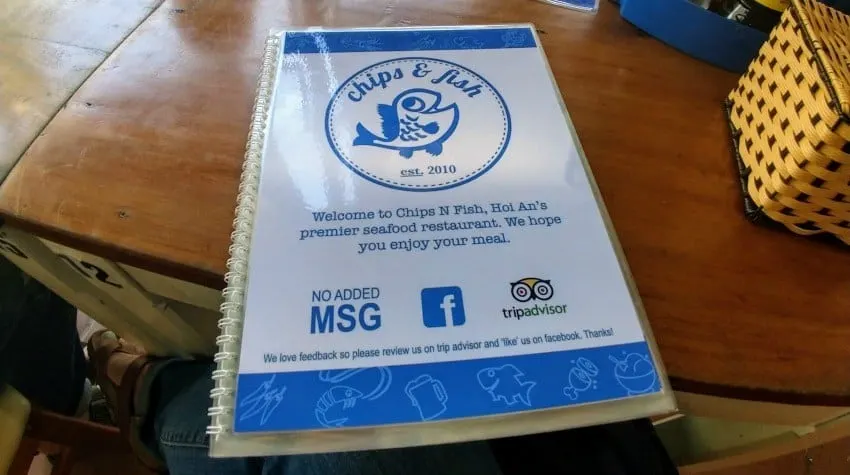 MSG is a real problem and it seems the more MSG I eat, the worse my reactions become.
How to tell if your food contains MSG? Your beer will taste weird afterwards.
To me, the beer starts to taste like formaldehyde. Assume that everything you eat contains MSG unless otherwise stated.
If, like me, you have a real problem with MSG, type " I cannot eat MSG, is this food safe for me? " or similar, into your phone and get it translated into Vietnamese to show your waiter before ordering.
We are fairly certain that the street food we buy regularly from locals-only food stalls does not contain MSG, otherwise the following restaurants state that they do not use MSG.
An interesting update to this from a recent conversation with a Vietnamese woman who's grandmother was from Hoi An.
She said she also reacted badly to MSG but only a certain type, grandma's cooking never affected her and grandma was a user.
Her theory was that there were 2 types of MSG and the cheap stuff from China caused ill-effects whereas the real Vietnamese stuff was fine.
The cheap stuff was most often given to tourists. So that could explain why the authentic street food never caused me any problems. But who knows? I know the effects are real and that they go away if I avoid MSG.
Mien Hien vegetarian restaurant says that it does not use MSG ( see below) A huge vegetarian and vegan exclusive menu, all good, still good.
Chips & Fish is a great little place with good Vietnamese food for vegetarians and omnivores. It's on the "party" side of the river, but far enough away from the noisy obnoxious music bars to be peaceful. Great prices. Their fried fish is the best any of us has had in Hoi An and their tofu with aubergine is great. We didn't like their cau lau.
The Little Menu states that it does not use MSG but the menu is limited, very westernised Vietnamese ( Australian beef, tuna steaks and so on ) and expensive with poor vegetarian options.
The Happy Buffalo see above
The Phoenix Restaurant. Michael is a British expat and serves up burgers, breakfasts, toasted sandwiches and some Asian (Thai and Vietnamese) food. He hates MSG but watch out for the ketchup in Hoi An. Limited vegetarian options.
Update : The Phoenix seems to have closed down. We stayed on this street recently and saw no sign of Michael.
Jim's Snackbar. I think you're safe from MSG here, next time we go I'll ask. Serves good vegan (now vegetarian) burgers but always be cautious with ketchup. I can't guarantee they are MSG free.
Our Favourite Restaurants for Vietnamese Food in Hoi An
Cafe 43 has good, cheap Vietnamese food and a strong vegetarian menu. It's very popular and service can be terrible but the excellent vegetarian cau lau and grilled tofu in banana leaf keeps pulling me back.
Unfortunately they use MSG and after a while we had to stop eating there.
We didn't return here on our last visit to Hoi An but Cafe 43 is still there and substantially refurbished. we stayed opposite. I can't tell you if they are still using MSG or not.
Sao Mai is a small, family-run restaurant right on the waterfront near Hoi An Central Market. It's away from the main tourist crowds that gather near the Japanese Bridge, but busy enough to be a good people-watching spot.
They serve good Banh Xeo, white rose, steamed or fried spring rolls and mojitos. If they use MSG it's at a low level. Sao Mai was still one of our favourites on our recent visit to Hoi An.
Mien Hien is opposite cafe 43, is vegetarian only and does not use MSG. Increasingly this restaurant is our choice despite my husband and kids being carnivores, we just can't handle the high levels of MSG found in Hoi An restaurants.
We visited regularly on our last visit to Hoi An, it's still great for us. There are at least 2 new branches of Minh Hien now opened in the Old Town.
We didn't try them, but hopefully they are as good as the original.
Pho Xua is a nice little restaurant (near Ba Le Well) that does good Vietnamese food. Low prices, but gets very full with Asian tourists.
Chips & Fish No MSG, nice food, other side of the river. We're not fans of their cao lau.
For you, for Pinterest, choose your favourite pin!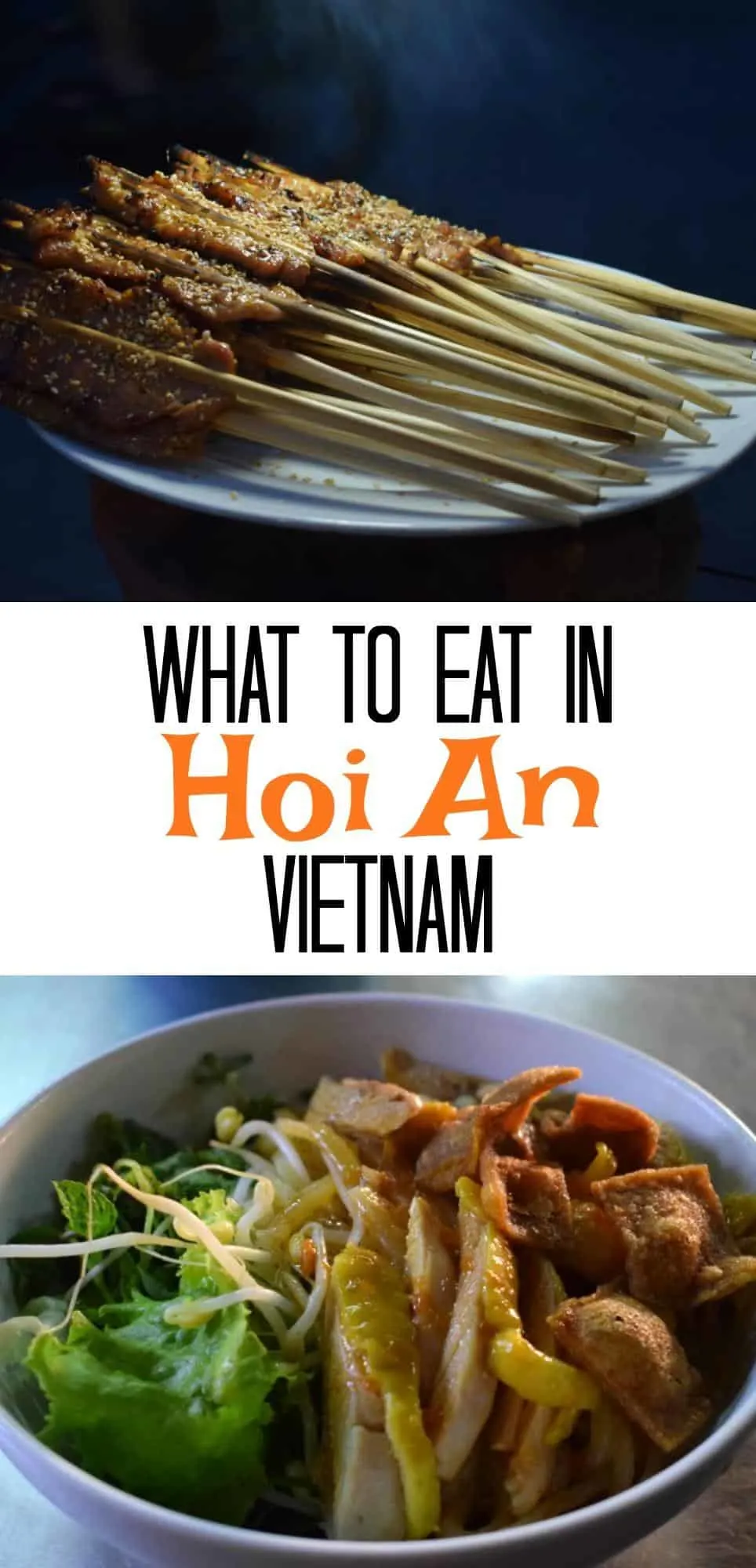 We didn't try every restaurant in Hoi An, but we tried a lot. I haven't named the ones that were bad.
We'll add more to this post, every time we return, we're in Hoi An now and will be back for another 6 months very soon.
Plenty of restaurants over-charge, many use MSG and plenty serve bad tourist-fodder, but seek out Hoi An's gems and you'll leave very happy eaters.
We've never had an MSG reaction after eating street food aimed at locals in Hoi An.
We hope you enjoy the best food in Hoi An during your stay and figure out what to eat in Hoi An and where to eat it, it makes such a difference to arrive in town with a little insider information rather than falling victim to the fake reviews you find on some sites. Also, I'm curious. Is this what you thought eating on the road would look like? Better or worse? Cheaper or more expensive? Tell me. Head to our main Vietnam travel guide page for more destinations in Vietnam.
If you'd like to hire a car during your stay, use this car rental comparison tool to find the best deal!

We also suggest you take a look at this company to get a quote for all kinds of travel insurance.

Try Stayz / VRBO for an alternative way to find rentals on homes/apartments/condos in any country!