The Hoi An Pottery Village is a stand-alone attraction just outside town but within easy reach by push bike, scooter or taxi. The villagers have been traditionally involved in pottery for centuries and the craft continues today. The Thanh Ha village has been turned into a tourist attraction but in a very nice, low-key, way. There's absolutely nothing shouting "tourist trap" here. We visited primarily for the children to try a pottery class, we'd read that there were pottery lessons available but searching online wasn't showing us how to book them. So we just got on our bikes and went to find out.
Hoi An Pottery Village, Thanh Ha
Watch our video below, or read, either is fine, both would be great.
Any post on this site may contain affiliate links. We earn commission on these should you make a purchase. All recommendations are genuine and we are not paid to include products, hotels, and so on.
How the Pottery Village Works
On approaching the village you'll see a ticket booth on the right hand side of the road. Visitors buy a ticket to the village ( a dollar or so, kids are free) and can then freely to wander the houses and workshops. Many villagers will be busy making pots and ocarinas, they'll either invite you in or you can just watch a while. The kids made pots on a potter's wheel in 2 homes, painted a terracotta mask and each made a little dog-shaped ocarina. There is no charge. We bought their creations for just 1 dollar each by way of a tip for the villagers who had been so kind and patient with them. The painted mask and one of the pots came to us with no additional charge after we'd bought a coffee from that particular lady. The pots aren't fired, you can take them home straight away.
You can take your bikes in to the village and park up near the river, there's no charge.
The terracotta museum on site is pretty spectacular, this carries an additional admission fee, higher than the village admission but well worth it. All admission charges are low and good value.
Thanh Ha Village
The village itself is a cute riverside cluster of homes and workshops, some ancient, some more modern. Hoi An floods every few years to anything up to 2 metres, this village may too. I'm astounded that ancient wooden homes have stood for so long. Don't expect paddy fields and water buffalo, you'll find those elsewhere, this village is all about pottery and its river location allows easy shipping of products and raw materials. The fishing port and a few boat makers' workshops are Thanh Ha's closest neighbours.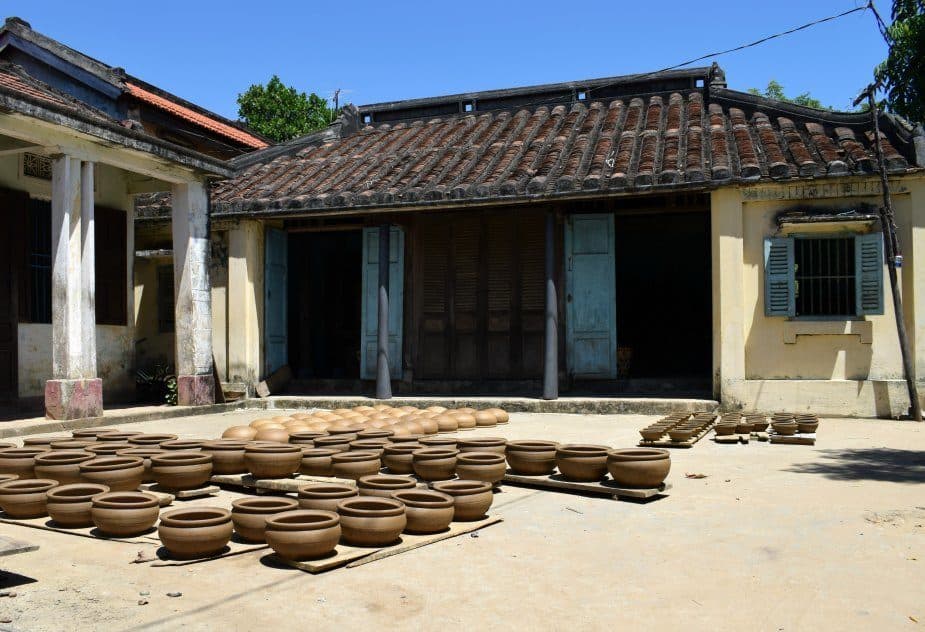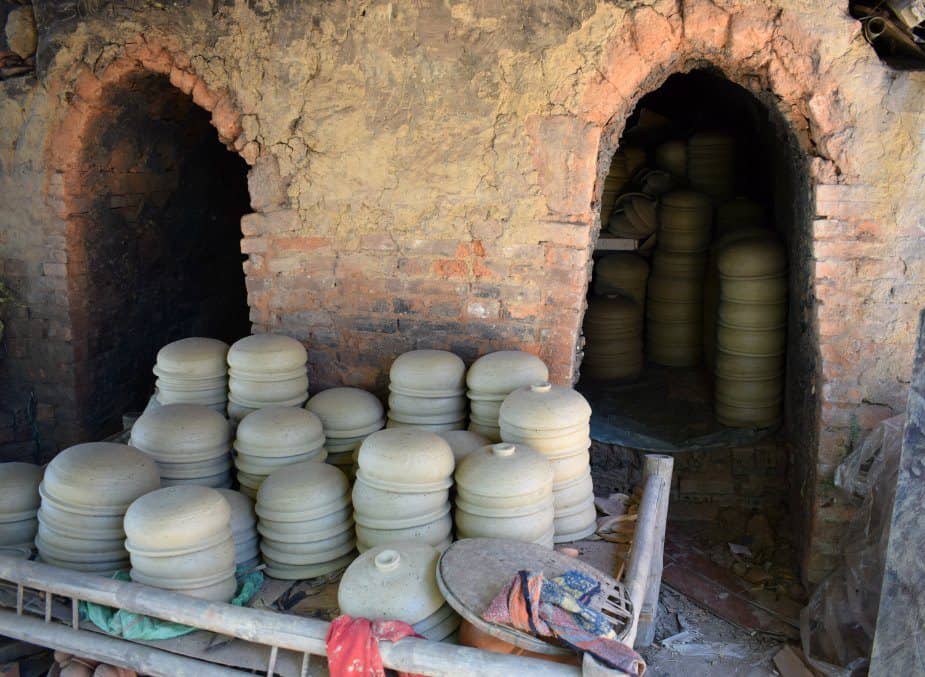 Pottery Lessons or Classes
It's simply a matter of approaching a villager and asking to try. Sometimes they will call you in, other times you'll have to hang around and show some interest, maybe ask to try. The villagers were all kind and welcoming with the children and gave their time generously.
How to Get to the Hoi An Pottery Village
The village is on the river just west of Hoi An Old Town. Just follow the main road past the fishing dock and village and you're there. The tourist boats at the dock in the Old Town will also take you to Thanh Ha pottery village.
Tours of the Pottery Village
You can book a designated tour online, usually we recommend Get Your Guide.
Also the boats at the jetty in the Old Town will take you down the coast to Thanh Ha or you can book a tour at local agents. We just turned up on our bikes, it's probably better to just explore without a tour group and take your time.
Your Pinterest Image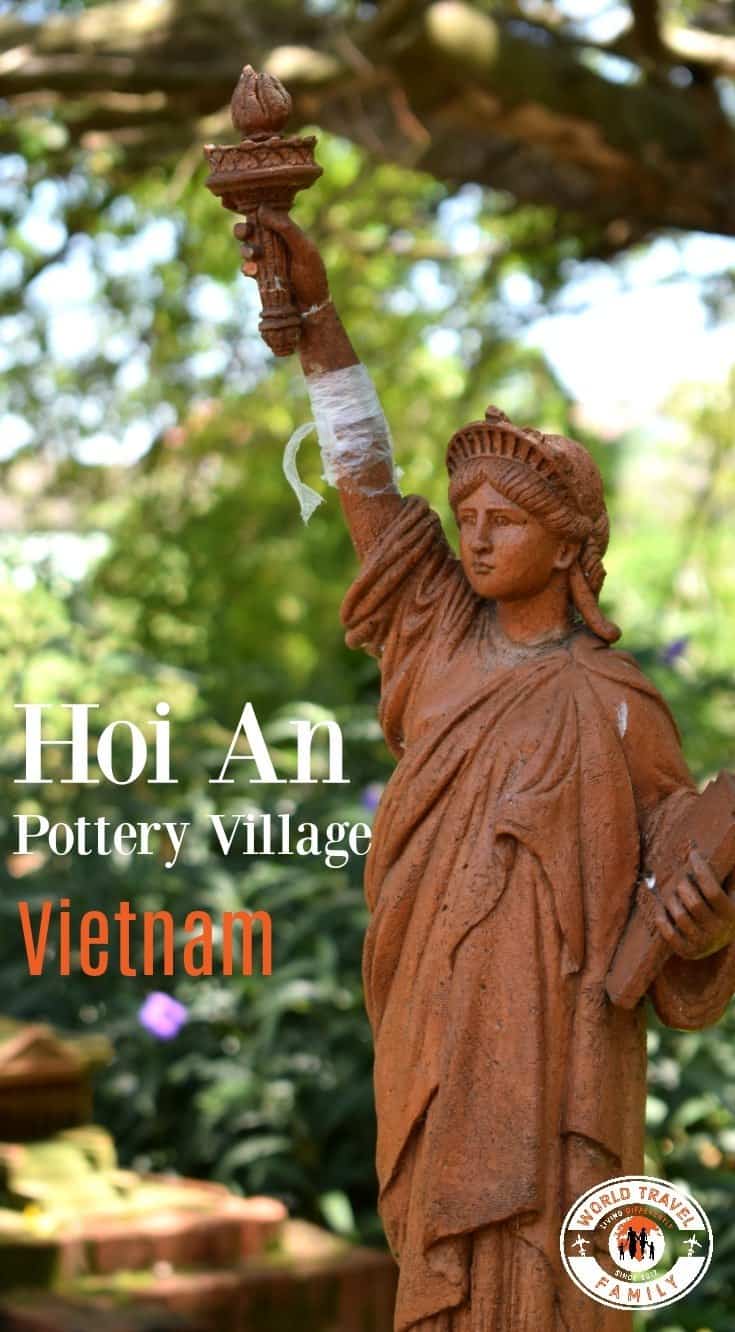 The Hoi An Pottery Village was a fantastic thing to do with kids and extremely cheap. We'd highly recommend it as something to do in Hoi An, particularly for families. More coming on things to do in Hoi An ( many are free) soon, our full Vietnam travel blog and guide is here for you.
Alyson is the creator of World Travel Family travel blog and is a full-time traveller, blogger and travel writer. A lifetime of wanderlust and now over 7 years on the road, 50+ countries allowed the creation of this website, for you. She has a BSc and worked in pathology before entering the travel arena and creating this website. World Travel Family Travel Blog has been helping you travel more, better and further since 2012, when Alyson and James first had this life changing idea. On this site you can find endless travel information, tips and guides plus how to travel, how to fund travel and how to start your own travel blog.