This post may contain affiliate links.
Dubai is actually a very safe place to travel as a woman, with strict codes of conduct and relatively low crime. There are a few rules and safety precautions to follow, plus some perks of travel in Dubai that are just for women.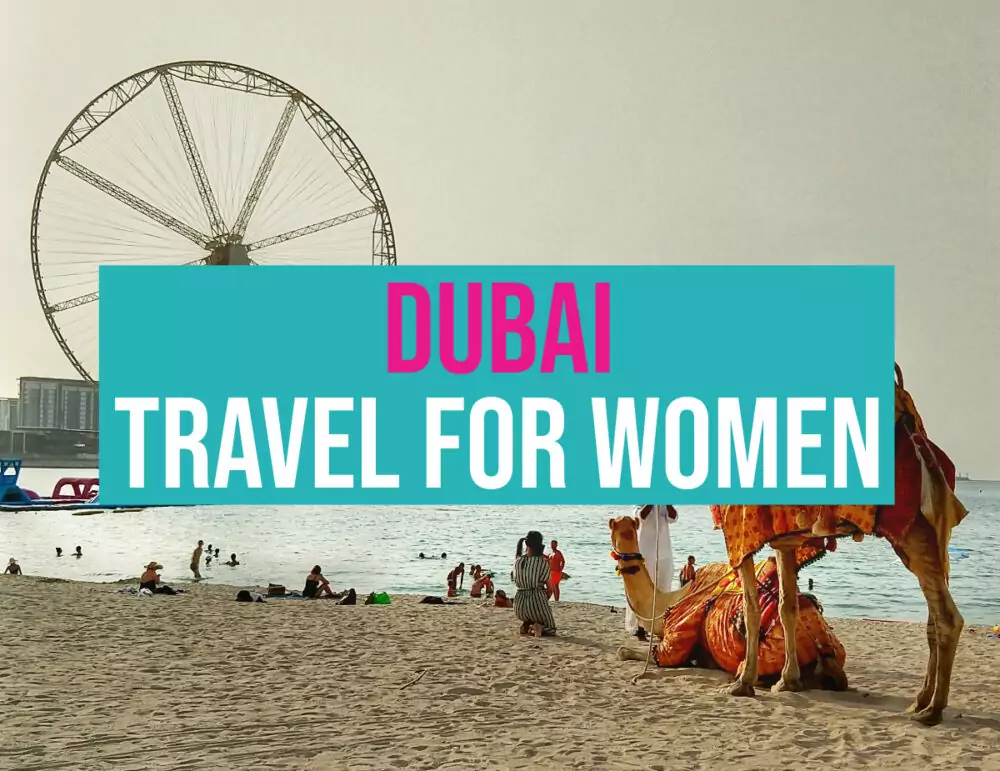 Travel To Dubai As a Woman
hide
Travel To Dubai, For Women
I've travelled to Dubai as a solo woman with two small children, and as a wife, I consider Dubai to be a very safe and pleasant place to visit for women. I've never been harassed in any way in Dubai other than by some vendors in the souks.
Dubai is in an Islamic country, UAE, with fairly strict rules, all travellers, male or female, should always respect a country's culture when travelling and dress with respect. The different Emirates that make up the UAE have varying levels of strictness with dress and behaviour rules.
Women Should Dress Appropriately in Dubai
It is perfectly acceptable to wear a swimsuit or bikini at Dubai's beaches or most hotel swimming pools. However, you must not go anywhere else in skimpy clothes.
Keep necklines high, and shoulders and knees covered. Trousers or pants shouldn't be too tight. Loose fitting is cooler in the heat.
Foreign tourists are not required to cover their heads in Dubai unless visiting a special place (like a mosque) where this is required. Face coverings are not required for female visitors.
Women visiting Dubai do not need to wear a hijab.
Some places in Dubai, including malls and restaurants will have their own dress codes and it's best to check these for yourself. "Respectful" or "modest" attire is normally required, a T shirt with sleeves worn with long pants or a longer skirt are normally fine.
If you are a woman and plan to use public gyms in Dubai, it's best to check their specific dress code, or find a ladies-only gym session.
Children can wear shorts in Dubai but shorts are not appropriate for adult men or women in Dubai. If you must wear shorts, stick to knee length.
Most Dubai residents will be very formally dressed for the city. You'll feel very out of place in western beach wear and will attract stares.
If female travellers are visiting nightclubs or hotel bars, tight-fitting dresses and tops are usually OK, but check with the venue. Dubai is famous for glitz and glamour after all!
Women Must Cover Their Heads in Dubai at Times
If a female traveller plans to visit a mosque, there are dress requirements. Often a mosque will loan the visitor head and body covering robes.
It's a good idea to have a large scarf handy to cover head or arms as needed. I travel with a large cotton scarf, a shemagh like this one, always, they are multi-purpose for sun or cold.
If you take a desert safari you may find it's cold after dark.
Do Not Insult The Country, Dubai Officials, or Islam
Do not insult anyone or anything, not even the flag of the UAE. This is illegal in Dubai. Read up on local laws here.
Be Sensible With Security in Dubai
Dubai is not a particularly worrisome destination for female travellers, but there are precautions every woman should take while travelling or staying in hotels.
I always carry a door wedge like this to prevent anyone from entering my hotel room and don't walk around solo after dark in quiet places.
Be careful who you talk to, and don't get in cars with strangers. The female-only taxis are great for this in Dubai.
Be careful how you handle your money and valuables, pickpockets are not totally unheard of in Dubai. An anti-theft bag is always useful for travel. Buy one here.
Dubai has some wonderful family-friendly and luxury hotels that would be perfect for most women. If you're a budget traveller, the Golden Sands hotel apartments are quite affordable.
Public Displays of Affection Are Out
Couples should not hold hands or show affection in any way in public. Showing affection to your children is fine, of course.
Same-sex relationships are illegal in Dubai. (source)
Alcohol is Available, But Not in Public
Licensed premises serve alcohol in Dubai and there are clubs and bars. Adult beverages were also available at the desert safari camp and dinner we attended. I'll warn you that alcoholic drinks in Dubai are very expensive! But you can indeed, as a woman, order a beer to consume with dinner and the belly dancing show.
I have been told that it's actually illegal to consume alcohol in public places in Dubai, but if you use the link to local laws further up the page, it states that it's illegal to be drunk in public in Dubai.
Use Female-Only Transport
There are female-driven taxis for women and female-only carriages on the Dubai Metro. Solo women travellers can take advantage of these. It's OK for women to use these with young children, but not usually with husbands or partners.
Book a Women-Only Tour in Dubai
If you are more comfortable in a group of women, with a female tour guide, women only tours and activities exist in Dubai. Some holiday operators also run female-only tours to Dubai.
For an in-depth look at travel in Dubai, plus things to see and do, visit our Dubai Travel Blog and Guide page. We're big fans of Dubai!
If you'd like to hire a car during your stay, use this car rental comparison tool to find the best deal!

We also suggest you take a look at this company to get a quote for all kinds of the more tricky adventure or extended travel insurance.

Try Stayz / VRBO for an alternative way to find rentals on homes/apartments/condos in any country!