This post may contain affiliate links.
Dubai, the beating heart of the United Arab Emirates. A city known for wealth, luxury, service and style, it has some of the most incredible man-made structures on the planet. Enjoy Dubai's magnificent shining towers, fine dining, museums and theme park scene while giving your family a vacation to remember. Don't skip the cultural excursions along with The Dubai Aquarium and Dubai Mall. Dubai is a fabulous place to vacation with your children. When it comes to finding plenty to do in Dubai that everyone in your family can all enjoy, the opportunities seem endless. However, finding a place to stay where every family member feels welcome, safe, and well cared for can present a bit of a challenge.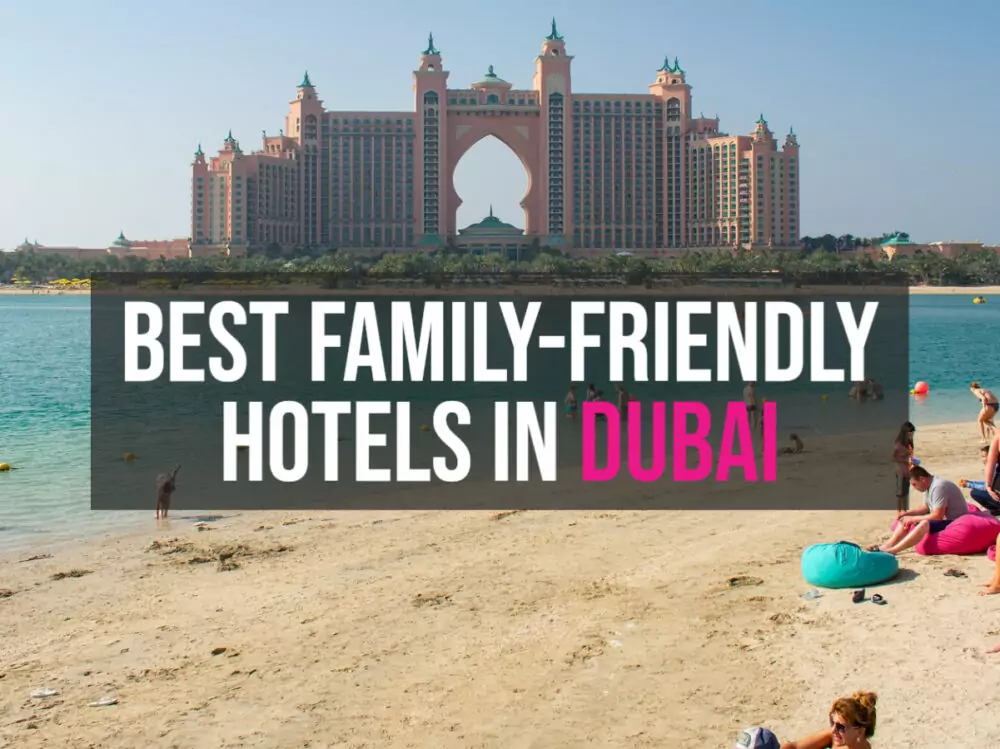 Thankfully, it's a challenge that is getting easier to overcome all the time, as the Dubai hospitality industry continues to further embrace the travelling family at most price points. Excellent kid-friendly hotels that make room for children do exist in Dubai, and here are six of the best.
Information on this page is personal opinion. Please check all information at the time of booking as hotels can and do change their terms, rates and facilities.
---
Atlantis, The Palm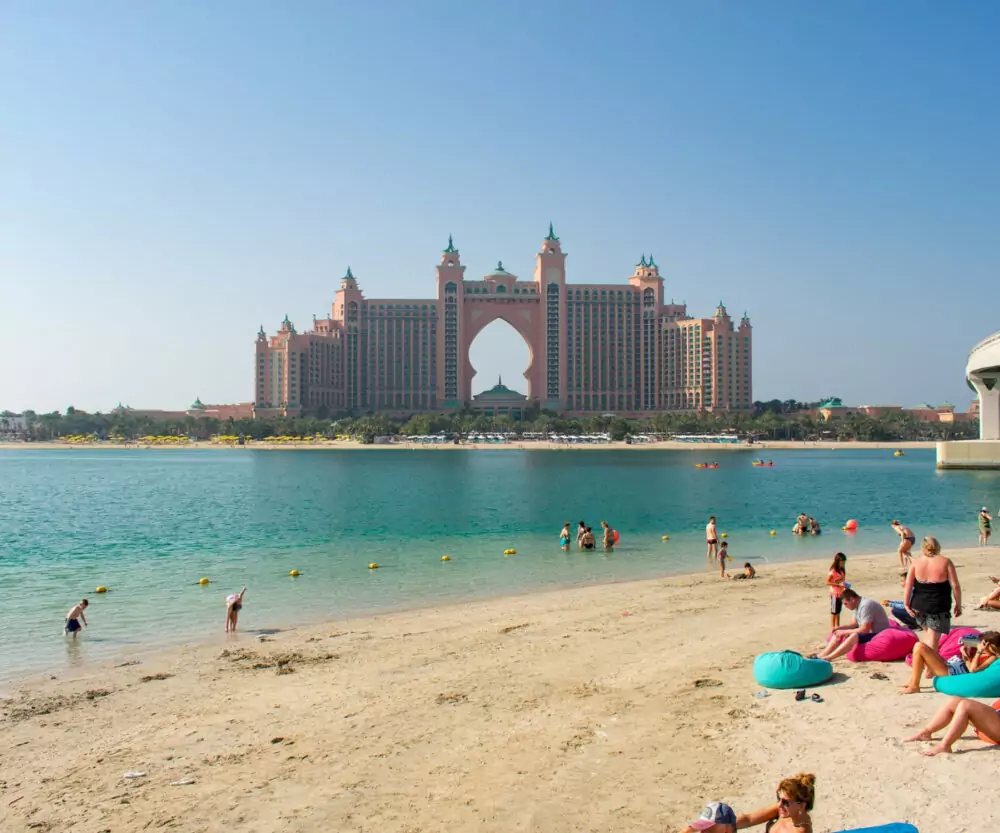 There are a few hotels in Dubai that really specialise in hosting kids and families. Check out Atlantis, The Palm, home to some of the most spectacular attractions in Dubai. You can book an underwater suite or the Regal Family Suites which will accommodate very large families in style. Here you can find interconnecting suites with adorable kid-friendly features. Atlantis has all sorts of aquatic attractions such as a full aquarium inside the hotel with water slides that take you right through the tanks, as well as a water park, multiple pools, private beach area and boating.
The hotel advertises a Kids' Club and an outdoor kids' playground along with indoor play facilities and games. Cots, babysitting and extra kids' beds are available on request.
Atlantis has some 15 diverse restaurants, many the work of internationally renowned chefs.
This is a hotel to try, and is very high on our list for our next stay in Dubai. We think the incredible facilities and attractions at this hotel make staying at Atlantis very much worth it.
The other major aquarium in Dubai is at Dubai Mall, if you're looking for a hotel near that aquarium, look for a city-centre residence, not a beach resort.
---
---
Jumeirah Beach Hotel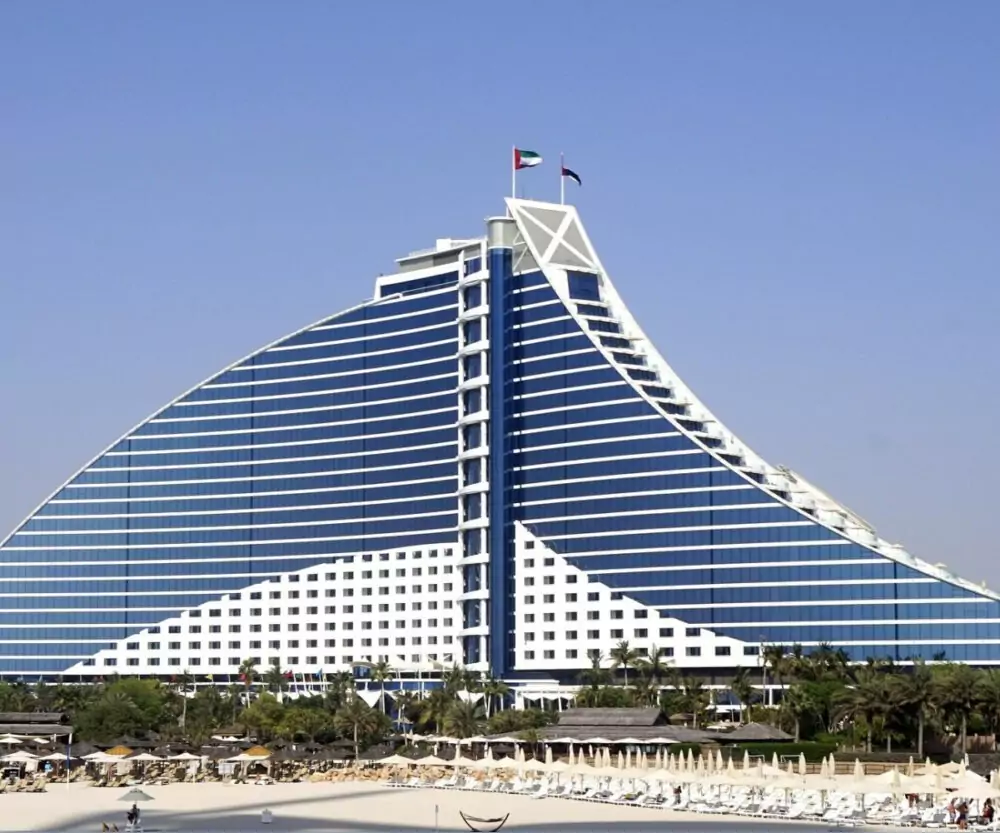 The Jumeirah Beach Hotel. is the place to stay for unlimited access to Wil Wadi Waterpark, plus the hotel's own 5 swimming pools. It has it's own stretch of the beach and stunning views of The Arabian Gulf and the mesmerising Burj Al Arab.
Family rooms are available, with Wild Wadi Admission included, which makes the cost actually quite reasonable. Of course you can pay more and reserve one of the several styles of family suite which give you access to extras such as afternoon tea or canapes.
This hotel offers special treats for kids such as a kids club, special kid's activities, children's pool, play areas, nanny services and children's equipment including cots on request. You also get complimentary access to the nearby Wild Wadi Water park, play areas and musical instruments in an activity centre. (Subject to opening, one pool is currently closed according to the hotel's information.)
---
---
Lapita Resort
Lapita Resort is a more moderately priced hotel, with a Polynesian theme. This is a great place to stay in Dubai to be near Dubai's theme parks. It is situated at the Dubai Parks and Resorts area and theme park access can be included in your room price, making it an affordable option.
This hotel boasts its own kids' concierge, kids club, teens club, and afternoon teas, the hotel also features its own pool and lagoon. Family rooms and Royal suites are available at this hotel
The Lapita Resort Hotel is near Dubai Legoland, Legoland Waterpark, Riverland Dubai, Motiongate Dubai, and Bollywood Parks. You can see it on the map below.
---
---
Golden Sands Hotel Apartments
Golden Sands Hotel Apartments might not be as luxurious as others, but they are certainly more affordable than some Dubai family accommodation on this list. They feature family rooms and pools available for guests, as well as an optional breakfast.
The Golden Sands Resorts are actually multiple hotels with kid-friendly individual apartments allowing you to cook and do laundry, that's always a bonus if you're travelling with children and don't want to spend so much on family accommodation.
We've used the Golden Sands appartments ourselves on short stop-overs in Dubai and found the rooms to be comfortable and the staff very helpful. There should be a swimming pool for you to cool off and the hotel arranges shuttle buses for guest. The location is good, central, but not on the beach.
There is also a Golden Sands Apartment Hotel on Dubai Creek, which is a lovely area to stay, close to the souks and Old Dubai.
---
---
Jumeirah Mina A'Salam
Jumeirah Mina A'Salam is another wonderful family-friendly hotel near Wild Wadi Waterpark offering guests beach-side accommodation and sea views.
Featuring family rooms and suites, a kid's club, kid's activities, nanny services and equipment like baby safety gates. The hotel can also offer access to the nearby Wild Wadi Waterpark as part of certain room packages.
If you want a hotel near Wild Wadi Waterpark, choose this child-friendly Dubai hotel! Be sure to visit Sinbad's Kids Club.
---
---
The Taj Exotica Resort and Spa, The Palm
The Taj Exotica is one of the most extravagant hotels on the planet, being located on one of the world's largest man-made islands. The Palm is a feat of human ingenuity and engineering. The hotel itself also features a multitude of different available services, such as a kids club, kid-friendly buffets and meals, nanny services, and activities for both kids and their parents available. It also features kid-friendly family rooms and suites with dozens of room configurations to suit even large extended families. Kids of any age are welcome, but kids twelve and above must pay as adults. The Taj also features its' own exclusive private beach, as well as a pool available all year round. The Taj is also quite close to the Aquaventure Water Park. Adults can enjoy gyms and spa facilities while little ones are well cared for. There is a kids playground on site.
If you're looking for a Dubai hotel with kids' club and babysitting in an exclusive setting, be certain to check out The Palm. Also, the Taj Exotica is ideal for large families.
---
---
Apartment Rentals in Dubai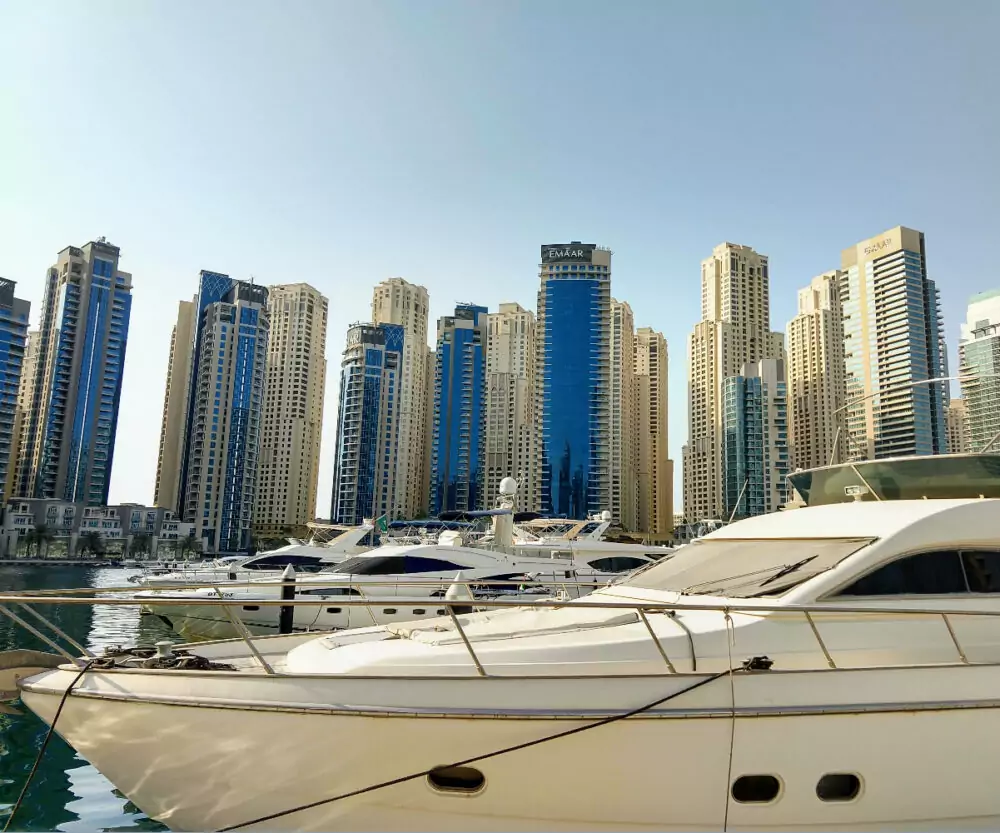 If you'd rather rent a luxury apartment for your family in Dubai, we recommend you take a look at Plum Guide Dubai. Plum has the cream of the crop and very high standards. Properties listed include locations such as The Palm, and Dubai Marina. Some of Plum's apartments are actually quite affordable.
---
So, go ahead and take the kids to Dubai. At any one of these fine hotels, you'll get both the excitement and relaxation you need, and your children will feel wanted and important while having fun.
If you'd like to hire a car during your stay, use this car rental comparison tool to find the best deal!

We also suggest you take a look at this company to get a quote for all kinds of the more tricky adventure or extended travel insurance.

Try Stayz / VRBO for an alternative way to find rentals on homes/apartments/condos in any country!