This post may contain affiliate links.
Dubai in July is hot. Dubai is in the Northern Hemisphere so July in Dubai is summertime, it's vacation time for many of us in Europe, America and parts of Asia. The long summer school holidays are starting, so can you take a vacation to Dubai in July? It will be hot, but if you know a few things about the weather in Dubai in July, and plan your itinerary to fit the climate, yes you can visit Dubai and have a good time in July.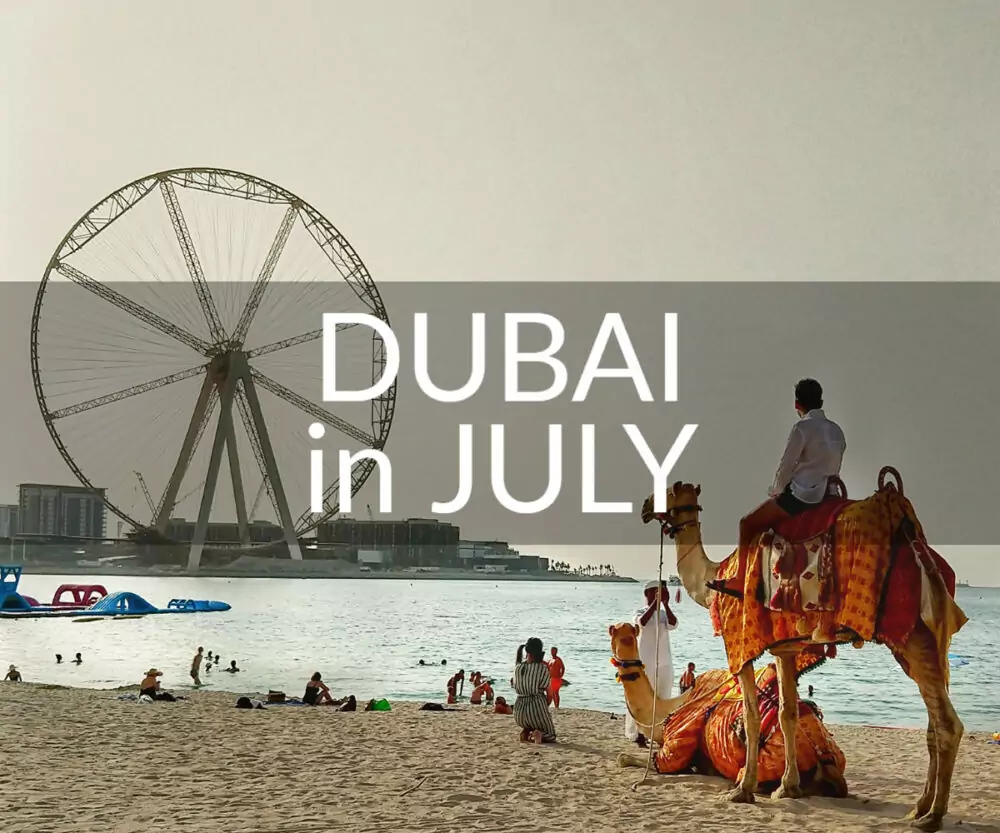 July in Dubai
July brings some of the highest year-round temperatures to Dubai and the United Arab Emirates. Let's look at what to expect in Dubai in terms of weather, humidity, and activities in Dubai in July. Most things will be open in July in Dubai, but come prepared for the heat!
Dubai Climate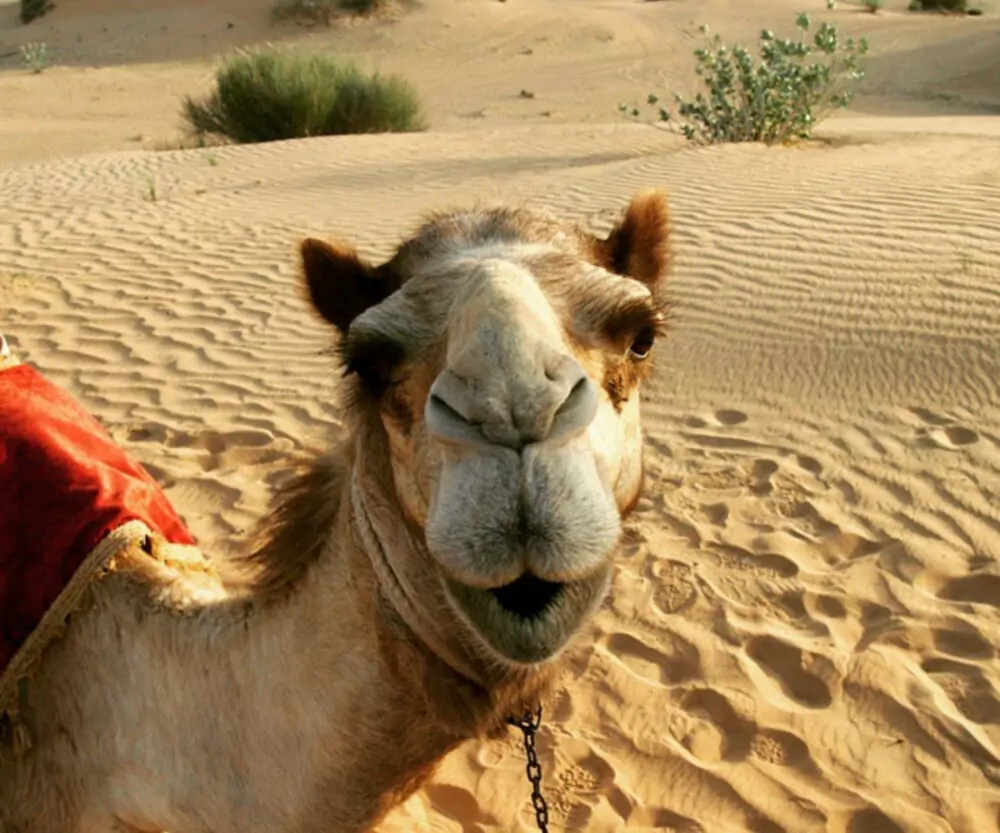 Dubai has a hot desert climate and does experience the four seasons, spring, summer, autumn, (fall) and winter. Summer in Dubai lasts from late April to the start of October, so July is the middle of summer in Dubai.
The urban heat effect will also raise temperatures somewhat in Dubai city and other cities in The Emirates and Gulf Area.
The Tropic of Cancer (the northernmost extreme of the tropical zone) passes through The United Arab Emirates, within the Emirate of Abu Dhabi, making Dubai just outside the tropical zone and inside the temperate zone. Dubai is not in the tropics.
Dubai Temperatures in July
Dubai experiences full summer heat in July, daytime and nighttime temperatures will be extreme, but the good news is, Dubai has good air conditioning in hotels and public buildings. Dubai also has some of the biggest and best indoor attractions in the world, because of its climate.
Average July maximun temperatures in July can be up to 41C (106F), with night-time temperatures only dropping to 30C (80F), which is still very hot! Temperatures in Dubai can hit 50C (an incredibly hot 122F) in August, the hottest month in Dubai.
August is a hotter than July in Dubai, but that doesn't make July cool!
Humidity rises through July, so by the end of July temperatures will actually feel hotter, dry heat is much easier to cope with than humid heat. If you can, visit July in early July.
February is usually the most humid month in Dubai (65%), May is the least humid (53%). July humidity is about 58%, rising towards August. The higher the humidity, the hotter it will feel. A humidity of under 60% is not very high to those of us used to tropical climates. London humidity in July can be higher at around 71% relative humidity, for comparison.
April and May are likely the best months to visit Dubai for low humidity.
Dubai's air quality is also variable. Check Dubai's National Air Quality Monitor here.
Dubai in July Dust and Sand Storms
Dust storms, winds carrying dust and sand, do affect Dubai. It's not too unpleasant to experience one of these in Dubai, we've seen one, but dust and sand will accumulate everywhere. We've experienced one on a cruise ship in Dubai. Sand storms are most common in Dubai in summer or turbulent weather, so yes, you could see a sand or dust storm in July in Dubai. You can check for dust storm forcasts in the UAE here on the official UAE forcast website.
Things To Do in Dubai in July
In July in Dubai you will mostly want to be indoors. My number one suggestion for Dubai in summer would be to hit the ski slopes. Yes, you can ski, indoors in Dubai. You'll also want to visit Dubai's incredible malls. But try to get there in an air-conditioned vehicle! Dubai is famous for its malls and in summer extreme temperatures they really come into their own. There is much more than shops at the mall!
Most businesses and attractions remain open in Dubai in July, although where possible, they will be moved indoors. Dubai's outdoor tours, such as the tours of Dubai Old Town and Fort, will be unbearably hot during the day. Most of the souks will also be very hot.
The Dubai Desert Safaris and Camel Safaris will still operate, but it will be hot in July. These events are mostly held around sunset and the desert camps, dancing and dining are after dark. So you can still go if you can handle the night heat.
Ski in Dubai
Ski Dubai is located in The Mall of The Emirates and is open year round. It's not just air-conditioned, this indoor ski resort is held at a cool -1 to 2 C, around freezing point. You'll need warm clothes to meet the resident penguins or take a ski or snowboard lesson. This sounds great in Dubai in August. Ski Dubai was the first such ski facility in the Middle East. You can reserve timed ski session tickets here for kids or adults.
Visit the Museum of The Future
This brand-new attraction is the hot ticket in Dubai right now. This is one you simply can't miss. Book your time slot here. (likely to sell out, so do book. Or just click through on our link to see this incredible construction
Go up The Burj Khalifa
The observation tower inside the Burj Khalifa is another hot ticket in Dubai. If you have no fear of heights, this is a great thing to do. The Burk Khalifa is adjacent to Dubai Mall and many great restaurants (which move indoors in July). It has a view of the incredible dancing fountain show. To watch the fountains in July, you'd want to be indoors! Book a time slot here.
Enjoy Dubai's Aquaria
The Dubai Aquarium and Underwater Zoo is at Dubai Mall and gloriously cool! This Aquarium has one of the biggest tanks in the world (over 10 million litres) and offers backstage tours plus opportunities to dive in the tanks, it's home to many species from around the world, including crocodiles and penguins. You can see some of this main tank from The Mall without paying for admission. But we recommend you do go inside! Book here.
Aquaventure Dubai has what was the UAE's biggest Aquarium at Atlantis (Abu Dhabi now has a huge one). We strongly recommend you consider staying at Atlantis, The Palm, to experience this. Alternatively, you can book a 1 day pass, but the waterpark is likely to be too hot during the middle of the day.
Visit Dubai's Green Planet Biodome
The Green Planet Biome in Dubai is an indoor rainforest. Temperatures are warm, between 24C and 28C, but that should still be cooler than outside in July! Book tickets here.
Visit an Indoor Theme Park
Most of Dubai's theme parks will be too hot for average people outside in July, but Dubai has an indoor or partially indoor theme park or two up its sleeve! The biggest and best is arguably IMG Worlds of Adventure. It's actually billed as the biggest indoor theme park in the world at approx 1.5 million square feet. IMG Worlds of Adventure features the characters and themes of Marvel Comics and the Cartoon Network, adding appeal to kids young and old, plus teens and adults. It's four zones (Cartoon Network, Marvel Universe, IMG Boulevard and Lost Valley – Dinosaur Adventure) feature thrilling, scary, and gentle rides suitable for toddlers.
This amusement park is temperature controlled and open all year, so yes, you can visit IMG Worlds of Adventure in July.
It is located at Sheikh Mohammed Bin Zayed Road, near Arabian Ranches, adjacent to Global Village, a huge shopping, leisure and entertainment attraction Global village is only open from October to April, so unfortunately you can't visit in July.
Legoland Dubai, at Dubai Parks and Resorts is also partially indoors. Legoland Dubai comprises a theme park and water park. This Legoland's Miniland (recreations of local and international buildings, in Lego) is indoors and air conditioned. It's the only indoor Miniland at any of the world's Legoland Parks. Legoland is only open to 6 or 7pm so you can't really escape the July heat by visiting in the evening. Legoland is open year round with some seasonal fluctuations in times.
Bollywood Dubai, an Indian movie, or Bollywood themed park is also at Dubai Parks and Resorts. Most rides are indoors but the park itself is outdoors. So it will be hot, but you can visit quite late into the event (10 or 11pm).
Motiongate Dubai is also nearby and is open all year with seasonal fluctuations. It is a Hollywood inspired theme park. The zones are inspired by Columbia Pictures, DreamWorks Animation, and Lionsgate and offer rides for kids and families. Motiongate Dubai is open in July and most of the rides are indoors. The Dreamworks park within a park is entirely indoors and airconditioned.
In summary, the parks at Dubai Parks and Attractions are:
Bollywood Parks Dubai, Legoland Dubai, Legoland Water Park Dubai, Riverland Dubai, Motiongate Dubai
If you're looking for a hotel at the Dubai Parks and Attractions, Lapita Resort is a moderately priced Dubai hotel, with a Polynesian theme near Dubai's theme parks at the Dubai Parks and Resorts area. Theme park access can be included in your room price, making it an affordable option. This hotel has a kids' concierge, kids club, teens club, and afternoon teas plus pool and lagoon. Family rooms and Royal suites make it family-friendly if you're planning a family holiday in Dubai.
Dubai's Garden Attractions
Dubai Garden Glow and Dubai Miracle are exotic garden attractions in Dubai. Dubai Garden Glow will likely be closed from mid July 2022. Dubai Garden Glow also features a dinosaur park. Dubai Miracle Garden is only open in winter. Check for Garden Glow opening here.
Kidzania Dubai
Kidzania Dubai is located on level 2 of the giant Dubai Mall and will likely keep your kids busy all day in air-conditioned luxury. Kidzania parke are replica cities, built for kids. There are other kids' attractions within the Dubai Mall too, including giant slides and amusement. The Mall is a very good place to spend a hot July day with your kids! Book all of the other Mall attractions and make a day of it.
Enjoy Art at The Mall
At the Dubai Mall again, on level 2, you will find some spectacular art exhibits.
Go to the Dubai Opera
The Dubai Opera House is at Sheikh Mohammed bin Rashid Blvd, Downtown Dubai and is a popular spot for architectural tours as well as performances. The building is spectacular and a destination in its own right.
Go to Ferrari World
Ferrari World in in Abu Dhabi. See our post on getting from Dubai to Abu Dhabi, and Abu Dhabi attractions.
Take in a show, La Perle by Dragon
Dubai's #1 show is at Al Habtoor City, Dubai. Find out more and book tickets, which can be combined with other attractions, here.
Indoor Play at Oli Oli
Oli Oli is "An Experiential Indoor Play Museum" in Dubai, for kids. All ages are welcome. Learn more about Oli Oli here
Try Dubai's Escape Rooms
Dubai has several escape rooms for adults and children and all of them could be a good choice for a hot summer day.Try Brain Game Dubai, NoWayOut Escape Rooms Dubai and Escape the Room Dubai..
Go Indoor Trampolining
Indoor trampolining is another indoor activity for a hot day in Dubai.
Indoor Climbing in Dubai
Indoor climbing is another good indoor activity for Dubai in July. You'll find indoor climbing for adults or kids at Adventure Zone, The Wall Climbing Gym, and Sky Trail / Climbing Wall, plus more!
Go Ice Skating
Where will you find ice skating in Dubai? Dubai Mall of course.
Swimming and Beaches in Dubai in July
As daytime temperatures hover around 40C, and nighttime temps rarely drop below 30C, the sea in Dubai will be very warm in July. Around 35C. It will feel like a warm bath.
Your first instinct may be to swim to beat the heat, but a dip in the ocean won't be cool and refreshing in July. The sand will be hot, you'll need shoes to walk to the water's edge, and of course, good sun protection.
If you're at the beach, stay in the shade or visit early or late in the day. July is probably not a good time for a family holiday in Dubai if you're hoping for long days at the beach, however, if you're staying near the beach an early morning visit could be pleasant. A lot depends on the individual and how used to heat they are.
Where to Stay in Dubai in July
If I were looking for a hotel in Dubai in July I would consider Atlantis, The Palm, home to some of the most spectacular attractions in Dubai. You can book an underwater suite or the Regal Family Suites which will accommodate even very large families in style. You can find interconnecting suites with adorable kid-friendly features. Atlantis has all sorts of aquatic attractions such as a full aquarium inside the hotel with water slides that take you right through the tanks, as well as a water park, multiple pools, private beach area and boating. This hotel advertises a Kids' Club and an outdoor kids' playground along with indoor play facilities and games. Cots, babysitting and extra kids' beds are available on request. As these facilities are on-hand, you can choose to utilise them at the cooler times of day .Atlantis has some 15 diverse restaurants, many are the work of internationally renowned chefs.
My other top suggestion, if you wish to visit Dubai's indoor theme parks, would be Lapita Resort
Alternativelt, stay near The Burj Khalifa, Dubai Mall and Dubai Aquarium at xxxx
For a budget stay in Dubai take a look at the apartments at Golden Sands Hotel Apartments . self catering and self laundry are possible at these resorts. Shopping for food will be hot but I know there is a small supermarket and fast food outlets nearby.
Dubai in July, Sport and Exercise
If you like to keep fit, Dubai's extreme temperatures are something you'll need to work around. After years of living in the tropics as we have, we can tell you 100% that most activity must be around dawn and dusk. If you're a runner, run in the dark! The Dubai Marathon (the largest mass participation sporting event in the Middle East) in 2023 is Sunday 12th of February – in winter, and it starts at 6.30am. The good news is, Dubai's gyms are air-conditioned. Many marathons in Asia are held at night.
Dubai also has an Ironman 70.3 (a half Ironman) dates are to be announced.
Dubai in July, What's On?
Dubai has special events year-round, but what happens in July?
Is Dubai Cheaper in July?
July isn't necessarily cheaper. Although July is the "off" season in July because of the heat, it's alignment with the Northern Hemisphere summer school holidays and the Eid holiday make it still fairly busy. If you're looking for the cheaper months in Dubai investigate the months outside of school holidays, June and the second week of September. These months will also be somewhat cooler than July.
What to Wear in Dubai in July?
This is personal choice of course, but long sleeves and long pants or a skirt would be my choice in Dubai at any time of year. Some places in Dubai do have a dress code. No skimpy clothing is allowed in Dubai Mall, for instance. So dress for the climate and for cultural politeness.
July in Dubai, Wrap Up
Dubai is a great destination for a holiday, vacation, or as a stop over as you travel from Eaurope deeper into Asia or even to Australia. It's a fabulous place to see and we highly recommend it. Although we wouldn't choose to visit Dubai in July, we wouldn't not visit because of the time of year. People travel for many reasons and a lot of tourists and visitors do arrive in Dubai (and at every time of year) in July. You can enjoy Dubai in July, marvel at her architecture and enjoy cultural attractions, just don't expect it to be cool! Enjoy Dubai! Looking for more Dubai information? Visit our Dubai travel archive page.
If you'd like to hire a car during your stay, use this car rental comparison tool to find the best deal!

We also suggest you take a look at this company to get a quote for all kinds of the more tricky adventure or extended travel insurance.

Try Stayz / VRBO for an alternative way to find rentals on homes/apartments/condos in any country!