This post may contain affiliate links.
Most people would say Dubai is known for wealth, skyscrapers, luxury shopping, glitzy nightlife, and white-clad Arabs driving expensive cars on desert roads. Dubai is also known for being a jet-set holiday destination. There's more to Dubai. You'll find history, culture, a mixed bag of nationalities, workers, and ex-pats. Dubai is also known for heat, and yes it's hot! Most visitors will spend the bulk of their stay enjoying air-conditioned spaces, in hotels, cars, gyms, and luxury malls. We'll share a little more about Dubai in this post and why we love it, after imagining we wouldn't. This is our answer to the question, what is Dubai known for?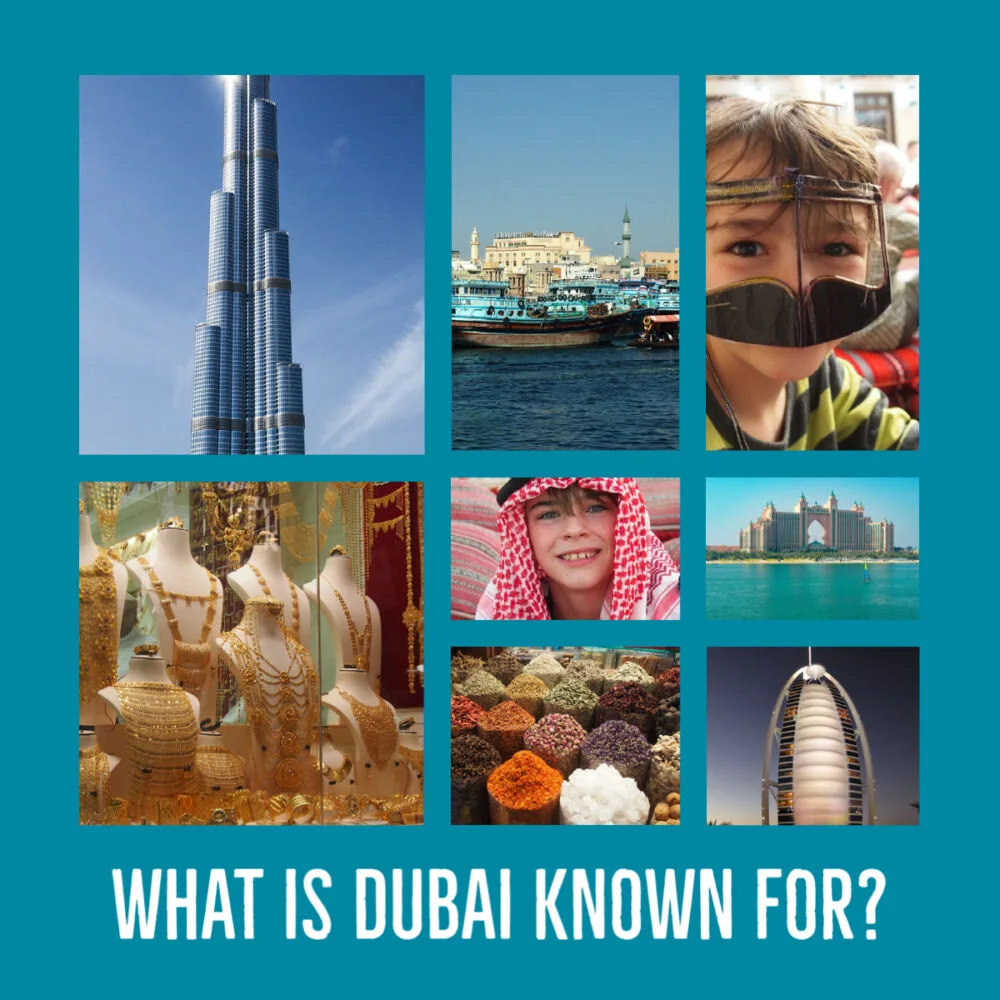 There may be affiliate links in this post from which we may earn a commission if you choose to use them.
List of Things Dubai is Known For
Dubai is known for the following things.
Wealth
Luxury hotels
Luxury shops
Expensive cars
Gold
Sparkling Nightlife
Being modern and newly constructed, built out of desert sands
Arab and Islamic culture
A desert environment and camels
Theme parks
The Dubai Frame
Camel Museum Dubai
The National Animal of UAE- The Arabian Oryx
Megamalls
Dune bashing
Dune boarding
Belly dancing (thought to have originated in Egypt, but present in Dubai)
Incredibly tall buildings
6 & 7 Star hotels
The Dubai Eye – Ain Dubai
Al Fahid Fort
Having some of the highest speed limits in the world outside residential areas.
Man-made islands like The Palm and The World.
No income tax
Yes, Dubai has all these things, along with blisteringly hot summers, but it has more. Below you'll find some lesser-known things about Dubai that we've enjoyed very much, most have historic or cultural elements.
What is Dubai Famous For?
Dubai is famous for wealth, being expensive, and being a popular luxury travel destination, but Dubai is also famous for its souks, the Dubai Creek, some history and culture, camel riding, dune bashing and worker exploitation.
Popular History and Culture in Dubai
I'm a bit of a culture-lover and I honestly believed that Dubai had none. That was before I went there of course.
If you look you'll find all sorts of interesting cultural and historical features. You'll want to spend most of your time around The Creek, that's the part of Dubai I find most interesting.
Famous Sites – Old Dubai & Dubai History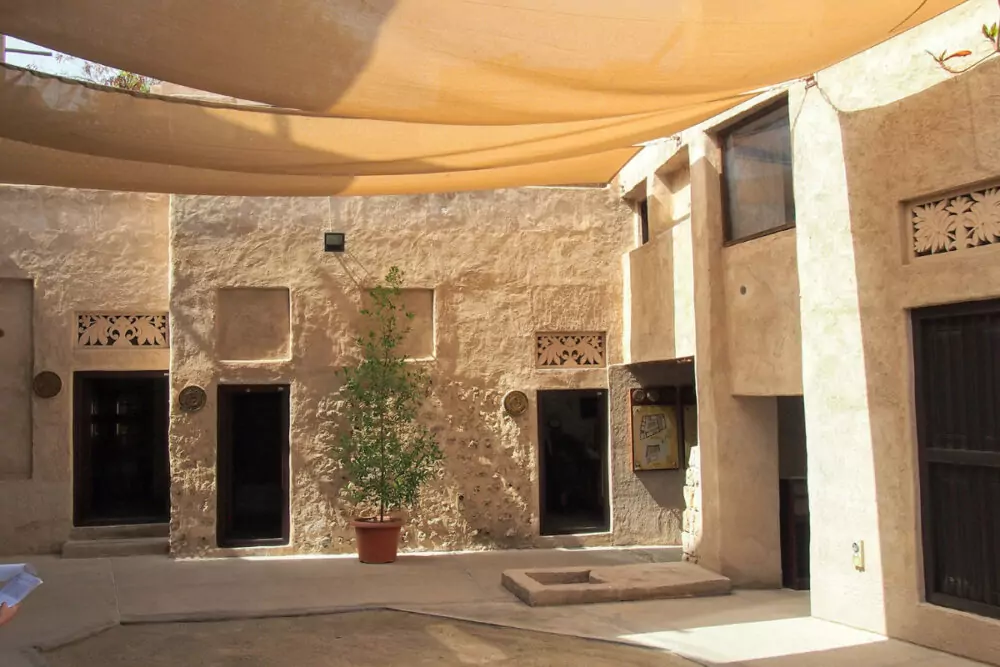 Dubai started life as a little fishing and pearl diving village near The Creek.
What is now Dubai and Jumeirah Beach were on the old trade routes linking Oman and Iraq, caravans would pass through and trading developed into the souqs you see today.
The Al Fahid Fort, in or adjacent to Old Dubai (Al Fahid Historical Neighbourhood) was built around the time Dubai became a dependency in the very late 1700s. From 1820 trade started with the UK, meaning Dubai really started to develop. In 1833 the Al Makhtoum family settled in Dubai and declared independence from Abu Dhabi. This dynasty still rules Dubai today,
Excellent business conditions and tax exemptions then brought foreign traders from all over the world. In 1966, they struck oil. The money flowed with the oil and modern Dubai started to take shape. You can read the full history here.
Take a look at Old Dubai, it's a really interesting part of town and Dubai-clean, sparkling, as everything is here.
Famous Places in Dubai – The Dubai Creek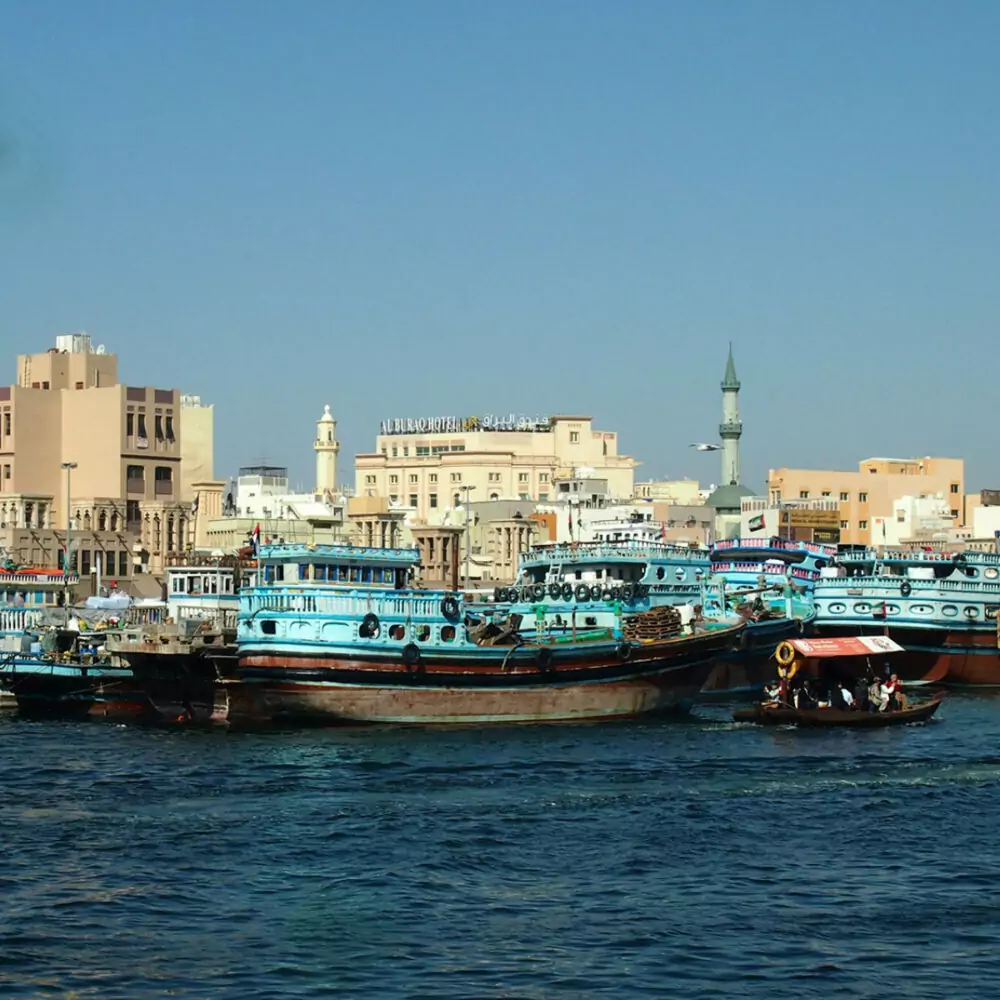 I love the Dubai Creek with its old wooden boats and ferries. You're more likely to find the yachts down at Dubai Marina, which is also a nice area to explore, but very modern.
Dubai's Popular Souks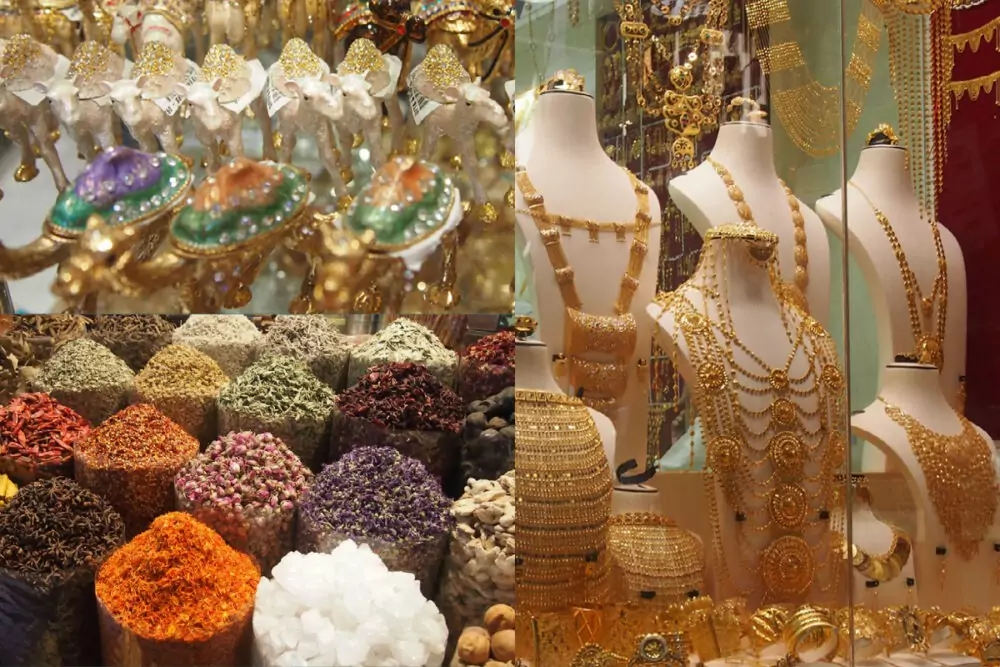 I really enjoy markets, souks, and bazaars and you'll find Dubai's major souks clustered around the creek. We've managed to find the spice souk, gold souk, fish market, date market and more by just wandering around.
Little ferry boats will take you from one side of the Creek to the other for a small fee.
The souks in Dubai aren't close to the size of the Bazaars in, for instance, Istanbul, or Cairo, but they're worth your time. Certainly worth visiting if you've never travelled in Asia before.
Just have your wits about you and be prepared for some hard sell and haggling over Turkish delight and aromatic spices.
Dubai Traditional Dress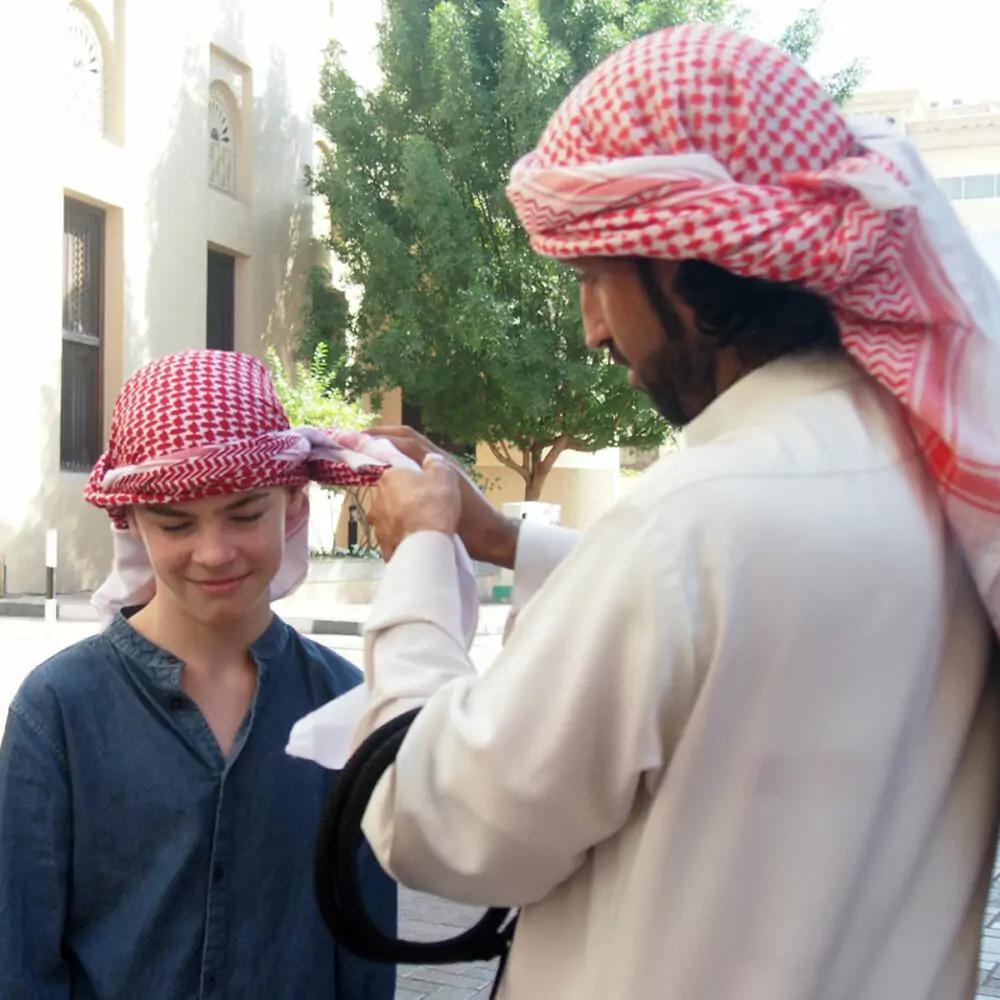 Dubai is well known for the traditional dress worn by Emirati men and women in public today.
If you're not accustomed to middle eastern dress, you may be surprised to see so many men and women in traditional robes and head-coverings. The super-rich are immaculately presented and groomed, it really is something to see.
For tourists there are some dress restrictions, but they're not extreme. Just dress with respect or modesty and always check on your venue's dress requirements.
Emirati men traditionally wear a long robe, a Dishdasha or a Kandura. A Kandura is usually white or beige and in The Emirates it is colarless. The sun-protective head cloth is a gutra and it is held in place with the rope, the agal. These head scarves are extremely practical in heat, sand, and dust (and cold) and I often wear a scarf in a similar way. Gutras are white, shemags have chcks, as in the photo above of my son being dressed up.
A Bisht is a more formal ceremonial robe worn over the Kandura. These can be coloured and gold-trimmed.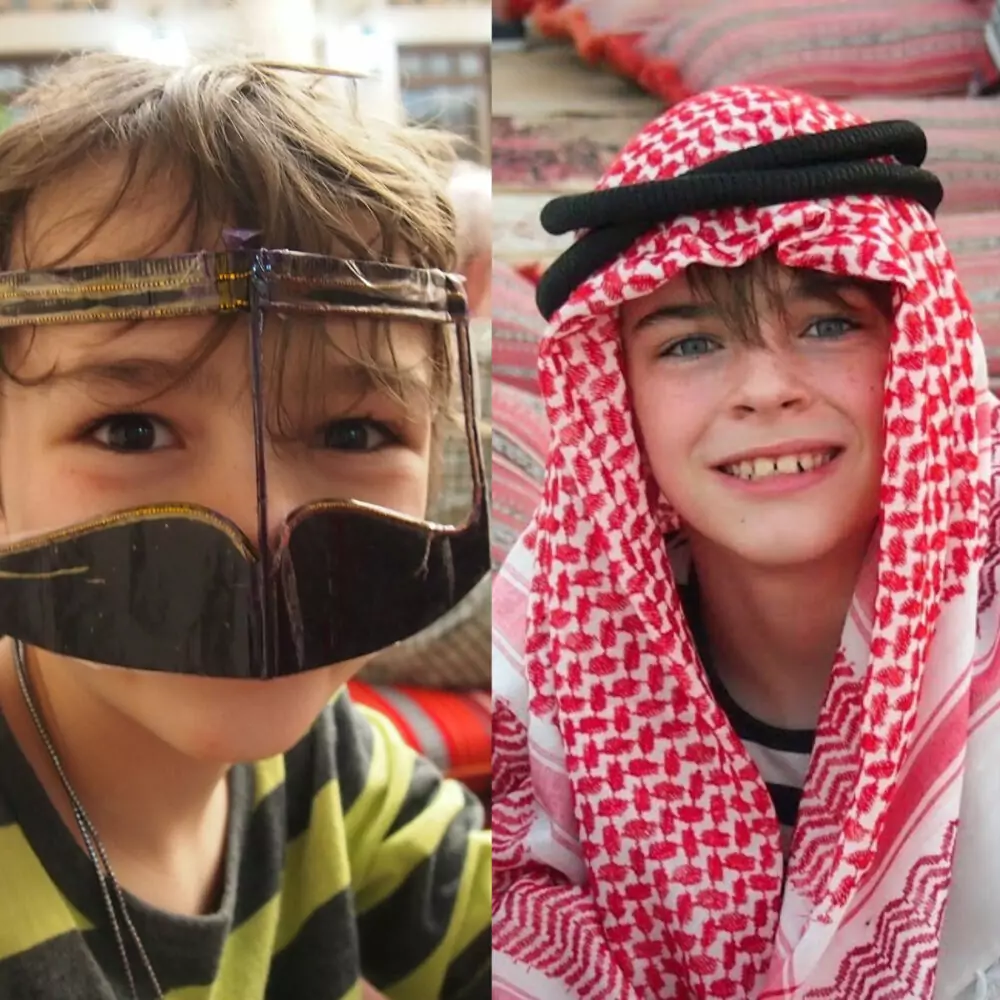 Women traditionally wear an elegant black robe called an Abaya, over their western clothes. A kaftan or jelabiya is a colourful at-home alternative. It's worn with mathing pants. Hijab includes neck and face coverings and styles vary. A Burqa in Dubai is like a mask, it looks as though it's made of metal, but it's not.
If you'd like to try dressing in traditional costume there's usually an opportunity at the Dubai desert safari camps. The picture above right shows this. The photo above left was taken on an old Dubai cultural tour, where we learned a lot about the history and culture of Dubai. We also got to indulge in a traditional Emirati meal, it was delicious. Food in Dubai is very Mediterranean/Arabic but because Dubai today is so multi-cultural, you can find most things.
I used this website to fact check some of the names of clothing.
Dubai's Famous Buildings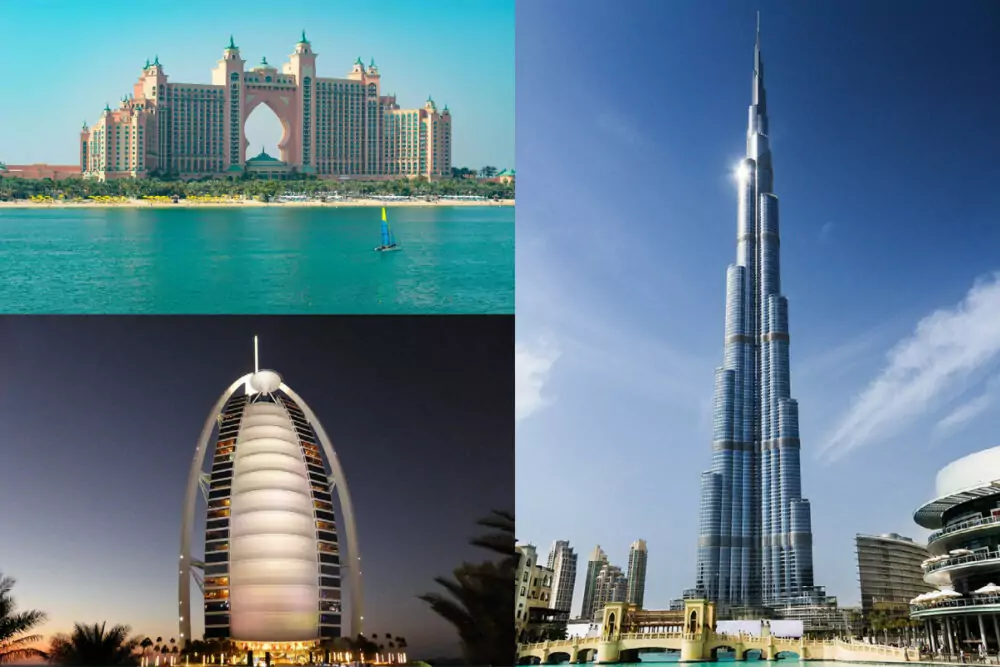 Dubai has had the tallest building in the world since 2009. The Burj Khalifa (Burj means tower) was formerly known as the Burj Dubai and it's a stunning construction. The tower is just outside the Dubai Mall and you'll get a great view of it if you come to watch the fountains dance in the sundown water, light, and sound show. It's similar to what happens in Kuala Lumpur, but the Burj Khalifa is taller at 828m. Infact, it's about double the height. You can go up the Burj, investigate tickets here.
Another icon of Dubai, The Burj Al Arab, is a hotel on Jumeirah Beach. Again, it's stunning and a place I'd love to stay the next time we visit Dubai. There's a nice promenade and walking track along Jumeirah Beach, you'll get good views of the Burj Al Arab. It stands on its own tiny island and is reached by a causeway. It defines international luxury and holds 5 stars, not the much-publicised 7 stars. It's also one of the tallest hotels in the world and has a helipad on its roof. It resembles a sail, facing the ocean and gleaming in the sun.
Another famous hotel, Dubai's Atlantis The Palm is instantly recognisable for its rose hews and central arch. It's best to appreciate this one by boat. We took a sunset speedboat tour to see these buildings lit up after dark. If you'd like to experience the Atlantis water park and aquarium, both are vast, you can do so without being a guest.
The Dubai Mall itself is also globally famous for being the largest mall in the world by total land area. It is indeed vast, and rather fantastic. The aquarium it holds boasts the largest aquaruia acrylic panel. The aquarium is great, go if you can. You can do your regular shopping at the mall, be entertained, and be stunned by the luxury and jewels. It's a great place to take kids with a host of child-friendly things to do. It;s in Downtown Dubai, a region of Dubai city. You can go there by metro train or road.
Dubai's Most Well Known Hotels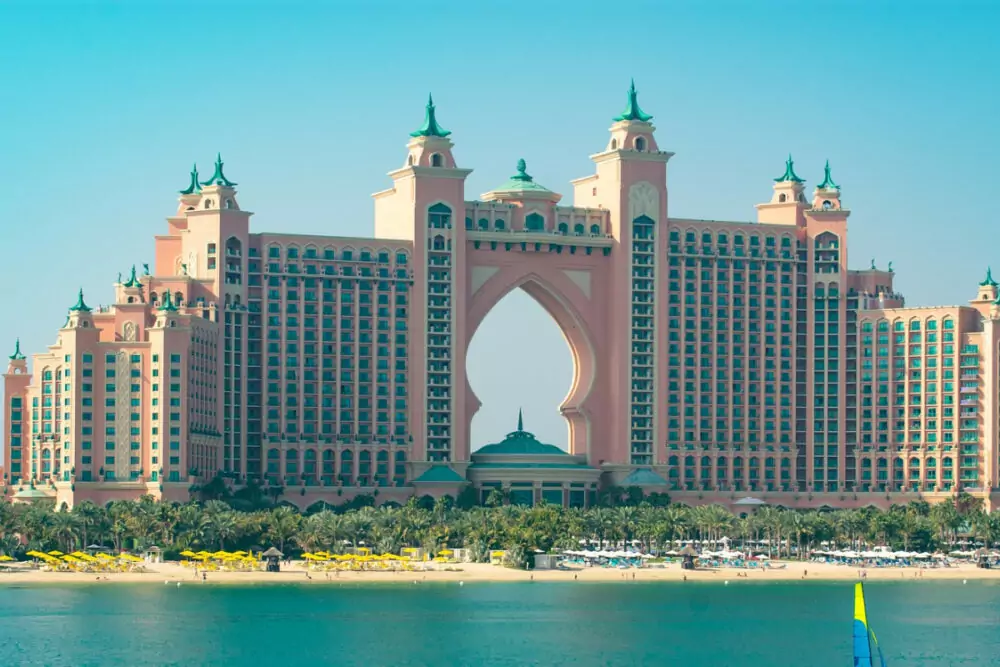 Everyone has heard of The Burj and Atlantis, right? Here's a list of the most well-known hotels in Dubai. You can take a look at them, and their prices, by clicking through.
The Burj Al Arab Jumeirah The definition of luxury and service.
Atlantis at The Palm This one is cheap compared to The Burj! It has the largest aquarium in Dubai and the biggest water park in the world according to their website. I can't even imagine this! I'll be taking my teens to this one.
Atlantis The Royal is coming soon. They've got Heston Blumenthal cooking.
Gevora Hotel. The tallest hotel in the world at 356m tall
JW Marriott Marquis Dubai. The second tallest hotel in the world. Chef and I have eaten here, it's great.
Top Sights in Dubai
The top sights and tourist attractions in Dubai include the following.
Dubai Mall
Dubai Fountains
Dubai Marina
Burj Khalifa
Burj Al Arab
Dubai Creek
The Palm Jumeirah
Atlantis Dubai
Dubai Desert Conservation Park
Dubai Aquarium and Underwater Zoo
Activities to Book in Dubai
When you think of activities to book in Dubai you probably thing of dune bashing in 4×4 vehicles. That's fun, for sure, but there are so many activities you can book in Dubai!
The following are just a small selection of the things to do in Dubai.
Desert safaris, which can include dinner, dance shows, belly dancing, falconry, costumes for dress-up, dune bashing, quad biking, sandsurfing, camel rides and dune surfing.
Theme parks and water parks.
Various cruises and boat trips, including dinner cruises and speed boats.
Helicopter trips and tours.
Ascend the Burj Khalifa
Ride the Aid Dubai, Dubai Wheel.
Snorkelling and wild dolphin spotting.
La Perle by Dragone Show
Visit Abu Dhabi from Dubai.
Swim with captive dolphins at Atlantis.
Ski indoors at Ski Dubai
Hot air balloon rides.
The sky is the limit with things to do in Dubai. If you're looking to book any of these tours and activities in Dubai, we encourage you to visit this site for the full selection.
The Famous Dubai Wheel, Ain Dubai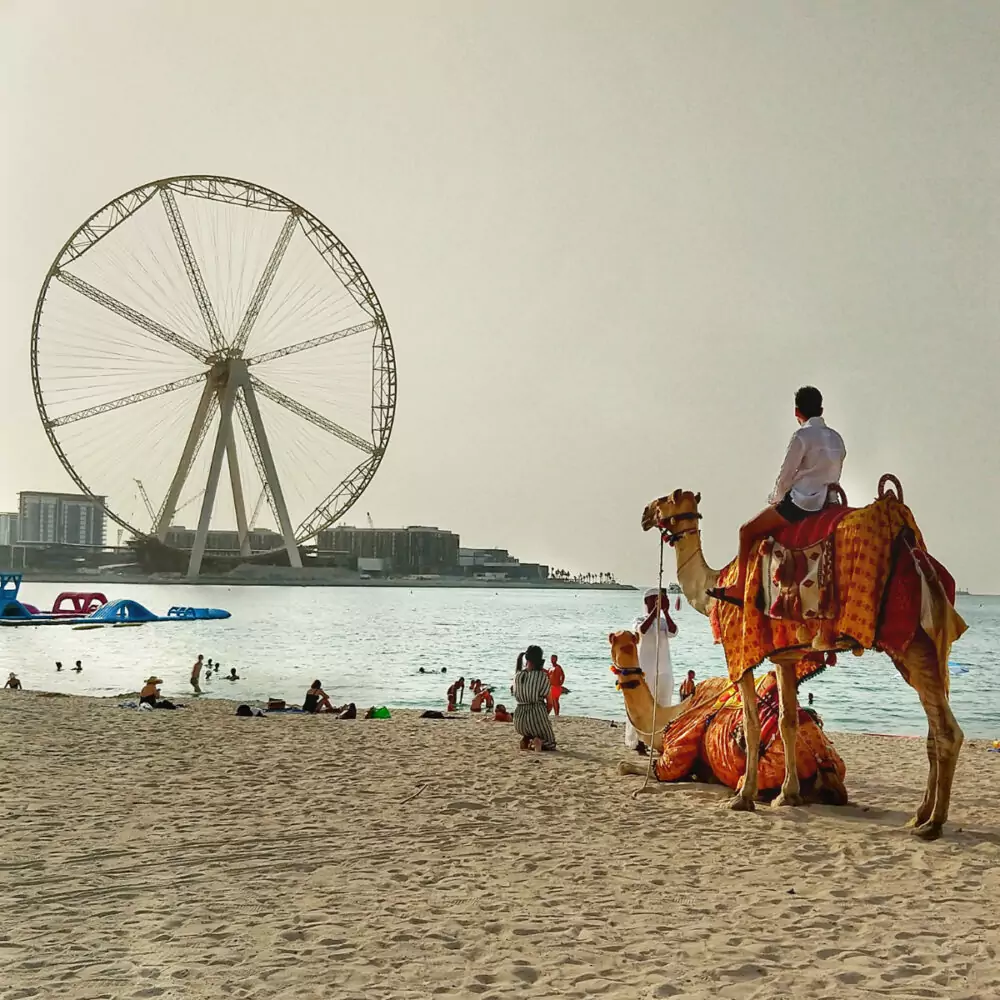 The Dubai Eye or Dubai Eye, Ain Dubai, was still being built when we were still there. A lot of cities have these observation wheels now, we've ridden the London Eye and the Niagara Falls Wheel, just last week we were looking at the Brisbane wheel but, of course, Dubai has the largest in the world. It is to be 250m high
It's just off Dubai Marina, overlooking the beach. As you can see, there were camels on this beach too! The views will be absolutely spectacular with Atlantis and the Palm just off to the right here.
Dubai Marina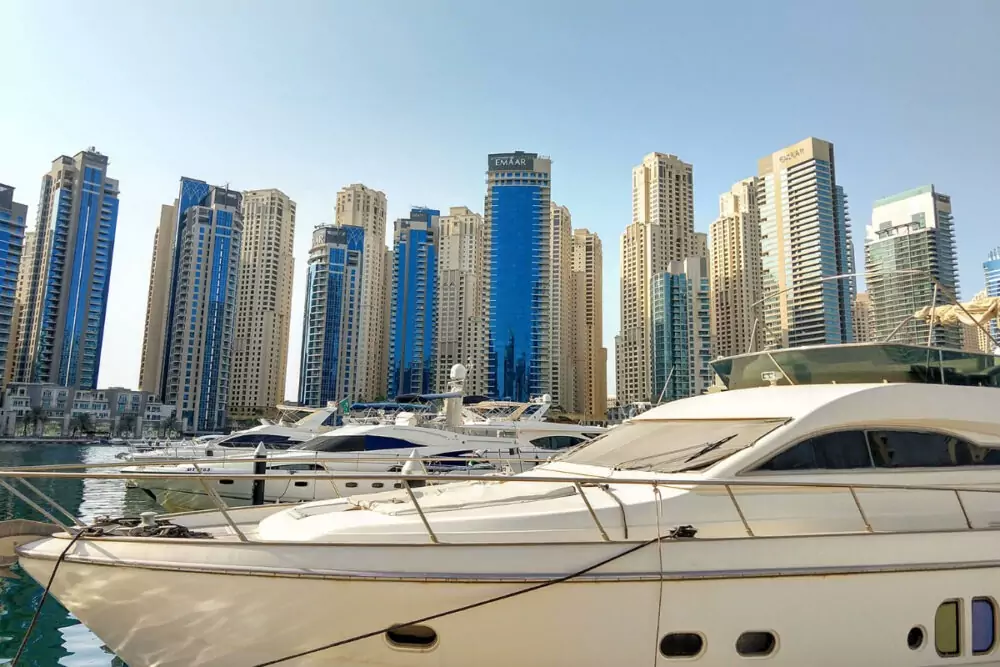 The Dubai Marina is an artificially created area or district of Dubai. It stretches about 3Km parallel with the shoreline and was dug out from the desert sands. Sharks and whales often stray into the marina's waters. This is a residential area and the towerblocks accommodate over 50,000 people, this number is set to double. This is where you'll come to catch most boat trips and cruises, such as the speedboat trip we already mentioned or a dinner cruise.
Here's an interesting fact for you, my brother used to live here. I never visited because I had it in my head that I wouldn't like Dubai. I love it!
Dubai Quotes
A few quotes about Dubai, some from famous people, some unknown and popular as Instagram captions or status updates. The quotes by His Highness Sheikh Mohammed bin Rashid Al Maktoum are particularly powerful and really sum up Dubai.
I want Dubai to be number one. Not in the region, but in the world. Number one in everything: high education, health, and housing. I want to give my people the highest way of living."

His Highness Sheikh Mohammed bin Rashid Al Maktoum.
"I am looking forward to going to Dubai because it gives us an opportunity to interact with each other. We can sit and enjoy each other's company. We can go out for a walk without worrying about shooting schedules."

Amitabh Bachhan (Famous Indian film actor and politician)
There's no problem Dubai can't fix.

Unknown
Dubai will never settle for anything less than first place.

His Highness Sheikh Mohammed bin Rashid Al Maktoum, Vice President and Prime Minister of the United Arab Emirates, and Ruler of the Emirate of Dubai.
"Our homeland is the beating heart within us, the soul that runs through us, the love that flows in our veins, and the foremost of all things. We would give up our lives for it."

His Highness Sheikh Mohammed bin Rashid Al Maktoum.
What Language Do They Speak in Dubai?
Many languages are spoken in Dubai, but the local native language is Arabic. Arabic is the official language of the UAE, The United Arab Emirates, the country Dubai is in.
Because so many workers in Dubai come from other countries, particularly India, Nepal and the Philipines, you're likely to hear these Languages too.
English is commonly spoken in Dubai and you're unlikely to have Language barrier problems.
Shop owners in the souks actively learn multiple languages and you're likely to hear them calling out to tourists in Welsh, Chinese, Japanese, French, most languages.
Famous People From Dubai
Celebrity Dubai residents, or owners of property, include David and Victoria Beckham, Madonna, Brad Pitt and Angelina Jolie (pre-split), and Michael Schumacher. But what of famous people born in Dubai?
Sheik Mohammed bin Rashid Al Nahyan is of course, Emirati, and constitutional monarch of Dubai. Sheik Khalifa bin Zayed bin Sultan Al Nahyan played a prominent role in creating the United Arab Emirates. He is the emir of Abu Dhabi and first president of the UAE. He is also supreme commander of the UAE armed forces. Mansour bin Zayed bin Sultan Al Nahyan (Sheik Mansour) is deputy prime minister of the UAE and minister of presidential affairs. He is a member of the ruling family of Abu Dhabi. The Al Nahyan family is believed to hold a collective fortune of $150 billion. I hope I've got all that right, the names are so complicated!
There are also quite a few Erirati-born actors, directors and artists. I couldn't find any that were household names to me.
A huge proportion of the population of Dubai isn't from Dubai at all. Emiraties are outnumbered by foreigners and the incomers come from many countries, usually to work. Many workers come from countries such as Nepal, India, and Sri Lanka.
What is Dubai?
Dubai is a modern city built out of the desert in the country called the United Arab Emirates. This country is in the Middle East and in Asia. Dubai is both a city and an Emirate and it is well known as a popular luxury tourism destination. Being one of the most expensive cities in the world, hotel prices are high in Dubai and there are many attractions and activities for visitors to enjoy. Dubai is also a flight hub, with many airlines passing through and thousands of tourists changing planes at Dubai's international airport.
So that's our wrap-up and answer to the question, what is Dubai known for? We like Dubai a lot and always jump at the chance to spend a few days there. I like to hang out down by The Creek and in the souks, but we always add an extra tourist activity, a theme park, boat trip, helicopter flight, or whatever tantalising thing Dubai is offering. Like the Beckhams, I think I could live in Dubai and that surprises a lot of people, it's not my usual style at all. Do you need our full index of Dubai content? Or maybe our Dubai Travel Blog with a guide to all sorts of travel and tourism in Dubai? You can click through. And if you're wondering is Dubai in Asia? Yes it is.
If you'd like to hire a car during your stay, use this car rental comparison tool to find the best deal!

We also suggest you take a look at this company to get a quote for all kinds of the more tricky adventure or extended travel insurance.

Try Stayz / VRBO for an alternative way to find rentals on homes/apartments/condos in any country!