This post may contain affiliate links.
Yes, Dubai is in Asia, but it's also a part of the Middle East which could also be considered part of Africa.
Dubai is not a country, it is a city and emirate in a country called the United Arab Emirates.
This country is in the Middle East and this is a transcontinental region, ie. it lies in both Asia and Africa.
This post answers the question, where is Dubai?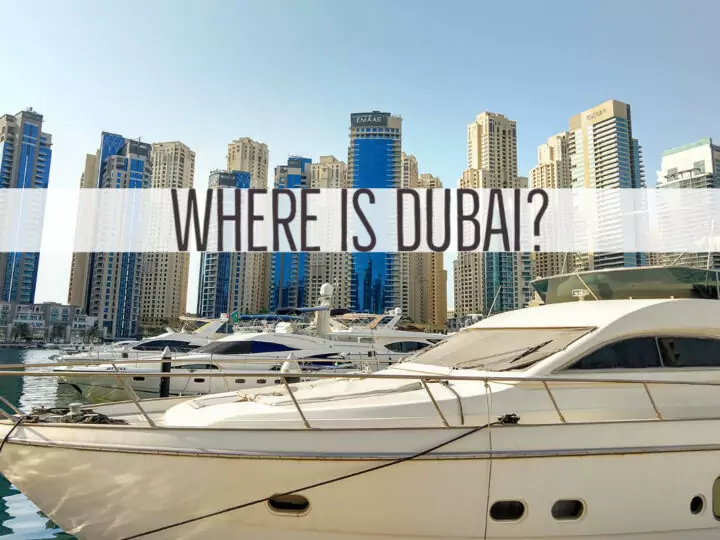 Transcontinental countries also exist. Turkey lies between Europe and Asia, as does Russia (Eurasia), but the United Arab Emirates is not considered a transcontinental country, only the region.
The Middle East, is transcontinental. The Middle East is partly in Asia, but also in North Africa and Europe, but this depends what definition of the Middle East, from what era of history you take.
Dubai is in Asia
Some countries in the Middle East, for instance, Egypt, seemingly lie squarely in Africa, but Egypt (correctly called The Arab Republic of Egypt) is also a transcontinental country. Egypt is a part of both Africa and Asia.
Specifically North Africa, to the south and east of the Mediterranean Sea.
Some people believe Dubai is in Saudia Arabia, it is not.
Dubai is not in India either.
It is very much in the country of The United Arab Emirates which is in the Southeast of the Arabian Peninsula.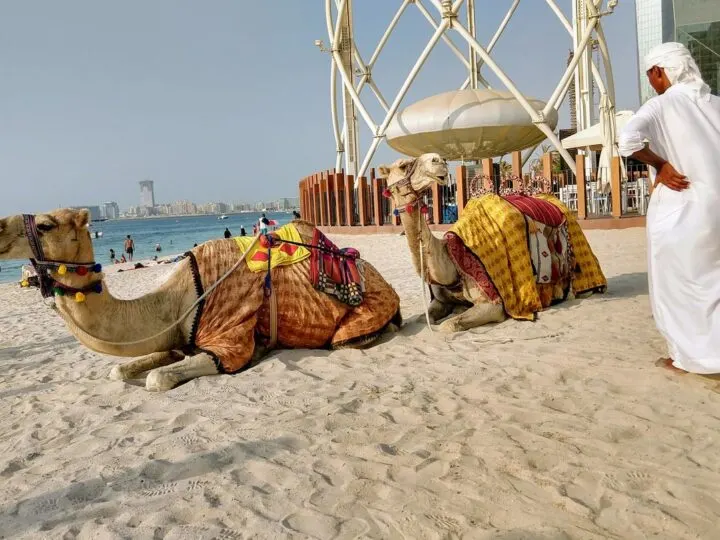 Dubai is Not a Country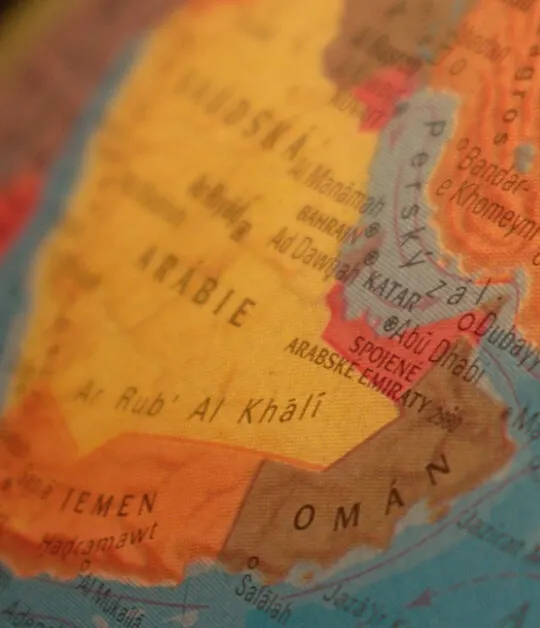 Dubai is not a country, it is a city in a country called the UAE or United Arab Emirates.
The UAE, sometimes abbreviated to "The Emirates" is a very small country and has borders with Oman and Saudi Arabia.
Dubai is also an Emirate, it is one of seven Emirates that make up the UAE.
Dubai's coastline and tourist beaches are on the Persian Gulf and the Gulf of Oman. Dubai does not have borders with the Mediterranean Sea, but some countries in the Middle East do.
Dubai has a strong economy as can be seen from stunning landmarks like the Burj Khalifa, Palm Jumeira, and Burj al Arab, but, interestingly, its wealth is not oil-based, it comes more from business.
Many Middle Eastern countries are famous for their oil-based wealth, but Dubai City is a business capitol of the world.
The Emirates That Make Up the United Arab Emirates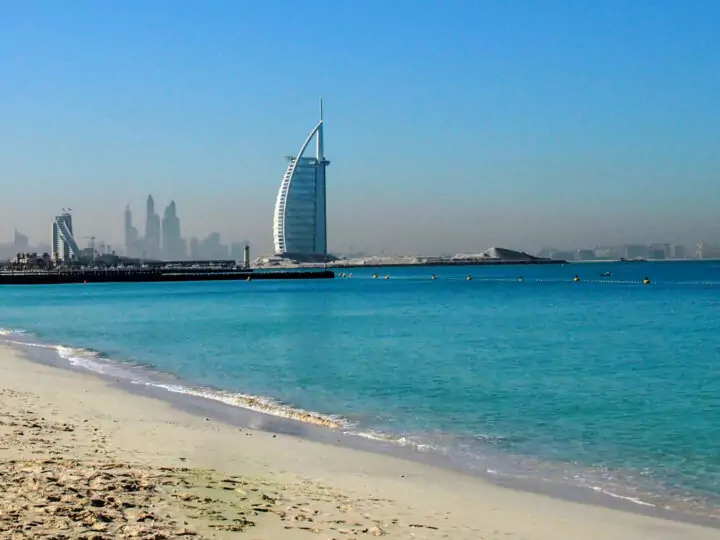 UAE was initially a federation of six emirates, namely Abu Dhabi, Ajman, Dubai, Sharjah, Umm Al-Quwain, and Fujairah. Emirate seven, Ras Al Khaimah joined in 1972.
The capital city of the UAE is Abu Dhabi which can be easily reached from the city of Dubai by road.
We have information on getting from Dubai to Abu Dhabi.
Is Dubai a Country?
Dubai is not a country. Dubai is an emirate, one of the emirates that make up the United Arab Emirates (UAE). The UAE is the country in which you can find Dubai city.
Dubai is in the Middle East, which is a part of Asia. It is in southwest Asia.
What Country is Dubai In?
Dubai is a city and emirate in the UAE. UAE is the country Dubai is in. UAE stands for United Arab Emirates. The UAE is made up of seven individual Emirates and is an elective monarchy.
What is UAE?
UAE stands for the United Arab Emirates. The UAE, also known as The Emirates, is a country in the Middle East, in western Asia. The UAE's capital is Abu Dhabi. The most well known, and most populous city in the UAE, is Dubai. The UAE is an elective monarchy comprising seven individual emirates.
These are Dubai, Fujairah, Ajman, Ras Al Khaimah, Sharjah and Umm Al Quwain. Each emirate has its own Sheikh and these leaders form a Supreme Council.
One of these Sheikhs serves as president of the country of the UAE.
Which Time Zone is Dubai In?
Dubai's time zone is Gulf Standard Time, which is GMT+4. This means that if you're standing in London at noon, the Dubai time should be 4pm in Dubai. (Depending on the time of year, the UK keeps British Summer Time with clocks going forward in spring, back 1 hour in fall.)
Gulf Standard Time is usually 9 hours ahead of Eastern Standard Time (GMT-5). So if it's noon in New York, it should be 9pm in Dubai. (Again, depending on daylight saving).
Dubai reportedly does not have a seasonal clock changing or daylight saving time, EST does. Please double-check my maths and this info as Dubai did keep daylight saving previously.
What Continent is Dubai In?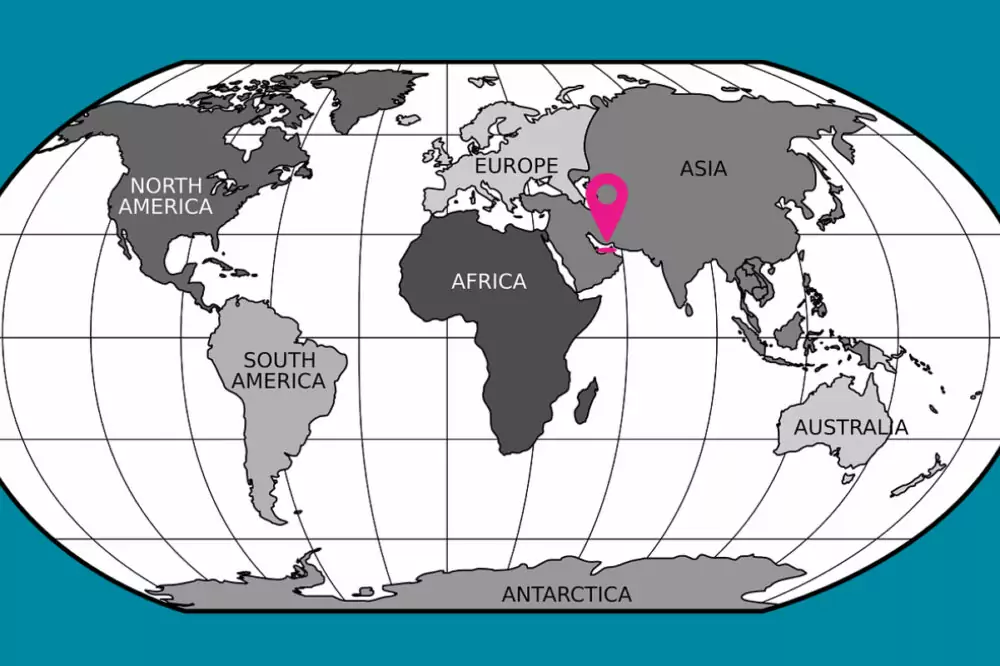 As you can see from the map of the continents of the world, above. Dubai and the UAE are in Asia. The Arabian peninsula, which is the landmass on which Dubai can be found, is in Western Asia.
However, the Middle East, the region in which Dubai lies, is a transcontinental region, stretching into North Africa (Egypt) and Europe (Turkey).
What Do You Call People From Dubai?
People from Dubai are Emiratis, they are from The United Arab Emirates. Their nationality is Emirati.
Putting Dubai in Categories
As we run a travel blog that is divided into categories by country or region, you will find Dubai in multiple categories on this website.
If you're looking for our Dubai content, we list it under Asia, the Middle East, and the specific category of Dubai.
We have a post on Old Dubai, this area of Dubai lies on Dubai Creek and is possibly our favourite part of Dubai. Dubai's souks are near The Creek too and are interesting to explore.
Dubai's surrounding desert is a great place to take camel safaris and take the 4×4 dune bashing safaris that Dubai is famous for.
We choose this approach because so many travellers visit Dubai city in isolation and never explore more of the UAE. There are also a lot of people who think Dubai is a country.
If you're looking for more information on Dubai, attractions, and travel in Dubai, see our full Dubai travel blog or our Dubai travel index and guide.
If you'd like to hire a car during your stay, use this car rental comparison tool to find the best deal!

We also suggest you take a look at this company to get a quote for all kinds of the more tricky adventure or extended travel insurance.

Try Stayz / VRBO for an alternative way to find rentals on homes/apartments/condos in any country!