This post may contain affiliate links.
Dubai Desert Safaris are popular with visitors to Dubai, but not all Desert Safaris offer camel rides or camel trekking. There are many places to take a camel ride in Dubai, including some beaches, but to combine camels with Dubai's desert safari camps and entertainment, you need to book this tour!
Dubai Camel Safari Review by World Travel Family, specialists in global family travel.
We've now taken this desert safari in Dubai twice. It included camel riding, desert camp in the sand dunes, a buffet dinner, a show with belly dancing and tanoura dance, and a 4×4 pick-up from our hotel. Other optional activities such as quad bikes, dune surfing, and dune bashing were available. Our original review and details on how to book a desert safari camp with camel safari, are below. We took kids on this Dubai desert safari tour twice and it was well worth doing, highly child-friendly and fun for the whole family.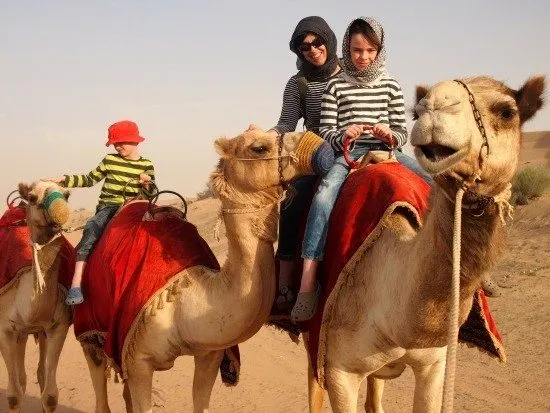 "Last night was the most fun we've had in a long time, and that's saying a lot! The boys and I are in Dubai before catching our cruise ship to Australia and we're doing our best to get a taste of what this amazing city offers tourists. We already took a cultural tour and lunch which was amazing and educational, visited Dubai Mall, watched the fountain show at the Burj Khalifa, and generally had a fantastic time, but you can't come here without taking a Dubai Camel Safari or at least riding a camel, so that's what we did.
It took some searching to book this desert safari tour, it's hard to book anything in Dubai, but eventually, we found our perfect camel and desert tour online.
Our camel ride had to be in the desert not on the beach and we wanted dinner, a show, a pick-up, and everything to be easy, this trip was perfect."
You can check out the exact desert safari tour we took at the end of our post. It comes highly recommended. There are various other Dubai, camel and 4×4 desert tours featured further down this page and they are all slightly different.
Always check exactly what each tour includes as they do vary from time to time and this tour may have changed since we took it. Check you'll get a long camel ride not a short one if that's what you wan
Dubai Camel Safari in the Desert
This Dubai camel safari is a standard desert safari, but with the major option being a longer camel ride across the sand dunes at sunset. Most of these desert safari options include the same desert camp, dinner and dancing. The whole experience was very good, well worth the price and well worth doing.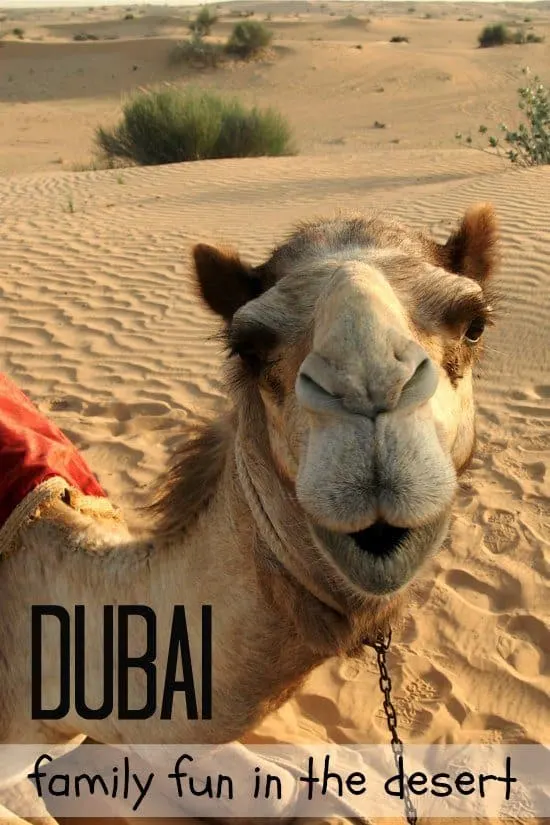 For you, for Pinterest
Where Did We Stay in Dubai?
We stayed in a very nice and affordable apartment hotel with washing machine. Click through to check prices and availability on Agoda. This is by far the best apartment hotel we've used in Dubai out of, now, 3 visits.
2 of the apartment hotels we've used in Dubai were disappointing, old, smelly and tattered. Take a look at the one above, it's also one of the cheaper options. Apartment hotels are absolutely the way to go in Dubai, Golden Sands is often mentioned, we've tried them and they weren't as good as the hotel above but their standard varies as they own multiple buildings.
The Dubai Camel Safari
We thought we'd have one big, fairly expensive, touristy splurge on an evening in the desert, with camels, food, belly dancing, the full desert-camp extravaganza.
It cost us a fair bit, over $300, but it was totally worth it.
Are Dubai 4×4 Desert Safaris Good for Children?
My younger child at 8, gets car sick occasionally, but that wasn't the reason we decided against the dune bashing. I just didn't think the kids would enjoy it.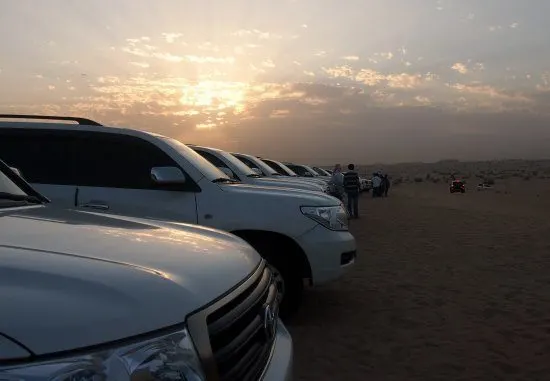 We owned a 4 wheel drive back in Australia and they never liked being bounced about in the back when we went off-road. I read that children struggle to see out of the back windows of the vehicles, which was confirmed to us when we took the short 4X4 trip from the main road to our desert camp.
We were squashed in the back row of an 8 seater and the windows were tiny. I don't think we missed anything by not taking the popular option. If you'd like a little more excitement as part of your safari, dinner, and show package, quad bikes are also available.
Dubai Camel Riding at Sunset in the Desert with Kids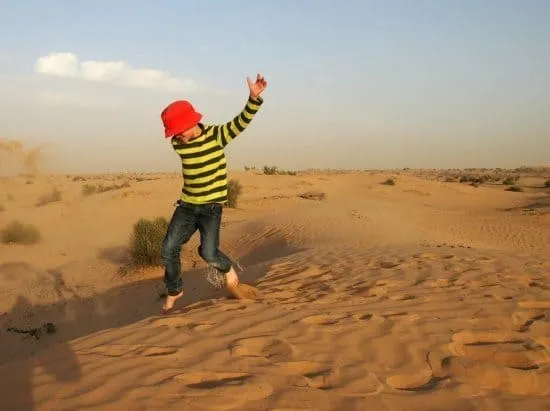 Camels are cool. We wanted camels. Not on the beach (you can do that in Dubai too), we wanted camel riding in the actual desert, so I spent a morning trying to find a tour that would let us do this without the off-roading. It wasn't easy, there didn't seem to be many, but I eventually found one and booked online. The children were blown away by the desert biome and the camels much better behaved than those we rode at the Pyramids in Egypt.
Dubai Camel Safari, What's Included?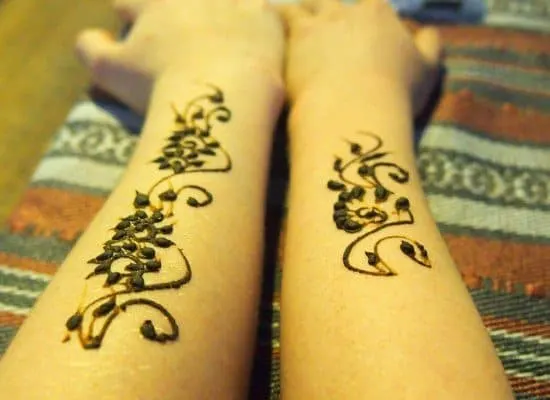 This is what was included on our desert safari in Dubai, with the camel riding option. Inclusions can vary so check details thoroughly.
Pick up from our hotel at 3pm in a new, comfortable vehicle. We picked up 4 other passengers.
4 wheel drive transport from the road to the desert camp.
A 45 minute camel ride, just the 3 of us. Our camel-wrangler allowed the boys to get off and run around the sand dunes at the half-way point.
Water
Henna painting
Dress up in traditional Emirati outfits. Unfortunately, there were no child sizes.
Dinner at camp, buffet-style,and it was good!
A dance show with belly dancing and male dancers doing something very similar to the dervishes in Turkey.
Drop off at our hotel at around 9pm.
There was a hunting falcon at the camp but no photos without a $10 payment.
Endless running up and down sand dunes while mum enjoyed her first and only expensive beverage.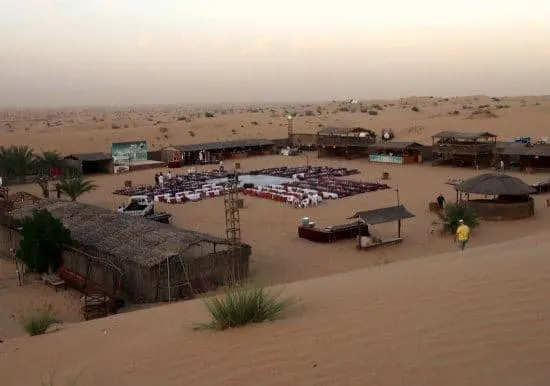 Do Dubai Camel Safaris Run All Year?
Yes, Dubai camel safaris do run all year, with some seasonal adjustments. The frequency in summer is often reduced according to demand. During the very hot summer months, particularly July and August, it would be very hot, even at night on these tours.
Our Verdict on the Dubai Camel Safari:
We loved it. The boys adored the camels and the dunes. Dinner was great, there was lots of choice and plenty of food. The kids pronounced the dancing "better than expected".
How to Book a Dubai Desert Safari with Camel Ride?
The company we used is below, booking through us costs you nothing extra.
We booked our Dubai camel safari here, check pricing and availability by clicking through. Highly recommended for the ease of booking, a few clicks and we were done, ready to picked up from our hotel. They offer loads of other quality Dubai tours too, you can see some featured on this page.
I'm in a rush, we join our ship tomorrow and my internet time will be limited, just time to squeeze out one last post for our followers. I'll let the pictures tell the story with this one and tell you that the kids are begging to go camel riding and dune jumping again. If you have any questions just leave them in the comments and I'll fill in the blanks once we're back on dry land. I may just share my video of the belly dancer too.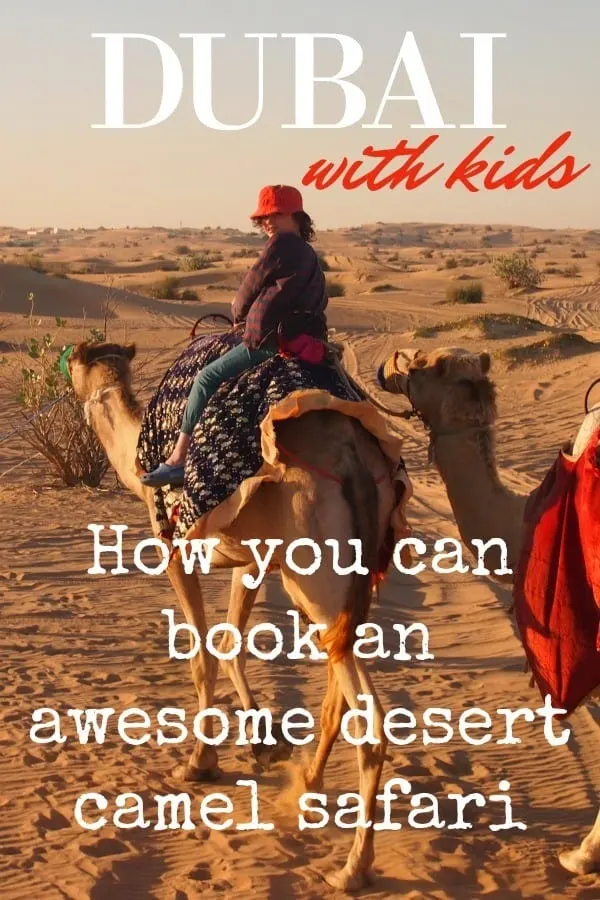 If you hover over the images on this page a Pin It button will appear so you can bookmark to Pinterest Or, if you use the Pinterest buttons, you get a choice of pins, thanks.
Update: We did it all over again last year, the same desert safari without dune bashing. The boys were begging to go back and this Dubai camel safari tour was just as good 2nd time around. We did our research and we think we've found the best desert safari tour right here. This is the stuff of childhood dreams and I'm so glad they got to do this, twice. Use our links above to book. We also took a speedboat tour to see the palm and Burj al Arab at sundown, and a Dubai cultural tour with lunch, both with this company, we recommend both. Our Dubai travel blog page gives you heaps more information of enjoying your Dubai trip.
If you'd like to hire a car during your stay, use this car rental comparison tool to find the best deal!

We also suggest you take a look at this company to get a quote for all kinds of the more tricky adventure or extended travel insurance.

Try Stayz / VRBO for an alternative way to find rentals on homes/apartments/condos in any country!