This post may contain affiliate links.
We've been in Istanbul now for almost 2 weeks so I thought I'd do one of those posts where I tell you about life on the road, what we're doing, why we're doing, what's Istanbul like and what is there to see and do.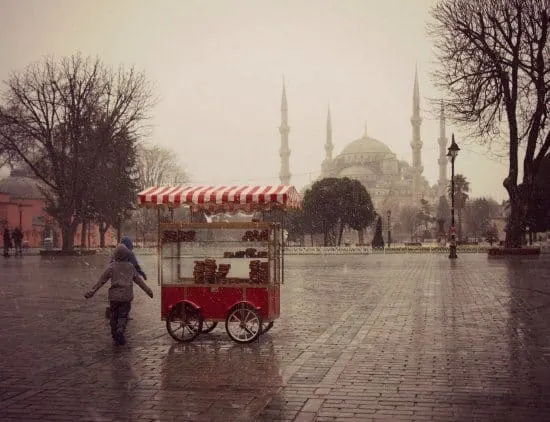 The Istanbul Blog
We love Istanbul. We've explored and roamed this city and enjoyed everything about her. This is honestly one of the best cities in the world, dripping with history and beauty. There is so much to do and explore here that our two weeks has been very busy. See some of the highlights of Istanbul we've enjoyed below.
Highlights of Istanbul
Hagia Sophia
The Blue Mosque
Topkapi Palace and Museum
The Grand Bazaar
The Roman Basilica Cistern
Galata Tower
The Bosphorous – Where East Meets West
Mostly we've got around Istanbul on foot, the attractions and sites above are all pretty close together. The trams and tube trains have also been excellent, our lodgings and food are superb.
Istanbul as a Single Woman With Kids
I've not had any issues here as a single woman. I've had to carry the kids a few times because we have walked a lot and there are some steep hills, but otherwise everything has been great. Turkish men do tend towards the very friendly.
Chef has to be in Australia for a wedding soon, that determined our leaving date for London. Our Richmond flat was costing us around AU$2500 per month, plus bills, plus food, plus spends, it made sense for us to let it go as soon as we could and for the boys and I to go somewhere cheaper while we waited.
Chef is bunking with family while he finishes up with work, he's worked bloody hard as do all chefs and deserves this break. I think today he's heading to Amsterdam to catch the plane to Australia.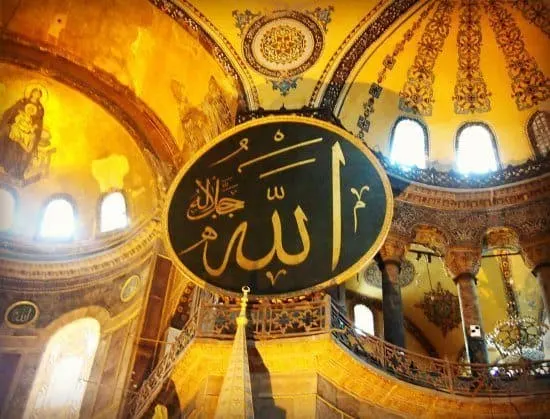 Our original plan was to spend the first part of this year in Sri Lanka and India, that all changed when amazing cruise, an offer that came out of the blue and that totally thrilled us. When the cruise offer came along we'd already booked flights to Turkey because it was the cheapest way to fly to Sri Lanka.
The cruise gig means we have to be in Dubai next week to join the ship. Turkey turned out to be a reasonable place to catch that connection. Istanbul is a bit of a flight hub in this part of the world, in the same way that Kuala Lumpur is in Asia. We flew Turkish airlines, they were cheap and I thought they were great ( we're not sponsored by them in any way.)
For the record, I hate travelling without Chef ( I'm not sponsored by Chef) but sometimes needs must.
Staying in Istanbul.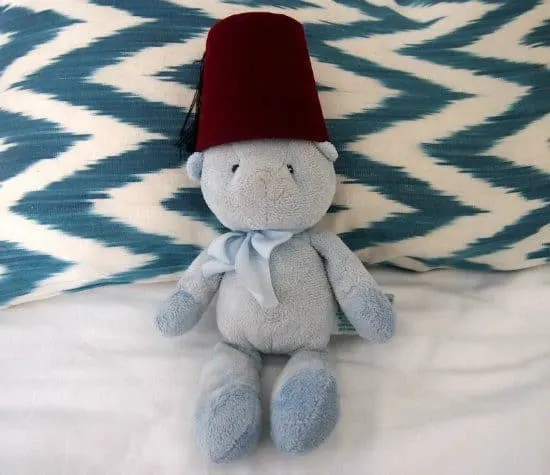 The Gods were smiling on us again, we got invited to stay at a couple of gorgeous hotels, Alilass and Armada, both were superb and both were free.
We're now in our more usual budget accommodation, paying AU$57/night including breakfast. It's OK, not good, not bad. I may have another free stay before we leave, I'll find out today.
As I said to Chef, I can't believe that these hotels think we're any use to them, but they obviously do, so I guess I'd better get used to it. We've been on many free familiarisation visits and stays because of Chef's work, but these are the first free stays of our blogging career ( excluding our week in Italy with Our Whole Village, which was more like hanging with friends).
They like that we promote and share the region, stimulating interest and encouraging visitors, as well as sharing images and impressions of their hotel. We had no contract with them, we were free to do and say as much or as little as we wanted. They were good and extremely nice, so I gave them as much as I could and, as always, I was completely honest. The same will apply on the cruise, they haven't bought my opinion.
You'll notice I'm putting Google Ads in every post now (below), I make between $40 and $100 per month from them ( now, on 50K PV/month), we have to make money somehow. Sorry if you find them annoying.
We Love Turkey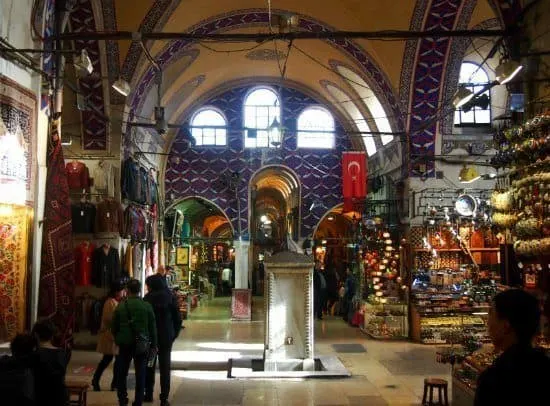 It's lovely here. We love the food, the people have been kind and helpful, walking around the old town, Sultanahmet, has been easy and there is so much to see and learn. (We're not sponsored by Turkish Tourism, either)
We've taken it really easy, partly because of the weather, it's been snowing after our first 4 days of warmth and sunshine, so we haven't been beating ourselves up to do and see everything or explore more of Turkey. We are most certainly coming back to see the rest of this country when it's warmer.
We've been hanging out, I've done a bit of work, the boys have been playing Minecraft and reading, we've watched movies and old episodes of Doctor Who together. We watched the crash of the Byzantium in Byzantium, which was kinda cool. Boo has started writing blog posts again and we've done a tiny bit of "school".
Khan Academy, my new favourite thing in the world, has been our best friend in Istanbul. We're following their Crash Course in History series and dipping into the art history and humanities section to learn everything we can about the things we are seeing and places we're visiting. I'm not sponsored by Khan Academy, we just love it.
This video about Hagia Sophia is great, we watched it together after our visit.

We were pretty studious during our 8 months in London, on top of all those museums and tours I've told you about we knocked out a lot of book work. We're in a good place academically.
We've been to all the usual sites in Istanbul, the Blue Mosque, the Basilica Cistern, the Spice Bazaar and Grand Bazaar, we've walked and wandered. Istanbul is a cool place.
Onward From Turkey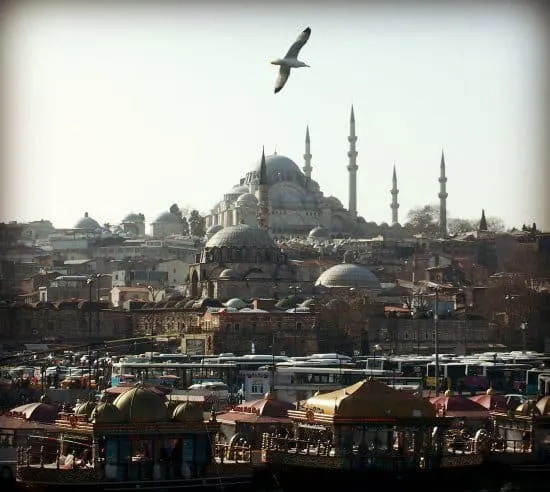 We fly to Dubai in a few days, we'll have a bit of time to explore there and then we're on the ship.
I have internet on board, but satellite connections from ships are notoriously bad, I'll be in and out of contact.
We're stopping in 8 countries so we'll have plenty to keep us busy for 33 days, including meet-ups with some much missed family and friends around Australia as the ship performs her partial circumnavigation.
Our ship drops us in Perth at the end of March, after that we have no plans, we'll see how we feel. We think we only have enough money to travel for 6 months this time, but we'll squeeze every drop of fun out of it that we can.
I'm already sick of saying "we're not sponsored by…". There was a recent storm in the blogging world over this stuff, brought on by one particular blogger jumping to conclusions and throwing dirt in a very nasty way. People got hurt. I feel now that I can't say anything nice about anyone or anything without adding a disclaimer, which is sad. Absolute painful honesty has always been my policy and always will be, I can't be bought. So that's our Istanbul travel blog for now. We're working on full posts on Things to Do in Istanbul.
If you'd like to hire a car during your stay, use this car rental comparison tool to find the best deal!

We also suggest you take a look at this company to get a quote for all kinds of the more tricky adventure or extended travel insurance.

Try Stayz / VRBO for an alternative way to find rentals on homes/apartments/condos in any country!