This post may contain affiliate links.
Guys, I'm reading so much nonsense right now about dishonest blogging and people being paid to say nice things that I thought I should spell it out to you. How World Travel Family works, how we go about things, why we go about things, what you, our readers and our website, means to us and how we work here at WTF HQ. So here we go.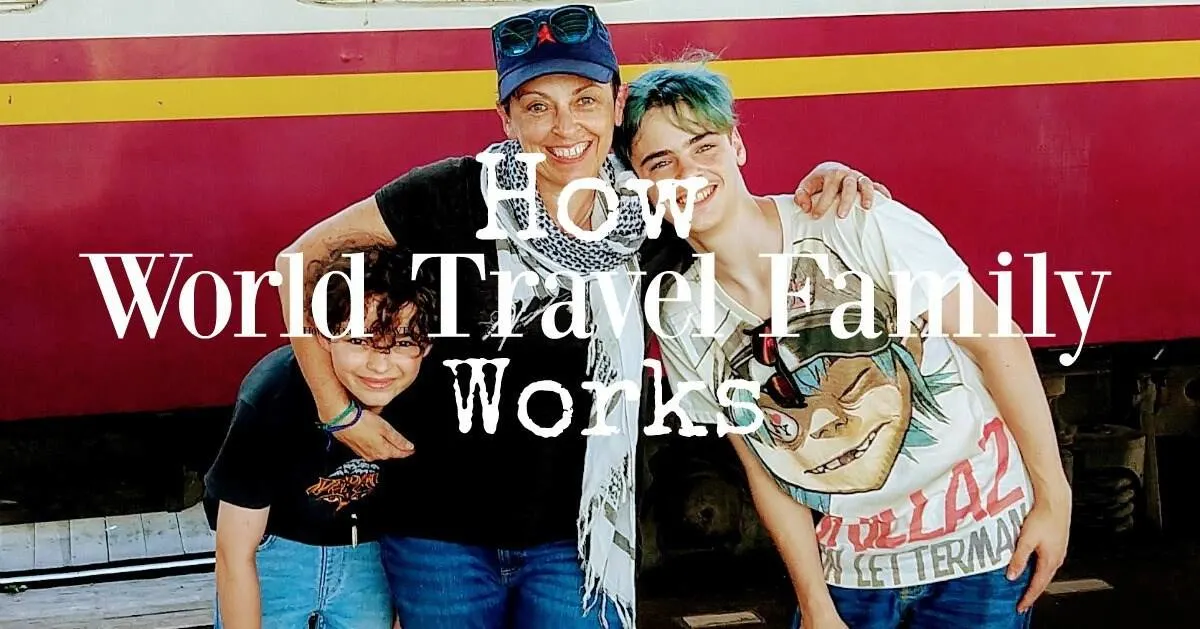 We Are Painfully Honest
I will never say nice things about a destination, hotel or attraction where bad things are deserved. I like to be brutal.
However, we have in the past been invited to review and publicise just 2 things that truly sucked. In those cases I refused to write anything and gave the management feedback on how to improve. Brutally honest feedback. I don't like injustice, bad service and rip offs. I don't think I should publish nasty content after a company has invited us to review, that is unfair. They obviously believed they were doing a great job so hopefully our feedback will help them actually achieve that.
If we book and pay for something ourselves and it doesn't come up to scratch, I'll tell the whole world about it and spit venom like a banshee. I'm not nice if I feel I've been ripped off.
Sponsored Posts as in Being Paid to Promote Products
I honestly don't think we've ever done this. I will not, ever, write about xyz product in a favourable light in exchange for said product nor for money. Our fee for product review is $1000, we set it so high because I just don't want to do it. Nobody has yet agreed to $1000 although we've been offered $700. If I review something it will always be an honest review.
For example our Sungod sunglasses, this is a different thing entirely. We wanted those for Chef's Ironman events and for skiing and altitude trekking. I wrote and asked if I could have a couple of pairs in exchange for sharing. We didn't charge them at all because we were happy to do it. We already knew it was a good product and we now make commission on every pair we sell. I can't go out in daylight without sunnies, my eyes are failing, so sponsorship from a good sunglasses company that we fully endorse kinda rocks.
Sponsored Posts as in Link Selling
We did these when we were just starting out and it was our earliest income stream but we don't do them now. When doing these we have never said that xyz company is what you should use. Instead we always say something like , you could use a company such as xyz. All that these companies want is a link for SEO purposes, they don't care what you say and these posts are hidden deep in the website and not intended to be read. After 12 months we can generally delete them. I can't remember the last time we did one of these and we don't need to make a fast buck this way.
We Pay For 99.5 % of Our Travel Ourselves
A lot of bloggers take press trips and take part in sponsored travel opportunities. We don't. This doesn't make us better or worse than anyone else, we just choose not to do it. We travel for our own enjoyment, as a family, because that's just what we want to do.
Once in a blue moon we'll get an offer that's too good to refuse. For instance when we stayed at Telunas Private Island Resort last Christmas. This destination looked so great for the kids that we jumped at it. We were under no obligation to write only good things and you'll see where we clearly state that all views are our own in their post.
We travel because we love to travel. We see the world our way. But if Bhutan tourism offers me a tour I might just jump at it because in all honesty we can't afford it and it's THE place I want to go. Now the kids are teens and tweens I think I could handle leaving them for a week. I'd find it very hard to do and so far I never have.
We Get Press Passes
We get loads of press passes, we are press, media, writers, journalists, bloggers, industry people. Everyone in tourism, from the concierge in your favourite hotel to the travel writer at the Sunday Times ( I met one last week, he was cool and agreed with me on one of my pet hates) gets press passes. It's a perk.
Even when Chef was just Chef and I was just a mum, he got famils, fams or press passes because of his involvement in hospitality. We only use the ones we want to use, I'm not going to waste my time going to places none of us are interested in.
Some of the places that offer us free admission don't even ask us to write about them.
I actually won't write about them unless I want to.
Our Travels Are Often Planned Around The Website
We need to do this. If I want to keep ranking I need to keep updating and adding content on our key places. We get to Thailand almost every year to add more destinations and a return trip to Sri Lanka is long overdue.
We just started our Scotland section. We hope you find the Scotland content we're about to create useful. We could have sat on our butts enjoying Edinburgh for 10 days, but no, we got out and experienced as many things as possible. It's for us, sure, but it's also for the website.
We Have Amazon Sales Pages
I think there are maybe 6 pages out of 800-900 on the site that are straight up Amazon sales pages. I'm very careful about how we word these. So if we recommend a particular type of product I'll say that this is what we own and love, otherwise I'll just mention the features of the product. This is how it works.
Other Advertising
Sometimes an insurance company, for example, will ask to be included in a post. I can mention them, sure, no problem. I'll say something along the lines of " You could use a company such as this one for your insurance".
World Nomads is the company we use for insurance and we're very clear about that and happy to promote them.
It's Our Family Business
People sometimes call us " The World Travel Family" I hate that! It's the name of our website and that is all.
We have a cool lifestyle and we see loads of countries but we're not celebrities or any such thing. We just visit loads of places for fun, for knowledge and to create the website.
It is our family business and I really hope that when my arthritic fingers are too old to type the kids will keep it going. Maybe just part time, I can show them how to maintain it without having to generate heaps of new content.
I hope the kids carry it forward. It's been a pleasure to create and a pleasure meeting all of you, online or in real life.
The Adverts You See All Over Our Site
These are placed by Mediavine. Mediavine is like a massive, managed, upgrade on Google Adsense. We don't pick the ads you see, you do.
These ads appear based on your browsing history and interests and everyone will see something different.
I've invested years of my life to create this website. It's for us right now and it's for my kids after I'm gone. The adverts pay for my investment in time. A resource like this could never be free, yet it is, to you, you just need to eyeball a few ads.
So I think that's it. I'm really nervous that somebody will catch us out on an old sponsorship deal that I've long forgotten about. If such a thing still exists on my site I apologise, it will be removed. It's just so big I don't know where everything is any more. So that is all, happy travels and I hope you find our site useful.
If you'd like to hire a car during your stay, use this car rental comparison tool to find the best deal!

We also suggest you take a look at this company to get a quote for all kinds of the more tricky adventure or extended travel insurance.

Try Stayz / VRBO for an alternative way to find rentals on homes/apartments/condos in any country!