This post may contain affiliate links.
We just got back from a 10 day UK road trip, mostly in Scotland, but we flew into the UK in London and so started from and returned to Luton airport. We hired a car at around 11 UK Pounds per day ( we have separate annual excess insurance) and had a really lovely time exploring the Scottish Highlands ( with kids).
I'll be writing a full post on our Scottish road trip soon. It was an awesome tour of Scotland's highlights and hidden gems, but in this post I'm going to show you everywhere we stayed in the UK and Scotland to give you an idea of how much this trip to Scotland cost us. It was expensive.
Scotland is one of our most expensive trips yet outside of Singapore and Bhutan. Here is what we got for our money in terms of hotels, guest houses, AirBnbs and traditional Scottish B&B accommodation.
I'll also quickly mention other costs of this road trip, car hire, fuel costs in Scotland, admission prices and so on, but the full Scotland road trip, with highlights and attractions, will be in our next blog post. It was breathtakingly beautiful, the sun shone and we had a great time. There was one major let down for us, we'll tell you about it later.
This Scotland travel blog may contain affiliate links which earn us commission if you choose to use them. Information was correct at time of publication but things do change so it's important to check and research for yourself.
Scotland, Where We Stayed and How Much It Cost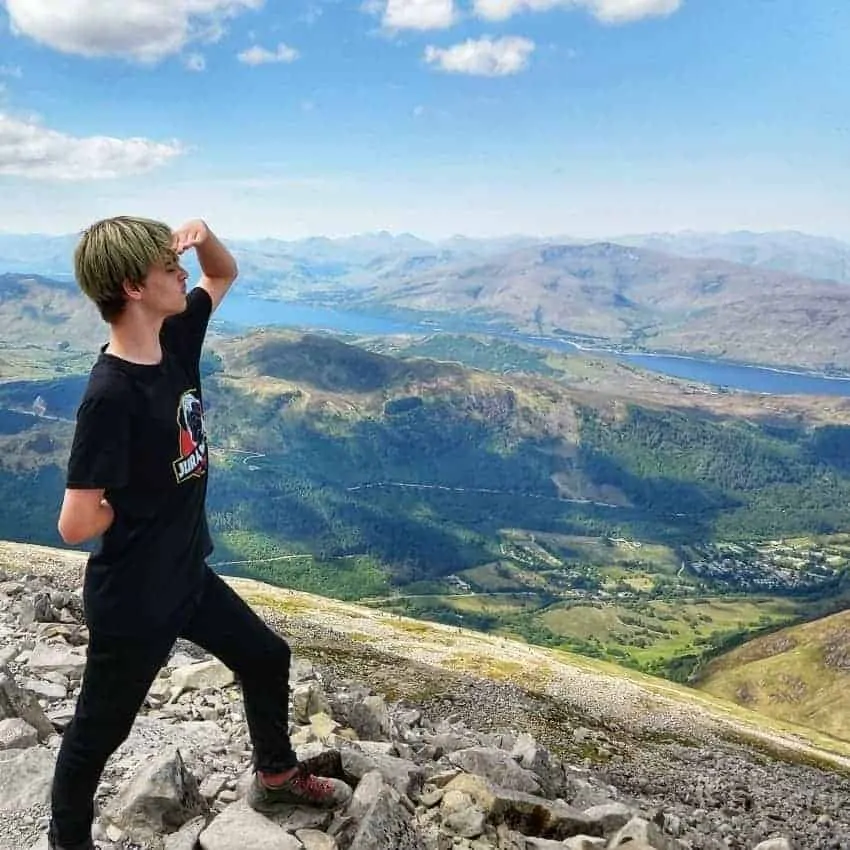 We spent weeks looking for accommodation in Scotland, trying every booking engine and platform. We were surprised by how high prices were.
We stayed in some beautiful places and some less beautiful. Some were a complete rip-off, some were very fairly priced.
Most lodgings included breakfast and it was generally good. One hotel in particular ( Gartmore House) was amazing and the cheapest of all.
General Accommodation Costs in Scotland
I think the high prices probably come down to lack of availability. We were travelling during early summer, May. It was school holidays in parts of the UK but not in Scotland. Very few hotels were coming up in our searches compared to any other country we've visited. This was maybe down to a combination of a general undersupply and popularity, everywhere seemed fully booked long in advance.
Once on the ground, we did notice a lot of old-style British Bed and Breakfasts. Most had their "no vacancies" signs up but I suspect that many of these don't have an internet presence and that booking accommodation the old fashioned way, with a British bed and breakfast guide and a phone, may be necessary.
Internet isn't great in many places in Scotland, so if the owners aren't internet users, I bet they don't even have websites let alone listings on the big booking engines.
We trust the big booking engines and use them every time, so these small places are throwing away trade.
We even stopped in one cafe that had a sign, " We don't have wi-fi, we talk to each other instead". That's not a good attitude. We stop for a coffee and to use wi-fi while travelling without a UK mobile connection. We need wi-fi to check plans, work, contact accommodation and so on. If a cafe doesn't supply wi-fi we'll go elsewhere.
All prices we mention below are for a family of 4 and we generally picked the cheapest and best value we could find. We didn't want to share bathrooms and we checked that everywhere had wi-fi. Hostels may have come in slightly cheaper, but even for camping bothies with no bedding, we regularly saw $100 per night. We're not making it up, why would we? It wasn't cheap up there.
When we stay in London we usually find places between 50 and 120 UK pounds, so Scotland worked out far more expensive for us.
Is AirBnb a good choice for Scotland ?
We're generally not massive fans of staying with AirBnb but we used them twice on this trip, in part because we had credits to use up. One (Fort William) was massively over-priced and one was good. We got to meet a lovely Airbnb family in Kingussie.
Car Hire for Scotland and Fuel Costs
We always use Holiday Autos to find the best deal and on this occasion payed 11 UK Pounds per day. We have our own separate excess insurance, we take this out annually for about $50 but you can also take out this sort of insurance on a per trip basis. It saves us money.
Fuel costs are pretty high in the UK but we didn't find that price increased much as we headed into Scotland. The cheapest fuel of the whole trip was actually in Fort William, Scotland and not in England. Cheapest petrol was 1.25 UK Pounds per liter. Most expensive was 1.36 UK Pounds per liter near Northampton. Above 1.32 UK Pounds was unusual everywhere.
We didn't pay any road tolls in Scotland which was great as this can be a huge expense in mainland Europe.
Admission Costs in Scotland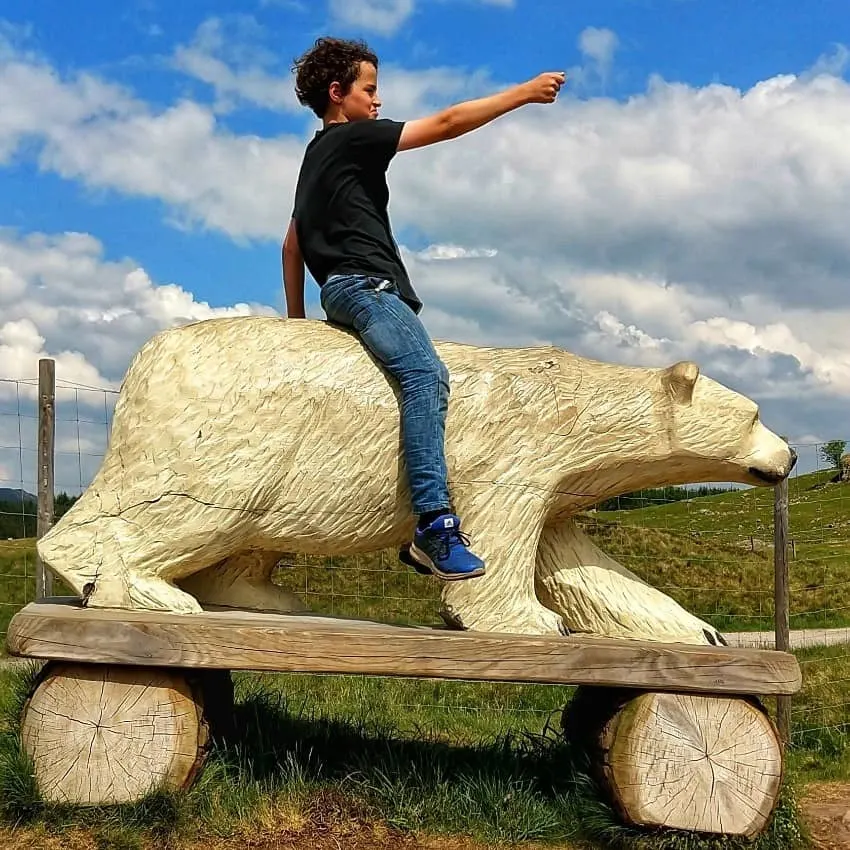 Admission costs were pretty high too.
We went to two Zoological Society of Scotland properties, the Highland Wildlife Park and Edinburgh Zoo. Admission for our family of four was around 60 UK pounds. Buy a coffee and a light lunch and you're looking at around 100 UK pounds.
I don't begrudge paying for places like this because I fully support their vital conservation efforts. If we were to pick one of the two we'd pick Highland Wildlife Park. ( We had press passes for most of these places so we only had to pay admission for the kids).
Many places had a parking fee and 3 UK pounds seemed typical. Balmoral Castle didn't charge for parking, neither did Urquhart Castle.
Kids always had a reduced rate admission, even my 13 – 14-year-old. That's great to see as we're used to Asia where giant western kids usually pay full price.
The Hogwart's Express / Jacobite Steam Train was hugely expensive and not in any way worth it. It wasn't a steam train, it was diesel on that day. It was over 80 UK pounds for 1 adult, 2 kids, one way. You need to book well in advance. This was why we came to Scotland, my son asked to ride this train for his birthday, so we weren't very impressed and no refund or rescheduling was even offered.
Food Costs in Scotland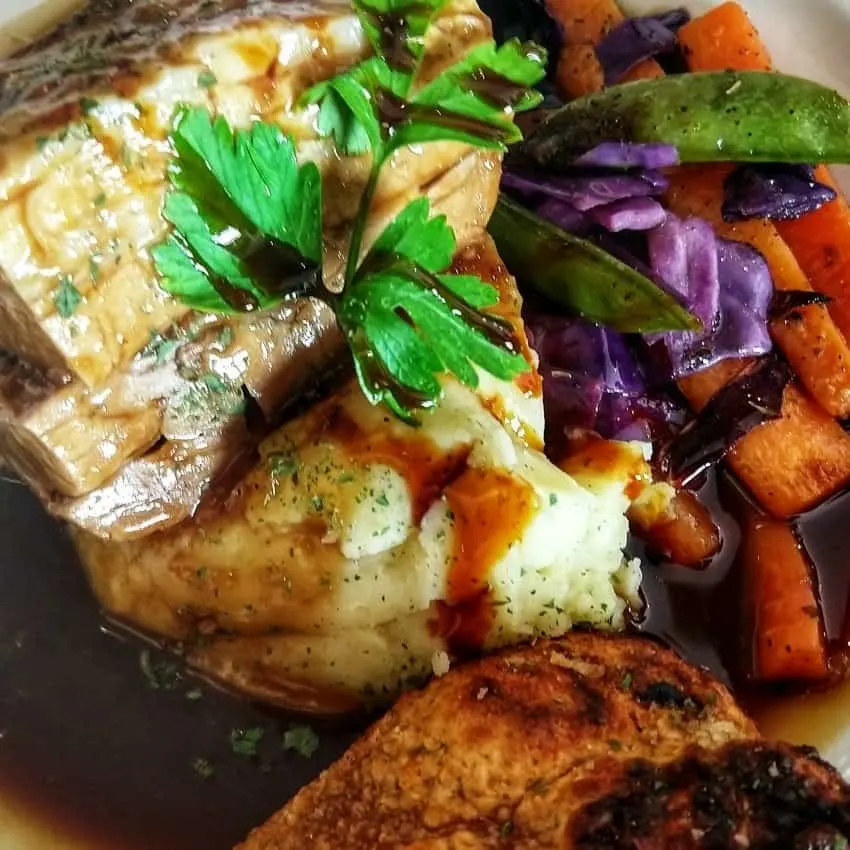 Sometimes we bought sandwiches in supermarkets, sometimes we grabbed something quick and junkie in McDonalds or some other cafe, sometimes we bought proper meals in restaurants. We typically paid between 11 and 15 UK pounds for a basic restaurant meal like fish and chips or Chef's pork belly above. Portions were usually huge.
To buy a sandwich in a British supermarket, you're looking at 1 – 1.50 UK Pounds at the lower price end.
A Budget For Scotland
As usual, we didn't set one. We don't believe in setting budgets because you just have to pay what it costs. Had we set ourselves $100 or $200 per day maybe we would have had to have skipped Balmoral Castle, the Highland Wildlife Park or the Royal Yacht Brittania. If you have to skip things because of an artificially set budget, what's the point? We don't set budgets and haven't since year 1 when we aimed to do South East Asia on $50 per day. I would guestimate that this Scotland road trip, including car, food, fuel and admissions cost around $300 per day. That would make it about the same cost-wise as Singapore.
Where We Stayed in Scotland
Edinburgh Hotel, Novotel Edinburgh Park
We had 2 nights at the Edinburgh Park Novotel and it worked out well. It was my son's birthday so we splurged a bit, he loves a buffet breakfast and needs good wi-fi. Novotel are always good quality and always cater well for kids. There was a pool for Chef to train as well as a gym.
There was a kids' play area near the restaurant and our family room was plenty big enough and well designed. We loved that 2 of us could use the desk for our laptops and there was a small table for use in or on the bed.
This Novotel was our pick because it was close to Edinburgh Zoo and we could arrive from the south ( and depart for the north) without having to go into Edinburgh traffic. It was also handy for visiting the Royal Yacht Britannia.
The shops opposite the hotel were an added bonus, I needed new hiking boots and got them at Decathlon there.
Novotel Edinburgh Park cost us $270 US per night, around 202 UK pounds and you can see it here. There is also a Novotel Edinburgh Centre.
Trossachs National Park , Stirling, Gartmore House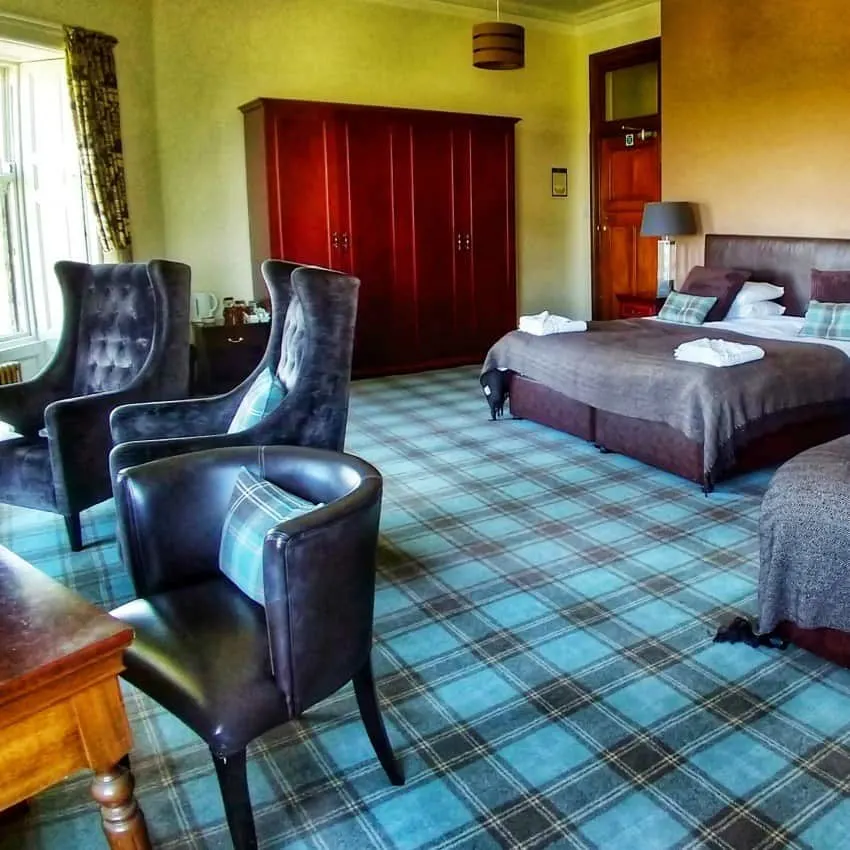 This place was amazing but it's in a very old stately home in need of some TLC. Our room was perfect, huge, well decorated and comfortable with views to die for, but the house itself has seen better days. That said, the friendly service, good food and location were fantastic. We loved staying here and walking in the grounds in the evening.
Gartmore House has history and I may post about it some other time. Our bathroom was good too, large and well kitted out. Internet was usable but not great. I got a decent signal in reception. We had various teas, coffee, hot chocolate and biscuits in our room.
Gartmore House was realistically priced at around 85 UK pounds including a good quality cooked breakfast and we'd recommend it to all but the most picky. See it here.
Loch Lomand and the Trossachs National Park has some of the most beautiful parts of Scotland and it is well worth driving from here through the Highlands and Glencoe.
Fort William AirBnb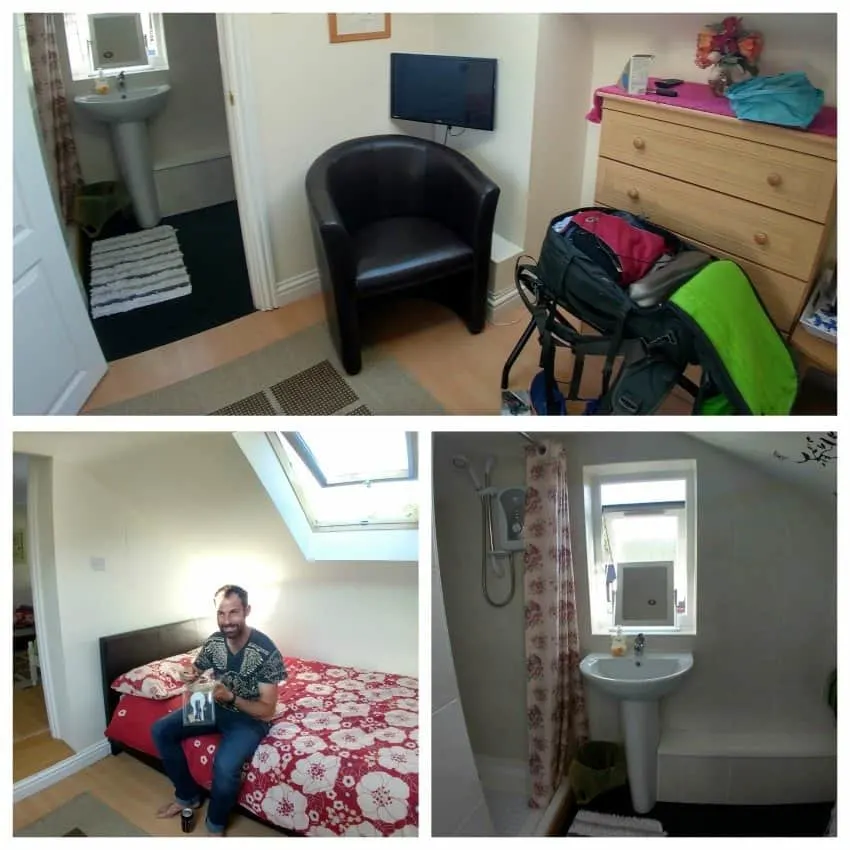 Prices were sky high in Fort William. These 2 bedrooms and tiny bathroom in a loft conversion were over 160 UK Pounds. For that we got a kettle, instant coffee and a few basic tea bags ( no Earl Grey, chamomile etc). We didn't even get shampoo included. It was clean and well presented but really not worth the money. With Fort William being at the base of Ben Nevis I guess they can ask whatever price they like and get it. We'd recommend staying outside Fort William and driving to the starting point of the Ben Nevis walk instead.
This place is absolutely fine if you don't mind paying this much. It was a fair hike into town and there was no waterside dining that we could find. We ended up buying sandwiches in a supermarket. The main road runs along the water's edge right through here.
This Airbnb cost us 168 UK pounds, twice what we paid for Gartmore House.
There is a hostel in Fort William, maybe more than one, but when we were booking there was very little available either in the town or nearby.
Cairngorms AirBnb ( Kingussie)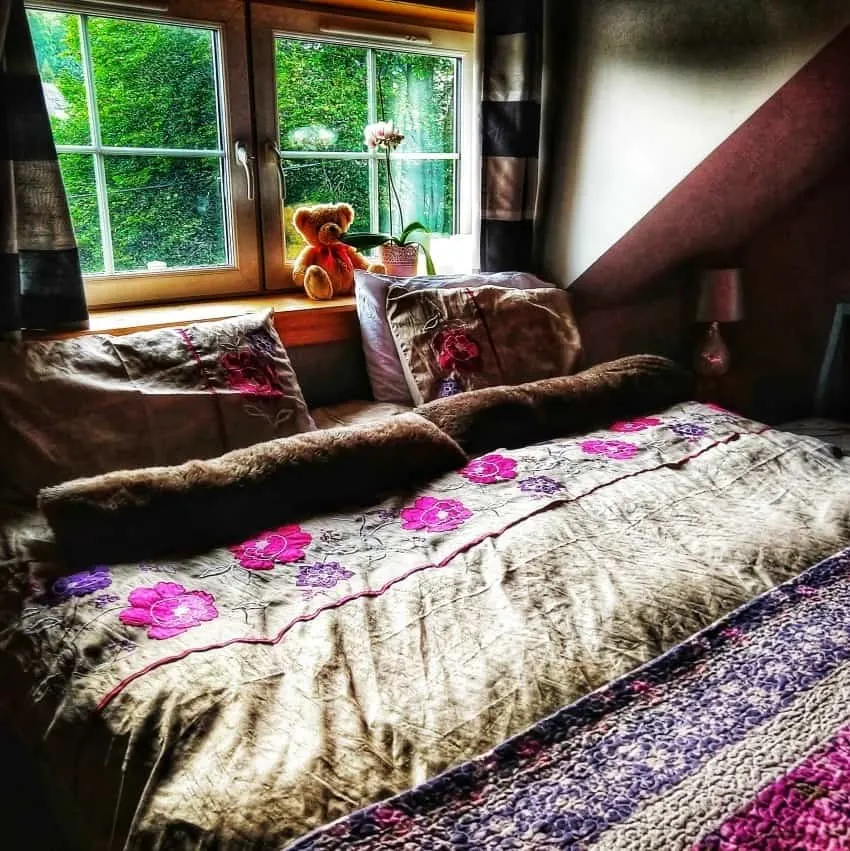 This AirBnb was how it should be. The family talked to us like friends and the apartment consisted of the entire top floor of their 3 story Edwardian home. Kingussie is a lovely town in the Cairngorms and we had a good restaurant meal a short walk away with superb service at the SilverFjord Hotel.
Our Airbnb apartment gave us 2 bedrooms, the master, above, and a large bedroom / dining room with a good quality double sofa bed for the kids. The owners provided us with cereal, milk, bread, jam, fruit and tea / coffee. We had a kettle, small stove-top, microwave and fridge in the second bedroom. The only thing we lacked was a place to wash up, for that we needed to use the downstairs kitchen.
We had our own spacious bathroom with shampoo, conditioner, plenty of towels and a good hot shower.
There was free parking nearby and everything in the town was within easy walking distance.
Kingussie is very handy for Aviemore and the Highland Wildlife Park. It's about half an hour from Inverness and Loch Ness.
This Airbnb cost us 75 UK Pounds per night. Find them in Kingussie on AirBnb.
Jedburgh Bed and Breakfast Meadhon House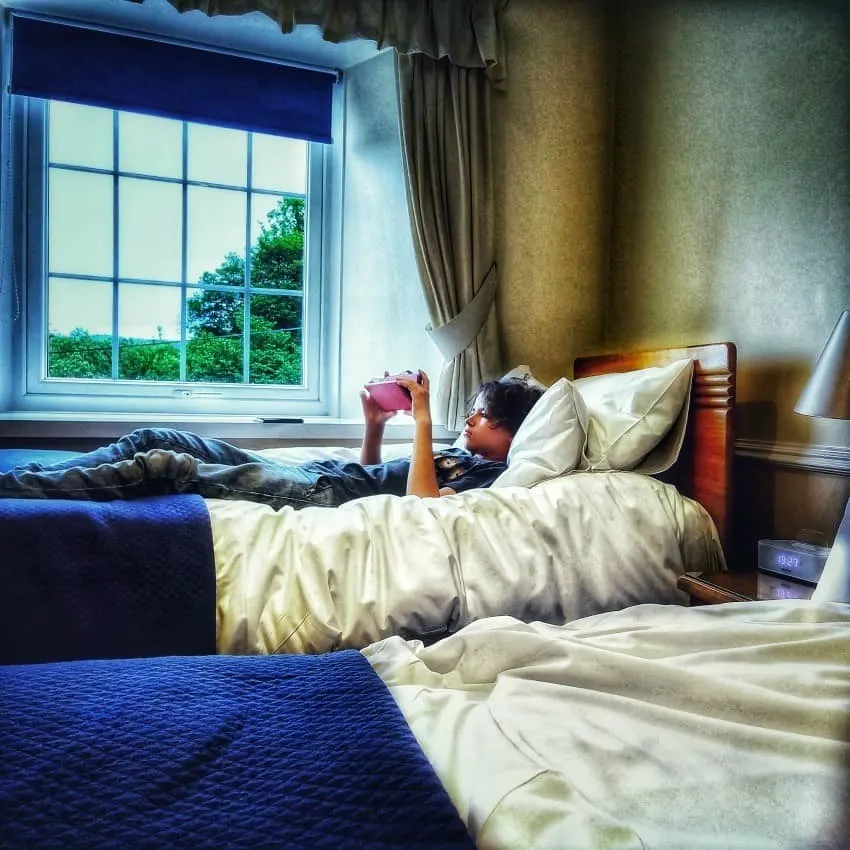 This is how the great British Bed and Breakfast should be. Everything was done well here, from the home made bread and jams to the soft comfortable beds. 10 out of 10 on this one. Breakfast was superb and the little town of Jedburgh is a must-visit.
Jedburgh is ancient and there is much to see here including the Mary Queen of Scotts house and the 12th century Abbey. Find Meadhon Guest House here. The owners here even took the time to get me vegetarian, dairy free, breakfast sausages. We had tea, coffee and chocolates in our room and the wi-fi was good. This cost us around 130 UK Pounds, breakfast included.
Where we Stayed on the Way to and From Scotland
We flew into Luton rather than a Scottish airport because it was so much cheaper, hundreds of dollars cheaper. This gave us a chance to visit York, see The Angel of the North and catch up with friends at Hadrian's wall. Drive time from Luton to Edinburgh is about 6 hours depending on traffic.
Staying in York
The place we stayed in York was grotty and run down. We didn't get the family room we had booked, we got 2 doubles instead, one with a broken bathroom. So no photos, no recommendation. The included breakfast was various nasty, sweet, highly processed cakes and biscuits left in our room.
It had great reviews on TripAdvisor which were obviously fake, so beware.
But, the flip side is, York was wonderful and it's a great place to break your journey from London to Scotland. We managed to visit the JORVIC Viking Centre and had a lovely walk around the old city. Maybe try the York Novotel instead or use a B&B guide like the one we mentioned above.
Hotel Near Luton Airport, Kettering. Holiday Inn Express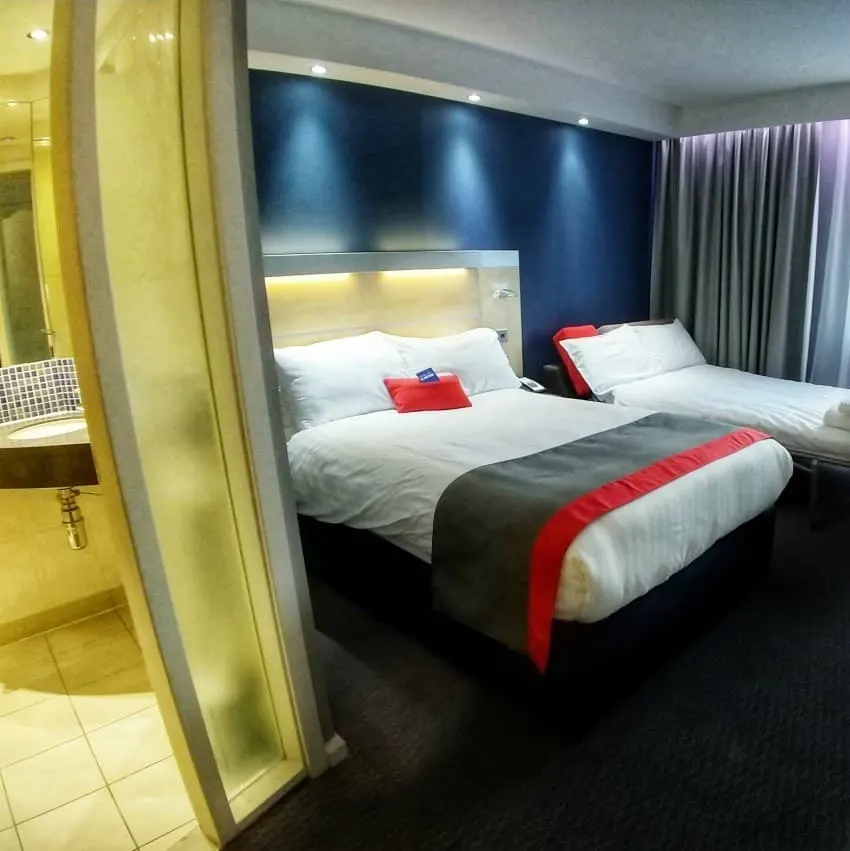 With all of these chain hotels the standard is pretty good and you know what to expect. Holiday in Express is less expensive than Novotel and everything is of a lower standard, but it's fine.
We payed 79 UK pounds for a family room with breakfast at this Holiday Inn Express.
So there you go, a rough idea as to what a road trip around Scotland will cost you. Car hire and petrol cost us much less than hotels and other accommodation. We used two and a half to three tanks of fuel to travel 1300 miles from Luton, to Scotland and back. It's a trip well worth doing, hugely educational, stunningly beautiful and many things to see. All of this will be in our next blog post our Scotland Travel Blog, here.
If you'd like to hire a car during your stay, use this car rental comparison tool to find the best deal!

We also suggest you take a look at this company to get a quote for all kinds of the more tricky adventure or extended travel insurance.

Try Stayz / VRBO for an alternative way to find rentals on homes/apartments/condos in any country!