This post may contain affiliate links.
When choosing a bag (a handbag, travel purse, daypack, or backpack) for travel or city use most people will give some thought to security. It makes sense to buy a bag that makes a bag snatcher's or pickpocket's life as hard as possible. We've taken a look at the best anti theft travel bags for travellers, the ones designed to keep your passport, cash and other travel essentials attached to you. These anti theft bags work just as well for daily use, anywhere in the world.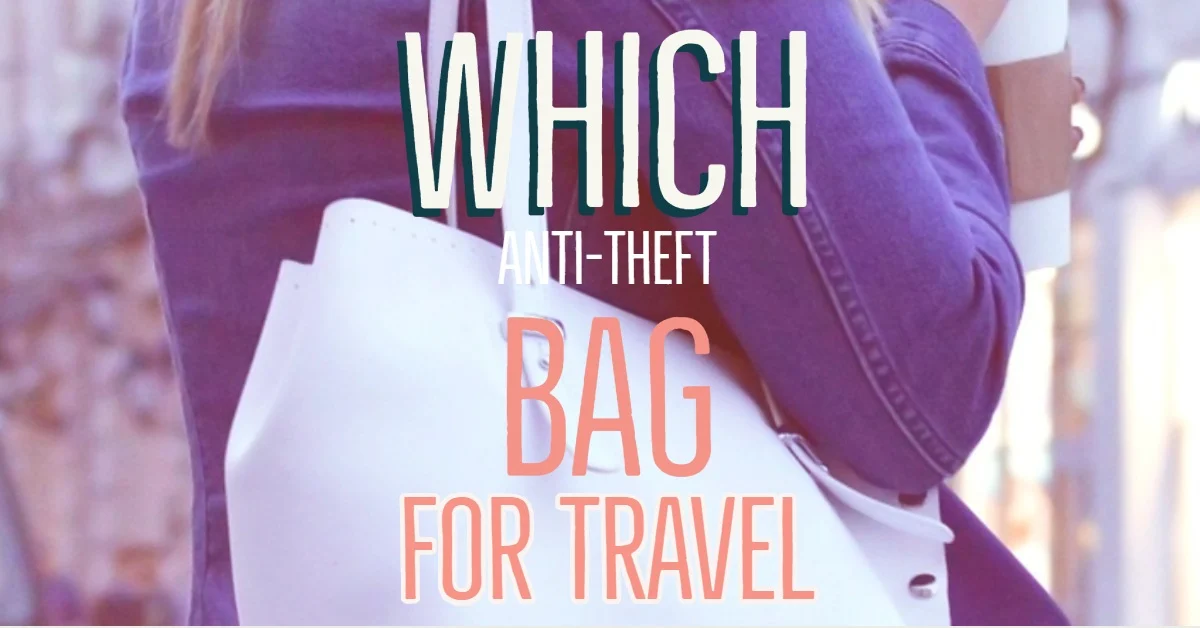 Update: The world has supply problems right now. Some of our recommended "best" anti-theft bags and purses are unavailable. We are looking for alternate suppliers. This Travelon bag does seem to be in-stock, and it's a best-seller, but supply is limited and you probably need to buy before they're all gone. (it may, become unavailable, please check.) Likewise, this Bagallini bag is available at time of publication. If you're in the UK, this unisex cross-body anti-theft sling or sash bag is hugely popular and available. It's ideal for men to use while travelling. In Australia you can buy Travelon anti-theft bags here, in the US look here. Most links on this page will work for Europe, the Americas and Asia. Now we'll run you through features, plus more models with photos.
In my personal experience as a global traveller of many years, a small cross-body handbag or travel purse is extremely useful. You don't always want to carry your day-pack, backpack or suitcase if you're just going out for the evening, for instance. For times like this, I generally use a small cross-body bag, there are several designs below suitable for evening use.
I have a couple of cross-body fabric bags that I pack for travel, both have internal pockets and I can easily add extra security with a safety-pin or two. If you want to buy a travel bag designed to keep the thieves at bay and look a bit dressy or formal, somebody has thought of that!
Here are the best and most popular anti-theft bags for travel and for travellers. As an extra security measure, some also have RFID blocking capacity. The new anti-theft backpacks with built in charging ports are another travel must-have, see them at the end of the post along with a few extra anti-theft devices you may like. All are suitable for use as travel bags and have similar anti-theft features while having slightly different uses.
These bags are mostly aimed at women, but some would work just as well for men, My husband uses a small cross-body bag on airport days, his is a small Kipling bag similar to this one. Although not designed as anti-theft travel bags, the Kipling is rugged and sturdy and is ideal for men or women. We think they're a great, long-lasting, good-looking, option and of course, can be worn crossbody. My husband has used his on travel days for almost 20 years.
Anti-Theft Bags
For UK, Europe, and USA
If you don't have time to read this full post, our top picks are here. One is an anti theft bag for travel, work or city. See it here. The other is an anti theft backpack ideal for city life or travel days. See it here. Find full descriptions and specifications further down the page.
For Australia
If you are in Australia, the Travelon anti-theft bag is here. and the city anti-theft laptop bag is here.
Tips For Buying and Using an Anti-Theft Bag or Purse
Before we get into the best anti-theft bags here are some extra tips for travel bag security:
Keep your bag across your body, not on 1 shoulder.
Wear the bag on your front, not on your hip or behind.
Keep a hand on it on busy trains, buses or in markets.
Don't keep everything in one bag, spread valuables around various hiding places.
Avoid motorised bag snatchers by keeping yourself and the bag away from the road.
What Features Should an Anti-Theft Bag Have?
In an anti-theft travel purse or bag look out for features such as:
anti slash fabric
locking pockets and locking zippers
RFID blocking
steel enforced shoulder straps
locking hardware for securing to immovable objects
hidden or secret pockets
The Travelon bags generally have all of these anti-theft features.
Cross Body Anti-Theft Purses and Bags
We've shown most of the bags below in black but they do come in multiple colours from blue to red to gold, click-through on each item to check the range. The Baggalini bags, below, have a particularly good colour range including cool stripes but they don't have the tough anti slash, anti cut technology of the Travelon bags.
Lewis N Clarke Secura Anti Theft Bag
Take a look here! Lewis N Clarke Secura Anti Theft Bag. This is perfect if you're out and about in wet weather. (out of stock at time of editing)
My favourite! Unfortunately not available yet in the UK without extra import/shipping fees, ( to the best of my knowledge, I've looked but that could change) although other Lewis N Clark products are available. USA and Canada can buy this cool green, blue or black bag.
water resistant outer
durable exterior
fabric lined
anti-slash fabric and internal steel shoulder strap reinforcement
exterior locking pocket
locking hardware to secure to tables etc.
RFID blocking pocket for cards
internal organiser pockets including zip pocket
slimline profile
11 x 3 x 9.5 inches
49 inch strap
main locking zip compartment
also available in onyx
Travelon Anti-Theft Classic Messenger Bag
Take a look – Travelon Anti-Theft Messenger Bag. A key feature is the lobster claw designed to be secured to bars or tables.
If you are in Australia, the Travelon anti-theft bag is here.
internal pockets
external water holder
RFID blocking card and passport sections
cut proof, cable reinforced shoulder strap
lobster claw clasps on pockets and straps
slash resistant internal mesh on body panels
main strap can be used to fasten to immovable objects using lobster claw
strap length 28-48 inches
size 11 x 10 x 4.5 inch
a range of colours, I like the blue.
New – Travelon Messenger Anti Theft Urban Bag
Take a look at the new urban Travelon messenger here. This could be my new favourite!
I like this one a lot! It's a little more expensive than most of the travel bags on here, but for people like me who often carry their laptops ( I'm what's known as a digital nomad, I work online from anywhere) a bag like this is gold. I love the style too, plus the usual Anti Theft features along with a laptop pocket.
Take a small laptop, plus ipad or tablet in a padded buckled compartment (up to 14 inches)
Has a pass-thru strap on the rear to secure this bag to your wheeled luggage.
RFID blocking pockets for passports and credit cards
Strengthened strap which can be attached to fixtures and furnishings.
Slash resistant mesh
Travelon Classic Anti-Theft Mini Shoulder Bag
Check out the Travelon Classic Anti-Theft Mini Shoulder Bag. Perfect if you need a small bag. Best for a night out maybe?
available in black, blue, red, light grey – many colours and patterns
slash proof
locking compartment
RFID blocking card and passport area
cut proof shoulder strap
strap can be fastened to immovable objects
size 10 x 9.5 x 2 inches
Travelon Anti-Theft Signature 3 Compartment Cross-Body Bag
Travelon Anti-Theft Signature 3 Compartment Crossbody, Black, Straight Pocket
comes in blue, red, dark grey, beige and black
3, larger, locking compartments
main compartment has RFID blocking card and passport section
slash resistant body
cut resistant shoulder strap
strap can be fastened around immovable objects with lobster claw fastening
29 inch drop
larger size, 11.5 x 13.75 inch
Baggalline Everywhere Cross Body Bag
Baggalline Everywhere Cross Body Bag. Great if you're wearing your bags across your body.
A great range of colours
RFID blocking
multiple pockets
spacious, longer drop for cross body use.
Travelon Anti-Theft Cross Body Bucket Bag
This one comes in red, blue, black, patterns, there is loads of choice!
This one is a larger size, with all the usual Travelon anti theft features
Travelon Anti-Theft Cross body bucket bag will hold a 10 inch tablet or I pad.
anti cut strap
anti slash panels
RFID blocking card/passport section
lower price than many for the black version
built in external water pocket
built in external umbrella pocket
locking main compartment
strap can lock to an immovable object
larger size 10 inch high by 14 inch deep
available in leopard, grey, green, purple and black – good choice of colours.
Bagallini Pocket Waterproof Cross Body Bag
Bagallini Pocket Waterproof Cross Body Bag
durable nylon
waterproof
multiple pockets
great colour range
Larger Anti Theft Travel Bags, Backpacks and Daypacks
With most of these bags you will need portable chargers or power banks, we created a post on our favourite (often solar) chargers here. The Bobby Bag is the most expensive of these 3 but it's so feature-packed it's hard to ignore. This one is my pick for city use or even to use as a small carry on bag. I regularly use a small backpack or daypack as a travel purse, it's far more convenient and like the cross-body bags, more secure.
Baggalini (a well-known anti-theft travel bag brand) now make their own stylish anti-theft women's small backpack or daypack for vacations, perfect for European trips. Take a look here. This one features Baggalini's Securetex textile.
The Bobby Bag was out of stock the last time we checked, check out this very inexpensive one instead, we are keeping the information below for now, as these may become available again. The Bobby Bag is a costly purchase, I'd rather spend more in this instance.
Anti Theft Laptop Bags or Day Packs
Above – Low Cost Anti Theft Business Laptop Backpack with USB Charging Port Fits 15.6 inch Laptop
A backpack that will take your laptop safely and securely is an absolute God-send and these days I'd say that any daypack you choose, other than for trekking, must be laptop sized. This one has all the bells and whistles. The zips are lockable with a combination padlock and his has an external USB port for charging your mobile devices. This Mancro bag is an Amazon Best Seller and the price is budget friendly.
Above – Again, pretty cheap – Oscaurt Anti-theft Travel Backpack, Business Laptop School Bookbag with USB Charging Port
The Original Bobby Bag
The Original Bobby Bag below would be my choice. It's so packed with features that I can't possibly describe them all here. Again you can charge, again it has protective layers, I love that you can keep public transport cards handy in front pockets ( the perfect bag for London use!). Just click through and see the features, it's a brilliant design. Next time I'm in London I'm getting one of these, pink, blue and yellow compact versions are available too.
The most expensive of these 3 and Amazon's Choice – XD Design Bobby Original Anti-Theft Laptop Backpack with USB port (Unisex bag) bag)
If you are in Australia the original Bobby Bag city anti-theft laptop bag is here.
Anti-Theft Bags Available in the UK
Just click below to see a selection of anti theft bags available in the UK currently. For our USA readers and all other countries, you should be fine with any of the other links on this page. Pacsafe are very popular in the UK and you'll see a few choices below.
Are Anti Theft Bags Worth Buying?
Yes, we think the added peace of mind and security of using an anti-theft travel bag is helpful. Anti-theft bags have features such as slash-proof fabric, hidden lockable pockets, hooks and straps to attach to furniture and cut-resistant cross-body or shoulder straps. They also often have RFID blocking technology. I have had a bag, a backpack, slashed on a train. I had an anti-theft layer inside the outer bag. The thieves got nothing.
Extra Anti Theft Devices For Travel
In addition to your anti-theft bag, you may want some other anti-theft devices for your trip.
Cable locks allow you to secure your bags to a bench, a train luggage rack, a table, your other bags, or anything that will make them harder to snatch. Useful at airports, train stations and anywhere you sit-a while, the brand below is one of the most well respected and TSA compliant. Cheap versions are easy to break. Cable locks are brilliant if you need to attach bags to an immovable object like on a train for instance.
Most of the dedicated anti-theft bags remove the need for a cable lock, but your main luggage may still require locking up.
Then you can think about hidden wallets and pockets in secret pouches. They're all going in our new post, coming soon!

More Anti-Theft Bags and Other Travel Essentials
Anti-theft bags can be cross-body, a shoulder purse, a small backpack, large backpack or and main luggage bag. We think they should be items on your travel essentials list.
Visit our other posts in our "travel gear" category for more items to pack and carry with you on your trip, to Europe, Africa, Asia, the world!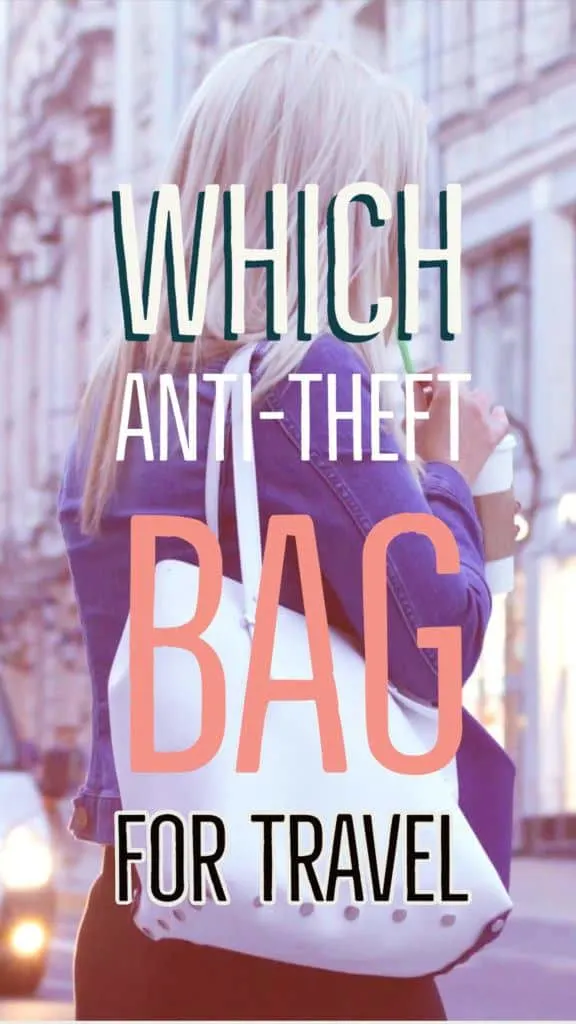 Don't Worry About Theft Too Much
I want to reassure you that theft isn't a major issue from the moment you leave your front door to travel.
In 20+ years of travel, to 50+ countries I've had one pickpocketing incident. I stupidly left my bag unzipped on a crowded bus in Malaysia.
We have had one bag stolen completely, we took our eyes off it in an airport in Australia.
On one occasion we had a bag slashed by a potential thief, luckily it had a metal mesh inner to make it knife proof.
We travel full-time and have lived in London (which some travellers consider high risk for theft and sadly our theft problem is rising, scooter thieves are targetting pedestrians) for many years.
Conclusion
These anti theft travel bags exist, mostly, to give you extra peace of mind. It's your choice, do you need one? While a handy-sized cross body bag is always a good idea, particularly for airport days when your documents (see organisers here) need to be accessible and extra pack security is reassuring, we don't want you to think your belongings and documents are always in imminent danger. Make sure you take out good travel insurance too, this is the one we use.
If you'd like to hire a car during your stay, use this car rental comparison tool to find the best deal!

We also suggest you take a look at this company to get a quote for all kinds of the more tricky adventure or extended travel insurance.

Try Stayz / VRBO for an alternative way to find rentals on homes/apartments/condos in any country!