When we travel, long or short term, vacation, cruise, backpacking, beach or city breaks, most of us carry a daypack. I know I do, I've carried a daypack every day more or less for the last 7 years on every continent bar Antarctica. With rising crime rates around the world, an anti theft daypack is a very good thing to have. We look at the best anti theft daypacks and talk about when, and why you'd need one as well as adding a few tips on avoiding theft from your daypack.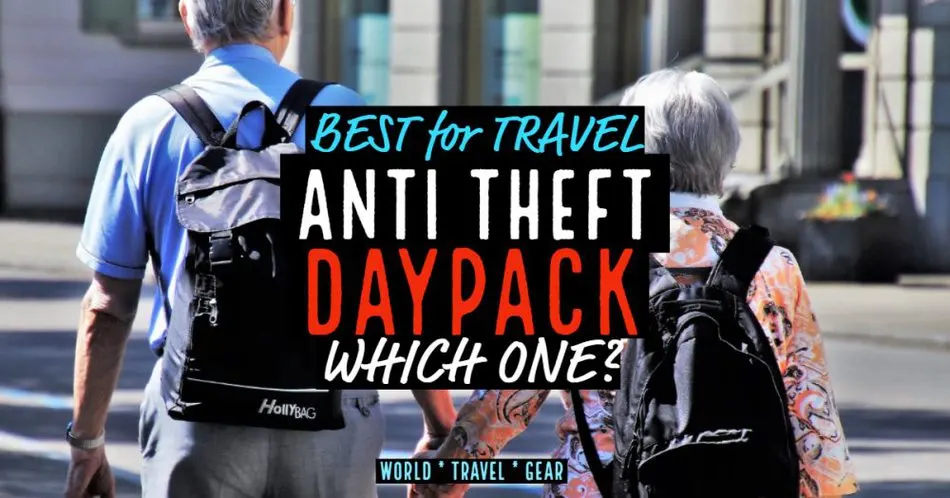 Best Anti-Theft Daypacks
Security features to look for in an anti-theft daypack include the following, each one adds an extra layer of safety. Regular backpacks generally don't have any devices such as these to make a thief work harder. If you're in a crowd and there are dozens of travel backpacks, the thief most-likely isn't going to target yours if he can see it's a brand with good anti-theft measures. For this reason, the well-known Pacsafe brand is a good choice.
zippers that are concealed or can be fastened, locked, or secured with a combination padlock.
RFID blocking shell or compartments
slash-proof fabric
wire inserts in straps to prevent slashing
internal laptop pockets
devices to attach the backpack to furnishings in coffee shops, for instance. This beats grab and run thieves.
Comparison of Anti Theft Daypacks – Top Picks
Please be sure to click through and double-check dimensions and other data, designs and models do change over time. We try very hard to keep everything current but specifications can change.
BAG
BUY
FEATURES
SIZE
The Original Bobby Bag by XD Design



USB Charging Port
Hidden Zippers and Pockets
Water Repellent Fabric
11 x 5.1 x 16.9 inches
Compact Bobby Bag



USB Charging Port
Made Using Recycled Materials
10.4 x 5.5 x 15 inches
approx 15 :
Pacsafe 25L Venturesafe


Looks the part for a travel or light trekking daypack.
Security hooks attach bag straps to furniture.
Carrysafe Slashguard Straps, wire reinforced to help prevent slash and run theft.
Zip pullers with built-in fastening.
RFID safe blocking pocket
Padded laptop sleeve to fit 15 inch laptop.
External bottle pockets.
EXomesh slashguard concealed stainless steel wire mesh.
Adjustable waist strap belt.
Pacsafe waranty.
7.9 x 19.7 x 11.4 inches
Pacsafe 15L Metrosafe


EXomesh slashguard concealed stainless steel wire mesh.
Security clip and hooks for zippers built in.
Security Hooks to attach to furniture etc.
RFID safe blocking pocket
Slashguard Straps
Padded 11 inch laptop sleeve
Soft & Durable
Water Resistant

16.54 H x 11.61W x 5.12D inches
Budget Option Anti-Theft Daypack


External USB Charge Port
Built-in password padlock
Laptop pocket
Good looking bag
Low price
19.29x 11.8 x 5.43 inch
What is an Anti-Theft Daypack?
A daypack is a small backpack that most travellers carry every day. If you're travelling with main luggage, a suitcase or large backpack, your daypack normally stays with you while your main luggage is in the hold of a plane or locked away in your hotel or hostel. An anti-theft daypack is a lot more secure than a regular daypack.
Daypacks as Carry On Hand Luggage
My last few trips I've taken hand luggage only. It's a great style of travel and having everything with you constantly makes life easier. If your carry on daypack will fit under the airline seat, that's even better. For this a soft squidgy daypack is best.
We carry on only passengers breeze through airports, avoiding the carousels. If you can avoid taking your laptop airport security is super simple. My system is to keep my liquid toiletries in an outer pocket of the daypack so that I can just throw them through the scanner separately. No need to unpack the daypack at all.
However, only travelling with your daypack can cause issues, you'll need to unpack and leave some items in your hotel room while you take your daypack out on excursions. This style of travel works best for us as a couple. Only one of us carries a daypack every day, the other carry-on bag stays at the hotel.
With this in mind, you'll need to buy an anti theft daypack that meets size and weight dimension regulations for your airline. These size limits vary between airlines with AirAsia and AirMalaysia being particularly small and light. Double check these requirements often as the airlines do like to change them.
Most people don't use their daypack as their only luggage, Most travel with a larger checked item of baggage, so this post is more aimed at them. For these guys an anti theft daypack can be smaller than maximum airline dimensions.
What Do You Carry in Your Daypack?
Your daypack should hold all the items you need on hand, every day. It will need to take your money, credit cards, cameras, phones and chargers. You may need to carry a waterproof jacket, sun protection, a few toiletries and a bottle of water. In some countries travellers or tourist are required to carry their passports or other photo ID. Sometimes, if I don't trust a hotel, I'll also carry my laptop in my daypack. All of these items make your daypack very attractive to thieves and an anti theft daypack is certainly desirable. Pickpockets love daypacks, they're usually on your back, you won't even notice a sly hand from behind opening a zip or wielding a sharp knife. I've actually had a pickpocket take cash from my daypack when I've been wearing it on my front. Thieves and pickpockets are that good that I didn't fully realise the guy right in front of me, smiling and chatting, was actually elbow deep in daypack theft.
Daypacks for Trekking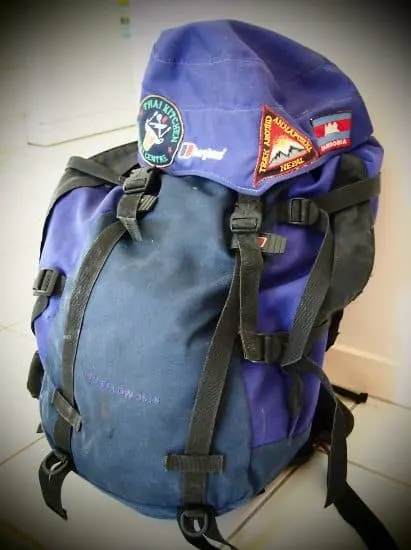 We do a lot of trekking but we always carry a good-sized trekking pack. We don't take porters so we carry all our gear ourselves. You won't catch us trekking with just a daypack. However, lots of people do. For the trekking we've done we don't feel that an anti theft daypack is a necessity. Anti Theft Daypacks come into their own in crowded places, there aren't too many of those in the Himalayas. The pack I currently use for trekking AND as my main luggage – it's too big for carry-on only travel, is this one. Yes, I bought it on Amazon, it was cheaper than in our shops in London.
Where to Use an Anti Theft Daypack?
Anywhere crowded is where you'll most want your daypack to be secure. Markets, train stations, malls and airports, cities, festivals and concerts, anywhere where you'll be squashed into a crowd. That's where you'll want an anti theft daypack.
How to Avoid Theft From Daypacks
While travelling don't be too paranoid or fearfull. Not everyone is out to rob you and wearing your daypack on your front can scream " tourist". It might even make your daypack more attractive to thieves. I will very occasionally wear my daypack on my front, but it's not necessary all the time.
My husband and I have a system that we've used for years to avoid day pack theft. In crowded streets and markets I walk a pace ahead, he can see my back and keeps an eye on my daypack. We've never had any issues in any of the more than 50 countries we've visited by doing things this way.
With these anti theft daypacks be sure to lock the pockets shut when in use and secure them to an item of furniture if you're in a busy restaurant, coffee shop, train or bus station. You should be fine.
Pacsafe Anti Theft Daypacks – 25L Our Pick
Pacsafe make a whole range of anti theft daypacks in different sizes and styles with features to suit your needs. Our picks are below. A comparison chart comes at the end of the post.
The model below, the Pacsafe Venturesafe 25L GII is my immediate choice of antitheft daypack for all purpose travel. It's a good size, 25L. A lot of daypacks are smaller. It has a good harness with optional waist strap ( belt) and air flow, plus that important outside pocket for water or your liquids at airports. The shoulder straps look comfortable and well padded.
Anti theft features include securable zippers ( you'll want a small combination padlock) and cut-resistant fabric. These bags have lightweight steel mesh reinforcement to stop bag slashers. Internally there is an RFID resistant pocket and a laptop pocket suitable for a travel laptop up to 15 inches. If you click through below you can see full specifications but we like this one a lot. It's size, 19.7 inch x 11.4 inch x 7.9 inch make it suitable as carry on for most airlines. This one comes in black, dark blue and light blue and I'd be very happy to use this bag for travel, city use or light trekking. At the base of the shoulder straps you'll find a strong metal clip allowing you to secure your daypack to a table or other immovable object.
See This Pacsafe 25L Anti Theft Travel Daypack Here
Best Small Anti Theft Daypack – Our Pick the Pacsafe, 15L
We like this small anti theft daypack a lot. It's perfect if you're travelling light and just need to carry a few small, but valuable, items on your back, Maybe you're heading to a city to do some sightseeing.
View This Pacsafe 15L Anti Theft Daypack Here
The Popular Bobby Anti Theft Daypacks
View The Original Boddy Bag- Anti Theft Laptop Daypack- Here
Best Budget Buy for Anti Theft Daypacks
This is a nice pack and a good size, with a tiny price tag. It's understandably a best seller. Its dimensions are similar to the 25L Pacsafe Daypack
View Our Best Low Cost Anti Theft Daypack Here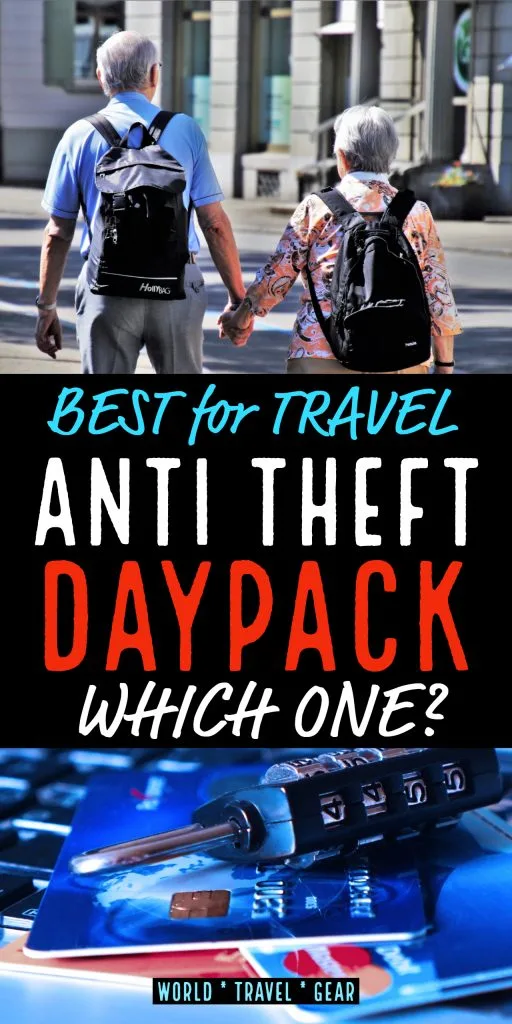 How Do Anti-Theft Daypacks Work?
What does anti-theft mean? Features to look for in anti-theft daypacks (mostly backpacks) include, wire enforced shoulder straps, devices to fasten bags to tables or other solid fixtures, slash-proof farbric, sometimes with wire mesh inserts to stop slash thieves, built in lockable zips or combination lock fasteners, good quality, sturdy design, secret or hidden pockets in places inaccessible to theives. RFID blocking pockets and laptop pockets are other desirable features, most will be water-resistant or water-proof. If not, a rain protector can be purchased. The anti-theft daypacks in our post have these features to various extents. These features help make a bag theft-proof but of course, you still should look after your bags.
We hope you found our guide to using and buying anti theft daypacks helpful. Whether you're using them for the daily commute, weekends away or serious travel, we're sure you'll find these daypacks give you extra peace of mind while travelling.
If you'd like to hire a car during your stay, use this car rental comparison tool to find the best deal!

We also suggest you take a look at this company to get a quote for all kinds of travel insurance.

Try Stayz / VRBO for an alternative way to find rentals on homes/apartments/condos in any country!