This post may contain affiliate links.
Travel in Bhutan. What is travel in Bhutan like? Costs of Travel in Bhutan. Best places to see and visit in Bhutan. A Bhutan travel blog and guide.
We recently spent 10 days touring Bhutan, including hiking, after years of dreaming of visiting this mystical Himalayan kingdom. This was my ultimate bucket list destination and I've finally been. You probably know that Bhutan costs $250 per day per person to visit (ballpark figure – this can vary either way) so is it worth visiting Bhutan at this price? For me, no, it wasn't worth it. Costs outweighed value and enjoyment. Let me explain why in this Bhutan travel blog before you decide to pay that much money for your Bhutan tour or trip.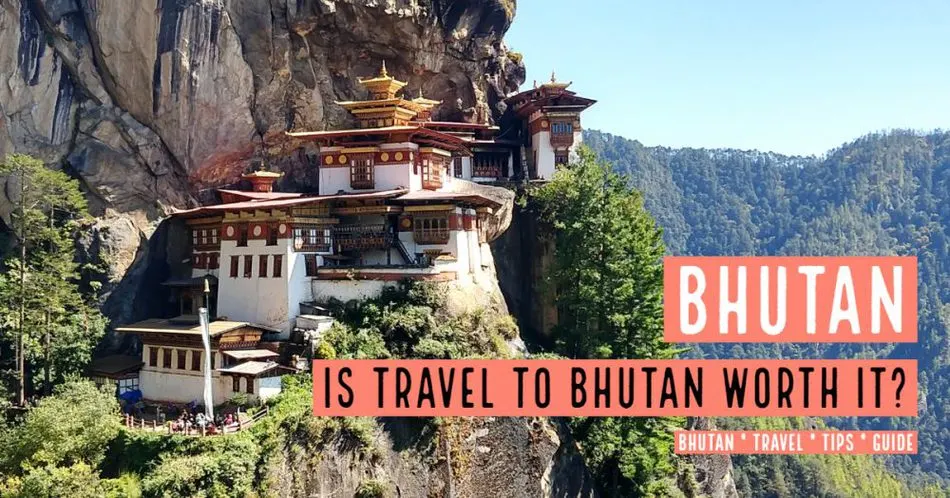 The cost of Bhutan does vary with time of year, nationality and adult or child status, I'm using $250 a day here as a point of reference, please make your own enquiries as to what Bhutan will cost you.
To book your flight to Bhutan, visit Druk Air here. Flights to Bhutan are very limited and flying with Druk Air was a great experience for us. Book your Bhutan flight here!
The more research you do the better, investigate private and group tours thoroughly, we took a group tour. Everything in this post is personal opinion only.
Our Bhutan Travel Blog – An Adventure!
Despite the costs, Bhutan was an amazing trip. Don't think for one moment that we didn't enjoy Bhutan.
I just want to put value and experience into some perspective for people on the fence about visiting.
Some tips and a guide to travel in Bhutan and booking your adventure.
I think our major issue was high expectations. After a lifetime of dreaming of this Himalayan Kingdom, it was a bit of a let-down.
Is Bhutan Worth the Money?
Watch the video below. What do you think?
At a cost of $250 a day per person, a fee set by the Bhutanese government and pretty much unavoidable, do you get $250 of value each day?
No, absolutely not. But that's not really the point.
Remember that a big chunk of your fee goes towards funding health care and education in Bhutan.
We were told this was in the region of $70 per day. That's fine, we're cool with that, but if you're expecting a tour or accommodation that is worth that sum, I doubt you'll get it.
We don't feel we did.
Two of us travelled, so we were looking for $500 per day of value. That's an expensive trip.
I don't think we came close to that in terms of absolute value.
This is my personal opinion, obviously, and I'm basing value on experiences elsewhere in the world.
We've also travelled very extensively in Nepal and visited Tibet, two destinations that most people would consider similar.
We got more for our money in both destinations although Tibet was also expensive.
What Does The Bhutan Tourist Fee Include?
The tourist entry fee for Bhutan should include hotels, all food and a guide along with admissions to places of interest.
Transportation also, your tour, be it private or group will probably involve travelling around Bhutan by road.
We travelled by minibus. Roads were mostly very good and driving standards seemed great.
Your flights to Bhutan are not included and they add significantly to costs. There were no cheap flights on this route. We flew to Bhutan from Bangkok.
Holding my Druk Air boarding passes in my hand was a surreal experience, I was finally going to see the land of the thunder dragon.
Hiking Bhutan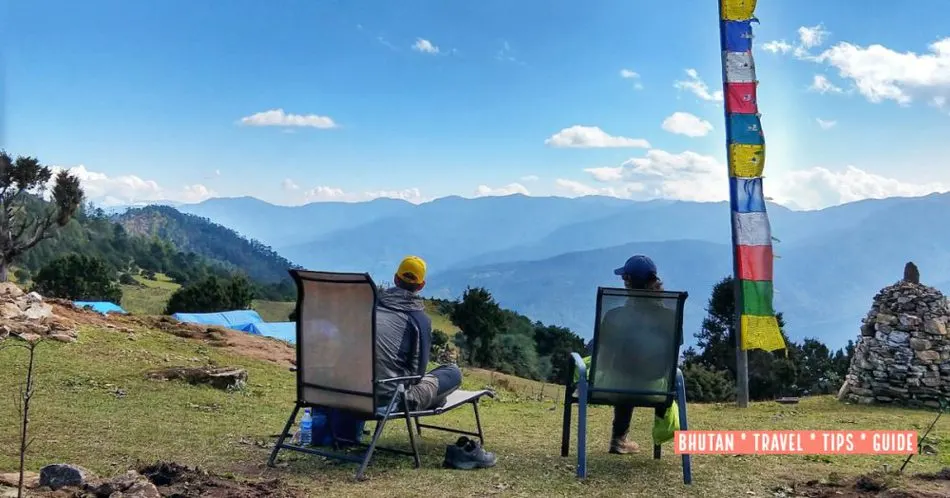 Bhutan is home to some world-class treks or hikes, including the legendary Snowman trek.
That one is billed as the toughest in the world.
Our group tour included a few short day hikes, all very gentle, and a more strenuous hike to the Tiger's Nest.
We hiked up from above Paro airport, around 1000m to the Bumdruk Camp at roughly 4,000m.
I was a little concerned about altitude and acclimatisation but everyone seemed to cope well with this 1000m gain.
We had no headaches or other problems. If I were to go again I'd take my Diamox, purely because I have some at home.
We didn't know what to expect at Bumdruk Camp but we found a pleasant, well-run campsite with a small flushing toilet block.
There were 2-man tents with real beds and plenty of warm blankets. It was cold, below freezing overnight, but we were fine in our tent despite not having any warm clothes with us.
After our night at Bumdruk we hiked down to the Tiger's Nest visiting 3 temples on the way.
At the Tiger's Nest itself there were a lot of steps, down and back up, before a long hike down to the government-run restaurant, another buffet lunch, and a further hike on to the car-park below to meet our tour bus.
Most people hike up to the Tiger's Nest from here and it would be a long day. I was glad we came down from above.
We really enjoyed the trek, climbing up was steep in places and hot. A bush fire had taken out tree cover for around half the hike making the landscape barren and shade-free, but once we hit the trees the hike was lovely.
Was the hike up to the camp site worth it? Absolutely, this was one of our highlights of the Bhutan tour.
Food in Bhutan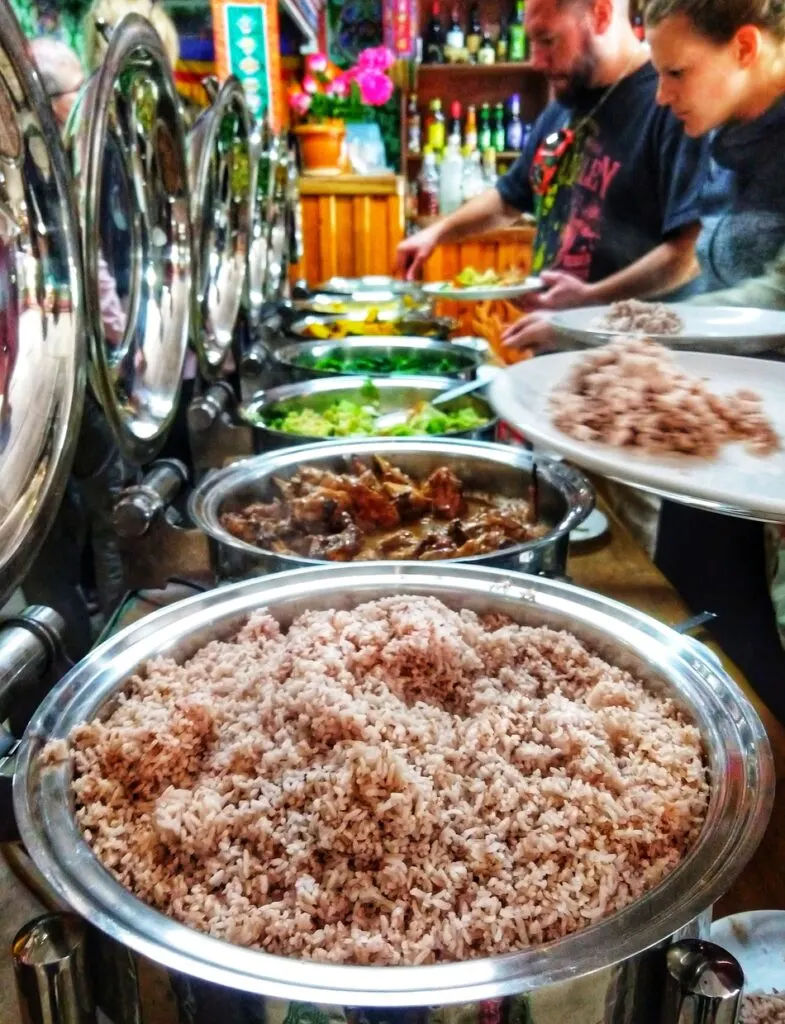 Every meal we ate in Bhutan for 10 days was at a tourist buffet. If I were to be disappointed in any way with Bhutan, it would be with the food.
Buffet food is never as good as the dish should be and our diet was limited and monotonous.
We ate a lot of plain steamed or fried vegetables, occasional momos, occasional dahl, and rarely, a paneer dish.
Chilli cheese, ema datshi, is a favourite dish in Bhutan, I enjoyed it but a lot of people found the chillies too hot.
The chili cheese was often the only protein I, as a vegetarian, had to eat, but no complaints, I loved it.
Potatoes with cheese was another popular dish that I liked.
There was always one meat dish on offer for carnivores, my son ate these but they weren't too great.
I'll create a full post on food in Bhutan but I'm certain the Bhutanese people must eat more interesting food than the tourist offerings.
One morning I had a boiled potato and toast for breakfast. The food on offer was just really weird and random.
Food was a bit challenging and I was hungry often.
I'm not a picky eater I just can't face unappetising food.
At every meal, we were delivered by bus to a restaurant, outdoor venue, or hotel to join several other tour groups at a buffet.
We ate with tourists, not locals, and that's just not what most travellers want.
There was also a lot of time wasted at mealtimes, we were forever just waiting to get moving again. I like to keep busy and squeeze every drop of exploration out of my travel time so this slow pace wasn't for me.
We were given water every day in plastic bottles, which was disappointing. We had a kettle in each hotel (take some tea and coffee with you) so I tried to boil water to fill my bottle instead of using the plastic, but it wasn't usually enough.
Hotels in Bhutan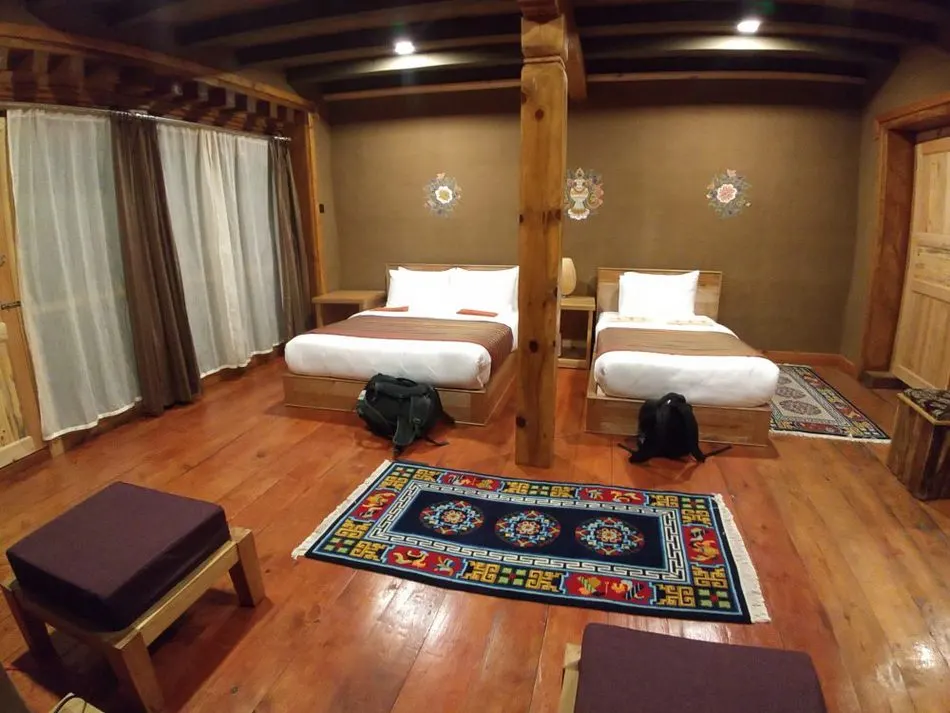 All but one of the hotels we used on our 10-day trip were superb. One was certainly worthy of a hefty price tag as we were upgraded to an incredibly large suite.
All but one were spotlessly clean, comfortable, modern and had good bathrooms.
Don't worry about hotels in Bhutan at all, these were some of the best hotels we've seen on our travels, for our usual travel style. The hotel below, in Thimphu is pretty fantastic.
The video at the top of the post includes a clip of traditional dancing in our Paro hotel as a farewell event. It was wonderful and very well organised.
I think that's something we can say about everything in Bhutan and this tour, it was well organised, stress-free and everything was taken care of.
Tipping in Bhutan
Tips were expected and they cost us a lot.
Because this was a group tour we were expected to contribute a standard amount of money to a tipping pool at the start of the trip and our guide then organised tips from us, as a group, for every hotel and restaurant.
Bad food and bad hotels got the same tips as the good ones and I didn't think this was fair.
That said, I'm not from a tipping culture, US visitors might find this normal.
We were also expected to tip the guide and driver at the end of our trip, we were cool with that and gave every cent we had left, our guide and driver were excellent.
Tips added significantly to costs and I think the set tourist fee, being so high, should probably have covered this.
Who Visits Bhutan?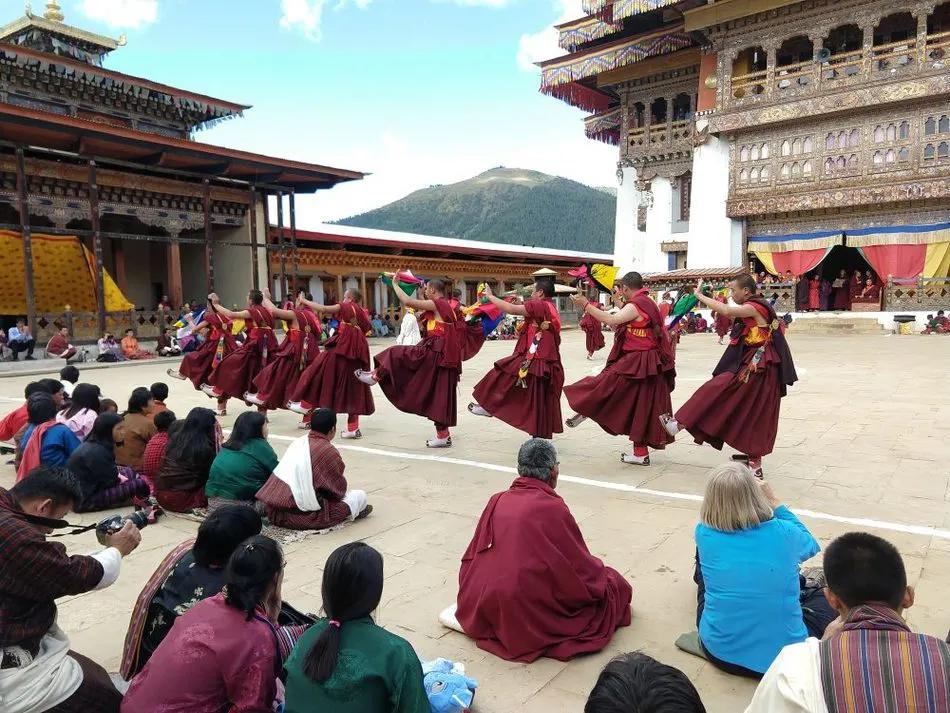 Our guide told us that "mostly old people" visit Bhutan.
The tourists we saw, and we saw many, were certainly older and of many nationalities.
Yes, you can take kids, I took my teenager, that's no problem at all, but most families wouldn't want to pay such a huge amount for a holiday.
The tourists we met in Bhutan seemed to be the type who had done it all, they'd been everywhere, seen everything and Bhutan was last on the list. We were also in that category.
People leave Bhutan till last because of the cost.
There were a lot of tourists in Bhutan, far more than expected, we saw more tourists than locals. In Tibet, we went days without seeing other tourists.
Bhutan, Nepal or Tibet? Which is Better?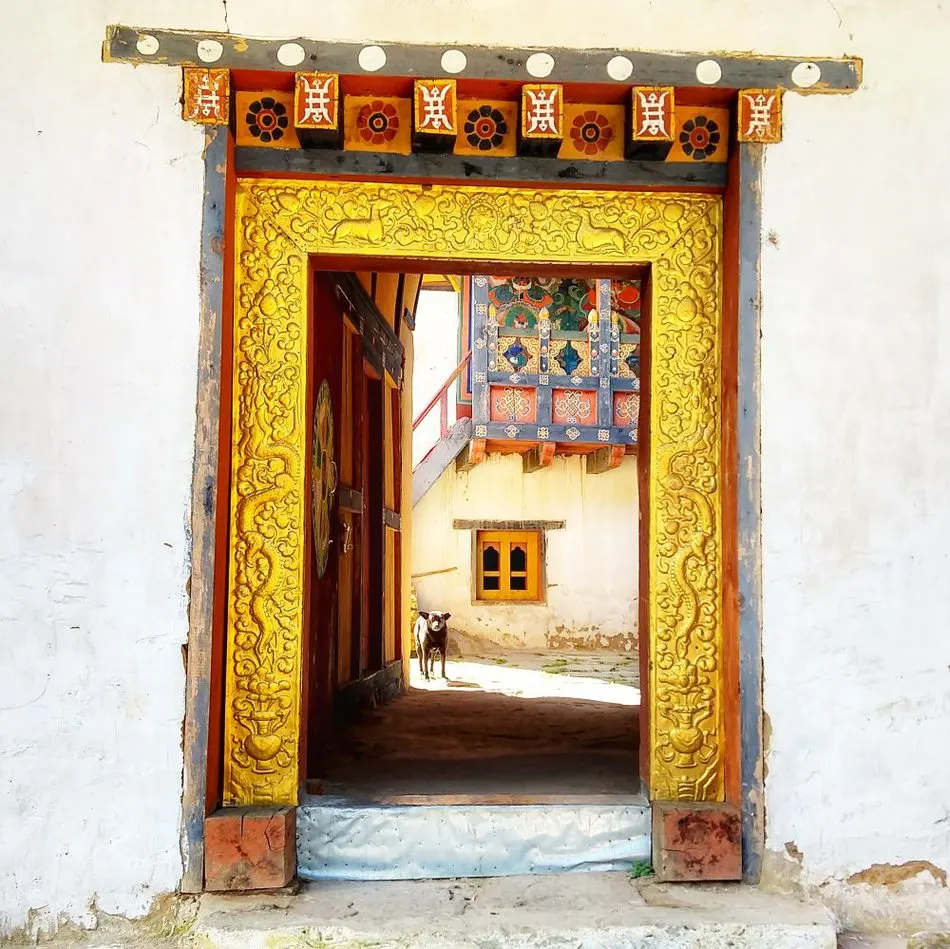 With the exception of The Tiger's Nest, which is possibly up there as my favourite place in the world, if I had to choose, I would prefer to spend my time and money in either Nepal or Tibet than Bhutan.
Tibet felt more real and raw and had that intense spirituality and gut-wrenching history.
Nepal is the ultimate for trekking and is a cheap country with easy long visas. You can stay months in Nepal.
You're able to fully explore, enjoy good Nepali food, and have a very nice time with no need for guides or groups.
Travellers in Nepal have freedom, and we enjoy that.
Bhutan is unique. Don't think that if you've seen Tibet and Nepal it's not worth visiting Bhutan. You'll probably find Bhutan surprising in that it is so different.
We were really surprised.
Much as I loved seeing The Tiger's Nest and other highlights and mostly had a very enjoyable time in Bhutan, I enjoyed Tibet more and Nepal is still my favourite Himalayan destination. If you'd like to look at the tentative UNESCO World Heritage list for Bhutan, it is here.
Highlights of Our Bhutan Tour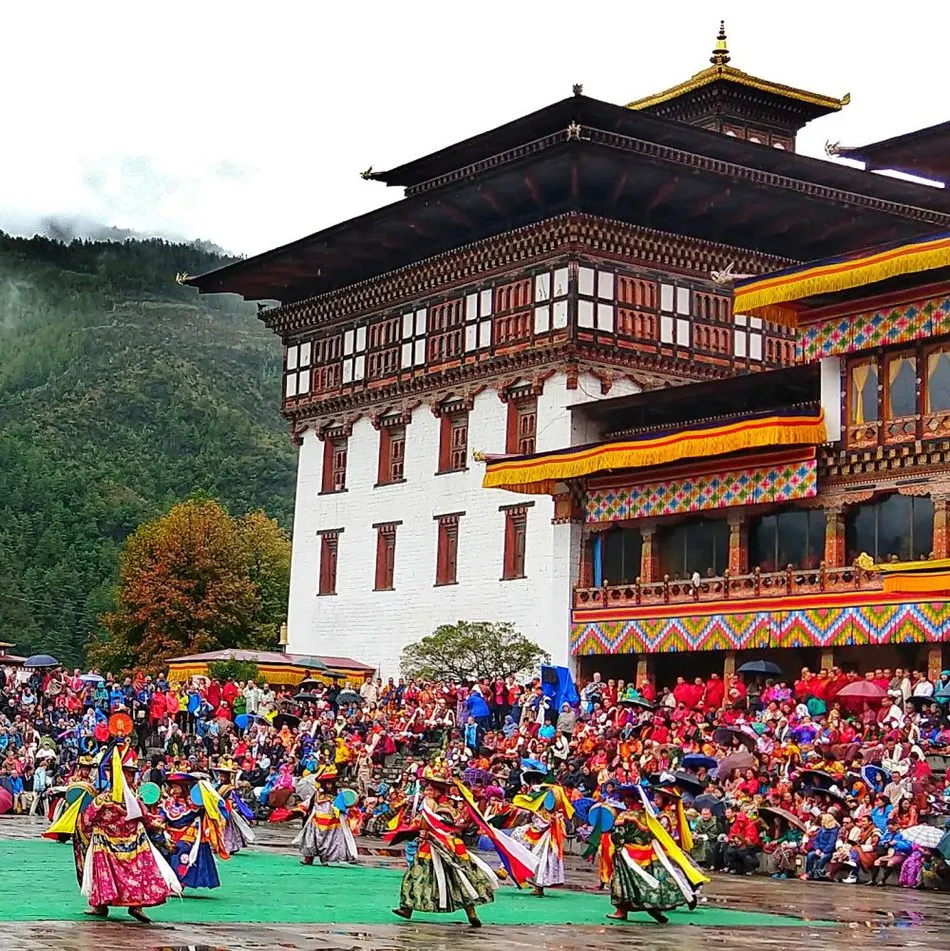 The Tiger's Nest was the huge highlight, of course, this was even better than expected, hugely spiritual and I walked out feeling different, blessed.
We visited on the last day of our tour so that we all left on a high that had been absent for a few days.
I'll write more about the Tiger's Nest and all the attractions we visited in Bhutan later.
We took a few short walks in Bhutan and a two-day trek with overnight camping at 4,000m altitude to reach the Tiger's Nest. The walking was pleasant and the final trek was challenging, on a par with some days on the Everest Base Camp trek.
The Bumdruk Camp Site was good.
We were there for the Thimphu festival at Thimphu Dzong and caught another festival in rehearsal at another monastery.
This is the stuff you probably imagine when you think of Bhutan, dancers, mask, drums and monks. This has always been the stuff of my dreams.
The reality was that there were crowds and we were generally too far away to see much of the dancing or to take photos. Be sure to take your big lenses if you're serious about photography. I travel with just a phone and for the purposes of running this website, it's been all I've ever needed.
I really wished I'd packed a camera with a good zoom for our Bhutan tour.
Every monastery and dzong we saw was beautiful and wonderful. Bhutan has many incredible places to see, stunning landscapes and interesting wildlife.
List of Highlights For Your Bhutan Itinerary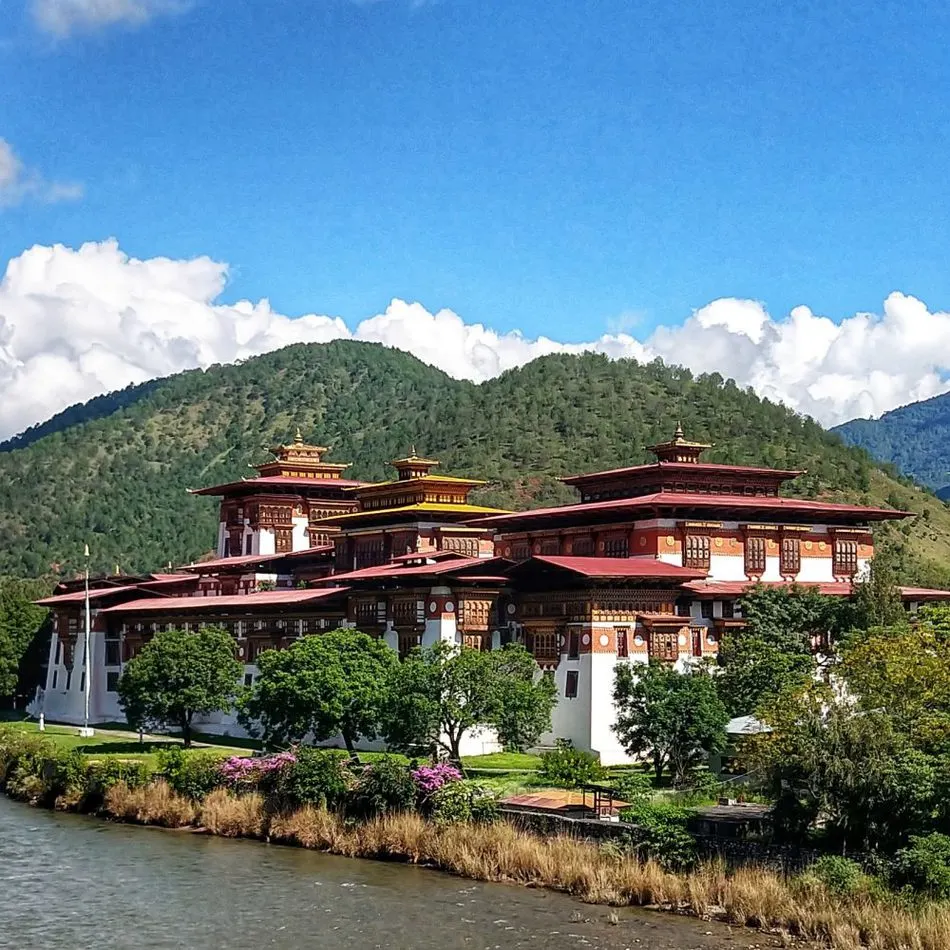 Consider adding these destinations to your Bhutan trip itinerary.
Thimphu, the capital of Bhutan for Thimphu Dzong and The Memorial Stupa. The giant Buddha Dordenma statue above Thimphu is impressive but modern and not yet finished, we would have happily skipped visiting this one.
Paro, The Tiger's Nest (Paro Taktsang) is above Paro. Paro Dzong is also well worth a visit as is the oldest monastery in Paro, Kyichu Lhakhang
Punakha Dzong
The Valley of the cranes, Probjikha Valley. The Crane conservation centre was quite interesting and to be there when the cranes arrive in October must be pretty special. Only one injured crane, Karma, was there for our visit but the valley is beautiful.
Gangtey Monastery was pretty special.
The Haa Valley, we thought was missable if you're short of time. The White Temple, Lhakang Karpo, was lovely and the architecture in town was special ( although you'll see similar in Paro town), but we didn't have time to explore.
We would happily skip seeing the Bhutanese national animal, the Takin.
The walk up to the Khamsum Yulley Namgyal Chorten was lovely and the Chorten itself is beautiful with incredible views up and down the valley. There are a couple of suspension footbridges to cross here.
Bhutan has an obsession with the phallus, see houses plastered with phallic paintings (see video) as well as masks and wooden effigies around Chimi Lhakhang, the "no dog" monastery, near Lobesa
The short trek on the mountains between the Haa and Paro valleys, from Chele pass to isolated Kila Goenpa Nunnery ( Chele la Gompa), was very pleasant and this nunnery clinging to the cliff was a little Tiger's Nest. This was where we met the monk and kitten below.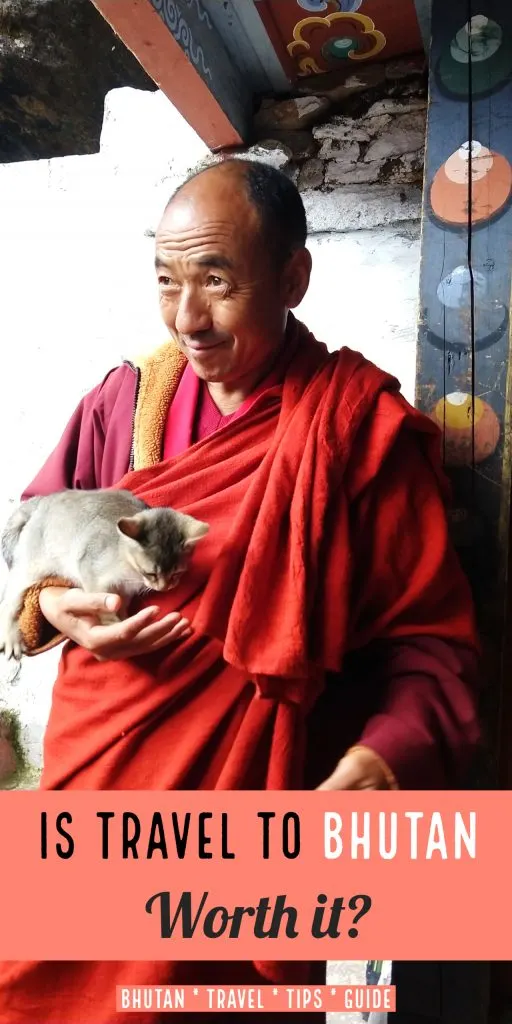 All of these destinations in Bhutan will have to have posts of their own in time, as you can see, we saw a lot.
Did We Enjoy Bhutan?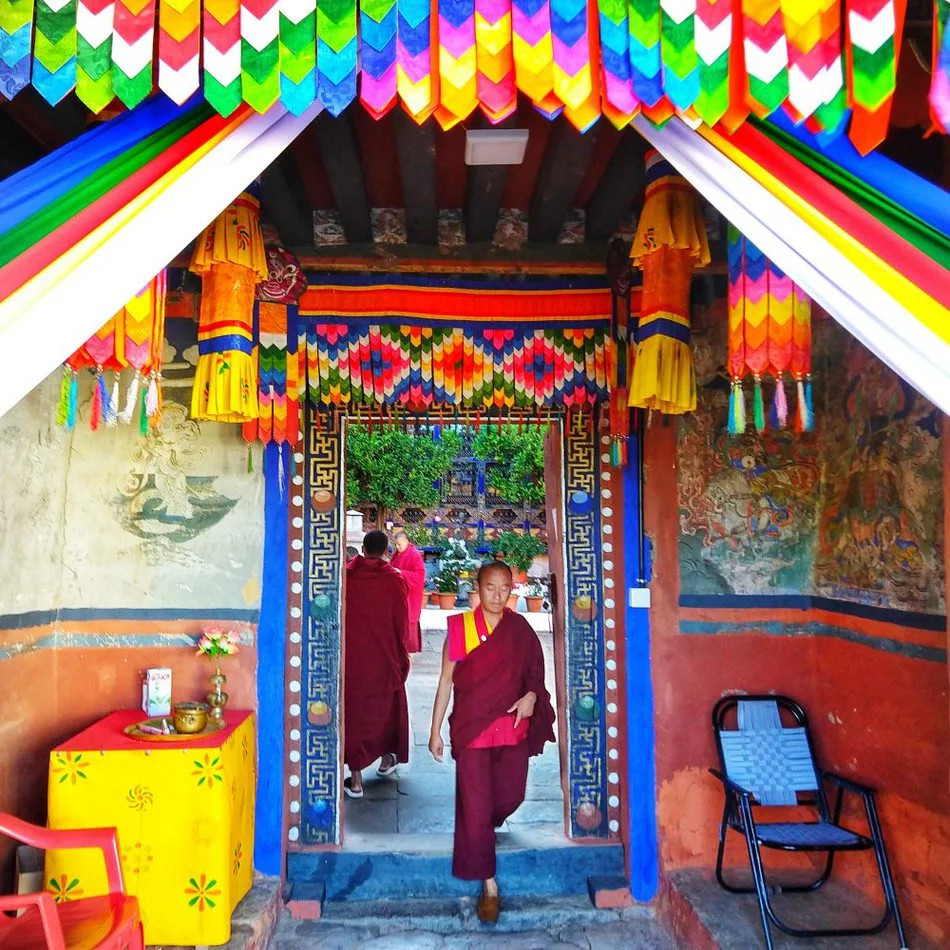 Yes, we enjoyed it, very much.
Bhutan was very different from my expectations. It was modern, developed and slick with a landscape that reminded me of mountainous parts of Europe more than Tibet or Nepal.
We loved Bhutan's ancient monasteries, dzongs and remote, totally unspoiled, places.
I don't think I've ever seen a country with so little deforestation.
We felt that a lot of time was wasted on our tour. You pay the tourist fee for every day, or part day, you are in Bhutan.
This meant that on our first and last days, where basically we saw nothing, also cost us the set fee.
We spent a lot of time driving, looping back along the same roads several times. It felt as though the tour was deliberately longer than necessary to keep us paying that fee for as long as possible.
There was also a feeling of only seeing what the government wanted us to see.
There were quite a few retail opportunity stops, we weren't buying souvenirs but, of course, we had to wait while other group members went shopping.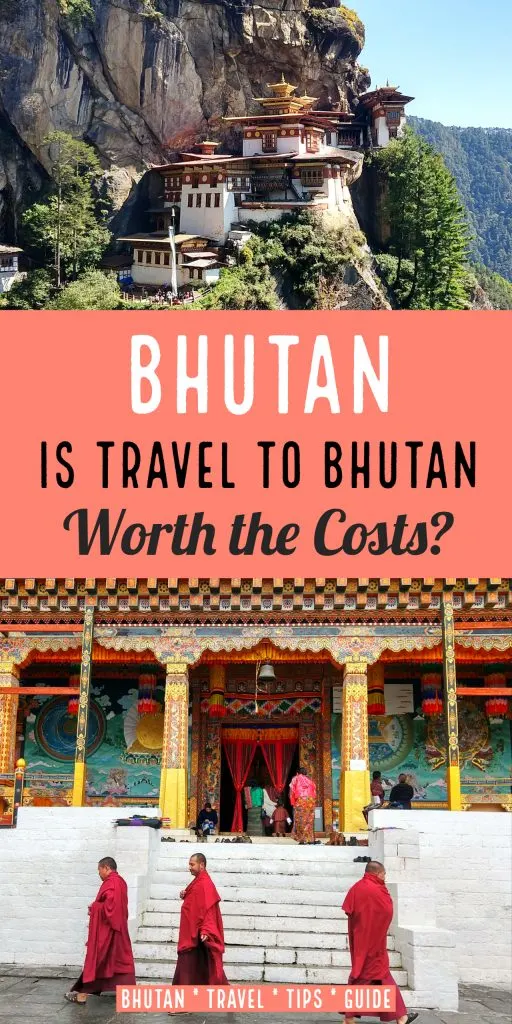 Bhutan certainly has a lot to see and we're very glad to have finally been. It's been my life-long dream to visit Bhutan and my bucket list is now fairly complete.
It's my job as a travel blogger to visit these places so that I can comment knowledgeably, so for work purposes, of course, I'm glad to have been.
We weren't in any way disappointed in Bhutan, it was a great trip, but it wasn't so mind-blowing that I'll tell you to book your tickets right now.
I do enjoy organised and small group tours and having a local guide is generally gold for most destinations. Our guide was fantastic and having insights from a Bhutanese person was priceless.
I think the very organised nature and regulation of tourism in Bhutan were what slightly spoiled the trip. Only very slightly.
It may surprise you that we found our Tibet tour far less regulated.
To book your flight to Bhutan, visit Druk Air here
If, like me, you've always wanted to see Bhutan, go. Is it worth visiting Bhutan, yes, if your interest level is high and your pockets deep. To cut costs you could try to find a shorter tour, be sure that your tour includes the Tiger's Nest if you are physically able to walk there, either the way we went, or up from the bottom. It's very close to Paro airport, so if a tour doesn't include it, it's not because it is remote. There are many treks to enjoy in Bhutan, you can also look at motorbike or cycle tours, it's possible to see Bhutan in many different ways. We hope you found our honest Bhutan travel blog useful.
If you'd like to hire a car during your stay, use this car rental comparison tool to find the best deal!

We also suggest you take a look at this company to get a quote for all kinds of the more tricky adventure or extended travel insurance.

Try Stayz / VRBO for an alternative way to find rentals on homes/apartments/condos in any country!