Bhutan and the Bhutanese have a thing about the phallus. They are penis obsessed and you'll see large, lurid, male members artistically depicted on houses throughout Bhutan. One village, in particular, Sopsoka, near Punakha town and adjacent to Chimi Lhakhang, is famous for its penis art along with the fertility temple. This temple is also called the 's"no dog" monastery, although it was packed with dogs, and the whole Bhutan phallus story revolves around The Divine Madman. Of course, we visited. Let me tell you a little about Bhutan's phallic art and the penis.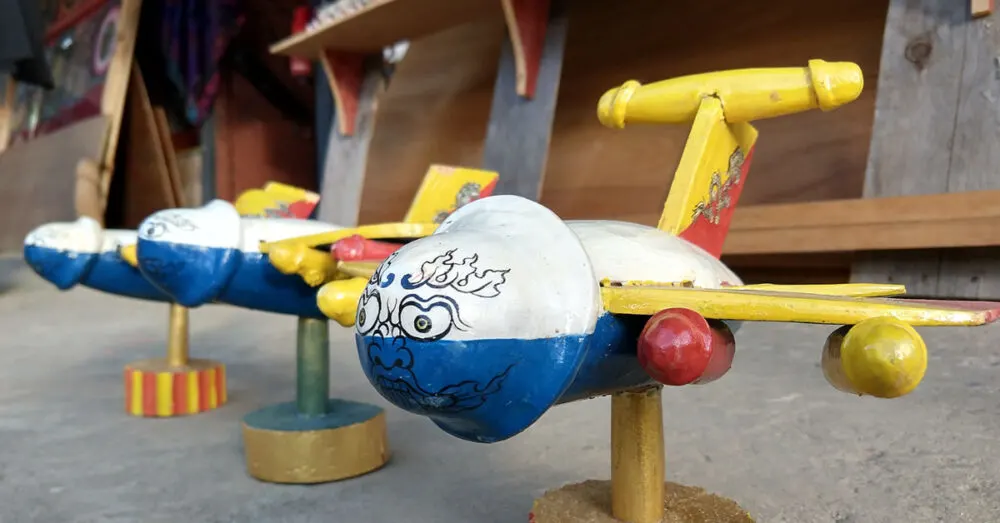 I hope I got everything below correct, this post is based on the information given to us by our Bhutanese guide and notices at the site.
The Bhutan Phallus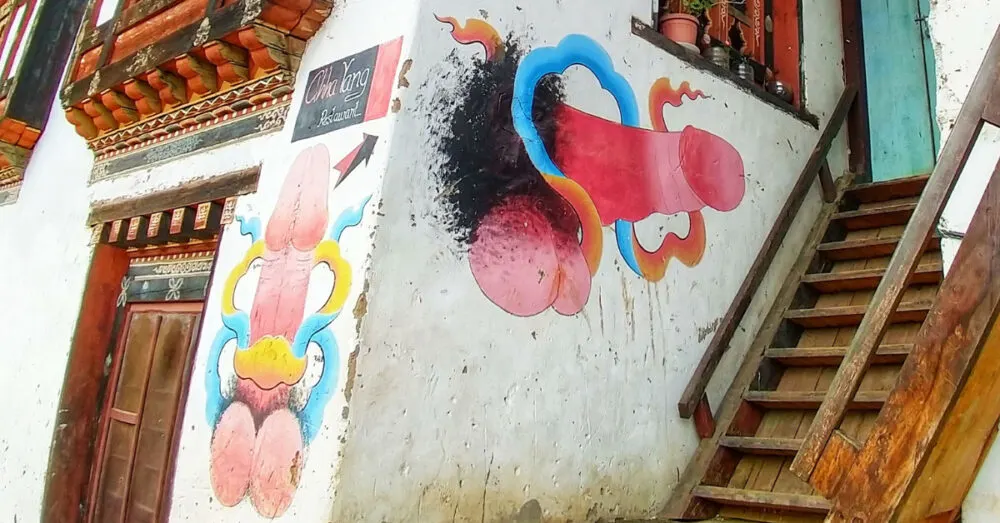 All over Bhutan, you will see phallus wall paintings and occasionally flying carved wooden phalluses, often with teeth or eyes, on housetops at corners of the eaves.
Traditionally these symbols of an erect penis keep the evil eye and malicious gossip at bay.
They are particularly numerous in the Punakha valley near the fertility temple of Chime or Chimi Lhakhang.
Bhutanese Penis Art Video
I have so many photos of penis and phallus arts and crafts, traditional and tourist-orientated, that I can't possibly put them all on this page.
They're in the video below, because I know you want to see them, right?
Bhutanese Penis Souvenirs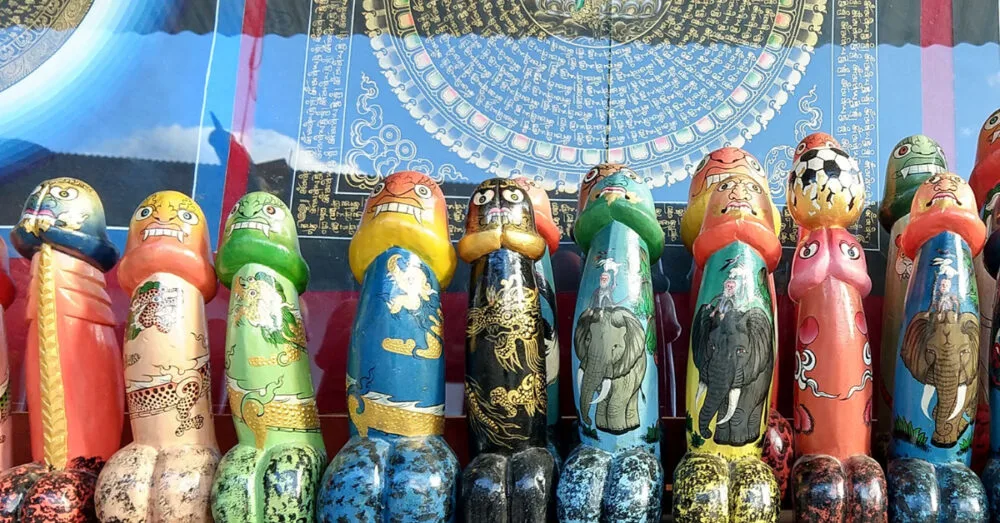 I have a Bhutanese phallus fridge magnet right here, at home.
We don't shop much on our travels but we did see this fascinating book right across Bhutan, if you'd like to learn more about Bhutan and phalluses. If you're in a shopping mood, every shape and size of member is available, usually wooden.
You can find penis masks with lude detail that will look lovely on your wall and raise the odd eyebrow.
The Divine Madman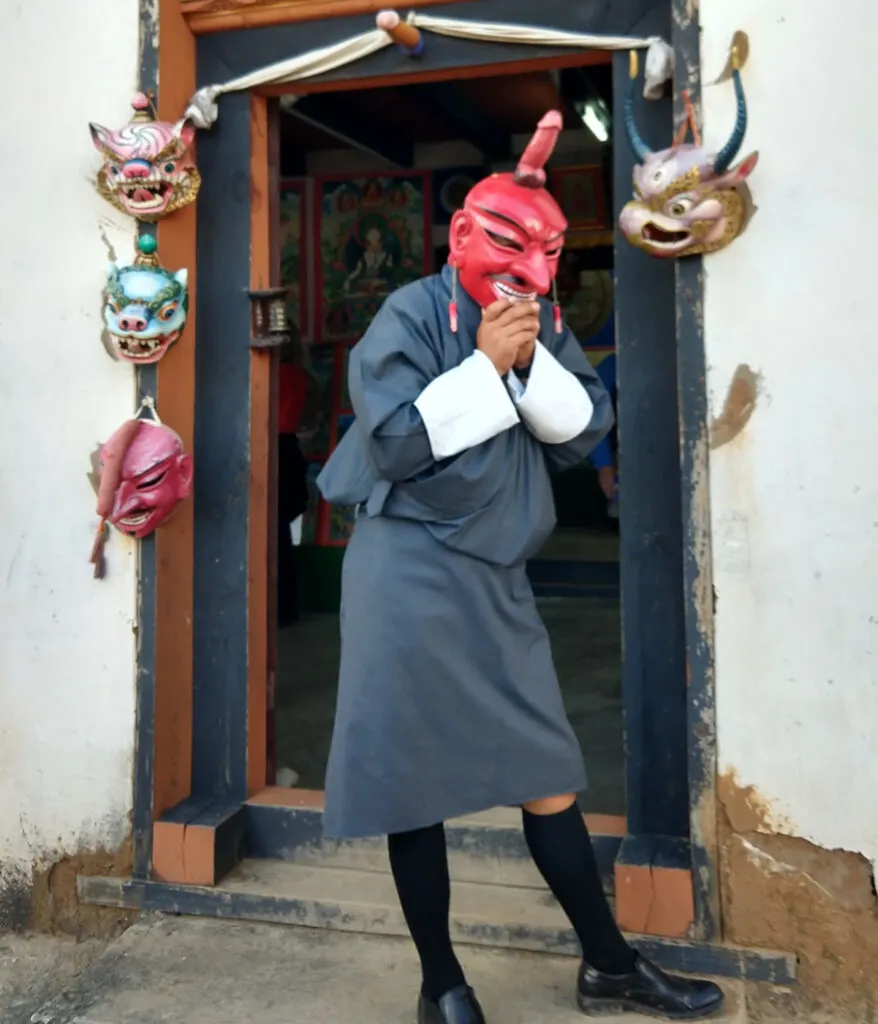 Lham Drukpa Kuenlay (1455 to 1570) was an enlightened Buddhist master who personified Vayrayana, "Crazy Wisdom". A profound wisdom that transcends the mundane religious cultures. Lham Drukpay Kuenlay is affectionately known as "The Divine Madman"
The non-conventional , bizarre, and outrageous characterised the Divine Madman's life and teachings.
He toured the country as a vagrant partaking in dance, women, hunting, and alcohol, human pleasures not normally associated with the holy.
This practice demonstrated that he was beyond the norms and expectations of conventional society and taunted monastic society.
His phallus, his "flaming thunderbolt" or "magic thunderbolt of wisdom" weapon was a symbol of society's discomfort around reality.
Chime Lhakhang – No Dog Monastery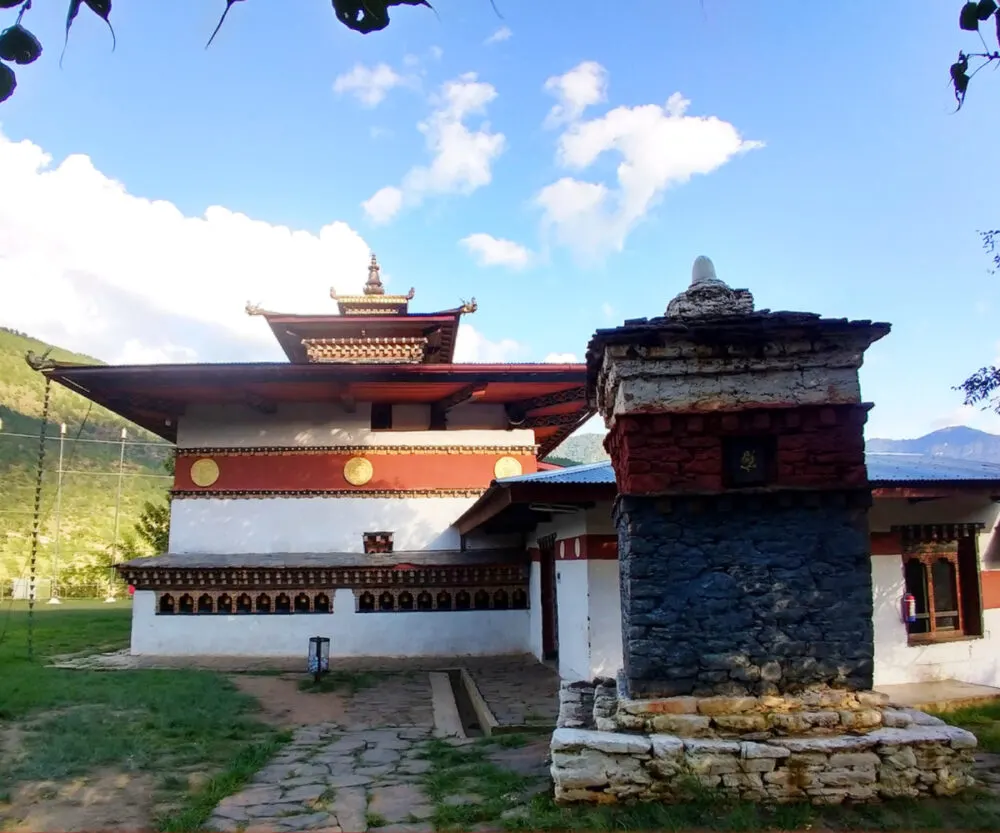 "No Dog Monastery" is where The Divine Madman killed and buried a particular demon ( Dochu La) in dog form as one of his miraculous acts. Obviously, he used his "flaming thunderbolt" to do so.
Lama Kuenlay (also spelled Kunley) freed the Bhutanese people of the tyranny of many demons and the temple and monastery at Chime Lhakang is where the mad saint's original phallus, bought from Tibet, is housed.
Could You Save This To Pinterest Please?
The temple af Chime Lhakang was built in the 15th century by The Divine Madman's cousin brother Ngawang Choegyel,. and is a pleasant walk through fields and village houses from the main road at Punakha.
D and I managed to get lost here, we were leading the group, speeding ahead on experienced trekking legs.
We walked up and down some quite steep hills more times than necessary, but we saw a little more than the rest of the group in the process.
Still to this day, pilgrims visit this place to pray for children to come and to receive blessings for their child's life.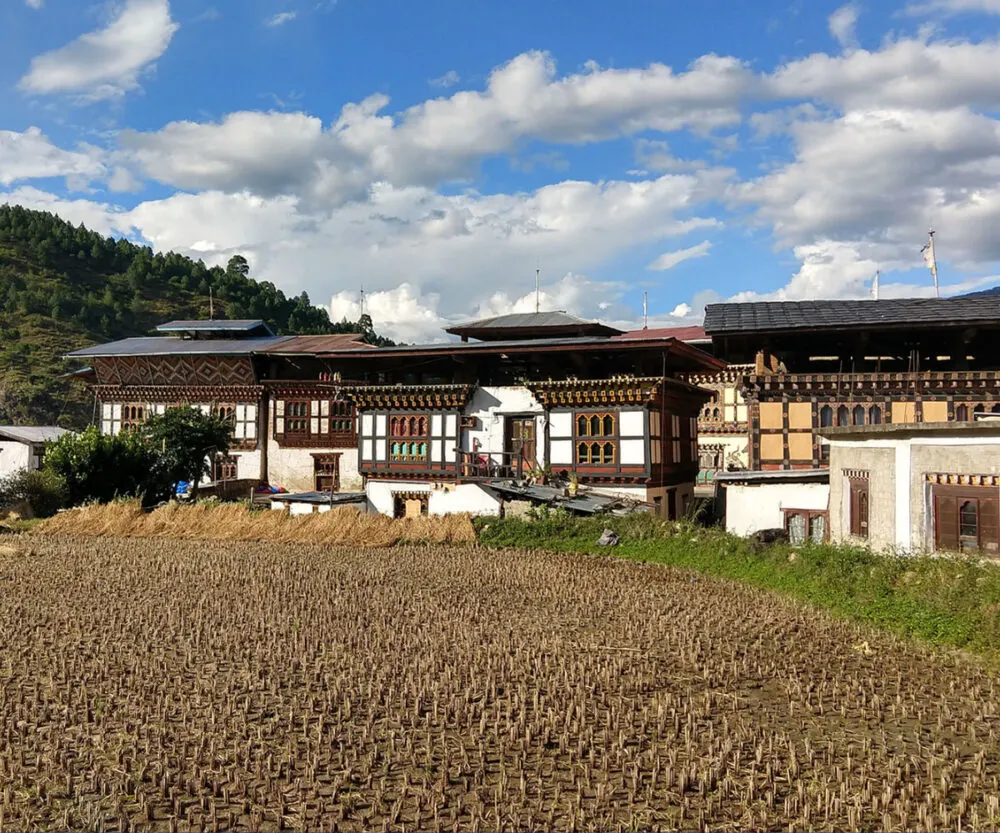 I visited Bhutan with my then 15-year-old teenager. Was this a good travel-with-teens destination? Yes, he loved it. It was fascinating, we were with a group, we did some trekking and there was plenty of food.
All of those things made Bhutan a great trip for a teenager.
Would this Bhutan trip be good with kids? Probably not. There was a lot of time in buses and a lot of waiting for group members while they shopped or did things that didn't interest us.
Bhutan is expensive, $250 per day is the typical fee, this is lower for kids. Bhutan would be a very expensive family vacation destination.
Bhutan was my top bucket-list destination, my dream trip of a lifetime.
Did Bhutan live up to expectations and was it worth the cost? What sort of value did we get for this extreme price? You'll have to read that blog post. We loved Bhutan, but it was very expensive.
If I were to pick one Himalayan destination as the best, I'd pick Nepal.
If I could add one more, I'd pick Tibet. Bhutan v Nepal v Tibet is an easy pick for me. Nepal is my choice as the best destination in the Himalayas for many reasons. Maybe that's a post I need to write.
Bhutan was fascinating, it was a dream destination, and this phallic art was just one more interesting quirk of Bhutan. The buildings were beautiful, the art, culture and traditions were incredible and the landscapes so unspoiled. We enjoyed near faultless hospitality and always felt safe in modern hotels and on good roads. If you dream of Bhutan, then yes, you should go. Be certain your Bhutan itinerary includes Sopsoka for Bhutan's unique phallic art.
If you'd like to hire a car during your stay, use this car rental comparison tool to find the best deal!

We also suggest you take a look at this company to get a quote for all kinds of travel insurance.

Try Stayz / VRBO for an alternative way to find rentals on homes/apartments/condos in any country!