This post may contain affiliate links.
I honestly don't know where to start with Tibet. We've just spent 8 incredible days travelling through Tibet from Kathmandu and those 8 days were some of the most mesmerising of our last 6 years of full-time travel. I now need to create a Tibet travel blog to record our memories before they fade and to give you the low-down on this beautiful and inspiring place. Our content on Tibet travel starts here, I need to unpack my mind on these pages and explain what Tibet does to you.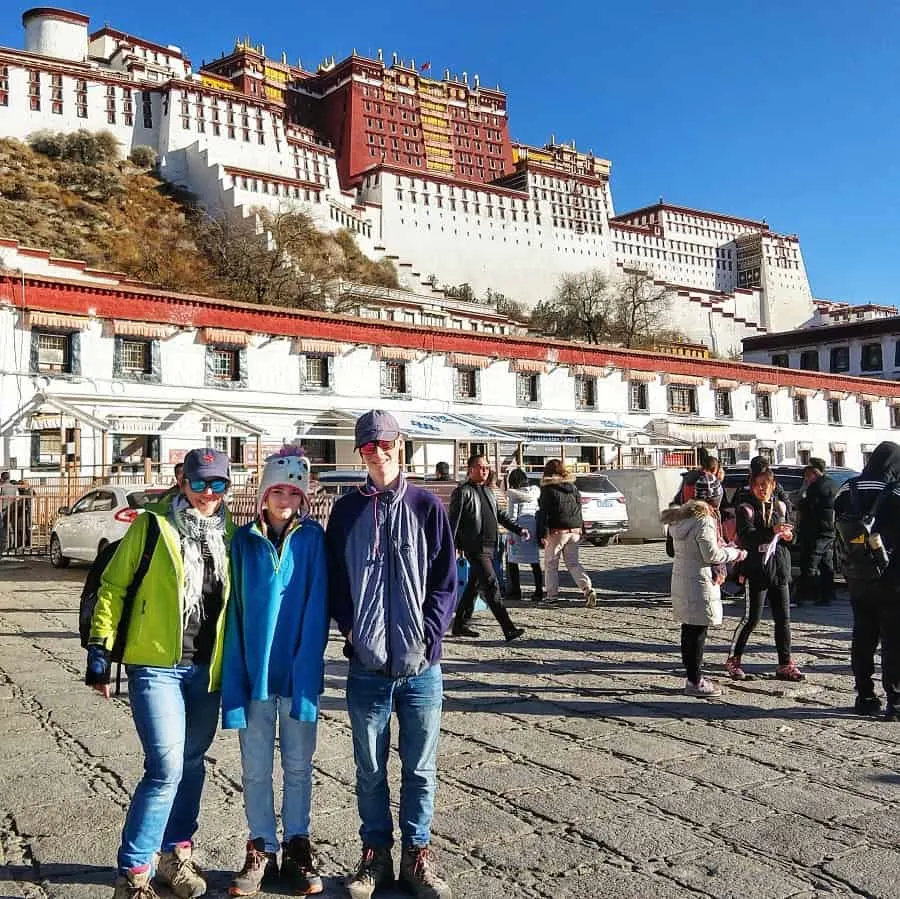 Tibet Travel Blog
I'll start today with an overview because every place we visited in Tibet, every experience, deserves its own post.
Our journey from Kathmandu, to the Chinese border, and onward to Lhasa was immense.
So few people visit, I want you all to know about Tibet but I need to tread carefully. You can do more research for yourselves.
Maybe, like me, you've been fascinated by Tibet for a long time, watched the films and read the books but not been fortunate enough to see this place first-hand.
I want to show you the pictures. All of the places we mention here will have full blog posts in time.
This is just a first taste of Tibet.
Is it Safe to Visit Tibet?
We felt very safe in Tibet from the moment we crossed the border.
In my opinion it is safe to visit Tibet and we took children with us.
The roads in Tibet were all in very good condition and almost free from traffic.
There is heavy police and army presence, both visible and disguised.
You will pass through checkpoints and metal detectors often.
The journey to Tibet, by road starting in Kathmandu, was hair-raising, but once you're on Chinese roads everything changes.
Tibet Travel Video
We have Tibet travel videos on our posts about Lhasa and the monks debating at Sera Monastery.
There is no video on this page as yet because some people find them annoying, but do try to find those.
See our Tibet tag at the bottom of the page.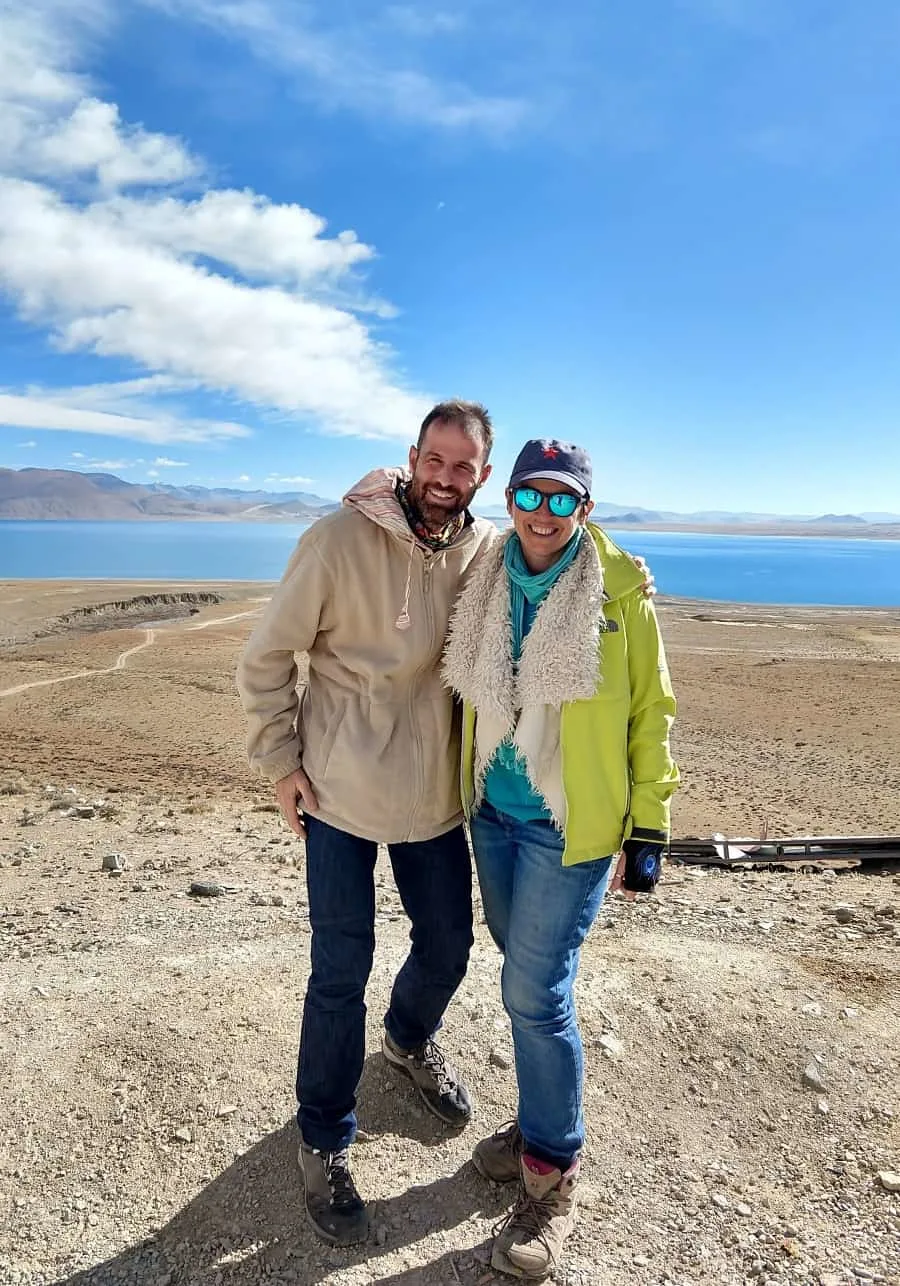 Kathmandu to Tibet Journey
Our 8 day journey to Lhasa started in Kathmandu with a 7 hour jeep ride to the Chinese border.
It's a tough trip on almost non-existent roads. You bounce and shake through villages and mountain passes in low-quality jeeps. 7 tourists and a driver crammed into a too-small vehicle with little comfort or safety.
I always say that the worse it gets the better the stories, but I wasn't happy with safety on this ride at all, particularly not for my children. We'd been in Nepal almost 3 months and taken plenty of long-distance bus rides so I'm not being precious here.
This jeep wasn't good, the booking agent lied to us and Nepali roads are challenging. In general, I'd prefer to take a bus in Nepal.
Of course, the scenery was stunning and the experience was a memorable one. This is real travel, it's not always easy but it's always worth it.
Crossing The Border into China
Crossing the border into China was fairly straightforward.
A huge modern border control complex marked the entry into another world. Goodbye Nepal, hello China.
From here on in our bus was spacious and comfortable, the highways were good and the landscape changed completely.
We met our Tibetan guide, our faultless escort for the next 8 days filled us in on Tibetan customs while keeping well away from politics.
The first stop was just 45 minutes from the border.
A comfortable modern Tibetan styled hotel. The next morning we set off into Tibet proper, passing the tree line, travelling up onto and into the Tibetan Plateau.
Altitude and High Passes
Here's the thing, it's not a plateau at all. It's not flat.
We crossed multiple high passes over 4 and 5,000 m. The altitude in Tibet is extreme and you need to be ready for that.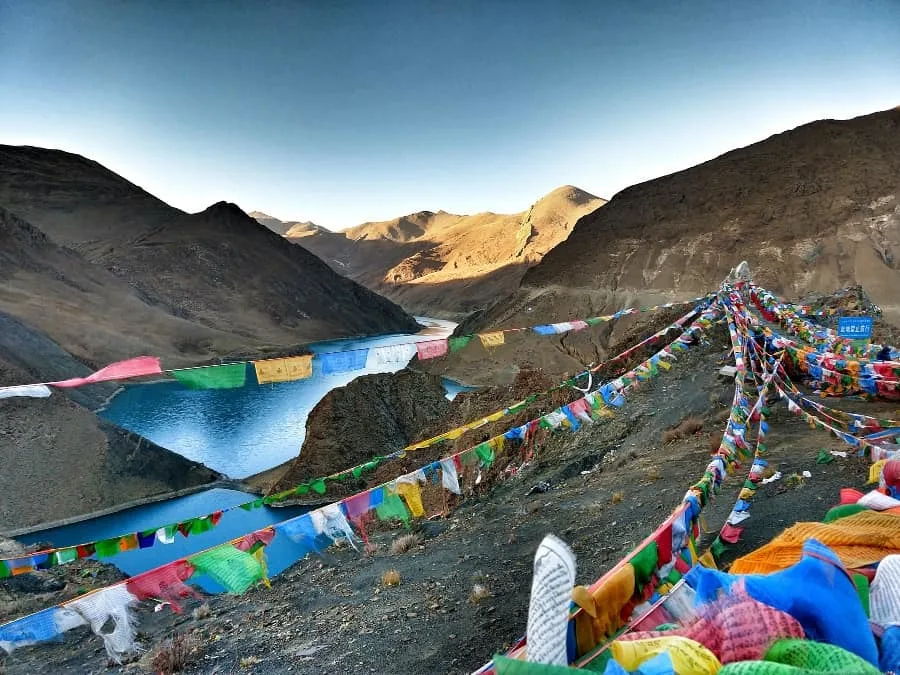 Altitude is an issue if you're thinking of visiting Tibet. I can talk more about that elsewhere, but for us and the other family on this tour of Tibet, it wasn't too much of a problem.
We had all just completed high altitude treks with the kids, Everest Base Camp and Annapurna Circuit, along with spending extended time in Kathmandu (which is at 1300 m) so we did OK. Others suffered more.
Some days saw us spending up to 9 hours per day driving. It sounds a lot and it is, but it was enjoyable.
The landscape, traditional villages, animals, lakes and people kept me staring out of the window. Likewise the changes brought in by the Chinese development were there to see.
Kids and Tibet Travel
The children, there were 3 with us, between 9 and 14 years old, slept comfortably in reclining seats or read and played games as we drove for long days over high passes.
There was some travel sickness and a couple of major tummy upsets caused by giardia. Toilet stops were off-the-scale bad. You've never seen bad public toilets until you've seen those in Tibet (China generally also) and my son wasn't happy to use them. It was a problem.
In some places, the Potala Palace for instance, the public toilets were OK, but mostly, no.
Yes, you can take kids to Tibet and mostly the three kids with us enjoyed it. It was fascinating, there's so much to see, all of it new. The attention the kids received was overwhelming at times but they didn't have the same emotional response to what they saw as we adults.
Food and accommodation in Tibet were absolutely fine for kids, be aware of altitude, tummy problems, cold, and bad toilets if you're travelling to Tibet with kids.
Food on The Tibet Trip
Breakfast was included in the price of our trip. Some hotels were very good, 2 were very bad.
Breakfast was eggs and bread or some variation on that theme. It wasn't great, but it was OK.
We made lunch stops as a group and in the evening we were free to eat where we pleased, choosing between Nepali, Indian, Chinese and Tibetan dishes on most menus.
We ate well with all 3 kids developing a liking for yak. Yak is much nicer than buff, if you were wondering.
There were several vegetarians on the bus and we found food easily, Indian and Nepali food is usually great for vegetarians.
We now have a full post on food in Tibet.
If you're vegan and committed to sticking to your principles while travelling like this, you'll struggle.
There is most certainly a language barrier in Tibet and I really don't like your chances of explaining a vegan diet in Chinese or Tibetan, maybe you'd need to get something printed in both languages to carry with you.
Likewise, if you have any allergies or intolerances. I react badly to MSG, we did come across this additive several times.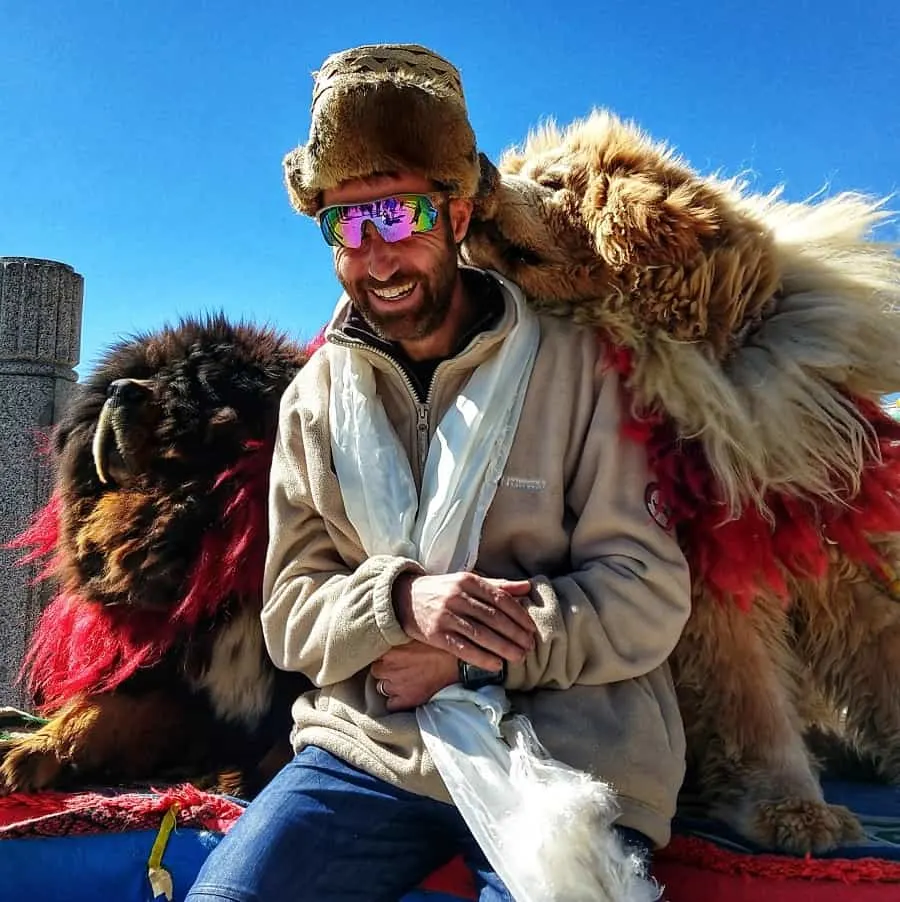 Highlights of The Tibet Trip
Every day we stopped at view points. Most days we visited places of interest.
Yamdrok Lake is the most incredible colour. The water has purple and turquoise hues.
A stunning spot with furry tourist trap touches and popular for wedding photos. See Chef's two new friends above.
One of the highlights of this part of the journey was the Panchen Lama's monastery, the Tashi Lhumpo monastey at Shigatse.
Obviously this is a real political hot potato. It's not something we could discuss publicly in Tibet and not something I'm going to discuss here.
The monastery was breathtaking and this, on day 2, was when we all felt we were really in Tibet.
Lhasa
We finally arrived in Lhasa late on day 5. Our hotel in Old Lhasa was filthy and that day was hard.
My son was sick, I was tired and hungry and couldn't face going out to eat.
My husband (we call him Chef, because he is) went out to find food and struggled so that night we went without.
That was the low point of the trip, but the next day was a massive high.
Day 6 saw us spending the morning at the Potala Palace. It was incredibly emotional and that's all I'm going to say right now.
We walked in the park surrounded by Tibetan people in traditional dress from every corner of the region before heading into Old Lhasa for a delicious lunch at Lhasa Kitchen.
Our afternoon stop was the Jokhang Temple, one of the most sacred places in Tibet and a short stroll from the restaurant.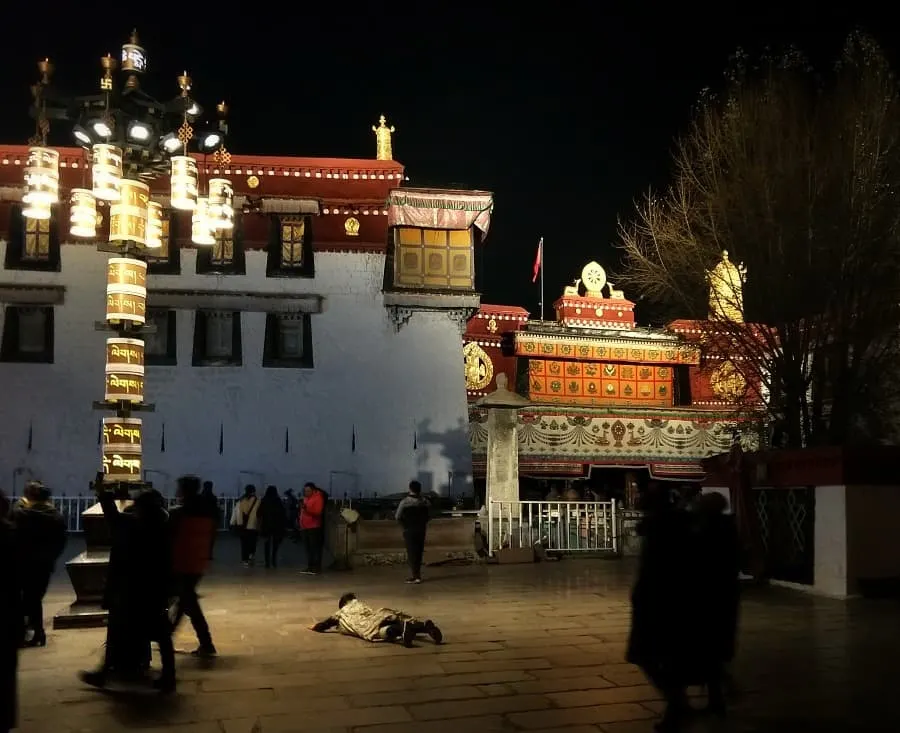 We were lucky enough to be there for a festival.
Again, this experience was so intense that I can't even start to describe it here. That blog post will come soon.
We enjoyed another delicious dinner with the other travelling family, then off to bed, ready for the next huge day.
Day 7, our last day in Tibet and we were given a choice, did we want to visit the Summer Palace or another monastery? The group unanimously decided to visit the Summer Palace and we were so glad we picked this place.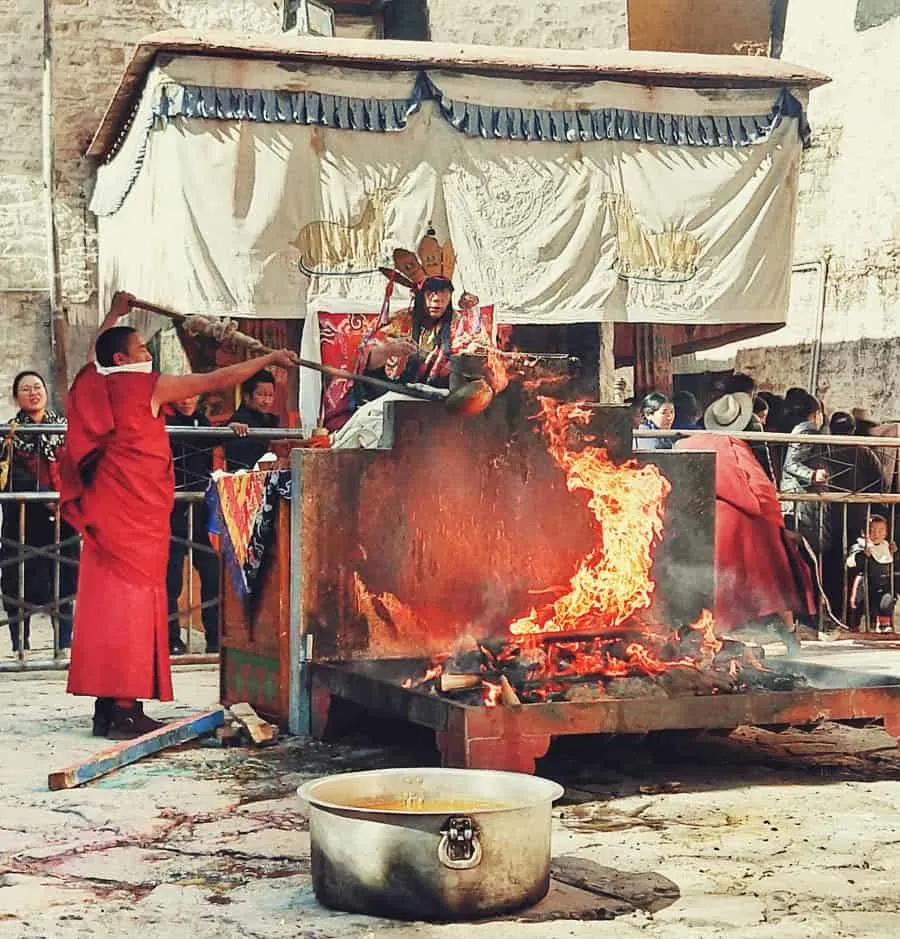 Debating Monks
Our afternoon took us to the Sera Monastery where monks sharpen their debating skills in a public forum. This is the stuff of dreams. I never thought I'd ever see this with my own eyes.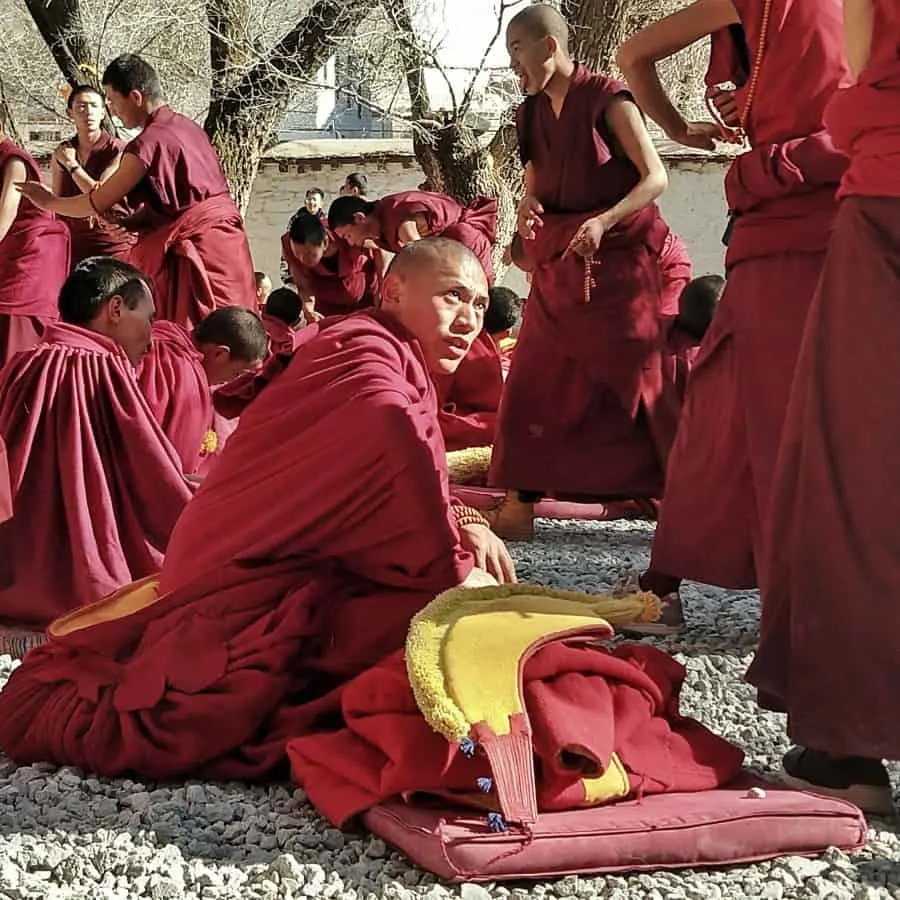 Our tour ended with a final celebratory yak sizzler for the kids and a walk around Old Lhasa- it's so beautiful at night.
As always local people stared, smiled and welcomed us. All the attention was pretty overwhelming for our little blond girl so if you're taking small cute kids, be ready for that.
The next morning we had to leave. None of us wanting to go.
Blue skies gave us perfect views of Everest and the whole of the Himalayan range as we flew back to Kathmandu. The plane was good, Lhasa airport was modern, this return flight is easy.
Want to Learn More About Tibet?
Here are a few classic books and movies that you could take a look at if you haven't already. It feels as if you're on the set of Seven Years in Tibet and Kundun at times.
I would strongly suggest reading up on Tibet's history, religion, and culture before you go.
No books of this kind are allowed in Tibet and you will be searched, watched, and listened to at all times.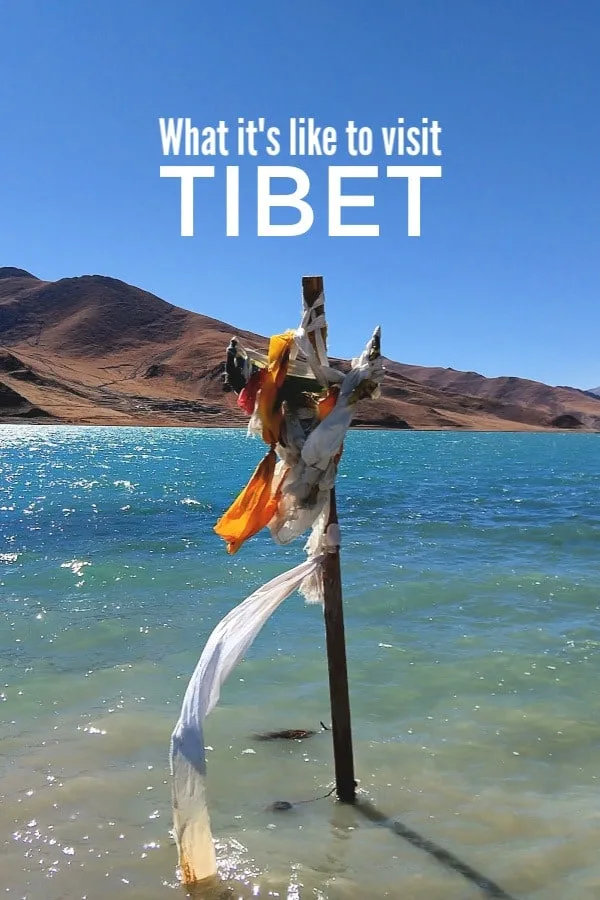 That's all for now from our Tibet trip but I have so much more to tell about our experiences during this visit. We hope you stick around to see more of Tibet travel, Everest, and the Himalayas. Sign up to follow. Our Lhasa post and Sera monastery post (debating monks with video) are published. along with Tibetan food. Don't forget to save to Pinterest! Thanks for reading.
If you'd like to hire a car during your stay, use this car rental comparison tool to find the best deal!

We also suggest you take a look at this company to get a quote for all kinds of the more tricky adventure or extended travel insurance.

Try Stayz / VRBO for an alternative way to find rentals on homes/apartments/condos in any country!