This post may contain affiliate links.
I posted already about the various ways of getting to and from Lukla from Kathmandu, Nepal. Flying into Lukla isn't the only way to start your Everest region or Everest Base Camp trek, there are various bus, jeep and walk options. We feel that flying is the best way to go based on our experience, because we've done it in different ways. We flew into Lukla to start our Everest trek and at the end, walked out as far as Phaplu before catching the bus to Kathmandu. We've also walked up from Phaplu, after flying Kathmandu to Phaplu. Taking this Phaplu option also gave us a chance to check out the jeeps that ferry trekkers in and out along the same road. The bus from Phaplu to Kathmandu was quite an experience!
My personal Facebook friends had a treat on the day we took the bus from Phaplu to Kathmandu, I was live posting the whole way, sharing the highs and lows of this intense, terrifying, monumental journey.
It was a day I'll never forget and I think I should share those thoughts, experiences and images here with you.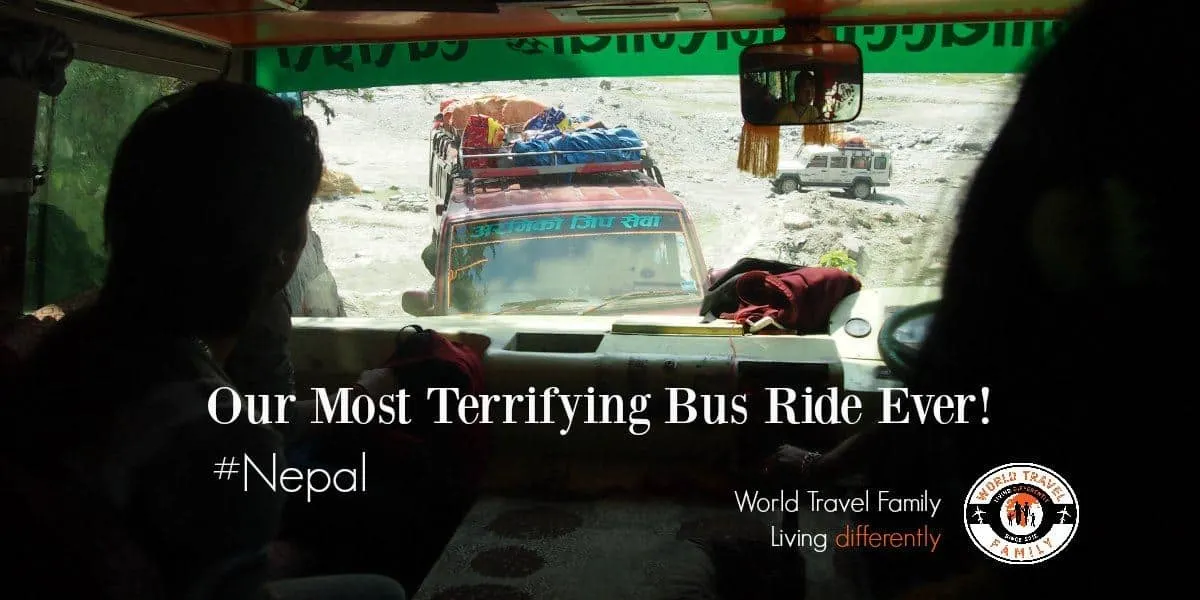 Sorry about photo quality, many of these pictures were taken sneakily on my phone.
Phaplu to Kathmandu
If flights to Lukla are cancelled, you can sometimes fly to Phaplu airport and start your Everest Base Camp trek from Phaplu. You can also opt to extend your EBC trek by hiking up from Phaplu, or down to Phaplu at the end of your trek.
Tre trail from Phaplu joins the main EBC trek between Lukla and Phakding, so walking this way you don't necessarily get to see Lukla at all, you could of course go there if you chose to.
Walking/to/from Phaplu will add about 4-5 days to your trek depending on how fast you walk and for how many hours per day.
There are plenty of lodges or teahouses along this trail and they're generally much cheaper than any on the main EBC hke.
But this post is about the bus journey from Kathmandu to Phaplu, and return, Phaplu to Kathmandu.
Jeeps also operate on this route.
We took the bus, and this is how it went.
Bus or Jeep from Phaplu to Kathmandu?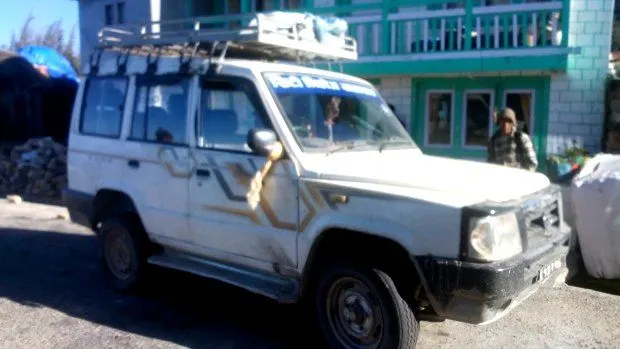 We chose the Phaplu bus because it was cheaper (around $12 each) and, we hoped, safer than the jeeps.
Generally, with transport on twisting mountain roads there are problems with motion sickness and the smaller the vehicle, for us, the worse the sickness.
We'd read that passengers are crammed in like sardines in the jeeps and that there were often long delays. One of my children hates being squashed in next to strangers, so for us bus is better.
We were pleased that we chose the bus after passing the convoys of jeeps on the road and seeing them overtaking.
Obviously, we won't know for sure which is better until we've tried both ways.
The Walk from Lukla to Phaplu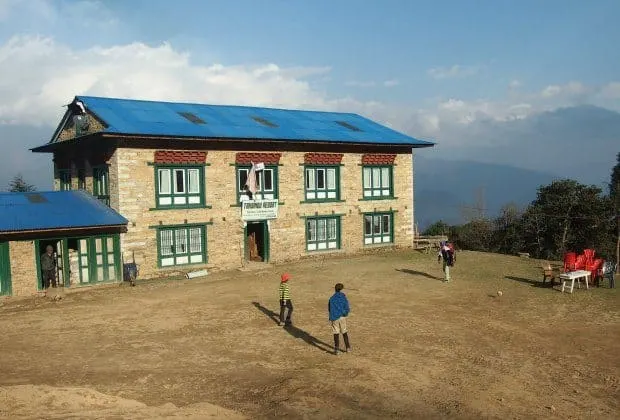 We wanted to extend our trek and although walking out would appear to cost less that flying, it's actually more expensive, but we got more days in the mountains for our dollar.
This part of the trek was very different to everything above Lukla for many reasons. It had some incredible highlights, but overall I wouldn't necessarily recommend it.
The walk takes 3 to 4 days and is very up-down, it's by no means a gradual ascent. I'll post more about why we'd prefer to fly and what this part of the trek was like, soon.
The Bus from Phaplu to Kathmandu. Our Experience
Plenty of comfortable empty seats with good legroom were available on the Phaplu Kathmandu bus as we boarded, just before dawn, in Phaplu.
We had booked the seats the night before on arrival in Phaplu after trekking in from Lukla.
The bus was as you'd expect, old battered, but solid. It promised wi-fi but delivered none. We had Nepalese SIM cards in our phones and incredibly, I had a reasonable connection all day.
For most of the trek we'd been connected by phone right up through Namche and Tengboche.
As we left Phaplu the bus was half empty.
Bouncing downhill in the dawn light was OK. We could handle this.
We were travelling just after the end of the fuel embargo in Nepal so putting gas in a bus on such a long journey was going to be an issue.
We discovered after 20 minutes how refuelling worked in the mountains.
We ground to a halt in a seemingly deserted siding while our young driver and his henchman jumped off. This was where we picked up the fuel.
Our driver also took the opportunity to have a cigarette break while he was busy topping up the tank.
Bus fully fuelled and no explosion later, he stacked the bus with fuel canisters for the rest of the journey. As you can see below, none really had what you'd call a lid.
At this point a group of Nepalese workers also boarded along with their baggage. You can see that baggage below.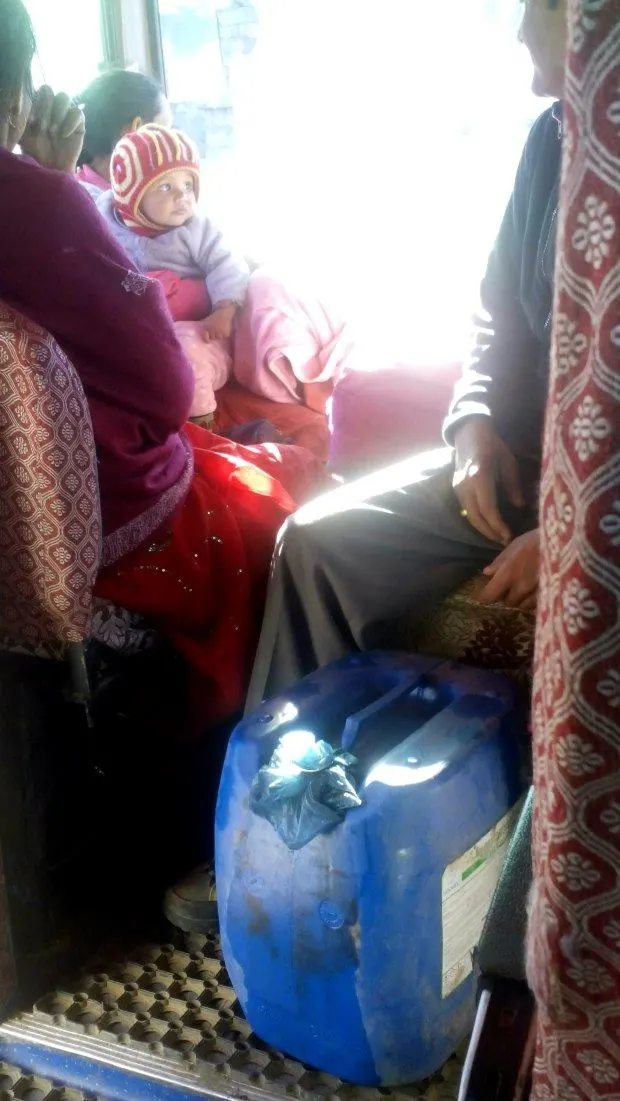 These gas canisters, below, despite attempts to wedge them in with rocks, slid and slipped up and down the bus for the whole journey.
I wedged my foot in the way to stop them hitting the metal step. I was thinking sparks, gas, fuel, you get the picture.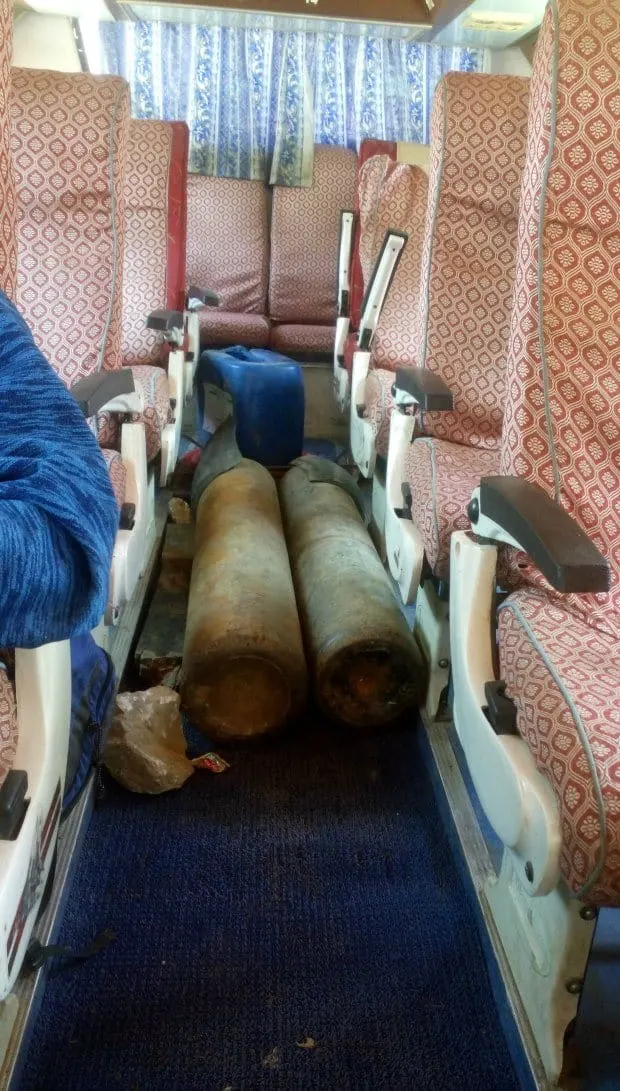 So on we went. Our bus was full of local people young and old, workers and trekkers. A mixed bunch with one thing in common, just about everyone on that bus vomited at some point during the day.
By some miracle, we escaped. I'd dosed the kids with motion sickness tablets and they snoozed and read the day away quite happily, intermittently marvelling at the incredible views, impossible roads and other wonders before them.
There were plenty of rest and refuelling stops along with shops to buy drinks, snacks and sick bags.
I should mention, really, I must, that the roads were terrifying.
If you've taken the bus from Pokhara to Kathmandu and thought that was hair-raising, well, you just wouldn't believe how much worse this journey is.
The road, until you get closer to Kathmandu, is single lane and cut into the side of the mountains. There is little tarmac.
There are drops of hundreds, even thousands of feet to one side and there is never any sort of safety barrier. In places landslides have taken out the road, the bus just carries on, leaning alarmingly towards the abyss.
I won't say any more. I just can't describe how terrifying this ride was in places.
I'm scared of heights, very scared, I also have children, these two things put my anxiety levels through the roof. You may handle this journey far better than I did.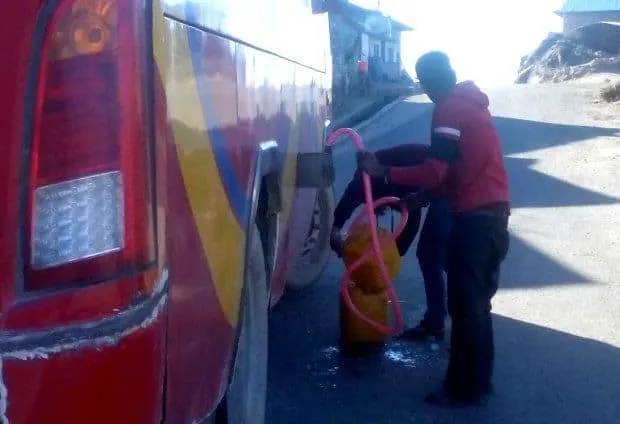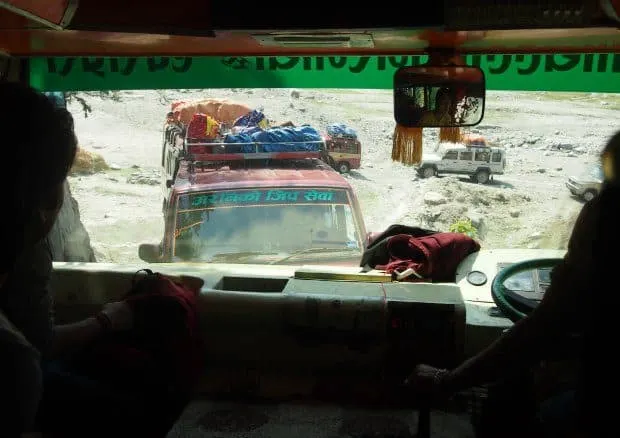 The driver's sidekick has several important roles.
Firstly, obviously, somebody has to light the driver's cigarette as he refuels the bus, but our man also collects money and hands out tickets.
He was so superbly practised at this that when the bus was totally full with seated, standing, crouching, leaning and perching passengers, he could walk to the back of the bus along seat backs and arms to collect his dues.
His third role, the most important, was to keep us on the road rather than in the valley a thousand feet below.
When the road got particularly narrow he would lean out of the door to check the wheels were actually on solid ground, conveying his observations to the driver in a series of well practices whistles and bangs.
It's a polished team that spends a full lifetime driving in the Himalayas.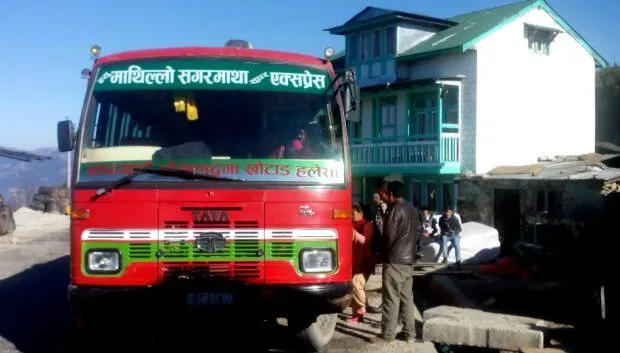 Ok, so this bus journey was a little testing. It's also an incredible memory and memories like these are the stuff that makes our family bond tighter and filled with humour.
It was a day I wouldn't swap, but it had its moments. We adore Nepal, so much so that we're thinking of living there for a while, so if you want more from the mountains, watch this space!
For Pinterest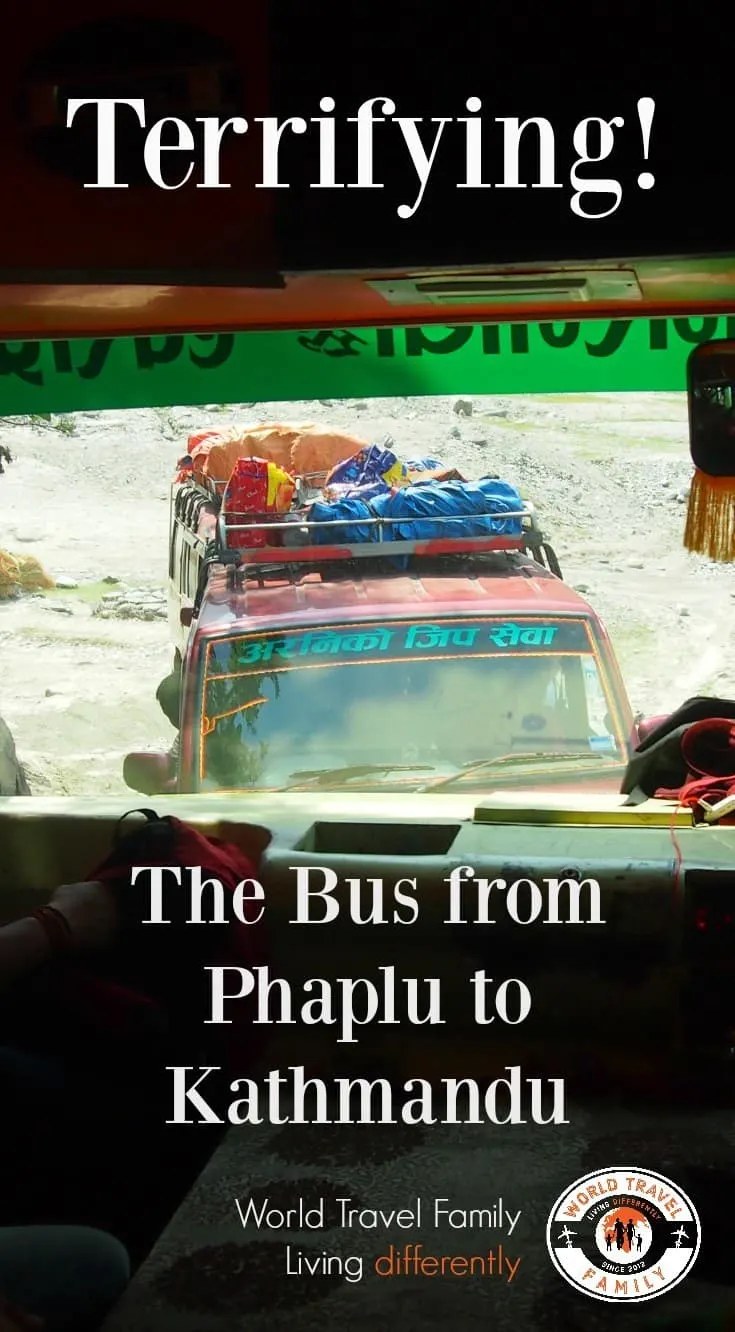 Over to you, would you do it, could you do it, have you experienced similar?
Resources
If you enjoyed reading about this bus ride in Nepal you're possibly planning your own trip to the Himalayas, we have heaps of other information here for you, including:
If you'd like to hire a car during your stay, use this car rental comparison tool to find the best deal!

We also suggest you take a look at this company to get a quote for all kinds of the more tricky adventure or extended travel insurance.

Try Stayz / VRBO for an alternative way to find rentals on homes/apartments/condos in any country!