This post may contain affiliate links.
If you follow our Facebook page and Instagram feed you'll know that we've been trekking around the Everest region, with kids age 9 and 11, for the last 12 days and that pre-kids we did some other treks in the Himalayas. It's an incredible experience, a top highlight not only of the last 3 years of family travel, but of a lifetime of global adventures. I can't tell you everything about our experiences in Everest region trekking in this post, nor about our Annapurna Circuit Trek. there are many posts on this site about trekking in the Himalayas and the Everest region on this website. We'll point you to these blog posts below.
But first, bookmark this to Pinterest, hover and a red button will appear.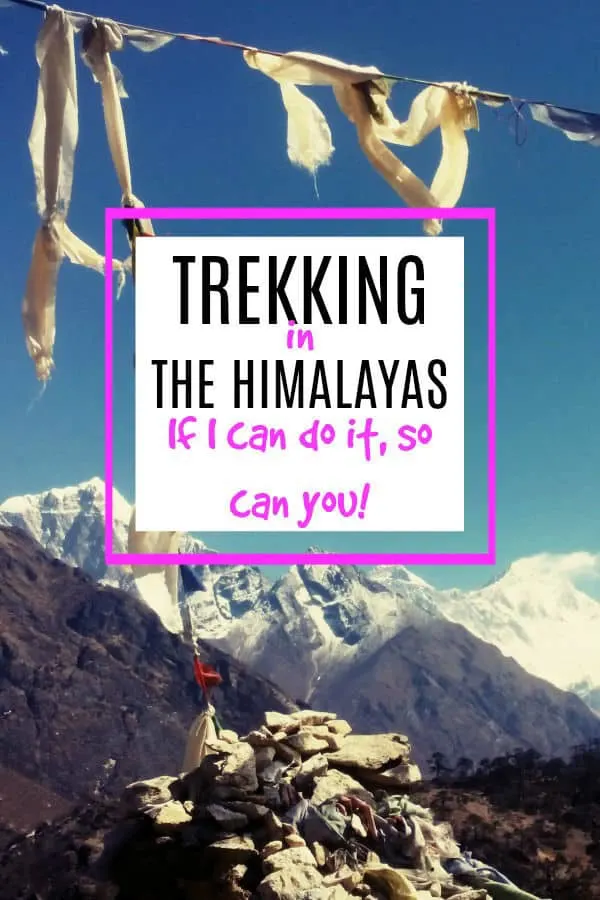 What Do You Need to Know About Trekking in the Himalayas
In our blog posts we'll tell you:
What level of fitness you need for such extreme trekking. I am 51 years old and overweight. My husband is an ultra fit Ironman triathlete, my kids are just regular kids. It's OK, you don't need a high level of fitness.
What equipment you do and don't need.Never trust the marketers.
What you can expect to eat, where you'll stay and how you'll wash
Which do you need, guide, porter, both or none
Things to do in Kathmandu, one of our favourite cities in the world, and where to stay.
What our previous Annapurna Circuit Trek was like and how this compares to Everest Base Camp
What it cost. Clue: a lot!
How to organise a trek in the Himalayas? You don't need to go with a group, you don't need a guide, you don't need a porter. You can go solo ( although I wouldn't) you just follow the path or take a map. More on this soon.
What scams to watch out for in Nepal
Why we rate this experience as possibly the best of our lives.
Why we're moving on from family travel to cultural and adventure travel. Things are changing here.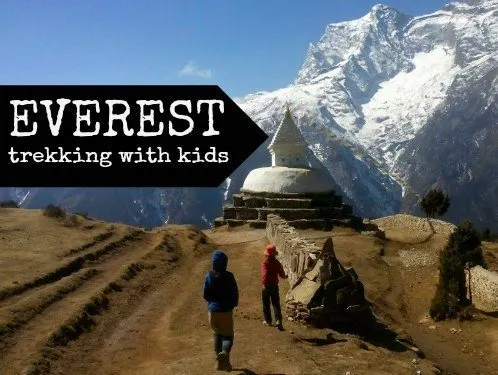 It's been hard, there were tears, there was a lot of swearing and there was prayer of the please-let-us-come-out-of-this-alive, sort. Also there was singing and glorious days as the boys skipped and played on the gentler slopes through enchanted forests.
There were terrifying, windy, wet suspension bridges and sheer drops from slippery donkey-muddied paths.
We had a few falls and tumbles, some upset stomachs, but no major problems.
It was both better than we expected, and worse and we're not Nepal trekking beginners, we've previously taken on the 3 week Annapurna Circuit ( without kids) which incorporates the short scenic, Poon Hill hike.
Highlights of our recent trek in the Everest region included landing at Lukla, the most dangerous runway in the world, seeing a yeti skull in a locked monastery at Khumjung, witnessing how the people of the mountains, the Sherpas live and work, taking a challenging day hike to Tengboche Monastery with my 11 year old son and of course, seeing Everest.
We enjoyed wild flowers, rainbow-coloured birds, puppies, goats, buffalo and yaks.
The varied landscape included high peaks and tropical paradise valleys. There was rain, snow, intense sunshine and mud. Lots and lots of mud.
Our Sherpa guide, Nima, who was the super-star of this journey.
Ram and family plus Jackie the pug who looked after us so well at Stupa Guest House Kathmandu.
There are hundreds of photographs, as yet, still unprocessed.
Finally there was a 13 hour bus ride of maximum intensity and superb oddity bringing us back to Kathmandu.
Oh, and there was Prince Harry, we had a chat.
We're glad to be back in the relative normalcy of Kathmandu with our Stupa Guest House family, it feels like coming home as many cities around the world do to us now. I can forgive this ancient city for its air pollution, power cuts, temperamental wi-fi, and cold showers, it's always magical to be here.
I also have to tell you what Kathmandu is like now, 11 months after that terrible earthquake.
So lots more to come, but for now, I have laundry to organise and 500 emails to read.
If you have any questions just put them in the comments, I always answer.
Another one for you, for Pinterest.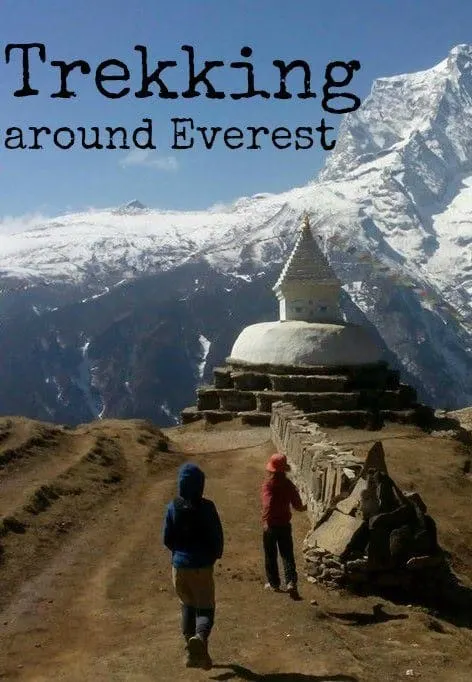 Thanks for following our story, take a look at some of the links above and hopefully, if you're planning your own treks in the Himalayas or Everest, we'll be able to give you some answers. This section is still growing and I have more posts to write. We also have future treks to add.
If you'd like to hire a car during your stay, use this car rental comparison tool to find the best deal!

We also suggest you take a look at this company to get a quote for all kinds of the more tricky adventure or extended travel insurance.

Try Stayz / VRBO for an alternative way to find rentals on homes/apartments/condos in any country!