This post may contain affiliate links.
It may surprise you to know that you don't need to be Ironman fit (as I am) to trek in the Himalayas. Most people will require minimal preparation for a Himalayan trek, be that in Nepal, Bhutan, Tibet, India, even Pakistan. You won't want to be a couch potato for these high altitude treks, but the average person should do fine up there with no training needed. My wife has been up twice, at 52 and in her mid-30s. She's not particularly fit. My kids have been up there at 9 and 11 years old with no training and made it to Everest Base Camp in Nepal's Himalayas at 12 and 14 years old. Fitness really isn't a major issue and you only need to be averagely fit to trek for Himalayan trekking. Do you need to train for this sort of trekking? Most people probably won't need to train or take on any special preparation. The toughest part of trekking in the Himalayas is the altitude, which isn't something you can prepare for and strikes everyone in different ways. The only person in our family to have ever had altitude problems was me, the fittest of the bunch.
How Fit is Fit Enough to Trek the Himalayas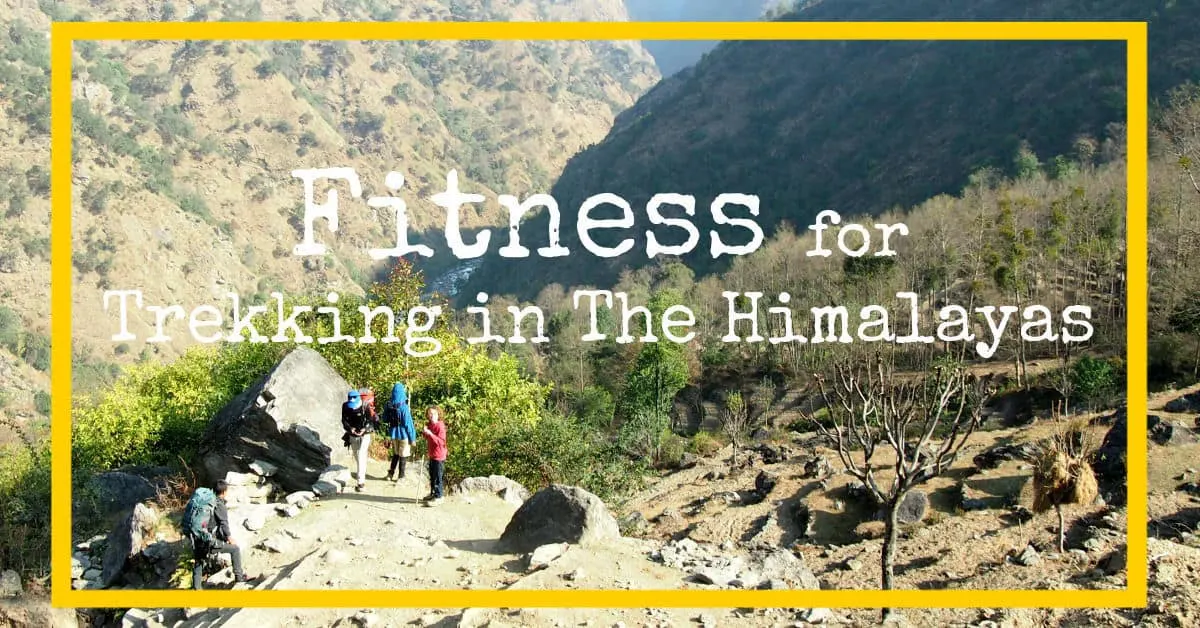 If you can walk 10 kilometers without much trouble you'll be fit enough.
Walking isn't really something associated with fitness unless you are carrying a lot of extra weight or have some sort of issue stopping you from walking.
You will need to walk up some pretty steep hills and you may be carrying a pack if you choose to trek without a porter (which we recommend).
The average walking distance is approximately 10-12 km a day heading up hill towards EBC and up to 20 km a day on the return leg. Most people are capable of these distances and the longer you walk into the mountains the fitter you get.
Descending into oxygen-rich air should feel like a walk in the park after hiking up to altitude.
The distance you walk is, however, up to you and dependent on how much time you have.
It can be anything from 10-20 km per day depending on where you want to stay and how long you have for the trek. We know personally of one Irish traveller who did the whole Annapurna Circuit trek in 8 days, which was almost 27 km a day, with some walking at altitudes of over 5000 metres.
He said he didn't have much time, and off he went. He wasn't in the least bit a trekky or particularly outdoors type of person but he had no issues.
You Can Hire a Porter To Carry All Your Gear
A lot of people will take porters and guides when trekking in the Himalayas.
It isn't compulsory except in certain areas but can really take the strain out of the trek if you're both unsure about where you're going and carrying your own gear.
We've done both with a guide and solo before and after kids. Neither time we had a porter although being stronger than my wife I took most of the weight and carried a larger pack. We didn't think it fair to make the kids trek with packs. so we carried their gear between us.
You don't really need a lot of things to carry. Warm clothes, waterproofs, sleeping bag, and some medical and toiletry essentials. It is unlikely you'll have a shower past Lukla on the EBC trek. My wife actually trekked to Everest Base Camp without a sleeping bag to save weight. See our Everest Base Camp posts for more information on that, she was fine.
Food-wise, you are stopping at tea houses for lunch and when you stay the night they will expect you to purchase both dinner and breakfast at the tea house.
While food is basic it does the job, leaving the only thing you'd need to carry being water and snacks (if you wanted them). I've heard of people carrying stoves but it really is unnecessary.
Does Fitness Help with Altitude Sickness
The short answer is no. Everyone reacts differently to altitude and the same person can react differently on multiple occasions.
I was a mess in Peru when we flew straight into 3500 metres and it took me days to recover. In the Himalayas, we haven't had any issues but we always make sure that we acclimatise.
A few days on the way up to stop and let your body adjust is generally all it takes, but listen to your body. If you're not doing well, go down.
There are both natural remedies and drugs that will assist in the treatment and possible prevention of altitude sickness.
My prefered way to minimise altitude sickness it to take extra time in ascending the mountains.
Diamox is OK, we've tried diamox. You can buy this very cheaply in Kathmandu, it doesn't need a prescription. But Diamox has side effects, I wouldn't choose to take it based on my experience. More on how it feels to take Diamox in our Tibet post on altitude.
What To Eat To Ensure Your Body Is Performing
On Himalayan treks you'll buy all of your meals in tea houses scattered along the path. The good news is that the meals are normally dahl baht which is incredibly good for you and provides everything you need to keep walking.
The bad news is that after 14 days of this same meal it can become a little repetitive.
Dahl Baht (recipe here) consists of rice, dahl soup, green vegetables and if you're lucky, some pickles and curd. Refills are normally included in less touristy lodges and you will find yourself eating considerably more than you may think you would.
Obviously, you're burning quite a lot of calories as you walk up and down the mountains. My wife always loses weight on these treks but I think she does that deliberately, I generally don't.
Snacks are a personal choice that some like and some don't. My 12 year old took a bit of bribing with Snickers to get up to Tangboche. I wouldn't advise snacking on sugar or you could risk a sugar crash, but the nuts in a Snickers lessen that risk.
It is worth noting that the higher you go the more expensive the snacks become. Some poor soul had to carry them up there. A 50 cent snickers will be well over $1.50 by the time you can see Everest but it still beats carrying 20 of them yourself and risk eating them all before you need to.
Do I Need To Train For Trekking in the Himalayas?
As long as you're able to walk 10 km I wouldn't stress too much about training for your walk. Of course, if you can, it will only be an advantage. You can't be too fit to trek the Himalayas and the fitter you are the easier it will be on those big uphill days.
If you struggle going up stairs, or get out of breath easily, yes, you should improve that.
If you're struggling to complete a 10 km walk then I'd suggest getting out and working on your fitness. Nothing crazy, just walking every other day helps. It will also strengthen your joints which in turn reduces chances of injury while trekking. If you can find hills, steps, or mountains, great, get out there and hike. Also, if you're carrying your own pack, make sure you are able to do that comfortably and that your legs are strong enough to take an extra 10-15 Kg of load.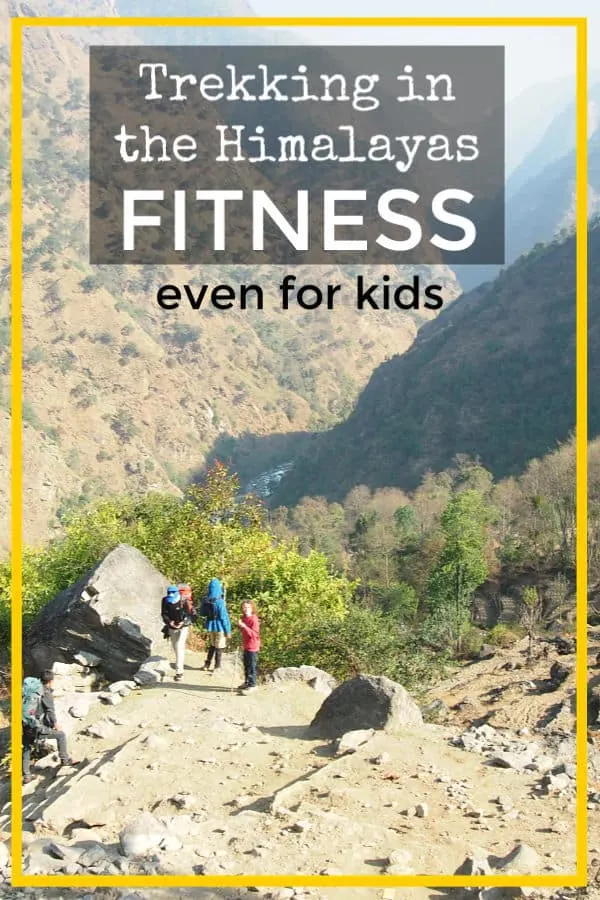 This post is by Chef, (my husband) he is an international Ironman triathlete, ultra-runner and former powerlifter at national level. He has completed 3 full-distance Ironman events and takes his fitness very seriously indeed. His kids do no training at all, other than being normal kids. His wife (me) is post-menopausal, somewhat overweight, middle-aged woman so this stuff doesn't come easy. She tries to run, can still run 5 Km, maybe 10 Km on a good day, she's carrying more body fat than she should for optimum performance. This endurance stuff is mostly about what's going on in your head and self-belief. There have been tears, particularly on those scary bridges, but we've always got there. If you want to see how other travellers stay seriously fit on the road, you want this post on staying fit while travelling.
If you'd like to hire a car during your stay, use this car rental comparison tool to find the best deal!

We also suggest you take a look at this company to get a quote for all kinds of the more tricky adventure or extended travel insurance.

Try Stayz / VRBO for an alternative way to find rentals on homes/apartments/condos in any country!