This post may contain affiliate links.
Bhutan is a country Located in the continent of Asia. It is situated in the Himalayas between India (south) and China (north). Bhutan is isolated and unspoiled due to strict regulations around tourism.
Bhutan is a beautiful country where traditions are strong thanks to government policy. However, it is very difficult to visit Bhutan for most Western tourists as it is so expensive.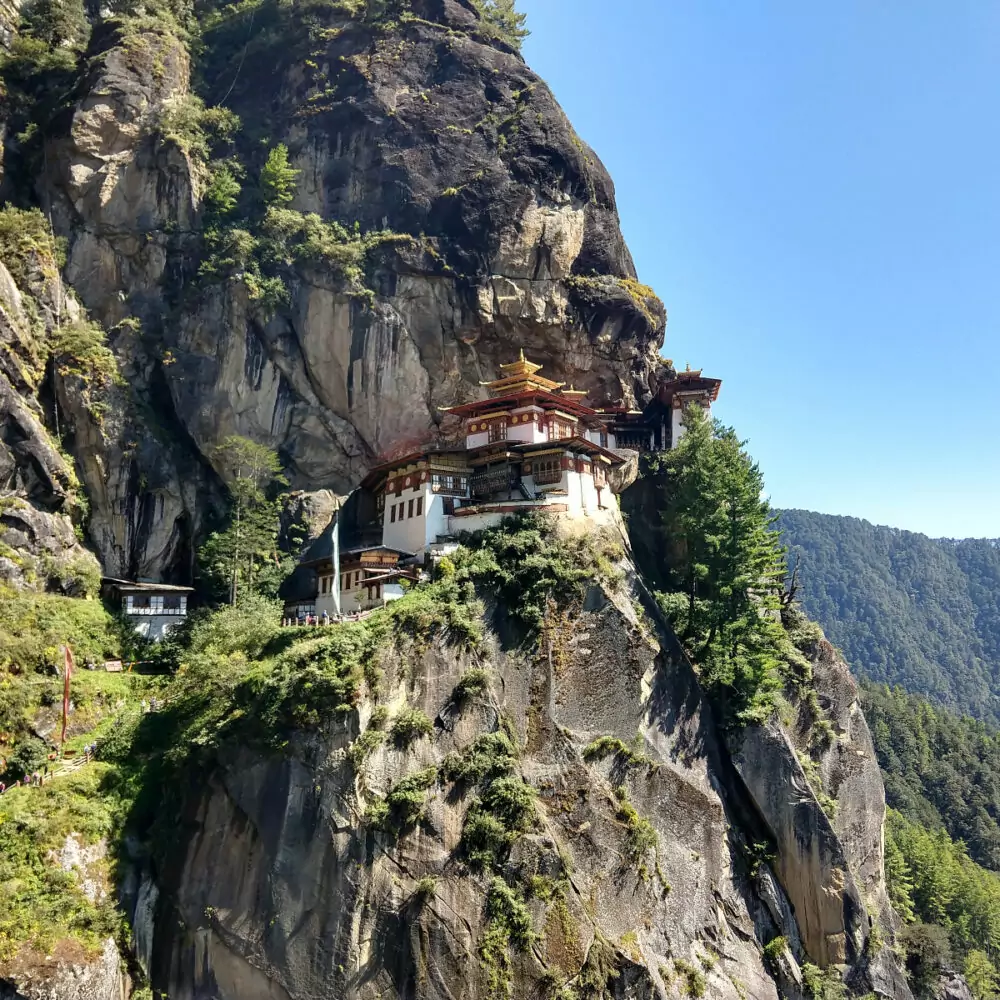 The author, Alyson Long, has been to Bhutan. She is a professional travel blogger and world traveller with some 60 countries visited so far. In this post she tells you about Bhutan's location, its isolation, and the realities of visiting this country in the Himalayas.
Bhutan is a Country in Asia
Bhutan is a country in the Himalayas, it is in the continent of Asia and shares borders with India to the south, east, and west, and China (Tibet) to the north.
Being part of the Indian Subcontinent, it is considered to be in the region of South Asia.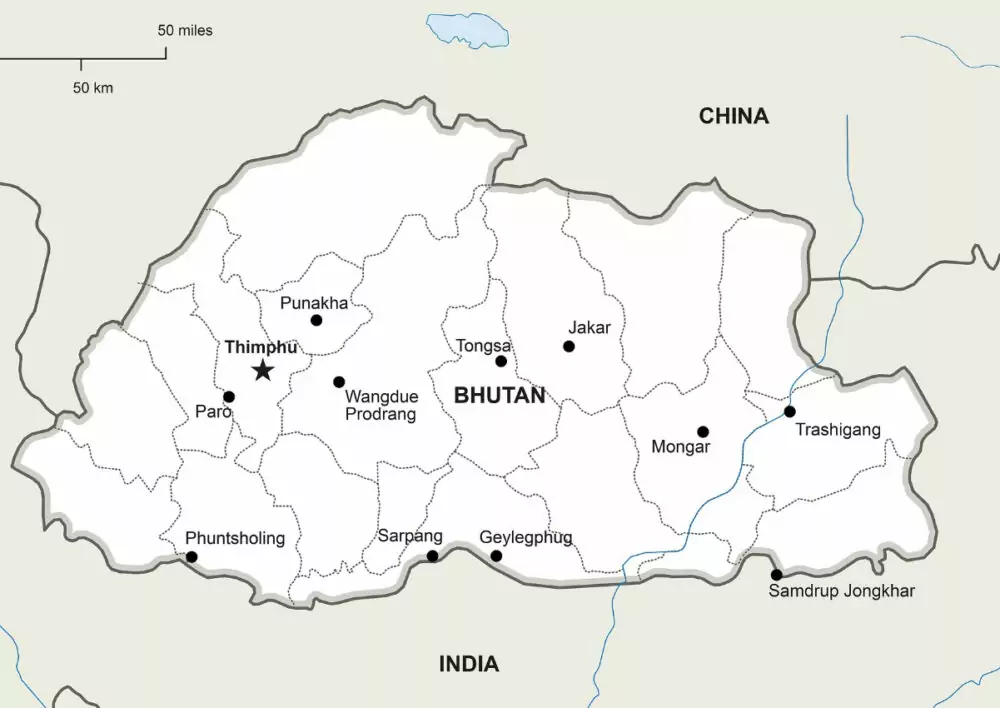 Bhutan is not in Southeast Asia but is a popular tourist destination for many reasons, one being it's policy of "Gross National Happiness." This is one reason people travel to Bhutan, aside from the country's unspoiled beauty and strong cultural identity.
This post covers Bhutan, the country's geographical location and facts related to Bhutan's location and geography.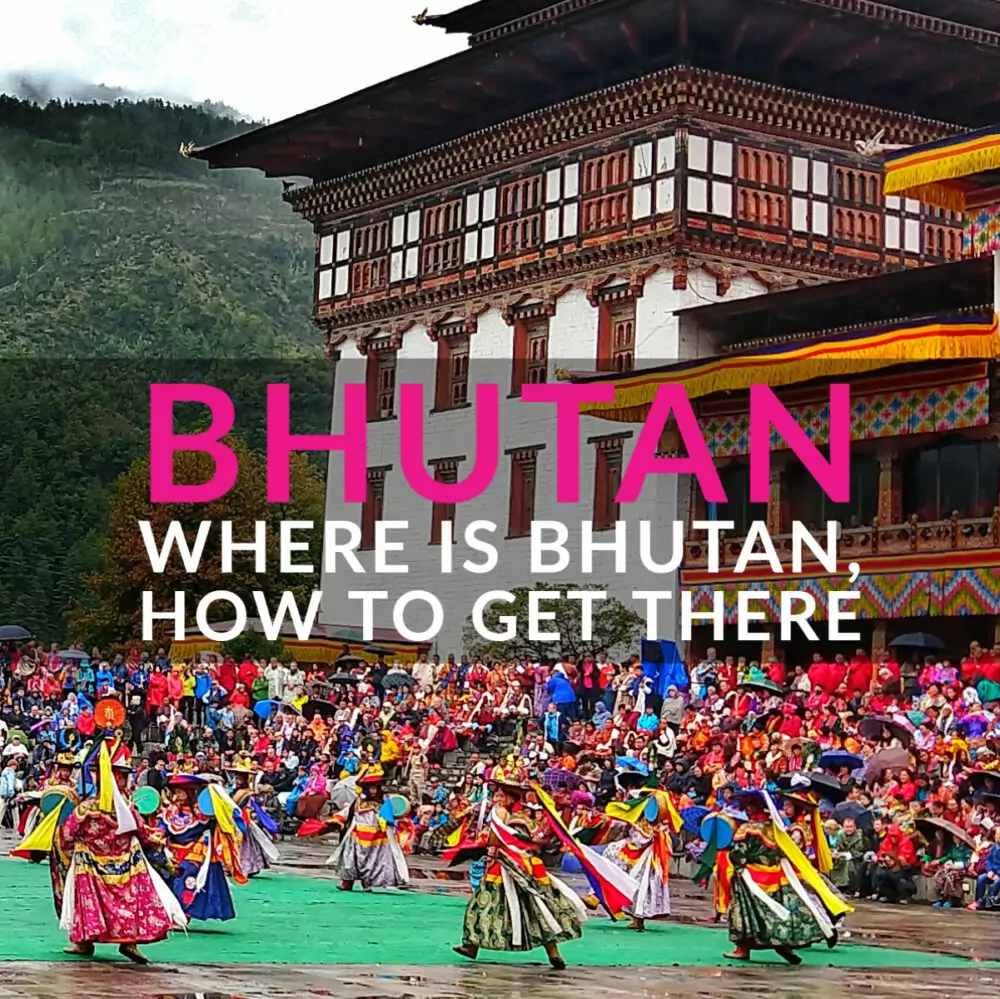 Bhutan is a fascinating country to visit but is famous for being possibly the most expensive travel destination for western tourists. This is a government policy and there is really no cheap way to visit Bhutan.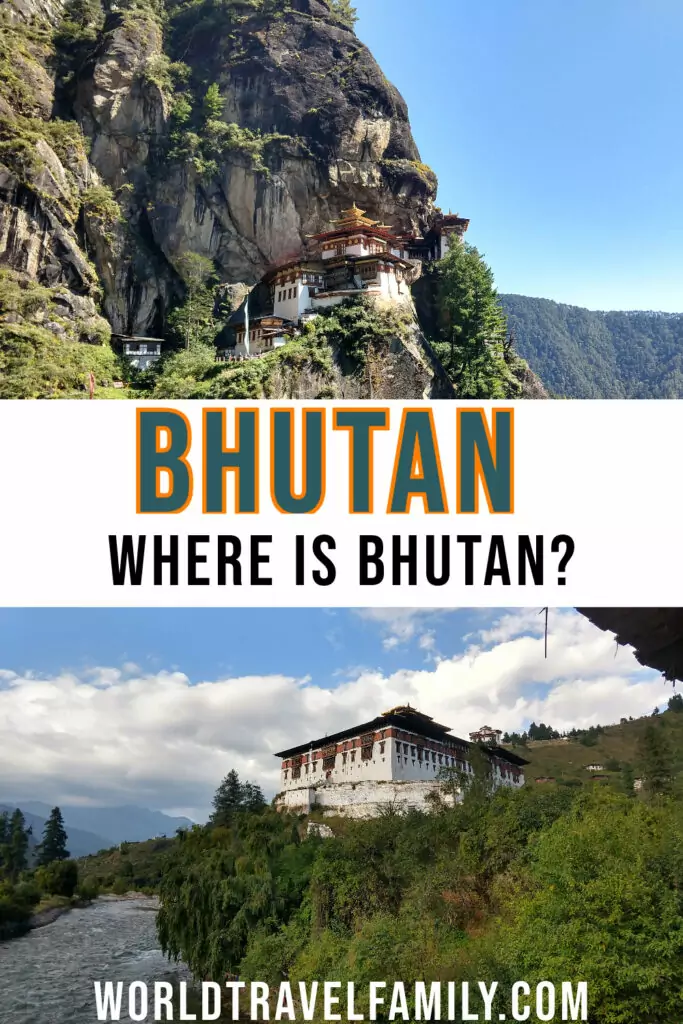 You will need to book a Bhutan tour with an approved guide and pay the set daily fee ($250 per day per person approximately). We have been to Bhutan and we can share first-hand experiences with you as well as information and interesting facts about Bhutan.
Indian visitors can visit Bhutan more cheaply than western tourists.
The Himalayas mark the northern extent of the Indian subcontinent. They divide the Tibetan plateau from the alluvial plains of India. As Bhutan lies on the south western slopes of the Himalayan ranges, it is usually considered part of this subcontinental region.
Where is Bhutan on the Map?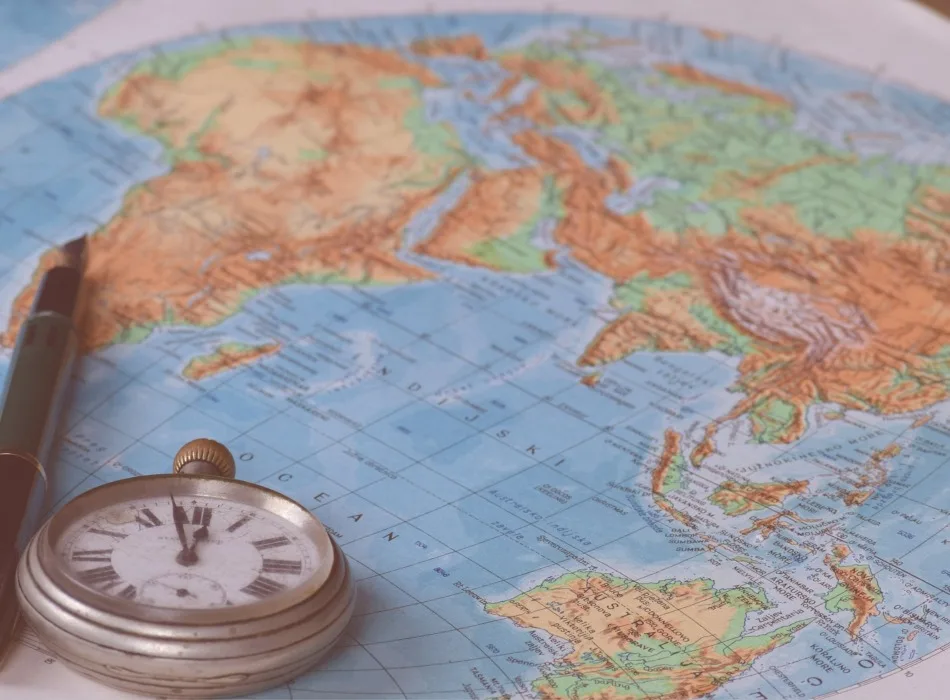 Don't be embarrassed if you don't know where Bhutan is on the map, it's very common to not know. Nepal, Bhutan, and Tibet are a mystery to a lot of people, I've met many who don't know.
Bhutan is in The Himalayas, as are Tibet and Nepal, but the Himalayas are a huge mountain range stretching west to east for 1,550 miles or 2,500 km. Bhutan lies on the south western end sof the Himalayan mountain ranges
Bhutan is a small country, landlocked, fully enclosed by India on three sides, and the huge mass of China to the north. West to east, Nepal is approximately 350Km or miles across. Nepal's width is about 150 km.
Bhutan is north of India, south of China. India surrounds Bhutan on the south, east, and west. Asia is the continent Bhutan is in, geographically in South Asia. It is in the northern hemisphere at 27 degrees north of the equator, and the eastern hemisphere at just over 90 degrees east of Greenwich. Bhutan does not share a border with Nepal.
Bhutan is a Country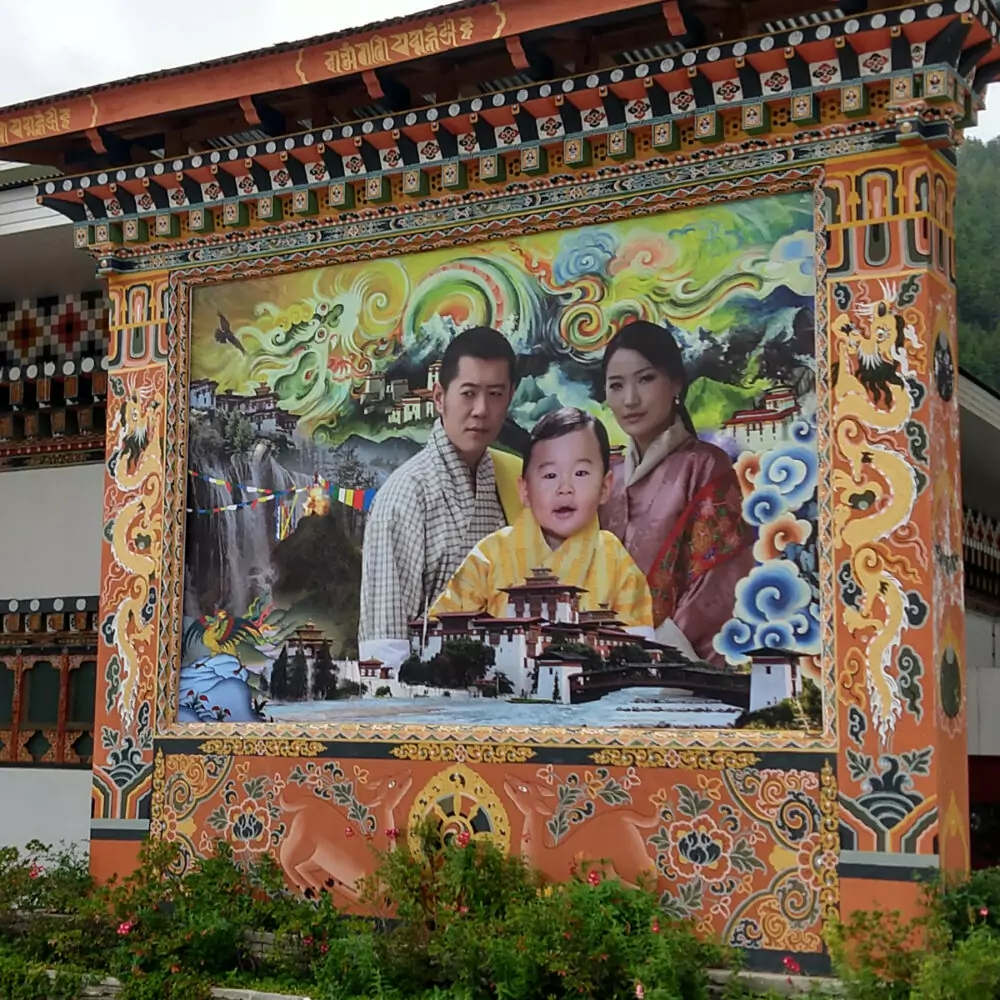 Bhutan's full name is Bhutan, officially the Kingdom of Bhutan (Dzongkha, romanized: Druk Yul) and it is a constitutional democratic monarchy with a King as head of state and Prime Minister as head of government.
Capital City of Bhutan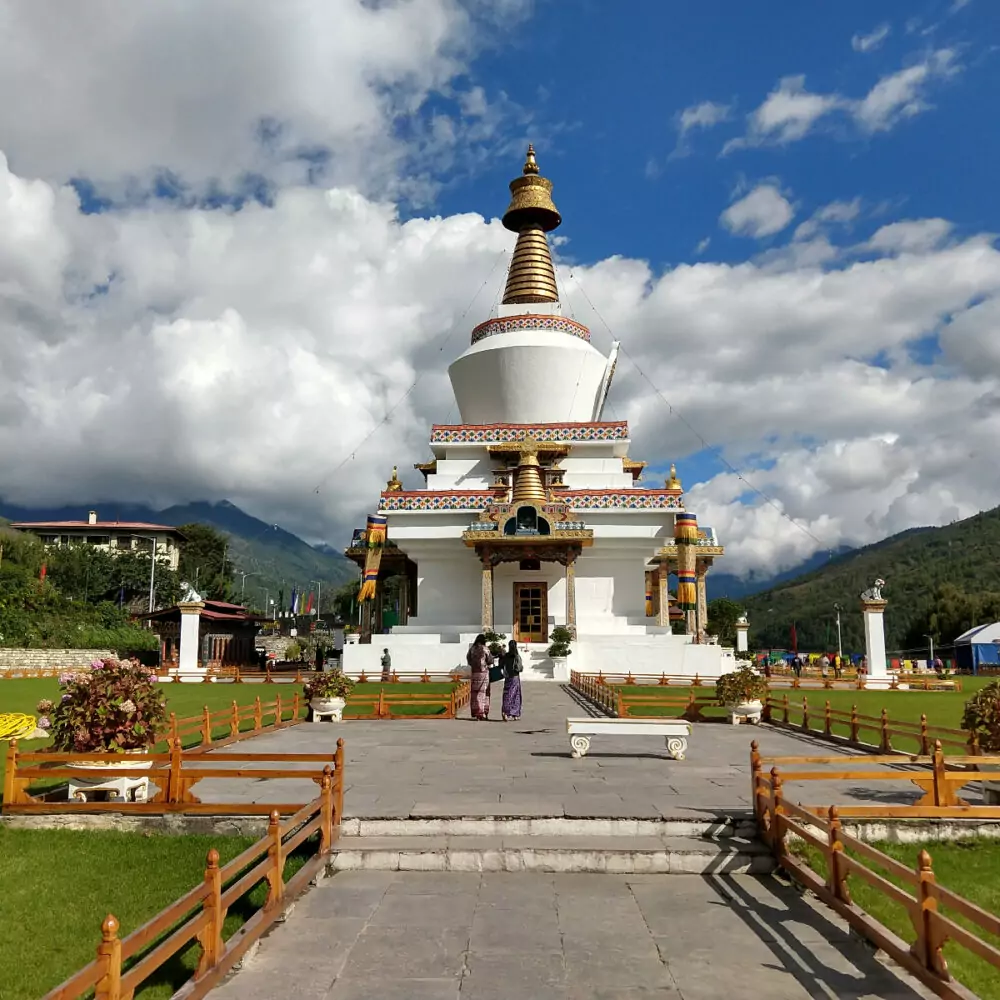 The capital city of Bhutan is Thimphu. Thimphu is at a fairly low altitude for Bhutan at an elevation of 2,334m, but still a long way above sea level at 7657.48 feet approximately.
Mountains in Bhutan
Bhutan does not have any mountains above 8,000m, but it does have some above 7000m in the north.
Altitude in Bhutan
Average altitudes in Bhutan range between 160 m above sea level in the south to snow-capped peaks above 7000m in the north of the country.
Nepal and Bhutan Location
Nepal and Bhutan are separate countries and lie close to each other in the Himalayas to the north of India, but they do not share a land border. The distance between Bhutan and Nepal is just 433 Km as the crow flies.
Both Nepal and Bhutan are geographically in South Asia.
How To Get To Bhutan?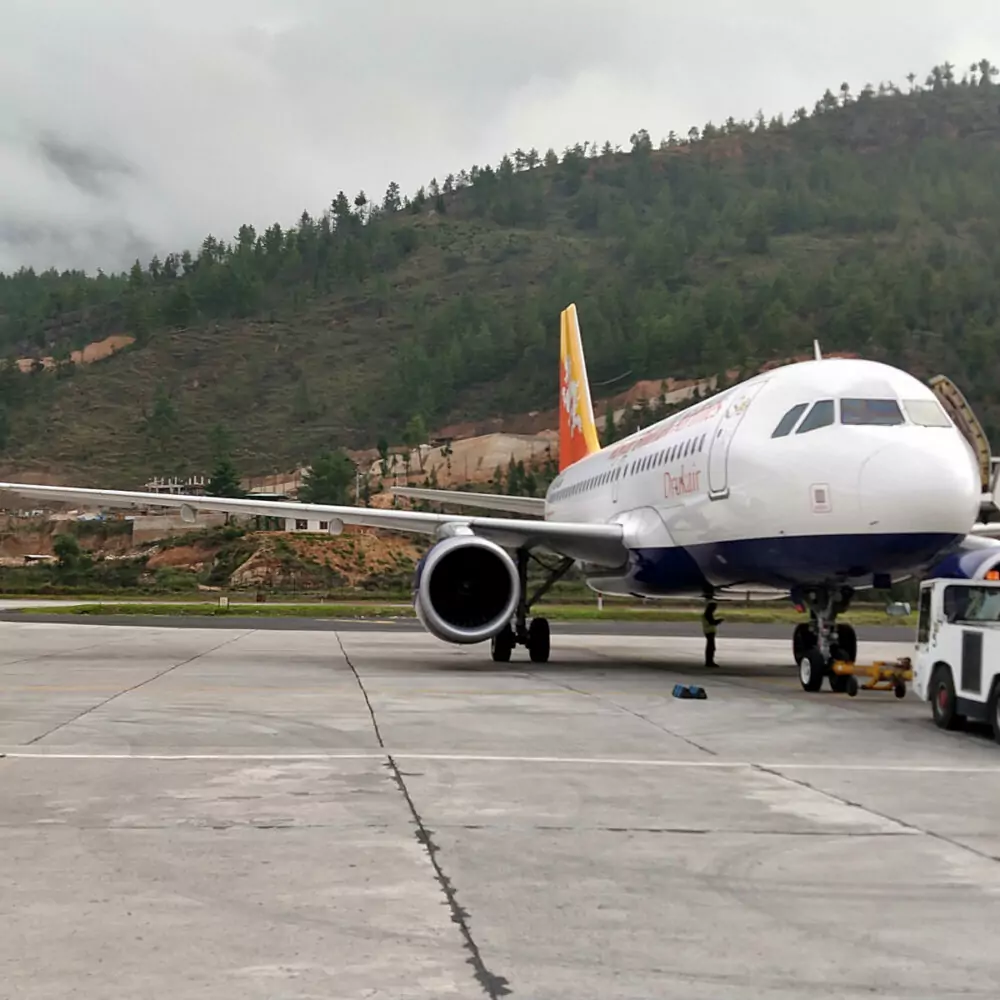 It is possible to fly to Paro International Airport, Bhutan, from Kathmandu, or travel by road through India to reach Bhutan.
Because airlines flying into Bhutan are strictly limited you can only fly to Bhutan from a handful of airports. If you check Skyscanner flights you'll see flights from and to Bangladesh, India, Nepal, Singapore, and Thailand.
You can cross into Bhutan by road from India. The roads we saw in Bhutan were all very good and there was good infrastructure. A proportion of the daily tourist fee is used for projects such as these.
Bhutan and Tibet
Tibet used to be a country in its own right, today it is part of China and is known as the Tibet Autonomous Region.
Bhutan is in South Asia, Tibet (China) is geographically in East Asia to the north of Bhutan.
Bhutan v Tibet as a Travel Destination
I have to say I enjoyed Tibet more. Both destinations are highly regulated, but Tibet felt more real. Plus of course, Tibet has incredible history and spirituality. Bhutan had some wonderful sights to see, but the enforced tour group and limitations on where we could go spoiled the experience somewhat.
Of course, Bhutan is extremely expensive to visit, as was Tibet, but less so.
The biggest highlight of Bhutan for me, was undoubtedly the Tiger's Nest. That was the one place where we really felt the spirituality and magic of the country.
Crossing To Bhutan By Land
Although Bhutan is a very mountainous country, it is maybe possible to cross into Bhutan by land from both India and China. Possibly there are multiple border entry points where buses, jeeps, and other vehicles can transport passengers and goods to the border
There are no railway lines in Bhutan currently, so travelling to Bhutan from India by train is impossible. However, there is an agreement to connect Bhutan to the Indian railway network. The closest train station to Bhutan at the moment would be Hasimara in West Bengal India. Hasimara Train Station is 17 km away from the border and is on the mainline Kolkata and Siliguri line to Assam.
From Hasimara it is about a 4 hour drive to Nepal's Paro Airport, the famous Tiger's Nest is near Paro Airport.
Is Mount Everest in Bhutan?
Mount Everest is not in Bhutan. It is in both Nepal and Tibet (China). The most popular Everest Base Camp trek is in Nepal, the usual starting point is Lukla airport, however, there is an Everest base camp trek on the Chinese side of the mountain too.
The summit of Mount Everest sits on the border between Nepal and the Tibet Autonomous Region, it is visible from the road on the Chinese (Tibetan) side, the Nepali side is far less accessible.
However, you can see Mount Everest from Bhutan. From Thimphu go to the Punakha pass, this is a good place to get a view of Everest and the eastern Himalayas, although it is a long way away. When we visited low cloud obscured all of the mountains.
Is Bhutan in Southeast Asia?
No, Bhutan is not in Southeast Asia, Bhutan is to the north and to the west of Southeast Asia. The western limit of the countries that make up Southeast Asia is Myanmar (Burma). Bhutan is in South Asia.
South Asia is a sub region of Asia comprising 8 countries, India, Nepal, Pakistan, Maldives, Sri Lanka, Bhutan, Bangladesh and Afghanistan. Some sources argue that there are only 5 countries in South Asia, excluding Maldives and Afghanistan.
Southeast Asia is another subregion of Asia, made up of the countries, Thailand, Malaysia, Singapore, Laos, Vietnam, Myanmar (Burma), Brunai, Tymor-Lieste, Cambodia, Phillippines and Indonesia.
Is Bhutan in Africa?
No, Bhutan is not in the continent of Africa. A lot of people do ask if Bhutan is in Africa or Asia, which is quite hard to believe! Bhutan is in the continent of Asia, specifically, South Asia.
Bhutan From Europe
Bhutan is not part of Europe. You can still drive to Bhutan from Europe today.
Top Places to Visit in Bhutan
Now you know where is Bhutan, you may want to know which cities, attractions and other places of interest are in Bhutan. Nepal is a huge tourist destination country, of course, many visit for the numerous world-famous treks or hikes. You may also be interested in food in Nepal.
---
Need more information on Bhutan?
---
I hope you found our post explaining where Bhutan is located useful. Did we fully answer your question? Where is Bhutan located? Geography is a passion of ours, we travelled with our kids in part, to demystify the world's locations. If there's anything more you'd like to know about Bhutan or any of the Himalayan kingdoms and countries mentioned above, you should be able to find it on our website. If not, ask in the comments.
Bhutan is the last Himalayan Kingdom where Mahayana Buddhism is the official religion of the majority of people with a small percentage of Hinduism. Bhutan is a landlocked country with an area of 38,394 km2. Located in the eastern Himalayan range it is mostly mountainous. It shares a 470 km long border with Tibet (China present) in the north and India to the rest.
If you'd like to hire a car during your stay, use this car rental comparison tool to find the best deal!

We also suggest you take a look at this company to get a quote for all kinds of the more tricky adventure or extended travel insurance.

Try Stayz / VRBO for an alternative way to find rentals on homes/apartments/condos in any country!