This post may contain affiliate links.
The Jim Thompson House is a popular tourist destination in Bangkok Thailand. The house itself is made of traditional teak, Thai style with beautiful tropical gardens and original furnishings and decorations. It is worth visiting the Jim Thompson House if you have free time in Bangkok or a particular interest in Jim Thompson, silk, art, or Thai style homes and gardens.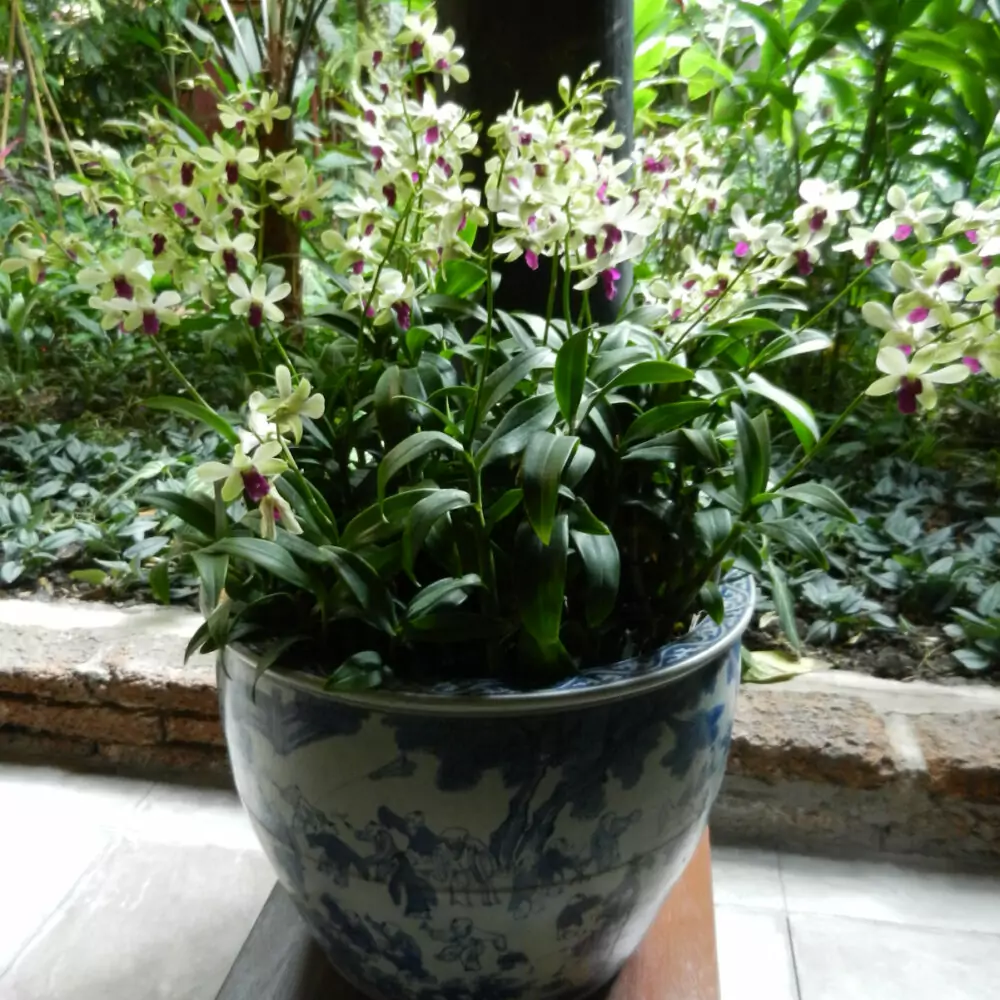 Bangkok and Thailand are easy to get around, we tell you how to get to the Jim Thompson House from many parts of Bangkok and what there is to see there. Historic houses like this are fairly unusual in Thailand, this is a good opportunity to see one in Bangkok.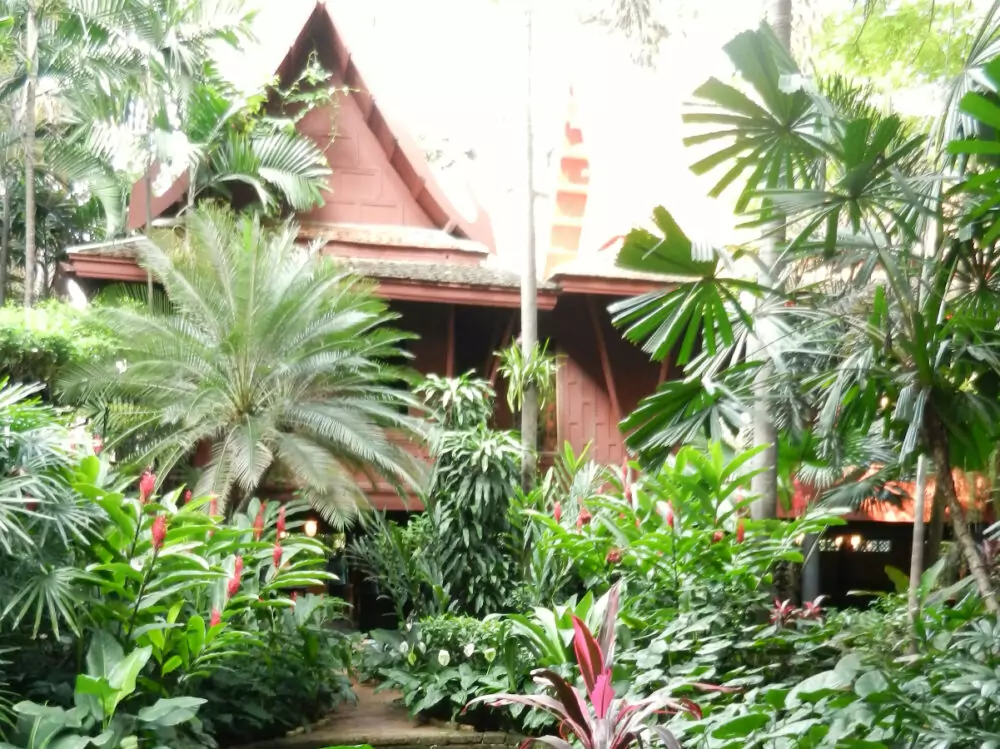 Jim Thompson House
The Jim Thompson House is a beautiful and historic building containing items from the designer's collection. You will find blue-and-white Chinese Ming objects, along with Belgian glass, Cambodian artwork, Victorian Belgian chandeliers, Italian Marble, Benjarong Thai porcelain, Thai stone images, Burmese statues, and a dining table thought to have been used by King Chulalongkorn (Rama V, 1853 to 1910) of Thailand.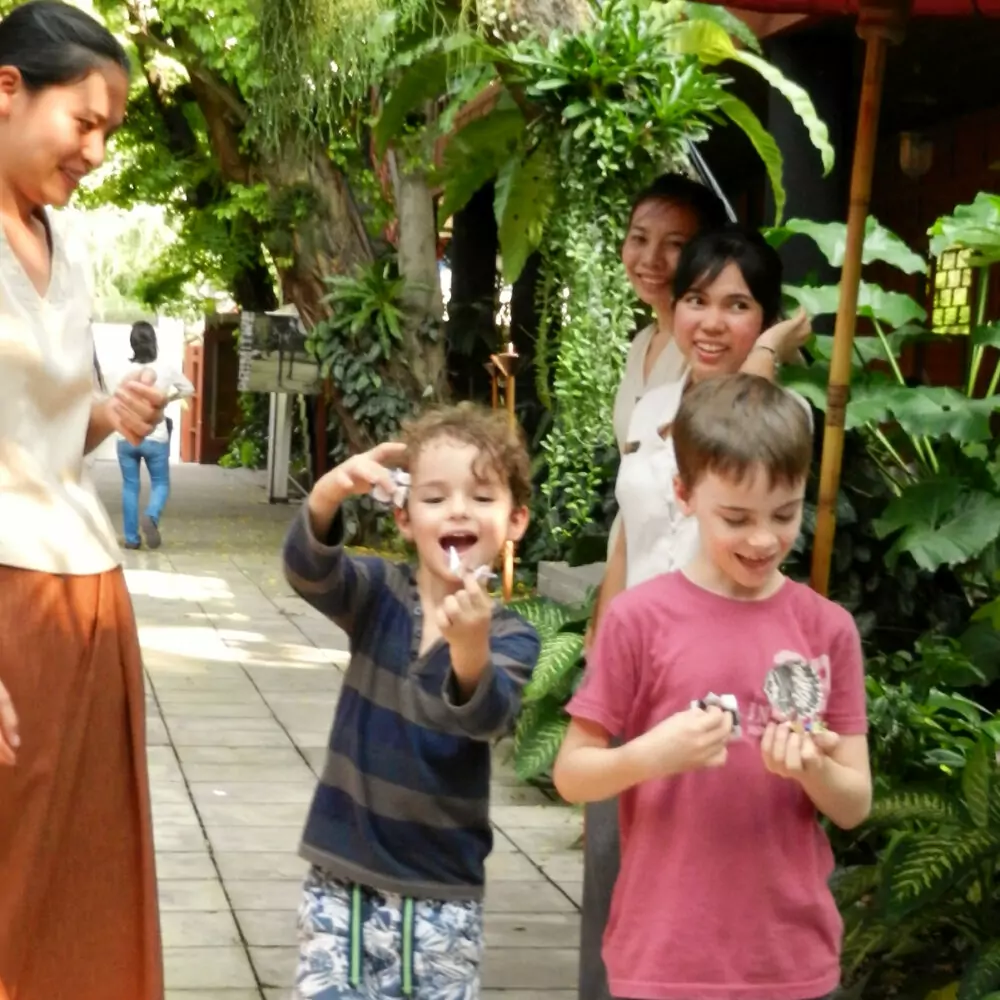 At the Jim Thompson House estate you will also find a shop and food outlet. The best way to see the house is by taking a small group tour with the on-site staff.
Where is Jim Thompson House?
Where is the Jim Thompson house in Bangkok? It is in the Pathum Wan district of Bangkok, to the east of Rattanakosin Island (where you will find The Grand Palace, Wat Pho, Khao San Rd etc – Phran Nhakon area) close to Lumphini district and Lumphini Park, very close to Bangkok's big shopping malls on Rama 1 Rd.
The closest BTS station to Jim Thompson House is on the Silom line (the dark green line at National Stadium station). The house is actually opposite Bangkok's National Stadium. From the Metro station take Exit 1 and turn right into Soi Kasemsan 2. Continue walking to the very end of the road, and the museum will be on your left.
Jim Thompson House Address : 6 Soi Kasemsan 2, Rama 1 Road, Bangkok
Jim Thompson House Contact Number : Tel: (662) 216-7368
Jim Thompson House Official Website : here
Jim Thompson's house is in Bangkok, the capital city of Thailand. It is in Southeast Asia, a subdivision of the continent of Asia.
Opening Hours Jim Thompson House
The Jim Thompson House is normally open between 10am and 6pm, with the last guided tour departing at 5pm. Tours are available in multiple languages.
Jim Thompson House Ticket Price
A ticket to visit the Jim Thompson House for 1 adult is 200 Baht (THB) or $5.80 US dollars. Younger visitors (under 22 years/students) pay 100 Baht, children under 10 years old are free. Check this information for updates on their official website.
This is neither expensive nor cheap for Bangkok.
Alternatively, you can book a tour with a pick up from your central Bangkok hotel, with guide and air-conditioned vehicle, here.
Who Was Jim Thompson
Jim Thompson was not Thai, he was an American businessman and designer, born in Greenville, Del., U.S.A in 1906. He first went to Thailand in 1945 just after Japan surrendered. He started his company "The Thai Silk Company" in 1948 and some say he is responsible for single-handedly saving the Thai silk industry.
His house, The House on The Klong, or today, The Jim Thompson House Museum, was a work he started in 1958, using his earlier acquired skills as an architect in the process.
Much of the house was constructed from old Thai dwellings, which he transported across the country (many from Ayutthaya) to be reassembled into his klong side masterpiece. The house was the perfect showcase for his collected works of art.
How To Get To Jim Thompson House
Public buses pass the Jim Thompson House and there is a Bangkok Metro (BTS) station nearby. Alternatively, you can walk to the Jim Thompson House from many parts of Bangkok or take a taxi or tuk tuk.
Alternatively, you can book a half day trip with pickup from your Bangkok hotel, with driver, guide, and air-conditioned vehicle. You can do that here. (This site is a very good place to book all of your Bangkok tours and activities.)
More details on how to get to the Jim Thompson House below.
Closest Metro Station to The Jim Thompson House: National Stadium station (a BTS Skytrain station) on the Silom Line (dark green line) Pathum Wan District, Bangkok, Thailand. BTS W1. The house and museum is at the klong end of the block directly opposite the National Stadium on Soi Rama 1.
Public Buses That Pass Jim Thompson House: 113, 15, 172 (AC), 204 (AC), 29, 47, 79 (AC) These could change, please check for changed routes and bus times locally.
There is no river ferry jetty close enough to the Jim Thompson House to be useful.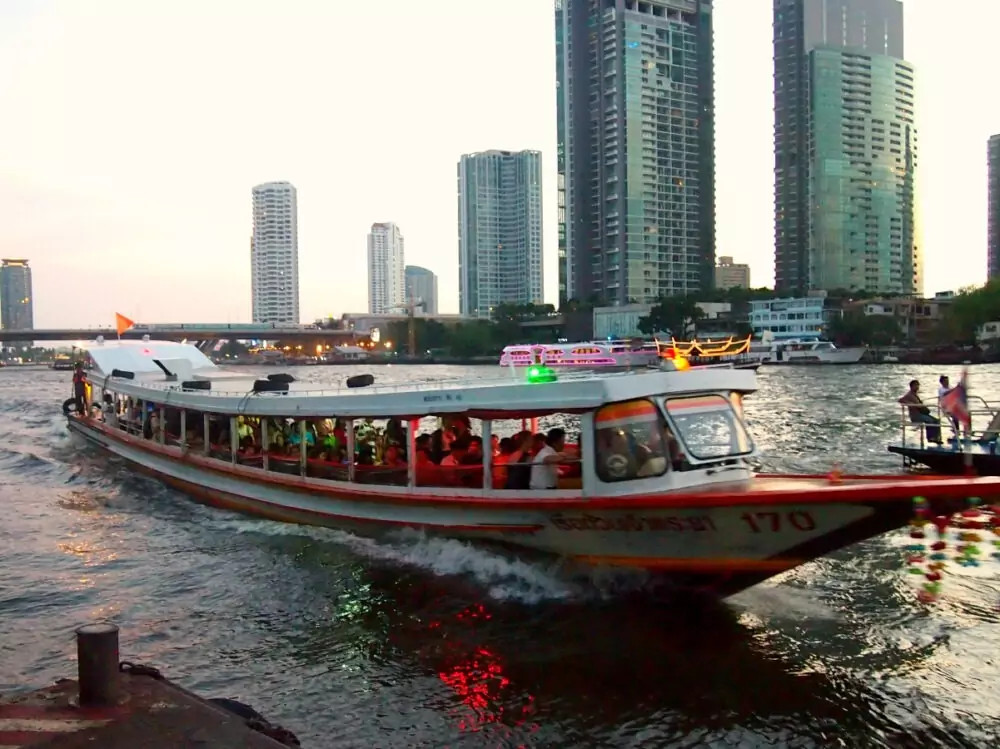 How To Get To Jim Thompson House From Khao San Rd?
To walk from Khao San Rd to The Jim Thompson House would take about an hour and this walk is actually quite a pleasant canal-side hiking or running trail. The distance is 4.2km depending on your route. If you want to really explore Bangkok and save yourself a few Baht, this walk to the House/Museum could be your best option. The canal walk is from Hua Chang (Siam Square) canal bridge and goes along San Saeb Canal to Pratanum Pier, which is just past the House/Museum.
To take a taxi To Jim Thompson House from Khao San would take about 16 minutes, the fare should be around 80 Baht.
The public bus should only cost you 4 Baht and there are multiple buses departing from Kong Salek (3 minutes walk from Khao San Rd). The bus journey takes 25-30 minutes. You need a number 60 or number 47 bus but buses no not stop directly outside the House. You need to do your own research on this. I've never needed to catch a public bus in Bangkok, taxis are so easy and cheap.
How To Get To Jim Thompson House From Wat Pho
Wat Pho and the Grand Palace are very close to each other in Phra Nhakon district. You could walk, as for Khao San Rd, but a taxi or tuk tuk would be easier.
How To Get To Jim Thompson House From Hua Lamphong Train Station?
Hua Lamphong train station is on the southeast side of Chinatown. It's closer to Jim Thompson's House than Khao San. The walk should only be about half an hour, at a distance of 2.4 Km.
A taxi or public bus could be your best option.
<div class="content_hint"></div>
What is There To See and Do at Jim Thompson House?
Most people will enjoy the guided tour of the house and enjoy seeing the gardens, which are immaculately kept featuring many tropical species and many water features and fish.
How Long Does it Take To See Jim Thompson House?
The guided tours at The Jim Thompson House and museum take around 35mins. After the tour you can enjoy the gardens or visit the silk shop or restaurant.
What's Near Jim Thompson House
If you're looking for somewhere to go for lunch or a snack after visiting the Jim Thompson House there isn't much nearby other than the Jim Thompson A Thai restaurant. Your best option may be to walk up to Rama 1 road where you'll find some big malls with food courts and smaller streets off Rama 1 with multiple restaurants and cafes.
The Jim Thompson Art Centre is a short walk away.
Jim Thompson's Thai Silk factory in on the opposite bank of the klong from the house.
Hotels Near Jim Thompson House
The area aroud Jim Thompson House is a pretty good place to stay in Bangkok, close to many major attractions. If you'd like to book an apartment or rental near Jim Thompson house, go here, otherwise, we have a list of hotels below. The list starts with those closest to Jim Thompson house, and then moves further away.
Our list of hotels may take a second to load, it's worth waiting.
If you'd like to hire a car during your stay, use this car rental comparison tool to find the best deal!

We also suggest you take a look at this company to get a quote for all kinds of the more tricky adventure or extended travel insurance.

Try Stayz / VRBO for an alternative way to find rentals on homes/apartments/condos in any country!