Wat Pho or Wat Po is a one of the most beautiful and popular Buddhist Wats in Bangkok Thailand. It is in Phra Nakhon District of Central Bangkok, on Rattanakosin Island, south of the Grand Palace. It is also known as the Temple of the Reclining Buddha, but its full name is Wat Phra Chetuphon Wimon Mangkhalaram Rajwaramahawihan. The name "Wat Pho" is a shortened version of the temple's original name, Wat Photaram.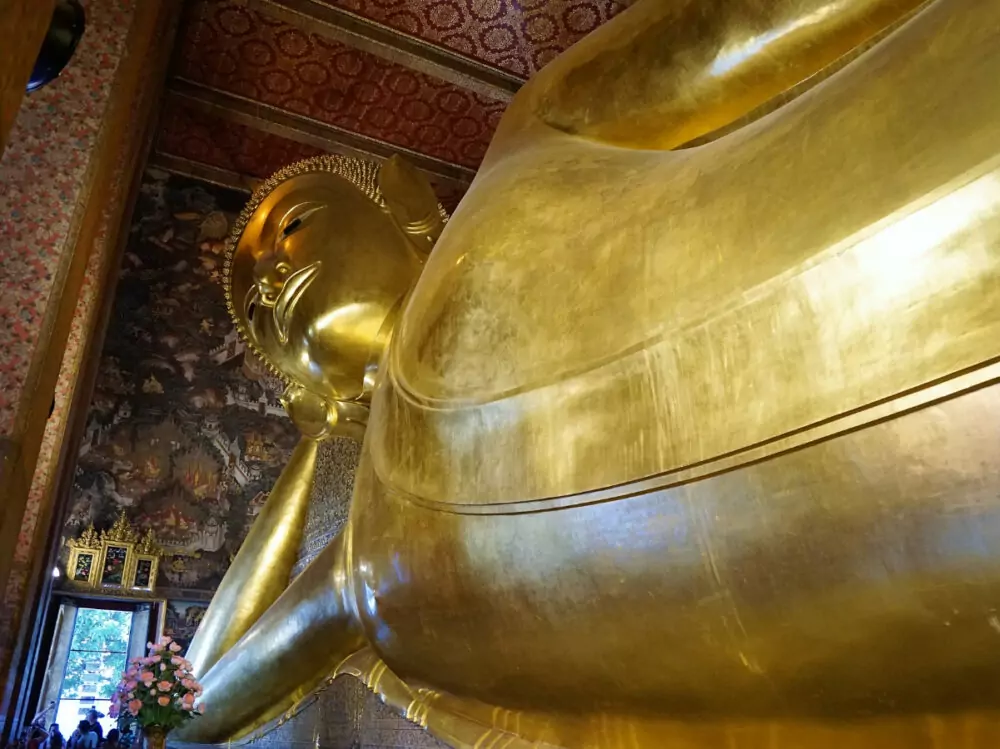 Wat Pho is very close to The Temple of The Dawn (or Wat Arun Ratchawararam Ratchawaramahawihan), the Grand Palace, and the Khao San Rd. Dating from the 1600s or earlier, Wat Pho is one of the oldest and most visited Buddhist temples in Bangkok. King Rama I and King Rama III took roles in the Wat's construction and development.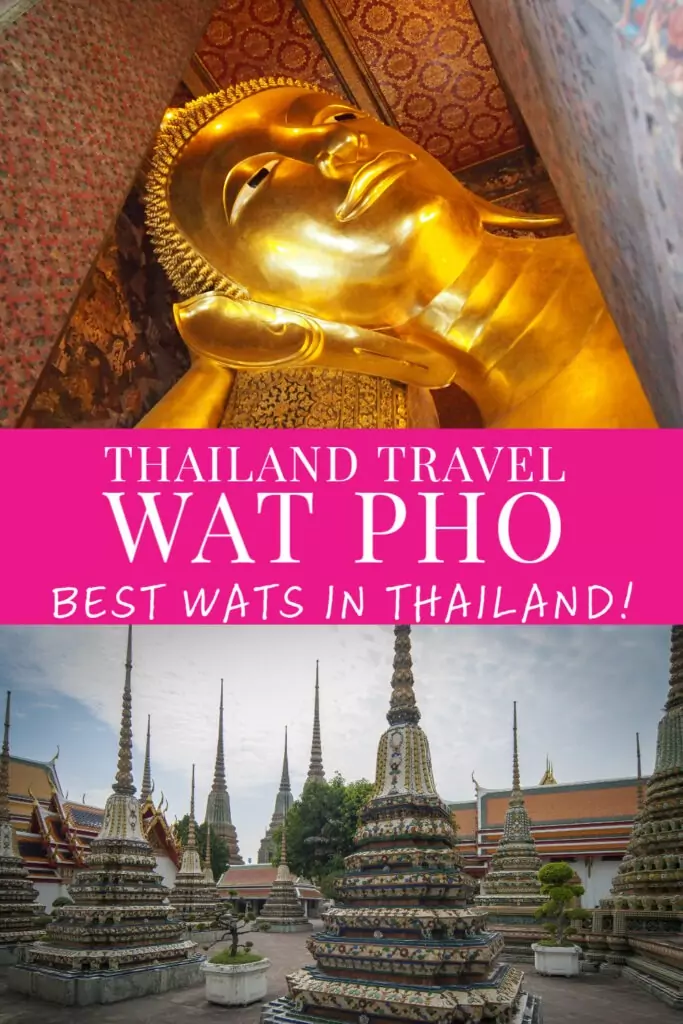 There is an entry fee to Wat Pho for tourists, around 200 Baht (THB) or $5.80 US approximately. Small children should be free if they are under 120cm, if they are shorter than the ticket counter, they can usually have free admission in Thailand, but this does vary.
Wat Pho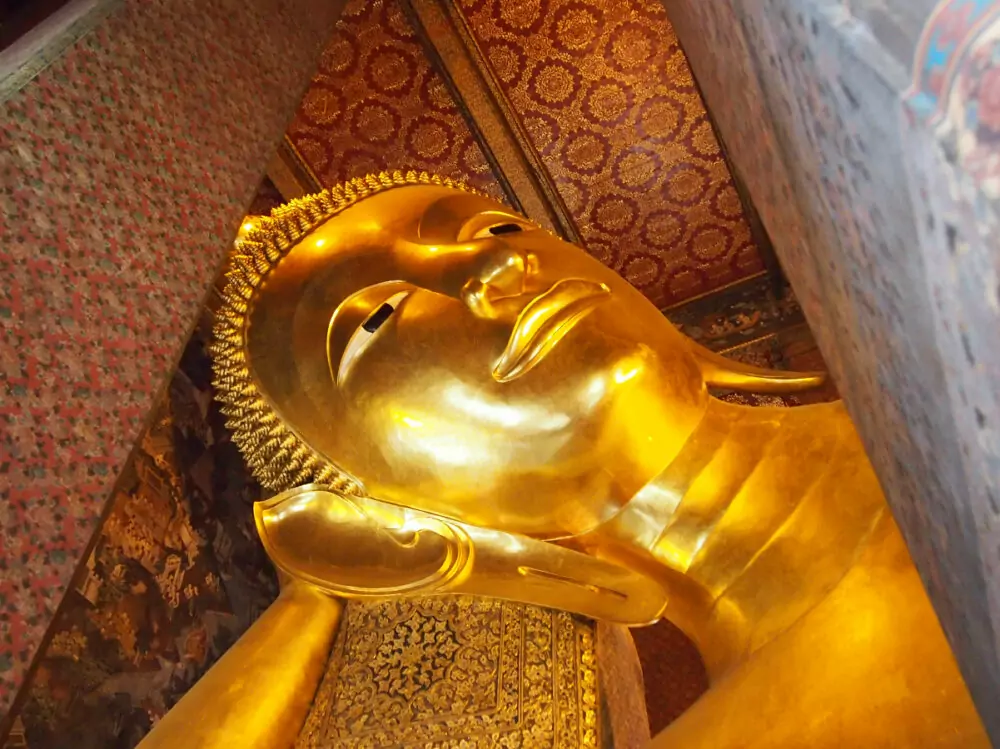 We have been to most of the big Wats in Bangkok, several times and our two favourites are Wat Pho and Wat Arun along with the Grand Palace. Wat Pho is certainly worth visiting and is one of the top must-see places in Bangkok
At Wat Pho the huge reclining Buddha is spectacular but there is much more to see within the temple complex and grounds.
Where is Wat Pho?
Wat Pho Address : 2 Sanam Chai Road Phra Nakhon, Bangkok
Wat Pho Official Website : here
Wat Pho by Night
Wat Pho is not as spectacular at night as Wat Arun, but it is illuminated and you can enter the grounds at night. The stated opening hours are only for the inside areas, which are locked at night Nighttime is a great time for photography at Wat Pho as you can use a tripod for long exposures.
You will need to use the south gate on Chetuphon Road for night time or after hours admission.
There are numerous after-dark tours of Bangkok that can take you to temples and beautifully lit spots, some are by tuk tuk, others by bicycle or car. We highly recommend a tour of Bangkok by nigh to escape the heat and congestion. Book one here.
Inside Wat Pho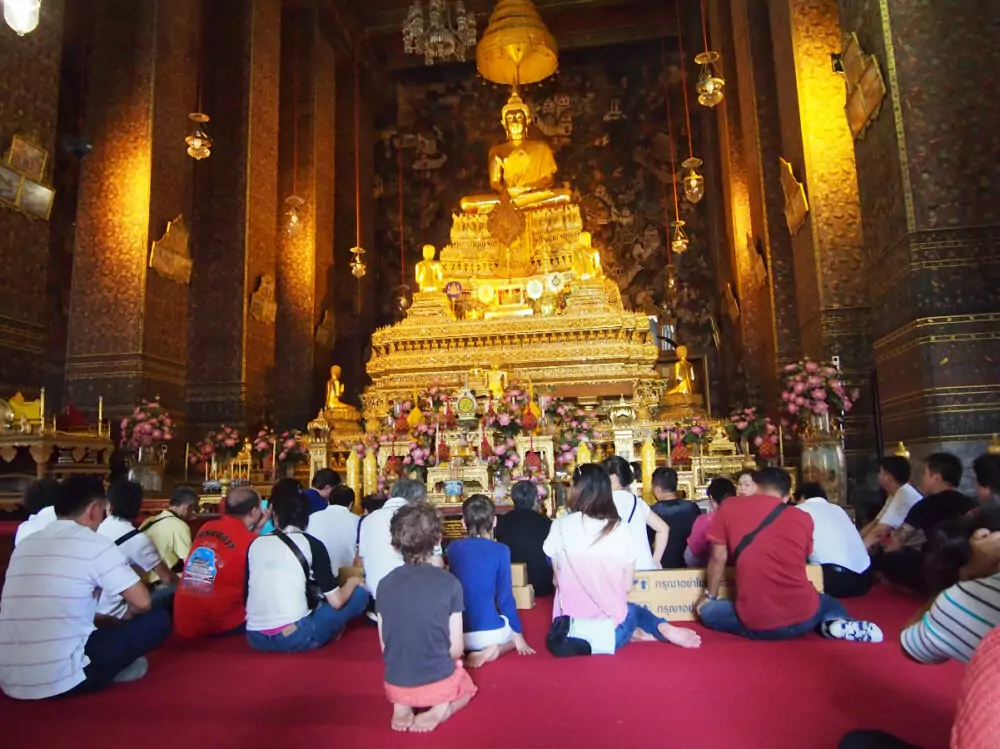 Inside Wat Pho there are a number of different buildings, gardens and structures.
Wat Pho is certainly one of, if not the, best Wat to see in Bangkok, but your number one destination in Bangkokk must be the Grand Palace, which is practically next door. (See our guide to things to do in Bangkok)
It's a very good idea to book tours of all of Thailand's main sites if you want to learn some Thai history and understand what (Wat) you're seeing. You can book a Wat Pho guided tour here, it's very affordable and will give you an easier, more enjoyable day out in Bangkok.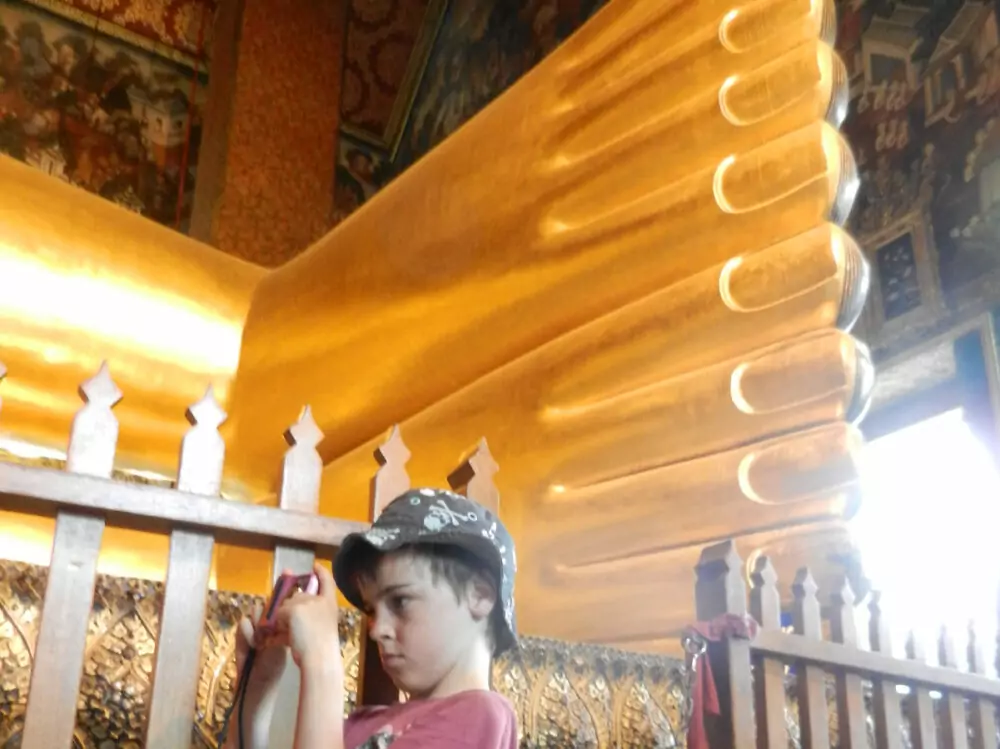 The tour link I gave you above is for a tour that combines Wat Pho and Wat Arun, so she should have an easier time getting on the right ferry, from the correct jetty, too. Here's that link again. This company has heaps of tours in Bangkok and Thailand, you should book a few, including a food tour!
Is the Reclining Buddha at Wat Pho Made of Gold?
No, this reclining Buddha at Wat Pho is not made of solid gold. It is made of bricks and plaster and coated in gold. There are solid gold Buddha statues in Bangkok, the largest is at Wat Traimit and it's worth about $250 million. Wat Traimit is at 661 Charoen Krung Road Samphanthawong, Bangkok, on the west of Hua Lamphong Railway Station on the southeastern edge of Chinatown. You could walk there from Wat Pho in about 36 minutes, or take a river express boat or taxi.
What to Wear To Wat Pho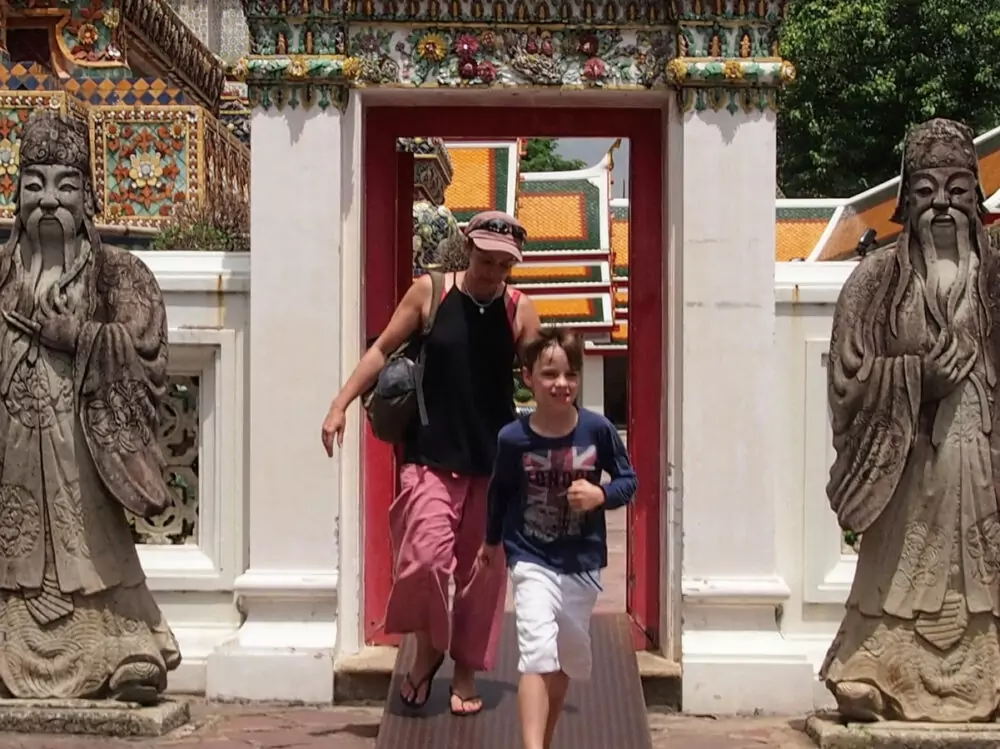 Knees and shoulders should be covered to enter religious buildings in Thailand. The Grand Palace also has rules around shoes, covered footwear with a heel strap is preferred. Shoes and hats must be removed to go inside temples, but can be worn in the grounds. Long shorts are fine for kids, but tourists in short shorts or skirts may have to pay to borrow a sarong at the door.
Wear shoes that are comfortable and that you can slip on and off easily. I wouldn't take your most expensive shoes as they will be left outside temples often in every temple in Bangkok.
In the photo above I'm wearing a very inappropriate top, but I did have a long sleeve shirt in my bag.
How Long Does it Take to Explore Wat Pho
Allow a full half day to really explore Wat Pho. If the temple is busy there may be crowds and seeing the reclining Buddha can take some time. At a bare minimum time, allow 2 hours. There is a lot to see and enjoy within the Wat Pho complex and gardens including a small museum which was open on our last visit. Of course, if you are short of time, you could wiz around in under an hour.
Wat Pho Entrance Fee
Wat Pho is not one of the cheapest of the big tourist draw Wats. An admission ticket costs 200 Baht (THB) oor $5.80 US approximately, but it is cheaper than The Grand Palace complex. Small children, babies and toddlers should be free if they are under 120cm height, if they are shorter than the ticket counter, they can usually have free admission in Thailand, but this does vary.
Prices were correct at the time of our last visit, please check for current prices.
You can sometimes see huge crowds at Wat Pho so try to visit early or late to skip the crowds and the heat.
Entrance Fee For Wat Pho Bangkok : 200 Baht for foreign tourists, small children free, Thai locals also free.
Wat Pho Opening Hours
Wat Pho is normally open every day from 8am to 6pm, with the latest admission being 5.30pm.
To see Wat Arun by night, the best way is to take a ferry or river cruise, this Wat is one of the most beautiful sights in Thailand by night. You can't enter by night, the Wat is best appreciated lit up from the river.
Wat Arun Opening Hours : 8am to 6.30pm every day, latest admission 5.00pm.
I've read different opening times from official sources in Thailand, some say 8am, some say 8.30 am. I'm visiting again in a few weeks so I will check opening hours at the Wat itself.
The complex remains open to 11pm, but the buildings, including the reclining Buddha, will most likely be locked up. Take the 11pm closing time with a pinch of salt, but that's the official closing time as stated by most Thai websites and sources.
How To Get to Wat Pho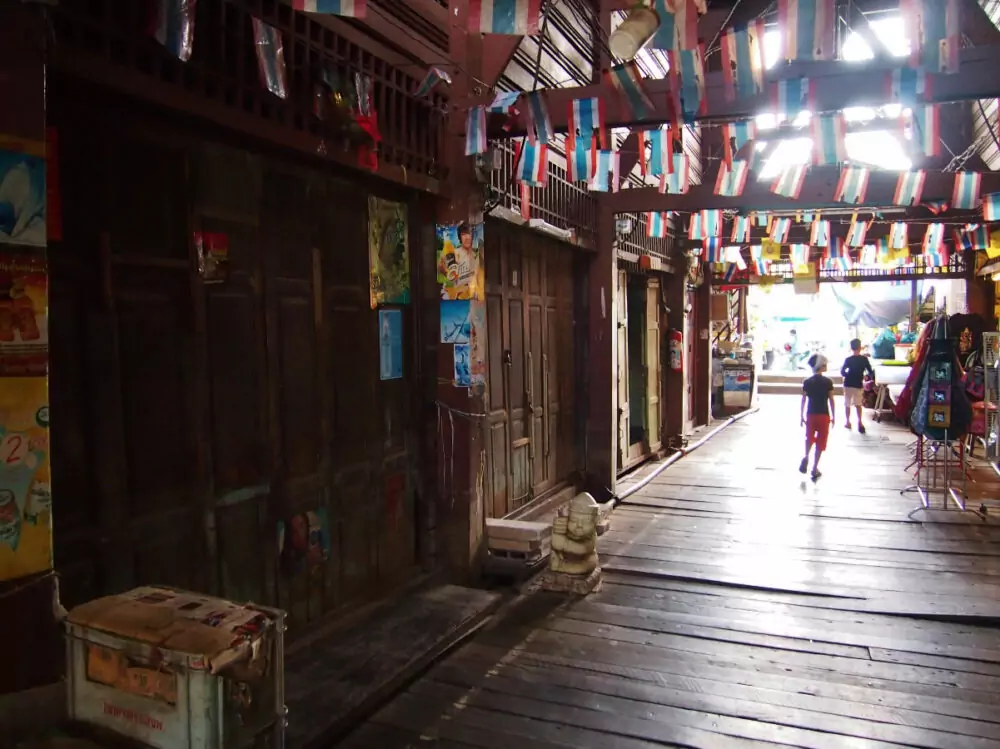 To get to Wat Pho by river, you will need to disembark at Tha Tien Pier on the Chao Phraya River and walk under 20m to the Wat Pho entrance.
Tha Tien Pier is also the jetty you need to catch the ferry boat across the river to Wat Arun (4 Baht/person, the kids are free, sometimes). It makes sense to visit Wat Arun and Wat Pho on the same day.
The Sanam Chai MRT Station (underground on the blue MRT line) is the closest MRT station to Tha Tien Pier and Wat Pho. It would be easier to take a taxi or tuk tuk from your hotel direct to Wat Pho or visit as part of a tour, depending on where in Bangkok you are staying. But The Sanam Chai MRT Station is only about a 5 minute walk (350m) from Wat Pho.
The nearest MRT station (blue line) on the Wat Arun side of the river is Itsaraphap MRT Station, from here take a taxi to Wat Arun, and then take the ferry to Wat Pho. The distance from this station to Wat Arun is only 2.2 km.
Look out for the huge river fish at the jetties, you can feed them for an extra 10 Baht from the Wat Arun side. Again, check the prices, they may have changed since publication.
Wat Pho to Wat Arun
Wat Pho is famous for its giant reclining golden Buddha and is another must see in Bangkok
It's a good idea to visit Wat Pho and Wat Arun on the same day as they are very close together. The Grand Palace is also nearby, but to do all 3 major sites in Bangkok in one day would be exhausting, unless you booked an organised tour of Bangkok's highlights as these tours take some of the pressure off you and save you time.
Book a tour of Wat Arun, Wat Pho, and The Grand Palace here.
To Get To Wat Arun from Wat Pho : From Wat Pho walk to the Tha Tien Pier. This walk should take you less than 5 mins, the distance is less than 20m. You will need to cross Maha Rat Rd. This pier is surrounded by small shops and street food stalls it's actually a very old market and floods in the wet season. You need to pass through this area to reach the pier. From here catch a small ferry to the opposite side of the river. The cost is normally 5 Baht per person, small children free. The jetty on the other side of the Chao Phraya River is directly in front of Wat Pho, you will see the ticket desk.
There are plenty of small restaurants and places to grab a snack in this area, if you need lunch between Wat Pho and Wat Arun.
If you plan to get around Bangkok by boat often, it is possible to buy a hop-on hop-off boat pass for the Chao Phraya River. Buy a boat pass here.
We have a full post on how to get around Thailand, there are so many options!
How To Get to Tha Tien Pier for Wat Arun : The Sanam Chai MRT Station (underground on the blue MRT line) is the closest MRT station to Tha Tien Pier. It is some 850m away. We would suggest you take a taxi or tuk tuk from your hotel direct to the pier, or visit Wat Arun as part of a tour.
Khao San Rd to Wat Pho
You can walk from the Khao San Rd to Wat Pho in about 20 minutes, the walking distance is just under 2 km. (1.7 km, 1.05 miles). If you're not used to walking in the heat, get a taxi or tuk tuk but be certain they use their meter or negotiate a fixed price with your driver. A tuk tuk to Wat Pho from Khao San should cost about 70 Baht (THB) or $2 US dollars. Catching transport like this around the big tourist hotspots often leads to overcharging.
Alternatively, walk to the river Jetty closest to Khao San Rd, Pha Athit (Walk down Rambuttri Aly, towards the river, turn left, keep walking until you see a small market and the pier on the opposite side of the road). From here you can catch a ferry (Chao Praya Express Boat) to Tha Thien Pier, and from there walk to Wat Pho, it's only about 15 m from this jetty and small market.
There is no BTS or MRT station close enough to Khao San Rd or Wat Pho to be practical for this trip.
Where To Stay Near Wat Pho
There are plenty of hotels, guest houses, and hostels near Wat Pho, some Luxury, some budget. This area is a good area for tourists and families to stay in Bangkok, close to most of the major attractions.
Our list of hotels below starts with the hotels nearest to Wat Pho.
2 places we'd like to recommend are this Bangkok hostel for a budget stay, or a private family room with bathroom (on Booking dot com). It has a slide and pool and this is one we use ourselves. For a nice, comfortable hotel, with stunning views of Wat Arun and the river this is a good choice of accommodation. (on Booking.com). (photo above). This is their link on Agoda. This one is very close to Wat Pho and that's honestly one of the best views in Bangkok. All links open in a new tab so you won't lose your place.
Here's the list of hotels near Wat Pho.
Enjoy Wat Pho and More of Thailand
If you're heading to Thailand and looking for things to do in Bangkok, do your very best to get to Wat Pho. See our full Thailand travel coverage here, if you want to really see Thailand, there are a lot of places you should go.
If you'd like to hire a car during your stay, use this car rental comparison tool to find the best deal!

We also suggest you take a look at this company to get a quote for all kinds of travel insurance.

Try Stayz / VRBO for an alternative way to find rentals on homes/apartments/condos in any country!