We've organised the best Thailand trips and tips here. Our Thailand travel blog and guide pulls all of our best Thailand travel information, stories and experiences together. You'll find travel ideas for couples and singles here too, not just families. We've already done this with Sri Lanka, India, and London travel and you picked Thailand as the next holiday destination to cover. We're back in Thailand every year to add more tips, trips, essentials, destinations, budget ideas, and accommodation reviews. Thailand is a brilliant destination, for long-term travel, backpacking, or short vacations. For newcomers to travel in Asia, Thailand is our best recommendation.
All information on this page represents our personal experience. Please check all facts, prices, availabilities, and timings for yourself, as things change fast right now. This page may contain affiliate links, if you choose to use them we should make a small commission at no extra cost to you. Please check the latest travel restrictions and openings with the official tourism authority of Thailand and Thai government.
Our short video, below, is from Thailand's famous train market, near Bangkok.
Thailand Travel Blog
Styles of Travel in Thailand.
We have been to Thailand 20+ times, as singles, as a couple and now with kids. I know the children have been to Thailand at least 20 times, their first trip was at 4 and 6 years old. We have travelled around the country independently as long-term backpackers, taken shorter up-market holidays and I have visited on a small group adventure holiday.
Multiple styles of travel, multiple budget points, most styles of travel work well in Thailand. Thailand is a fabulous destination and probably the easiest to choose for travel in Asia. It's one of our favourite countries and we keep going back, not least, to add to this expert Thailand travel guide.
Accommodation in Thailand will suit all budget points from super luxury to budget-friendly. You can stay in luxury beach resort or a hut, you can backpack around Thailand using public transport or book a private tour. Any style of travel is possible in Thailand and it's a particularly easy country for western tourists to explore. Budget travel is popular in Thailand with backpackers and nomads, young and old.
Costs of Travel in Thailand.
There are huge variations in costs in Thailand. The big beach resort destinations can be expensive, yet the smaller islands, where only the backpackers go, will be cheaper. Bangkok is more expensive than many other towns and cities, yet Chiang Mai is really good value. On the whole, Thailand is very affordable for those of us packing dollars or pounds.
Costs depend on your travel style of course. You can spend big or get by on well under $50 a day, it totally depends on you and where in Thailand you are. An absolute minimum guide would be:
Guest House, of a good standard $26 for a family of 4, with 4 beds.
A meal, eg. pad Thai, sitting down in a simple restaurant 40-50 Baht, under $2.
A meal from a street stall, upward of 30 Baht.
Of course prices go up and up, but with common sense and knowing where to go, you should be able to keep costs in Thailand this low.
Family Travel in Thailand
Because Thailand is a well-established travel destination and because of the modern, developed nature of much of the country, Thailand with kids is usually no sweat at all. The Thais really do adore kids and more than once we've had them whisked away to be entertained by adoring young women when we've arrived for dinner.
Transport is easy (but roads can be dangerous), food is good, and hygiene standards are so much higher than 20 years ago. We've been making this Thailand travel blog for a very long time! There is plenty of accommodation at all price points (see below) and loads to see and do.
Car hire is now a good option in parts of Thailand, great for families. Obviously, dangers are present, sharp coral, traffic, dogs, monkies, and so on, but we always find Thailand an easy, safe enough, country to visit – or we wouldn't keep going back. We wrote Thailand with Kids, No Worries! If you're concerned about your first steps in Asian family travel.
Thailand Vaccinations
The first time we visited Thailand with the kids, for a 2 week vacation, our GP didn't think it necessary to get any extra vaccinations. I'd agree, for a short stay, avoiding the small areas where malaria is a possibility. We were happy not to take any extra precautions other than being extra careful avoiding mosquitoes. But of course, check with your own doctor.
But that's not the official medical recommendation for most countries. The vaccinations recommended for travel to Thailand will vary from country to country, we've seen this as we've lived in and sought medical consultations in both Australia and the UK. The advice given was hugely different, as was the cost.
I can tell you here that we've never had rabies vaccinations and we've spent months, maybe years, in Asia. We don't regret that decision. We haven't taken malaria prophylaxis for Thailand since 1999, when I was trekking on the Burmese border and staying in remote villages. We haven't thought it necessary on any subsequent trips, although if we were heading to the jungles again we would consider it.
You can find the Malaria Map for Thailand here. As you can see, the NHS only shows a risk around border regions. I'll tell you that we did not take any anti-malaria medications during 6 weeks in Laos, nor for 1 month in Cambodia last year. We travel long-term so even if we wanted to, we can't take anti-malaria drugs for much of the time. It is our choice to not take them, but the final decision must come down to what you are comfortable with.
Worrying will ruin your vacation but we normally find that health worries evaporate once you hit the ground and see thousands of healthy people around you.
If you're starting extended travel in Thailand and come from a country where travel vaccinations cost are huge (such as Australia), it's a good idea to get any vaccinations in Bangkok. There is a travel clinic linked to the hospital of tropical medicine. Medical care in Thailand is good, as my husband can testify. He had emergency surgery on Ko Samui.
Find East Asia travel health recommendations from the NHS here. As an update – we have now had those rabies shots – here's why. If in doubt, get all the shots, listen to your doctor.
How to Find the Best Prices and Deals on Hotels, Hostels, Guest Houses and Resorts in Thailand
Back in the day, we would always travel around Thailand without making any reservations. We would simply arrive in town and knock on doors until we found a room that we liked at the right price. We would always negotiate hard.
Those days are all but gone, and we find more and more fixed prices along with online prices that are actually better than any price the accommodation will give us face to face. So these days we usually book at least a couple of days before arrival. We'll then take a look around and see if there is anywhere we like better, but mostly we end up booking online for a better price. The world has changed.
Agoda are the Asia specialists, we usually use them to book in Thailand. Agoda are based in Asia so have more variety and often score better deals. If you'd like to book a refundable deal, maybe a long time in advance, Booking.com are probably your best bet. Of course, if you prefer, you could use Airbnb too, but we've never had much luck with this platform in Thailand.
Accommodation in Thailand. To Give You an Idea!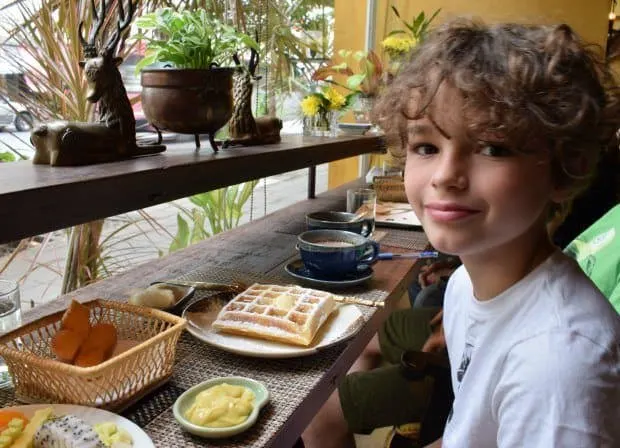 Are there 1, 2, 3, 4 or 8 people?
Do you want a hostel, guest house, hotel or apartment?
Do you care about location? Do you need breakfast, air-con, TV and room service?
There are too many variables!
Our recent experience is in family travel, so that's what we'll focus on here. Some ideas on hotel costs follow, keep scrolling on down if that's not what you're here for.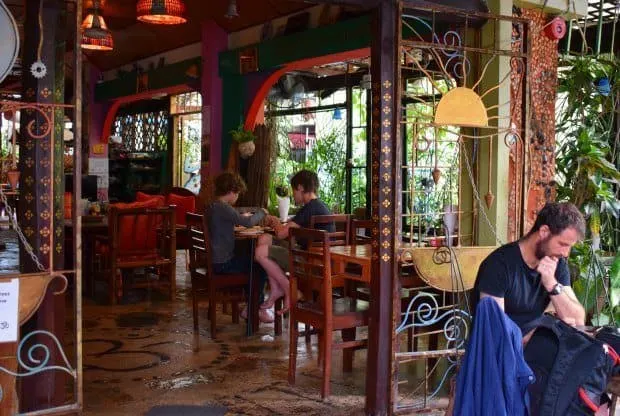 A small selection of the hotels, guest houses, villas and hostels that we can recommend. We are not sponsored by any of the hotels below, these are honest recommendations, but you'll get an idea of what to expect and what you'll pay per night. I've included family accommodation at the backpacker end and at the luxury end. You'll see that accommodation is very affordable in Thailand.
We also now have a full post on recommended family accommodation in Bangkok, at all price points.
Chatrium Hotel Riverside Bangkok. Bangkok's stunning Chao Phraya River river is lined with large 5 star hotel, often with rooftop pools or bars. A place like this, the Chatrium Hotel will only cost you just over $100/night for a family suite with 2 bedrooms. That's great value! Pay a little more for stunning river views and breakfast.
Lebua at State Tower Bangkok. If you're looking for a luxurious riverside 5 star at a higher price point, the Lebua at State Tower will give you a stunning 2 bedroom executive suite for under $400. This one is in Silom, near the BTS and overlooking the river. A dream of a hotel!
Anantara Riverside Bangkok Resort Bangkok. f you want to avoid the modern tower blocks, this traditionally Thai, luxury hotel is for you. Again, it's right on the river and has any number of pools, restaurants and bars. A 2 bedroom suite with breakfast comes in at just over $500 at Anantara Riverside . This one has the full "wow!" factor.
The Rambuttri Village Inn, Khao San Rd. Area, Bangokok. This is often billed as the best place to stay in Bangkok, at the best price. It's a big place and they've recently extended it. The new wing looks very upmarket from the outside. It has a rooftop swimming pool to cool off and the room we had, for 3 (I was travelling with just small kids), was decent. It's right in the heart of the action on Rambuttri Rd, the next road over from Khao San. Note, this one didn't have rooms for 4 when we last stayed. You'll struggle to find anywhere else with a pool in this area but on the above, complete guide post, there are hotels with 4 bed rooms in the next street. The Rambuttri Village costs around $20 for a double room, book 2 for older families and you still have a bargain.
Shanti Lodge, Khao San Area, Bangkok

*New Favourite*

We LOVE this classic, old school guest house, perfect for closet hippies like me! It's on a quiet road, about 15 minutes walk from Khao San and Rambuttri Rds and footsteps from food markets, the fascinating flower market and, importantly, a river jetty. If you can get to the river you can go just about anywhere in Bangkok. Shanti Lodge has family rooms, good food, a lovely area for hanging out downstairs, and is spotlessly clean. It's in the photo above. A full review post on this Bangkok classic is coming soon.
Mile Map Hostel, Silom, Bangkok. Just under $50 for a 4 person family room with shared bathroom. We love this place, it's our new Bangkok budget favourite, a little more expensive than rock bottom, but it's nice, very clean and the location is good. If we're in Bangkok for a few nights to catch connecting flights, this is our base. The Silom area has far fewer tourists than the bustling Khao San area, so the street food is cheaper and more authentic, there's plenty of it, including a fantastic vegetarian café right outside the Mile Map Hostel. (Closed last time we were there) Here you are a short walk from the BTS and close enough to the river and waiting river taxis. Read more on staying in the Silom area of Bangkok here. My London ex-pat friend lives in Silom, it's his pick too.
Old Capital Bike Inn, Bangkok. We picked this one for my 50th birthday treat. It's a wonderful hotel, superbly located, with bags of style. Cost, around $180 for 4 people. We have a full review on the Old Capital Bike Inn here, or check out pricing and availability here.
Haad Salad Villas Haad Salad Beach, Koh Phangan. We spent 6 glorious weeks on the beach in our own little villa with hammock and balcony at Haad Salad Villas. At the time this was the cheapest place to stay on Haad Salad beach, we asked everywhere as we were on a tight backpacker budget. Today it's listed as $x per night on Agoda. Ko Phangan is a large island and the beautiful beaches are quite spaced out, you'll need transport to get around. We'd recommend booking in advance so you know where you're going for those first few nights. We have absolutely nothing negative to say about Haad Salad Villas, we loved the location, the room, the breakfasts, and the staff. Waking up to that incredible blue sea was just as magical as watching the daily rainbow sunsets as the sea lapped lethargically on the white sand and coral. Read more about life on Ko Phangan here.
Green Papaya Resort Haad Salad Beach, Ko Phangan. To give you the opposite end of the scale on Haad Salad Beach ( and there are less than 10 properties on this tiny cove),Green Papaya Resort offers similar cute Thai-style beach villas, but these are two bedroom, with stylish, modern, slick, interiors and breakfast is included. The Green Papaya resort boasts a glorious pool should you ever tire of that incredible calm, clear, sea. They cost just over $200 per night.
Sugar Cane Kanchanaburi. One of the cheapest places we've ever stayed, Sugar Cane was just $12/night and another place that we loved so much we stayed weeks. A floating room on the River Kwai. The kids were small so we managed with one room, one big bed. We had our own little shower room and outside sitting area and happily hung out in the hotel restaurant eating great food. It's not luxury, but we weren't looking for it on that trip. It was lots of fun and the kids loved being on the river. Read more about Kanchanaburi, the bridge on the river Kwai and other nearby attractions here. It's a bus or train ride from Bangkok. In 2018 we returned to Kanchanaburi, the food and views from Sugar Cane are still superb but this time we payed more and stayed at a modern, clean motel / hotel, Warm Well.
Tony's Place Ayutthaya Tony's Place was in the Lonely Planet, so it was busy. A fairly up-market sort of backpacker place, we had a beautiful family room with a mezzanine level and a private shower room. The building housing Tony's is lovely, a traditional Thai wooden build with a courtyard garden and restaurant downstairs. They've put in a swimming pool since we were there. There's plenty to keep you busy in Ayutthaya, from river cruises to elephants to one of Thailand's 2 ancient cities. Read more about Ayutthaya here, you can get there by train or road easily from Bangkok.
Holiday Inn Ao Nang Krabi. This one is a bit different as we were guests of the Holiday Inn Resort, they believed in their property enough to invite us along to check it out. What we found was a superb 4-star family resort. If you're looking for a child-pleasing resort-based holiday, the family rooms and suites here, along with the pools and play facilities, are worth taking a look at. See our Ao Nang Krabi post here.
How to Find a Place to Stay in Thailand?
If you are backpacking or long-term travelling, it is possible, and often cheaper, to just turn up and start knocking on doors. Always negotiate, don't take the first price. It's what we used to do pre-kids and pre-internet. These days we book in advance more and more. We often use Agoda for booking hotels in Thailand as they specialise in Asia and have brilliant customer service.
When we're visiting for short holiday we always pre-book and usually go for a special, top-end experience, for long-term backpacking we may book 1 night for arrival and from there search on foot. It's best to just pick one booking engine and stick with it, checking them all wastes time and ties you up in knots.
Suggested Thailand Itinerary
Hot off the press for you, our new Thailand itinerary trip planning post (2 weeks and above) is here.
Shopping in Thailand
Shopping in Thailand is loads of fun and you can buy some amazing souvenirs and great quality cheap clothes as well as designer gear in Bangkok's beautiful malls. Remember that outside fixed rate shops, you're expected to bargain over prices. My son is a master of the art, click through to see him in action with a vendor on the Khao San Rd and read tips on how to haggle. Chiang Mai and its profusion of markets is the best place I've ever been for shopping.
Cost of Living in Thailand
This depends on the part of Thailand you're in. Chiang Mai is cheaper than Bangkok, the big holiday areas more expensive. There are huge variations and a lot depends on how keen you are to find good deals and the best local food.
Eat at tourist spots and your costs will rise. For instance we bought the same beer in 2 places in Chiang Mai last night. A local style restaurant was half the price of a not-upmarket tourist place in the night bazaar. A meal can cost you 40 Baht/person or several hundred, it's up to you.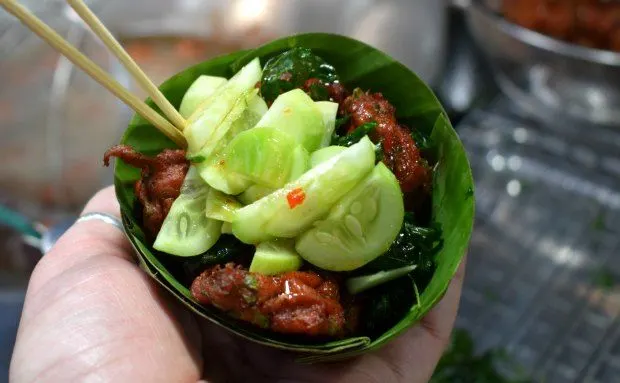 If you'd like to know what it costs to live in central Bangkok, we recommend this article from Manf of Renegade Travels. He's an ex-Londoner who lives in Bangkok with his partner, he knows what he's talking about. Cost of Living in Bangkok. You could also check out what Amy and Andrew of Our Big Fat Travel Adventure (a couple), have to say about the cost of living in Chiang Mai for 1 month and on costs of travelling in Thaland for 2 months.
Best Time to Visit Thailand.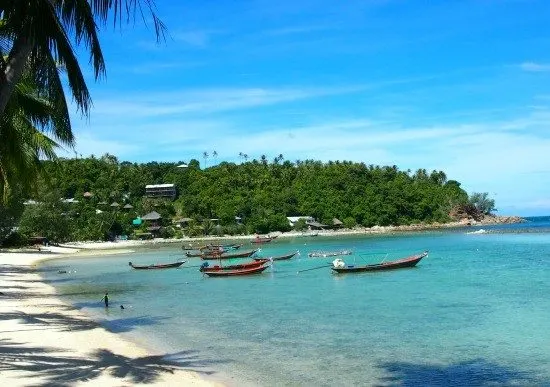 When considering when to visit Thailand, don't just think about the weather and the cost. Prices are significantly higher at certain times of year, including Christmas and Western New Year (particularly for beaches). Famous Thai festivals and events will also bump up prices. Thailand is tropical, so it has just 2 seasons, the dry and the wet.
July to October is the wet, stormy monsoon season.
The cool, dry season runs from November to March, after the monsoon.
April to June and September to October are the shoulder seasons.
We've visited Thailand at the "wrong" time of year many times and still had fun, but flooding and cancelled ferries could spoil your trip in the wet season. Also watch out for high levels of air pollution pre-monsoon, particularly in Chiang Mai and the north.
Getting Around Thailand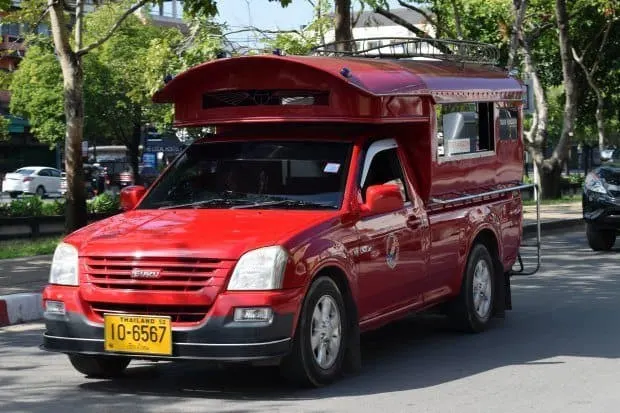 There are plenty of choices when it comes to getting around Thailand and most of them are good and very affordable. Trains, buses, water taxis, songtaws (above), tuk tuks, planes, ferries, buses, coaches, monorails, just pick the method that suits you. Know that there is only one way to book transport tickets online in Thailand, a company called 12 Go Asia. You can find more on them in this post on train travel between Kanchanaburi and Bangkok.
Prices are good, don't be afraid to take taxis in Bangkok the low cost is quite remarkable and these days they all run clean on gas. You must find a driver that will use his metre and in very touristy areas that can be hard.
Tuk Tuks are fun and you must take a ride at least once, but in Bangkok in heavy traffic you are surrounded by traffic fumes, I'd save it for quieter areas if you have the option. For the record, a family of 4 plus backpacks DO fit in a Bangkok tuk tuk. You'll usually get a better price from a taxi driver.
Scooter or moped hire is common outside Bangkok, but many, many people have accidents. I was one of them.
You can hire your own car in Thailand, we've tried it in the north and on Phuket, it was cheap and easy. Read our post on hiring or renting a car in Thailand here.
Because Thailand has such a huge and well-established tourist industry, you'll also find private companies offering mini bus trips and shuttle service, they sell them through hotels and hostels and from the small travel agencies that you'll find on almost every street. Alternatively, you can book them before departure and simplify your life. Check out this company, we've used them, they're good.
If you want luxury, high speed transfers you can book VIP buses, private airport transfers or even high speed catamarans from Bangkok to the islands. These really aren't expensive at all and could save you a lot of time and frustration. Take a look at options here on this website, it's a company we use and trust.
No trip to Thailand is complete without spending a night on one of the excellent sleeper trains ( the Bangkok-Chiang Mai trip is a classic). Book them in person at the train station, booking online costs more. Night buses are also fairly comfortable.
I was once sat on a bus in Laos for 8 hours next to a Thai lady. She said "You should come to my country, good buses!"
We have posts on getting to Ko Samui and Ko Phangan from Bangkok, on Getting to Kanchanaburi from Bangkok and travelling from Bangkok to Laos by sleeper train.
Food in Thailand
Thai food is possibly the most delicious, light, fragrant and stunning on the planet.
In my opinion no other country comes close. Neighboring countries in South East Asia, like Laos and Cambodia, have similar food but not as good. Indian and Vietnamese dishes are fantastic, but I think Thai wins hands down.
With that in mind Chef and I put together this Beginners Guide to Thai Food.
Don't be scared, Thai food is not as inferno-hot as you may have been lead to believe. In my experience, we're often asking for more chillies, not less.
Street food is an art form in Thailand and the Thai people eat out, it seems all the time. If a street stall is busy with locals you know it will be good.
Don't be afraid to eat on the street, in all of our time in Thailand, none of us has had any major tummy upsets and we eat everywhere, with a little common sense. We do avoid some salads, ice cream where there is a freeze/thaw risk and anything on the street that shouldn't be.
You will see pre-prepared dishes everywhere ( like those above), at the roadside and in small cafes, this is some of the best food you will ever taste, don't be scared to try. Prices will be insanely low too, but not so much in the tourist places.
Travel and Food in Thailand, with Kids
In some ways Thailand is very Westernised, yet it retains its unique character. This could work in your favour if you are travelling with picky eaters. Every possible Western food is available in Thailand.
You'll pass a 7-11 store every few paces, great for cold drinks and snacks, they also serve some hot food and coffee. All of the big fast-food chains, Mc Donalds, Starbucks, KFC, Dunkin Donuts, Pizza Hut, they're all there, so if your child needs familiarity ( it often helps them to adjust) let them eat their favourites from home.
But, do introduce your child to some new tastes and flavours, my boys enjoy satay sticks for their peanut sauce, tom kha gai, a coconut soup, (the gai means chicken), pad thai ( noodles) and of course the sweet, delicious street food treats. You will find chocolate and banana roti ( sometimes called pancakes), steamed pandanus or coconut puddings, mango and sticky rice and deep-fried bananas at street stalls.
Fresh fruit is widely available and just about anywhere will serve you an omelette. Nobody is going to go hungry in Thailand.
The Big Attractions in Thailand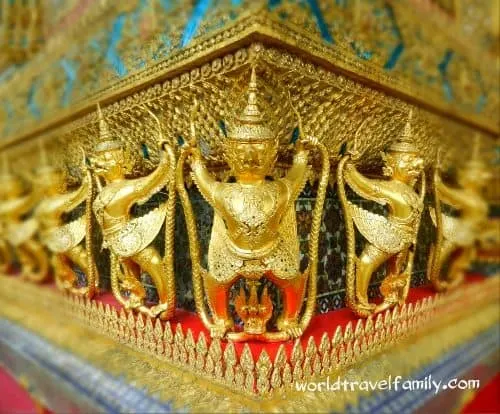 There are pretty much two types of travellers in Thailand, those who come for the beaches, resorts, kids' clubs, cocktails, and boat trips, and those who come for the cultural destinations. You can combine the two, of course, that's easy with long-term travel, but not so easy on a two week vacation. If you decide to head straight to a beach or island, say Phuket, Krabi, or Koh Samui, you'll probably need to fly up to Bangkok and Chiang Mai to explore cities ancient and modern. You can take bus, train, boat combinations but on a short trip it will eat your time. Another subset of visitors to Thailand are looking for adventure activities, scuba diving, trekking, zip lining, others want to experience Thailand's wildlife, particularly elephants. You can do it all, but you'll need a plan. We give you some of the most popular destinations and places to see in Thailand, below, split into cities and cultural, followed by beaches and islands.
Cities, Towns and Cultural Destinations in Thailand
Did you know that Thailand has ancient capital cities to explore? For me these are must-sees, we mention them below. Bangkok is one of my favourite cities in the world and no trip to Thailand is complete without visiting the Grand Palace or taking a trip on the bustling river. Chiang Mai is a global travellers' hub. Nomads congregate here for long stays and this city blends ancient and modern beautifully. Other places popular with cultural travellers are less well-known. We've listed a few below for you.
Bangkok
Bangkok is my favourite place in Thailand. I'd come here just for a short city break, and have done so many times. There are endless things to see and do in Bangkok from shopping, to eating to cultural tourism. Cultural highlights include the stunning Grand Palace, Wat Po, Wat Arun, floating markets, the river and her boats. Just explore and soak up the Bangkok atmosphere, be it the buzzing Khao San Rd, exotic China Town or the calm beauty of a temple. See our Bangkok hotel recommendations here, you can be pampered or go for rock bottom prices allowing you to spend your cash on having fun.
Don't miss the floating markets, about 90 Km outside Bangkok you'll find Amphawa, this is the one we'd recommend over touristy Damnoen Saduwak. Find out how to get to Amphawa and why you should go in this post.
If you're in the mood you could try a dinner cruise on the river, a food tour, a long tail boat or rice barge tour or a pre-organised day trip. There are a huge variety of tour options in and around Bangkok, available here. Our full things to do in Bangkok post is here.
Ayutthaya
One of Thailand's ancient capital cities. Dating from the 1300s, Ayutthaya is a UNESCO site. It's just outside Bangkok (80 Km), an easy trip to make. As well as the ancient complex, you'll find one of Thailand's biggest and possibly oldest, Buddhas here. You can travel to Ayutthaya and stay a few days, as we did, or book a one day tour with river cruise, departing Bangkok in the morning, returning to your hotel at night.
Sukothai
The earlier Ancient city, founded in 1238, is a long way from Bangkok, over 400 Km. It can be tricky to get to for average tourists but seeing the sunset at Sukhothai is well worth the trip. Alternatively, travel to Sukhothai by bus from Chiang Mai, the trip takes approximately 5 hours. Our full post on Sukhothai is here.
Hill Tribes
The Hill Tribes of the north and the borders have become a tourist attraction in their own right. The trekking business and visiting the tribes, is huge. We recently drove to a remote village in northern Thailand to visit the Long Neck Karen. I have previously taken a superb Hill Tribe trek and a very bad one.
Chiang Mai
A lovely northern city with beautiful buildings, great night markets and attractions nearby. We have a lot of love for Chiang Mai. The overnight sleeper train journey to Chiang Mai from Bangkok is a travel classic and loads of fun. I totally feel OK about taking kids on this train, we've done it. There is lots to see in and around Chiang Mai such as the fantastic night markets, bursting with food and souvenirs, the historic old town, nearby temples and tourist attractions such as the famous Chiang Mai Zoo or the 3D Art Museum. Chiang Mai is better for shopping than Bangkok, save your money to spend here. We have a full post on Chiang Mai here. This northern city is extremely popular with digital nomads and worldschooling families.
Mae Hang Son
We just got back, post coming to the Thailand travel blog soon! A really pretty town with scarce tourists.
Pai
Again, we just got back after a 15-year absence. It's grown a lot, but it's still a classic traveller town. A guide to Pai will be coming from us soon. For now I can give you Danielle's impressions of Pai.
Chiang Rai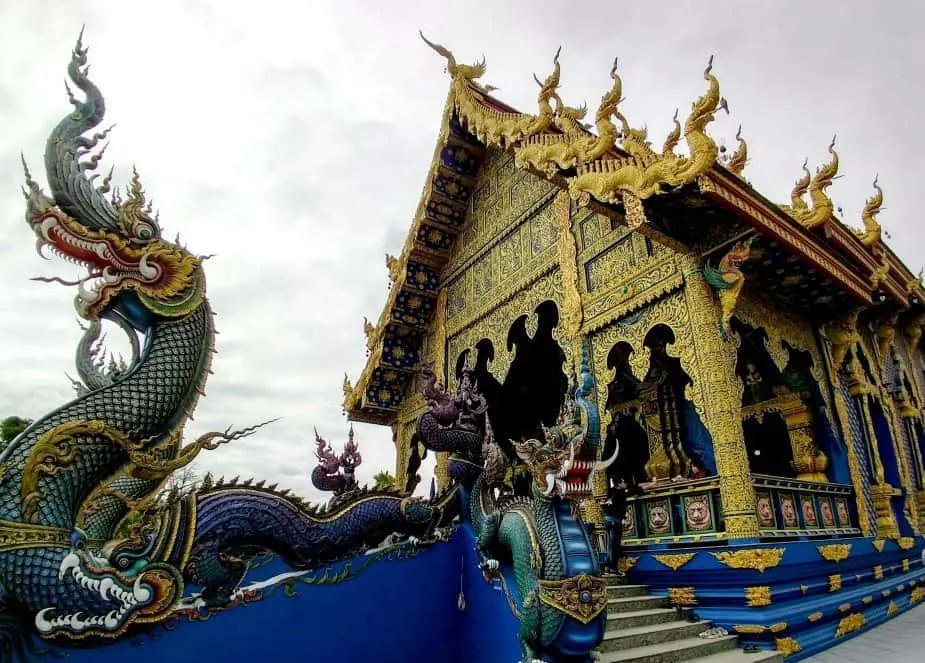 Chiang Rai Province, almost 3 hours north from Chiang Mai by road, is where you'll find the famous and stunningly beautiful "White Temple" Wat Rong Khun but there is way more to see and do in this part of Thailand. We just got back from Chiang Rai and put this post together on Things to do in Chiang Rai. If you have time, Chiang Rai and even further north, should be on your must-do list.
Kanchanaburi
Slow life on the river, the Bridge on the River Kwai, museums, safari park, waterfalls and that (now thankfully shut) Tiger Temple.
See our full post on Kanchanaburi and how to get there here. You can travel there by public transport and stay a few days or book a one day tour from your Bangkok base if you're short of time. Arrange locally or book the tour before you leave home for added simplicity and no haggling over price.
Traditional Thai Tattoos
These are so popular these days. Find out how to get one and how it feels to be prodded with a spike by a monk, here. I had my traditional Thai tattoo in Bangkok, but you can do this all over Thailand, in most major cities. You'll need to book in advance for this very special ritual and blessing. Our post, above, gives you more information on arranging an authentic Sak Yant in Thailand.
Thai Beaches and Islands
The three main islands of the Chumphon Archipelago on the west shore of the Gulf of Thailand are Ko Samui, Ko Phangan and Ko Thao
Ko Samui
You can fly in, or take the ferry, from here you can travel on to Ko Phangan and Ko Tao. The island is very popular with holiday makers and the level of development reflects this. We can recommend the private hospital here personally.
Ko Phangan
Our favourite so far. This one hosts Full Moon Parties at Haad Rin, the other end of the island is quieter, but can fill up at party time. We loved Haad Salad beach, but neighbouring Haad Yao is nice too. Bottle Beach just to the north, is known for seclusion.
Ko Tao
Ko Tao ( or Koh Tau) is a small island close to Ko Phangan and Ko Samui. Very popular for diving, similar dives can be taken from Ko Phangan. We recommend Sail Rock.
Ko Samet or Ko Samed
The closest island to Bangkok. You can get there by mini bus and a short ferry ride. It gets very busy on weekends with local people but the island is pleasant.
Phuket
Phuket is hugely popular with holiday makers. Read what we loved about Phuket here. You'd normally stay here or in Krabi to visit the famous Ko Phi Phi. No Thailand travel guide would be complete without mention of Phuket, but this big resort destination really didn't wow us.
Everything you need to plan a trip to Thailand is available for free in our Thailand Travel Blog. Don't forget your guidebook, we always use Lonely Planet, they're a good read and allow you to learn about the history, culture, food, and customs of a country before you visit.
If you'd like to hire a car during your stay, use this car rental comparison tool to find the best deal!

We also suggest you take a look at this company to get a quote for all kinds of travel insurance.

Try Stayz / VRBO for an alternative way to find rentals on homes/apartments/condos in any country!