Everyone knows you need to haggle over prices in Thailand and most other parts of Asia. Some are good at it, knocking prices down casually with a confident smile, some are rubbish. I fall into the second group. Luckily my 10-year-old son is a haggling ninja. A post and very short video on How to Haggle in Bangkok ( or anywhere else in Thailand).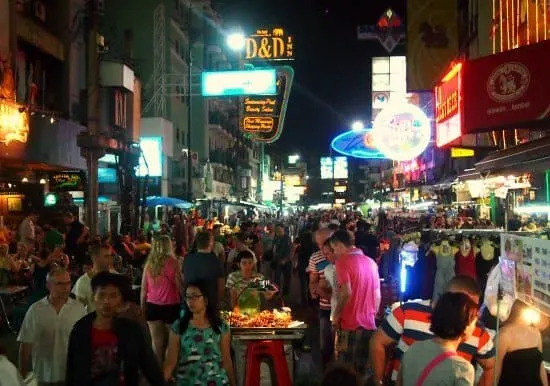 Here he shows us all how bargaining should be done on Bangkok's amazing Khao San Road. This lady's starting price was 120 Baht, look how low he goes.
The Rules of Haggling in Bangkok
Never accept the first price, the real price will be around 50 to 25% less that the first price.
Don't start the process if you really don't want to buy, it wastes everyone's time.
Do nonchalantly ask the price at a few stalls before you enter into serious negotiations over your chosen item, it gives you an idea of the real price and how low you can realistically go.
Always smile, be nice, be friendly. You'll get much further that way. Nobody should lose face.
Put on a bit of a show, fake shock, surprise, whatever, so long as it's fun. Haggling should be fun.
Go low. Start at around 1/3 of the vendor's first price, maybe even lower.
If you walk away and say no thanks you may well get called back and offered a much cheaper price. But sometimes you won't, then you've lost face and will be too embarrassed to go back. So be careful with this one.
If you're 10 years old you have an advantage, D is now our chief negotiator.
Don't try to haggle in upmarket shops or the 7-11, it doesn't work there.
Always haggle with taxi drivers who refuse to use their meter ( or find one who will, taxis are incredibly cheap), tuk tuk drivers and guest house owners.
Have fun, shopping in Thailand is fantastic and there are amazing things to buy. Meeting the vendors is great, the seller above stayed and chatted to us for a while about her sons, she was lovely. Thanks to her for letting me film this serious, unstaged, business transaction and well done D, master haggler.
Where to Stay in Bangkok
For ten years we've been staying in the Khao San Rd and Rambuttri Road area of Bangkok, the two streets run side by side. We love staying in this area in the heart of the action just a short river boat ride to all the big Bangkok attractions. Our new favourite place to stay is Silom, we've found a great family-friendly hostel and we're finding the less touristy vibe quite a nice change. You can read all about Silom and where we like to stay in this post.
If you're looking for more Bangkok information, you'll need our things to do in Bangkok post. Haggle, bargain, shop. Visiting Bangkok's shops and markets is certainly a joy.
If you'd like to hire a car during your stay, use this car rental comparison tool to find the best deal!

We also suggest you take a look at this company to get a quote for all kinds of travel insurance.

Try Stayz / VRBO for an alternative way to find rentals on homes/apartments/condos in any country!