This post may contain affiliate links.
I posted today about our cookery course in Battambang, Cambodia. It was a fabulous experience. As part of the tour we visited the local market, something we do often, but on this occasion we stayed longer than usual and took more photos. I'm publishing these photos separately because sensitive viewers may find them a little unpleasant.
Here is a quick tour of Battambang Market, Cambodia, in pictures, it goes some way towards answering the question, what do they eat in Cambodia?
We also include some traditional Cambodian recipes on this page, for you to make at home.
What do they eat in Cambodia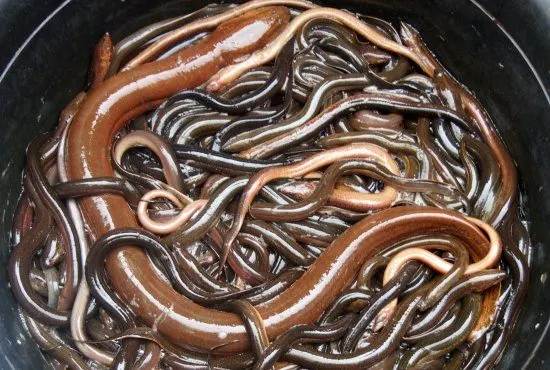 Fresh, live eels, fish and frogs writhe in bowls on the ground at the Cambodian food market.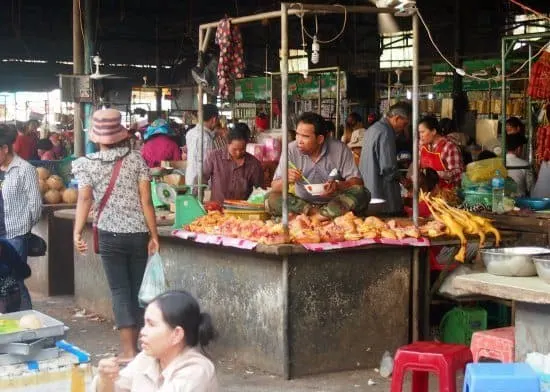 As close as I want to get to the meat section. It was like an anatomy lesson in there. Every part of the animal is consumed in Cambodia.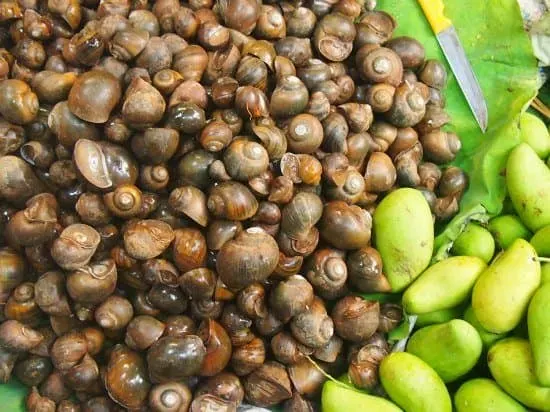 Huge snails, with green mangoes for scale. Tiny water snails are hugely popular too, you'll see them sold on the street freshly cooked.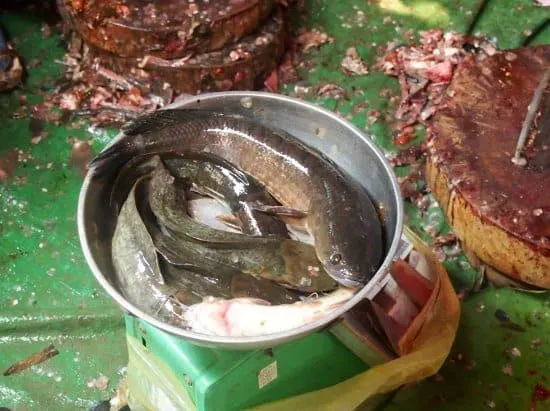 Selecting live snake head fish for our fish amok, fresh from Tongle Sap lake.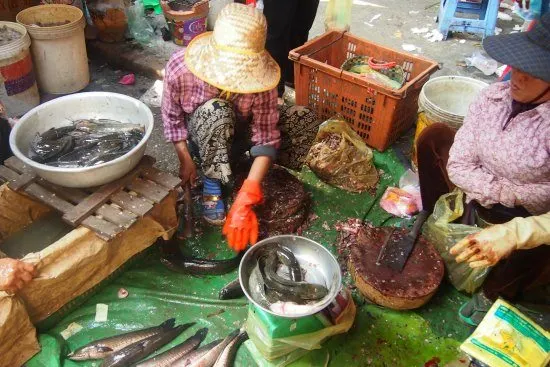 Dispatched, gutted and scaled to order.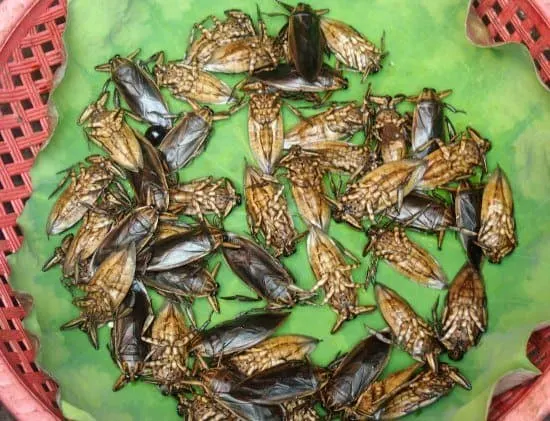 Water bugs or cockroaches? I'm not sure. We saw these cooked and ready to eat, right next to the tarantulas, crickets and silk worm larvae.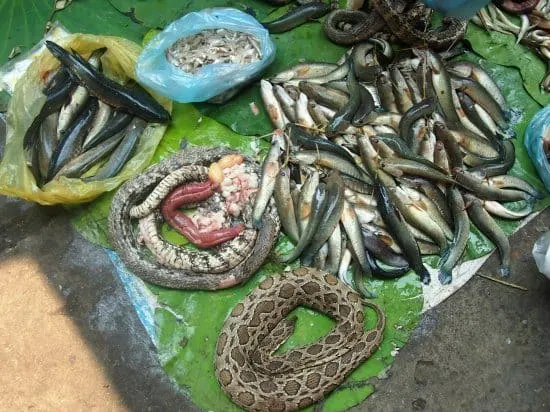 Snake, python, cobra and water snake. I have never seen this anywhere else in the world. Update, I now have in Sarawak Malaysia. We also saw python for sale in local food markets there.
Just as there is blood and gore in the meat section, there is beauty in the fruit, vegetables, herbs, flowers and spices. Occasionally jasmine or kaffir lime leaves mask the smells of fish and meat.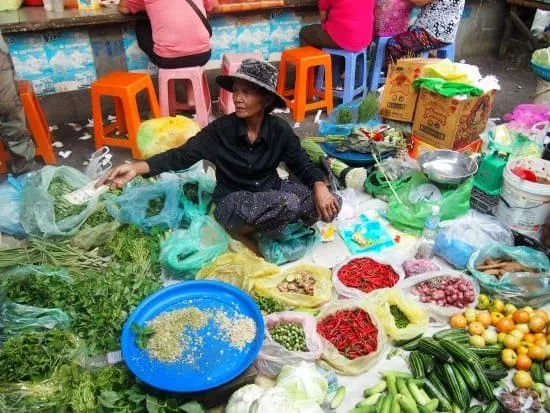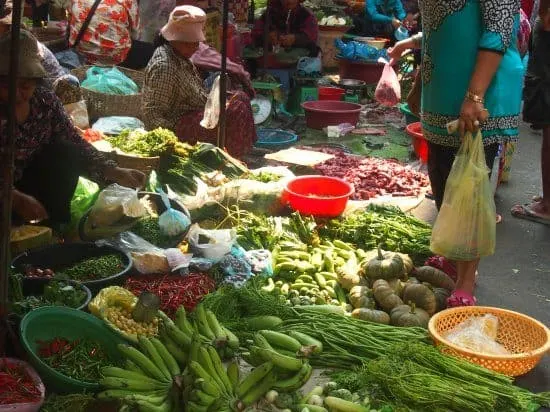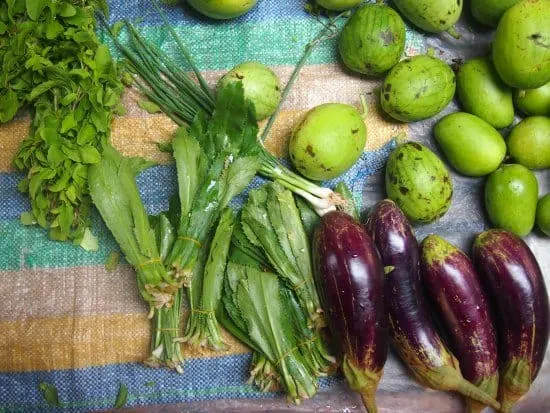 We found good food in Cambodia. Traditional Khmer dishes like amok and lok lak are truly delicious, lok lak featuring the famous Kampot pepper. I'm not a big meat-eater, so I find meat markets a little tough to take and reminiscent of my years in pathology.
The town of Kampot in Cambodia is famous for both salt and pepper and nearby Kep is famous for its fish markets. Simple grilled or barbecues fish and seafood is common in Cambodia, normally with seasonings and sauces.
Cambodian Recipes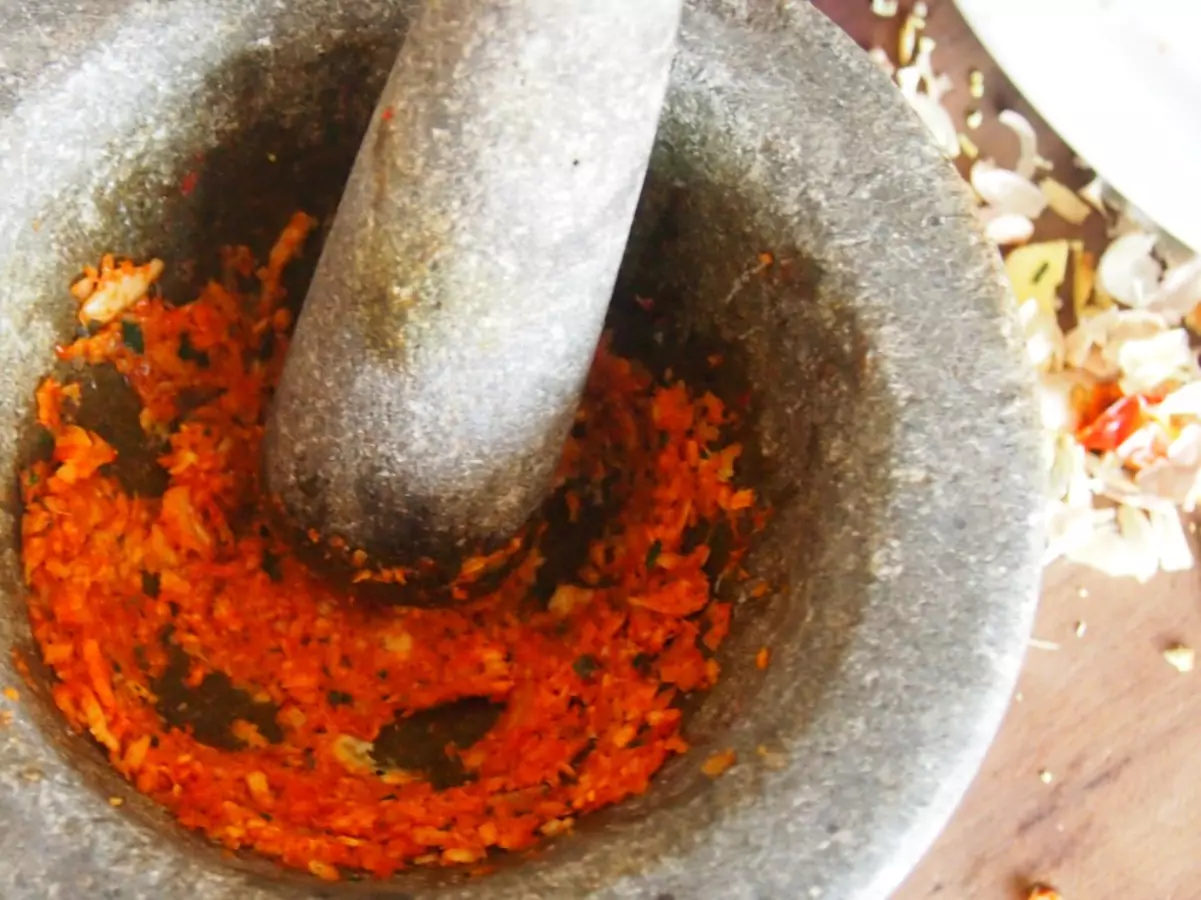 If you're interested in Cambodian food, here are some Cambodian recipes, or recipes based on Cambodian cuisine, for you to try at home. I can't vouch for how authentic these are unfortunately.
We are working on these recipes today .They will all be published on our World Travel Chef site very soon!
1. Cambodian Chicken Amok Recipe
Like traditional fish amok, Cambodian amok can also be made with chicken. Get a chicken amok recipe here. We have an authentic Cambodian amok recipe here which does not resemble this version. We're working on making it ourselves and will publish our recipe shortly!
2. Cambodian Coconut Shrimp Soup Recipe
3. Cambodian Samlor Kako Recipe
4. Cambodian Lok Lak Recipe – Beef (Pepper Beef)
5. Cambodian Chicken Loc Lak Recipe Lok Lac Sah Moan
Chicken Loc Lak uses chicken strips, finely cut, oyster sauce, chilli sauce, soy sauce, and pepper. Cambodian pepper sauce.
6. Cambodian Kroeung Recipe (Lemongrass spice paste for Cambodian Food)
Cambodian Kroeung, spice paste or curry paste, contains fresh ingredients and dried. If using dried ingredients they should be made into a powder before adding them or they won't blend with the fresh ingredients correctly. The dried ingredients need to be toasted in a wok without oil first.
The ingredients should then be pounded using a pestle and mortar. If you plan to prepare your curry paste in a liquidiser or blender you will need to add some water. This will be evaporated off when you cook the paste in your wok.
Curry pastes can be stored in the fridge for about a week if you make them in bulk, Alternatively, you can freeze the paste as cubes for about 6 months.
If you cook the fresh paste in oil it can be stored in the fridge for much longer under oil.
The kroeung recipe we were given in Cambodia did not contain shallots, but I've seen shallots in various online recipes for kroeung. The curry paste recipe does vary, depending on which dish you are making, so it's not important to stick exactly to a given recipe. Kroeung can describe various spice paste recipes.
Kroeung may be red, green, or yellow, depending on the colour of the chillies used and the amount of turmeric.
Kroeung generally contains garlic, lemongrass, ginger and/or galangal, kaffir lime leaves, turmeric and chillies. We have a recipe for the kroeung for fish amok here.
7. Cambodian Tuk Trey Recipe (Fish Sauce Seasoning)
Tuk Trey is similar to Vietnamese Nuoc Mam or Thai Nam Pla, a traditional seasoning or dipping sauce used in many dishes as an accompaniment. Cambodian tuk trey is more a paste than a sauce, containing fish sauce along with peanuts, sugar, garlic, chillies and lime juice. Get the recipe here.
8. Cambodian Fish Amok Recipe (Khmer Traditional Dish Amok Trey)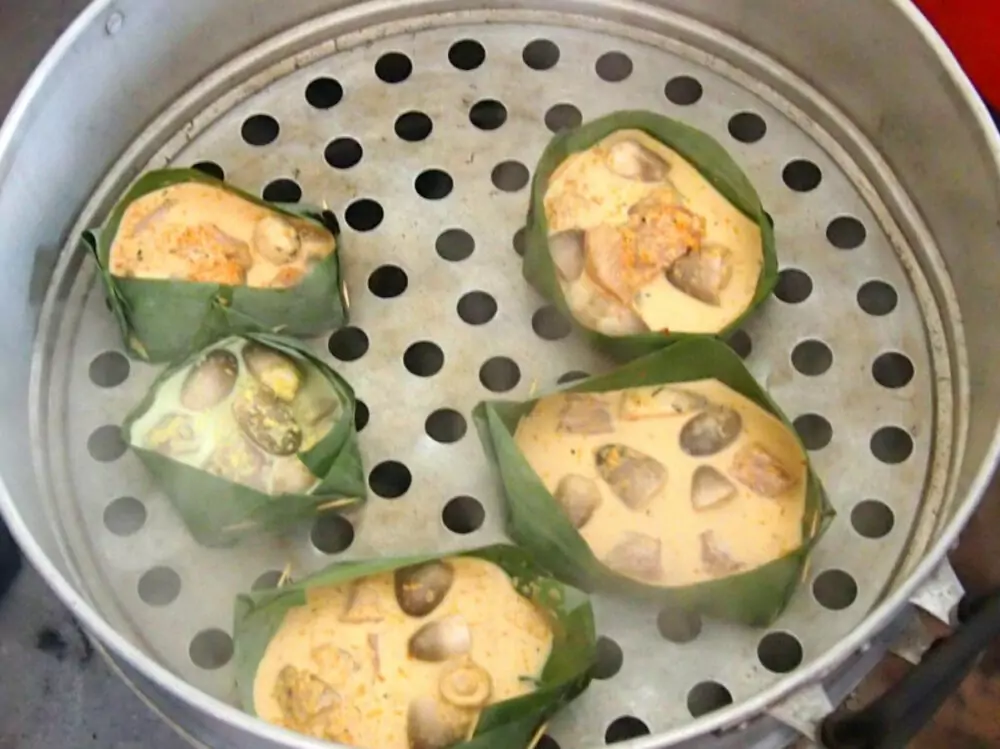 Fish Amok is a classic Cambodian Khmer dish which you will find on many menus in Cambodia. We have eaten and cooked fish amok in Cambodia. It was one of the dishes we made on a Cambodian cooking class in Battambang Cambodia.
Get a recipe for fish amok here. This dish is a type of steamed, set custard. In some recipes eggs are in the amok, in others no eggs. In fish amok this custard contains fish and vegetables. People call amok a curry but it's not liquid, it's quite firm after steaming.
The real skill here lies in folding the banana leaves to make the traditional container for the amok. Start with a circular piece of banana leaf, about dinner plate sized, make 4 pleats and secure them with toothpicks, this forms a cup shape that shouldn't leak.
The fish we used for fish amok was Cambodian snake head fish, but you could use any salt water or fresh water white fish. A curry paste, a kroeung, gives the amok an Asian curry flavour, it doesn't have the spices of an Indian curry. Kroeng curry paste recipe for amok is here.
9. Cambodian Prawn Amok Recipe
You can easily make fish amok with prawns or shrimp instead of white fish, using the same basic recipe.
10. Cambodian Sweet and Sour Soup Recipe
11. Cambodian Fish Sour Soup Recipe (Som Law Medchu Kroeung Trey)
This soup is sour with tamarind and uses green chillies for heat Spices and aromats in the curry paste include fresh turmeric, ginger and lemongrass.
12. Cambodian Rice Noodle Soup Recipe Num Banh Chok
13. Cambodian Chicken and Rice With Prawn Recipe
My husband, the chef, loves all this of course and I think it's great for the kids to see that meat doesn't come into existence wrapped in plastic. From what I've read of the Pol Pot years, Cambodians ate anything they could get their hands on to survive. You will also see the French influence in Cambodia still, in baguettes, croissants and pain au chocolate alongside traditional dishes imported by the Chinese community. Of course, the huge tourist industry in modern Cambodia has brought everything from Italian to Mexican, you can find just about any cuisine you desire in large Cambodian towns.
If you'd like to hire a car during your stay, use this car rental comparison tool to find the best deal!

We also suggest you take a look at this company to get a quote for all kinds of the more tricky adventure or extended travel insurance.

Try Stayz / VRBO for an alternative way to find rentals on homes/apartments/condos in any country!