This post may contain affiliate links.
Sarawak is a state in north-west Borneo, part of Malaysia. The Malay part of Borneo is sometimes called Eastern Malaysia. Sarawak, Sabah and Labuan are the three Malaysian states and federal territories in Borneo. The rest of Borneo belongs to Indonesia and Brunei. In times gone by Sarawak changed hands regularly before becoming a part of Malaysia in the 1960s, its history is complex and fascinating along with its people. We loved Sarawak, this blog post exists to help you decide if Sarawak is worth visiting and to help you plan your Sarawak travel. We tell you about our top favourite highlights and experiences of Sarawak.
As in Peninsular Malaysia, you will find a rich mixture of cultures and histories coexisting and blending harmoniously. I'll tell more about that later but for now, just know that Sarawak blew us away.
This is where we fell deeply in love with Malaysia after years of being slightly ambivalent. Sarawak is very special. A quick look at Sarawak, an overview Sarawak travel blog of our adventure along with 8 very good reasons you should go to Sarawak, Borneo. In particular, check out the trekking and jungle longhouse visit we loved so much. It's a Borneo eco-tourism experience not to be missed.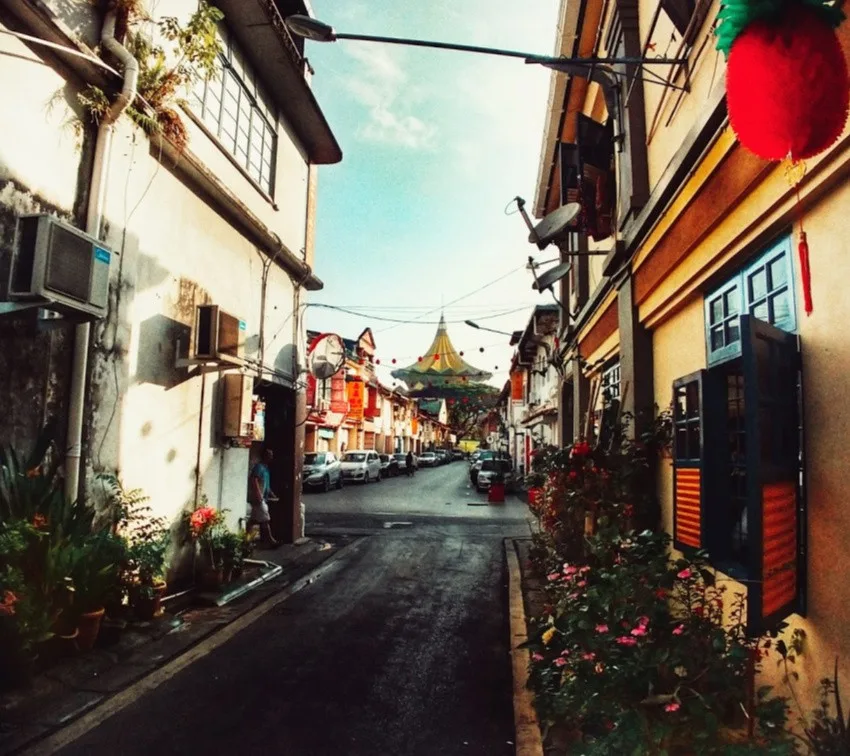 The wildlife of Borneo is phenomenal, orangutans, Sumatran rhino, pygmy elephants, otters, slow lorris, binturong, civets, bears, cats and flying squirrels, most are struggling, some critically endangered. This post may be a little depressing because while we had a wonderful time, the coming extinctions are devastating. We're lucky to see what we saw while it still exists, in a few years much of this wildlife will probably be gone.
If you look at the video there are some really cool photos of bugs and beasties that D took. Also, if you hit the red Pinterest button, there's a choice of pins for you to save.
Sarawak Travel Blog Video
My son put this short video together featuring our time in the jungle trekking with and staying with the Iban people of Borneo. This is an eco experience not to be missed. You'll notice that we failed to get a decent photo of the penis-faced proboscis monkeys, so he improvised.
Highlights of Sarawak
Our reason for visiting Sarawak was simple, we were invited along to take part in a jungle experience. We had opportunity to visit and stay with the Iban people, some of the former head hunters of Borneo, in their remote communal long house. It was an opportunity we couldn't possibly pass up.
D and I ( Mum and teenaged son) grabbed our backpacks and hopped on a plane. We'd vowed to cut back on travel in an attempt to be as eco-conscious as possible but we were very, very glad that we said yes to this adventure. It was tough, this trip put us slightly out of our comfort zone and we learned a lot.
This was the first time we two had travelled together without husband and younger son. That in itself worked out beautifully and gave both of us room to grow.
Educational opportunities came with rich and varied frequency. Sarawak was a place of surprises, as is always the case when you visit knowing little.
Kuching Sarawak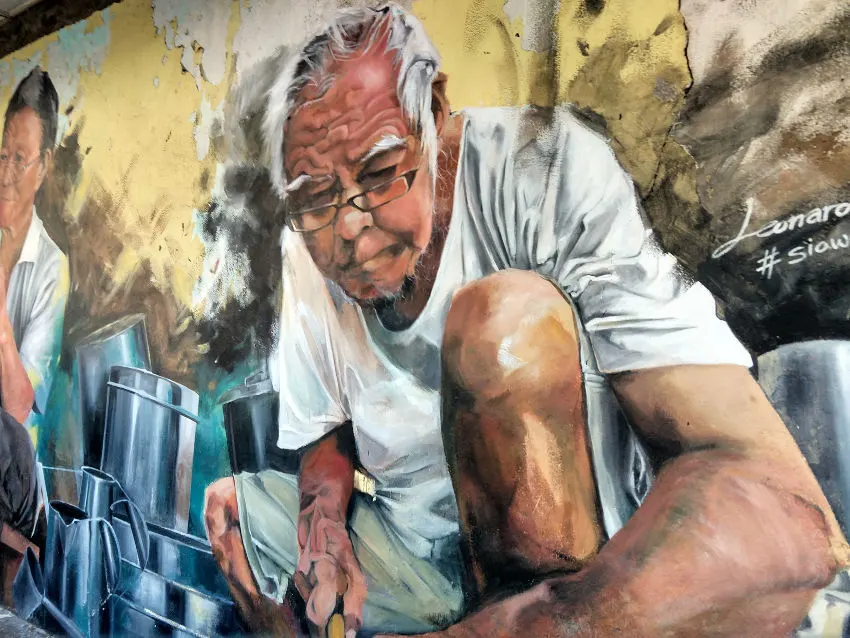 Kuching city itself is huge but the riverside and Old Town don't feel that way at all. It lacks the theme-park feel of, for instance, Malacca. It's an old town area that is still fully functional but well looked after, neat and bursting with amazing street art.
The riverside comes to life at night with food stalls, markets, neon lit buildings and trees. It's well done, classy, not over-touristed and all-round just a good place to be. Kuching would be a great place to linger as a digital nomad or slow traveller.
Alongside the old it also has the new. Modern malls, great road connections, good wifi, trendy bars and restaurants
Kuching is cat city, the town is littered with cat statues, there is also a cat museum if you have time to get there. The word Kuching means cat but you won't find many on the streets, strays are heavily policed. Read our full post on things to do in Kuching here.
Visiting the Orangutans at Semenggoh
Semenggoh Nature Reserve or Rehabilitation Centre is a pocket of jungle just 20 Km outside Kuching. It's one of several places to see orangutans in Borneo and is a good choice, it's not a zoo. Semenggoh is a place that exists to genuinely help these hugely threatened creatures.
It's wonderful to see these orange shaggy apes swinging towards you and we got lucky, we saw maybe 7 orangs during our visit including the alpha male ( who bore a striking resemblance to Chewbacca) and a mother with a young baby. Sightings are not guaranteed but we had good odds, it wasn't fruiting season when we visited ( May) so the orangs were looking for the extra fruit the keepers provide at feeding time.
To catch feeding time you need to get there for 9am or 2pm ( please check as times could change). We caught a Grab car from Kuching, it cost very little. The admission fee is tiny and children, even my 14-year-old, paid less.
Sadly this area of jungle is too small for the number of orangutangs it holds, most have been rescued from pet owners. The future for orangutans is bleak, climate change and destruction of habitat could see them extinct within 10 years. It's heartbreaking stuff and we only have ourselves and our convenience lifestyles to blame. The park warden gave us a useful talk as well as a safety briefing. The orangutans are free to wander, they could get very close indeed, or give you a warm shower from above.
The orangutans of Sumatra are likely to be extinct even sooner. Visit the Sumatran Orangutan Society here.
We got more insight into pollution, farming and threats to nature in Sarawak. People do care and they are trying to help, but the vanishing orangutans, the spread of noisy roads that drive wildlife away and the destruction of habitat – although we saw very little in terms of commercial oil palm cultivation in Sarawak- are there to see. I mentioned on Facebook that we've seen people-driven improvements around the world recently, but there is a long, long way to go still, as evidenced by the huge ghost net we found tangled in the rocks at Bako National Park ( below).
The Semmengoh Nature Reserve Website is here, you can adopt an orangutan or just get further information on visiting and the work they do.
A Trip to Bako National Park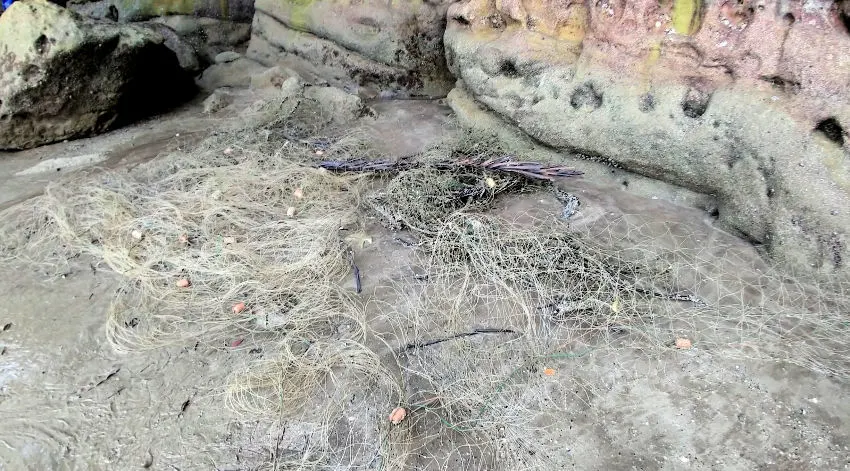 As I mentioned above, the thing that sticks sharply in my mind about Bako was that huge ghost net. The beach had a trash problem, it sits at the mouth of a river that sustains a fishing community and who knows what gets washed up there.
D and I asked our guide if anyone ever comes to pick up the trash, he said they did. We grabbed a few items and took them to a bin but what can 2 people do? Next month we are spending 5 days cleaning beaches in Northern Queensland as volunteers with Tangaroa Blue, so thanks Bako for that sharp reminder. We'll work even harder.
The proboscis monkeys of Bako national park are also in decline. The mangrove forests that provide them with the juicy leaves they prefer are shrinking and monkey numbers are down. Our guide didn't know what was causing the reduction in mangrove areas but it must be environmental. This is a national park and nobody touches them.
But see them we did, goblin-like, terribly human, cute and fuzzy, penis-faced monkeys. We also saw wild pig with hairy faces and ridiculously long legs. One of the smallest frogs in the world, so small I could barely see it crossed our walkway and a beautiful green pit viper lay motionless in the undergrowth. We had a good guide and organised a private tour for ourselves.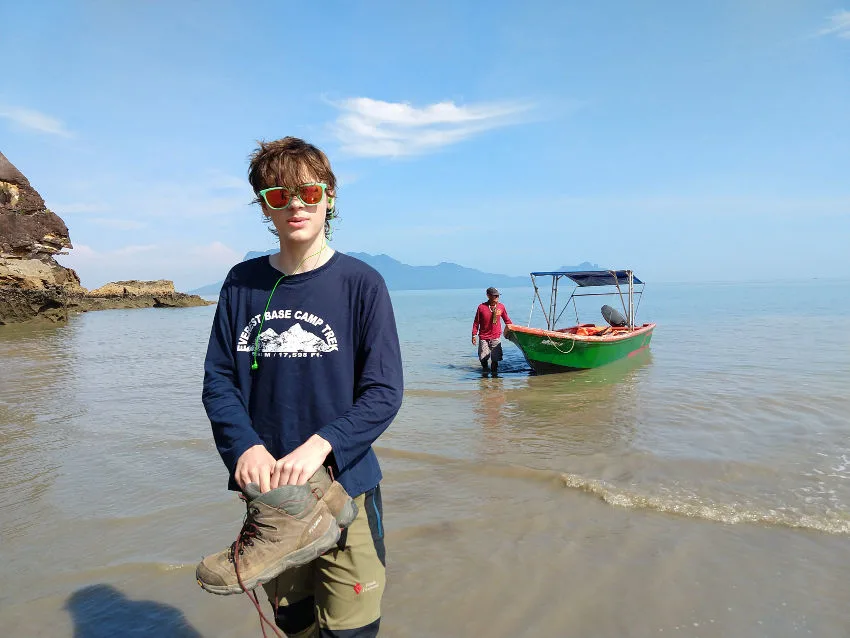 We met our guide at 8.30am in Kuching, he drove us to the boat jetty, arranged our boat and took us on quite the route march all over Bako Park trying to find wildlife. It was hot sticky stuff but without him we would have seen far less. We came home early, the heat was ridiculous on that day and most animals weren't active.
There is much more to see at Bako and the best way to do it is to stay at least one night on the island and go hunting for nocturnal creatures by torchlight. If we were to go again we'd most certainly do that, there are plenty of huts and cabins to stay in, most looked pretty good.
Seeing Rafflesia in Bloom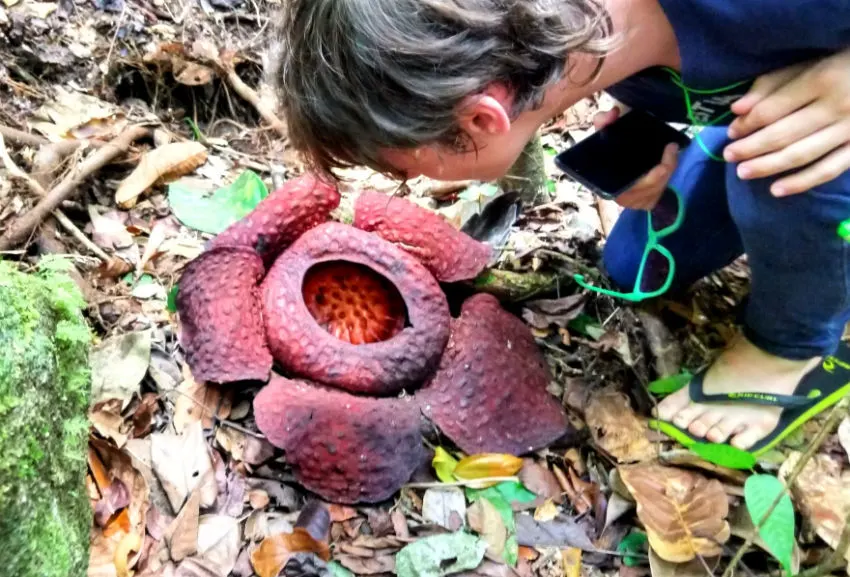 How lucky were we! A Rafflesia flower was blooming while we were in Kuching so we organised a car, guide and warden to show us where the Rafflesia was hiding at Gunung Gading National Park. Without her, her name was Antonia and she was wonderful, we would never have found it.
The life cycle of these things is just incredible, they spend 9 months in bud to flower for a few days. They don't smell bad. I'll post more about them later.
Gunung Gading is over an hour from Kuching, it was a long car journey and not cheap.
We saw so many cool creatures with Antonia's help, weird lantern bugs, glow in the dark giant woodlice and the beautiful blue-eyed Borneo lizard. She was a joy to meet, so passionate. Photos are in the video.
Iban Longhouse Jungle Trekking and Eco Tour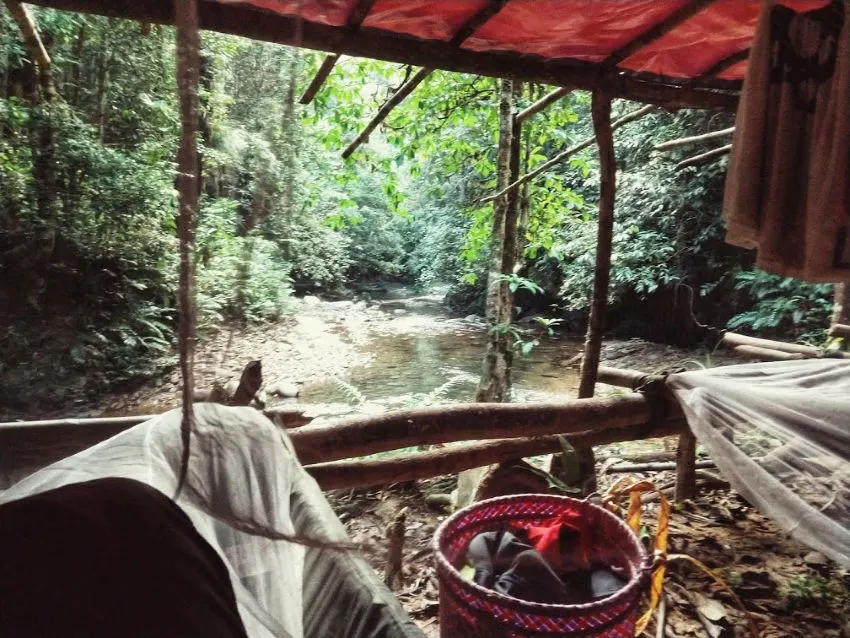 We took a 4 day jungle adventure trip to stay with the Iban people in a communal longhouse and learn about their lives. The longhouse belongs to an entire village, this village was called Perdu, you'll see a drone shot of it in the video. ( We were travelling with a drone – no problems at all so far).
It's a lovely way to live, families and neighbours watching out for each other, sharing and being neighbourly. This is something that's gone in so many modern societies yet we saw it in our village in Romania and in Borneo. Traditional cultures know how to live. When they're not hunting heads.
There was a lot of walking, it was muddy, steep and there were leeches. So many leeches. You would need to be moderately in shape to take this tour.
Other than getting fitter we saw how the Iban live their lives, it was a unique homestay and eco-tourism experience. The villagers farm pepper and rubber on steep mountain slopes along with all the other plants they consume. They have created their own Garden of Eden, carved out of the jungle. If you'd like to book a trip like this, find full details here.
We also got a chance to go on a hunting and fishing trip with a few of the men, including the Chief and the wonderful and aptly named Rambo. We swam in a jungle stream, walked along the river for hours to find fish and waterfalls and D tried his hand at spear fishing. He was the only one of we 4 tourists to catch a fish.
After dark the Iban hunt with guns. D and I didn't go, but the hunting party came back with mouse deer and civet cat. Civet, deer, fish, frogs and palm hearts were prepared and cooked at the water's edge, at other times they hunt bat and monkey. The hunting is maybe an issue, many local animals are protected or endangered species, I believe the Iban have special permits to hunt. They also have an ages-old system of taboo animals. They won't kill certain animals for food.
One night we slept in hammocks under mosquito nets in the jungle. It was fairly comfortable and fireflies danced around my net. Read more about staying in a Sarawak longhouse here. You can see more in the video on this page.
Vegan Malaysian Food and a Cooking Class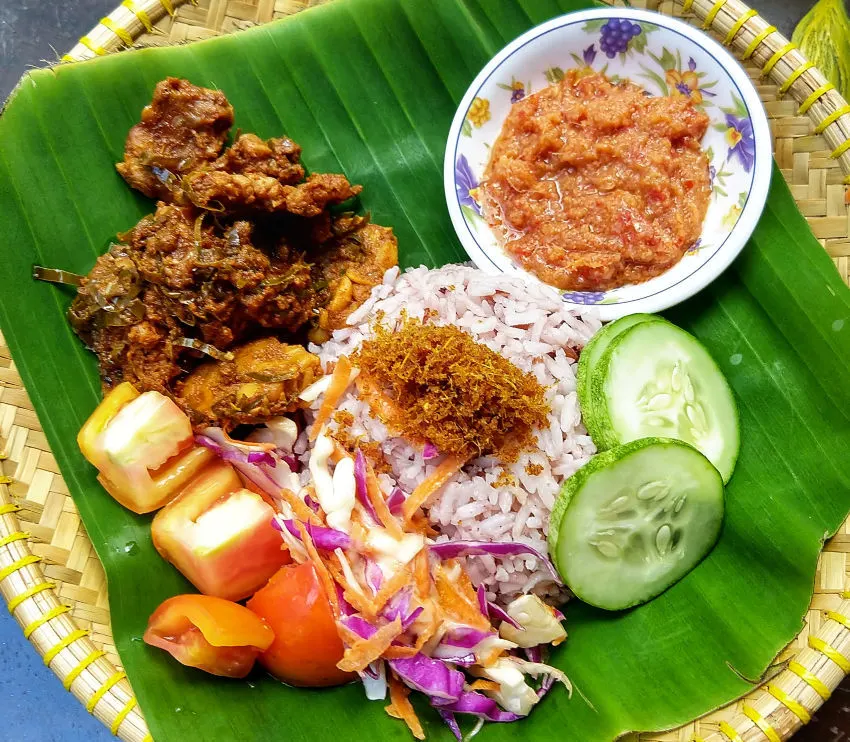 I don't normally like Malaysian food. There is a lot of chicken and dried whole tiny fish and shrimps. These are animal parts that I wouldn't want to eat even if I wasn't vegetarian or vegan. In Kuching we discovered vegan Malaysian food and that was a game changer!
The tempeh rendang was so good that we signed up on the spot for the café's cooking class. So much fun. The market tour with Lucian was wonderful and we learned loads about plants you can eat. There were so many things that we in the west would never think to eat, and they were delicious. I'm now growing them back home in my Food is Free garden.
Incidentally, I've just learned how to make tempeh at home, you can use many types of beans, not just soy, all you need to buy is the culture.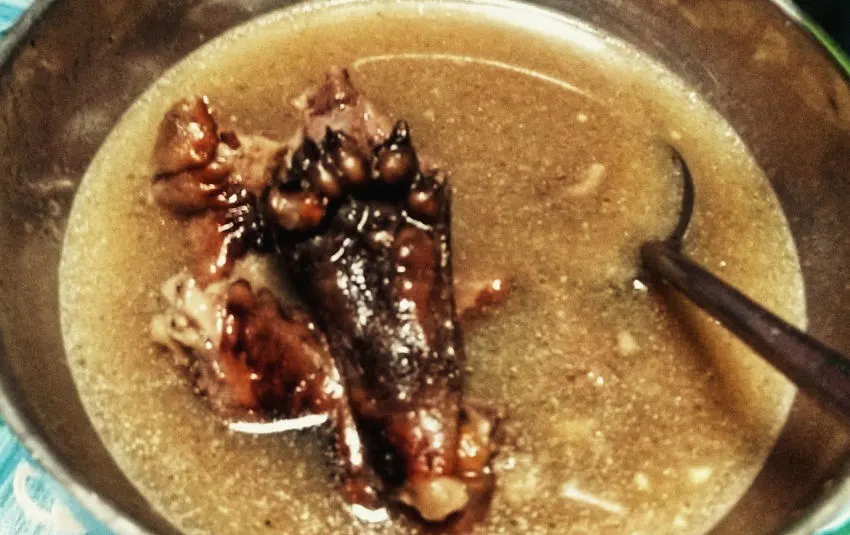 My son is not vegan or vegetarian other than at home, he tried civet, mouse deer, frog, jellyfish, the full array of "interesting" foods. His favourite food in Sarawak was a tempeh dish we learned to make with palm sugar, lemon grass, a few other things, I'll have to check the recipe. He's writing a post on food in Sarawak, hopefully for next week.
Where To Stay in Kuching
We used Airbnb to book a room above a cafe in the old town part of Kuching, near the waterfront. If you'd like details I can give them to you, ask in the comments, but for now we can offer you a discount ( approx $40) against your future bookings with Airbnb by signing up using our special link. That credit could pay for a day or two in Kuching.
We'd highly recommend staying in the Old Town, it's a great location allowing you to explore the waterfront, Chinatown, restaurants and bars on foot. Yes, there are bars, Malaysia is far from dry.
A Grab car to and from the airport takes roughly half an hour and cost us under 20 MYR. It was easy to get a Grab at 4 am for our departing flight. There was no Uber in Kuching.
For other Kuching accommodation, look here, it's all very affordable.
Wonderful People
The people of Kuching are so nice and so friendly that it's noticeable. It's safe and quiet, gentle and calm. There is something special about Kuching.
Getting To and From Sarawak
We flew to Kuching from KL on AirAsia, it's a short flight about 1 hour 20 minutes and cost us under $100 each.
Travelling as Mother and Teenaged Son
This was cool! D and I had never travelled like this before and we both loved this new dynamic. I always say divide and conquer, 1 parent takes 1 child, 1 the other, it's a tactic we've enjoyed using over the years but never for more that a few hours. This was the first time I've ever been away from my younger son. He's almost 13. It was OK.
I had to step up and do more things myself. I've never had to use airline apps or exchange currency and organise taxis, all that nuts and bolts stuff falls on Chef usually. I managed, nothing bad happened and my confidence grew. D, as my assistant and minder, also grew into himself a little more and we had some really interesting conversations. We also found that more people talked to us, starting a conversation with a family of 4 is maybe intimidating for outsiders. I'd highly recommend splitting up like this from time to time.
One thing that was insanely noticeable was how cheap it is to travel as two people rather than 4, we felt like millionaires! Anything was affordable, hotels were cheap and we splurged on more expensive restaurants. Taking 4 people doubles costs for us, so that Bako trip would have been almost $400. We just couldn't justify expenses like that so we probably would have skipped it. It was worth $200 but not $400. It's made me see travel and future possibilities very differently.
Who Invited us to Borneo?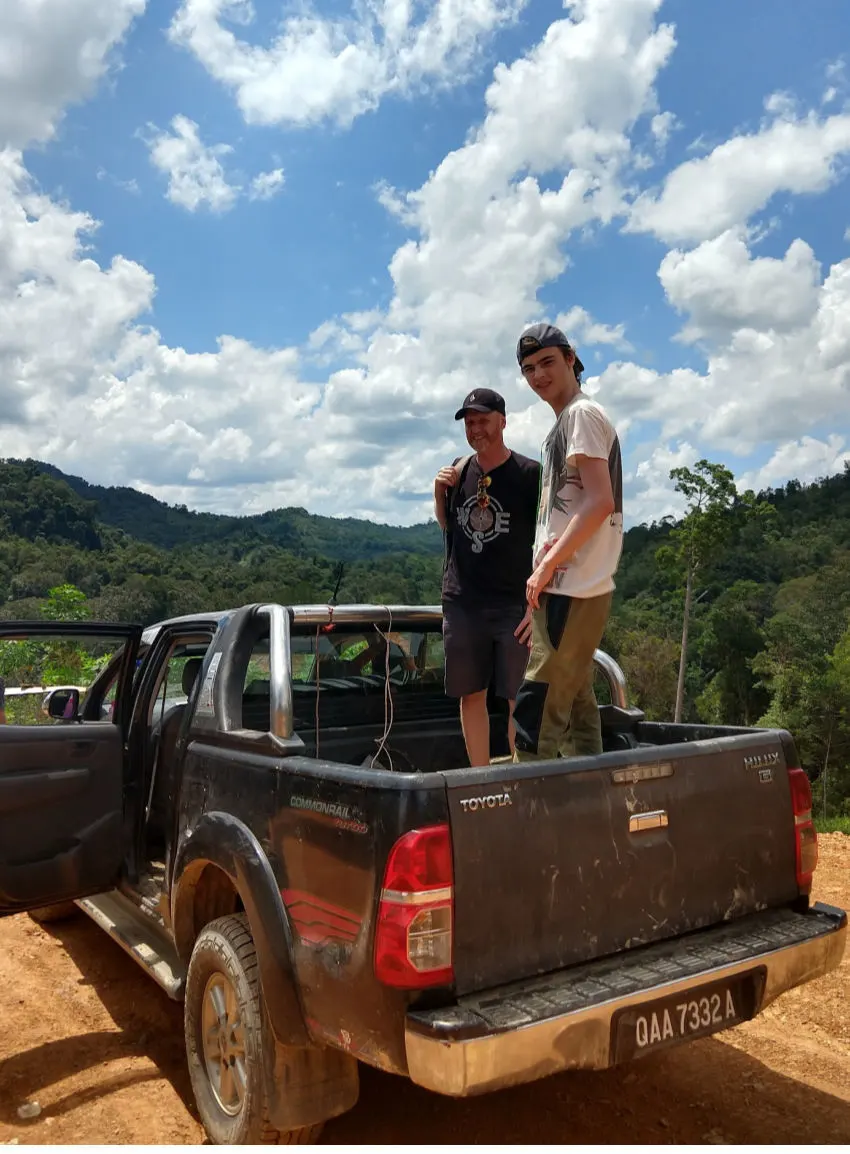 No, it wasn't Sarawak Tourism, it was another blogger. We worked with Ian Ord of Where Sidewalks End travel on my my Sak Yant Sacred Tattoo Experience in Bangkok Thailand. We'd only met once before, while living in Hoi An, he was in town hunting for more sacred, unusual or eco experiences locally and invited us along to a Travel Massive event. He knows we think along the same lines and sure enough, when every other blogger cancelled, D and I were still there, still booked, still keen.
We'll be working with Ian to promote his mini tour and Iban village stay. If you'd like to take a look at the other tours Ian offers, and they're all over the world, visit his tours page here. Always tell him I sent you. We hope to work with Ian forever more, he's a good guy, and now he knows my son, well, maybe he'll be going in my place when he's 18. Can you believe he's almost an adult? Can you believe he already earns a wage as a travel blogger? Time flies.
If you want to learn more about travel blogging, we have plenty of information on this site in the form of guides and insider tips for you to use, for free.
So Sarawak, we loved you and our Sarawak travel blog and section reflects that. This Sarawak Travel guide is a first taste, we have more information help you visit Sarawak. We have a new post up about Kuching and things to do in Kuching, we loved this city and we will be back. If there's anything more you'd like to know? If you'd like to share your experiences of Sarawak, the comments section is all yours. Thanks, as always, for being interested. And see the Iban Village Stay trip here.
If you'd like to hire a car during your stay, use this car rental comparison tool to find the best deal!

We also suggest you take a look at this company to get a quote for all kinds of the more tricky adventure or extended travel insurance.

Try Stayz / VRBO for an alternative way to find rentals on homes/apartments/condos in any country!