This post may contain affiliate links.
Malacca is a strange place. Arriving on the bus from Kuala Lumpur, on motorways that could easily have been in Surrey, I felt as if we'd left Asia. It was all a bit too Western. We got off the bus at Malacca Sentral, not to be greeted by touts, but by helpful people pointing us in the direction of the official taxi rank. The taxi drivers didn't try to rip us off, they got together to discuss where we were going, agreed on a reasonable price and who should take us. When the driver couldn't find our guesthouse he drove around searching and didn't charge us any extra.
Refreshing and lovely, but really weird, I'm not used to this after months in Southeast Asia. More from our Malacca travel blog section on pretty, historic Malacca, impressions, travel tips, thoughts and places to see.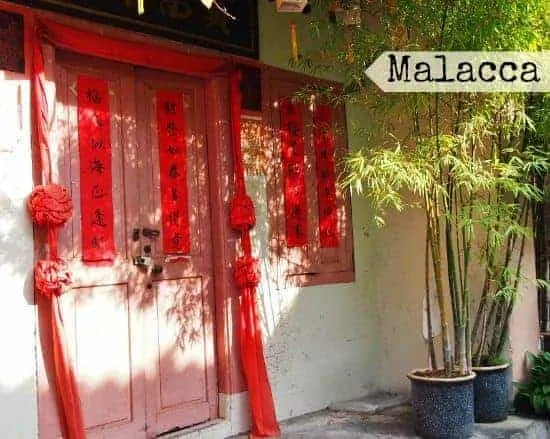 Malacca Travel Blog
I'm struggling to write a blog post about Malacca in Malaysia, it's so diverse.
The city itself is incredibly modern, but the old town that centres around Jonker St. is a different world. Old, really, really old, and stunningly beautiful.
Malacca (AKA Melaka ) is UNESCO listed, conserved and preserved, painted, spruced and ready to impress. But I've got this weird feeling that I'm in a kind of historical theme park.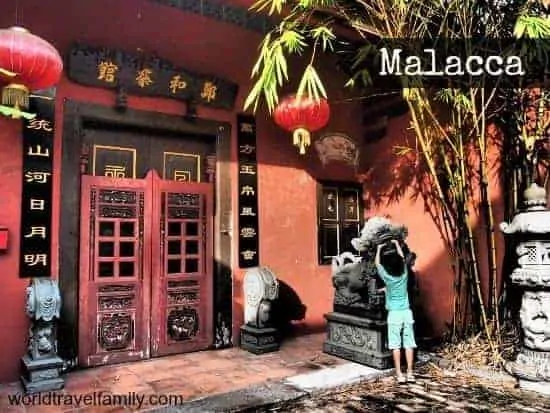 It's beautiful and gorgeous, but it's SO full of tourists, so full you can barely move on the weekends, let alone find a room.
The roads are littered with crazy, decorated, musical pedal rickshaws pumping Gangnam Style through pimped up sound systems. There is a Hard Rock Cafe.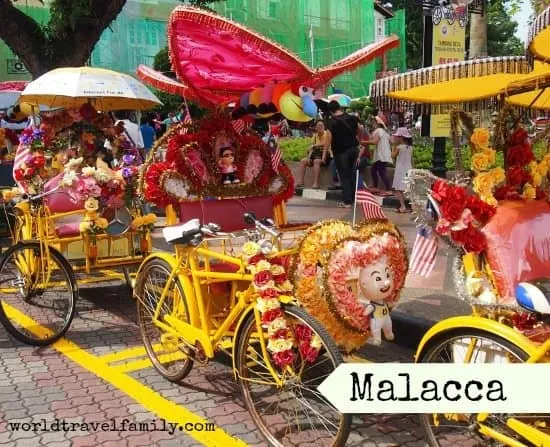 Jonker St. itself is a historical and architectural delight, turned gift shop.
I have mixed feelings. I love it, but it's not the sleepy old town I expected.
The diversity is what gives Malaysia and Malacca its uniqueness. The Indian, Malay and Chinese communities live side by side with colonial history showing through.
There is blending, of course, but each community retains some identity.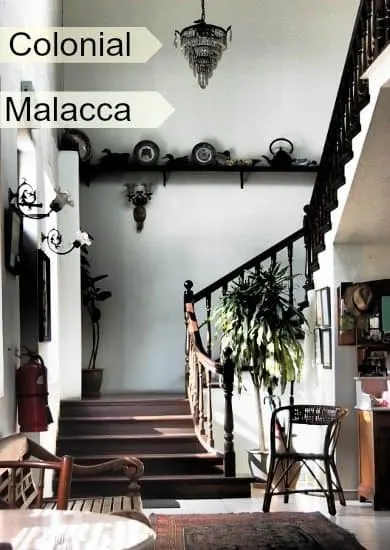 Back at our guest house we're woken by the call to prayer from the mosque at 5 something am, shortly followed by the gongs of the Chinese Temple directly opposite, our first day of exploration has begun.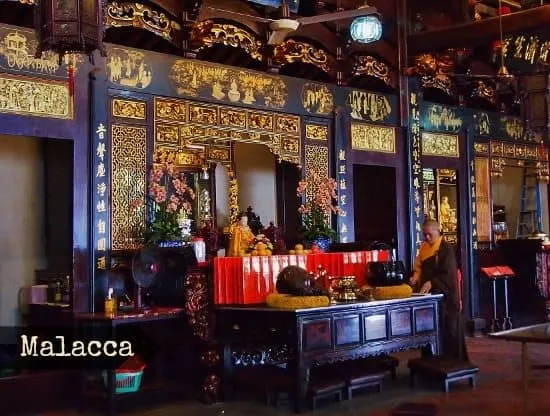 Within 2 minutes we can be in a Hindu temple dedicated to Ganesh, step inside and you really wouldn't know you were anywhere other than India.
I really love the authenticity, diversity and acceptance. Malacca is, without a doubt, my favourite part of Malaysia so far. If I had to recommend one part of Malaysia to visit, this would be it.
It's not what I expected, but that's OK. I suppose it's like going to Devon or Cornwall and expecting genuine fishermen to live in the fishermen's cottages and finding tea shops instead.
I think I just expected too much. Expectations are your worst enemy sometimes.
We have almost a week to explore and enjoy Malacca before we head south towards Singapore for Johor Baru and Legoland, I'm looking forward to some great food while we're here. I'll let you know how it goes.
Update: As our time in Malacca passed we never did find that great food. We tried Indian, Chinese, and Nonya, but unfortunately, we found nothing to rave about. The Indian was authentic, cheap, and good, but nothing unusual about it it was the usual food you'd find in the south of India. You need to go to Little India for that.
The Malacca night market serves some interesting street food and we tried satay and more, still nothing too exciting. We visited the Bird's Nest Soup production facility and museum, found playgrounds and parks for the kids, and the superb Malacca Museum (the one that looks like a giant boat). Malacca is a nice place, just not our scene. It's pretty, and you have to love it for that. Its history is fascinating but it's not a place we'd particularly choose to visit again. Back to our main Malaysia travel blog page here.
---
Keep our site free and support our family business by using our affiliate links-at no extra cost to you!
---
This Melaka blog post was written a very long time ago on our first trip to Malaysia. And it is written travel blog style, not as an information post. We've since returned to Malaysia many times. I'd have to say now that our two favourite places in Malaysia are Kuala Lumpur and Kuching Sarawak. We still haven't returned to Malacca, but maybe one day we will.
If you'd like to hire a car during your stay, use this car rental comparison tool to find the best deal!

We also suggest you take a look at this company to get a quote for all kinds of the more tricky adventure or extended travel insurance.

Try Stayz / VRBO for an alternative way to find rentals on homes/apartments/condos in any country!