This post may contain affiliate links.
By popular demand, here are our experiences of hotels near Legoland Malaysia Johor Bahru. We had a really good time at Legoland Malaysia and at the Legoland Water Park, right next door. You will certainly need an absolute minimum of two full days in the parks here, a 3 night hotel stay. You could easily stay longer in the Legoland parks or visit Hello Kitty World nearby. The number of hotels near Legoland Malaysia is fairly limited and the parks are a long way from main Johor Baru, but lets take a look at the options. Malaysia really doesn't have the cheaper hotels you'll find in the rest of South East Asia, but down here, we found some real bargains. Luxury hotels and apartments are appearing near Legoland too and of course you have the option of the themed Legoland hotel
You may like to also see our Legoland Malaysia Review and Legoland Waterpark Malaysia, before your visit. It's an awesome experience, you won't regret going.
I have to tell you that we've visited Legoland theme parks in London and Florida, and the Malaysia theme park was the best.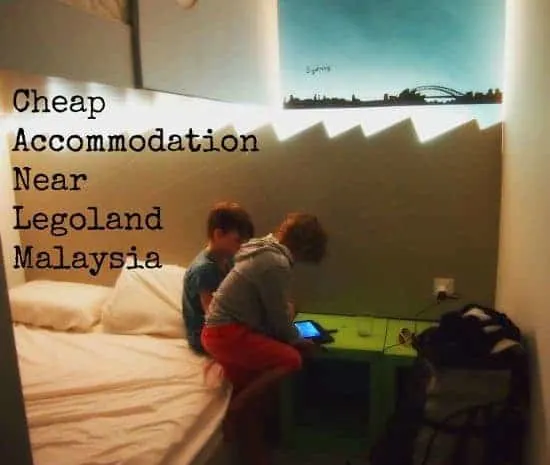 Hotels Near Legoland Malaysia, Johor Baru
All of these hotels have family rooms or apartments, the cheaper ones are first in the list, rising to the luxury end of the market.
Your choice of booking engine is really down to you, some (Hotels Combined and Agoda) offer free stays after multiple bookings, just use the one you like best.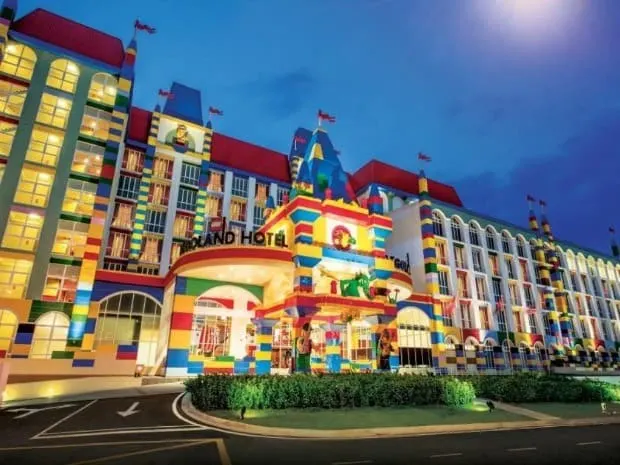 Warm Blanket Hotel and Hostel Check Prices and Availability on Agoda here
Nusa Height Apartment Check Prices and Availability on Agoda here
Hotel Nusa CT Check Prices and Availability on Agoda here
Holi 1 Medini Themed Suites Check Prices and Availability on Agoda here
Wonderfullhouse @Bukhit Indah Check Prices and Availability on Agoda here
Afiniti Residences Check Prices and Availability on Agoda here
Afiniti Legoland Serviced Apartments Check Prices and Availability on Hotels Combined or on Agoda here
Somerset Medini Nusajaya Check Prices and Availability on Agoda here
JS Holiday Home Check Prices and Availability on Agoda here
V8 Hotel Check Prices and Availability on Hotels Combined or on Agoda here
Amerin Boutique Hotel Check Prices and Availability on Hotels Combined or on Agoda here
Somerset Puteri Harbour Nusajaya Check Prices and Availability on Agoda here
The Legoland Malaysia Hotel Check Prices and Availability on Agoda here
For more details and reviews on these hotels, see below.
AirBnb Choices Near Legoland Malaysia
There are many condos and apartments extremely close to the Legoland Malaysia complex available through AirBnb.
An apartment rental would be a very good choice indeed for a family but look out for hidden cleaning fees.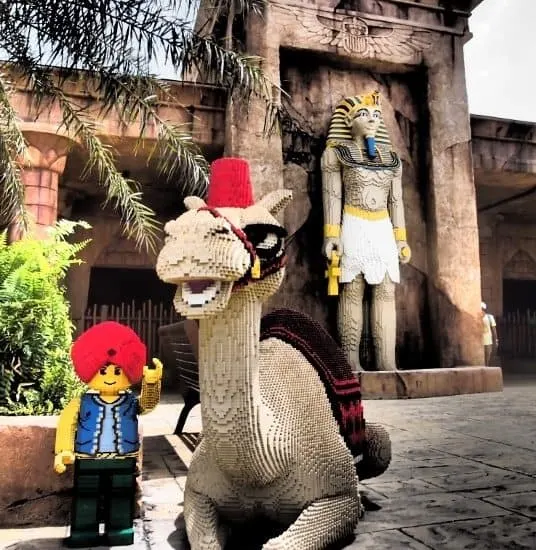 Budget Hotel Nearby, Warm Blanket Hotel Quad Room
We searched the internet for budget hotels near Legoland Malaysia and this place popped up so we booked it.
We were all happy with Warm Blanket Hostel and its quad room was perfect for a family.
The price is as great as the location. Check here for current Warm Blanket Hostel prices and availability.
Cost per night:
The rate on the door was 65 MYR per night for a quad (this rack rate is often higher than the Agoda rate) The current price (at time of writing) is around $15 US per night through Agoda for a quad room.
That's a fantastic deal!
Number of beds:
The quad rooms have 4 beds, double bunk beds, 2 up, 2 down, seen in the picture above.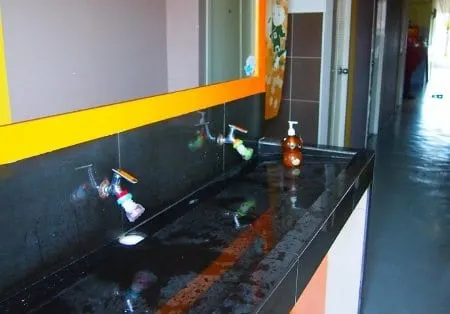 What we got for our money:
Air con and good WiFi in room.
Very clean, shared shower, toilet and sink facilities.
Excellent security.
Comfortable beds with clean sheets and one blanket.
No top sheet ( this seems standard in Malaysia).
No window and a very small room, but we expected this and it wasn't a problem.
The funky lighting and decoration stopped the room feeling boxy and here, you'll be in the parks all day, who needs a big room?
Location:
The Legoland Malaysia park and the new Legoland Water Park (it is next to the main park) are a long way out of Johor Baru and, thankfully, so was this hotel.
There was no local bus to the park from the hotel, but reception called us a metered taxi, it cost around 12 MYR.
The park should do the same for your return trip.
The hotel is above a row of shops and restaurants. There are plenty of Malaysian food options, a laundry and a shop selling beer, downstairs.
Warm Blanket is a short taxi ride (MYR 7) from a huge shopping mall and Tesco. We would highly recommend staying near the park rather than in Johor Bahru itself.
Note: I always point out a few negatives. Obviously, if they'd been a big deal we wouldn't have stayed, I just find a few for the benefit of others who may be sensitive.
Negatives:
We struggled a bit with only having one power point in the room as we have three computers to charge, but it wasn't the end of the world.
You could, occasionally hear other guests in the corridors but again, it wasn't an issue.
The management asked if we found our stay noisy, absolutely not, everything was fine.
There may be some waiting for showers at peak time, but we never had any problems, this is a very small place and the ratio of showers: guests is reasonable.
There were a few stray dogs on the road, keep your kids close.
Our Verdict:
We really liked this place, it totally suited our needs for a busy few days at the Legoland parks. Our quad room was right outside the showers, toilets and sinks, which was really handy with the kids. Reception staff were helpful with calling cabs for us and one of them even gave us a lift to the shopping mall in his own car. Much appreciated! We've heard of similar kindness from other friends who have stayed.
We loved the clever decoration and little touches, turning the steps to the top bunk into storage shelves was genius and very handy. The kids thought the little spinning things on the taps were fabulous ( in picture) I guess they're a water saving device.
We actually slept really well because there wasn't a window. We're normally up at dawn but we were sleeping 'till 8am here. It is quite a bus trek from the main bus stop in Johor Baru to the hotel, but instructions are there on the Warm Blanket hotel's website. Taxi drivers may not be sure where this place is, print off the map if you can. Don't use the taxis at the rank outside the mall, they are a total rip off, get mall security to find a metered cab for you instead. The correct fare from mall to Warm Blanket is 7 MYR. We stayed for 4 nights and would absolutely stay again.
Other Hotels Near Legoland Malaysia for Families
If you're looking for something a little more luxurious there are other great options near the Legoland Malaysia Parks. All of these places are suitable for families at various price points.
Anything with a review score below Agoda's Excellent 8, doesn't make the list.
JSY Holiday Home, Apartment with good Wi Fi, Parking and Kitchen at $73/night
Excellent reviews
Near Legoland Malaysia
Wi-Fi
Parking
Kitchen
V8 Hotel, Hotel With Breakfast Included and Pool at $88/night
Excellent reviews
4 star
Near Legoland Malaysia
Family suite 3+ persons
1 king Sized bed, 1 single, extra beds available
Wifi
Fitness suite
Breakfast included
Swimming pool including kids pool and slides
Amerin Boutique Hotel Johor Bahru, Family Suite at $80/night *Child stays free deals*
Excellent reviews
4 star
Near Legoland Malaysia
Breakfast Included
Childer under 12 years stays free if using existing bedding
Family Suite
2 King Sized Beds
Free Wifi
Car Park
Swimming Pool
Above this price point you will find various full holiday homes with good ratings, but some will not take children and probably aren't what families visiting Legoland are looking for.
We hope you enjoy your time at Legoland Malaysia as much as we did and that you find a hotel to totally suit your needs. Thanks for using our website, it is funded by affiliate links, they cost you absolutely no extra.
Back to our main Malaysia Travel Blog page
If you'd like to hire a car during your stay, use this car rental comparison tool to find the best deal!

We also suggest you take a look at this company to get a quote for all kinds of the more tricky adventure or extended travel insurance.

Try Stayz / VRBO for an alternative way to find rentals on homes/apartments/condos in any country!