This post may contain affiliate links.
Malacca to Legoland Malaysia
hide
This post is about how to get to Legoland Malaysia from Malacca, the bus journey, where to stay near Legoland and more. It's also about our experiences of travelling in Malaysia.
I've been really struggling with travel in Malaysia lately. After the first couple of days in Malacca, loving the ancient buildings and churches, I reached total travel burn out and I was over it.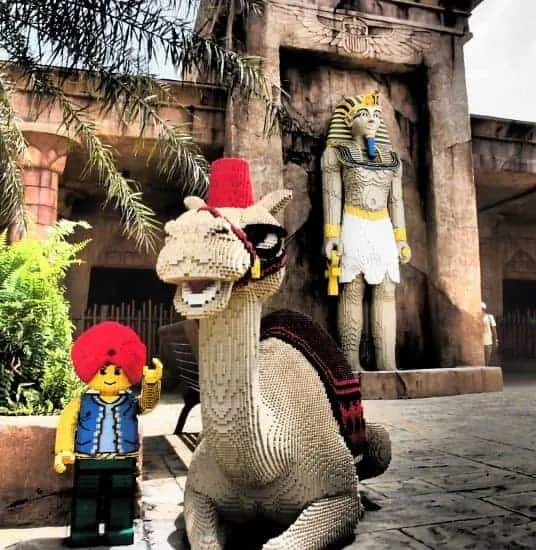 We had a run of bad experiences, including my favourite T-shirt being stolen and our guest house digging up the sewers for 3 days without warning us.
I have a history of bad experiences in Malaysia, there have been very good bits, but Malaysia and I just don't seem to get on sometimes. Straw by straw it built up until this camel's back was well and truly broken.
I spent a day in bed staring at the ceiling.
We were having problems finding anything tasty or even nutritious to eat and I'd lost another 4Kg in 5 days. Not entirely a bad thing, but lack of good food makes me grumpy.
I'd just had enough. Had enough of all the hassles, inconveniences, and absolute boredom of hanging around waiting for it to be time to catch the next bus.
I was so pleased to leave Malacca that I almost skipped to the bus station, backpack and all. Don't get me wrong, Malacca is lovely, but I'd reached breaking point.
Getting to Legoland Malaysia From Malacca
I got on that bus, a very lovely bus, actually, and I enjoyed three hours holding my curly-haired child as he slept on my lap.
I like the travelling part of travelling, trains, buses, planes, anything, it's total relaxation, a chance to switch off.
There wasn't much to see out of the window, just motorway and endless oil palm plantations, it's not very exciting getting about in this part of Malaysia.
Malacca to Johor Baru by Bus
Catching a long distance bus in Malaysia is really easy and cheap.
There are loads of bus companies so the buses are frequent. The buses from Malacca to Johor Baru ran about every half hour. All you have to do is turn up at Malacca Sentral bus station and find the little ticket booth selling seats on the next available bus.
We booked 2 adult seats at 21 MYR ($7 AU) each and 2 child seats at 15 MYR ($5 AU) each.
We have previously got away with booking one seat between the two kids in Malaysia, but we needed a bit of luxury this time.
The buses in Malaysia are clean, modern, comfortable and generally great (way better than the UK!) The only difficulty I've had is in trying to take a can of Diet Coke on board, the driver told me we were only allowed to take water, no big deal.
Nobody stopped us eating our sandwiches, which was good. I was really looking forward to some genuine cheese, not processed rubbish.
Johor Baru to Legoland
Johor Baru is vast, I wasn't expecting that. The bus we took didn't stop where we thought it would, we had to catch a local bus to the Sentral Johor Baru terminus. Again, easy, and there was a Dunkin Donuts there just when I needed a coffee.
There is incredible wealth and consumerism in Malaysia, the malls we passed through were huge and glitzy, selling plenty of really up-market brands. Prices are high.
I wouldn't come to Malaysia for a shopping trip, but it's fun to look.
Our next mission was to catch two local buses over towards the Legoland Malaysia site, it's a long way from Johor Baru.
Taxi to Legoland Malaysia
The buses were OK, no major dramas there. Everything went well, up to the point where we had to catch a taxi to the hotel I'd booked. Then we were at the mercy of the rip-off taxi drivers.
Each taxi here has a sign in huge letters on the front doors. "Haggling over fares is prohibited, this is a metered taxi". Or words to that effect.
Maybe it would be nice if the taxi drivers followed the rules!
There was no way the driver at the Aeon Mall taxi rank was budging from his ridiculous price (20 MYR), so we wandered off to find another cab. No joy. No taxis at the Tesco taxi rank and none that we could flag down on the street.
After far too much walking with 15 kg on my back we ended up getting one for 12MYR at the same taxi rank. We've since discovered that the correct fare in a metered cab is 7 MYR. (TIP: get security at the mall to find you a metered cab)
It probably sounds like I'm obsessing over a couple of dollars, well yes, I am!
If I can save a bit here and there we can afford more treats. I really don't like being ripped off by taxi drivers.
We have a nice place to stay near Legoland Malaysia, it's small but clean, neat and funky. I'll put it in a post about cheap family accommodation in Malaysia soon. (the link is in the section below)
Next Day Legoland Malaysia!
We still had uncertainties, we had won free tickets to Legoland months ago, but at the last-minute there was a lot of confusion and misunderstanding.
This had been going on for days and was another one of those straws I mentioned.
We still didn't know, as we arrived at the park, if we were going to get in or not.
We did, everything came together perfectly just in time and we enjoyed the most incredibly fun day at the theme park, followed by another day of pure enjoyment at the newly opened Legoland Water Park. Both were superb and just what the doctor ordered.
Our review of Legoland Malaysia is here, we have a separate review of the Legoland waterpark. We also have a post on hotels near the theme parks.
I've got my mojo back, I'm really looking forward to Kuala Lumpur for the next few days. Kuala Lumpur with kids is an awesome destination, so much to see, do and eat there.
After KL we head to Sri Lanka, one of our favorite places in the world and the first time there with kids. A new adventure on the Indian Subcontinent, somewhere I've always loved.
All it took was some fun, fun for all of us, not just fun for the kids while the grown-ups watch. I think I'm guilty of making that mistake rather too often. Particularly when I have a very close eye on the finances. Note to self: Remember to have fun more regularly.
If you'd like to hire a car during your stay, use this car rental comparison tool to find the best deal!

We also suggest you take a look at this company to get a quote for all kinds of the more tricky adventure or extended travel insurance.

Try Stayz / VRBO for an alternative way to find rentals on homes/apartments/condos in any country!