This post may contain affiliate links.
We've been to Malaysia, I don't know how many times. After multiple visits to Kuala Lumpur it's one of our favourite cities in the world and our trip to Kuching and Sarawak to stay with the Iban tribe in their longhouse was magical. I thought Malaysia was becoming our thing. I thought we should do more.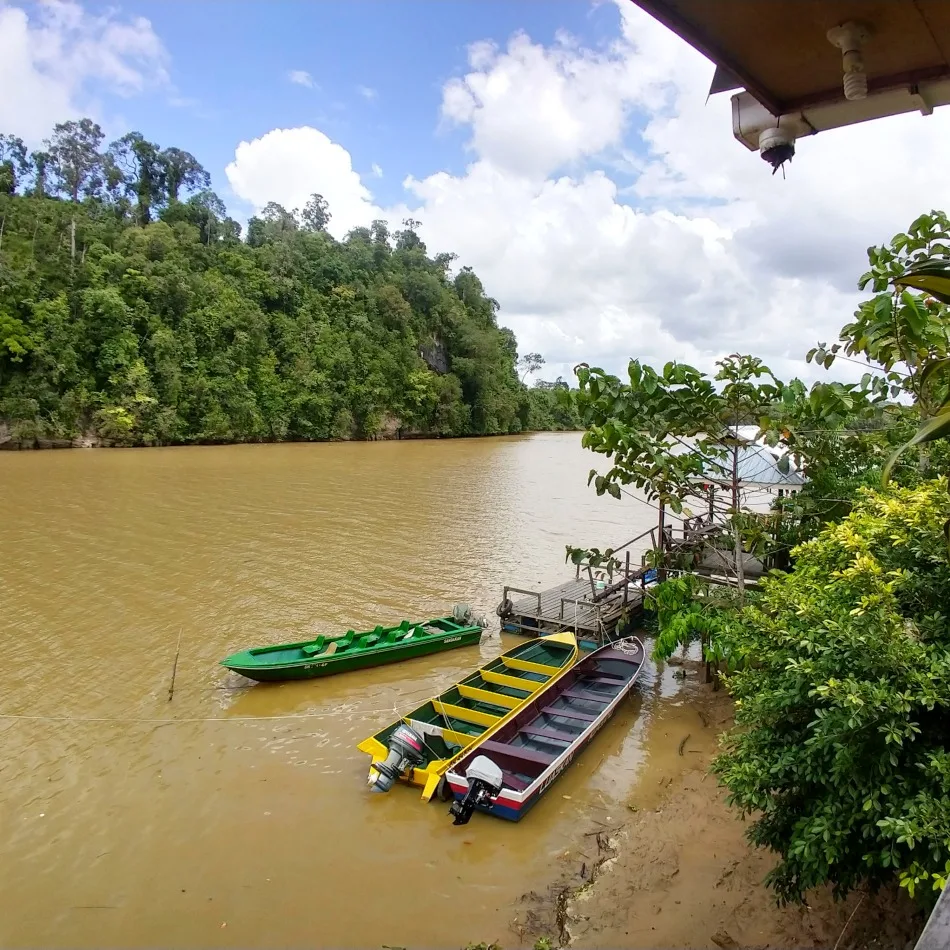 We hatched a plan this spring to go over Malaysia with a fine-tooth comb and share the parts visited by few. We explored the northern and eastern parts of peninsular Malaysia by car before hopping over to Sarawak to visit Sabah via Brunei.
Sabah wasn't for us. Maybe it was bad luck, bad timing, or just us. Maybe others will love Sabah. This post is just about our personal feelings on this trip.
Most of the road trip was an ordeal and there wasn't much to see or do but at that stage we were all still in pretty good spirits. It was good to be back in Kuching and we loved our few days there, but after that everything fell apart.
Why Sabah Malaysia, Went Bad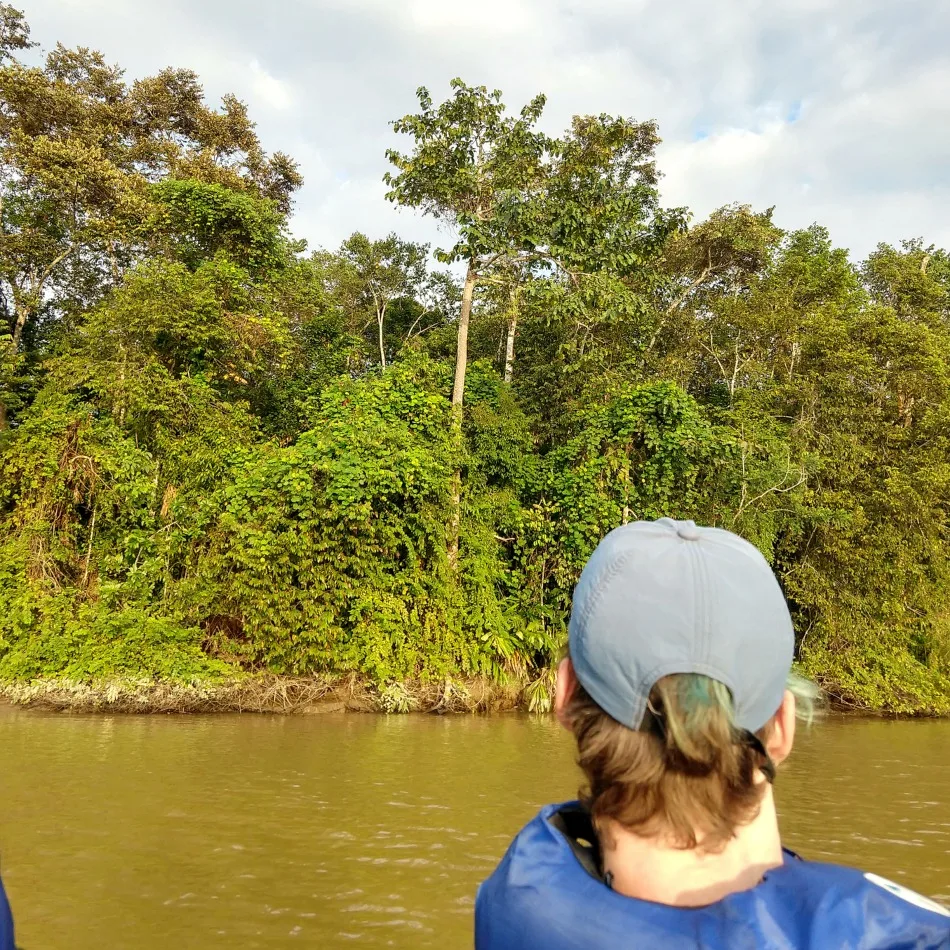 By the time we got to Mount Kinabalu (in the north of Sabah), I was in bits.
Inedible (to us) food, terrible accommodation, being lied to and cheated, and the environmental horror of plastic and oil palms left me beaten and losing my sanity in a full-on meltdown.
I should have known better, this has happened to us before in Malaysia.
Our "Malaysia Curse"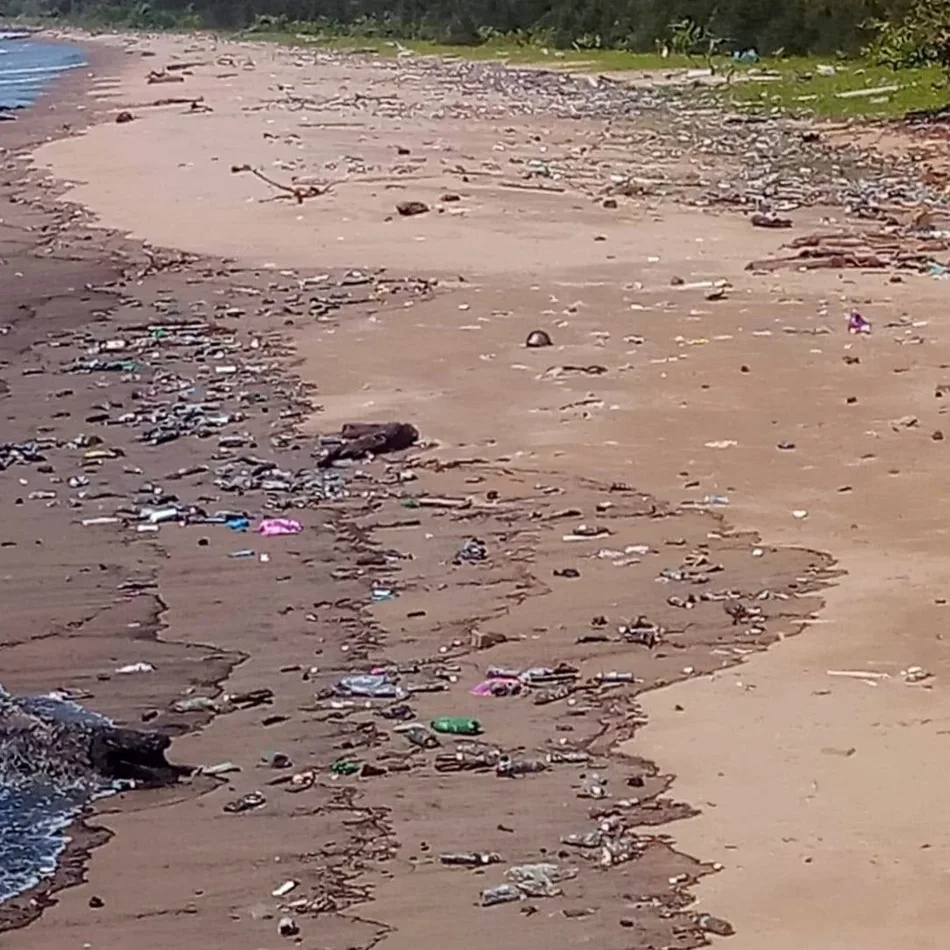 Over the last 7 or 8 years of full-time travel, most things have been wonderful and a few things have been bad.
Bizarrely, almost all of the bad has been in Malaysia. A few of the incidents that constitute our "curse" are below.
Being in an environmental disaster, having to cancel plans for Malacca, and ending up sleeping on the floor in the cleaner's room at a wonderful hostel in KL. The guys at this hostel are our friends, we love them, they saved us, but the stress that day had me in tears.
Falling victim to a pickpocket in Penang. It was on a crowded bus, he talked to me, I thought he was being kind helping a woman with two small kids. His hands were in my daypack. My then 8-year-old saw him rob us.
Having my favourite T-shirt stolen from a hotel in Malacca. When you only have the contents of one small backpack your favourite T-shirt is a bit more important. We've never been robbed in a hotel anywhere else in over 50 countries. It's the betrayal of trust that hurts. This particular hotel also gave us plenty of issues with noise (drilling up a concrete floor), bad food, bad room, all the usual minor irritations that come together to get you down.
Being on a ferry from Penang to Langkawi when it broke down halfway. We had to limp back to our point of origin and start over.
The worst hotel in the world in Georgetown. The raw expensive pizza (raw dough, no refund), the sleepless night as the nightwatchman partied and smoked downstairs. The fear of being alone in a deserted hotel with drunken men and two small kids. Finding ourselves locked in the next morning as the drunkard slept. That metal door was our fire exit.
The other worst hotel in the world on Langkawi. This one was expensive and we needed good food for my husband's Ironman event. The food was inedible to us. Lack of nutrition destroyed his race and put him in danger. Even shopping for groceries to cook ourselves we couldn't get close to the quality nutrition he needed. The guys prepare for 12 months for these events and drop a lot of cash. It's a big deal and this sport is dangerous even with good fuel. He survived, he hobbled in eventually. Waiting for your husband to finish over 4 hours beyond his usual time, with a broken tracking system and isn't fun. These races are never fun, but that day was hell.
Failing to get into Brunei and being stranded at border security unable to go forward or back. This was our own fault and we did see the funny side. But still, nothing like this has ever happened to us before.
Endless problems finding food. I prefer not to eat meat. It's been hard for us outside of major cities to find quality food, vegetables or anything healthy. Indian food is a joy in Malaysia but in the parts we visited on this trip it wasn't available. At the time we bailed out of Mt Kinabalu I'd eaten nothing at all for 48 hours and not eaten a decent serve of vegetables in maybe a month. I just couldn't face another plate of greasy noodles fried in dirty oil or yet another take-out pizza.
Animal abuse. We've seen too much animal abuse and animals as entertainment on this trip. It comes in unexpected places and it's upsetting.
Plastics, pollution, filth, and environmental devastation. Some of it was absolutely sickening.
So we've had a few issues, there are more, these are just the ones I don't mind talking about right now. Some issues are tiny, trifling matters but each one adds to the next and the straw does eventually break the camel.
We really wanted to put all that behind us. Turns out we couldn't. Malaysia is still our Nemesis.
Highlights of Sabah Malaysia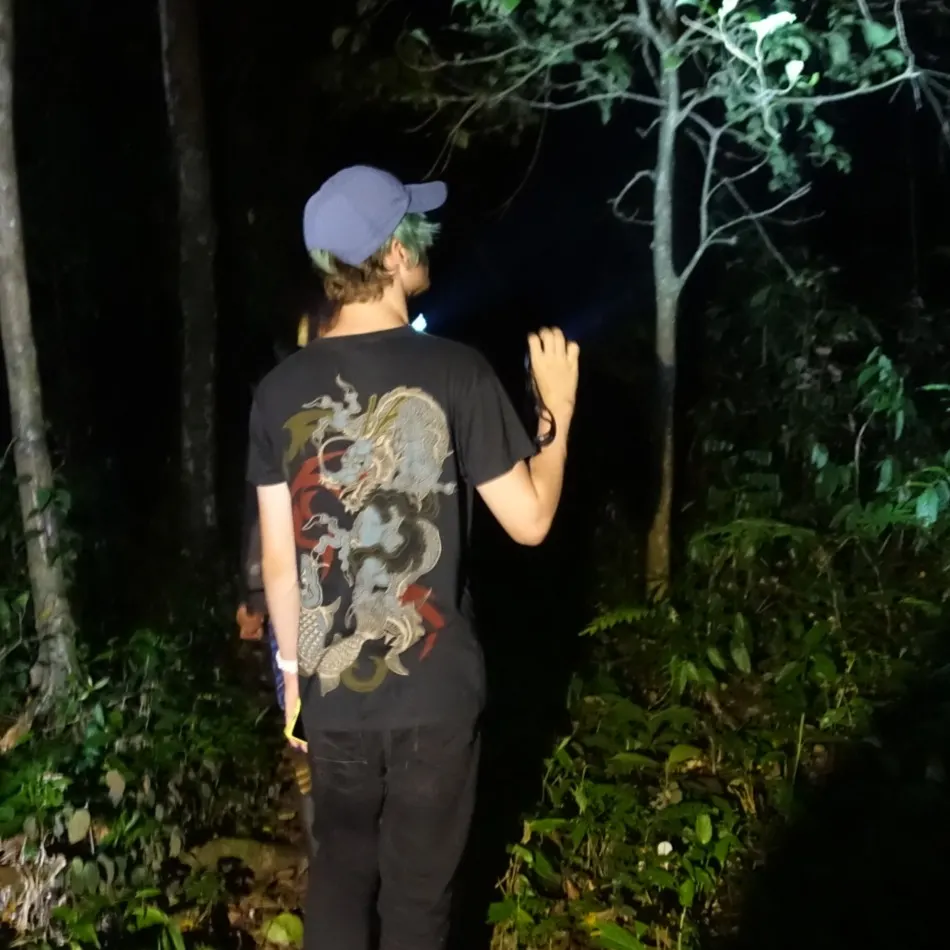 There were three major things we wanted to do in Sabah. The first was to visit the orangutan rescue place at Sepilok, the second was a three-day, two-night river safari to see pygmy elephants (with a side of wild orangutans and proboscis monkeys), the third was to climb Mount Kinabalu.
All three of these were massive letdowns. Expensive letdowns at that.
The whole trip bought us zero joy and cost us thousands, most of the money we simply gave away with nothing in return. In the end, we decided to lose our cash rather than stay in Sabah one day longer.
We should have left earlier (and I'd asked Chef if we could leave earlier – he knew I'd had enough) because every day just got progressively worse.
We're out of Sabah now, safely back in Kuala Lumpur on a last-minute flight to an airport hotel with no onward plans. We'll think of something, we always do. But the major feeling as we got on the plane out of there was massive relief.
There was pain, upset, disappointment, guilt, and tears. But relief overshadowed all of those hurts. My son had been really looking forward to the Kinabalu climb, but even he was relieved to be leaving. He was also sick.
We've all been sick. It was coronavirus time in Asia.
Costs in Sabah Malaysia
Malaysia has a two-tier pricing system. Malaysians seem to pay less for everything than foreigners, sometimes pushing tourist prices into the super-expensive zone. If you're rich, you probably won't mind. We're not wealthy tourists.
I'll give you the costs for the river safari and Mount Kinabalu climb some other time, but just know it was thousands. That plus the daily per room tourist tax on hotels does get to you after a while.
The Orangutan Rescue Place – Sepilok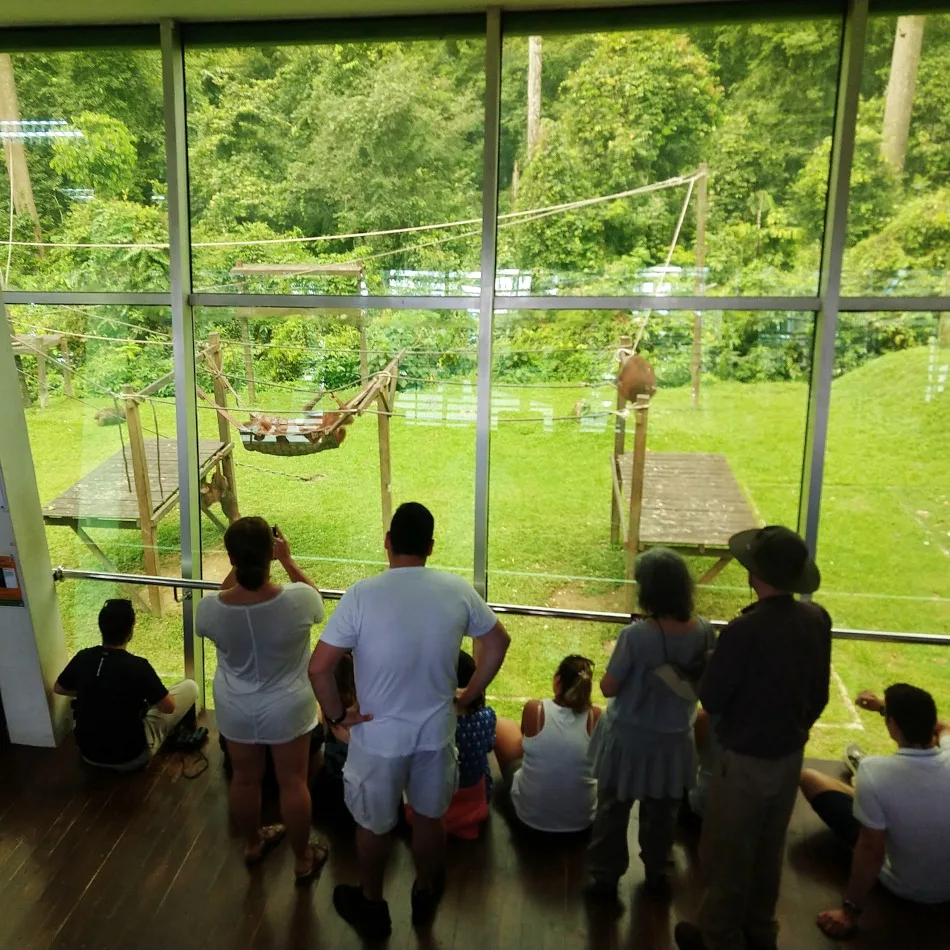 We had already visited the orangutan rescue place at Semmengoh, near Kuching in Sarawak. That was a good experience. By contrast, the Sepilok center just felt like a zoo to us.
There was no talk or introduction, just a bunch of baby orangutans behind glass. At feeding time one orangutan showed up to the platform, along with some monkeys.
There were crowds as several coach tours arrived and this was at the height of coronavirus scare. Presumably, we visited on a quiet day.
We felt there was just nothing good about it. Orangutans are there because the oil palm industry is destroying their homes. It felt as if Sabah was generating a tourist attraction out of the misery it caused to these animals. It felt wrong and it made me sad.
If you didn't know, about 50% of Sabah is now oil palm plantations. It's a depressing sight along with the incredible levels of plastic pollution that we'd already seen on this trip on various coastlines.
I've never seen so much trash on beaches anywhere in the world, nor water as filthy. All of these little things chip away, slowly slowly stealing positivity.
The River Safari to See Pygmy Elephants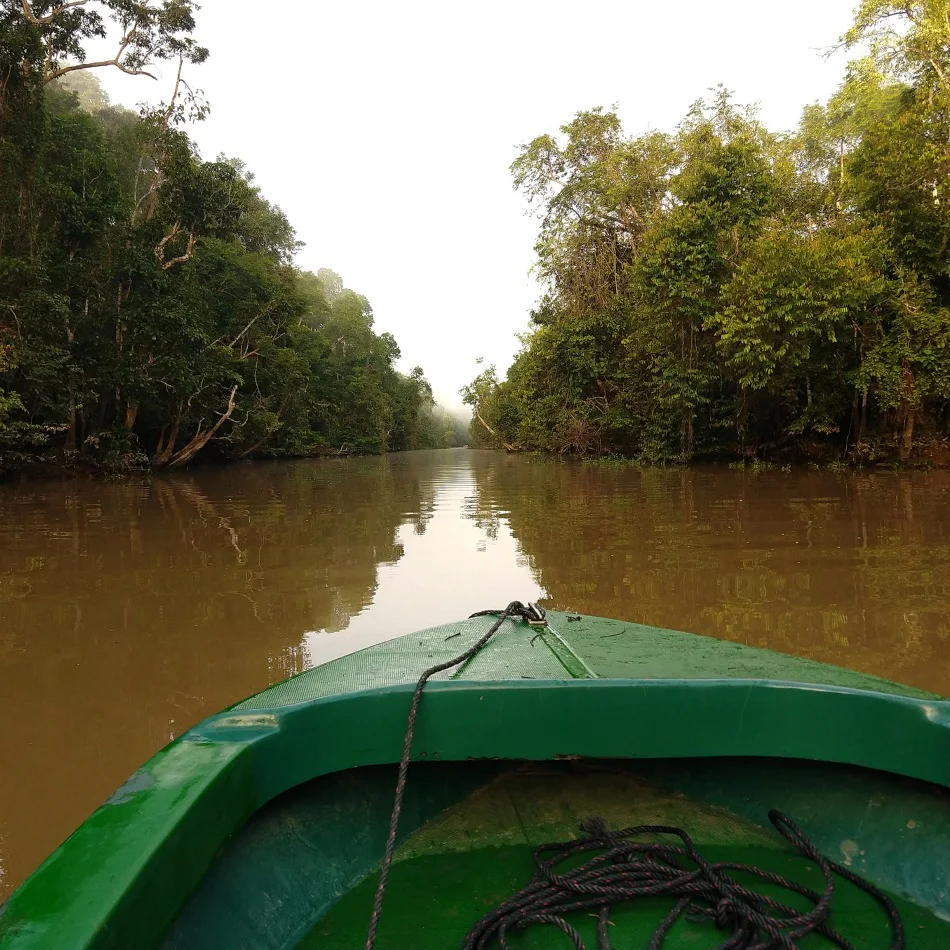 Everything about this was utterly bad. We found a guide on recommendation, he was " the man" for finding pygmy elephants. We paid him a lot of money.
Our first 2-3 hour boat tour with him was the last time we saw him. After that, he handed us over to his very young son who couldn't spot an animal to save his life.
Our "private guide" took off with another group leaving us visiting and revisiting the same stretch of animal-devoid waterway.
On this first boat ride "the man" did spot wild orangutans and proboscis monkeys. That was OK, I was cool with that.
They were so far away that we could just make them out with binoculars for fleeting seconds. I enjoyed it but others with us were complaining and that made me feel bad because they felt bad.
This trip had been my idea. We hoped that on subsequent boat rides he'd take us to smaller waterway so that we could actually try to see them or be able to take photographs. It never happened.
Our time was deliberately and purposefully taken up with looking at "ordinary monkeys" and a tiny monitor lizard. No sign of the pygmy elephants we'd come to see.
One of us spotted a very small crocodile, our young guide completely missed it. But we'd come for elephants and our guide knew that.
Eventually, junior let slip that there was in fact only one Asian elephant in the patch of jungle he'd taken us to and that the large herd of pygmy elephants was some 2 hours away.
At this point our 3 days were up, we couldn't schedule another trip. He knew this the whole time and yet strung us along and happily took our money to look at trees.
We took 3 river trips. Our "private tour" also included a night walk and "optional activities". The night walk was behind somebody's house, not in the jungle, we saw pretty much nothing. I'd be able to find more wildlife in my own back garden.
When we asked what the "optional activities" were, the man with our cash directed us to the village to take a walk.
There was absolutely nothing of interest to see. We wasted about 6 hours just waiting for the next uneventful boat ride in blistering heat.
To steal even more joy, our food was mostly disgusting, accommodation was poor and atmosphere non-existent.
The pygmy elephants are there, you needed to book a special full-day trip to go looking for them. Another lodge nearby gave us the honest details. The full-day boat trip wasn't even expensive and we would have gladly paid. If you plan to do this trip be sure to have all this sorted out properly.
Mr Man simply wanted to take our money and pretend we were unlucky to not see them. I was designated to talk to our guide on the phone to try and clarify this. He wouldn't listen and just shouted over me. It wasn't pleasant. We strongly recommend that you don't book this guide.
A Better Place To See Proboscis Monkeys in Malaysia
If you want to see proboscis monkeys at closer range, maybe go to Bako National Park in Sarawak. We thought this was a much better experience and we had an honest guide.
By noon he told us to go home, it's too hot and you'll see nothing more. In contrast, Mr Man had us and his son sitting around in full afternoon inferno heat as he pretended to deliver our tour.
Have Things Changed Too Much in Sabah
So many people say these tours in Sabah are good, great experiences. I don't know if things have changed because this is our first time here. I can tell you that Malaysia has changed enormously in the last 8 years, we've seen the changes in KL so maybe Sabah has changed too.
There was a lot of traffic on the river. Speedboats zipped up and down and tug boats pulled huge oil palm barges. New highways cut through the landscape and unoccupied housing developments stand where once there was rainforest.
The national park seemed totally hemmed in by electric fence ringed plantations. Even on the smaller waterways, we saw speedboats noisy enough to scare any wildlife and fast enough to erode riverbanks. Climate change must also be playing its part. Several people told us that we should see rain not blistering heat. Maybe it's just all over for Sabah, or maybe we just had bad luck. I don't know.
Escape From The River Tour to Sandakan
We didn't want to stick around after being yelled at by Mr Man so we rustled up a minibus to take us back to Sandakan that night.
Several hours in a bus, down another $100, and on arrival a smoke-stinking cesspit of a hostel with blaring karaoke and a smelly foam mattress didn't do much to salvage the mood.
Bus to Kinabalu National Park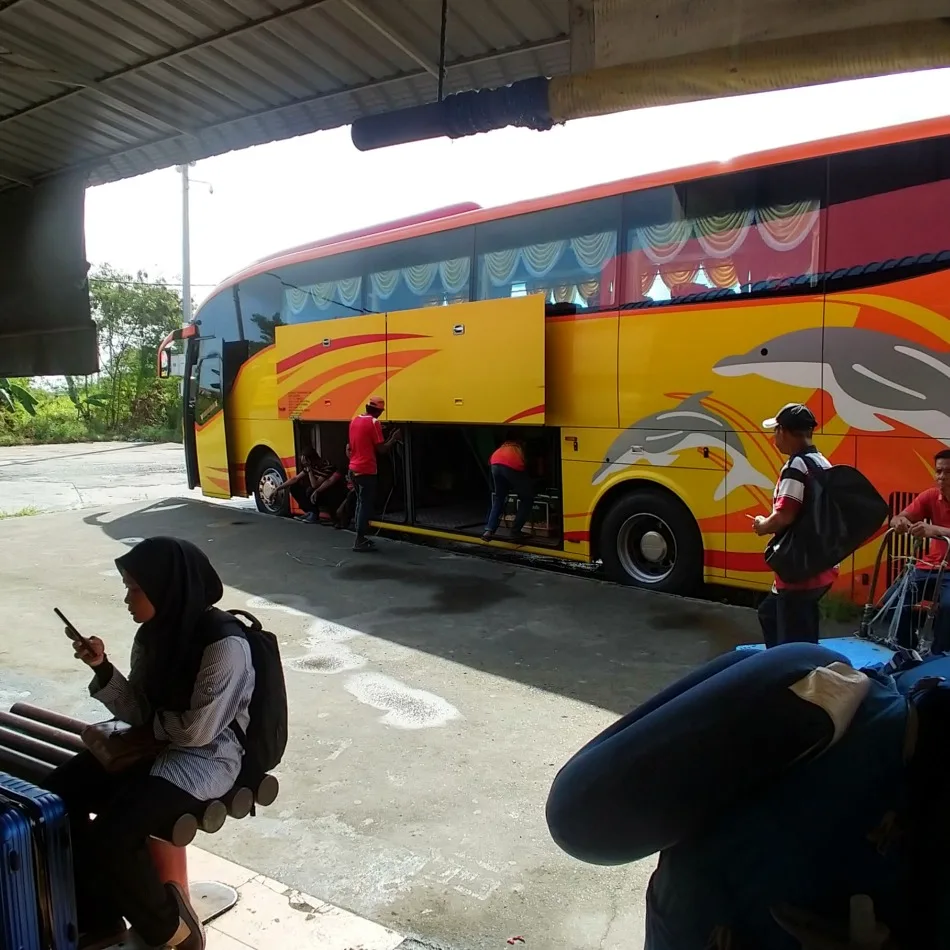 This was a nice bus and it only cost us 35 MYR (more than it costs if you're Malaysian) no complaints about the bus at all. A woman at the front of the bus coughed deeply, the guy behind me burped fish, and a kid puked on the floor, but it was fine. I like buses and this is normal-ish.
It took about 4 hours.
The lunch and toilet stop were pretty poor. Again, no food any of us would consider eating. The bus dropped us almost outside the Kinabalu lodge. We paid our admission to the park and checked in.
We were pretty excited to be starting this adventure so there was plenty of positivity.
Thinking back to our trekking in the Himalayas and the long bus journeys there, this is different. Bus rides are harder in Nepal, sometimes terrifying, but there is joy, excitement, laughter and good Nepali food.
Travel in Malaysia can be a drudge and test of mental endurance with no good dinner and cold beer to look forward to. I don't know why the two are so different.
Mount Kinabalu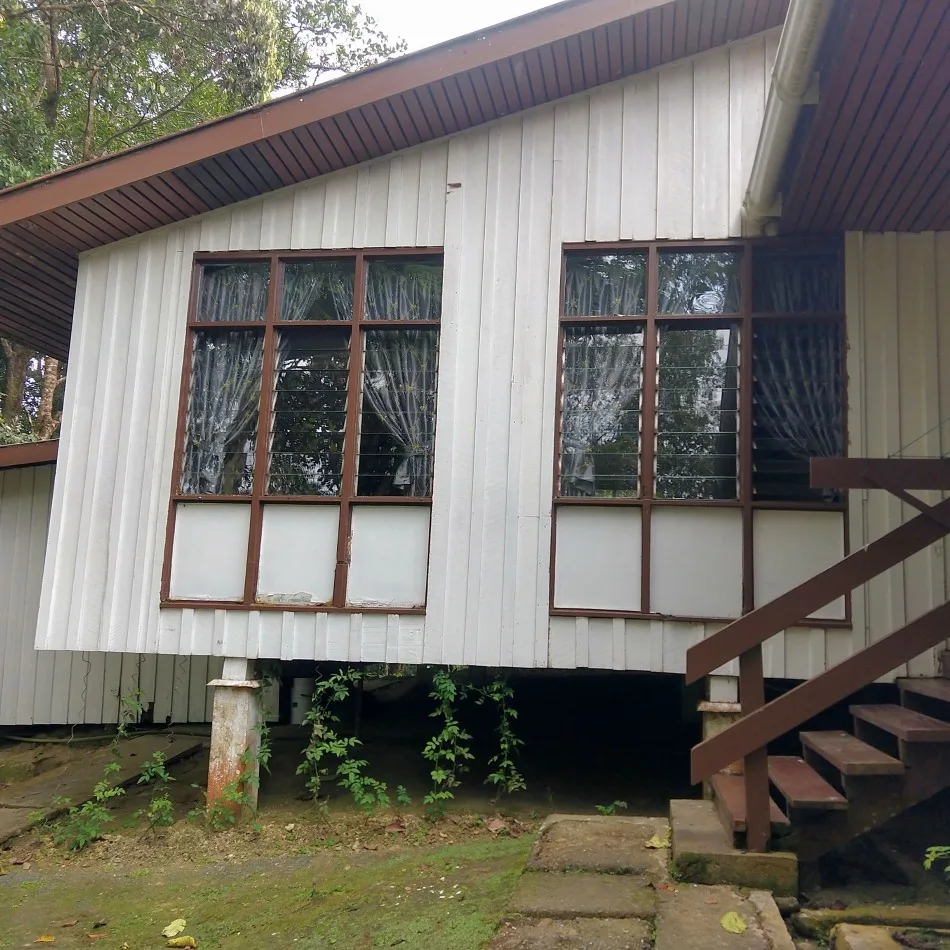 We couldn't see the mountain as the cloud and drizzle hung low. Our lodge had looked beautiful online, a while colonial building with great reviews. I was excited to be in a decent hotel (maybe with decent food!) after days of roughing it.
My hopes and dreams were smashed as we saw the reality. Little more than a shed, the sort of shared bathroom you'd find on a bad campsite and damp. The sheets felt damp, the ceiling was covered in black mould, and then the final straw, no wifi. 2 days with no wifi in a damp shed.
I couldn't take anymore, it broke me.
We left. Another $50 for a taxi out of there, a hastily booked flight, and we were gone. Finally food after 48 hours without. A couple of pieces of broccoli on the plane. We eventually tumbled into bed in KL around 10 pm and slept in cool clean sheets for the first time in days.
We'd already paid for the trek itself. It's a 2-day walk to the summit of Mount Kinabalu and hikers are obliged to take a guide. I think we'd paid for 3 or 4 guides total as we had kids with us and rules dictate one guide per 2 kids. They weren't cheap. We lost every cent.
The lodge and trekking agents didn't even bother replying to my emails requesting a refund. I wasn't surprised. Notably, if it rains, your trek will be cancelled, no refunds. It's a great little money maker. Of course, Malaysians pay much less.
It was drizzling when we left and the unappealing area was infested with mangy dogs. I don't think we missed much.
After The Sabah Trip
Maybe all this doesn't sound so bad to you. You didn't live it. You hadn't planned this awesome adventure nor dropped all your cash on it. It crushed me, destroyed me in a way almost nothing has before. But at least now we know that Sabah Malaysia isn't our jam.
I'll give you full details on all this in time. We are travel bloggers, this is our work, our job. This time it sucked, costs us way too much, and brought zero enjoyment. I'm starting to question my choices. At this point, I no longer want to do this. I was cheated and lied to, I hate that.
As you can see, I wrote all of the above while it was fresh in my mind and the hurt was very raw. I sat on this post, unpublished, for eight months. 2020 has been the worst year of my life, so much bad stuff has happened but finally, a good thing for the world came in November. There is a whiff of hope in the air. So maybe we turned a corner. It's hard to publish negative things on a travel blog, you become the target of hate mail and trolls. But this is how it was for us. This is our honest account of our time in Sabah, and it's all completely true. We didn't like some of the other parts of Malaysia that we visited on the trip either, with the exception of Ipoh. East coast Malaysia, the Cameron Highlands, and Miri Sarawak all left us pretty cold. So Sabah was the end of a very bad trip. Our worst trip ever I think. It was great to be back in Bali, which was where we ended up. Reliable, beautiful Ubud. We still love KL and Kuching, I don't know what's so different about those two places and some other parts of Malaysia, but we have seen so much, been many places, I will create the content. That's all I have to say on our Sabah trip. UPDATE: As expected, sadly, we got nasty comments on this one. Commenting has been disabled. We were also sent emails of thanks from local tourism people for alerting them to this situation, along with messages of support from Malaysian friends. As I've said before, Malaysians are often some of the nicest people on the planet. We got unlucky here I think.
If you'd like to hire a car during your stay, use this car rental comparison tool to find the best deal!

We also suggest you take a look at this company to get a quote for all kinds of the more tricky adventure or extended travel insurance.

Try Stayz / VRBO for an alternative way to find rentals on homes/apartments/condos in any country!