This post may contain affiliate links.
This Malaysia travel blog section is getting huge and with so many posts on Malaysia travel, we need to pull them all together in one page for you to find everything easily. This Malaysia travel page will help you plan your trip to Malaysia and let you know what to expect. We cover how to travel in Malaysia, where to stay, food to try, and more. There are many interesting things to see and do, fun activities, and beautiful places in Malaysia's cities, towns, countryside and islands.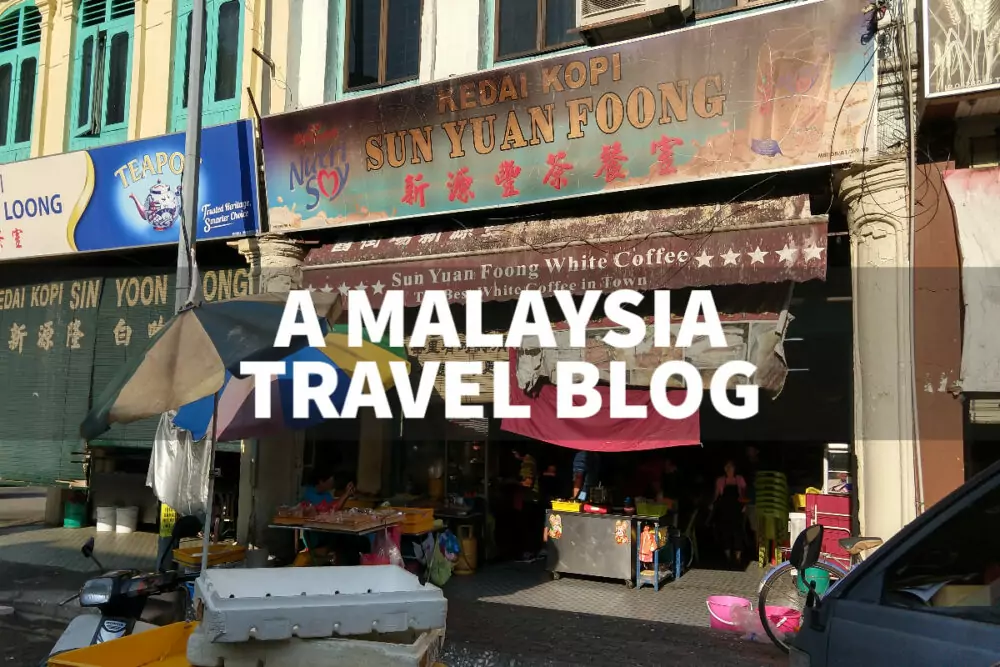 This information is from our first-hand experiences visiting Malaysia many times, and visiting diverse areas. We've actively tried to see as much of Malaysia as we possibly can, in both Peninsular Malaysia, Borneo, and Malaysia's islands.
To be honest, Malaysia is not our favourite part of Southeast Asia, we really enjoy Thailand and Vietnam, but Malaysia does have some incredibly interesting experiences to offer.
With plenty of cool things to see and do, along with some special and unique highlights Malaysia can offer much to travellers or holidaymakers.
Kuala Lumpur is one of our favourite cities in the world and Kuching and Sarawak we think, are fabulous destinations. The Malaysian people tend to be some of the nicest on the planet too, very kind, helpful folk.
We're able to share with you some Malaysia travel hints, tips, ideas and suggestions, mostly positive but some negative because travel in Malaysia hasn't always been plain sailing for us.
We've had a few bad experiences in Malaysia over the years including theft, terrible hotels, an environmental disaster and a ferry breaking down.
We joke about our " Malaysia curse" and really, you couldn't make it up. Everything that can go wrong for us in Malaysia, does.
We are not sponsored by Malaysia tourism so can share honest reviews and opinions.
On this page you can access the information you need to plan your holiday or vacation in Malaysia.
We'll start by listing our individual posts on destinations in Malaysia, further down the page you'll find general Malaysia travel information. We include links and tips from a few other travel blogs and travel bloggers too.
Malaysia Travel Blog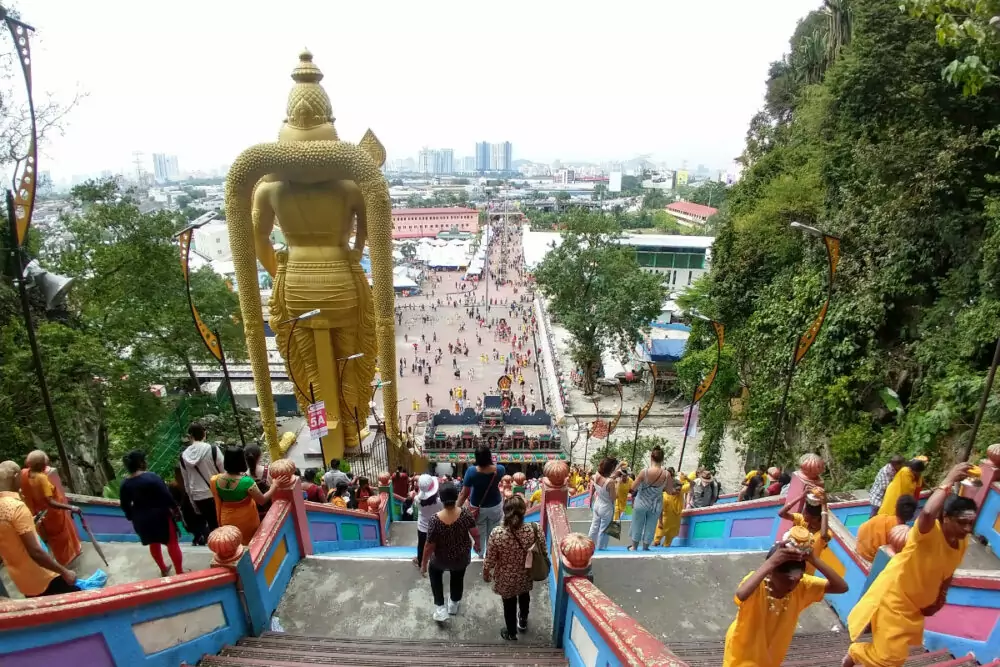 Places in Malaysia on the Travel Blog
If you'd like a general overview of what Malaysia offers, we have a post here called, Malaysia with kids, it gives you the best destinations in Malaysia and practicalities of travel in Malaysia. Below we run through a few key places to see in Malaysia which you'll probably want to include in your Malaysia itinerary.
We cover facts and personal experiences.
This is the oldest part of our website, you'll probably be able to tell I was a very new travel blogger when I put together some of these posts.
We most recently visited Malaysia in 2020, when the pandemic was just starting. Malaysia was open to international tourists again in 2022 and at the time of writing facemasks were still required in public places. Check latest updates here, on the official website.
Kuala Lumpur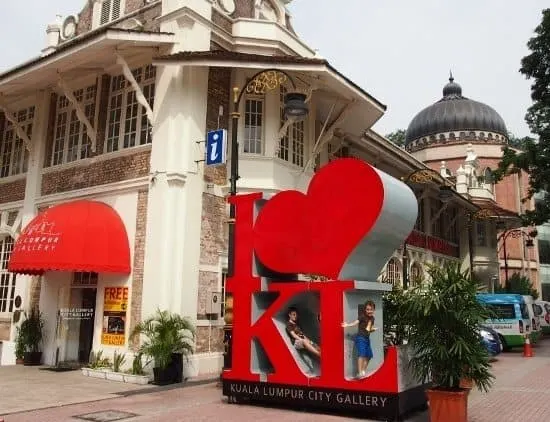 Kuala Lumpur is a vibrant modern city where you can visit ancient temples in the morning, be in China Town for lunch, while away the afternoon in an up-market mall and watch a spectacular fountain display as the sun goes down.
There is much to keep all of the family busy and Kuala Lumpur with kids is a great choice.
Temples, shopping, architecture, food, art, cultures, history and colonial architecture are easy to find in bustling KL. Possibly Malaysia's most well known tourist attraction, Batu Caves, is just outside KL (photo above, how to get to Batu Caves from KL here.)
There are some great museums to visit along with the must-see Petronas towers. Don't miss the Botanic Gardens, the huge bird park is almost next door.
Kuala Lumpur was our first stop when we left Australia back in 2013 and we enjoyed it, it was good to be in a modern city for a while and we loved being able to access authentic Indian food in Malaysia.
We visited Kuala Lumpur again in 2017, 2019 and 2020 and always stay at one of our favourite places in the world, Back Home Kuala Lumpur.
It's a solid base in the city with all kinds of accommodation from dorms to family rooms, great food nearby and always a warm welcome. Take a look at Back Home here on Agoda. (Agoda are Asia specialists, based in Singapore.)
This hotel is also within walking distance of the free KL buses and KL's "green lung" KL Forest Eco Park.
We have a collection of posts on Things to do in KL below. If you're lucky enough to be in KL for the annual Thaipusam Festival (usually in February), be sure to take full advantage of that, both in Chinatown and at Batu Caves. The Sun World waterpark is in, or near, KL.
Malacca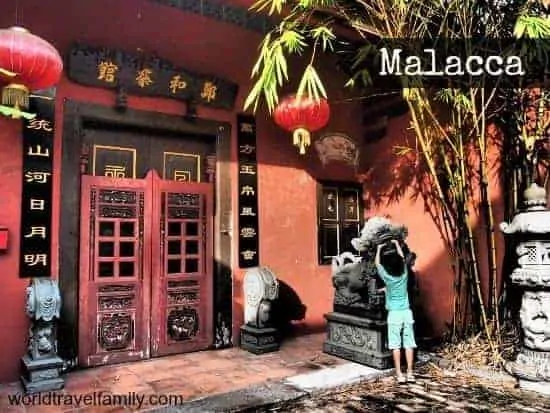 Malacca or Melaka, an easy bus journey to the south of KL has some beautiful and well-preserved buildings in the old town and a wonderful mix of cultures. You can even book a daytrip to Malacca from KL here to see the sights, it's worth doing if you're short of time.
It has it all, Chinese, Indian and Dutch colonial, a remnant of this town's massive importance in the sea trade routes.
The old town has something of a museum or theme park feel to it and becomes packed with tourists, mostly local, browsing the shops and large night market.
The museums in Malacca are very interesting, this is where you'll find the museum shaped like a giant ship, it's great for kids.
At night brightly-painted cycle rickshaws blaring modern pop music are popular with local tourists. The night markets or walking streets are not to be missed and there are good shopping opportunities in Malacca's converted shop-houses.
Outside the old town is another modern city with modern conveniences. We have a full post covering Malacca with kids and where to stay in Malacca. (opens in new tab so you won't lose your place). We also have a post on how to get to Malacca from KL.
Ipoh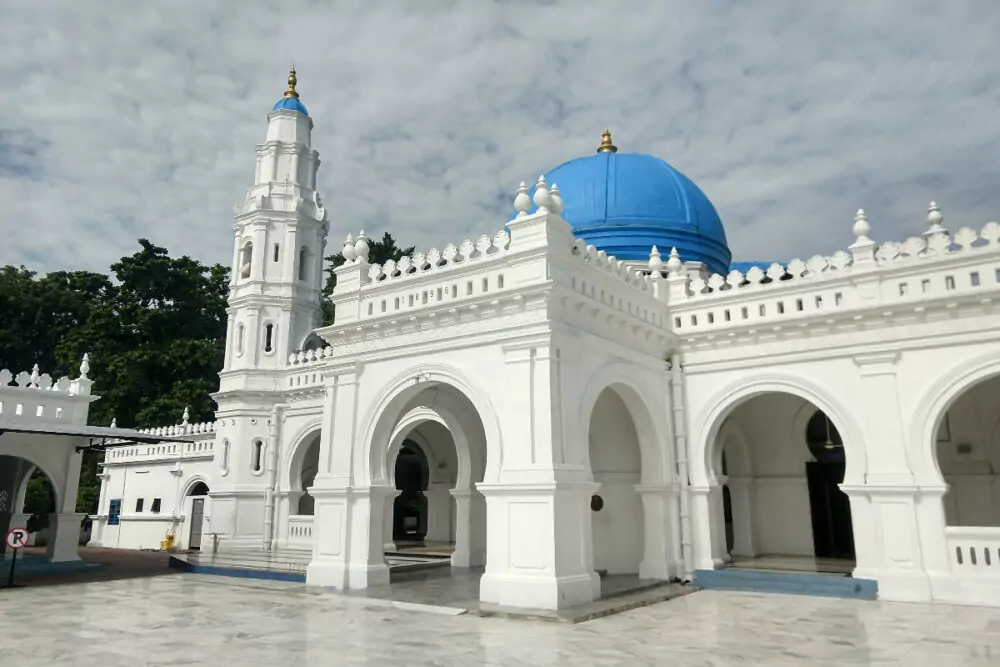 Ipoh is north of Kuala Lumpur, inland, but on the bus route we took from KL to Penang. We really enjoyed Ipoh and will be back.
Ipoh is a world-famous food destination with visitors arriving for Ipoh white coffee, pandan pastries, tofu, and many other dishes.
Ipoh is also home to The Lost World of Tambun water park. We really enjoyed our day there.
If you have the time, there are dozens of temples, caves, and historic monuments to explore and the Ipoh waterfront walk is very pleasant indeed. Read all about Ipoh Malaysia and things to do in Ipoh in our dedicated post.
The memorial tower to Birch, is very interesting indeed. Read about the mysterious "missing" figure on the tower in our post above.
Ipoh is also, yet another, place in Malaysia filled with ancient shop houses and stunning street art murals. Near Ipoh you will find Kelly's Castle and some caves to explore.
Penang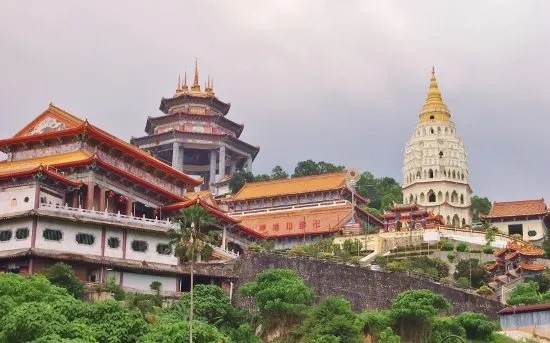 Penang comprises Penang Island, with its beachside resorts, as well as a section of the mainland. A bridge connects the two.
On the island you will find historic George Town, famous for street art, yet more colonial architecture, and food.
There are any number of tourist attractions on Penang, it's a huge tourist draw.
The resort area of Batu Ferringhi is popular for beach holidays. As with Langkawi, an island beach destination, this island is packed with man-made tourist attractions. You can read about the ferry between Penang and Langkawi, and how it broke down for us, in a separate entry.
Gems like Kek Lok Si temple, and Penang's famous snake temple, are great to visit. But if you want water sports and Hard Rock Hotel, you'll want to be in Batu Ferringhi where you can enjoy the famous Long Beach food court and other dining options. Check out our guide to where to stay in Penang.
There is also a nature park here, good for a walk and to spot wildlife, plus many fun attractions and places to visit in Penang and Georgetown.
We were robbed twice on Penang on our first trip. Once on a bus by a pickpocket and once from a hotel room. This was unfortunate, so do take precautions against pickpockets.
That said, on our 2nd visit to Penang we had a great stay in Little India, Georgetown, and enjoyed Indian food and the famous Snake Temple.
We can recommend Heritage 16 ( click to see it here) modern, family-friendly hostel with large family rooms. One of the most famous Chinese restaurants in Penang is right next door.
Things to Do on Penang for Families There is loads to keep you busy on Penang. The snake temple, Kek Lok Si, butterfly and bug parks, historic sites of Georgetown, modern shopping malls, and a National Park. There are beaches and more and more tourist attractions open all the time. A modern bus system will get you around the island or we found that Uber was good here. We were robbed on a bus, so beware of pickpockets.
Where to Eat Out in Batu Ferringhi Penang (for backpackers and travellers) There is McDonalds, the famous food courts, and plenty of upmarket restaurants. Our favourite was an Indian restaurant/food court.
Penang Kek Lok Si Temple This is a lovely Chinese-style temple, well worth a visit and the kids had a ball.
Penang Huge Spiders, Photo of the Week We took the kids along to Penang's butterfly and bug park. The boys loved holding a giant millipede. This will be great for you if you're new to the tropics.
Fort Cornwallis, Georgetown, Penang With Kids An interesting historic fort in Penang. Worth a look and great for the kids to have a run-around.
Legoland Malaysia (Near Johor Bahru)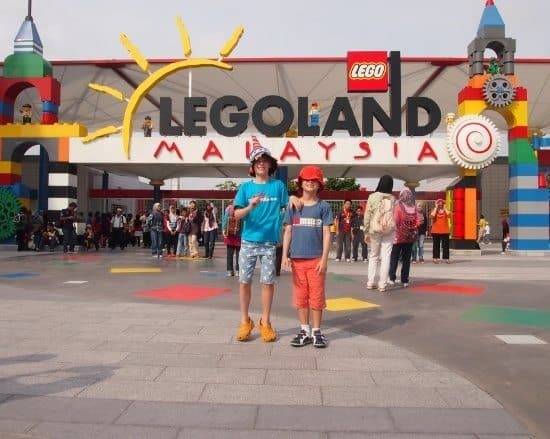 Superb Legoland Malaysia (and Legoland Water Park Malaysia) is our favourite global Legoland park by far, we highly recommend a visit and genuinely loved it. You can reserve tickets here.
It's far to the south of Malaysia, almost on the Singapore border. (Our Singapore section is here)
We travelled by comfortable bus to Johor Baru then less-comfortable bus to the Legoland location where we stayed for 3 nights. It doesn't make sense to stay in Johor Baru, it's too far away.
Legoland is aimed at families and younger kids. If you want really big thrill rides and rollercoasters, head further south to Universal Studios Singapore. It's not far and you can normally travel by bus over the border. We've done this. See where to stay in Singapore here.
The Perhentian Islands
The Perhentian Islands lie off Peninsular Malaysia's east coast.They comprise two main islands, Perhentian Besar or Big Perhentian, and Perhentian Kecil or Small Perhentian.
Kecil normally has larger volumes of tourists because of greater accommodation options and better prices.
There are a few smaller, uninhabited islands, all within the Perhentian Marine Park.
Tourism to the Perhentian Islands is highly seasonal, as we discovered to our cost, the eastern monsoon causing rough seas and murky waters, you really need to visit between March, maybe April, and October.
We were there too early in the year, February, this isn't a good time to visit.
Boats run to the Perhentian Islands from the mainland departing Kuala Besut. The speed boat ride should be 30 to 40 mins, reserve a ticket here.
Cameron Highlands
We have visited Cameron Highlands. This area isn't too far by road from Kuala Lumpur with the drive taking under 3 hours.
This area became popular because its elevation offers cooler temperatures, it is a typical tropical hill station.
This better weather makes the Cameron Highlands famous for tea plantations, strawberry farms, roses, orchards, waterfalls, and forests.
Expect big hotels, high rises, and much commercial activity here. We did find one very nice Chinese temple to visit along with a good Chinese vegetarian restaurant.
I wouldn't say this was a must-visit in Malaysia, but if you have the time it's worth a look. You could just book a tour to Cameron Highlands from Kuala Lumpur, there's no need to stay overnight here as we did. This tour includes a visit to Batu Caves, making it good value and a great way to explore Malaysia from KL.
Malay Borneo – Don't Miss Sarawak!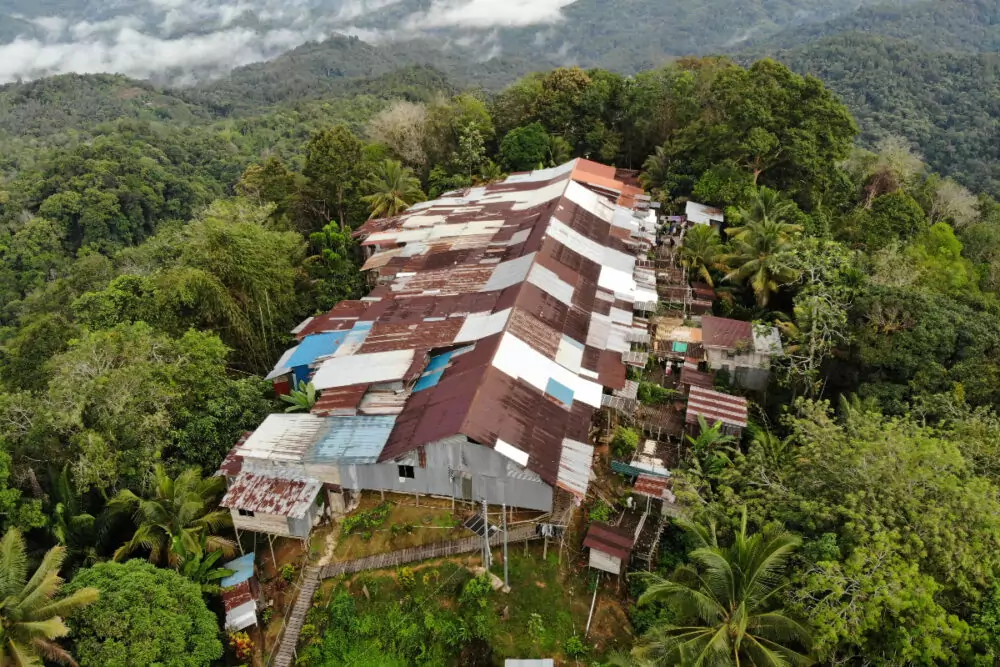 Borneo and Sarawak are where Malaysia totally won us round.
We were blown away by how lovely the city of Kuching Sarawak is and had wonderful experiences trekking in the jungle, staying in an Iban village longhouse and seeing orangutans and proboscis monkeys, along with the super-sized blooming Rafflesia flower.
You can do all of these things from Kuching plus dozens of other things to see and do in Kuching.
If the people on Peninsular Malaysia are nice, the good folk of Kuching blow niceness out of the water. I'm not kidding!
Kuching is also where we learned to enjoy Malaysian food, why? We finally found good vegetarian and vegan Malay dishes, now they are good!
Kota Kinabalu – Sabah Borneo
Kota Kinabalu is the capital of Sabah, like Sarawak, Malay Borneo. This is where you need to come for Kinabalu National Park, Mount Kinabalu and the White Sandy Beaches Kota Kinabalu.
We have been to Sabah and unfortunately, didn't enjoy it. This trip was so bad we left early. This was at the start of the pandemic and maybe the whole world was a little crazy at that time.
It was really disappointing and surprising after enjoying Sarawak and Kuching so much. Read about Sabah Malaysia, here.
Langkawi Island
We have been to Langkawi twice and both times found it a bit underwhelming. It is undoubtedly a very beautiful island with picture-postcard beaches and many and varied tourist attractions.
It was the ferry from Langkawi, back to the mainland which broke down halfway through the journey. We seem to attract bad luck in Malaysia!
We also had bad experiences with even top-end resort hotels being of a very low standard and hugely expensive for what they offered.
We were visiting for Ironman Malaysia and we had a lot of problems finding food to fuel our competitor.
I'll also warn you that our kids had bad experiences with tiny jellyfish here, in Australia we call them sea lice and kids feel them far more than adults.
Stinger season is dependent on time of year in Australia, I guess it may be here too. We may just have been unlucky.
Try the Ultimate Guide to Langkawi by Wagoner's Abroad, they talk about family-friendly attractions, tours and watersports in Langkawi as sponsored by Tourism Langkawi.
Malaysia Travel Blog – Tips and Information
How to Book Hotels and Find the Best Accommodation Deals in Malaysia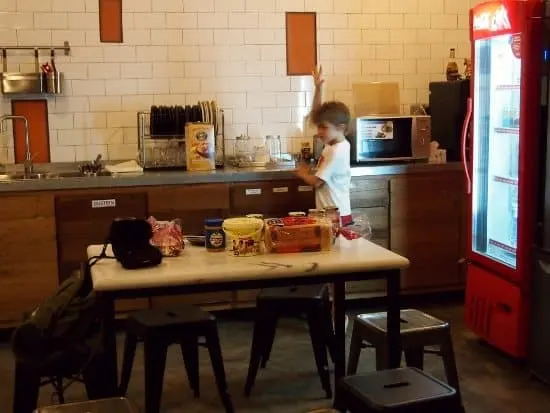 Agoda are the leading online booking engine for Asia, they are Asia-based and as such have the biggest selection of hotels, resorts, guest houses and hostels, they can also often source the best deals.
We recommend you always check Agoda for Asia and certainly for travel to Malaysia.
To save you time also check Hotels Combined. This is an online booking comparison site, they check many big name booking sites to find the best deal for your hotel on your dates. They are also one you should check.
Because this site finds best possible prices their deals will often be non-refundable. If you're looking for a refundable reservation try Booking.com.
To rent a house, condo or apartment in Malaysia for a longer stay give Stayz/ VRBO a try.
Be warned that you don't get so much for your money in Malaysia. Standards in hotels are lower and prices higher relative to destinations such as Thailand and Vietnam.
The new tourist tax makes Malaysia more expensive again. A 10% AND 6% tax is payable to the hotel on arrival. The 10% seems to cover tips. You should probably read up on this before you go from official sources, it may change again.
Best Time of Year to Visit Malaysia
Malaysia is as tropical as you can possibly get. Actually, we should call this climate Equatorial, for that is what it is.
Temperatures and humidity remain high all year round. Expect to see daytime heat in excess of 30º C at any time of year. All expect short, heavy, tropical downpours in the afternoons.
The duration of these downpours increases in the wettest months, September-October on the West Coast, including Langkawi and towards Sabah and November to February (the North East Monsoon) on the East Coast.
The East Coast has more of a cooling breeze than the West.
April-October is the wet season for Kuala Lumpur, Malacca and the Cameron Highlands, but really, this makes little difference.
The best time to visit is generally considered to be between March and October.
Be aware of seasonal air pollution intensification. Burning off crops causes copious smoke to drift over from Indonesia, the effects can be extremely severe. I was caught up in this natural disaster on my first trip to Malaysia.
What to Wear in Malaysia
Interestingly, there is not much pressure to cover up in Malaysia. I was surprised to find young girls with bare shoulders and short shorts. It was very much anything goes, it surprised me.
There's no real requirement to cover up other than in formal or religious places. The mix of cultures here means that people follow various dress codes.
To visit mosques or other religious or sacred sites, you will, of course, need to be properly dressed.
We were given the correct clothing when visiting the mosques of Kuala Lumpur. I, as a woman, had to wear a long robe and head covering. Men and boys are sometimes given robes or sarongs. These mosques are well worth visiting and there are several to visit in KL and elsewhere in Malaysia.
You can also visit Chinese and Indian Temples in Malaysia, in these, you'll likely need to remove shoes and hats.
Travel Costs in Malaysia
We feel that Malaysia works out more expensive than other countries in South East Asia (excluding Singapore) and that you get less for your dollar.
Sarawak, Malay Borneo, seems to us significantly cheaper than the mainland.
In 2017 we were seeing lower accommodation costs in Asia generally, it was noticeably cheaper than 2 years previously.
Buses in Malaysia are good value and often nice, modern buses. It depends which bus company you pick though, we've had a couple of bad ones too.
You can catch a bus into Singapore from Kuala Lumpur or from the south.
Some food in Malaysia is ultra-cheap, street food, low-cost Indian restaurants and so on will cost you cents, elsewhere you'll pay a lot.
Food can be as cheap or as expensive as you'd like it to be in Malaysia. If you are a budget traveller watch out for heavy use of palm oil and sugar. Also drink prices can vary immensely, always shop around.
Beer is very expensive but available in many shops. We're not the sort to keep detailed records of our spending, but these guys do. Travel Costs in Malaysia by Or Big Fat Travel Adventure.(couple).
When working out your costs for a Malaysia trip, always factor in your travel insurance and other health essentials. Visa, vaccine, and COVID 19 test requirements are fluctuating too fast for me to include them right now.
Backpacking Malaysia
We have backpacked Malaysia as a family with kids but if you're looking for information on Backpacking in Malaysia geared towards young singles or couples, try Backpacking Malaysia by Gamin Traveler.
If you're used to backpacking in Thailand, Vietnam, Cambodia, etc. Malaysia is very different. We think it's also a lot more expensive.
Malaysia offers a totally different vibe than other top backpacking destinations in Southeast Asia.
Scuba Diving in Malaysia
Yes, Malaysia is a destination for scuba divers, we are divers, but with kids it's hard to find time, check out Scuba Diving in Malaysia : Tioman, by Phenomenal Globe.
Very soon we'll be getting the scuba diving sites of Malay Borneo on the Malasia travel blog, they're high on our bucket list.
Wildlife in Malaysia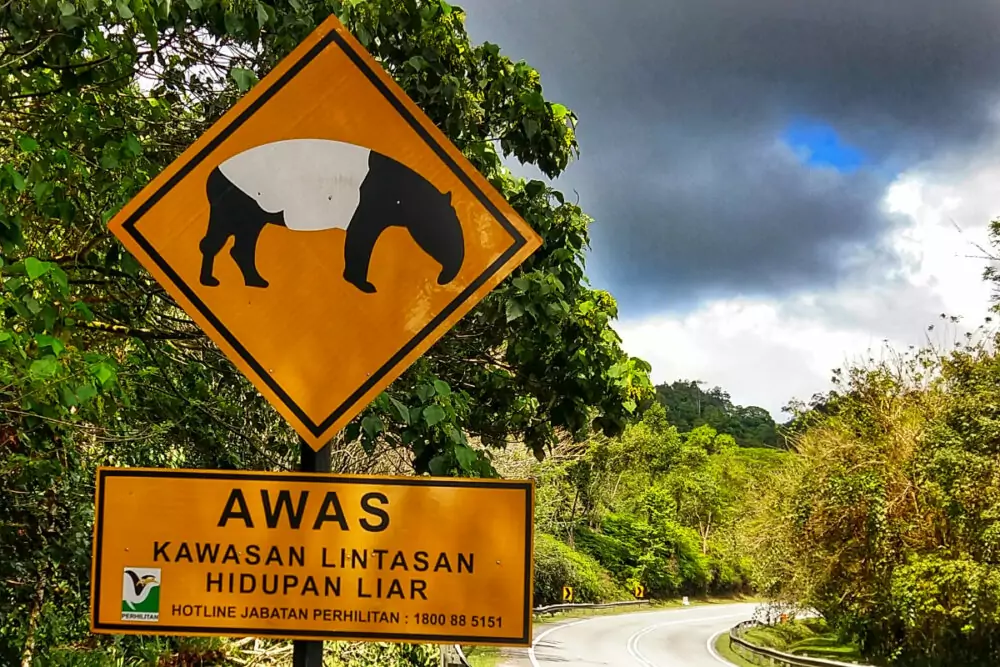 There is incredible wildlife in Malaysia. As you can see from the road sign above!
You may see wild elephants, even pygmy elephants, along with proboscis monkeys, orangutans, binturongs, mouse deer, many reptiles, plus hornbills and stunning tropical butterflies.
Various tours exist to allow you to see all of these things.
If you're only visiting KL, there is a butterfly (and bug) park, a huge bird park, and a central green oasis in the city itself. There is also a zoo which we haven't visited as yet.
Our best places to see wildlife in Malaysia would be the orangutan rescue place outside Kuching, and Bako National Park, also near Kuching, for proboscis monkeys.
Some captive animals we've seen in Malaysia aren't kept so well and the orangutan situation with the palm oil plantations can be worrisome.
Food in Malaysia
You will find excellent Indian food, particularly southern Indian. We're big fans of Indian food and as soon as we arrive in Malaysia, our first port of call will be an authentic Indian restaurant. We've never been disappointed.
If the town you're in has a Little India, and most do, you'll probably be best off looking there.
Nyonya cuisine is worth checking out and they say the Chinese is good but in our experience (admittedly limited) all the Chinese we've ordered has been not great, other than the Chinese vegetarian restaurant in the Cameron Highlands, which was outstanding. After a handful of bad experiences in Chinese restaurants, we've been reluctant to try more when we know we're safe with Indian. We found nothing like the amazing food we ate in China and I don't know why that is. Maybe, again, we've just had terrible luck.
Be very careful if you have a seafood allergy in Malaysia. I had a bad reaction to a vegetarian laksa in KL and literally had to run to a pharmacy for medication.
We finally started to love Malay food once we found vegetarian and vegan versions of popular dishes such as nasi lamak, rendang, and roti canai. The usual chicken, organs, and dried fish ingredients weren't for us.
The coffee situation can be bad in Malaysia if you like your coffee black. Dried coffee premix containing powdered milk and sugar can be a regular feature, along with coffee bags. If you like your coffee sweet and milky you should be fine.
These days you can easily find a Starbucks or any number of other coffee chains in the big cities. This is one country where I would certainly take emergency backup tea and coffee or even something like an Aeropress. (see travel coffee makers here)
Malaysia Guide Book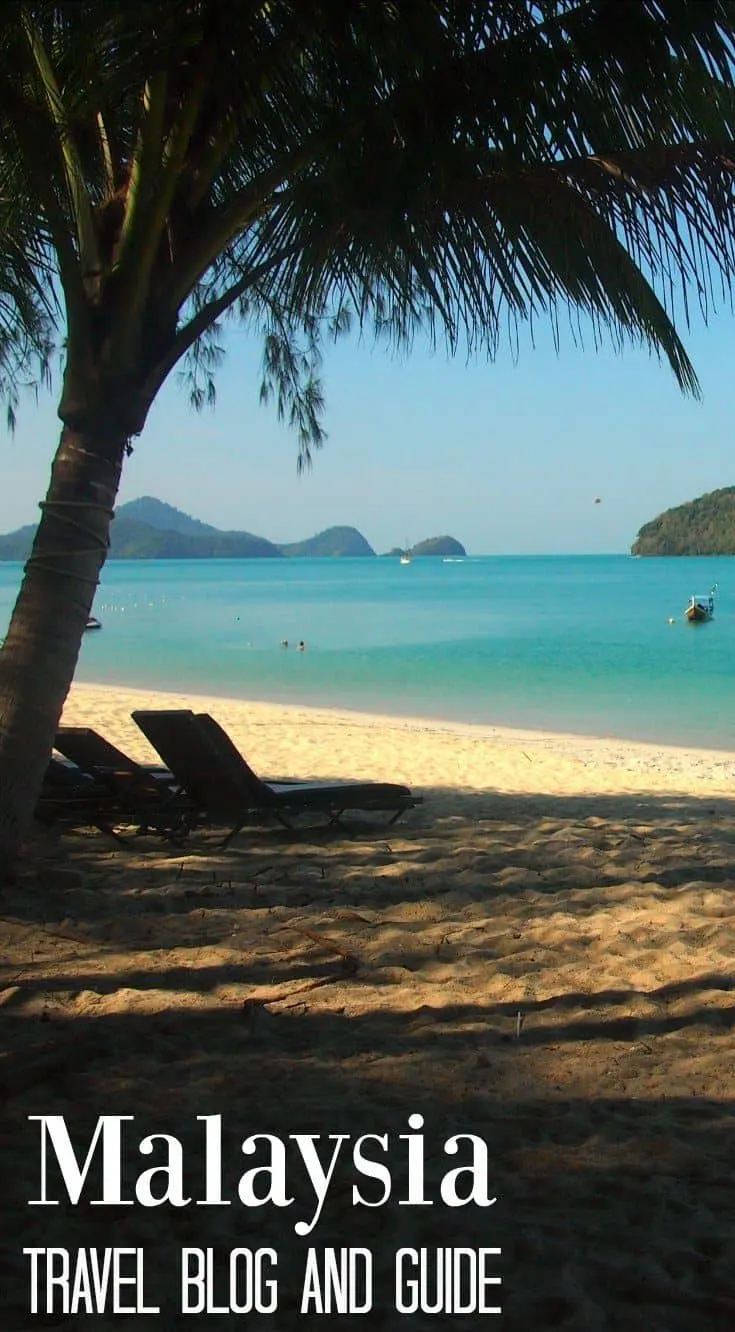 Malaysia Travel Blog – What's Next
Our Malaysia travel blog and guide is constantly evolving and growing. We're arriving in Langkawi and travelling further in Malaysian Borneo and Peninsular Malaysia soon, so a lot more Malaysia content to come.
I don't want to come across as negative about Malaysia, if we really disliked it we wouldn't keep going back to explore more areas. Malaysia does have bags of charm and I always enjoy visiting Kuala Lumpur and long to visit Malacca and Kuching again.
Unfortunately, we have had a lot of very bad luck in Malaysia, but is it luck? We've never been robbed anywhere else in 5 years. We've never been on a ferry that's broken down anywhere else and we never normally struggle to find good food.
The people of Malaysia, the women particularly, have been super kind and friendly so I feel bad leaving less than glowing reviews, but as always, I'm honest. I can only report on our own experiences exploring Malaysia as professional travel bloggers.
If you'd like to hire a car during your stay, use this car rental comparison tool to find the best deal!

We also suggest you take a look at this company to get a quote for all kinds of the more tricky adventure or extended travel insurance.

Try Stayz / VRBO for an alternative way to find rentals on homes/apartments/condos in any country!