Kek Lok Si Temple, the largest Buddhist temple in this region of Malaysia, and is one of the best places to visit on Penang Island. I think it's possibly the prettiest Malaysian temple I've ever visited, each section of Kek Lok Si has its own charming style and the temple, and it's compound, were a surprisingly good place to spend half a day and to take the children during our Penang holiday. This post is about visiting Kek Lok Si, and everything you need to know about visiting Kek Lok Si.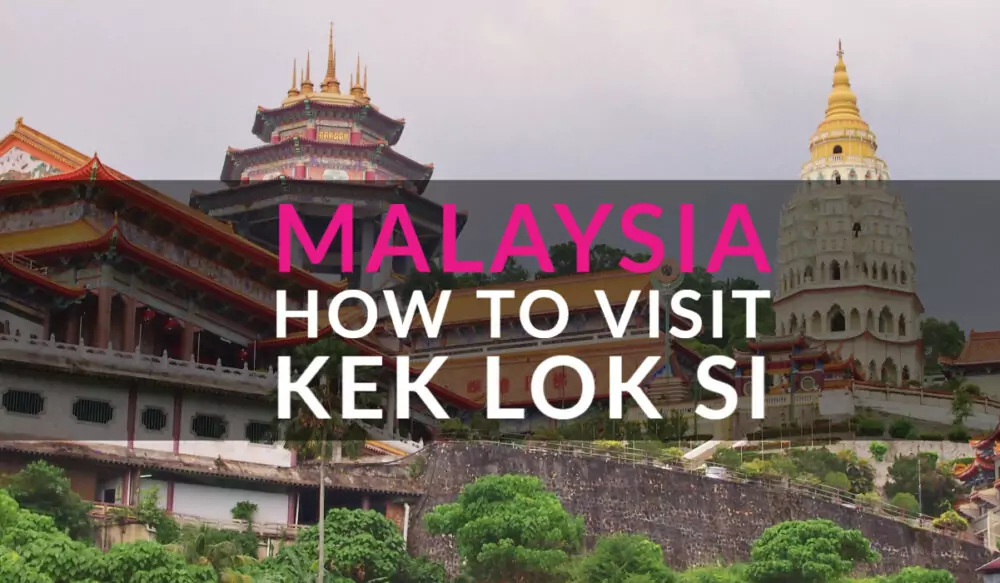 Stunning Kek Lok Si Temple, Penang
Kek Lok Si is also known as the Temple of Supreme Bliss and was built in 1890 making parts of it over 130 years old. It's possibly the most popular, well known, and beautiful temple on Penang. Kek Lok Si temple consists of prayer halls, pagodas, grounds and bell towers .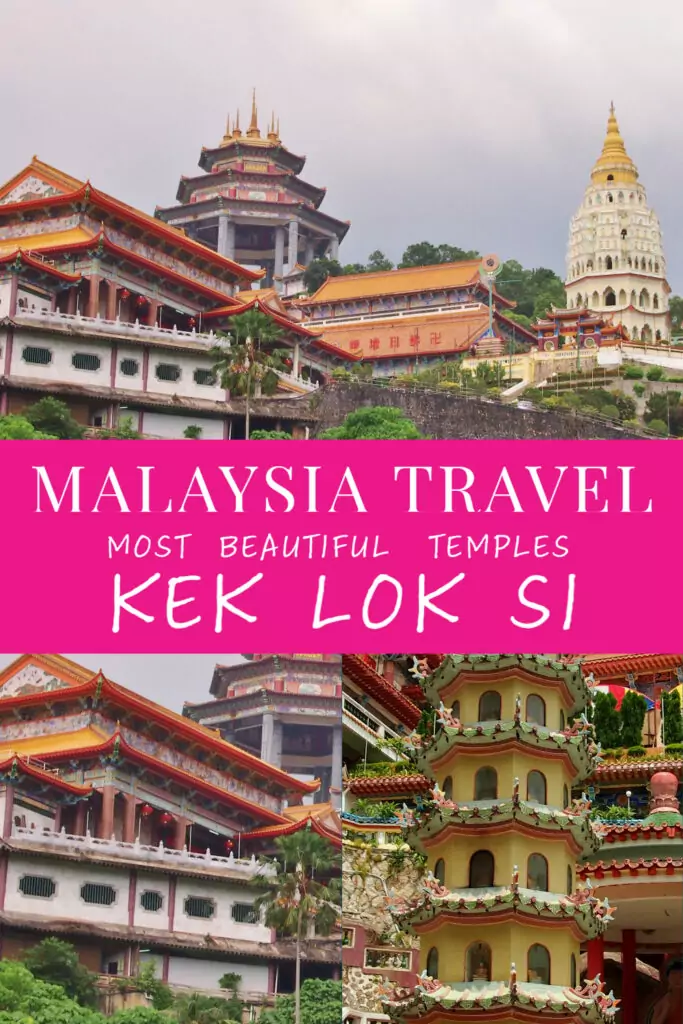 Book a Tour to Kek Lok Si
To see Kek Lok Si without the hasstle (and thieves) on the Penang buses, you can easily book a tour from your hotel, to Kek Lok Si. This Temple is often included on full and half day sightseeing tours of Penang and you should book in advance. See your tour options for Penang and Kek Lok Si here.
Visiting Kek Lok Si
Arriving on Penang by comfortable, good value, bus from Kuala Lumpur, we (I) had a bit of a freak out for various reasons, one being the environmental disaster we encountered, before spending over a week on Penang with another travelling family. We then flew on to Bangkok from Penang airport.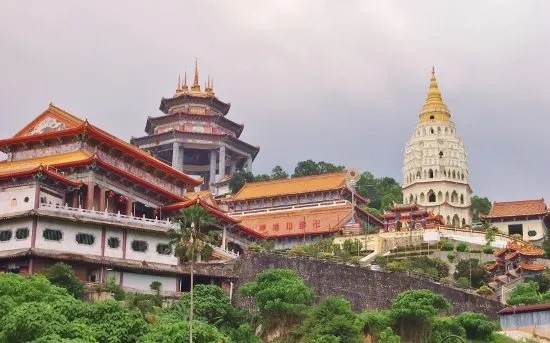 I love a good temple, this one stood out because of the wonderful lady who took so much time to explain the Buddhas, Bodhisattvas and Chinese gods to us. It's the people who make a place, and she was really special.
Kek Lok Si is a Good Place To Visit
Visiting Kek Lok Si is interesting, there are many diverse parts of the temple complex to explore. There are beautiful photo opportunities (great for Instagram) and there are multiple shops plus some snacks available at the site. If you are taking a vacation as a family or travelling with kids, your kids should have fun here, particularly feeding the turtles.
1. Kids can burn off steam racing up the steps from the road. Kek Lok Si is at the top of a hill, the path up to the top is lined with interesting souvenir shops, providing entertainment as you walk.
2. Families visiting Kek Lok Si can feed, or maybe liberate, the turtles. The first part of the temple is the liberation pond, traditionally people liberate animals to gain merit. There wasn't any turtle liberation going on when we were there and the turtles looked far too big to cage so we fed them instead. There is a guy selling bundles of greens for a few ringit. You will not believe how big one of the turtles is, he's huge.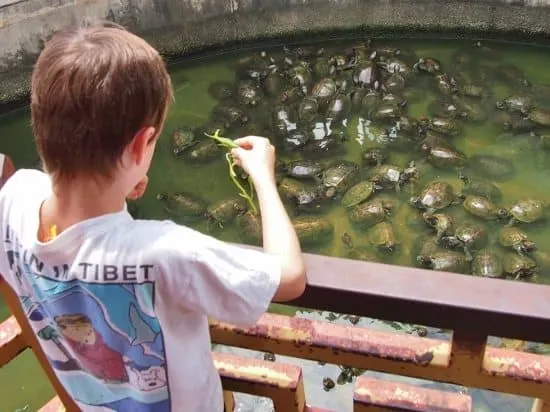 3. This particular temple is a great place to learn a bit about Buddhism, there are many interesting statues of Buddhas and Bodhisattvas and there are great stories that go with them. Try to find someone to explain them to you.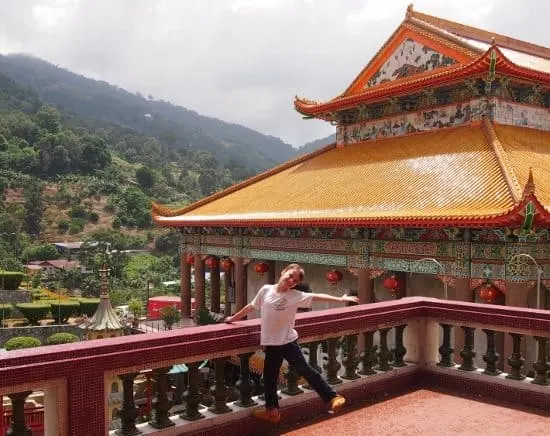 4. Making a wish with a wishing ribbon is a lovely tradition for the children to take part in. They can buy their own wish ribbon, D chose "Success with everything", and personalise it by writing a special wish underneath. The children loved hanging the ribbons on the wishing tree.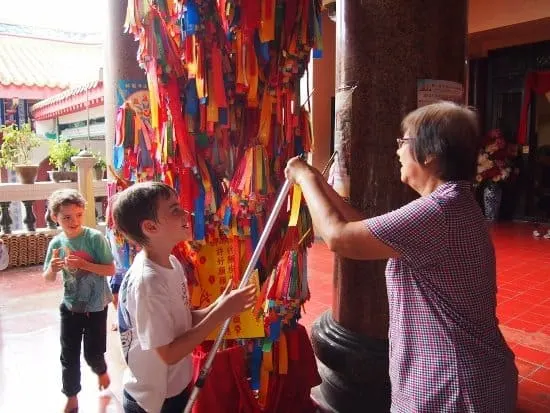 5. To get to the top of the hill and the huge statue of Kuan Yin, there is a short funicular railway. Great kid fun and an amazing view of Penang.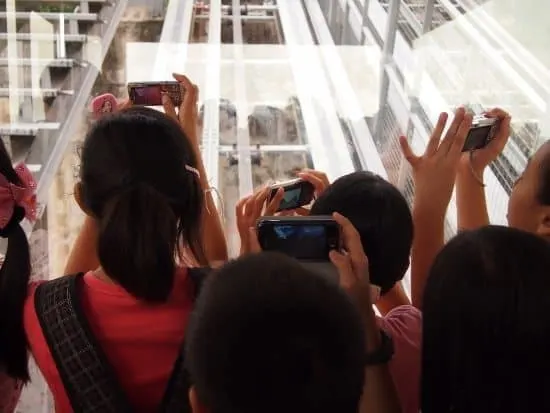 6. Kek Lok Si isn't a tourist attraction, it's a working temple, there are plenty of Buddhist traditions going on, it's fascinating for the kids to watch people lighting incense and candles and they can learn how to pay proper respect to Buddha.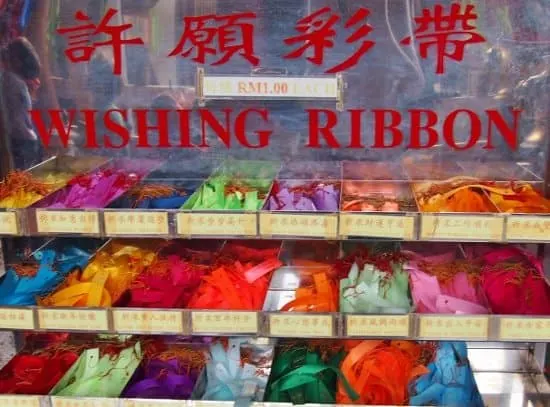 7. At the top of the hill the children can find "their" Chinese horoscope animal. The statues are dotted around the gardens.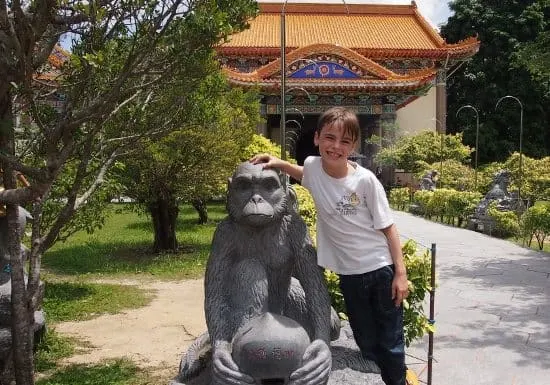 8. There are plenty of fish ponds to look at as well as shops selling drinks, souvenirs and snacks. We found the most beautiful temple cat I've ever seen, he made an appearance on our Facebook Page.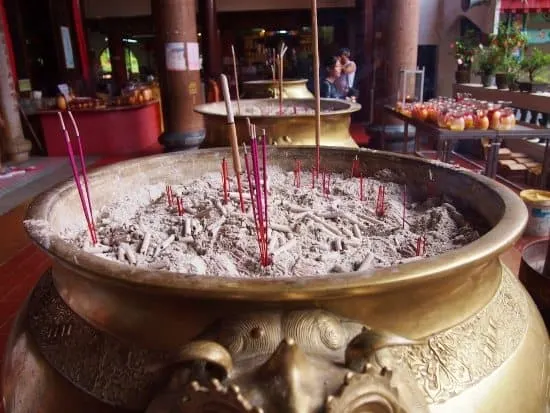 9. It's free! Kek Lok Si is possibly my favorite place to visit on Penang, I'd highly recommend it for everyone, not just those of us travelling with kids, you can easily spend half a day wandering the temples and pagodas. We took two buses from Batu Ferringhi (I hate those buses!) and it took over an hour to get there.
Where is Kek Lok Si Temple
Kek Lok Si temple is a Buddhist temple on the island of Penang, off the west coast of peninsular Malaysia. This country is in the the continent of Asia, a part of Southeast Asia. Penang is in the northern hemisphere, just 5 degrees north of the equator, making the climate very hot and tropical.
Kek Lok Si is located in the north east of the island of Penang but it's actually pretty central. This temple is almost due south of Batu Ferringhi and southwest of Georgetown. The distance from Georgetown to Kek Lok Si is about 9 km and to drive here by car should take about half an hour, the bus takes longer.
If you were to walk from Georgetown to Kek Lok Si the journey should take about 2 hours.
Bus To Kek Lok Si From Georgetown
The bus to Kek Lok Si from Georgetown should be a journey of between 44 minutes and an hour, depending on which bus you take, and traffic. Buses depart for Kek Lok Si from Pasaraya Gama and arrive at SMK Air Itam. The bus number 202 towards Jeti – Paya Terubong is a good option but there are several buses that head in the direction of Kek Lok Si.
How To Get to Kek Lok Si From Komtar Terminal Penang
If you are departing from Komtar Bus Terminal ( a very big bus depot in Penang) you should find plenty if information on the signposts there. The journey from terminal Komtar is only about 44 to 50 minutes. Bus number 201 towards Pasaraya Gama should get you to the Pekan Air Itam bus stop for Kek Lok Si. This bus ticket should only cost RM 2 – RM 8 (RM2 is equivalent to 0.67 Au dollar, 0.47 US dollar depending on exchange rates)
Beware pick pockets at Komtar and on the buses in Penang. We were robbed by a thief on a crowded bus. It pays to have an anti-theft bag in Malaysia.
Admission Cost For Kek Lok Si Temple
Admission ticket cost to Kek Lok Si Temple is zero, it's free to enter for adults and kids. Admission is free, but there is charge of RM2 per person for entry into the central pagoda and to use the Sky Lift.
My other top tip for the kids is Fort Cornwallis in Georgetown, plenty of room to run around and canons, kids love cannons.
If you'd like to hire a car during your stay, use this car rental comparison tool to find the best deal!

We also suggest you take a look at this company to get a quote for all kinds of travel insurance.

Try Stayz / VRBO for an alternative way to find rentals on homes/apartments/condos in any country!