This post may contain affiliate links.
Cairns with kids. Fun things to do in Cairns with kids. In this post, we cover family-friendly things to do in Cairns for a family holiday or vacation. Both in Cairns, and near Cairns. Child-pleasing and family-friendly things to do in Cairns Australia.
We already published our guide to things to do in Cairns, now let's look at family-friendly things to do in Cairns for you and your kids.
What can you do in Cairns with kids through to tweens and teenagers, on the weekend, on a rainy day, or on vacation.
We also include "things to do near me" in attractions and activities very close to Cairns, there's a lot to do nearby.
We live just up the road in Port Douglas, Cairns is our home turf, so you can bet our content is up-to-date for 2023 and written by a mum who gets your family's needs.
This is what we do with our kids, as a family, in Cairns. Including new attractions and activities and long-time family favourites.
Some attractions closed since or during 2020. We include those, just to mention they're no longer available.
We do everything we can to keep this post up to date but please be sure to double-check all information for yourself.
Cairns With Kids
Cairns is a great destination with kids and if your visit is short, you can be busy the whole time just with the attractions in Cairns, and cruises departing from Cairns marina.
You can walk to the marina or esplanade from a central Cairns hotel. If this is your plan for your holiday or vacation in Cairns, you won't need to hire or rent a car.
Some of the tours and day trips (we give you details in this post) from Cairns will pick you up from your hotel too.
You can even visit Daintree and Mossman Gorge this way from Cairns.
If you plan to visit Port Douglas, the Atherton Tablelands, our local chocolate attraction or swim in a rainforest waterfall, you may be better off hiring a car.
Use this car hire comparison tool to find your best option on car hire.
Things to Do in Cairns with Kids
The following is a pretty comprehensive guide to things to do in Cairns with kids or as a family, then we'll move on the family-friendly hotels, eating, getting around and other considerations in visiting our tropical environment.
The Cairns Lagoon
There is no beach or safe swimming spot in central Cairns, but, not to worry, they built a beach for you.
Kids and adults can now swim in Cairns safely without having to make the trip toward The Northern Beaches.
The Cairns Lagoon pool (pictured above) is truly spectacular, is gently shallow enough, and has a sandy beach area for little ones to play.
There are showers, changing rooms, and public BBQ facilities nearby.
Best of all, it's free.
See what's on at the lagoon, and check for opening and events on the Cairns lagoon pool website.
Cairns Esplanade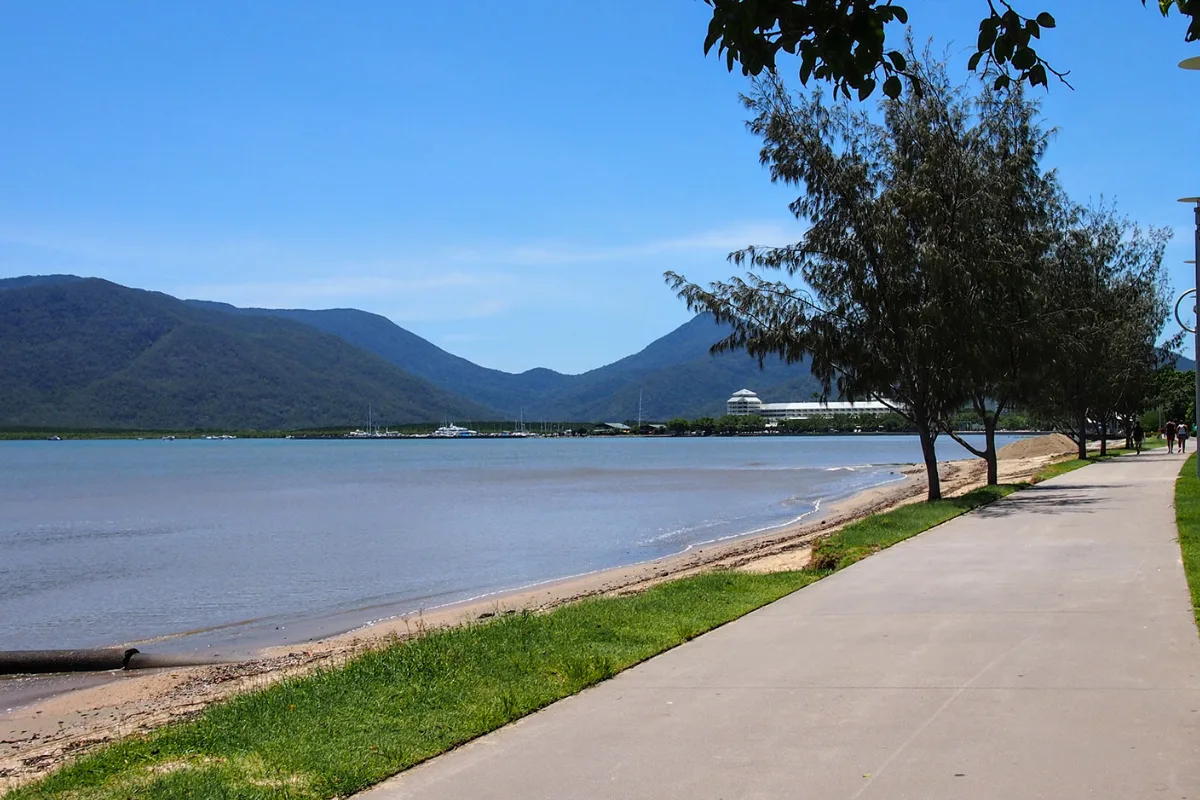 The Esplanade is a lovely place to run, walk, cycle, rollerblade, or do anything else you like to do!
So long as it's not against the law – better check that first!
The Esplanade runs the full distance of the Cairns shoreline and you should be able to spot some cool wildlife along the foreshore.
We've seen pelicans, spoonbills, and once a small crocodile.
It's dotted with play and exercise equipment and is a great place for a family walk with a buggy or stroller.
Cairns Waterfront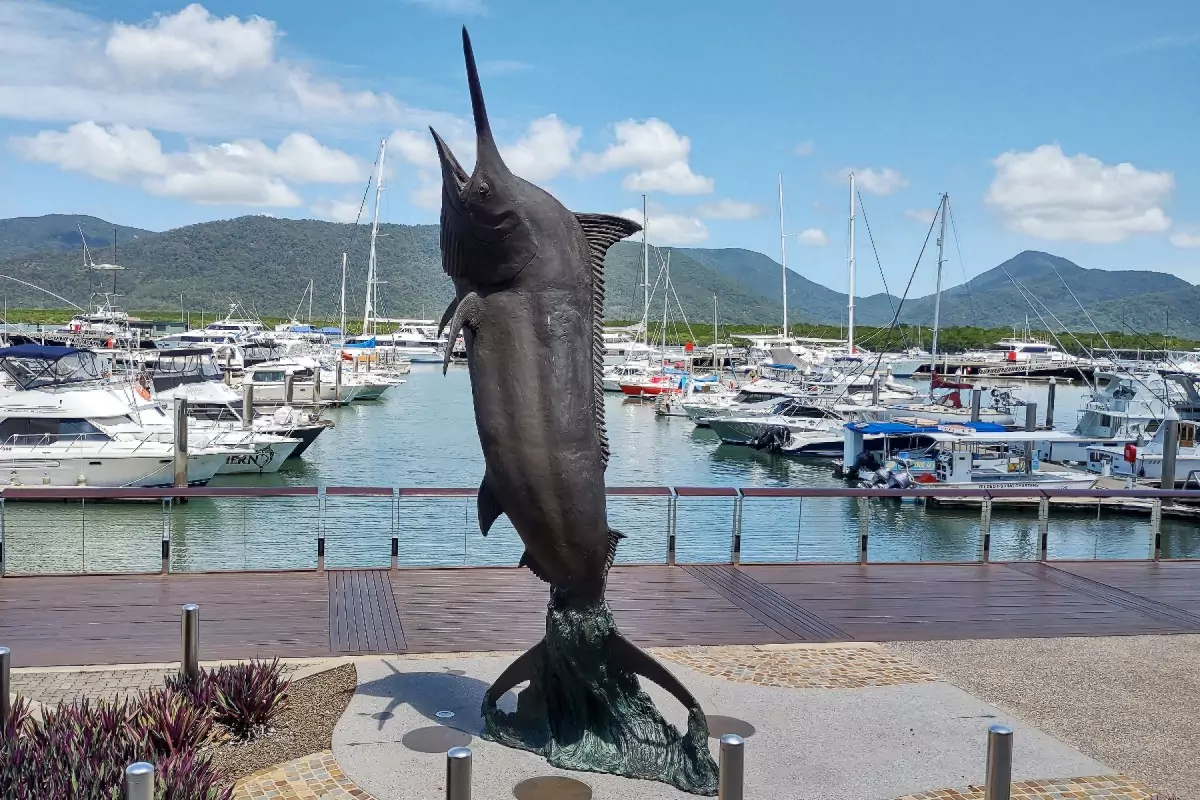 A walk along the waterfront and along the river, is a nice thing to do in the early evening.
Take advantage of the great dining options along this stretch of boardwalk.
There are boats to look at and various options for boat trips and tours to investigate.
This is where the big ferries and reef boats depart from, along with numerous smaller tours.
Maybe try your hand at crabbing or take a croc spotting tour by jetski?
This is where you'll find the famous Cairns big marlin statue. Start your walk at The Pier shopping and dining centre and walk on around to fig tree playground.
Cairns Zoom
Cairns Zoom is right in the heart of Cairns city so should be easy for you to access. We haven't been here for quite a few years now so I can't give you an up-to-date review, but we've been a few times. They have a nice little native animal zoo up there, a large crocodile and some terrifying-looking ropes activities for dare-devils.
Muddy's Playground
Muddy's is such a lovely playground for kids of just about any age.
This was a regular feature of our lives when we had younger kids. There is water play to cool off on hot days and separate areas for toddlers and older kids. The giant mudskipper fish and climbing equipment, along with the zip line, are great features.
They have all the usual facilities on-site at Muddy's and a small restaurant. This one is right on The Esplanade a little north of Cairns City Centre.
Figtree Playground
Figtree is much smaller than Muddy's but it's a nice playground come treehouse. It's on the estuary walkway and makes a good spot to break up your walk with kids. Head south and up the river from the lagoon or from the marina
Cairns Escape Rooms
Cairns is no slouch in catching up on the global proliferation of escape rooms, in fact, there are a handful in Cairns perfect for a family rainy-day thing to do. Try one of the following venues.
Cairns Escape Rooms, Lasertag and Cart Hire
Cairns Riddle Rooms
Cairns Escape Academy
Trampolining for Kids in Cairns
There is trampolining in Cairns. We haven't tested it out yet. You need to head to the Jump Mania Trampoline Park, and the good news is, it's out of the sun and has air-con. However, we've had a look at the reviews and they're not so great, so maybe do a little investigating first.
Wakeboarding
Wakeboarding is possible just north of Cairns, near Smithfield, at Cairns Wakeboarding and Cairns Cable Ski. This always looks so much fun when we drive past but we've not tried this one either. Check the Cairns Wakepark Website for details.
Go Carts
You'll see the go-kart track on the opposite side of the road near the wakeboarding centre. You'll be needing the Cairns Karthire website for admission costs and opening hours. This venue also hosts laser tag and escape room activities.
Cairns Aquarium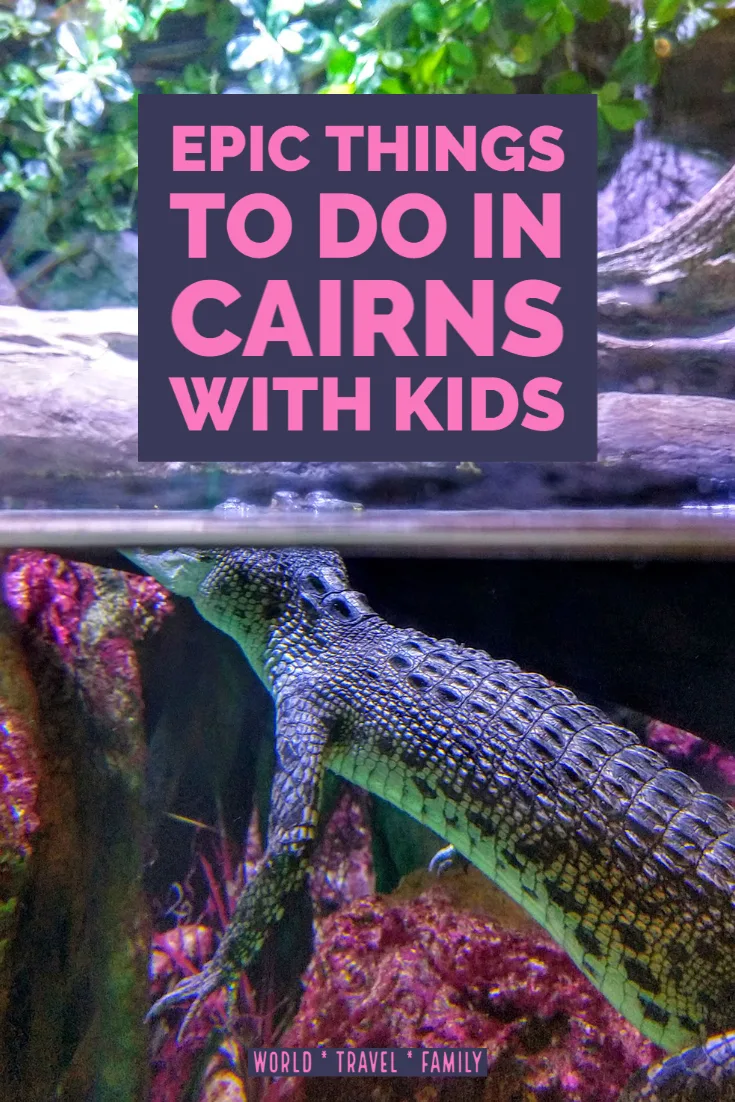 We love a good aquarium and Cairns has one. It's not the biggest in the world but it's new and modern and gloriously air-conditioned. We've visited most of the best aquariums worldwide and the Cairns aquarium did not disappoint at all. Check the Cairns Aquarium website for opening times and prices. The aquarium even offers behind-the-scenes tours. They say they are open every day of the year.
We would particularly recommend the Cairns Aquarium for a wet day activity.
Indoor Play Facilities in Cairns for Kids
Indoor play facilities come and go in Cairns and they are very welcome indeed in the heat and humidity of the wet season.
My kids grew up going to Geckos at Smithfield, now long gone. Today there is Inflatable Kingdom Indoor Sports in Cairns, perfect for parties.
Tjapukai Aboriginal Cultural Park
I'm going to mention Tjapukai, because it used to be awesome.
But, sadly, it's now closed. This is where my kids learned to throw spears and boomerangs and their grandfather got up on stage to do an Aboriginal leg wobble dance.
It used to be great, I don't know if it will ever open again.
Australian Armoury and Artillery Museum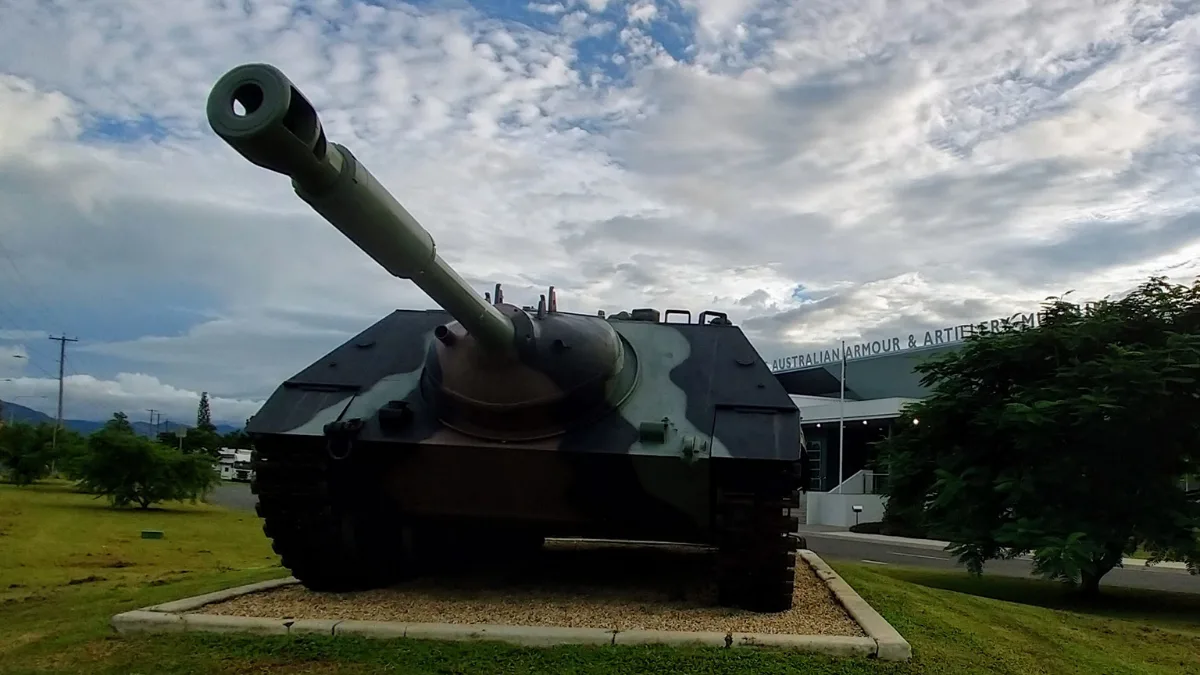 This is almost next door to Tjapukai and the departure point of the rainforest cableway.
You should be able to see military vehicles on the roadside. I have to admit, we've never been, it's just not our cup of tea, but kids like tanks and such like usually.
There is an admission fee, and, maybe surprisingly, this museum houses the largest collection of armoured vehicles and artillery in the southern hemisphere.
Expect to pay just under $30 for adults, child price at the time of writing was $16.50, under 5s free, but double-check prices and admissions at the museum website.
Kuranda Scenic Railway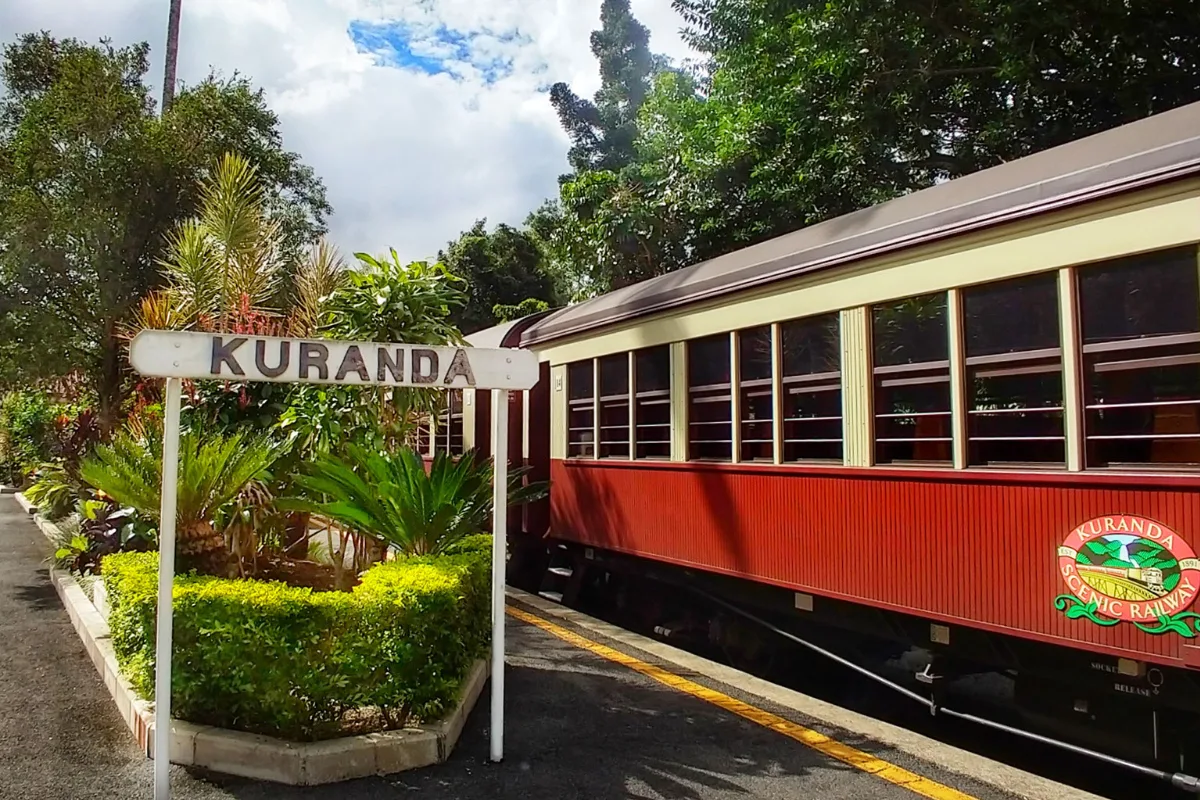 The railway connects Kuranda and Cairns and it is indeed quite scenic with great views of the Barron River waterfalls.
If you're thinking of taking your kids on this train ride be prepared for a very sedate (dare I say boring?) journey. My kids went to sleep.
This could be great if you have little ones who need a nap.
Kuranda train station is really pretty and you do get a good view of Barron falls again.
It's usual for people to go up to Kuranda on the cablecar and return to Cairns on the train. The train returns to the station at Freshwater.
Incidentally, there is a nice swimming hole and garden centre at Freshwater.
Skyrail Rainforest Cableway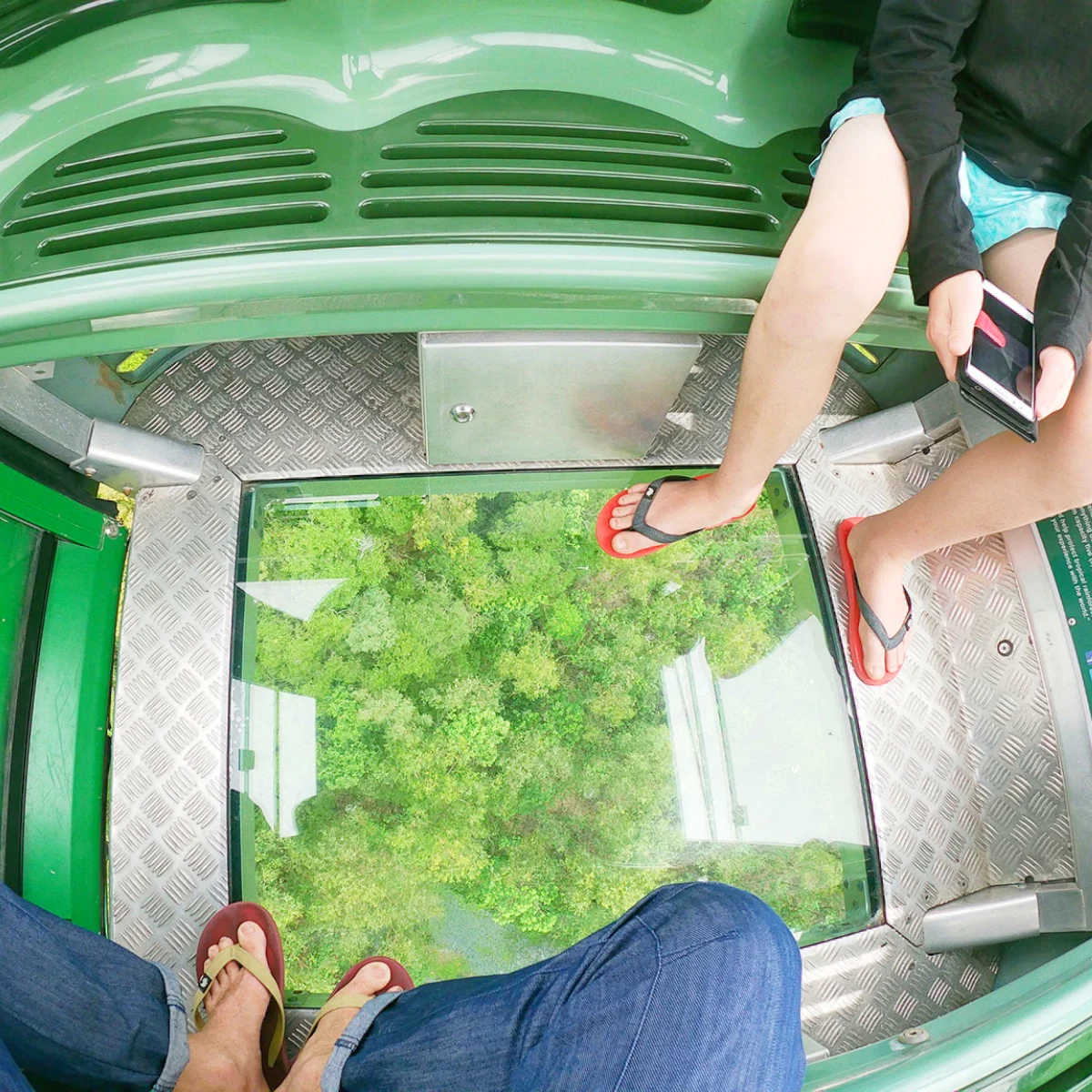 Is the Cairns Skyrail cable car ride good for kids? It depends on the child.
If they're scared of heights then no, don't take them.
My kids enjoyed the rainforest cableway, they visited for the first time as teens and tweens. They loved the thrill of the ride, the rainforest stop halfway, and seeing Barron River Falls.
After arriving in Kuranda there is loads to do with kids including butterflies, kangaroos, koalas and markets.
Younger children could possibly be scared of the cable car ride, I'm not too fond of heights myself.
In this case, hire a car and drive to Kuranda, or take the train both ways.
The ride is quite relaxing and we spotted a few kangaroos as we glided over the canopy.
The cableway is actually in two sections. At the midpoint, you can get off and take a rainforest tour on boardwalks with a ranger. We really enjoyed that part.
The next leg of the journey takes in spectacular views of the falls which, in the wet season, are pretty immense. Your journey terminates in Kuranda.
Barron River Falls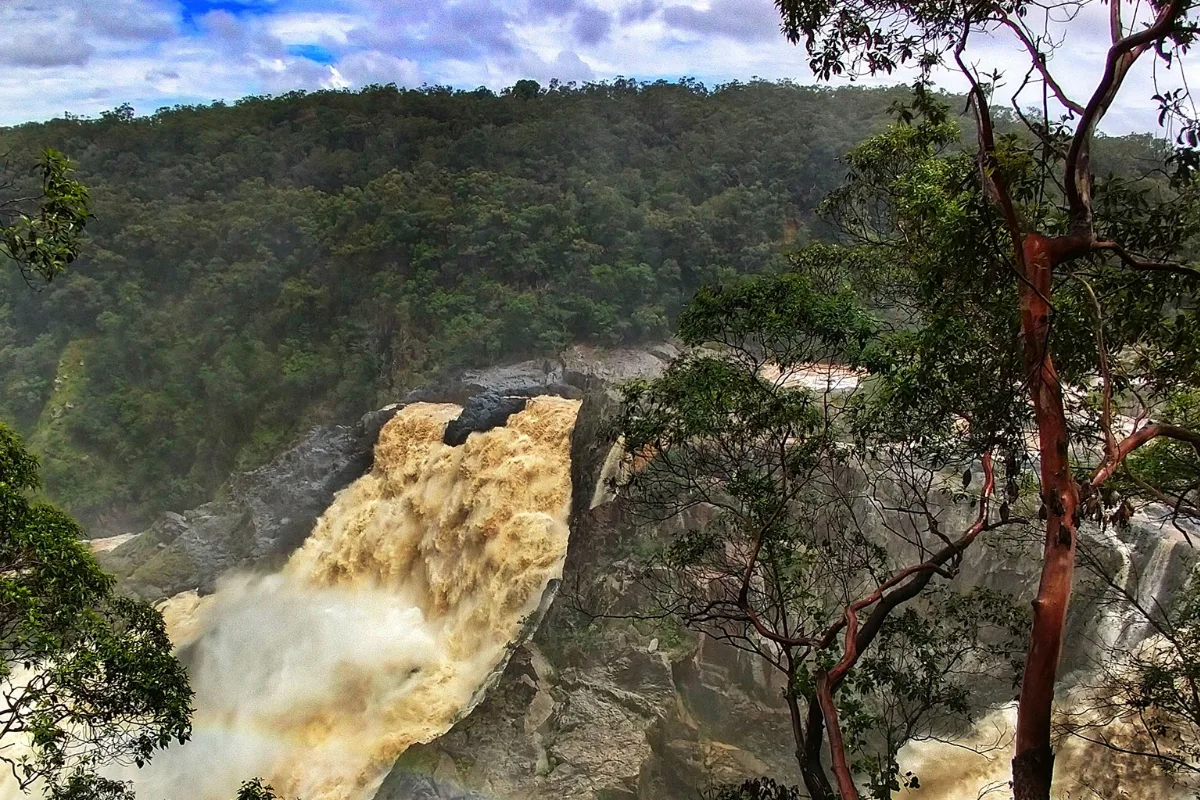 In the wet season, the Barron River Falls are really impressive to see.
There's a glass lookout at the top of the cableway or you can see the falls from the lookout in Kuranda.
Scuba Diving With Kids in and from Cairns
Young teens can learn to scuba dive and become PADI-qualified divers. My son learned to dive in Cairns when he was 14 and took his first open-water dive on the Great Barrier Reef.
This process takes a few days, but it's well worth considering if you are bringing your teens to Cairns.
We have all the information on learning to scuba dive, for kids, in Cairns, here. After completing his PADI course we were able to take him out on a three-night live-aboard dive trip from Cairns which the whole family loved.
My younger son was snorkelling, he was too young to scuba dive, he enjoyed this trip too, particularly sharks-in-the-dark. You need to see the post and watch the video!
Cattana Wetlands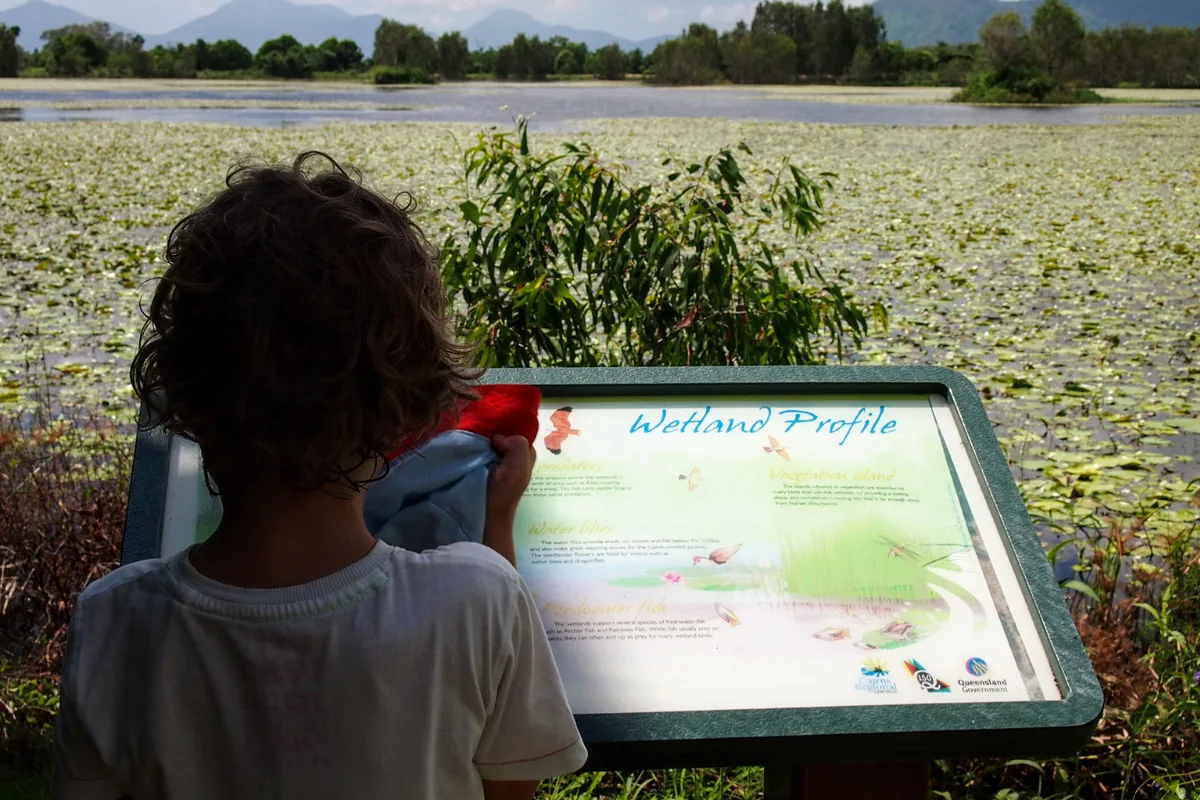 The Cattana Wetlands Environmental Park is a reclaimed cane farm and quarry, today existing as 80 hectares of nature reserve near Cairns city.
This park-land is open daily from about 6am and has a few basic facilities like WCs and picnic tables. There is a 420 m boardwalk through the wetland palm forest and various hides for bird lovers.
The park is named after the Cattana family and we took a ranger-guided walk here which was very informative. I wouldn't come here in the noon sun in the summer months, try to pick a cooler time.
Day Trips From Cairns With Kids
There are some lovely places to see and things to do near Cairns that are fun with kids and for families. Some of the best sightseeing and activities around Cairns are below. Your number 1 must be to see the Great Barrier Reef, of course, but number 2 has to be a visit to the Mossman Gorge and Daintree Rainforest.
Kuranda
The little town of Kuranda is a destination in itself. It's on top of the mountain, above Cairns, making it a touch cooler.
It's a village in the rainforest and it's been developed with tourism in mind.
There are a number of wildlife attractions, listed below, along with more than one market, cafes, galleries, and shops aimed at tourists.
You can drive to Kuranda or take the cable car/train combo. Alternatively, it features on many tours from Cairns. There are various paid wildlife attractions in Kuranda, check out the following.
Birdworld Kuranda
The Australian Venom Zoo at Kuranda
Kuranda Koala Gardens
Australian Butterfly Sanctuary at Kuranda
Rainforestation Wildlife Park
It's been a few years since we visited Rainforestation, but when the kids were little we held locals' season passes. There are quite a few attractions like this, with local wildlife and Aboriginal displays, this is a good one.
The army duck tours were always a big attraction here. A rainforest tour on an amphibious World War II army vehicle. It's a great tour, the kids always had fun. The Rainforestation Nature Park website is here.
See Wild Platypus near Cairns
The Tablelands, behind Cairns, are a great part of Australia to see will platypus and we've seen quite a few. They're really small, but there seem to be a lot of them if you go to the right places. There is a place to see platypus near Yungaburra, Tarzali Lakes is another option.
Visit a Chocolate Factory near Cairns
This is an absolute winner with kids because they get to eat as much chocolate as they can possibly cram into their mouths! The kids think it's "free" but of course, mum and dad have paid for it with their admission cost.
There is also a small chocolate and coffee museum on-site and a rather nice gift shop. Take a look at the CoffeeWorks website. CoffeeWorks is near Mareeba, approximately 60 Km from Cairns, a 1-hour drive depending on conditions.
If you're doing a tasting tour of the Tablelands, you could also visit the cheese and chocolate facility at Gallo Dairyland, and Mt Uncle Distillery Both had farm animals to entertain the kids last time we visited. Mt Uncle Distillery usually has alpaccas.
Swim in a Waterfall at Millaa Millaa from Cairns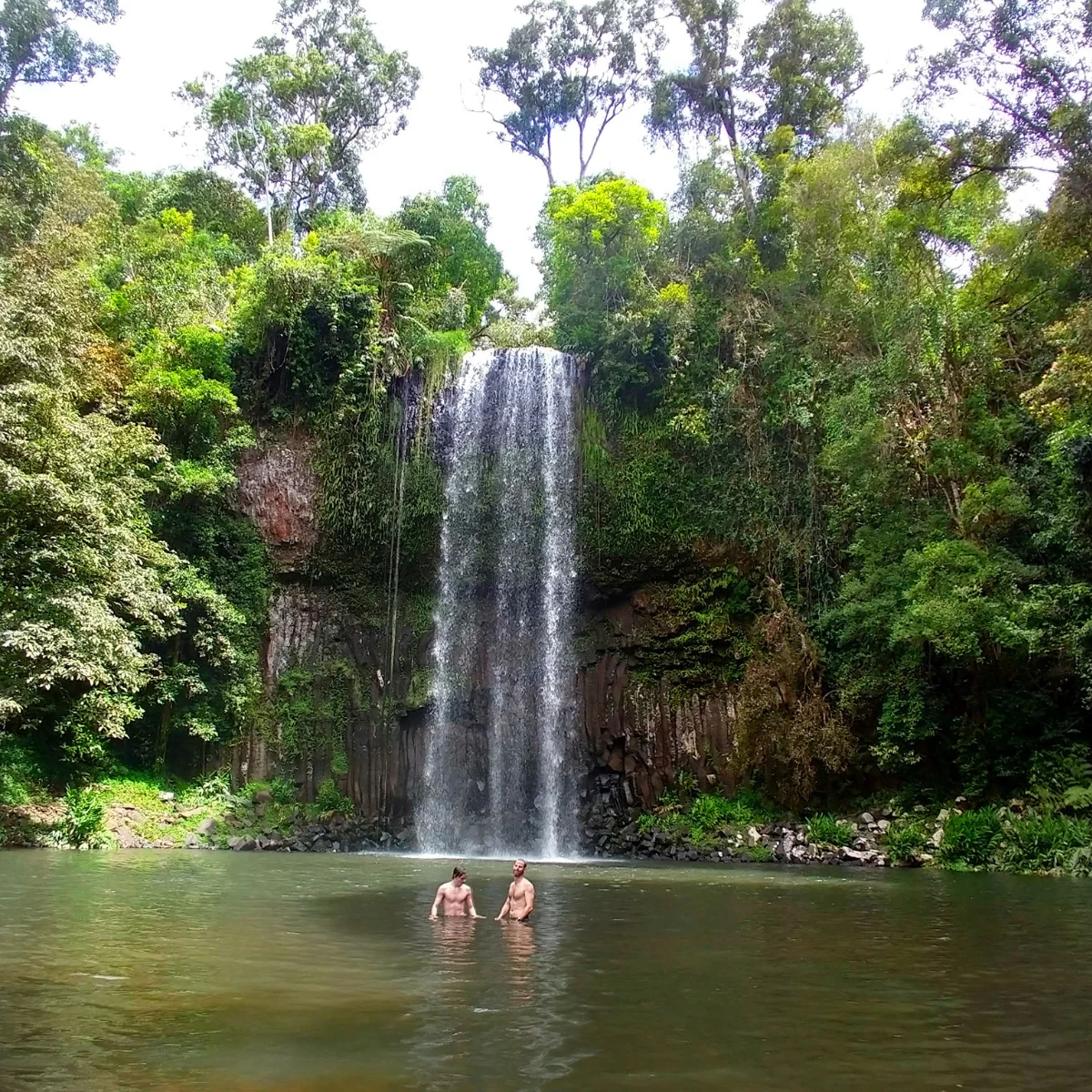 The waterfalls (there are actually several nearby) at Millaa Milla are your chance to swim out to and under a natural rainforest waterfall. It's a really pretty spot. You can take tours to Millaa Milla from Cairns, or self-drive.
Milla Milla Falls are about 98 Km from Cairns and the drive should take you roughly 1 hour 45 mins. Admission is free and there is a car park and rudimentary changing facilities on site. The water is shallow around the edges and suitable for children if supervised but be careful, the rocks can be very slippery.
There's quite a lot to see nearby if you're planning a day trip. You're not far from Ravenshoe at Millaa Millaa which is another nice spot. You can even see Paronella Park, Lake Barrine and Milla Milla on a tour from Cairns, check it out here.
Swim in a Waterfall Near Port Douglas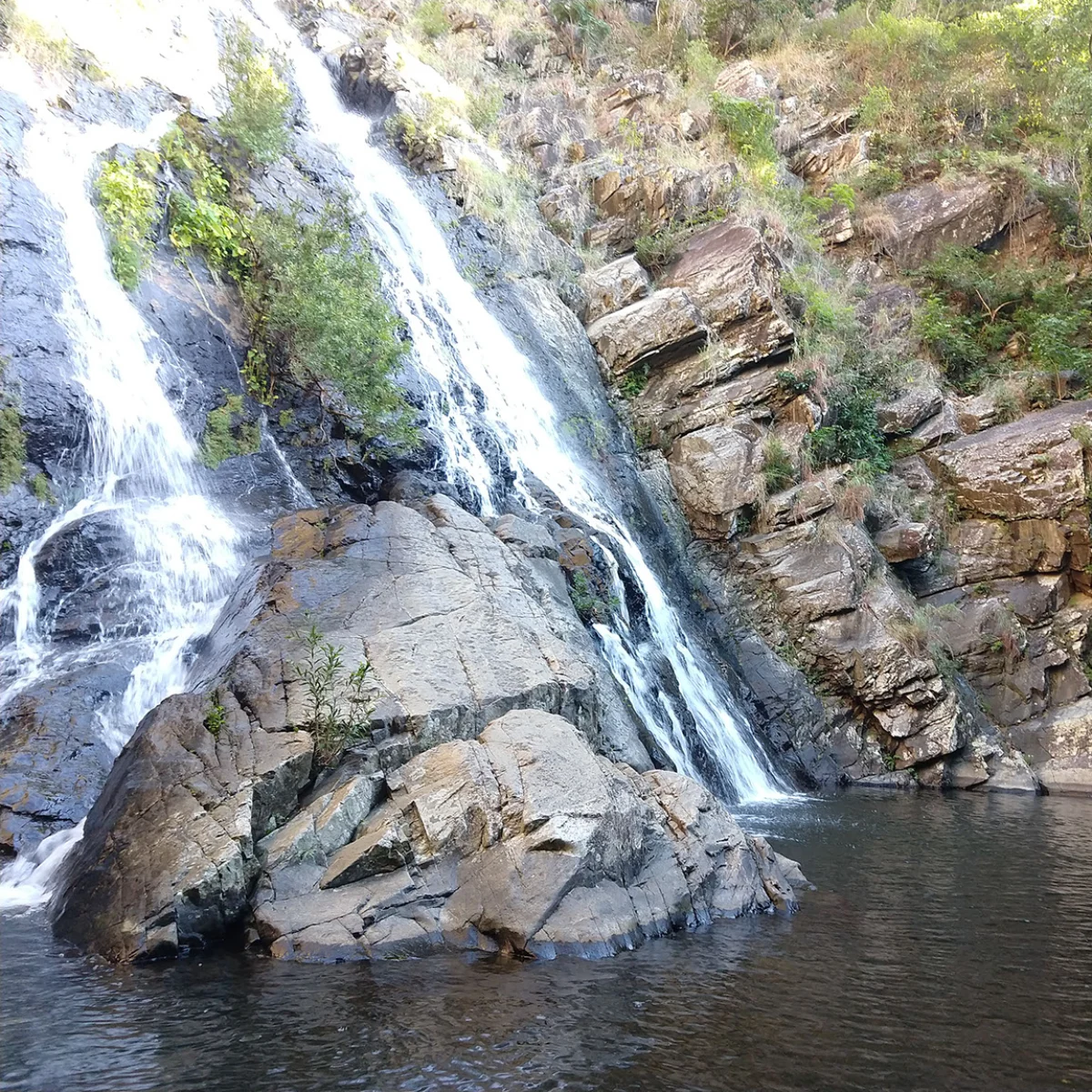 You don't have to go all the way to Millaa Milla to chase waterfalls, there are quite a few in this part of the world. Hartley's Creek Falls is between Hartley's Crocodile Adventures and Port Douglas. It's a pleasant walk to the falls and there are popular swimming holes here.
You'll need to park on the road and walk, whereas at Millaa Milla the car park is very close to the waterfall and swimming spot. The walk is about 7 km, 4.5 miles and makes a nice bushwalk. We've done this hike a few times, it's pleasant when it's not so hot and we've had the trails to ourselves in the early mornings. It's a good place to run near Cairns too, The Bump Track is another good one.
Visit The Great Barrier Reef from Cairns
This is why most people visit Cairns, to see the Great Barrier Reef. It's the ultimate day trip and is suitable for kids. Probably the most child-friendly day trip to the reef from Cairns is this one, with a pontoon and water slides for you to enjoy.
Non-swimmers can and do visit the great barrier reef, most boats and pontons provide floatations devices, read the fine print, some may charge. If it's cold they'll usually give you a wet suit, in stinger season (summer) a stinger suit.
Other than the pontoon based reef excursion we mention above, there are also smaller boat optios, such as this one.
If you'd like to snorkel off a beach, you can do that from Green Island, check that out here. These daytrips normally include a glass bottom boat ride which most kids love.
You can also visit the reef from Port Douglas of course, but this post is on things to do in Cairns with kids, so we won't complicate things by mentioning all the Port Douglas options.
Yes, you can snorkel on the Great Barrier Reef with kids. My kids have been going out there from the age of about 3 with no issues at all, it's a great family-friendly day out and works for kids of most ages. My teenagers still enjoy a day out on the reef.
There are plenty of options from Cairns, including various islands (Green Island), pontoons, and boats. You can take glass-bottomed boat tours and sea walking is possible with some operators.
Mossman Gorge from Cairns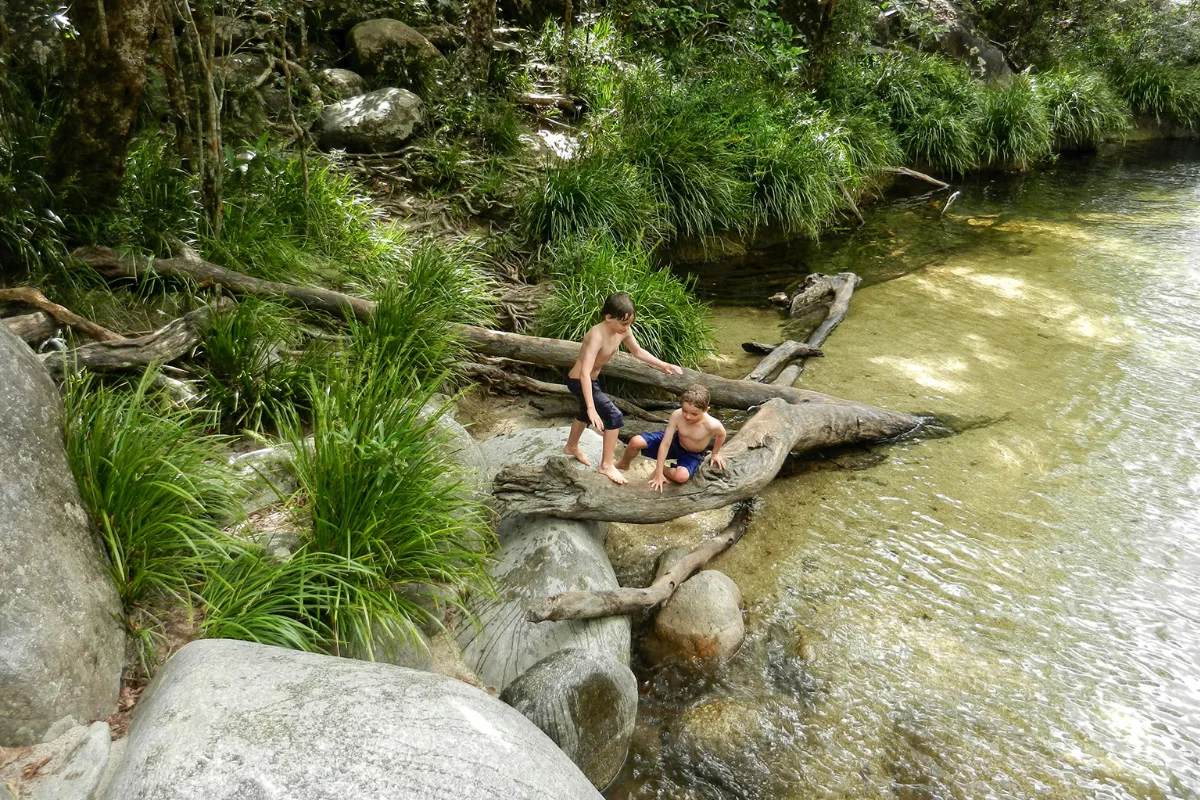 If you want to walk in a rainforest and discover a crystal clear, freezing, rainforest stream, head to Mossman Gorge, part of the Daintree National Park.
We have a post on how to visit the Daintree from Cairns, by car or by tour.
It's a beautiful spot where you can stroll under the rainforest canopy on (fairly) newly constructed boardwalks. You should be OK here with a buggy or stroller.
As you can see from the photo we used to take our kids swimming here all the time, but there have been accidents and fatalities.
There are now "no swimming" signs at the gorge. So you probably shouldn't swim.
Mossman Gorge is accessed from Mossman, which is a small town about 12 Km north of Port Douglas. To drive here from Cairns should take you just over an hour.
You can drive along the coast, or head up to Kuranda from Cairns and drive along the range before dropping back down to the coast between Port Douglas and Mossman.
If you don't have your own vehicle, book a tour.
This tour combines Mossman Gorge and the Daintree Rainforest. Tour guides really are the way to get the most out of all of our natural attractions up here. You will see, and learn, so much more with a guide. However, with small children, you might not want this option and renting your own vehicle would be better.
Paronella Park from Cairns
Paronella Park is a stately home, of sorts, built by a Spaniard in the rainforest south of Cairns. It's possible to visit Paronella Park as a daytrip from Cairns. This tour combines Paronella Park with Lake Barrine and Milla Milla Falls..
Take a Crocodile Spotting Cruise
You can take a river safari from Cairns, but we think you'd be better heading north to see wildlife, including saltwater crocodiles
You can take a croc-spotting cruise from Port Douglas superyacht marina, or from Daintree Village. Both are good, we prefer the Port Douglas option because the Lady Douglas is such a beautiful boat. But do try to visit Daintree Village too. We have plenty of crocodiles in and around Port Douglas, you may be able to see crocodiles in the wild without even taking a tour.
To see the Daintree rainforest itself, you'll need to cross the Daintree River, you can't see it from Daintree Village, which is on the south side of the river.
There is a ferry which transports vehicles to the Daintree, Cape Tribulation side, there is a small fee.
If you don't want to see crocodiles in the wild you can visit Hartley's Crocodile Adventures. Maybe try their Breakfast With The Koalas attraction, that's a great school holiday treat.
They put on some entertaining crocodile feeding shows. This place is actually a crocodile farm, this could be your chance to taste a crocodile pie.
Visit Port Douglas from Cairns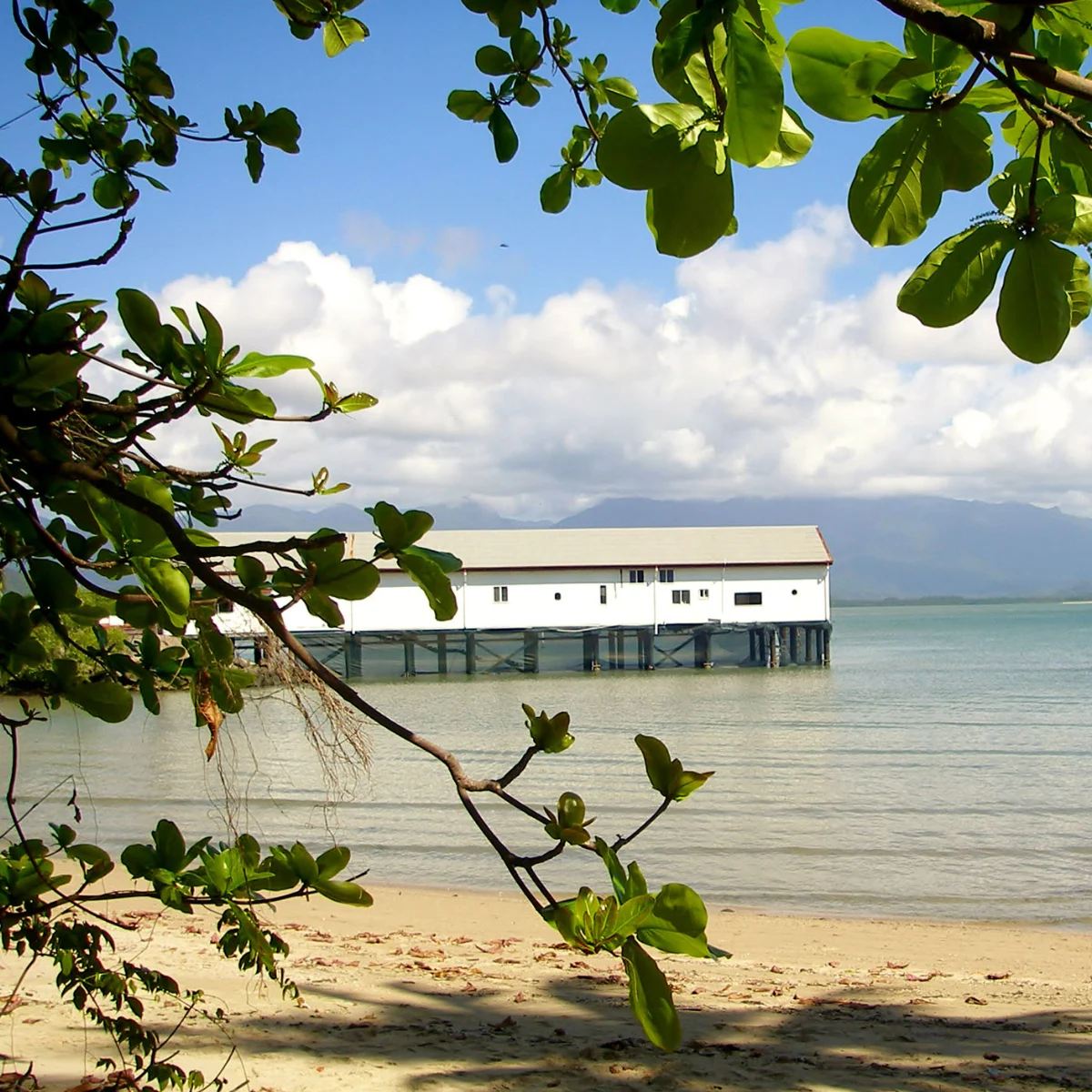 Port Douglas is about an hour north of Cairns by road. It's where we live, so, yes, we recommend it!
If you can, visit Port Douglas on Sunday morning for the market. Port Douglas markets is great for buying jewellery, crafts, and trinkets under shady palm trees, with stunning views of the sugar wharf and inlet.
Maybe get a bite to eat at one of the food vans there before heading to Four Mile Beach.
I won't list all the things to do in Port Douglas here, you can take a look at our content for that separately. You can do most of these things whether you choose to stay in Port Douglas or Cairns.
The Wildlife Habitat in Port Douglas is currently building a new crocodile exhibit, (its now open) when that opens we'll be first in line! They're planning something similar to the crocodile tank in Darwin, which we visited while touring some of the best places in the Northern Territory. We're super excited that this is coming to Port Douglas! You can take a crocodile spotting tour from Port Douglas marina, or from Daintree village.
You can visit the Outer Reef from Port Douglas and it's closer to Port than from Cairns. The Outer Reef is spectacular but, if you have time, I would also suggest seeing the fringing reef on Low Isles. Low Isles are just off the coast of Port Douglas and you can take a half-day snorkelling trip there. and visit the sandy island. It's interesting to compare the outer reef and the reef at Low Isles, both are good, in different ways. We have a full post on visiting the Great Barrier Reef (and Low Isles) from Port Douglas. Low Isles also offers glass-bottom boat tours. It's a great place to see young sharks.
In Stinger Season there is a stinger net at Four Mile Beach outside the lifeguard station. There are several beaches with stinger nets between Cairns and Port Douglas.
Visit Daintree Village From Cairns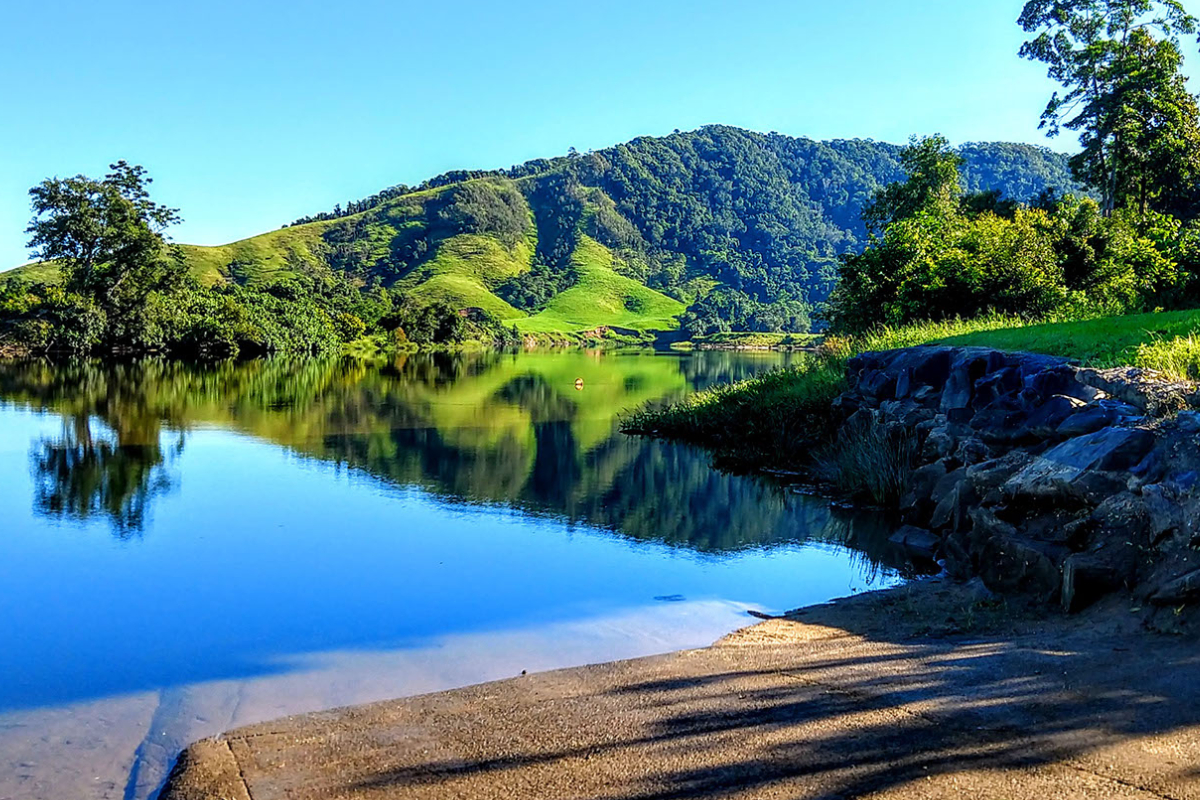 Daintree Village is home to one of Australia's famous "big things". In Daintree Village you will find the "big barra" a fairly large silver barramundi ideal for a photo stop.
Daintree Village is otherwise a scenic spot with a handful of small shops and cafes, it's not a must-see, but it's a pleasant place. There are quite a few crocodile spotting boat trips that depart from here along the Daintree River.
Your best chance of seeing crocodiles is at low tide during hotter times of the year, when it's cool the crocs tend to stay in the water more. We used to bring the kids here for a picnic and a run around on the grass.
Visit the Daintree Rainforest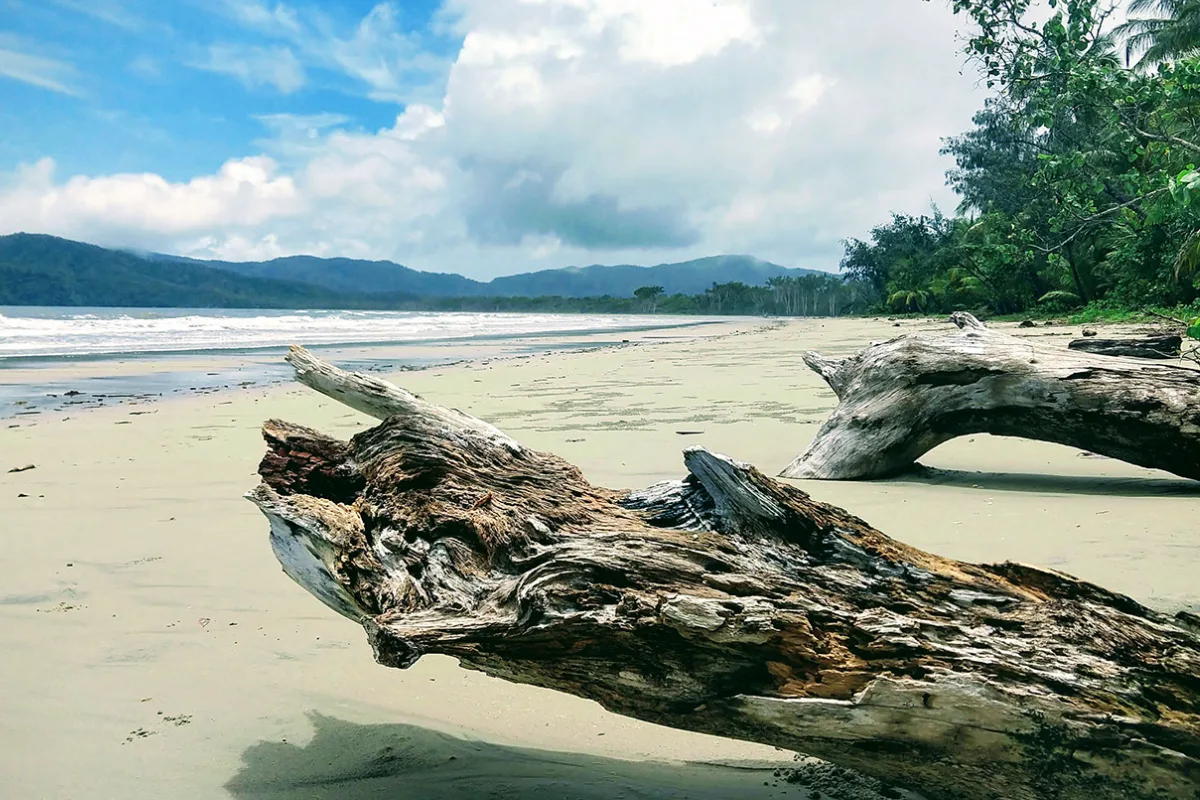 The Daintree Rainforest lies on the other side of the Daintree river and to get there you have to take an old-school cable ferry. If you have your own car, no problem, you can drive to the Daintree. If not, consider booking a guided tour, this is a much more fun way to see the Daintree.
There are beaches to explore and walkways to take. Also, be sure to check out the tropical ice cream available at the tropical fruit orchard and ice creamery.
For the fearless, there is a ropes course and ziplining facility in the Daintree. Take a look here.
Cow Bay is a nice beach for a walk, as is Thornton Beach. There's a cafe at Thornton Beach, with toilets. The Daintree Discovery Centre is great for kids, with plenty of interactive educational displays and a canopy viewing tower, it also has a small cafe.
Don't think of going near the water's edge or swimming up here, the resident crocodiles don't like it.
Cairns vs The Northern Beaches vs Palm Cove vs Port Douglas – Family Holiday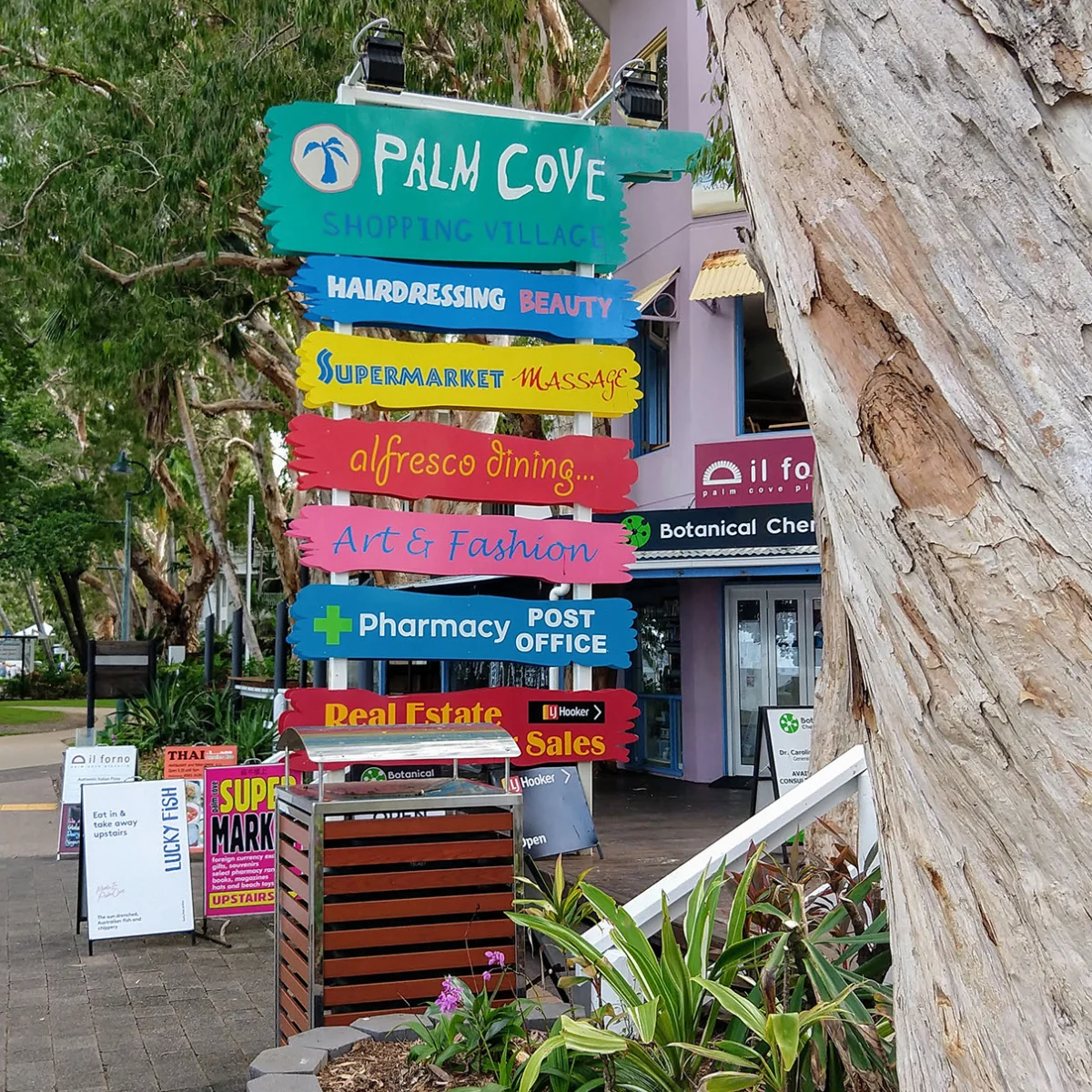 All of the "things to do" for Cairns, Port Douglas, and Palm Cove can be done from any of these three Far North Queensland destinations. Your style of holiday and style of accommodation should decide which of the three is for you.
Cairns is a busy city, with somewhat cheaper accommodation, plenty of fast food and easy access to plenty of attractions. Port Douglas has more of a village feel, is somewhat more exclusive and upmarket, and is easy and pleasant to stroll at night as you look for a restaurant. Palm Cove is small, but here you'll find almost beach-front accommodation. All 3 are good options, depending on you.
Port Douglas and Palm Cove have the best beaches for a family, Cairns is on an estuary, but does have that lovely free lagoon pool to enjoy. Port Douglas and Palm Cove don't have anything like this as yet, but a Surf Park is being built just outside Port Douglas.
Cairns International Airport is to the north of Cairns city, you'll need to travel south by road to Cairns itself. Port Douglas is about an hour to the north and in between, there are a string of beaches, with Palm Cove being quite a major holiday accommodation spot just to the north of Cairns.
If you'd like to stay more-or-less on a beach, pick Palm Cove. There are plenty of restaurants and coffee shops in Palm Cove too, and a few small shops. The jetty at Palm Cove is popular for fishing.
Port Douglas is a separate, stand-alone resort town, it's more up-market than Cairns. Cairns is a big city. Port Douglas has more of a village feel with a few shops, mostly for tourists, a small Coles, and an IGA.
Reef boats depart Port Douglas Marina daily, as they do from Cairns Marina. Trips to the reef run year-round and are only cancelled in the event of very bad weather, which is rare.
Shopping in Cairns For Family/ Kids Needs
Cairns has a reasonable-sized shopping mall within walking distance of the centre of town. If you need anything for your kids, such as swimwear or pool toys, you'll likely find what you need at Cairns Central.
There are branches of the usual Australian shops here. You'll also find a cinema and food court along with some child-friendly amusements.
Cairns city centre also has an abundance of smaller shops, mostly aimed at tourists. There is also a night market near the waterfront.
If you're self-catering there are several supermarkets and convenience stores, if you can, try to get to Rusty's Market for fresh tropical produce at great prices. For the cheapest fruit and veg, visit just before the market closes for the week, you'll see big discounts on food.
Where to Stay in Cairns with Kids?
If you're going to stay in Cairns itself, find somewhere central. If you're not close to the town centre, esplanade and boats, you may find yourself spending a lot of time and money on taxis. Alternatively, stay a little further north at Palm Cove. This small beach area has a lovely relaxed vibe and, a beach.
Central Cairns is on an estuary, there's no beach as such near the CBD. However, central Cairns does have that wonderful lagoon pool and many excellent playgrounds for some kid-friendly family fun. Muddies playground even has water play to cool your little ones off in the tropical heat.
There are several beaches to the north of Cairns (The Northern Beaches), through to Four Mile Beach in Port Douglas, and you can visit one of the islands off Cairns for sandy fun. You can even stay overnight on Green Island if you like.
The best places to stay in Cairns with kids and for families include the following hotels, resorts and apartments.
If you're looking for a hotel with a kids club, as is typical in resort hotels in Asia or Europe, these are quite hard to find in Australia. I couldn't find any hotels in Cairns, Palm Cove or Port Douglas that list kids' clubs as a facility. However, some large hotels do offer some kids' activities when there are a large number of families staying, such as during school holidays and at Christmas. As we've stayed in and worked at hotels that do this, we're reluctant to recommend them for this service. Babysitting is far more common in hotels in Cairns and North Queensland.
Dangers of Visiting Cairns with Kids
You need to be aware that in the tropical north we have things that try to kill you. I've never seen a redback, funnel web or a taipan, but we have marine stingers at certain times of year, crocodiles, and stinging tree. We see tree snakes and pythons fairly often, they're pretty harmless although pythons can bite.
We also can have cyclones in the wet season and sharks out at sea. We love sharks! The sun is fierce too, with extreme UV levels. Bring a hat. That said, my kids have made it out alive, I'm pretty sure yours will too.
Getting Around Cairns as a Family / With Kids
If you're arriving by air at Cairns International Airport, you'll most likely hire a car, grab a taxi, or find a shuttle bus. All are good options. Car hire has gone up in price significantly since the pandemic, prices are astronomical and many car hire businesses have ceased trading. Those that still exist have a monopoly and demand outstrips supply. They can name their price.
We would suggest, the many private shuttle buses and tours as a better option than hiring a car. There is public transport in Cairns (not in Port Douglas so much) but it's not very convenient. We find that for four people a taxi is cheaper, but for three or less, a shuttle bus with per-person pricing works out more economical. We have a post on travelling between Cairns and Port Douglas.
This region of Far North Queensland is working hard on becoming cycle-friendly, new cycle paths are being built to connect Cairns, the Northern Beaches, Port Douglas, and Mossman. We don't own a car, we use bicycles, but cycling in Port Douglas is very different to cycling in Cairns or on the highway. When the bike paths are completed it will be a great adventure to cycle that route.
Costs in Cairns For a Family Holiday
Cairns is not cheap, but Australia as a whole is not cheap. If you live in Australia, I'm sure you'll find prices fairly normal. For international visitors, we think prices are fairly comparable with Singapore, the most expensive (we think) country we've ever visited. Cairns is probably a little cheaper than Port Douglas, but not significantly so.
The problem with taking a family vacation in Cairns is that most of the attractions and activities we mention in this post have hefty price tags. We pay in the region of $800 – $1000 (Au) for a day snorkelling on the Great Barrier Reef, for instance.
For many this is a once-in-a-lifetime experience, so people don't flinch at the cost. Bear in mind that the reef is quite a long way off the coast and marine fuel, insurance, boat maintenance and so on, does cost a lot.
As locals, we normally get a small discount on these big-ticket attractions. Your accommodation will also be expensive, sorry about that. Time of year will affect the price, of course, avoid Christmas and school holidays to save money on your Queensland holiday.
Enjoy Cairns With Your Family!
Cairns makes a great holiday destination for families and it was actually where we chose to live in Australia after touring the country as young backpackers over 20 years ago. Chance and employment saw us settling in Port Douglas, where we lived with kids from babies to teens.
It's always pretty warm up here and it's possible to visit all year round. We do have some very heavy rain in the wet season but you could be lucky and not see more than an afternoon downpour. In winter the weather (the summer months of the northern hemisphere) is just lovely, with things cooling down from about May. Living in the tropics has its pros and cons, super curly hair could be either depending on your point of view!
Cairns with kids is easy and quite affordable, there are endless things to do in and around Cairns with kids and there are some very kid-friendly trips to the Great Barrier Reef and into the Daintree Rainforest. Cairns is a great family holiday destination and usually cheaper overall than Port Douglas.
As far as family-friendly and "with kids" destinations go, Cairns is a winner, there are hundreds of things to do and see that kids will love. I probably haven't managed to list half of them. My biggest tip for travel with kids (which we did, full-time, for 7 years) is to make time to do the things they enjoy. So if that means hanging out in a playground or watching a movie, do that. Some of the big days out in Cairns are very full-on for little ones, so try to fit in a well-timed nap in a stroller or pram. Hopefully, you've found things to do with your kids in Cairns. We strongly suggest you book these tours and activities in advance. You can see a full list of booking options here, this is the site we use ourselves and trust to book all over the world.
If you'd like to hire a car during your stay, use this car rental comparison tool to find the best deal!

We also suggest you take a look at this company to get a quote for all kinds of the more tricky adventure or extended travel insurance.

Try Stayz / VRBO for an alternative way to find rentals on homes/apartments/condos in any country!