This post may contain affiliate links.
Port Douglas Queensland Australia is a beautiful, up-market resort town with easy access to the Great Barrier Reef and Daintree Rainforest. It's a dream destination for families with kids with many safe, beautiful, outdoor things to do. We've called it home since our kids were toddlers, babies really. If you've not had a chance to visit Port Douglas with your family you need to put that right. A look at things to do in Port Douglas with kids, of any age, but with a little special focus on the small kids. My two are teens now, so we can give you plenty of information on the town we sometimes call home.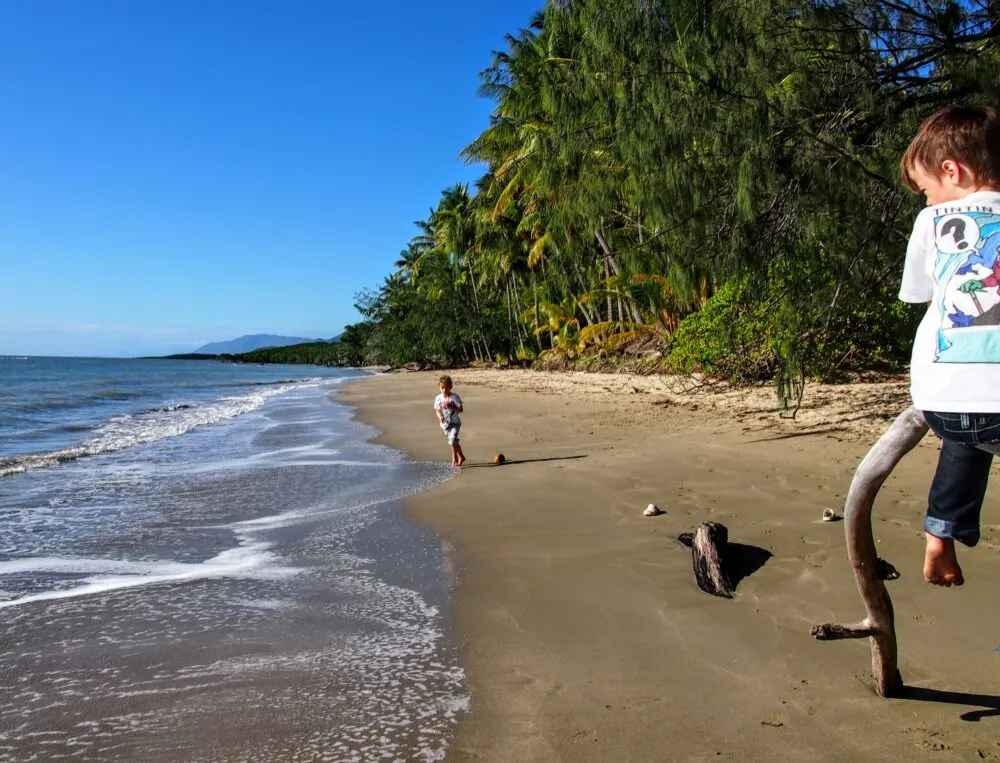 Port Douglas With Kids
This resort town is very family-centred and you'll have no trouble finding things to do in Port Douglas with kids. We'll list a few below as well as talk about practicalities and safety of adventure activities, like snorkelling on the Great Barrier Reef, with even small kids.
Probably the best place to stay with kids in Port Douglas is The Sheraton Mirage, photo below. It's a popular choice with families and has an incredible lagoon pool with sand, plus family rooms. It's quite close to Macrossan Street and is right behind the beach, check out The Sheraton here.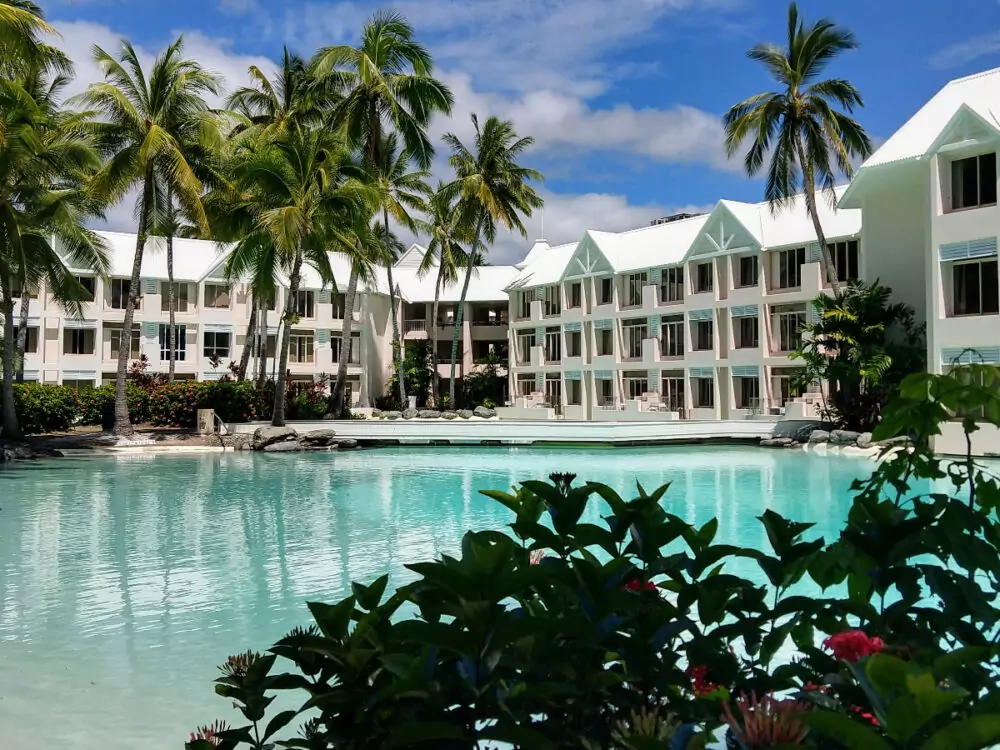 Now let's get onto things to do in Port Douglas with kids, food, and more.
If you'd like to sign up for our Port Douglas news letter, we give you restaurant guides and things to do nearby, you can do that below. We love helping people plan their trips to Port Douglas and you can always comment with questions, or talk to us direct.
Visit The Great Barrier Reef From Port Douglas With Kids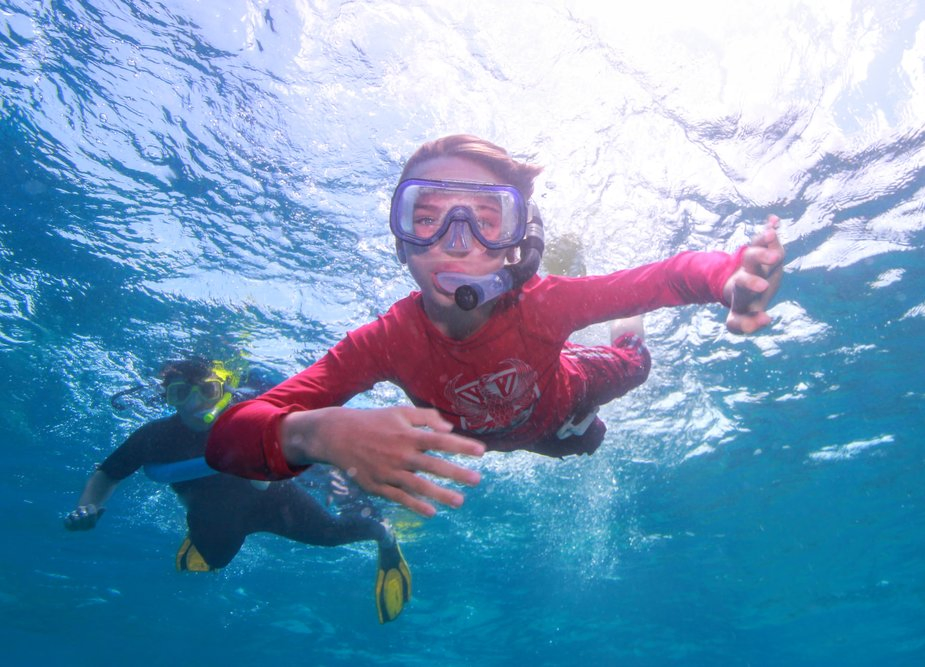 This has to be the number one thing to do up here and yes, you can take kids to the outer reef and Low Isles. Kids are normally cheaper but this is an expensive day out and a once-in-a-lifetime bucket-list experience.
I've been taking my kids since they were about three or four years old and they still love a trip to the reef today as teens and tweens.
Obviously parents will have to be on their guard but it is possible to enjoy the reef as a family.
Take a look at our post on Snorkelling on the Great Barrier Reef or this one on Booking Great Barrier Reef tours from Port Douglas. If you're in Port Douglas this school holidays you might meet my husband (we call him Chef and he's great with young passengers), he's crewing on one of the reef boats and will take great care of you!
---
Book A Family Full Day on The Reef With Calypso Reef Cruises Here
---
See Crocodiles in The Wild With Kids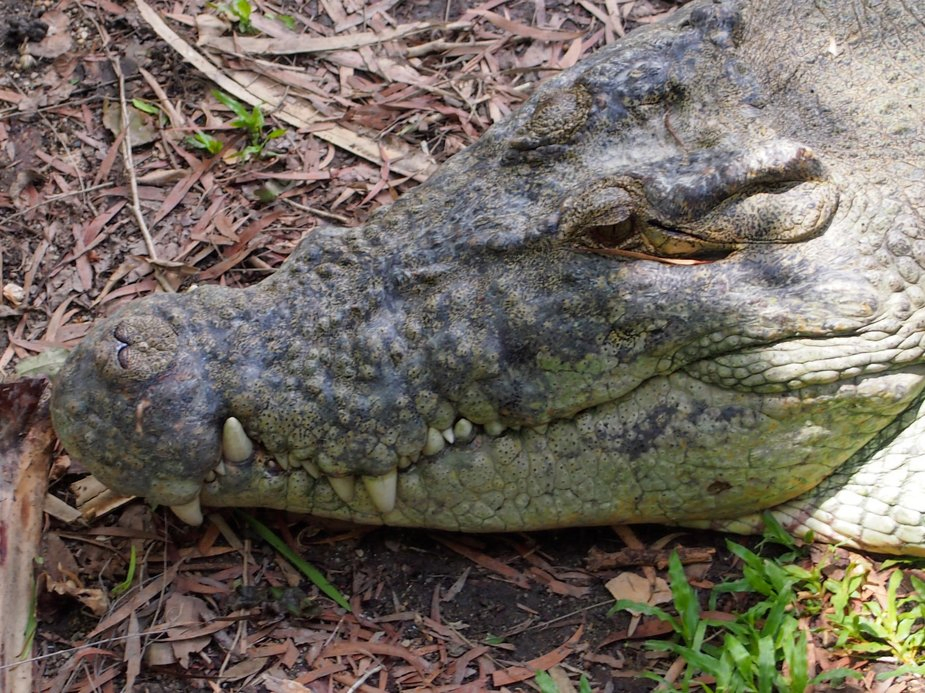 We have wild crocodiles up here in Far North Queensland and yes, you stand a good chance of seeing them. I'm sure your kids will love the Lady Douglas River Cruise which departs Port Douglas Marina.
You'll also find crocodile spotting tours departing from Daintree Village. The Daintree River, north of Port Douglas, has plenty of crocs. If you're taking a look at the boats in the marina, which most kids will love, be aware that there are crocs in the area, you don't want your kids falling in!
Take a Lady Douglas Cruise with Kids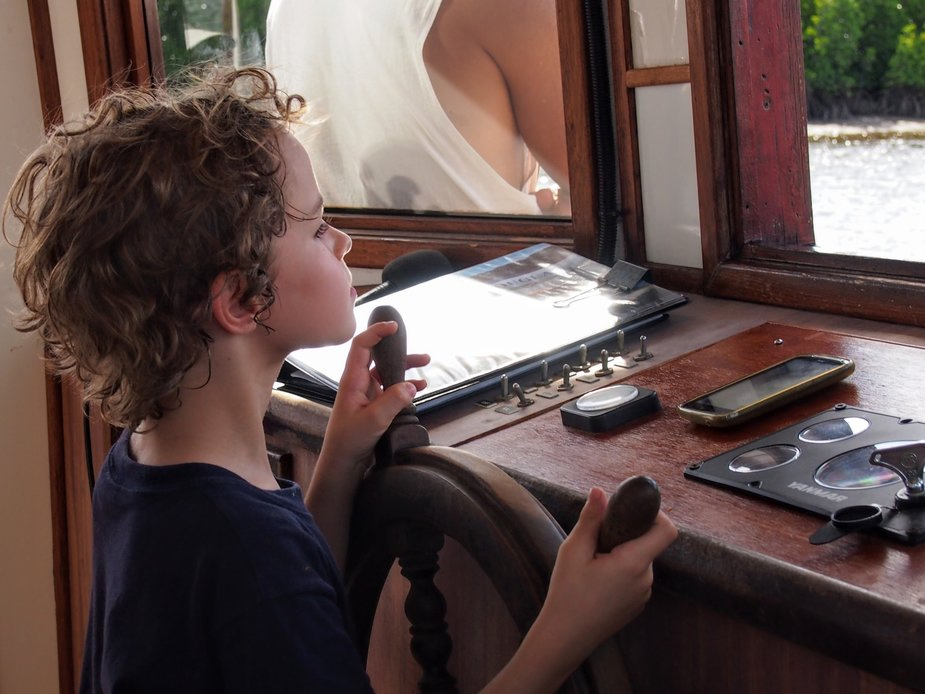 As if seeing crocodiles and throwing food to sea eagles isn't enough excitement for kids, it used to be common for any kids on board the Lady Douglas to drive the boat for a while.
I don't know if the new owners still allow this, but I hope they do. The Lady Douglas is a lovely, relaxed river cruise up The Inlet. It's something the whole family can enjoy and as far as I know, Lady Douglas is the only croc spotting boat operating out of Port Douglas marina.
A Kid-Friendly Day Trip To Kuranda, By Scenic Train and Cable Car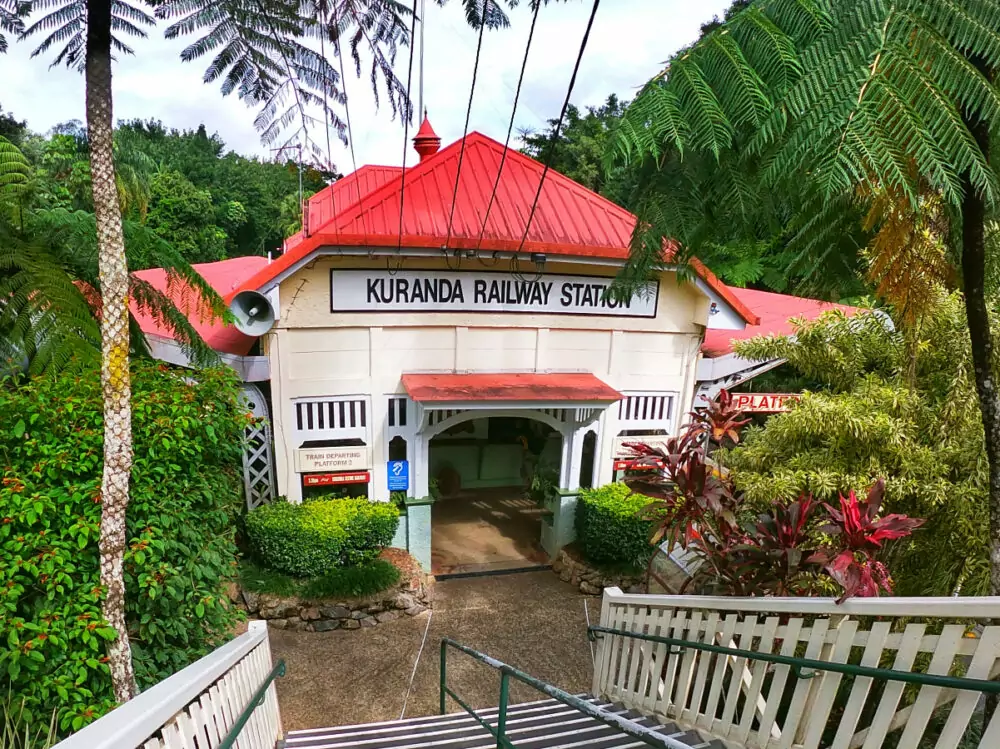 The classic day out is to travel to Kuranda by cablecar, explore Kuranda's markets, shops, butterfly, bird and wildlife parks, and then return to the coastal lowlands by scenic railway.
This is your chance to see the giant Cairns birdwing butterfly and the iridescent blue Ulysses. After that, get a photo of the kids with parrots on their heads and pet a few kangaroos.
The cable car ride normally includes a stop in the rainforest with a short guided ranger tour, plus the chance to see Barron River Falls from the new viewing platform.
The falls are most spectacular after rain.
It's easy to arrange this trip from Port Douglas, making this a great family day out. Be ready to spoil your kids with some of the sweet goodies on sale in Kuranda.
We go just for the taffy.
---
Book Your Kuranda Excursion Here
---
Take a Family Trip to The Mossman Gorge, Cape Tribulation and Daintree Rainforest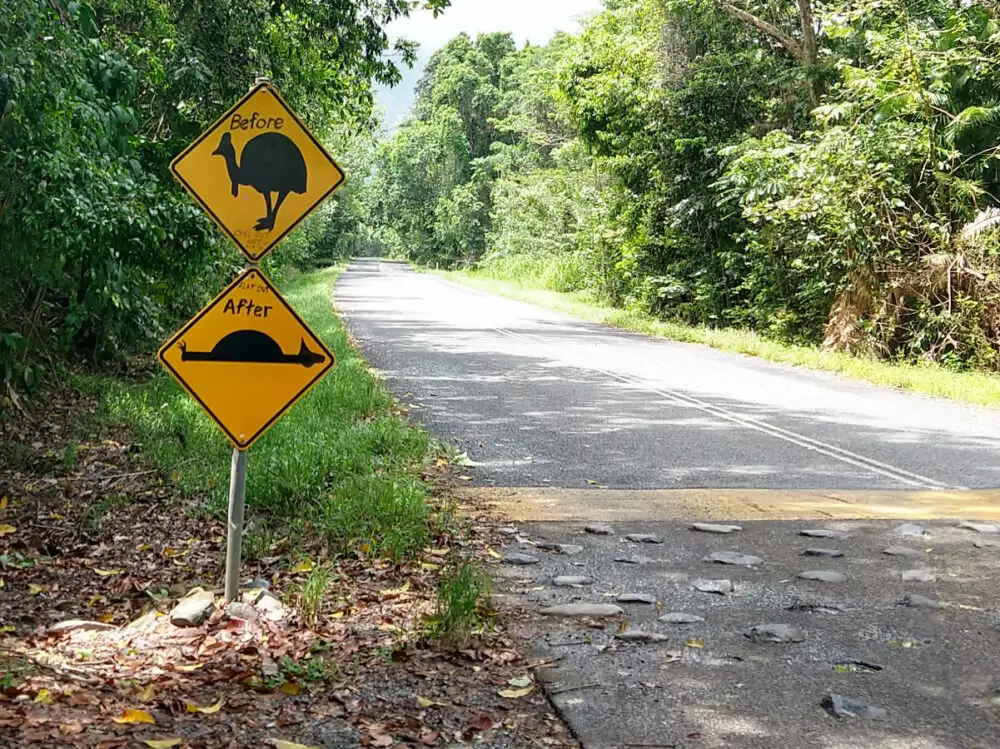 The best way to see Mossman Gorge, Cape Tribulation, and the Daintree, is to book an organised tour. Most of these will pick you up from your local hotel, fill you full of fun and information, and bring you home in time for dinner.
These are hugely popular and availability is limited, so book your trip to avoid disappointment.
Your kids can visit sacred Aboriginal lands, learn about the Kuku Yalanji people, marvel at giant fan palms in a Jurassic-World-type setting, and have a good run around on the boardwalks.
---
Book a Day Trip From Port Douglas, Palm Cove or Cairns, To Mossman Gorge, Daintree and Cape Tribulation, Here
---
River Drift Snorkelling in The Daintree With Kids
This is a fairly new activity in Port Douglas and it's proving very popular with visitors. River snorkelling, the waters are usually crystal clear but in winter they'll be cold!
This one isn't suitable for very young kids, just check, but I believe you can take kids over 3 years old.
You will have a guide and a wetsuit. You have a chance of seeing platypus and turtles, and should certainly see fish.
---
Book Your River Drift Snorkel Tour Here
---
Playgrounds for Kids in Port Douglas
Port Douglas is awash with playgrounds! You'll find two nice ones at Rex Smeal Park and the Sunday market grounds. There is another at the Surf Club restaurant just behind the beach.
These three would be most used by tourists but there are a lot more, in residential areas and behind Four Mile Beach right along its length. Most have free barbecue facilities, drinking water on tap and toilets nearby. You'll also find a public basketball area at Four Mile.
See Sea Turtles at Low Isles With Kids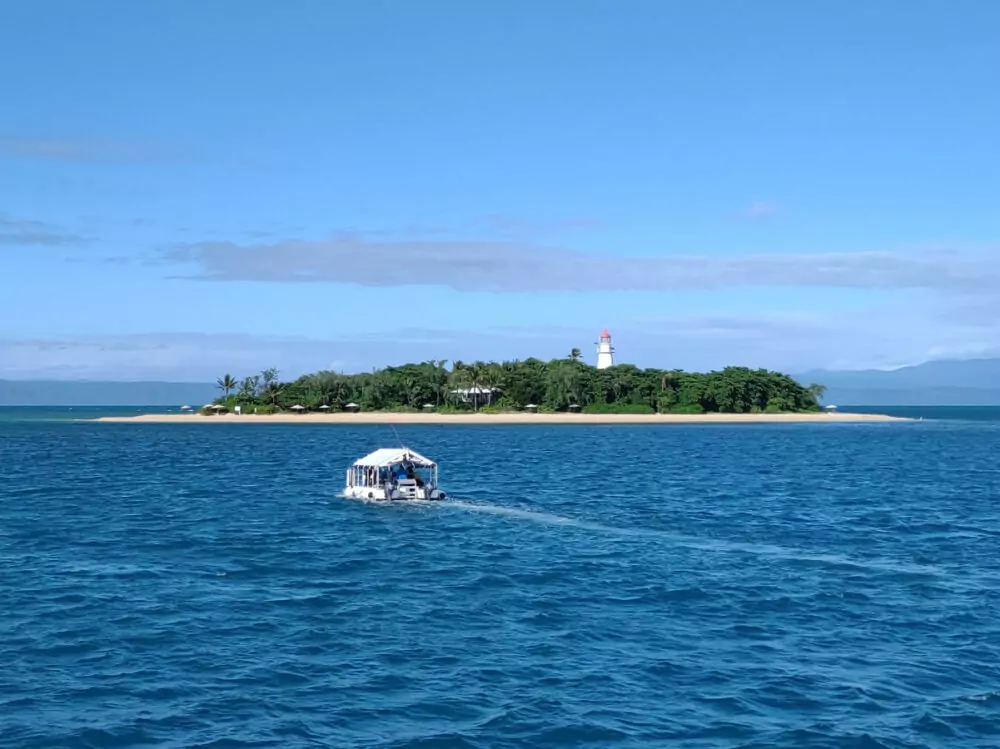 The Low Isles are a great place to visit if you don't want to go all the way out to the reef and there is plenty of marine life to see here.
Soft coral and turtles are particularly abundant at this location and there are usually glass-bottomed boats running. Here you'll be on sand rather than a boat or pontoon on the outer reef.
The speed boats that take tourists to Low Isles aren't allowed to put you on the island, the tour below, a half-day, usually does, so is probably a better bet with kids or for weak swimmers.
If you can, visit both the Outer Reef and Low Isles, the marine ecosystems are very different and both are superb snorkelling.
---
---
Visit the Wildlife Habitat and Let the Kids Feed the Kangaroos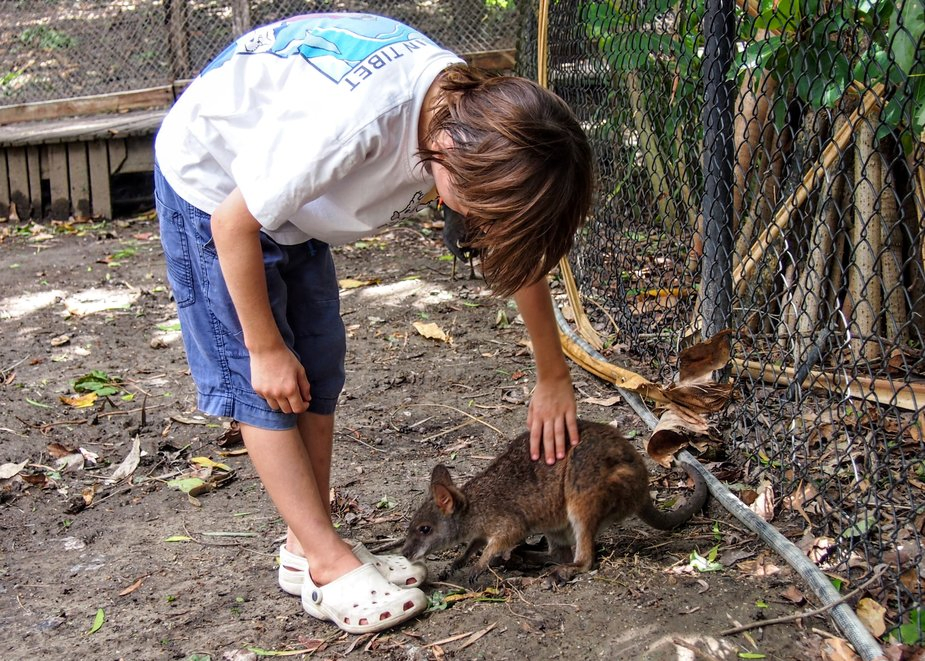 The Port Douglas Wildlife Habitat is a native Australian animal zoo on the outskirts of Port Douglas. It's about 6Km from Macrossan Street.
You can feed kangaroos, wallabies, emus, and various Aussie critters as well as enjoying large bird and reptile houses. They also have crocodiles and koalas at The Habitat.
They've been working on The Habitat lately building the new "swim with a crocodile" attraction (now open) and part has been closed. We've visited during this period and still enjoyed it, particularly the new nocturnal animal house.
You can even dine with our local wildlife at The Habitat, see below.
---
Reservations For Breakfast With The Birds
---
Hartley's Crocodile Adventures With Kids
This crocodile farm attraction is actually outside Port Douglas, on the way to Cairns. The Wildlife Habitat has crocodiles, but Hartley's has hundreds!
Hartley's also has other animals and a new baby. A koala was born there just a few weeks ago
The crocodile shows here are really good. Unfortunately this place is a farm, the crocs are bred for meat and skins so it's not vegan friendly.
See Mossman Gorge With Kids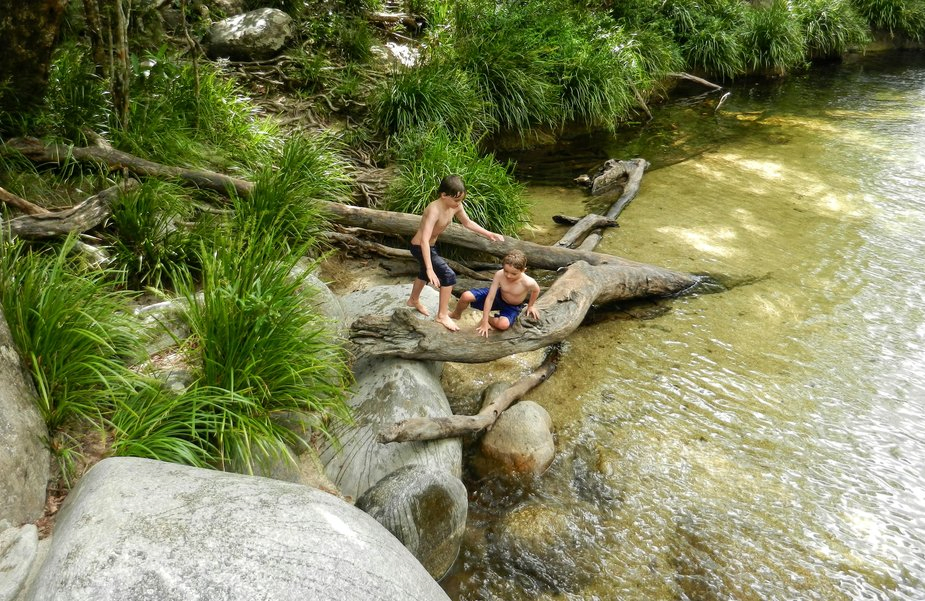 Mossman Gorge is beautiful and the perfect place to experience the rainforest biome. The Mossman Gorge was closed for a long time during lockdown, but did reopen and we believe it's still open.
We used to swim here with the kids, often, there is a sandy beach at the river's edge. We have now seen no swimming signs here.
Mossman Gorge isn't the safest place to swim and there have been accidents due to strong currents, particularly in the wet season.
We swam here and felt completely safe because my husband is a qualified lifeguard and Ironman athlete. I wouldn't have let the kids swim here without their dad nearby.
There are plenty of other swimming holes and waterfalls nearby where locals swim, but Mossman Gorge is pretty special.
Mossman Gorge is still a great place to take kids to experience the rainforest habitat and wildlife. You can check current status and opening here.
Daintree Rainforest With Kids
The Daintree and Cape Tribulation are about 40 mins to an hour north of Port Douglas by road.
It's well worth heading up there for a look around, in your own vehicle or by tour. Some Daintree tours are now running and the Daintree Ferry re-opened a while ago.
Check out the Daintree Discovery Centre for an interactive and educational kids day out. According to their website, they are temporarily closed, check here for updates.
Unfortunately, the zip line center, Jungle Canopy Surfing, has closed due to an accident.
Certain Indigenous areas are still closed up there. You'll need to check for yourself on current status.
Port Douglas Markets With Kids
Port Douglas markets have re-opened after lockdown and we were there just yesterday. The stalls are now more spaced, out so there are less total stalls than is usual in high season, but it's still certainly worth a look.
The market is a great way to buy souvenirs, toys, jewellery, crafts, and even food and produce. There are normally a few food vans and coffee outlets down there too. You may be lucky and find face-painters and street entertainers. There is usually coffee and a couple of food carts at the market. Fresh sugar cane juice, fruit juices, cakes, and donuts are very popular with my kids. There are playgrounds in the market itself and a public toilet nearby.
Stay in Beautiful Family Accommodation in Port Douglas
I'd say that just about any hotel, motel or campsite is family-friendly in Port Douglas other than a small handful of adults-only properties. I haven't tried any of the hostels here with kids so I can't vouch for them, but we've stayed in hostels all over the world as a family.
Two extra special resort hotels to check out are Sheraton Grand Mirage and Pullman Sea Temple Resort . Both have vast lagoon pools and swim out rooms. If you want to come to Port Douglas and never leave your hotel, do it at one of these. The kids should be absolutely thrilled by these pools and the home-away-from-home feel of what are really luxury family apartments with cooking facilities. We'd often stay in two-bedroom swim-out rooms at Sea Temple, with kitchens, dining areas and lounge areas. Take a look at Pullman Sea Temple Resort here and Sheraton Grand Mirage here.
I don't know if any hotels in Port Douglas that have kids' clubs, or pools with slides, but I'm researching this right now!
I've seen kids-club type activities organised sometimes at both Sea Temple and the Sheraton Mirage, but they've not been anything like the full kids' clubs you may have seen in other countries.
The concierge or front desk will most likely be able to put you in touch with 3rd party child-minders and baby-sitters.
There are a few private Airbnb properties in Port Douglas, they tend to be over-priced, along with many villas you can rent which are family-sized, even large family or multi-generational family group sized.
If you're looking for family camping there are paid sites in and near Port Douglas, plus a few offerings on Hip Camp.
Family Villas and Apartments to Rent in Port Douglas
Try looking at these rental villas for your family, they could give you the space and privacy you need.
Four Mile Beach Fun With Kids
The beach is great for kids, of course. Four Mile Beach has mile after mile of flat golden sand, a few rocks at the northern end, and mostly very calm seas.
The beach slopes gently and I've never come across any dangerous currents or rips when I've been there with my own kids.
There is a Lifeguard Station at The Surf Club and in summer there is a stinger net or swimming enclosure on the beach.
Can you swim at Port Douglas? Yes, for sure, but maybe read our post. The beach does sometimes have to be closed but it's rare. You could snorkel here, but there's not much to see.
Be aware of Stinger Season, read that post too, crocodiles live here, but they're rarely seen near the beach and even rarer on the reef.
See The Cane Toad Racing With Kids
Cane toads are common in Port Douglas and cane toad racing at the Iron Bar was a Port Douglas institution. Children were allowed into the cane toad racing and there was a small admission fee.
The Cane Toad racing has now moved, it takes place at Chilli's pizza joint and sometimes at the marina restaurants. You'll need to check locally and find out where and when it's happening.
If you don't want to kiss a toad, best not to volunteer to race one.
Enjoy Family Dining and Great Food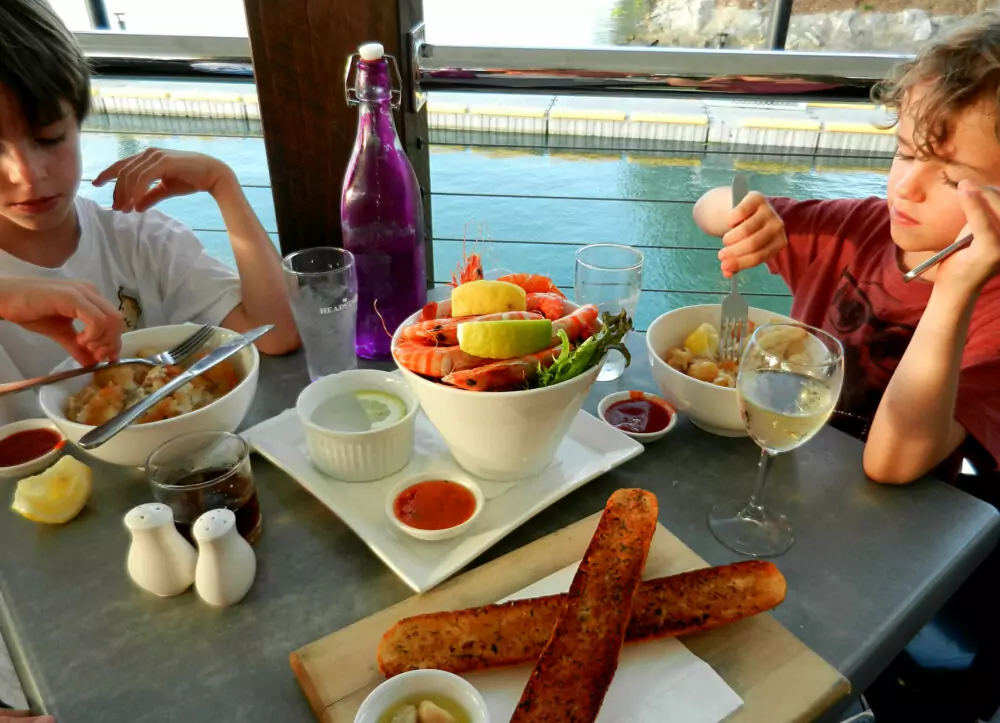 There are so many good places to eat in Port! We like Sassi, Salsa and Zinc for formal dining best.
The Tin Shed also known as The Port Douglas Combined Club, is open to members and guests and serves the usual club fare, but with a stunning waterside location.
Another good place to go is St Crispin's Cafe. This one is on the water too, but at the back of The Inlet, next to The Golf Club. It gives you a great view of the fish and we recommend their breakfasts.
This is the Ballyhooly's turn-around station and it's a really cute little place.
Of course, there is plenty of ice cream for kids and a beautiful locally produced chocolate shop on the main street, Macrossan Street.
A small museum dedicated to chocolate and coffee production, complete with free samples, can be found up on The Atherton Tablelands. This place was always a firm favourite with my kids.
There aren't many places offering free home delivery of food in Port Douglas. Domino's Pizza is one.
Quite a few local food outlets let you order by phone to pick-up in person. As far as I know, there is no Uber Eats.
There is also no McDonalds, Starbucks, KFC etc. You can get fish and chips on Macrossan Street or at the Four Mile shops, next to the bottle shop. We think Kia restaurant at Four Mile has the best fish and chips in town and has a kids' menu.
See the Bally Hooley Steam Train With Kids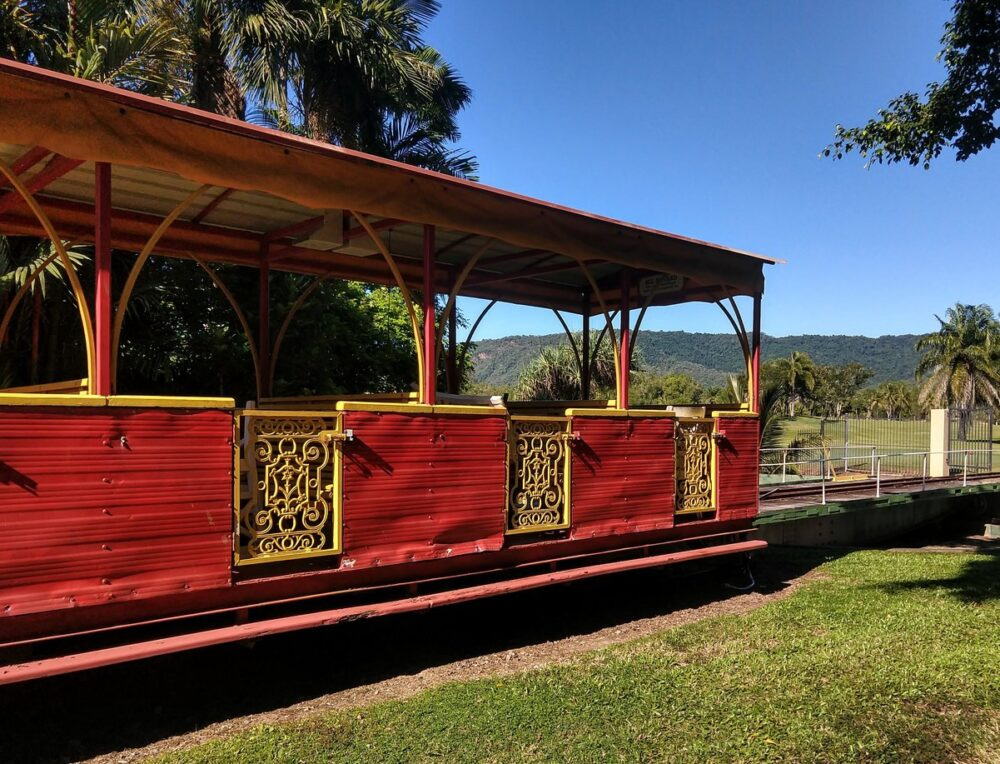 The Bally Hooley was a vintage steam engine and train formerly used to haul cane (sugarcane) in the region. Today it no longer gives joy rides to families and kids from its station at the Crystalbrook Superyacht Marina to St Crispin's.
The Bally Hooley trains and carriages have been retired and repurposed as dining cars at Choo Choos on The Marina. If you love vintage steam engines, there are a few in Port Douglas.
There's a really nice cafe with great views at the old St Crispin's Station end of the line.
Attractions Near Port Douglas for Kids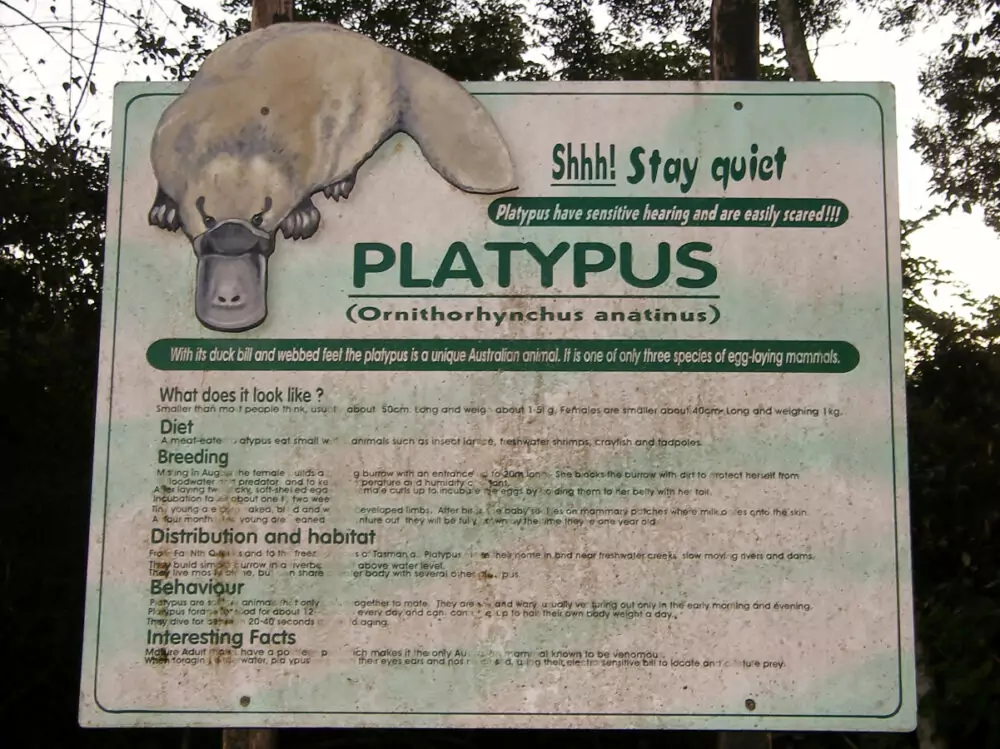 If you head up to The Atherton Tablelands you can see wild platypus, visit a chocolate tasting and producing outlet, or a dairy with small petting area.
For mums and dads there is coffee, wineries and distilleries. There are also lakes up there with Lake Tinaroo and Lake Eacham being popular for swimming.
Cairns is a much busier and more developed destination but it has plenty for kids to enjoy including Cairns Aquarium, The Cairns Lagoon and Cairns Zoom. Rainforestation Park is above Cairns on the way to Kuranda.
There is a wakeboarding park, the cable car to Kuranda, and the scenic train ride. See our post on Things to do in Cairns for more detail. We think Port Douglas is a nicer place to stay than Cairns but you should certainly make a day trip or two down to Cairns and The Northern Beaches.
A surf park has been approved near Port Douglas, that will be a fun attraction.
Port Douglas Babysitting, Nannies, and Baby Gear Rental
Yes, all of these things are normally available in Port Douglas.
For Baby-sitting Busy Bees are normally the go-to company. They keep an eye on children age 0 to 12 years.
Most hotels will out-source to this company rather than having their own in-house service. Baby sitters must have an Australian blue card check.
It is possible to rent or hire baby equipment locally. There are several companies that do this including Oz Baby Hire.
There was always a playgroup at the Port Douglas community centre, opposite the small library, and also a larger playgroup in Mossman.
Port Douglas Weather and Best Times of Year To Visit With Kids
Winter is normally peak season in Port Douglas but Christmas is also busy. Our wet season puts off a lot of summer visitors but it's actually a very interesting time to be here. The weather can be spectacular.
Be aware that many restaurants will shut or operate with reduced hours during the wet season.
Whale season is in winter and Carnivale is normally in May. New Year's Eve usually brings fireworks and a small funfair to Port Douglas.
We have a post on weather in Port Douglas, including average air and water temperatures.
Items To Pack For Port Douglas With Kids
Port Douglas is expensive. We're isolated and transport costs add significantly to local shop prices.
If you can, bring your essentials from home. However, you will be able to buy just about anything you could need locally.
Please go easy on the plastic and use reef-safe sunscreen.
There is a Coles Supermarket and an IGA in Port Douglas. There's a big Woolworths in Mossman.
You should be able to find books, some toys, stationery, and cards in Port Douglas pretty easily.
There are a few small shoe shops. Cotton On have an outlet for basic clothes.
Shopping mall shops are available in Cairns.
Port Douglas has plenty of pharmacies, gift shops, and general supply shops. You can also buy swimwear in town, but Covid did close quite a few shops permanently.
As a local, I do 90% of my shopping online now.
Travel To Port Douglas
Port Douglas welcomes visitors from all over the world but we don't have an airport in Port. Our nearest airport is Cairns, international and domestic, although international flights are very limited.
We hope this improves but normally we have direct flights to Bali, Singapore, and Japan. There is no train station in Port Douglas and large buses and coaches don't call. Cairns is our local transport hub.
We have a post that covers your options in travel from Cairns to Port Douglas, including local shuttle buses and minibuses. There is very little by way of normal public transport in this area, but there are quite a few private options. I believe there is one Uber driver, I've never used Uber in Port Douglas.
---
Book Your Airport Shuttle Bus Here
---
We hope our guide to Port Douglas with kids was helpful. You should be able to find plenty of things to do to keep you and the kids happy. If you'd like to know anything more, just ask in the comments. Could you share to Pinterest? Thanks. See our full Port Douglas guides here.
If you'd like to hire a car during your stay, use this car rental comparison tool to find the best deal!

We also suggest you take a look at this company to get a quote for all kinds of the more tricky adventure or extended travel insurance.

Try Stayz / VRBO for an alternative way to find rentals on homes/apartments/condos in any country!