Last Updated 01/09/2021
Yes, absolutely, you can swim in Port Douglas Australia unless the lifeguards close the beach due to various unusual dangers. Beach closures aren't common. Should you swim? There are a few things you need to know about safety, crocodiles, deadly jellyfish, nets (swimming enclosures), and lifeguards. This post is all about swimming in Port Douglas Queensland. Don't be too put off, my family swims here all the time along with thousands of tourists and locals.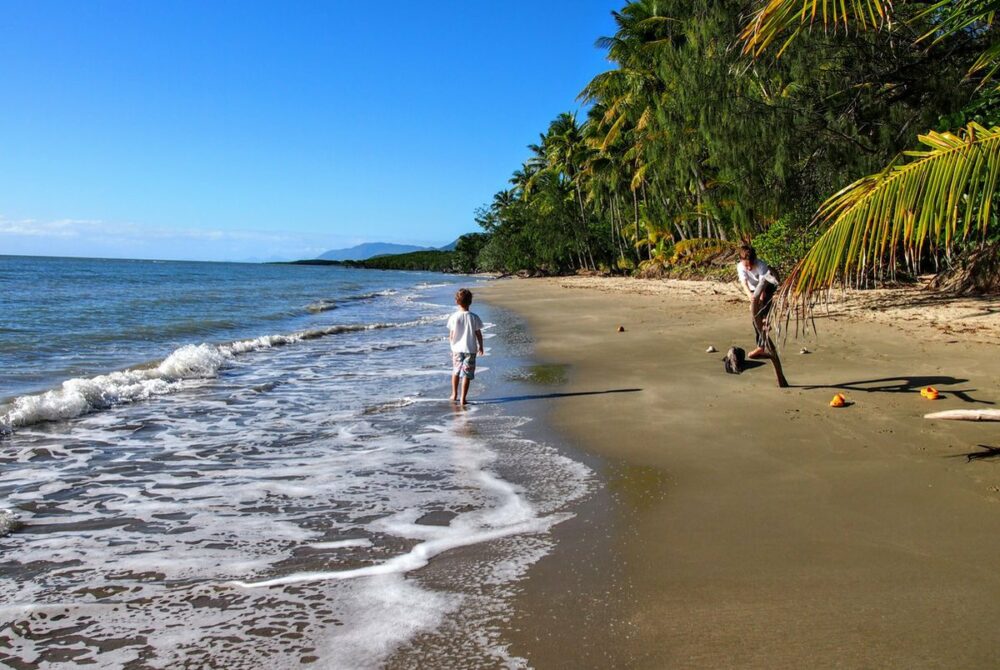 Swim in Port Douglas. Can You?
Where Can You Swim in Port Douglas? Four Mile Beach
Four Mile Beach is a long, sandy picture-postcard tropical beach, but can you swim there? Yes, you can, so long as the beach is open, just be aware of a few important safety considerations.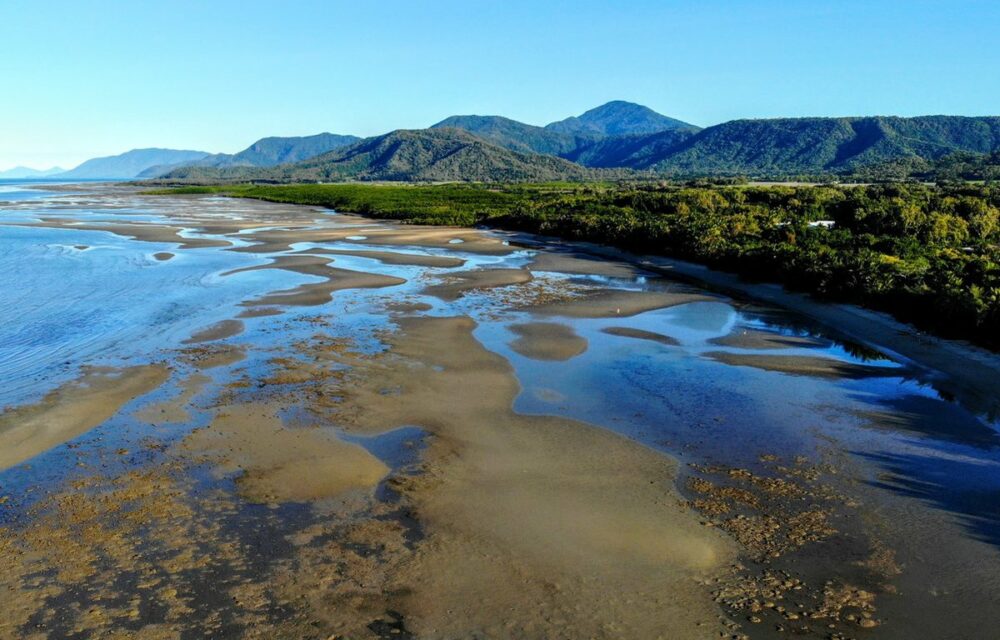 Port Douglas lies on a narrow sandy spit of land, Four Mile Beach and The Coral Sea is to the east. Dickson's Inlet is to the west. These two meet at the northern tip. At the southern end of Four Mile Beach, the Mowbray River reaches the sea.
Please check and double-check all the information we give you locally as times, places, dates, and services do, as we found, change often. Restrictions and closures may apply.
The section of beach near Macrossan St (The heart of Port Douglas village, where you'll find shops and restaurants) is generally considered a safe swimming beach and you will find a lifeguard station here.
In summer months there will be a stinger net on the beach to protect swimmers from deadly box jellyfish. There is also a danger of Irukandje jellyfish in warmer months. Stinger Season in Port Douglas is usually November to March, but dates vary. If the net is in the water, you should use the net.
There is always a risk that very tiny Irudkanje could get through the mesh of the stinger net. Hence, it's better to cover up as much as possible.
Lifeguards have a good view of the netted area and will post information on current dangers and water conditions. Look for the latest water conditions and dangers on the board below.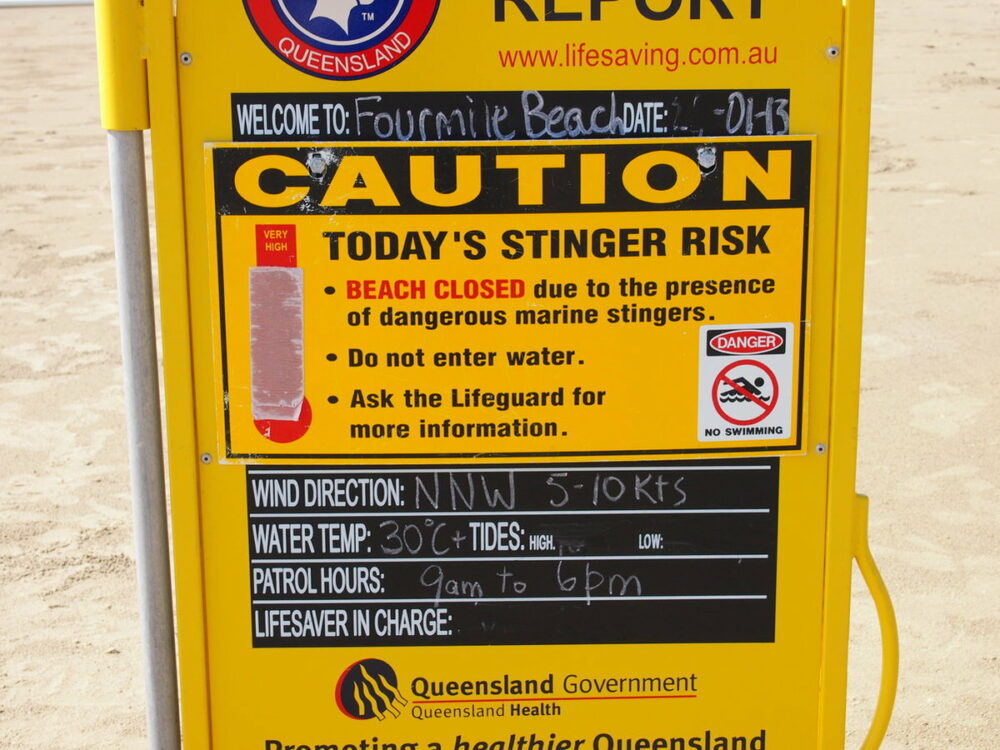 Crocodiles are another consideration. They are, very rarely, sighted off Four Mile Beach. Even more rarely, one will actually come up onto the beach. You absolutely should not swim in Dickinson's Inlet, around the Suger Wharf Jetty or near the Mowbray River mouth. There could potentially be some pretty big crocodiles around there.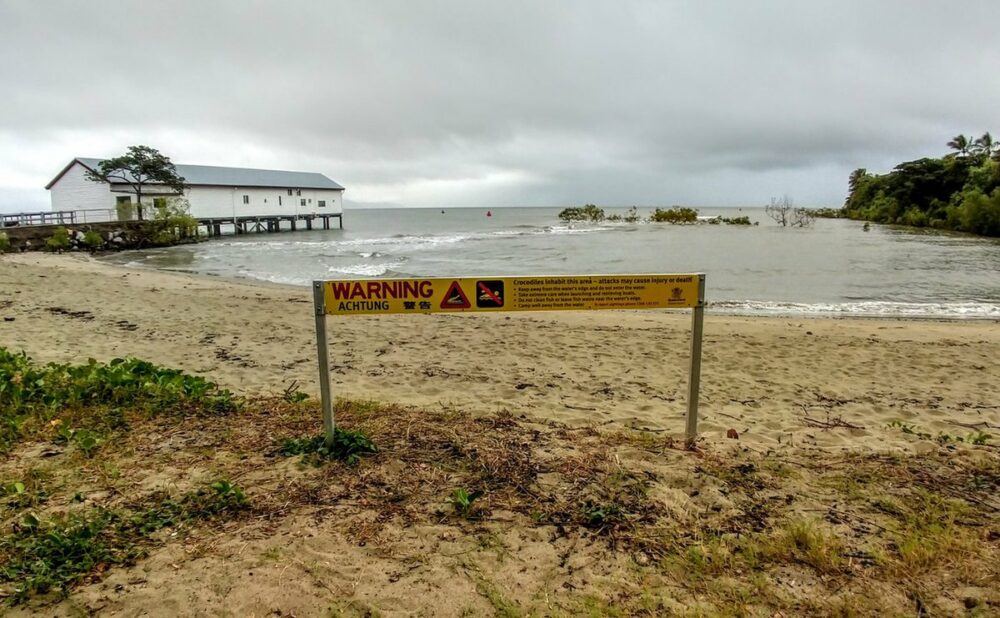 People do swim on Four Mile Beach, locals and tourists, but it's not 100% without potential hazard, no beach is. One thing my family doesn't worry about in Port Douglas is sharks, but still, anything is possible.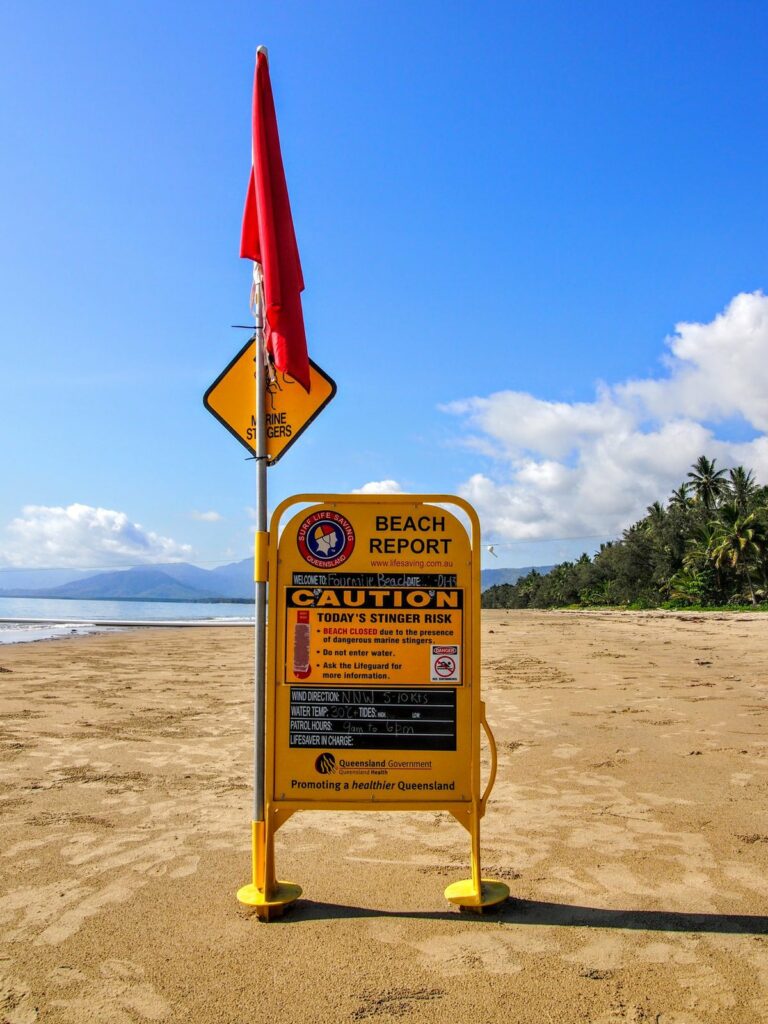 My husband swims at Four Mile Beach often. He's a triathlete, he's never been eaten by the wildlife. My kids have swum here on and off, I like to protect them as much as possible with rash vests and stinger suits, but they've lived to be teenagers. I swim in the stinger net too, sometimes. We consider it safe for us to swim on Four Mile Beach Port Douglas.
Why Might Port Douglas Beach Be Closed?
I've seen Port Douglas beach closed to swimmers in very rough weather. In stinger season this means that the net won't be doing its job properly. If there is a cyclone nearby you could see beach closures. The lifeguards will also close the beach to swimmers if there is a perceived increased risk of jellyfish or if a crocodile is sighted. Usually the croc will just swim on by, they follow it with a drone.
Other Places to Swim in Port Douglas
I've seen people ask on TripAdvisor if there are other swimming beaches nearby without stingers or any crocodile risk. No, there aren't. Our tropical climate comes with wildlife but you will find far more dangerous beaches if you head north.
Just about all of the beaches between Cairns and Port Douglas are popular with tourists and several have lifeguard stations and safer swimming enclosures (stinger nets)
Most hotels and resorts in Port Douglas have pools. The Sheraton Mirage and Sea Temple have giant lagoon pools for you to enjoy. If you really want to avoid the sea these are a great option.
For swim training you'll need to go to Mossman or maybe Cairns. The lap pool in Port Douglas recently closed.
There is the Cairns Lagoon on the esplanade in the Cairns CBD if you'd like to take the kids down for a free splash around. Muddy's Playground, Cairns, has a free water play area.
There was a waterpark, SugarWorld, near Cairns. I'm checking for current opening status on that one. The Big 5 Camp Site just outside Port Douglas at Mowbray also has water play.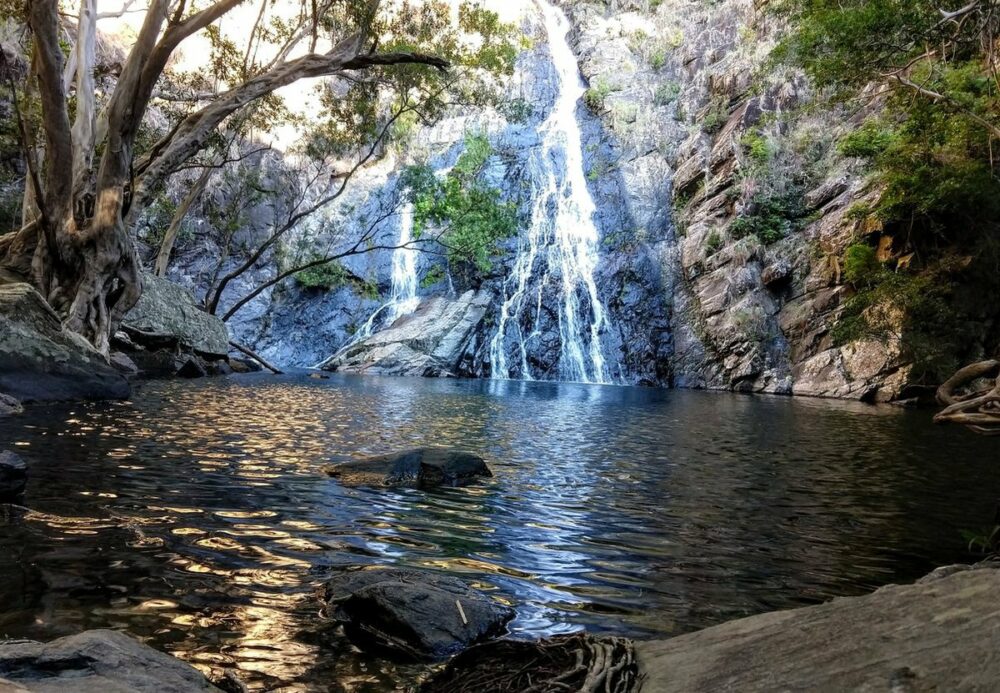 Near Port Douglas there are various opportunities to swim in rainforest pools, waterfalls and streams. At time of writing, we believe Mossman Gorge is still closed, but do check, things are changing almost daily in this part of the world. We have a post on freshwater swimming holes and waterfalls near Cairns and Port Douglas.
As I'm writing this in 2020 I should mention that things are getting back to near-normal here. The fleet is running to the Great Barrier Reef from Port Douglas in reduced capacity. Some tours to Daintree Rainforest are operating. We think Mossman Gorge is still closed, but check that, things change daily. Most restaurants are open but with reduced numbers of customers and some only on certain days of the week. You'll need to do your research if you want to book a particular tour or activity. We would suggest checking out AirBnb, below, for accommodation options.
We hope you found our post useful. Before we moved to Port Douglas, many years ago, I did a lot of searching for safety information about Port Douglas beaches. It's very strange to outsiders that we can swim where there could possibly be a crocodile, but we do. Once you see a beach full of people enjoying the water it should reassure you and your anxiety will evaporate. Enjoy your holiday in Port Douglas and check out our related posts below, we have endless information for you on our site.