This post may contain affiliate links.
There are several optiond in Port Douglas for Scuba Diving. You can learn to Scuba Dive in Port Douglas, take trial and introductory dives on The Great Barrier Reef from Port Douglas, and there is more advanced and liveaboard scuba diving available nearby. This post covers options for scuba diving from Port Douglas Australia, a beautiful resort town on the Coral Sea.
We're local divers, we've lived in Port Douglas for many years so we can tell you a lot of what you need to know about Port Douglas diving.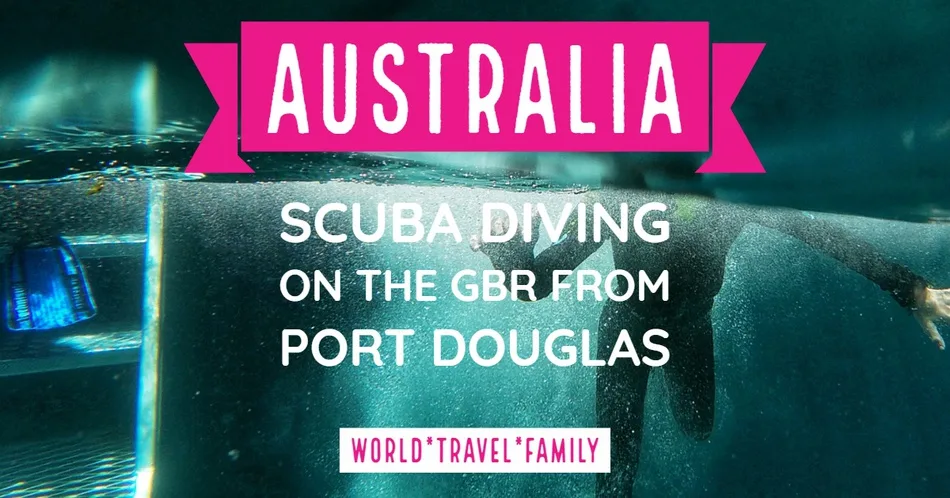 Scuba diving from Port Douglas is good, it's always a fun day out and you can visit some diverse and beautiful dive sites.
This post particularly reviews a recent day out diving from Port Douglas with Divers Den on their Aqua Quest day boat, but we also give you lots more information on Port Douglas Diving. Divers Den no longer operate out of Port Douglas unfortunately, but other boats and operators are available. We list them below.
Book Silversonic, Silversonic offers scuba diving trips from Port Douglas daily, weather allowing.Silversonic will give scuba divers 5 hours of dive time on a full-day trip with 3 dive sites. Silversonic also has a rare license for minke whale encounters. No kids under 12 years old on this one. Take a look at what your day will include here.
A fleet of boats leaves Port Douglas almost every morning bound for the Great Barrier Reef, many clients will be snorkellers, and others will be scuba divers. Some won't want to swim at all, they will enjoy the reef from mini-subs and glass-bottomed boats.
We already have a full post on Great Barrier Reef tours from Port Douglas, this post deals exclusively with scuba diving from Port Douglas.
Port Douglas Diving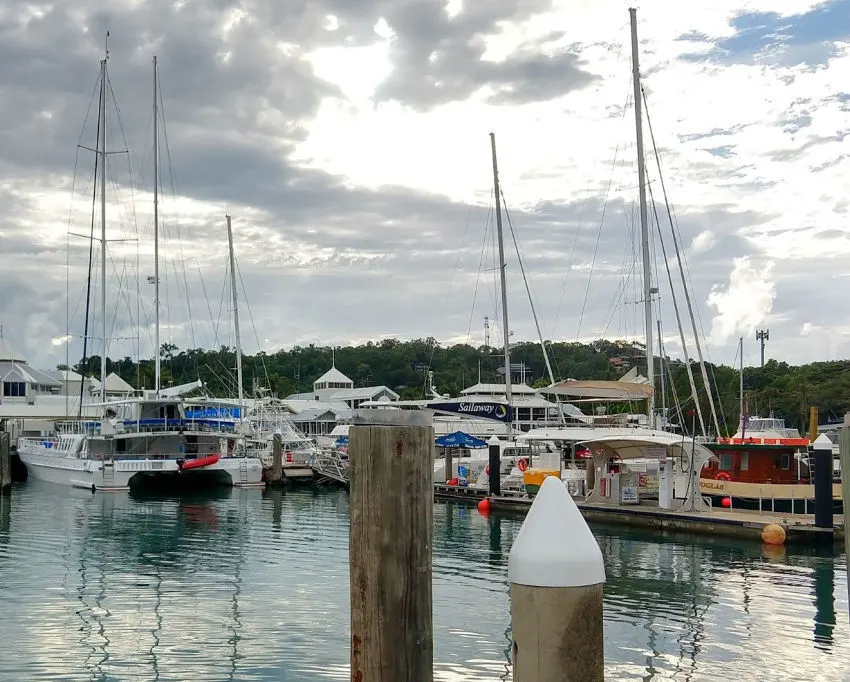 Most of the dive boats heading out from Port Douglas will be carrying snorkellers as well as scuba divers. There are specialist dive-only boats, but as one of our party isn't yet scuba certified, we stick to the combined boats. Our younger son will be learning to scuba dive soon as his brother did, find a post on getting certified in our related posts, bottom of the page. To us there are no disadvantages, the diving is good. Dedicated snorkel boats also operate out of Port Douglas.
As well as the standard Great Barrier Reef dive sites reachable from Port Douglas, there are some pretty special places and scuba experiences nearby. We'll mention those too.
A little video featuring our Great Barrier Reef and the famous " Sharks in the Dark" is on this page about liveaboard diving.
What's The Best Time of Year For Scuba Diving From Port Douglas?
It depends on what you want to see. If you're looking for whales then you will want to come in our winter. Whale season in Australia is long, roughly May to November but obviously, our coast is also long and the best time of year varies with location.
The humpback whales and dwarf minke whales arrive in our waters off Port Douglas around June – July and humpbacks will hang around until roughly September.
Of course, their exact schedules vary.
It is possible to swim with the minke whales on some dive boats. One of our team has taken a liveaboard trip to swim with the minke whales. You can read about that if you click through.
How Much is Scuba Diving From Port Douglas?
Scuba diving from Port Douglas will cost you about
Water Temperature for Scuba Diving off Port Douglas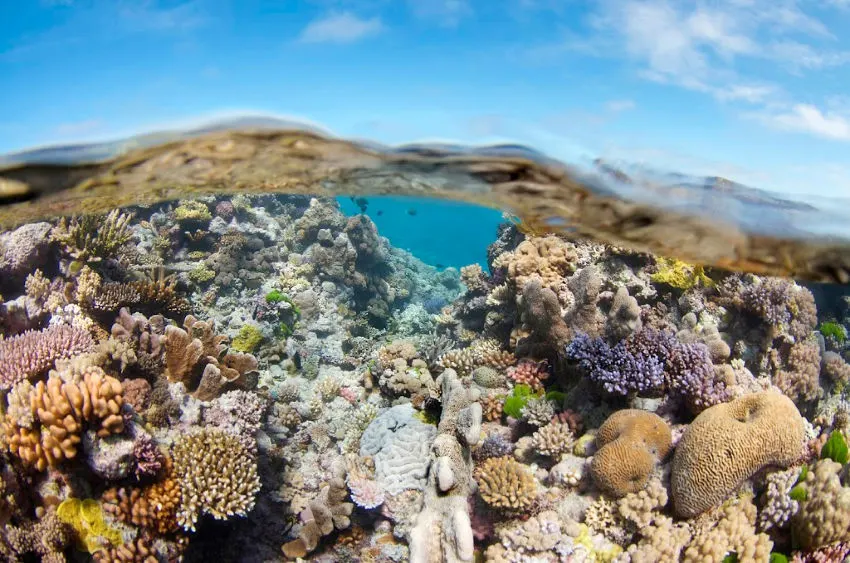 Water temperature off Port Douglas, on The Great Barrier Reef fluctuates between roughly 22º C and a maximum of 30º C. If it gets to 30º C we're in danger of coral bleaching so nobody wants that.
June , July and August are our winter and you'll see water temperatures in the low 20s.
In December, January and February the water is pushing towards that top 30º. This is our summer and the tropical wet season.
Marine heatwaves are becoming more frequent thanks to global warming and catastrophic bleaching events have occurred, but don't worry, there is plenty of good diving and snorkelling from Port Douglas. Our reef is not "dead."
Wet Season Diving – Summer in Port Douglas
Wet season coincides with Stinger Season. The marine stingers can hang around until April or May. Your chances of encountering a dangerous jellyfish on the reef are lower than from the shore but everyone wears stinger suits out there in season.
The wet season is low season in Port Douglas, so you may be lucky and catch special offers and reduced prices for dive packages. The special offers can continue into April and May. By June things are getting busy.
Port Douglas Diving, Wind and Visibility Variations
Visibility and wind are a little more unpredictable but generally speaking, it's possible to have a great diving experience from Port Douglas at any time of year. Bad weather and low customer volume does sometimes stop the boats running, but rarely. We've never not seen a stunning selection of marine life on the reef but we have dived in some choppy conditions.
Port Douglas Scuba Diving – What Will You See?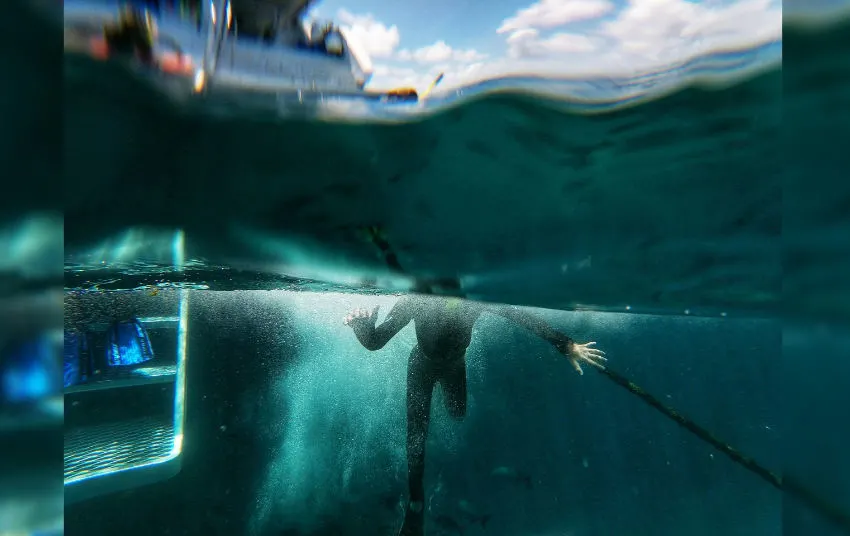 The Great Barrier Reef is home to over 1,500 fish species, 411 types of hard coral, one-third of the world's soft corals, 134 species of sharks and rays, six species of marine turtles plus more than 30 species of marine mammals. It's busy out there!
The above creatures are mostly present year-round. As already mentioned the dwarf minke and humpback whales are seasonal visitors. Other seasonal events worth timing your trip for are coral spawning and turtle breeding season.
Coral spawning can be in October, November or December depending on location. (source)
When diving from Port Douglas some of the stand-out creatures are sharks, turtles, Maori wrasse, jellyfish, cleaner shrimp, crabs, barracuda, and parrot fish. You will see some amazing corals, maybe stag coral, brain coral, mushroom coral, and soft corals.
Special Minke Whale Diving Trips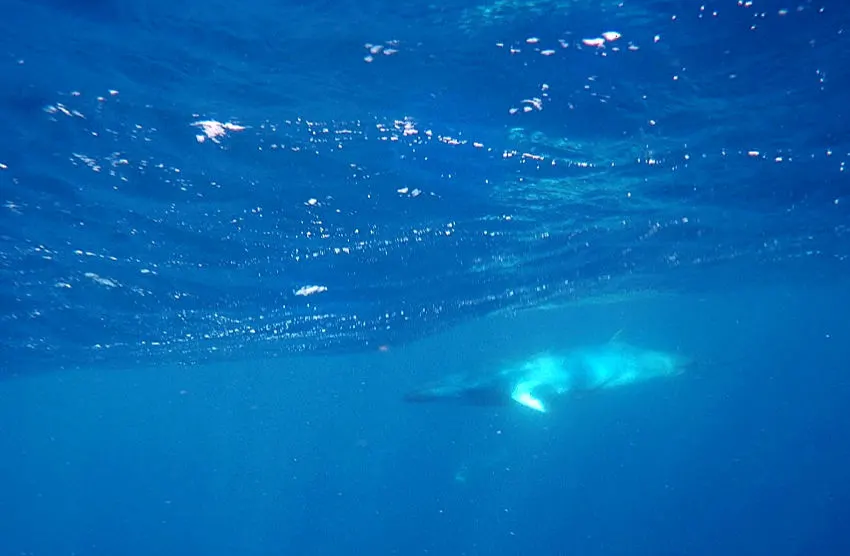 If you're looking for a minke whale expedition, you need to be here in June or July and you must book, places are limited. Find more information here.
My husband took one of these minke trips and our full post and video on the minke liveaboard and the amazing dive sites he visited, is here.
Which are the Best Dive Sites From Port Douglas?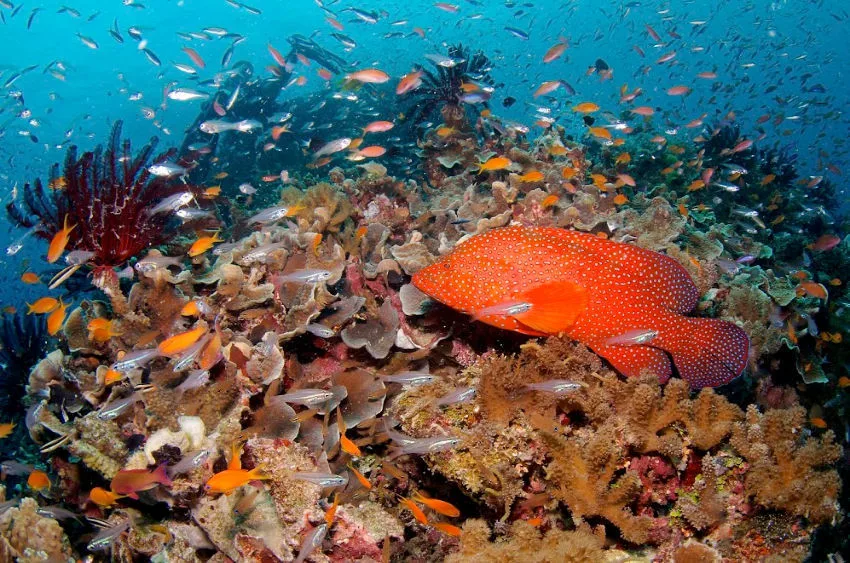 It's hard to quantify best because best is just a matter of opinion. We very much enjoy just about any of the outer reef sites.
Port Douglas is closer to the northern ribbon reefs than Cairns and most of our local boats take divers north of Lowe Isles to Agincourt Reef. The trip takes about an hour and a half.
There's some great easy scuba diving along walls, around bommies and in coral gardens, including drift diving. The other commonly used reef from Port Douglas is Opal Reef.
Depths will be anything to 30m, but under 15m is more common, visibility can be 10 to 30m.
There are 40+ recognised dive sites available from Port Douglas, your choice of dive operator and conditions on the day will determine where you dive. We hear reports of dead coral out on the reef. It's rare to see abnormal dead coral out there, it's usually in good condition.
Broken coral around the edges of the reef is the result of surge and storms, a lot of people mistake this for dead coral from bleaching. You're unlikely to see much evidence of the mass coral bleaching events caused by climate change of recent years because dive operators just won't take you to those places.
"We need urgent global action on greenhouse emissions to save the world's coral reefs. Australia should be – but regrettably isn't – at the forefront of tackling global heating," said Prof Hughes.
There are a few stand out dives locally, the Cod Hole and Castle Rock dive sites are well-known, for these you'll have to find a specialist operator.
Also consider diving Lighthouse Bommie, Steve's Bommie and Crackerjack, these are beyond ribbon reef number 5 heading up to ribbon reef 10 and are challenging dives beyond the scope of Port Douglas day boats.
My husband was lucky enough to dive these sites on Divers Den's minke whale liveaboard. You'll find a link to that post above.
1 Day Scuba Diving From Port Douglas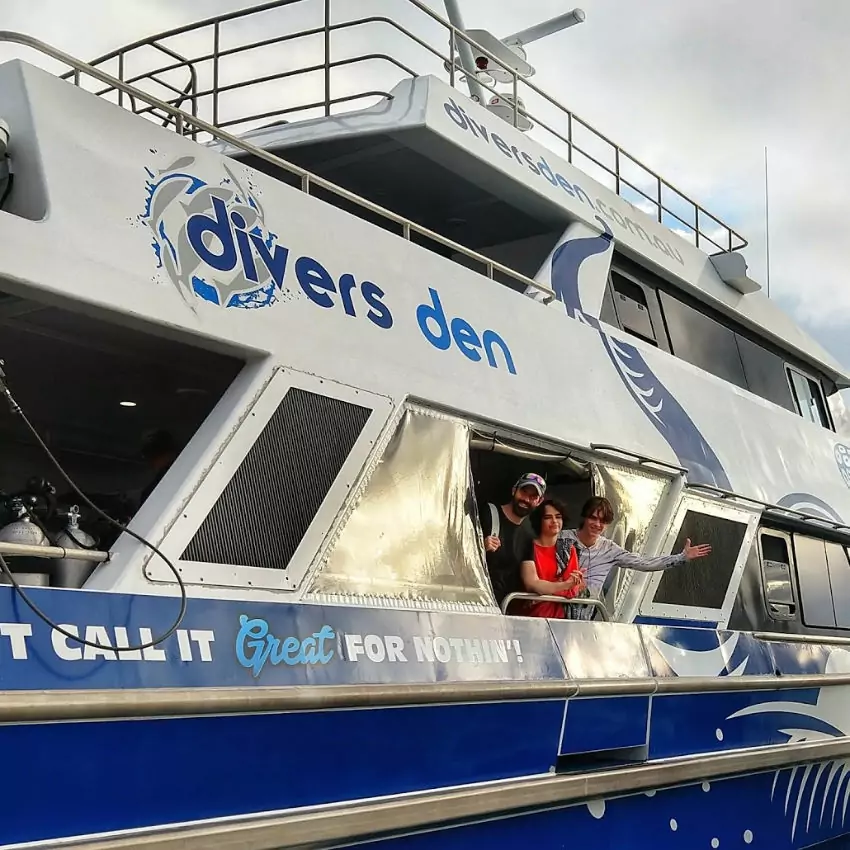 Divers Den is a company we use often, we've dived with them from Port Douglas and Cairns on their day boats as well as spent 4 days with them on a liveaboard out of Cairns.
My son learned to dive with Divers Den, at their Cairns-based dive school and qualified on their day boat out of Cairns. I, as an anxious scuba mum, was impressed with how that went.
Our day with Divers Den started at 8 am, unlike other Port Douglas dive operators we didn't need to check in at an office and could check in on the boat which better for us, less hanging around.
After checking in and being kitted out with dive gear we enjoyed coffee and cake until cast-off time. No hot drinks may be served while the boat, AquaQuest, is in motion.
The dive boat was over half empty for us, this makes for a great day on the reef, less rush, more space on the dive deck and less humans in the water. I'd say that generally, you'd expect less crowded boats out of Port Douglas than out of Cairns, but obviously, it's seasonal.
AquaQuest is new, spacious and modern. I've not been on a better reef boat out of Port Douglas or Cairns. The moorings she uses vary on the day, dependent on weather. She uses Agincourt, Opal and St Crispin's reefs. Our day was spent on Agincourt Reef.
The dive briefing was held while the boat was cruising towards the reef, which was great, no wasted dive time once we arrived and the divers were in the water long before the snorkellers had completed their safety briefing. Of course, this is better for the scuba divers.
The dive gear we were given was good. We generally don't take our own dive gear to the reef other than special masks. Sometimes I take my own wetsuit, I'm not a standard size and my own suit fits me better.
Scuba Diving Agincourt Reef From Port Douglas
We geared up about 10 minutes before arrival at the first dive site on Agincourt Reef. This first site was pretty good in my opinion. We swam for almost 40 min before getting back on the boat to refill the tanks, grab a coffee and chill for a short while and then we were back in the water for a second dive, this time heading in the opposite direction for a different dive experience.
Lunch on the Scuba Boats From Port Douglas
After the second dive comes lunch, buffet style. Hot food was very welcome on a slightly cooler day in late May. We haven't seen hot food on any of the other dive boats recently.
Vegetarian and gluten-free options were available and everything was tasty and abundant. When lunch is done Aqua Quest moves to her second mooring of the day. This may only take 5 – 10 minutes.
The Second Dive Site
We were straight in the water for the third dive of the day. This dive also gave us around 40 minutes exploring a wall.
Introductory Scuba Dives From Port Douglas
An interesting feature on AquaQuest, introductory scuba dives take non-qualified divers on a trip of discovery. Each dive instructor takes a small group on one introductory dive. Novices hold onto the instructors' arms, using full scuba gear, as he steers them through the reef.
The instructor takes full responsibility for monitoring air, depth and all the tech, the new divers just have to look and fin gently. I can't begin to imagine how mind-blowing this must be for people who've never dived before. These instructors are good, they taught my son, we know them from the liveaboard, I think you'd be in very safe hand
Find our best Scuba Diving Books here.
Guided Dives or Buddy Dives From Port Douglas
We loved that guided dives come included in the price on Aqua Quest. On some other boats a guided dive can cost $15 per person. For our family, that adds up fast.
My husband likes to buddy dive, my son and I enjoy guided dives. We always see more on a guided dive and by some voodoo our air lasts longer. Our intrepid buddy diver also has a tendency to surface, maybe not quite where he intended.
After 3 great dives. it's time to go home. Be sure to have something warm and dry to change into for the return trip. More coffee, fruit and cake inside us, we all fell asleep in the comfort of Aqua Quest/s main saloon. The bar is open, of course, but we were out cold without alcoholic refreshment.
We were guests of Divers Den on this dive trip from Port Douglas. There is never any obligation to review favourably and we always publish our own opinions. If a company believes in its product they invite us along to share with you.
We made a selection of Pinterest images for you to save, either hover over this one or use the red Pinterest button at the end of the post to select your favourite.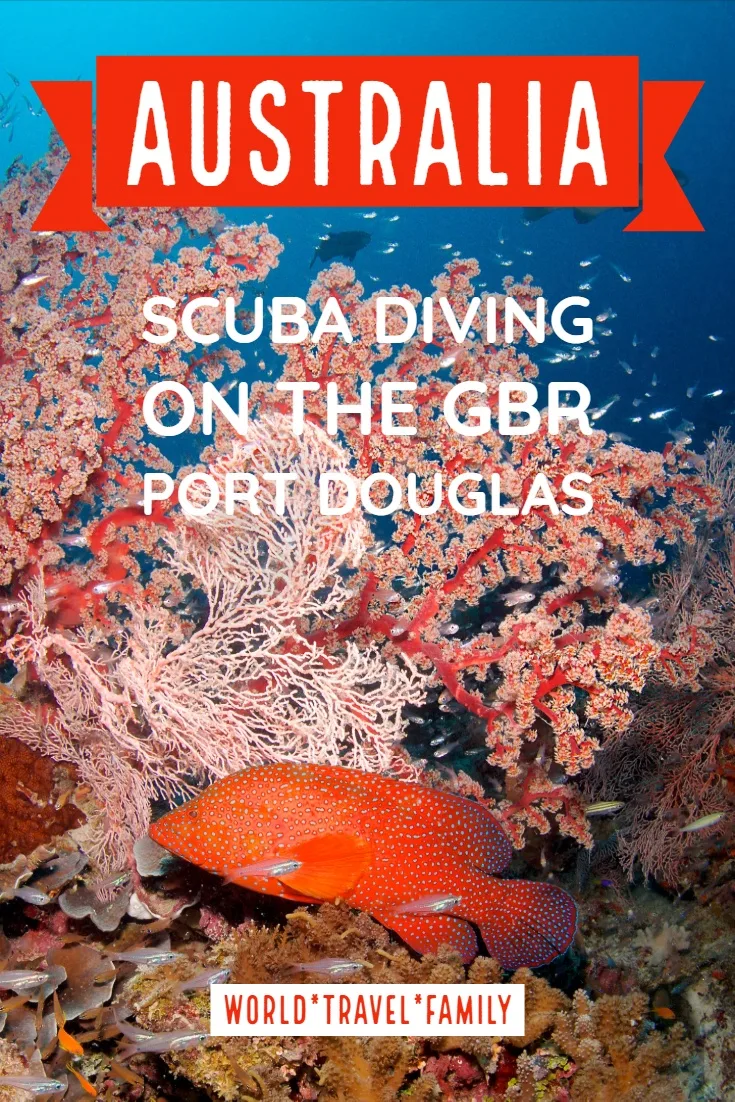 Can You Dive At Port Douglas?
There is no organised scuba diving from Port Douglas Four Mile Beach, all Port Douglas scuba diving takes place on the Great Barrier Reef, about 2 hours by boat from Port Douglas marina. There is very little to see from Port Douglas beach, just sand.
The rocky headland at the north end of POrt Douglas is rather too close to Dickson's Inlet and the resident crocodiles to make me want to snorkel or scuba dive there.
More Port Douglas Water Activities
If you'd like to experience the underwater world in tropical freshwater streams, you can book river drift snorkelling from Port Douglas, or you can even snorkel with crocodiles at the Wildlife Habitat. Click through to book these activities at a best price offer.
We have dived all over the world, as well as scuba diving in multiple locations around Australia. Port Douglas's scuba diving is something we never get bored with. You'll often find us heading out for a day of scuba diving on our home reef and having a great time. Conditions vary, sightings vary, but we've never had a bad dive. If there's anything you'd like to know about scuba diving from Port Douglas, feel free to drop it in the comments. We'll try to answer.
If you'd like to hire a car during your stay, use this car rental comparison tool to find the best deal!

We also suggest you take a look at this company to get a quote for all kinds of the more tricky adventure or extended travel insurance.

Try Stayz / VRBO for an alternative way to find rentals on homes/apartments/condos in any country!