This post may contain affiliate links.
Swimming with whales or any large marine creatures is a breathtaking experience as we'd already discovered with the mantas in Bali. I recently had the chance to go swimming with minke whales off the coast of Australia. There was no way I was saying no to that! We couldn't make this a family trip and justify the expense, particularly as open, blue water swimming in rough seas, with whales, may be a little challenging for my wife and kids, so I went solo on this minke whale liveaboard, unlike our previous liveaboard from Cairns, which the whole family enjoyed tremendously.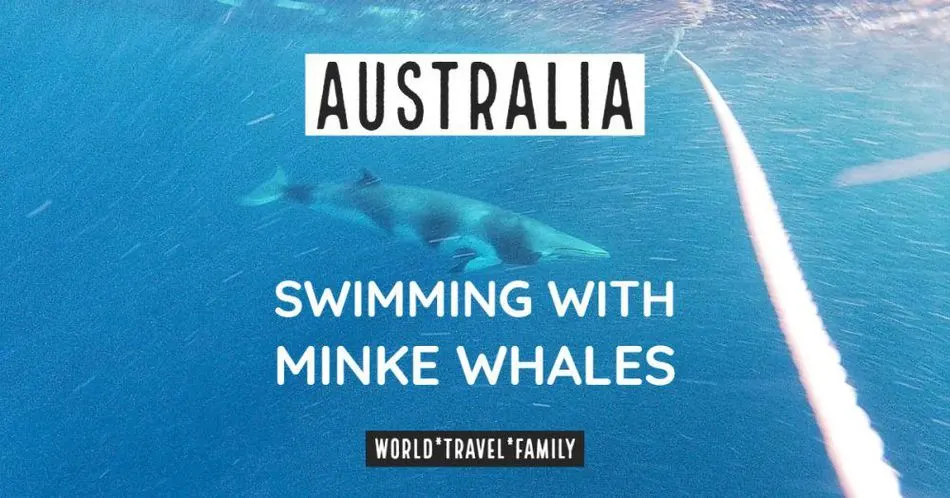 Swimming With Minke Whales
Dwarf minke whales migrate each year from cold Antarctic waters up to the warm waters off Australia's east coast. As part of their migration, they like to hang out near Ribbon Reef 10, just south of Lizard Island. Swimming with minke whales is only possible on boats with special permits at certain times of year. Not many liveaboard boats make these trips.
Swimming with Minke Whales – Video
While you may see minkes off Port Douglas from the reef boats that go out for the day, the only way to see these majestic creatures up close is to jump on a liveaboard dive boat with a special permit to allow swimming with minke whales. All other vessels are restricted to staying 100 meters from the whales.
These trips are specifically tailored to seeing and interacting with minke whales. Minke encounters are driven by the whales and there is no feeding, touching or baiting the water to encourage interactions. Swimming with whales is never guaranteed although the amazing dive sites certainly are and even without the whales the diving is worth it on its own.
If you're just interested in normal live aboard dive boats we have that covered here. Minke whale season is only on for approximately 6 weeks a year and normally runs from June through July but check the dates each year as they are subject to change.
We made a little video below of the whales, the liveaboard dive ship and some of the amazing ribbon reef dive sites. It's short, take a quick look.
What Happens on a Minke Dive Trip?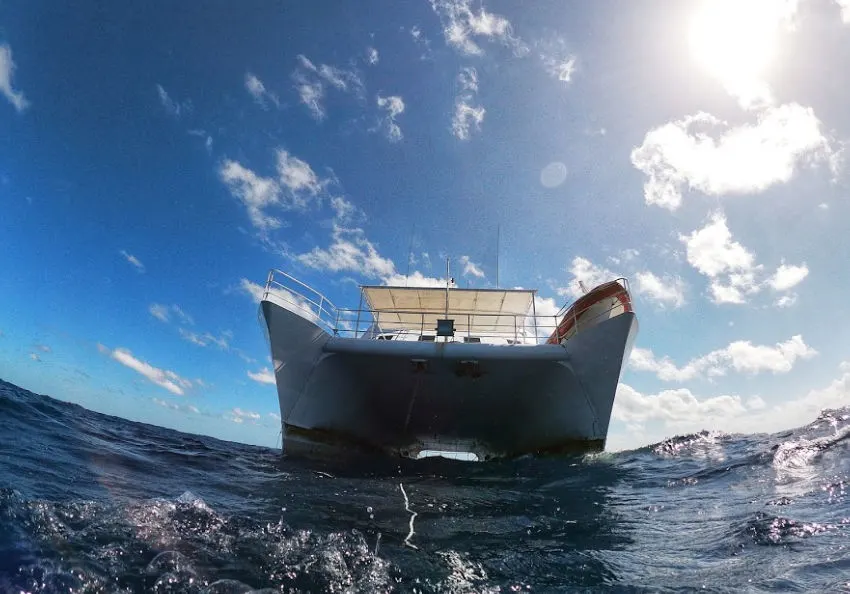 This was a five day four night liveaboard dive trip on Ocean Quest, the liveaboard vessel operated by Diver's Den, a local Cairns and Port Douglas operator. We departed Cairns on Sea Quest, a day boat and after 2 dives we transferred to Ocean Quest mid afternoon. The next 4 nights we slept on the boat.
Passengers have cabins, as a solo traveller I shared a cabin with another diver. If you'd like to see more on the accommodation and the experience of being on this liveaboard vessel, it's the same one as we posted about here, in our Cairns liveaboard dive trip write up. This is the same vessel the whole family went on and the same vessel which offers Sharks in The Dark. There's video on that in the other post.
You Don't Actually Dive with Minke Whales, You Snorkel
Unless Minke whales come up to you while you're diving then you'll only see them from the boat or from a minke 'line' which is a long rope attached to the bow (on our trip but it can be off the stern too) of the boat and extends out for up to 50 metres or more. At each location Ocean Quest moored or anchored up and from there people would wait and see if the minkes approached or surfaced near the boat.
Once they did (every location we stopped at had minke interactions) a 'minke line' or 'bait line' which was just a crew member with snorkel gear on would head from the front of the boat to place the line out into the blue water. Once the line was set people would be allowed to join the line.
It was tough as we had quite a large swell. Getting around the boat towards the front line wasn't easy and you'd both have to be comfortable in blue water and swimming in a large swell. A few people didn't go out but the vast majority did. One Dutch lady spent 4 hours and 47 minutes out on the line one day just bobbing up and down.
Best Scuba Diving Experiences
Most of the diving is done on the Ribbon Reefs which most day boats don't reach from either Port Douglas or Cairns. These GBR sites are pristine and you'll often only be the only boat there at any one dive site. We visited half a dozen dive sites but 3 really stuck with me and were some of the most amazing diving I've done to date. The 3 sites were all bommies which are tall islands rising from the sea bed, surrounded by blue water.
Lighthouse Bommie
Lighthouse bommie is just under the surface. It starts at 5 metres and drops down to over 25 metres at the bottom. Like the other dive sites the abundance of marine life here was amazing. The highlight for me was the electric clam (yes it really did have electricity)large congregations of barracuda and of course the larger reef sharks. Unfortunately I didn't spot any of the sea snakes that are often sighted here . The swim back to the boat took a fair bit of effort and more importantly timing to get it right. Others did need a boat pick up in rough seas.
Steve's Bommie
Named after Steve who was one of the original divers to discover it. There is a plaque at just over 20 metres down on the side of the bommie in tribute to Steve who died in a motor cycle accident on the Kuranda range some years back. Highlights from this site were leafy scorpion fish, stone fish, pipe fish and moray eels. Again the bommie started at 5 metres below the surface and went down to about 25 metres at its deepest. If you'd continued off down into the blue it did reach over 40 metres.
Crack A Jack
This dive site was brilliant and while small it was deep. Everyone was split up and divided into 3 groups so that there wasn't crowding on Crack a Jack. The buoy marking the site is 5 metres below the surface but our skipper only needed one pass to locate it and soon the crew had added another marker that was now on the surface. The bommie starts at 10 metres below the surface and descends down to over 40 metres off to the sides.
The bommie is quite small in terms of size and so having limited numbers in the water made the dive much better. Highlights here were pink pygmy seahorse, electric clams again, mantis shrimp, cleaner shrimp and schools of fish just sitting in the currents watching the world go by.
Being so deep time at the bottom was limited but the views as we ascended around the bommie were magical. Once at the surface the return to the boat was probably the hardest of the whole trip. The boat was moving side to side over a 120 degree area and the swell was fairly high. The crew was always right there if you needed a pick up, which a few did need although most made it back under their own steam.
Deep Diving
A lot of the dive sites went down as far as 35+ metres and some didn't start until 10 metres below the surface. You'll get the most out of these trips if you're an advanced diver or higher. The diving wasn't difficult in terms of technical abilities but being limited to 18 metres would have curtailed some of the better sights underwater.
Ocean Quest did offer PADI's advanced diver certification on board. The Advanced certification was run along the length of the trip and students were able to take part in all available dives as well as swimming with whales. In fact, the students had guided dives more often than not. The dive on the second last morning was the deepest and having qualified they were free to explore with the rest of us.
All guided dives on this trip were included in the price so if you were nervous in any way it was the perfect time to go with an instructor or guide . This isn't always the case on some boats.
Swimming in Blue Water
With Minke whales being anywhere from 4 to 7 metres in length they obviously need deep water to swim in. Being out on the minke line means you'll be in deep blue water. You should be totally safe holding on to the line and with the option of pool noodles or life jackets plus wetsuits you'll float just fine. Just realise you can't see anything but blue in all directions (besides the hull of the boat) and this can freak some people out.
The diving was also mainly on bommies that rise from the seafloor towards the surface. These are surrounded by blue water but I find diving on these very easy. You simply descend to your allowed depth or the bottom and then just slowly swim up and around until your safety stop.
Strong Ocean Currents
Being out in the vast blue does mean that the boat isn't moored up but often at anchor. The boat will swing back and forth through a 120 degree field of movement. Getting from the top of the dive sites back to the boat can be a challenge although the crew give everyone thorough instruction before you jump in.
No Time Lost
Nearly all the moving between sites was done at night on this trip. You head to bed and wake up in a new spot.
While sometimes the night passages could be a little rough as you'd cut across the open sea channels and engines would be on, I much preferred this way of travel. It allowed us to dive right up until after dinner on Monday night and be back in Cairns by Tuesday breakfast.
Scientists on Board During Research and Talks
I didn't know or expect there to be the world's top minke whale scientist, Dr Alastair Birtles on board from JCU but was very excited when I found out. He was joined by two of his students, one doing her PhD and the other her Masters on Minke whales.
Each day they would do their research and ask for help spotting whales. They would also be out on the minke line for hours at a time cataloging all the whales seen. Gathering footage from everyone on the boat allowed them to get a proper picture of how many whales and sizes, sexes etc where present each day.
Each night they would give informative talks about various aspects of the whales and conservation work that was being done to help in the study of minke whales. Currently the government isn't very forthcoming with funds and so the dive operators take scientists out for the 6-8 weeks a year that the trips run.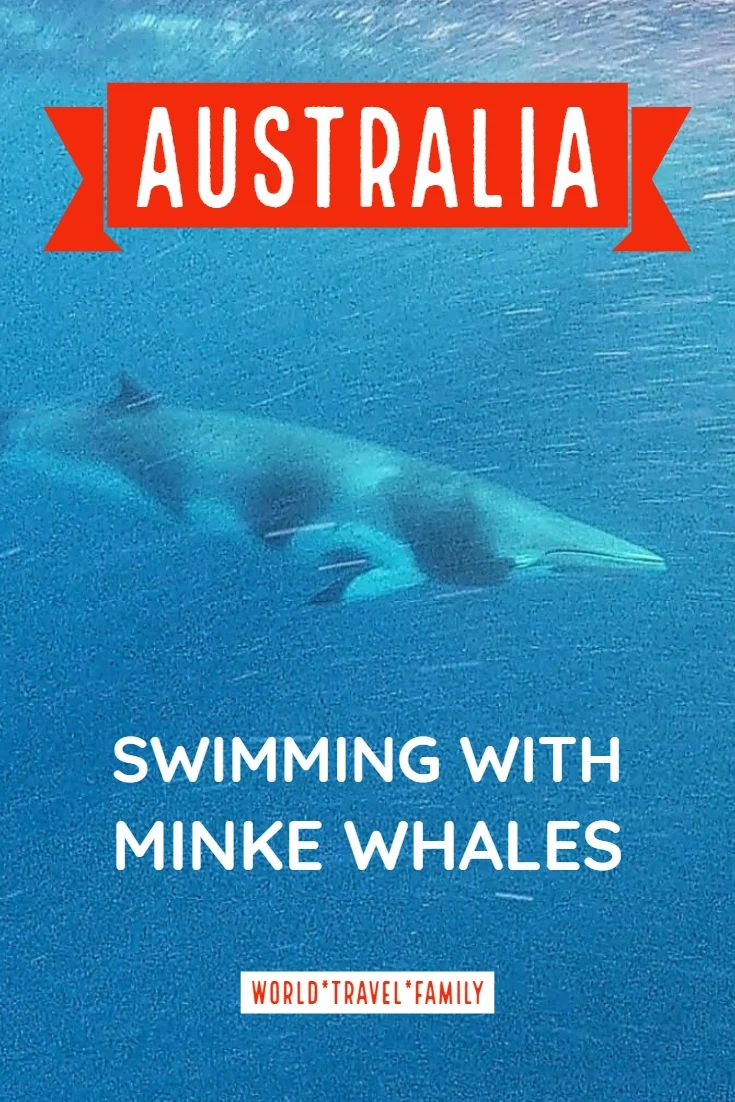 This was a trip of a lifetime, swimming with whales is not something most people ever experience and these minke whales were curious, gentle and actively wanted to swim with us.
If you're considering taking a liveaboard like this, do it, just be mindful of all that blue water as some people have issues with that. This is one of the only places in the world where people can actually swim with whales and it was quite an honour. We'll include this activity in our lists of things to do in Port Douglas and in Cairns, but this is a very special, unusual experience, if you get the chance, grab it. Please share to Pinterest, just hover over the image above and the red button will appear in the middle. Thanks! Back to our main Australia travel blog round-up now?
If you'd like to hire a car during your stay, use this car rental comparison tool to find the best deal!

We also suggest you take a look at this company to get a quote for all kinds of the more tricky adventure or extended travel insurance.

Try Stayz / VRBO for an alternative way to find rentals on homes/apartments/condos in any country!