This post may contain affiliate links.
What's it live to live, sleep, eat, scuba and snorkel on the Great Barrier Reef? We've taken 2 liveaboard scuba diving trips on the reef now in Queensland Australia, both departing from Cairns. But what do divers and snorkellers do out there, what's it like? It's the ultimate dive experience and we did it as a family. Let us tell you more.
Liveaboard scuba trips are popular with all ages, from young backpackers, to couples to families to seniors, you'll find a real mix of people out there on the dive boats.
It's somewhat expensive, so the price tag ads a filter of elevated priority. If you're not packing wads of cash, you have to really love the marine environment to pay for these trips. That's rather nice, everyone out there is united by a love of the sea, all nationalities, all ages, crew and customers.
Rather like trekking in the Himalayas (our other favourite mode of travel) you really do meet some interesting people on the liveaboards.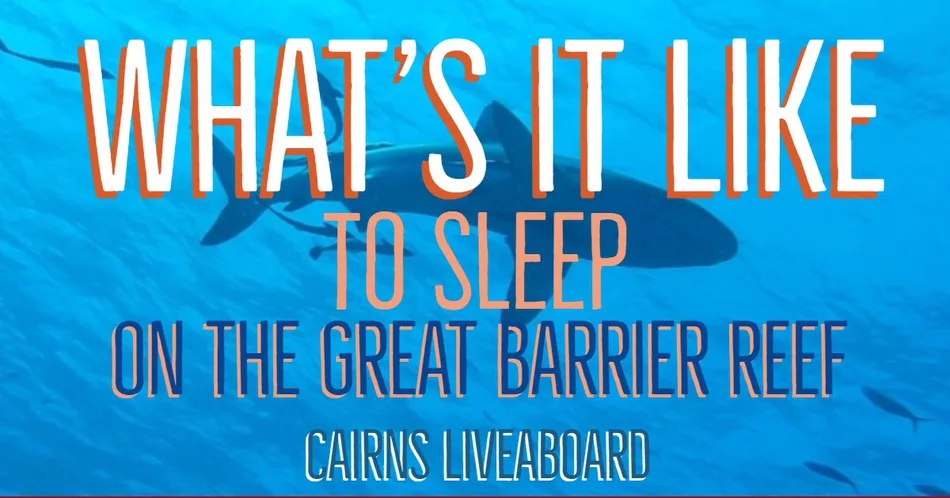 We just got back from our second liveaboard, this time, as a family. We enjoyed 4 days fully immersed in diving and snorkelling. My husband and I are divers, our elder son became scuba certified on this trip, our younger son snorkelled.
The experience of being on a liveaboard boat is active yet relaxing, invigorating yet calming. It really is a holiday like no other. Both of our trips were on Ocean Quest, a Great Barrier Reef liveaboard operating out of Cairns, Australia and operated by Divers Den. We highly recommend this experience.
Liveaboard Cairns – Staying Overnight on the Great Barrier Reef
Specifics of the Reef Quest and Ocean Quest Liveaboard Trip from Cairns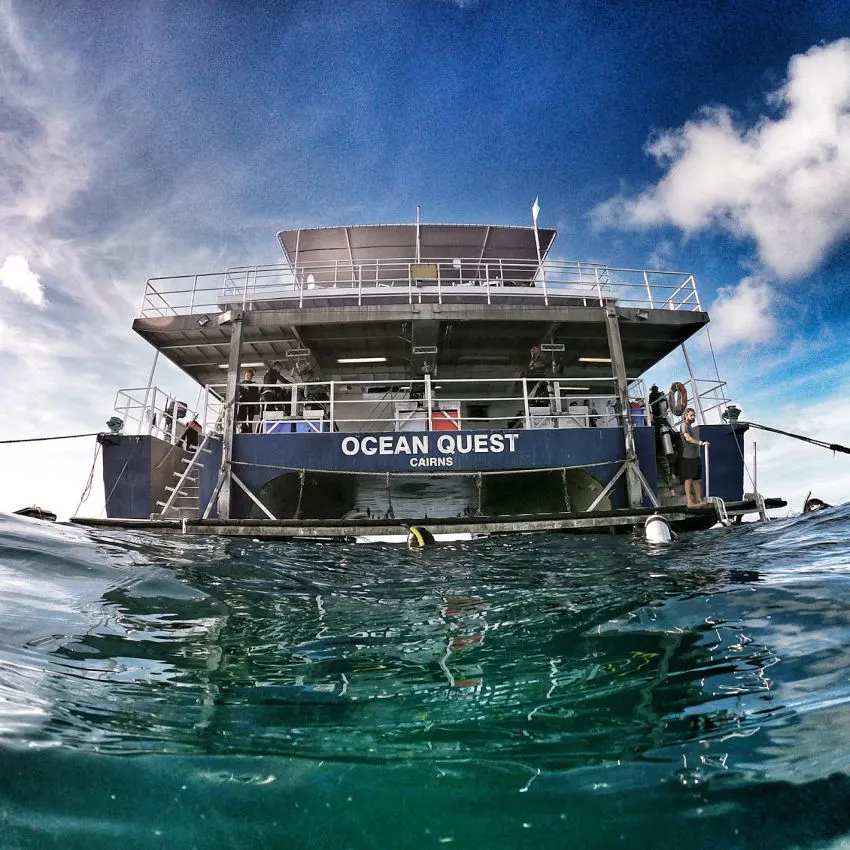 If I had to review Ocean Quest, Reef Quest and Divers Den I'd give them a firm 10 out of 10, I really couldn't fault our experiences out there, nor the crew.
You need to know that Reef Quest and Ocean Quest are very different experiences. Ocean Quest remains at sea, so liveaboard customers get to her via the Reef Quest day trip boat.
Reef Quest is a new modern reef boat, almost identical to Aqua Quest, Diver's Den's Port Douglas cruiser. Ocean Quest is older.
Divers and snorkellers depart Cairns at 8.30 am on Reef Quest and the trip to the reef takes around 1.5 hours. 2 snorkel or scuba sessions follow before liveaboard customers transfer to Ocean Quest at 2.30 pm. That's when Reef Quest turns around and heads back to Cairns.
I would say that Reef Quest attracts more of a young backpacker crowd, but is none the worse for that, Ocean Quest has far more mixed clientele.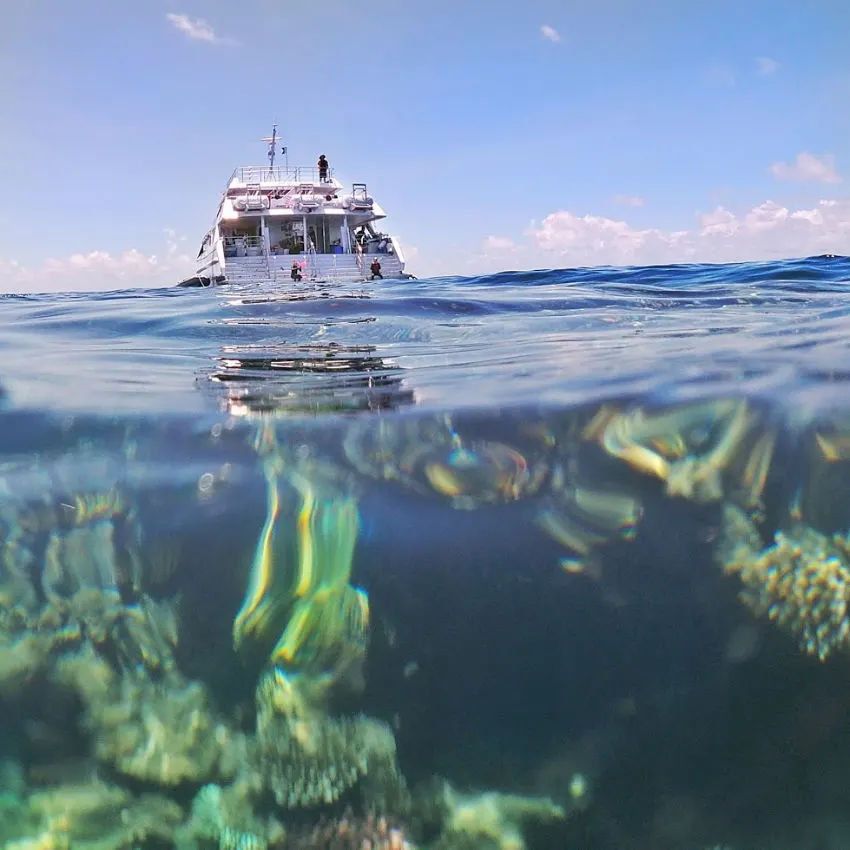 New Ocean Quest passengers get cake and a quick briefing before heading off to their cabins and preparing for 2 more dive sessions that day.
Watch our video below about snorkelling, diving and sleeping on the Great Barrier Reef.
The next day, if you have a full day, you can enjoy up to 5 more dives. If you're transferring back to Cairns ( ie. you only have one night on Ocean Quest) you will have 3 morning dives before transferring back to Reef Quest, again at 2.30 pm.
What Do You Do on a Liveaboard Dive Trip?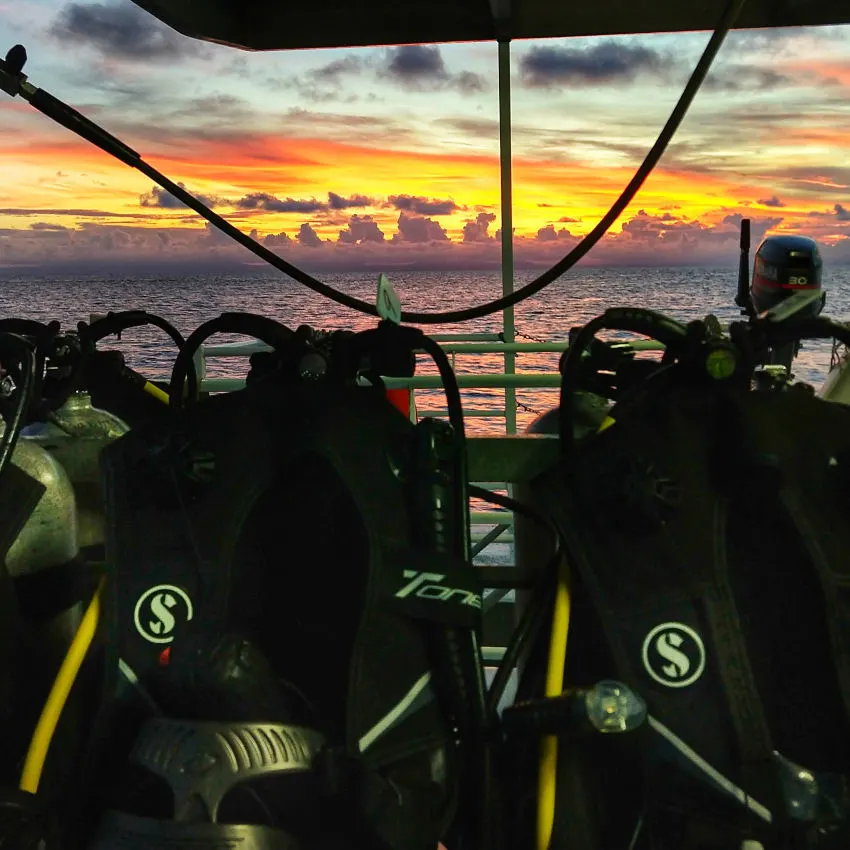 Liveaboard diving is a scuba diver's dream come true. You dive, eat, sleep and that's about it. The liveaboard's crew takes care of everything for you, you just have to get up when they knock on your door, listen to the dive briefings, gear up and dive.
It's a beautiful way to spend a few days, combining relaxation, a digital detox, some luxury (not having to cook or clean is always luxury – right mums ?) and active adrenaline activities.
Cabins on Ocean Quest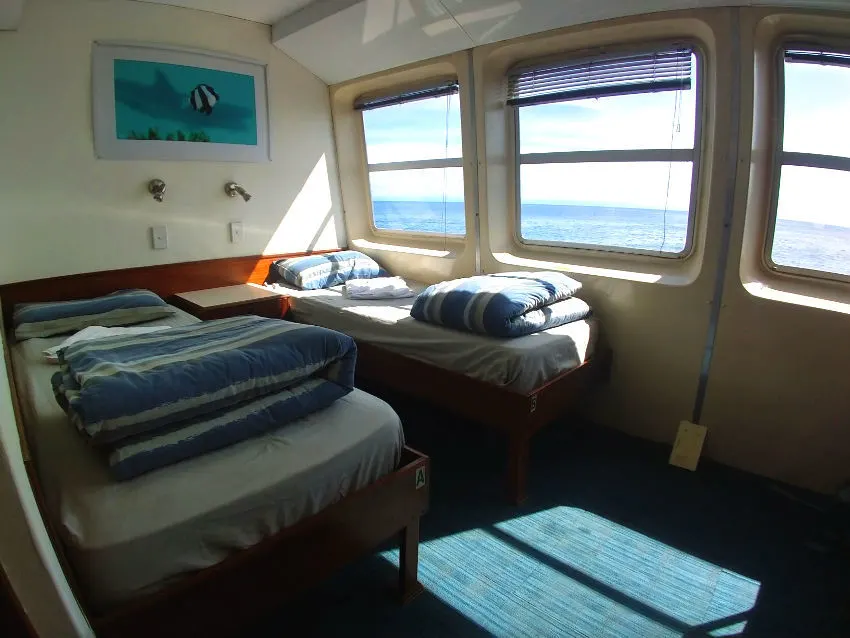 We really enjoyed our cabins on Ocean Quest. We took 2 twin berthed rooms both with their own private shower and WC. They were spacious and comfortable.
Sleeping at sea, that view, the stars and the gentle rocking, was a joy. Aircon kept us cool and the beds and duvets were cosy.
Food on Ocean Quest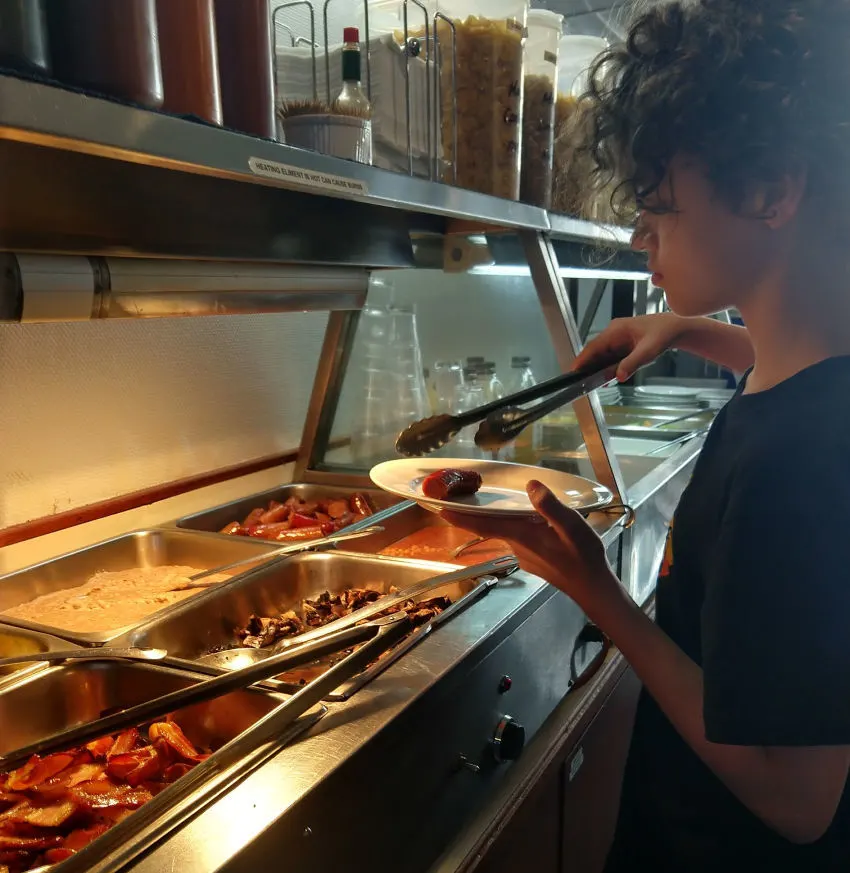 There is plenty of food on liveaboard dive boats. Divers and snorkellers, after spending many hours every day swimming and hefting tanks about are generally starving.
The chef on OceanQuest fed us well which is no mean feat at sea.
Breakfast and lunch were buffet style, dinner was a seated, plated meal served at our tables. There was plenty of tea and coffee all day and a mid-afternoon cake or dessert. The kids were in heaven.
The bar opened in the evening too, giving us no food or drink worries at all. Meals provided plenty of diversity and dietary requirements were respected.
Liveaboard Diving – Buddy Diving or Group and Guided Dives
Buddy diving or group dives are possible. On Ocean Quest and Reef Quest group dives cost $15 Au each. It's up to you, but I enjoy group or guided dives more.
Where we had 2-3 dives at one dive site I would make the first one a guided dive then buddy dive on subsequent dives.
A guided dive means you won't get lost (Chef always gets lost), you can hand over all navigation worries to the dive master or instructor.
These guys know each dive site well and can find the local inhabitants that you would probably miss diving solo. Moray eels, lion fish, cleaner shrimp and cuttlefish generally stay in the same places, the guides know where they are and will show you.
They'll also keep a watchful eye on your air and manage decompression stops. It takes any stress out of diving if you're anxious.
Fluoro Diving and Night Diving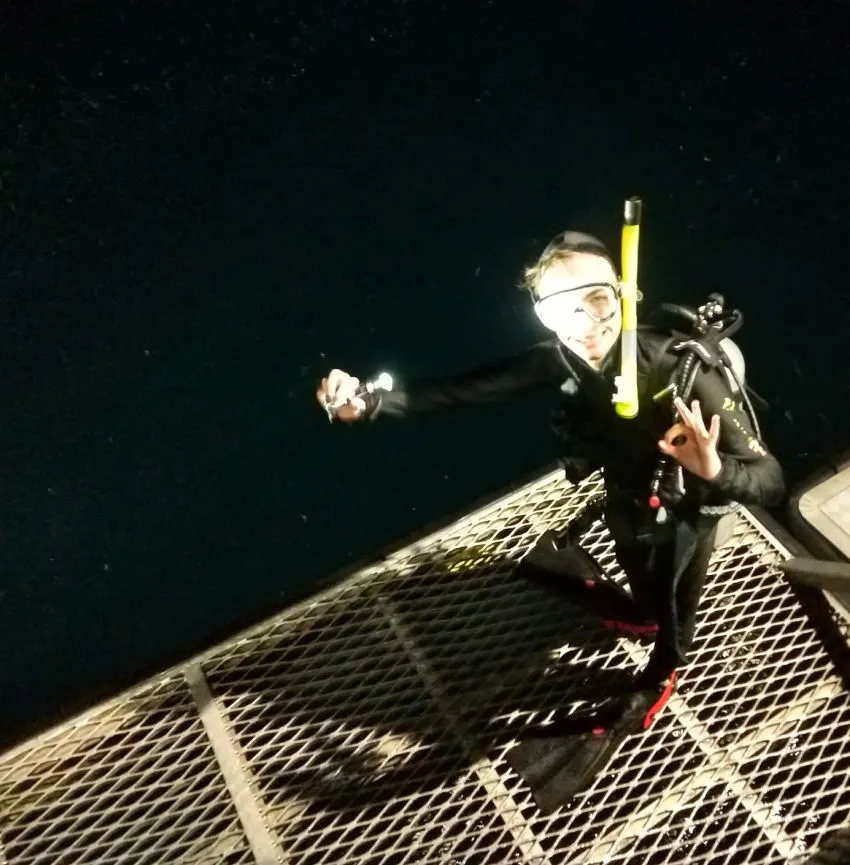 On this Cairns Liveaboard on Ocean Quest, night dives happened daily and cost no extra. If divers wanted to take part in fluoro dives there was an additional fee to cover specialised gear.
Night diving terrifies me so I was more than happy to stay on the boat with my younger son and take part in Sharks in The Dark or, have a glass of red wine.
The boys reported many wonders from their night dive. Night predators emerge along with the coral polyps and follow the divers flashlights to help their hunt. Among the sightings, a giant Queensland grouper who lurked off the back of the boat just visible in our lights. D saw a giant trevally eat a smaller fish right in front of him, and, of course the grey reef sharks are out and about.
Sharks in The Dark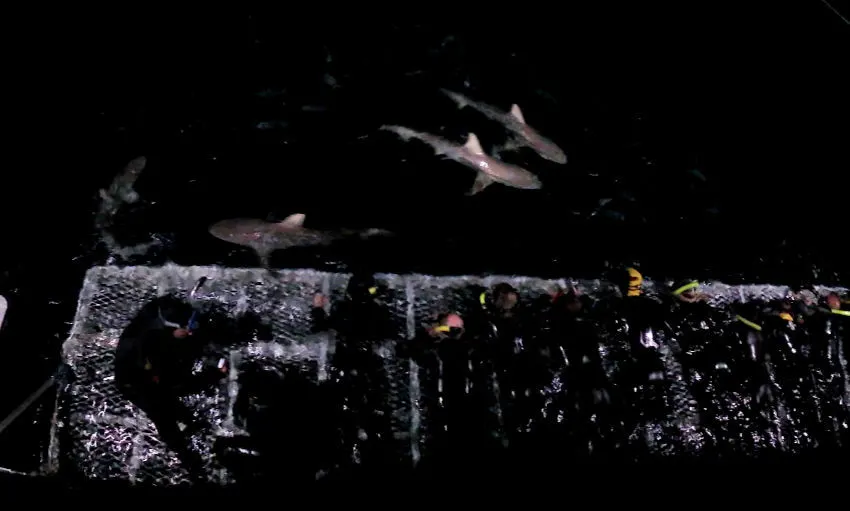 The sharks in the dark encounter was fine for snorkellers, scuba divers and kids and came at no extra cost.
The dive platform at the back of Ocean Quest can be raised and lowered, for Sharks in the Dark, which happens every night, the skipper lowers the platform a few inches below the water. It's just deep enough that snorkellers can lie submerged and look the sharks in the eye.
It's not deep enough that the sharks can get onto the platform – except when they do. Boo, that's him, age 12, third for left, had a fin in the face a few times. It's an incredible experience and if you get the chance – do it.
Ocean Quest have a special license to feed the fish a few handfuls of fish food. You can't see the fish in this shot but there were hundreds of large red snapper just below the surface.
They're too big for the sharks to eat, these grey reefs are just coming to see what all the fuss is about. Without a license, fish feeding is illegal in the Great Barrier Reef Marine Park.
Can You Snorkel on a Livaboard?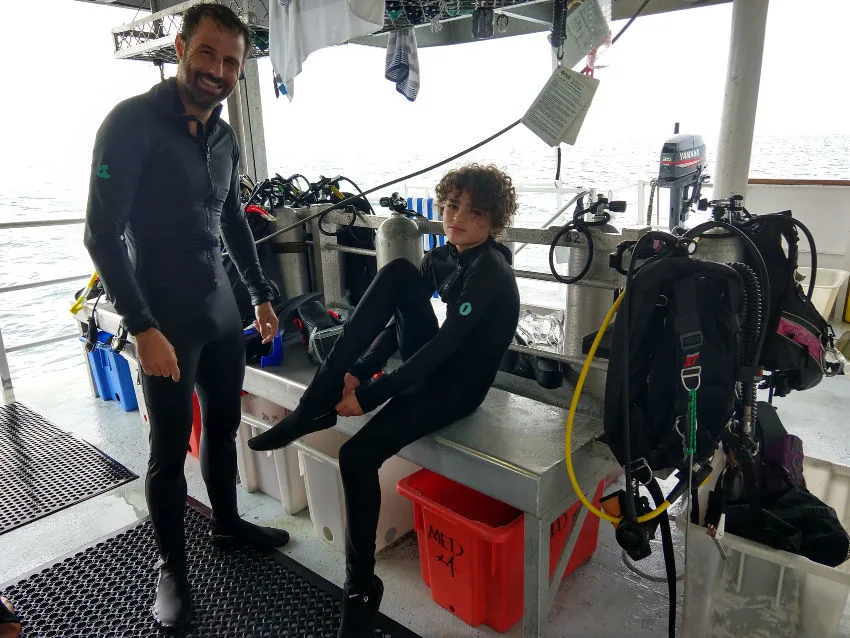 On the Ocean Quest liveaboard you could snorkel. My younger son was snorkelling only and there were a surprising number of customers out there purely to snorkel.
I wouldn't say this is the best possible snorkel experience, for that I think smaller boats are better in shallower areas, but still, you get to sleep on the reef, watch the sun rise and set and hang out with the sharks after dark. It's a cool experience.
Snorkellers swim a few metres from the boat to get above the coral while divers take off down the wall. Snorkellers will generally be jumping off into deep water but other than that, everything is pretty straightforward. They're likely to see sharks, turtles parrot fish and all the usual suspects.
Are Liveaboards OK for Families, Babies or Children?
I was incredibly surprised to find a baby on our Cairns liveaboard. I didn't think anyone did that. He was angelic but it did mean that his mum and dad had to take it in turns to dive and look after junior. The same would apply for all younger children.
As my son was fully competent and responsible he was allowed to snorkel without us, along with the snorkel guide and group. He's been to the reef a lot, starting around 3 years old, so he's a bit of a veteran.
I'm going to do further investigation and find out if any liveaboards exist where there are actually child minding services on the boat.
What About Sea Sickness on a Liveaboard?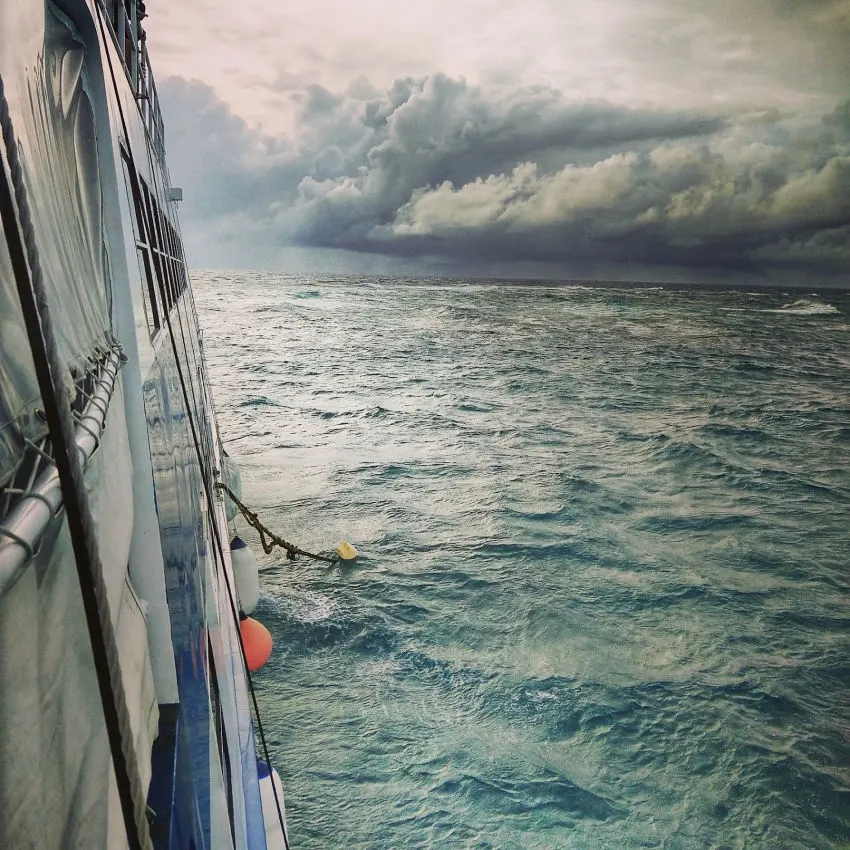 Quite a few people on the day boat, Reef Quest, were hit by sea sickness but on Ocean Quest everything was pretty calm until a cyclone got close, it was Cyclone Trevor. Dramatic skies and rough seas were spectacular but stirred up the sea and our visibility suffered. Still, nobody felt seasick that I know of and most people continued to dive.
We were on the liveaboard just after the end of the wet season so a cyclone was very unlucky,
My son did wake on his first night at sea feeling queasy, but it passed. I find that, for me, seasickness vanishes when I jump in the water.
How Much Do Liveaboards Cost?
The sky's the limit. Costs vary with degree of luxury, duration and destination. Liveaboards exist at many price points but none are particularly cheap. Scuba diving is an expensive hobby.
We have a choice of Pinterest images for you, if you hit the red Pinterest button you can bookmark your favourite to your Australia or scuba bucket list board.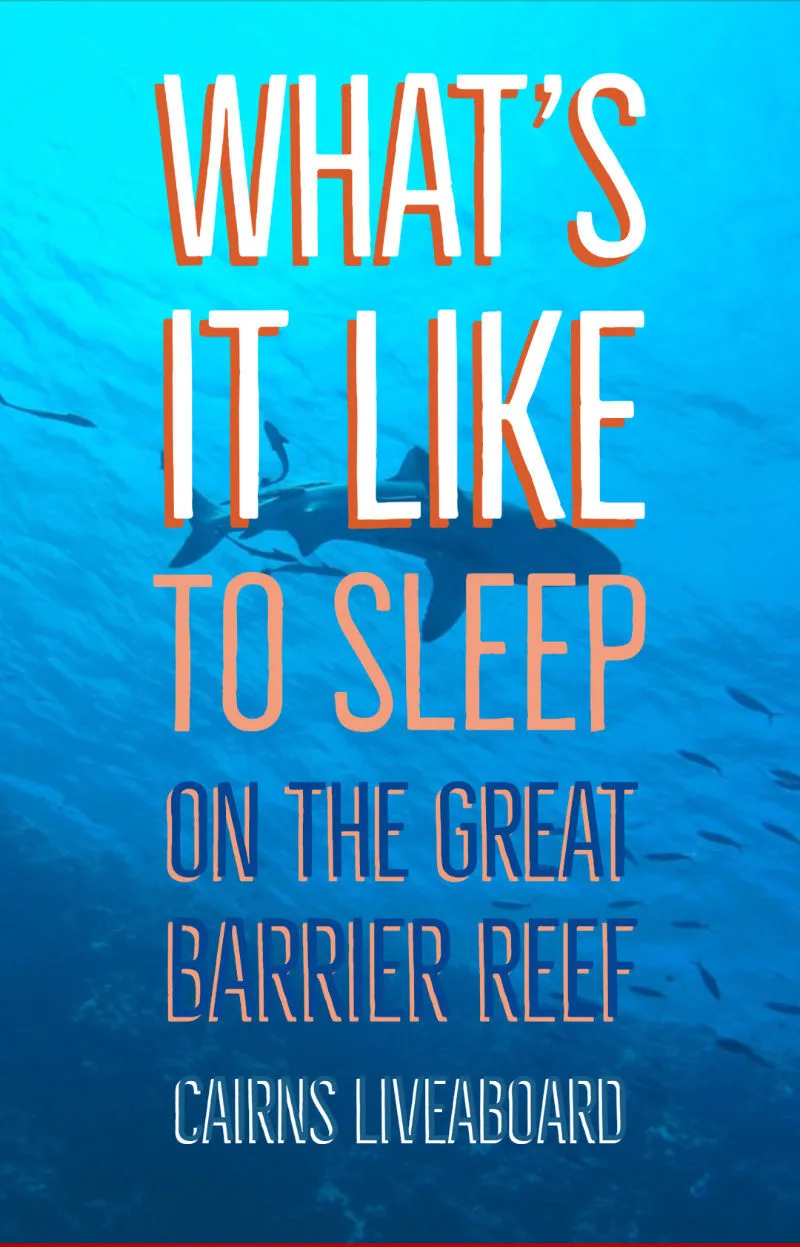 What Do You Need to Pack for a Liveaboard?
If you're diving or snorkelling from a liveaboard Cairns generally means hot to very hot weather and warm seas, so be prepared for tropical sun and little need to wrap up warm. In winter the water temperature drops but it's still not what most of us would call cold. Evening temperatures in north Queensland may require a light fleece.
Clothes – What to Wear & What to Pack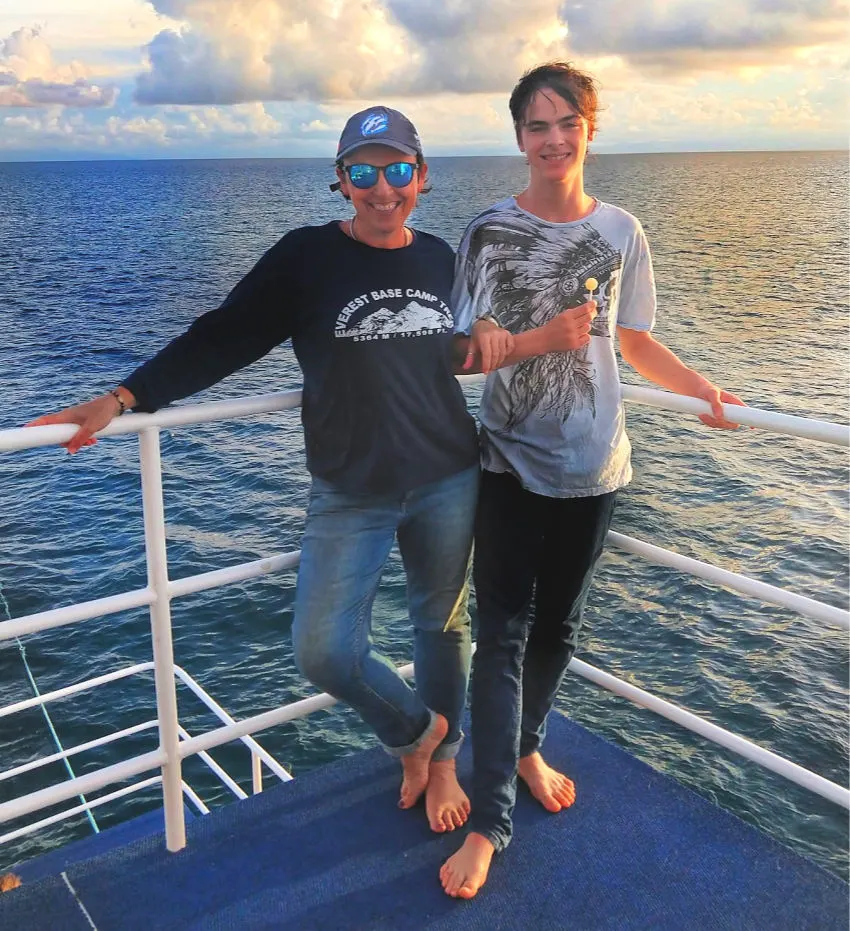 We were on a 4-day 3-night liveaboard and one set of clothes would have been plenty. You're barely in your clothes, you spend far more time in your swimwear, so one pair or pants, trousers or shorts, one top (I'd go long-sleeved because of the sun), something to sleep in and something like a fleece or cardigan with some warmth to it would be fine.
You don't wear shoes on any of the reef boats, so come wearing flip-flops, stash them in your bag and forget about them. If you're single and will be sharing a cabin – pyjamas might be a good idea. Towels were provided by Ocean Quest.
Sunglasses
Sunglasses are essential out there, the glare from the water can be intense. This is the brand of sunglasses for travel that we use, Sungod sunglasses review here.
Dive Gear
You don't need to take your own dive gear, everything is provided. If you have your own gear that you like to use, sure, take it.
Towels and Toiletries
You don't need to take anything if you don't want to. We had towels provided and other than a fresh water shower to rinse off the salt, we used no toiletries.
Sunblock
Take sunblock. Reef-safe sunblock would be best.
Photographic Equipment Including Drones
We travel with a drone. Technically you can't fly a drone within 30m of a boat. So no, you shouldn't expect to fly it from this Liveaboard. We did, we had special permission and hold a commercial license.
Underwater photography gear is great to have. We pack a GoPro.
See our post on choosing and travelling with a drone here.
See our full travel gear post here, including GoPro, gimbals and microphones.
Dive Cards and Logbooks
What About Scuba Diving in Stinger Season?
Stinger Season in Cairns coincides with summer. Risk is pretty low out on the reef but snorkellers and scuba divers should be required to cover up using stinger suits.
So there you go, that's our look at a Cairns liveaboard. We absolutely want to do more liveaboard diving around the world. So you can add this sort of trip to your things to do in Cairns, (or Port Douglas). Want more information on general travel around Australia? We have an Australia Travel Blog here and we cover many destinations Downunder.
If you'd like to hire a car during your stay, use this car rental comparison tool to find the best deal!

We also suggest you take a look at this company to get a quote for all kinds of the more tricky adventure or extended travel insurance.

Try Stayz / VRBO for an alternative way to find rentals on homes/apartments/condos in any country!